Kicking off this week's Aisle Seat are two new, impressive restorations of vintage – and rarely screened – widescreen films from Flicker Alley: the German-produced 70mm travelogue FLYING CLIPPER, known as MEDITERRANEAN HOLIDAY upon its U.S. theatrical run (158 mins., 1962), and the once long-lost Cinerama feature THE GOLDEN HEAD (115 mins., 1965). The latter was never released in North America and ended its London theatrical run early, where it was replaced by "Flying Clipper" – now both of them have been collected in a pair of terrific new Blu-Ray combo packs, the latter with a 4K UHD presentation as well.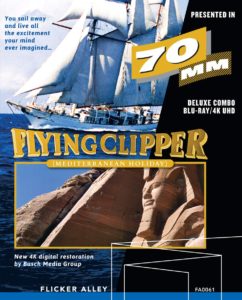 FLYING CLIPPER was shot in 1962 and offers the tale of a group of Swedish seamen who travel the Mediterranean looking for adventure. Well, not really – the premise is just an excuse for a leisurely and fascinating, now-vintage portrait of scenic locales captured in widescreen. Seeing Portugal, Egypt, Turkey, Greece, Italy, Monaco and Spain captured at a more peaceful, "innocent" time lends an enormous amount of value to this production, which was presented originally in Cinemascope and redubbed for the U.S. market with Burl Ives narrating the picture, as well as performing several sea shanties (which don't really match up with Swedish sailors sailing in the Mediterranean, but who cares).
The 2½-hour film was remastered by Germany's Busch Media Group and is presented here by Flicker Alley on both Blu-Ray and 4K UHD (roughly 2.2:1). The latter offers hotter contrast and some added detail, though the Blu-Ray arguably looks a bit warmer and more consistent – either way, the option to see the film in HDR and in 4K is a welcome bonus. A full array of audio options include DTS MA and Dolby Atmos mixes for a number of languages, including the English track and the original German mix – be aware, though, that the English subtitles only correspond to the American theatrical track, so you'll need to be a native speaker in order to comprehend the foreign audio selections. A handful of interviews, subtitled in English, include conversations with German restoration experts and camera operator Jurgen Bruckner among others, while a trailer gallery and a booklet reproduction of the U.S. souvenir program round out the two-disc combo pack.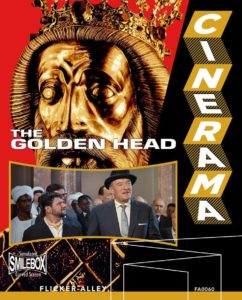 Cinerama, Inc. is behind the restoration of THE GOLDEN HEAD, one of the most notorious Cinerama productions. Savaged in reviews and pulled prematurely from its original London exhibition, the film was essentially never seen again and thought lost until David Strohmaier restored a print several years back.
The fruits of his labor are on full display in Flicker Alley's Blu-Ray/DVD release of the 1965 film – something of a sub-Disney live-action family adventure that follows a group of British kids around in Hungary, where they get mixed up with a pair of thieves (George Sanders and Buddy Hackett) who steal the golden bust of Saint Laszlo. The extremely slow pacing is often an excuse for the Cinerama cameras to capture the film's location work in a Hungarofilms production that was plagued with problems – including the replacement of director James Hill by Richard Thorpe – and basically deemed a lost cause.
It also became, in effect, a lost film, never receiving any kind of play in the U.S. until a reportedly faded 70mm print was screened a decade ago. This sterling Cinerama restoration offers the "Smilebox" aspect ratio meant to replicate the original curvature of the Cinerama screen, with a clear DTS MA 5.1 stereo soundtrack and a full run of extras. These include the 70mm cartoon "A Tale of Old Whiff" (16 mins.) which accompanied "Scent of Mystery" (previously released on Blu-Ray) in Cinerama exhibitions, plus restoration demos of both that and "The Golden Head," an image gallery, trailer gallery, and the Swiss Army film "Fortress of Peace" (22 mins.), which accompanied "The Golden Head" upon its brief theatrical run.
---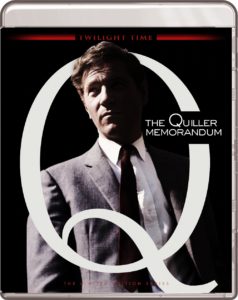 Twilight Time New Releases
A bit slower-paced in comparison with other '60s spy thrillers – yet more acclaimed by most critics of its day – was THE QUILLER MEMORANDUM (104 mins., 1966), Michael Anderson's somewhat leisurely espionage thriller containing a script by Harold Pinter adapted from Elleston Trevor's book. This Fox/Rank Organization co-production kicks off Twilight Time's latest Blu-Ray limited editions and offers an appreciable upgrade on an inferior British format release from several years back.
George Segal stars as a U.S. spy investigating the deaths of two British secret service agents attributed to a Neo-Nazi movement in West Berlin. Alec Guinness, Max Von Sydow, George Sanders and Senta Berger co-star in this well-shot but sometimes limp 1966 Fox release that's aided immeasurably by a haunting John Barry score.
Twilight Time's Blu-Ray includes an attractive, fresh 1080p (2.35) AVC encoded transfer that's head and shoulders above the UK Blu-Ray released by Network some time ago; this is an appreciable enhancement on both that, as well as Fox's earlier DVD, with clear DTS MA mono sound. Extras include an isolated score track and, carried over from the Fox disc, the trailer and a commentary from historians Lee Pfeiffer and Eddy Friedfeld.
THE BIG FIX Blu-Ray (108 mins., 1978, PG): After his triumphs with Steven Spielberg and Best Actor Oscar win for "The Goodbye Girl," Richard Dreyfuss produced and starred in this adaptation of Roger L. Simon's book – a contemporary "light noir" about a divorced private investigator, Moses Wine, who's hired by a former girlfriend (Susan Anspach) to help the political campaign she's working for. Both are former campus radicals soon plunged into a mystery not only involving the whereabouts of a prominent figure who's gone underground – thereby threatening the politician's candidacy -- but eventually a murder connected with Wine's investigation.
If you're a Dreyfuss fan as I am, "The Big Fix" is well worth seeing – the actor is laid back and at his best in director Jeremy Paul Kagan's film, a Universal release that met with mediocre reviews in the wake of the actor's string of recent hits. The movie mixes comedy, drama and mystery in equal measure, but it has a fundamental problem in that the story is convoluted and often hard to follow. The disillusionment of former '60s radicals is a primary element in the film, but Kagan throws in so much other stuff – the candidate's campaign manager (John Lithgow), Wine's ex-wife (Bonnie Bedelia), their kids, an elderly aunt who assists him – that the plot line doesn't even entirely make sense at the end.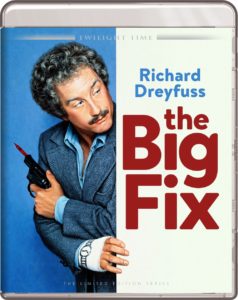 Still, between Dreyfuss and the appealing cast – F. Murray Abraham and a young Mandy Patinkin (as a pool boy!) also pop up – and a colorful, occasionally muscular Bill Conti score, "The Big Fix" is highly entertaining. It's also worth noting that the varied tone establishes the feeling that you're watching three-dimensional characters who behave like real people, with the scenes of Dreyfuss' kids tagging along on his adventures – something that's underplayed and charming without being cloying – being evidence of that.
Twilight Time's Blu-Ray includes a respectable 1080p (1.85) Universal-licensed transfer with DTS MA mono sound, an isolated score track (Conti's score is deserving of a standalone release), and an early trailer trying to sell the film on the basis of Dreyfuss' "Goodbye Girl" turn.
THE RIVER'S EDGE Blu-Ray (87 mins., 1957). WHAT IT IS: Smoky film noir set on the Mexican border opens with tension between young couple Anthony Quinn and Debra Paget – and only gets worse after her ex, a bank robber played by Ray Milland, comes to town, with stolen loot in tow. Though not a household name, director Allan Dwan established a cult following and was championed by critics like Andrew Sarris, who analyzed his imagery and stories – this one scripted by James Leicster and Harold Jacob Smith from the latter's novel – with complicated relationships and a lot of grey area inbetween its protagonists. "The River's Edge" is no different – a punchy film genre fans should enjoy. TWILIGHT TIME TECH SPECS: An outstanding 1080p (2.45) AVC encoded transfer looks to have been derived from a fresh scan with high detail. Soundtracks are on-hand in 2.0 or 1.0 DTS MA mixes with the trailer, isolated music/effects track and a commentary with historians Alain Silver and James Ursini included for supplements. AISLE SEAT BOTTOM LINE: A terrific new transfer should make "The River's Edge" a worthwhile journey for Golden Age noir buffs.
THE WHOLE TOWN'S TALKING Blu-Ray (92 mins., 1935). WHAT IT IS: John Ford helmed this Columbia gangster film with Edward G. Robinson filling out the double role of a nasty gangster and his doppelganger – a timid, law-abiding clerk who ultimately becomes the fall guy for the bad guy's lawlessness. The Jo Swerling-Robert Riskin screenplay offers a little bit of everything in a mid '30s offering that's fun for Robinson devotees in particular. TWILIGHT TIME TECH SPECS: The Sony-licensed 1080p (1.33) transfer offers a splendidly rendered B&W image with single-channel mono sound. Unlike most TT releases there are no special features. AISLE SEAT BOTTOM LINE: Though not a classic, "The Whole Town's Talking" still provides an entertaining view for Golden Age aficionados, even if the film may have been more successful had it favored a comedic or dramatic approach – instead of wavering between the two.
---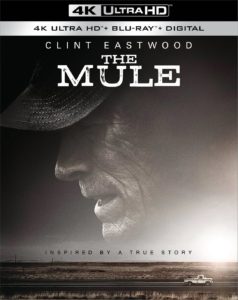 Also New & Noteworthy
THE MULE 4K UHD (**, 116 mins., 2018, R; Warner): It's entirely possible "The Mule" could prove to be Clint Eastwood's cinematic swan song, in which case it would be a dopey and disappointing exit for the legendary actor/director.
Despite reuniting with "Gran Torino" writer Nick Schenk, "The Mule" proves to be one of Eastwood's weakest outings – a thinly-drawn and mostly pointless picture with the elderly star looking quite frail as a prize-winning horticulturist who's lost his wife (Dianne Weist) and family due to his strict dedication to his work. Once that goes south, Eastwood stumbles into gaining work as an unassuming driver for a cartel smuggling drugs, something that earns him big money at the same time the DEA – in the form of agents Bradley Cooper and Michael Pena – closes in.
It's never good when, after Eastwood first appears on-screen looking notably older than his last on-screen performance, the movie cuts to a "12 Years Later" caption – making you wonder if his character is now well into his 90s! "The Mule," as a whole, is as unconvincing in its overall narrative, with Schenk's script following Clint driving contraband around at the same time Cooper muses about the whereabouts of the cartel's driver. There's really no meat to the picture at all – a few scenes where Eastwood deals with the family he lost barely register while Cooper's role is mostly thankless and the entire element of the cartel itself goes nowhere. In particular, Eastwood is paired for a time with one of the cartel's handlers (Ignacio Serricchio), who then completely disappears from the film in its concluding third!
There's always been a predictable, almost comforting, "laid back" approach to Eastwood's filmmaking but "The Mule" proves to be so inconsequential that it basically evaporates right before your eyes – there's no suspense, no momentum, and really not much of anything to recommend in a film that's going to be notable for being Eastwood's last (possibly) and nothing more.
Warner's 4K UHD of "The Mule" is now available featuring Dolby Atmos audio and an HVEC encoded transfer. The sound on the film is somewhat odd, with a lot of the dialogue having an "airy" processing that's occasionally distracting. The transfer is sound, but there's little difference between the UHD and the standard Blu-Ray, also included along with a Digital HD copy.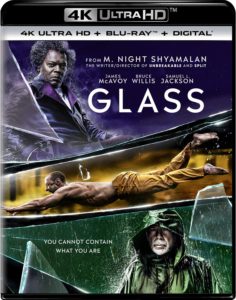 GLASS 4K UHD (**, 129 mins., 2019, PG-13; Universal): M. Night Shyamalan's highly-anticipated sequel to "Split" and "Unbreakable" stops short of being a total misfire yet is nevertheless unsatisfying – not to mention often dull.
"Glass" picks up after the events of "Split," with do-gooder Bruce Willis (sleepwalking his way through a reprisal of his "Unbreakable" role) running into multiple-personality-afflicted James McAvoy. The duo spar throughout the first 20 minutes – easily the film's most effective stretch – before they're taken in by a suspicious doctor (Sarah Paulson) who thinks both of them are simply delusional. Unbeknownst to her, mad villain Samuel L. Jackson is also nearby, hoping to show the world what he, and they, are capable of.
This portion of the film is mired in long, talky, tedious stretches that are frustrating to watch, while Shyamalan's ending is a polarizing one, likely to divide fans of the director and his past works (younger viewers who gravitated towards the thrills of "Split" in particular). In the end, "Glass" isn't entirely awful, but making a sequel to "Unbreakable" this late in the game – when shows like "Heroes" already exhausted the same premise – was a curious call, especially when his finale is so perfunctory and disappointing.
Universal's 4K UHD is available on April 16th featuring a very good looking HDR-enhanced transfer and Dolby Atmos audio. Extras include an alternate opening and deleted scenes with Shyamalan's introductions, numerous featurettes, the Blu-Ray and Digital HD copy.
WELCOME TO MARWEN Blu-Ray/DVD (*½, 116 mins., 2018, PG-13; Universal): It goes without saying that Robert Zemeckis has had a very strange career since "Forrest Gump" earned the "Back to the Future" director his Oscar. A few mild hits have been mixed with busts like "The Walk" and now the inexplicable "Welcome to Marwen," a bafflingly strange misfire about a PTSD-afflicted man (Steve Carell) who retreats into a fantasy world of Barbie dolls to help him cope with his issues. This means scenes of "real life" domestic drama are balanced with bizarre sequences of talking CGI'd figures acting out photographs he's taking -- the assorted characters representing various people in his life.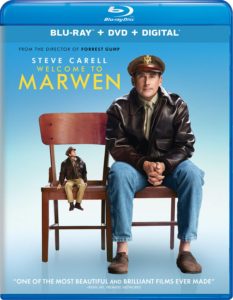 For this oddball premise (based on a true-life story!) to work, "Welcome to Marwen" needed a specific kind of directorial approach which Zemeckis doesn't get a handle on. The script by Zemeckis and former Tim Burton collaborator Caroline Thompson is a total dud, the picture coming across as creepy and strange when it seems to be aspiring for an inspirational, feel-good message at the end. It's a total loss that wiped out at the box-office last fall, and understandably so. Universal's Blu-Ray includes deleted scenes, featurettes, a Digital HD copy, 1080p (2.35) transfer and 5.1 Dolby TrueHD audio.
VICE Blu-Ray (**, 132 mins., 2018, R; Fox): Adam McKay's follow-up to his hit "The Big Short" tries to employ a similarly broad, pseudo-comedic approach to satirize the story of Dick Cheney's supposed rise to becoming the mastermind behind George W. Bush's presidency. Yet this acidic take comes off as a one-sided political treatise to placate the choir he's preaching to, not a convincing rendering of actual history even through a partisan lens. Thus, your ideology is likely to inform your enjoyment of "Vice," which does boast a chameleon-like turn from Christian Bale as Cheney that deservedly copped a handful of nominations – the film itself far less deservedly. Fox's Blu-Ray includes deleted scenes, two featurettes, a gallery, 1080p (2.39) transfer, 5.1 DTS MA sound and a Digital HD copy.
---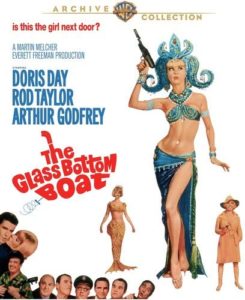 Warner Archive New Releases
The kind of innocuous family fare you'd find on TV during a quiet Saturday afternoon after "Creature Double Feature" had ended, THE GLASS BOTTOM BOAT (110 mins., 1966) pairs America's Sweetheart, Doris Day, with Rod Taylor in a "clash of the sexes" '60s comedy with zany slapstick passages concocted by director Frank Tashlin. It's dated, overlong and occasionally cringe-worthy, but this MGM release is nevertheless appealing for its widescreen shenanigans, manic energy and cast – in addition to Day and Taylor generating some solid chemistry, Tashlin throws in Arthur Godfrey, Paul Lynde, John McGiver, Dom DeLuise and Dick Martin for added support (plus a Robert Vaughn cameo). It's nearly enough to make you forgive the nails-on-the-chalkboard title song, as annoying as anything you'll hear from that era (the cartoony "DeVol" soundtrack isn't much better).
Warner's sunny Archive Blu-Ray (2.35, 2.0 DTS MA mono) preserves the Panavision framing of Tashlin, complete with animated credits and musical interludes. Special features include three archival featurettes related to the film (one profiling its Catalina Island lensing), the trailer, and a HD presentation of Chuck Jones' 10-minute Oscar-winning cartoon "The Dot and the Line."
Soul-crushing fisticuffs are served up by CLEOPATRA JONES (89 mins., 1973, PG) in this moderately entertaining Warner Bros. release. Tamara Dobson doles out the justice as a sassy government op tasked with taking down a drug "Mommy" (an unhinged Shelley Winters) in a widescreen adventure that led to the wild and woollier sequel "Cleopatra Jones and the Casino of Gold." The original debuts this month on Blu-Ray from Warner Archive with the trailer and fetching 1080p (2.35) AVC encoded transfer (with 2.0 DTS MA mono sound) on-hand...Boris Karloff's involvement is the most distinguished component of FRANKENSTEIN 1970 (83 mins., 1958), an Allied Artists cheapie that sounds -- Karloff plays a grizzled mad Doctor who agrees to let a crew shoot a movie at the old Frankenstein mansion -- a lot more interesting than it actually is. Despite Boris' top billing there's a lot of dead time in Howard W. Koch's pedestrian effort, shot in scope but sorely lacking in thrills, as well as unintentional amusement. Warner's 1080p (2.35) AVC encoded transfer is superb at least, with DTS MA mono sound and a better-than-the-movie commentary from co-star Charlotte Austin, who's joined here by reliable historians Bob Burns and Tom Weaver.
On DVD from Warner Archive: Constance Bennett plays an heiress who marries a British aristocrat (Alan Mowbray), only to find he's not giving up his playboy ways, in OUR BETTERS (83 mins., 1933). This Pre-Code adaptation of W. Somerset Maugham's play, helmed by George Cukor, was produced by David O. Selznick and offers a frothy, if talky, comedic affair presented in a B&W 4:3 transfer...Finally, THE MIGHTY McGURK (85 mins., 1947) stars Wallace Beery as a former heavyweight championship fighter struggling in his post-fight career working as a bouncer for Edward Arnold's saloon owner. Along comes an English orphan (Dean Stockwell) and a former protege (Cameron Mitchell) to help Slag turn it around in an amusing, heart-wrenching 1947 MGM release. Warner's Archive DVD includes a B&W (1.33) transfer and mono sound.
---
Mill Creek New Releases
SHEENA, QUEEN OF THE JUNGLE Blu-Ray (**, 116 mins., 1984, PG; Mill Creek)/SONGWRITER Blu-Ray (**½, 94 mins., 1984, R; Mill Creek): Two more Sony catalog titles debut on Blu-Ray from Mill Creek this month with VHS-styled slipcases replicating their old RCA/Columbia Pictures Home Video artwork.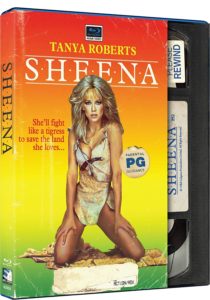 In SHEENA, Tanya Roberts is the comic-book heroine and Queen of the Jungle in a 1984 adventure that finds the scantily-clad heroine falling for a TV journalist (Ted Wass, fresh off "Curse of the Pink Panther") and combating an evil prince (Trevor Thomas) who wants to take over the land of her beloved people.
Admittedly, I have a soft spot for this John Guillermin-directed turkey, which features a campy script by Lorenzo Semple, Jr. and David Newman ("Superman") and a wooden performance from Roberts. Offering as many unintended laughs as intentional ones, "Sheena" features plenty of eye candy, from Roberts herself to the gorgeous African landscapes, plus a terrific score by Richard Hartley. When you find yourself in shock over the dialogue between Wass and Roberts, you'll know that it's the kind of entertainment that only a good bad movie can provide.
Shot in Panavision, Mill Creek's Blu-Ray offers the debut of "Sheena" in high-definition. Regrettably, this is not one of the label's better transfers, showing obvious compression artifacts right from the get-go and lots of macroblocking. The bit-rate is high and the 1080p (2.35) AVC encode is nicely framed, but the encoding is a definite letdown here. At least the DTS MA stereo audio fares better.
Less impacted by compression issues is SONGWRITER, an enjoyable Tri-Star release following long-time musical buddies Willie Nelson and Kris Kristofferson in a Sydney Pollack production that fired its original director a couple of weeks into shooting. With Steve Rash ("The Buddy Holly Story") gone, Pollack brought in indie auteur Alan Rudolph to work on one of his few "studio" films. The result is a bit uneven but generally entertaining comedy-drama about a country-western composer/singer trying to break free from a Nashville consortium, juggling his ex-partner's crooning career and wanting to get back with his ex-wife (Melinda Dillon), all in equal measure.
Flavorful songs penned by Nelson and Kristofferson and a broadly appealing (and apparently semi-autobiographical on Nelson's behalf) story make this box-office flop a mildly recommended affair. Mill Creek's Blu-Ray (1.85) looks to have been sourced from a grainy Sony master but does offer a lot of detail and nowhere near the compression issues that plagued "Sheena." The 2.0 DTS MA stereo sound is functional.
Coming April 16th are two enjoyable soft-core action-thrillers from one-time ABC "Wide World of Sports" veteran Andy Sedaris: MALIBU EXPRESS (105 mins., 1985, R) and HARD TICKET TO HAWAII (96 mins., 1987, R), the latter being one of the most enjoyably bad romps of the '80s. Sun-filled Hawaiian locales and the presence of former Playmates like Dona Speir and Hope Marie Carlton make for an irresistible mix on the latter, which finds the duo as undercover agents who find a cache of diamonds – as well as encounter a giant snake on the loose (culminating in a hysterical finale). "Malibu Express' co-stars Sybil Danning, Darby Hinton and Lori Sutton in a less free-wheeling affair that still bears all the hallmarks of Sidaris' work (guns, girls, T&A, dumb plots and wooden acting). Mill Creek's 4K-based restorations look nifty with only occasional issues manifesting themselves in the respective source materials (nicks, scratches, lines). Sidaris' commentaries and vintage featurettes are on-hand plus trailers in these Blu-Ray releases, out April 16th from Mill Creek along with digital copies.
---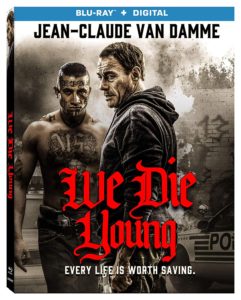 Quick Takes
Lionsgate New Releases: Lionsgate brings the latest Jean-Claude Van Damme feature, WE DIE YOUNG (93 mins., 2019, R), to Blu-Ray on April 9th. This Lior Geller-directed thriller stars JCVD as a veteran soldier suffering from PTSD who helps out a young man and his 10-year-old brother, being recruited as runners in a MS-13 gang infiltrating Washington, D.C. Lionsgate's Blu-Ray includes a 1080p (2.40) AVC encoded transfer and 5.1 DTS MA sound with a Digital HD copy…Scott Vickers' MATRIARCH (92 mins., 2018, R) offers the director also playing a husband who ends up stranded on a remote Scottish road. There, he and his pregnant wife (Charlie Blackwood) find out the seemingly benign farming couple they're assisted by are really psychotics. Vickers financed this low-budget thriller himself and Lionsgate brings the film to DVD April 9th sporting a 16:9 (1.78) transfer and 5.1 Dolby Digital sound.
New on 4K UHD from Lionsgate, THE WITCH (93 mins., 2018, R) is the dense, atmospheric film about a New England family that's forced out to the edge of the wilderness during the early 17th century; there, they encounter a series of tragedies and, possibly, supernatural evil. The mood of "The Witch" is more impressive than its characters, and the ending is something of a cheat, ruining the ambiguity the prior 85 minutes of the film works hard to establish – yet the picture is still worth a sole viewing if nothing else. Lionsgate's 4K UHD debuts on April 23rd featuring Dolby Vision/HDR capability, the same 5.1 DTS MA soundtrack as the Blu-Ray (also included), all of its special features, and a Digital HD copy.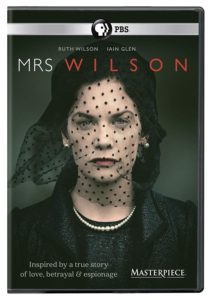 PBS New Releases: Though leisurely paced, MRS. WILSON (170 mins., 2018) is an engrossing, true-life story of a British housewife (Ruth Wilson, "The Affair") who finds out her late husband wasn't just having an affair, he had a whole other family as a WWII spy. Ruth Wilson plays her own grandmother in this Masterpiece production, based on Tim Crook's novel about Alexander Wilson's mysterious, covert life as a British espionage agent. PBS' DVD includes the full, near three-hour production with a 16:9 transfer and 5.1 Dolby Digital sound…New on Blu-Ray, Season 3 of VICTORIA (7 hours, 2018) finds Queen Victoria (Jenna Coleman) and Prince Albert (Tom Hughes) dealing with European revolution and social change. More kids, court scandals and the unannounced arrival of Victoria's half-sister (Kate Fleetwood) contribute to a dramatic third season of the well-reviewed ITV series, brought to PBS on Blu-Ray this month. The three-disc set includes nearly a full hour of interviews and behind-the-scenes segments, 1080p transfers and 5.1 soundtracks.
A BBC Earth production, ATTENBOROUGH AND THE SEA DRAGON (53 mins., 2019) presents a prehistoric detective story wherein archeologists and scientists unravel a fossil of an Ichthyosaur – a combination of mammal and reptile that lived during the time of the dinosaur in the Jurassic seas. This hour-long Nature documentary is fascinating for viewers of all ages, presented by PBS on DVD with a 16:9 transfer and 5.1 sound…A fascinating American Experience documentary, SEALAB (60 mins., 2019), tells of the US Navy's attempts to use "aquanauts" and even a trained Dolphin named Tuffy to explore the ocean, much in the same way that NASA was launching into outer space during the '60s. PBS' DVD includes a 16:9 transfer and 5.1 sound…Finally, American Masters profiles newspaper publisher JOSEPH PULITZER: VOICE OF THE PEOPLE (90 mins., 2019), a fresh look at Pulitzer's life and rise to becoming a millionaire through the success of his two papers. Adam Driver narrates with PBS' DVD offering numerous extras and an interview with director Oren Rudavsky.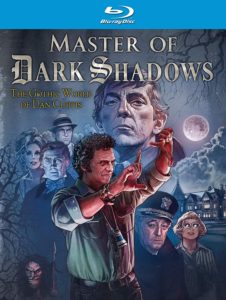 MASTER OF DARK SHADOWS Blu-Ray (87 mins., 2019; MPI): Brand-new, feature length documentary from producer-director David Gregory chronicles the enduring impact of Dan Curtis as well as his network TV soaper – still a fan favorite and influence on countless genre exercises made over the years since. Curtis' subsequent output on the likes of "The Night Stalker" and the '80s mini-series "Winds of War" are also featured in this Ian McShane-narrated production, which offers testimonials from the likes of "True Blood"'s Alan Ball, Curtis collaborators William F. Nolan and Herman Wouk, original "Dark Shadows" cast members and other familiar faces. MPI's Blu-Ray (1.85, 2.0 stereo) streets next week and includes a myriad of featurettes, a Jonathan Frid interview on the "Dick Cavett Show" and other goodies…New on DVD this month from the Cohen Film Collection are Peter Bogdanovich's tribute to Buster Keaton, THE GREAT BUSTER (101 mins.), as well as Jonathan Rhys Meyers, Vanessa Redgrave and Joely Richardson starring in an adaptation of Henry James' THE ASPERN PAPERS (90 mins., 2019).
IF BEALE STREET COULD TALK Blu-Ray (119 mins., 2018, R; Fox): "Moonlight" director Barry Jenkins' hard-hitting but eloquently filmed adaptation of James Baldwin's novel is a potent piece of work. Set in 1970s Harlem, the film follows a 19-year-old (Kiki Layne) and her fiancée (Stephan James) as their future is thrown in jeopardy when he's arrested for a rape he didn't commit. Jenkins tells the story in a non-linear fashion that makes the sequences showing their early relationship even more bittersweet than expected, and while the subject matter is rough, the film manages to include a sense of hopefulness that's often unexpected. In addition to the two leads, Regina King is terrific as Layne's mother in an Oscar-winning supporting turn. Fox's Blu-Ray includes deleted scenes, a featurette, gallery, 1080p transfer, 5.1 DTS MA sound, a DVD, Digital HD copy and Jenkins' commentary.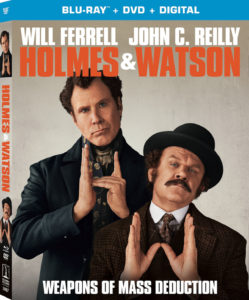 ARCHER – Season 9 DVD (179 mins., 2018; Fox): With Archer still in a coma, "Archer" the series is able to hit the reset button again, this time reconfiguring its characters for an amusing set of adventures in the South Pacific circa 1939. Fans of the show will find familiar elements in a new setting, with Fox's DVD of Archer's "Danger Island" season boasting all eight episodes in 16:9 transfers with 5.1 Dolby Digital sound and an Inside Look at the production.
HOLMES & WATSON Blu-Ray Combo Pack (90 mins., 2018, PG-13; Sony): Sometimes you swing and miss, and the third time for "Talledega Nights"/"Step Brothers" stars Will Ferrell and John C. Reilly was a total wipeout – so much that Sony tried selling the picture to Netflix before its Christmas release, only to find out even they didn't want it.
For fans of the duo, "Holmes & Watson" generates a couple of laughs but not nearly enough to support its 90-minute run time, with Ferrell playing Sherlock Holmes to Reilly's Dr. Watson – the duo called in to investigate a murder at Buckingham Palace and a threat to the Queen. A few gags hit the mark but the majority misfire badly, making you wonder if improvisation was supposed to be the salvation for writer-director Etan Cohen's film. In the end, this will be forgotten on video as quickly as it was in theaters, with viewers better off sticking to "Ricky Bobby" – or just Basil Rathbone – instead.
Sony's Blu-Ray includes some 50 minutes of deleted scenes (illustrating how the filmmakers were trying to find the film in the editing room), outtakes, featurettes, a 1080p (2.40) AVC encoded transfer, 5.1 DTS MA sound and a Digital HD copy.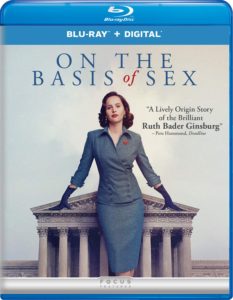 ON THE BASIS OF SEX Blu-Ray (120 mins., 2018, PG-13; Universal): Felicity Jones provides a compelling performance as a young Ruth Bader Ginsburg, who finds out, among other things, that the world doesn't want to hire female attorneys in this surprisingly bland biopic from director Mimi Leder and writer Daniel Stepleman. Profiling Ginsburg's early days as a devoted wife and mother – as well as an aspiring attorney – "On the Basis of Sex" comes off as self-important and overly earnest, which is to be expected given Hollywood's recent fascination with her. What's unexpected is how by-the-numbers "Sex" turns out to be – audiences would be better off watching last year's "RBG" documentary, which is at least more entertaining, instead. Universal's Blu-Ray is out this week featuring three featurettes, a fine 1080p (1.85 transfer), 5.1 DTS MA sound and a Digital HD copy.
GOLDEN JOB Blu-Ray (100 mins., 2018; Well Go USA): Hong Kong action import follows several ex-mercenaries who get together to help a refugee camp by way of stealing a truck full of medicine from a foreign intelligence agency. They find themselves in an incredibly precarious situation when the truck turns out to be filled with gold instead in this entertaining, fast-moving HK action exercise, on Blu-Ray from Well Go featuring several featurettes, music videos, trailers, a 1080p transfer and Cantonese DTS MA audio with English subtitles.
New From GKids/Shout! Factory: NEVERENDING MAN: HAYAO MIYAZAKI Blu-Ray/DVD (70 mins., 2019; GKids/Shout! Factory) is a NHK TV look into the creative process of the great animator who championed hand-drawn animation, even in changing times, as he established Studio Ghibli as an international player. Though there's a lot here for Ghibli fans, "Neverending Man" is a pretty light program in terms of content, offering little outside of mostly fly-on-the-wall moments – perhaps that's why an alternate version with English narration and new footage runs over 20 minutes shorter and comes across as a tighter, more cohesive package. Both versions are included in GKids' Blu-Ray/DVD combo pack, sporting a 1.77 transfer and 2.0 Japanese DTS-HD audio…Animation fans might also want to check out the interestingly drawn TITO AND HE BIRDS (73 mins. 2018), the story of a 10-year-old who ventures out into the world with his friends, trying to find out the antidote to a plague spreading across the world. He finds the hope of a cure in his missing father's research on birds in Gustavo Steinberg's beautifully rendered film (2.35, 5.1 DTS MA), on Blu-Ray April 23rd from Gkids and Shout! The BD also includes an interview with Steinberg and producer Daniel Greco plus the trailer.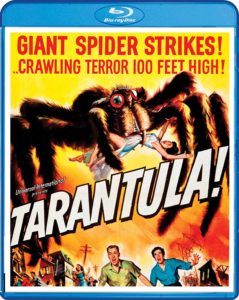 April Sci-Fi/Horror Madness
TARANTULA Blu-Ray (81 mins., 1955; Shout! Factory): More Universal-International Monster Madness from Scream Factory will be unleashed on April 30th. This time it's one of the better genre exercises from the '50s: the Jack Arnold-directed tale of a giant spider that runs amok after being accidentally enhanced by scientist Leo G. Carroll. John Agar, Mara Corday and a young Clint Eastwood appear in this briskly-paced and superior slice of monster mayhem, presented on Blu-Ray by Shout! sporting a new commentary from Tom Weaver, David Schecter and Dr. Robert J. Kiss, the trailer, a still gallery, a decent 1080p (1.85) AVC encoded Universal catalog transfer and DTS MA mono sound.
If low-budget '80s horror intended for the blossoming home video market is your game, both Shout and Arrow have a pair of silly, dated features debuting on Blu-Ray this month – each offering modest entertainment for nostalgic genre fans.
THE BRAIN (94 mins., 1988, R; Shout! Factory) is a Canadian production best remembered for its title creature: a pulsating alien entity that demands human bodies and tries to mount an invasion of Earth with the help of a popular TV doctor ("Re-Animator"'s David Gale). "The Brain" is not an especially good film by any measure, but if you can recall the front of the movie's VHS box, you might still get a kick out of Scream Factory's Blu-Ray. The 1080p (1.85) AVC encoded transfer is scanned at 2K resolution from the only surviving film elements, while a full run of extras includes a commentary with director Ed Hunt and two other commentaries (one featuring actor Tom Bresnahan, another with composer Paul Zaza), interviews with stars Cynthia Preston, George Buza and art director Michael Borthwick, the older "Love Letter to the Brain" featurette and a DTS MA stereo soundtrack.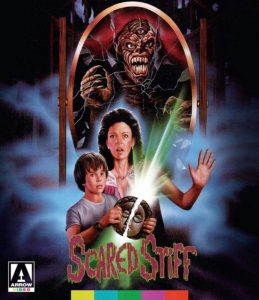 More gooey thrills are offered up in the equally ridiculous SCARED STIFF (83 mins., 1988, R), which Arrow brings to Blu-Ray this month. Andrew Stevens and soap opera vet Mary Page Keller star in this tale of a couple who move with her son into a Southern mansion haunted by a voodoo curse instilled on its former plantation owner. Richard Friedman's film was based initially on a Mark Frost screenplay that was mostly jettisoned in favor of a broader approach relying on mystery before going completely bonkers with creatures, gore effects and assorted shenanigans in its final 10 minutes. Getting there, though, is something of a chore, but again, for genre fans of the era who won't mind the wait, "Scared Stiff" has its share of pleasures. Arrow's terrific 2K restored transfer (1.85) hails from original film elements and comes complete with numerous new interviews and documentary features, plus a commentary with Friedman and producer Dan Bacaner. The duo admit a lot of the production's impetus was finding a warm location to spend the winter in, and similarly admit their serious attempts to produce a horrific cinematic experience proved to be ultimately silly instead.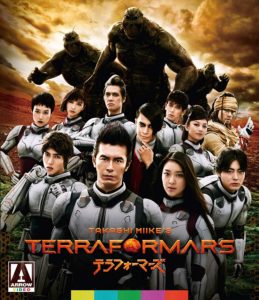 Also new from Arrow this month is the 2016 Takashi Miike production TERRAFORMARS (108 mins.), a sci-fi adventure derived from a Japanese Manga series. This live-action feature follows a group of humans on a mission to Mars, hoping to colonize outer space after Earth is deemed overcrowded – there, they find the coackroaches they sent 500 years before have evolved into humanoid creatures, but that they themselves have "bug DNA" that enables them to transform and combat the monsters. Miike's movies are often an acquired taste and "Terraformars" plays like some kind of whacked-out "Starship Troopers" remake with more flamboyant characters who end up looking like Insectoid Power Rangers. There's plenty of violence and not a particularly compelling story, but if you find the source material appealing, "Terraformars" likely delivers on its cinematic excess. Arrow's Blu-Ray includes a 1080p (2.35) transfer, 5.1 DTS MA Japanese audio with English subs; a feature-length documentary on the production, image gallery, trailers and outtakes.
Also New From Arrow: Alain Resnais' MELO (110 mins., 1986) is the French filmmaker's look at a pair of concert violinists (Pierre Arditi, Andre Dussollier) who reunite after several years, hoping to rekindle their friendship – only to have one fall in love with the other's wife (Sabine Azema). Resnais adapted Henri Bernstein's play for this acclaimed drama, presented here in a new 2K restoration (1.66) with lossless French audio, English subtitles, a new appreciation from critic Jonathan Romney, archive interviews with a full roster of cast/crew members, and the trailer…Franco Nero stars in KEOMA (101 mins., 1976), Enzo G. Castellari's Spaghetti Western about a half-breed gunslinger who returns from the Civil War only to find his hometown overrun by a gang led by Donald O'Brien. Woody Strode co-stars as a former slave who joins with Nero to take them down in a genre exercise best appreciated by Italian exploitation fans, who won't mind the director's constant nods to Leone, done in a pulpier manner. Arrow's Blu-Ray includes a new 2K restoration (2.35) from the original 35mm camera negative; English and Italian soundtracks; new commentary by C. Courtney Joyner and Henry C. Parke; new interviews with Nero, Castellari, and other cast/crew members; trailers and image galleries, archival featurettes and plenty more…New from S'More Entertainment is Volume 3 of THE DICK CAVETT SHOW: INSIDE THE MINDS OF… (aprx. 5 hours), which contains long conversations with Eddie Murphy (1985), Richard Pryor (1985), Red Foxx (1969) and Dick Gregory (1972, 1990). S'More's DVD offers the episodes on two discs.
---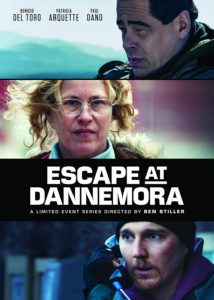 On DVD
RAY DONOVAN: Season Six DVD (11 hours, 2018; CBS): Ray's back in New York City after being saved by a Big Apple cop who brings Donovan into the Staten Island Police Department – and into a new world of corruption he has to navigate. Still working with media mogul Samantha Winslow as well as a mayoral candidate, he rubs up against the new friends who helped him in this sixth season of the Showtime series starring Liev Schreiber, Eddie Marsan, Susan Sarandon and Jon Voight. CBS' Season 6 DVD (1.78, 5.1) includes behind-the-scenes featurettes and streets this week.
ESCAPE AT DANNEMORA DVD (8 hours, 2018; CBS): Multi-award winning Showtime series from director Ben Stiller dramatizes the true-life escape from an upstate New York prison by two convicts (Benicio Del Toro, Paul Dano) who utilized a married, dowdy-looking prison employee (Patricia Arquette) to aid their plans. The performances of all three leads as well as David Morse as a guard make this a recommended view, even if the show – written by Brett Johnson and Michael Tolkin – feels overly extended and at-times repetitive. CBS' DVD includes commentary from Stiller and Arquette among others, two featurettes, a 16:9 (roughly 2.2:1) transfer and 5.1 Dolby Digital sound.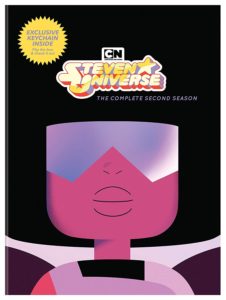 STEVEN UNIVERSE – Complete Second Season DVD (242 mins., Warner): All 22 second-season episodes from Cartoon Network's popular series finds Steven and the Crystal Gems facing off against Peridot, uncovering new "gem fusions" like Rainbow Quartz and Sardonyx, and trying to stop Cluster from threatening the entire planet. Garnet's origin story is also revealed in Season 2 of "Steven Universe," on DVD this week from Warner sporting animatics, 16:9 transfers, 5.1 audio and a bonus keychain.
STAN & OLLIE DVD (98 mins., 2018, PG; Sony): John C. Reilly and Steve Coogan are terrific in this highly entertaining chronicle of Laurel & Hardy's swan song, performing in English variety halls in the early 1950s. Their tumultuous partnership and unforgettable comic chemistry becomes front and center as the duo reflect on the assorted ups and downs of their decades-long creative pairing, captured by writer Jeff Pope and director Jon S. Baird in a film that provides an effective snapshot of one of the 20th century's indelible comedy teams. Sony's DVD (2.39, 5.1 Dolby Digital) includes deleted/extended scenes and featurettes.
PAW PATROL: Ultimate Rescue DVD (94 mins., 2019; Nickelodeon): New DVD compilation of episodes from the top-rated Nick kids series includes the episodes Pups Save the Royal Kitties; Pups Save the Tigers; Pups Save the Movie Monster; Pups Save a Swamp Monster; and Pups and the Hidden Golden Bones. 16:9 transfers and 5.1 soundtracks grace the single-disc Nickelodeon DVD, out this week.
---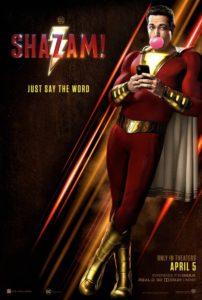 In Theaters
SHAZAM! (**½): After the success of "Wonder Woman" and "Aquaman," DC Comics attempts to score three in a row with "Shazam!" – an older property best remembered by 40s/50 somethings via Filmation's live-action TV series from the 70s.
Updated for a new era of endless super-hero features, "Shazam!" works from the same basic premise as its comic book origins, with young teen Billy Batson gaining the powers of a muscular, older super-hero (in the guise of Zachary Levi). At first Shazam is content to grab money from patrons on the streets of Philadelphia for his newly-acquired powers, but the arrival of a villain played by Mark Strong – who was turned down for the mantle of Shazam as a boy – complicates things for both he and his new foster family.
With an earnest premise and more of a focus on "family," I wanted to like "Shazam!" – in fact I was rooting for it – but the end result is a picture that's probably too strong for little kids (one dad walked his youngsters out before the film was over and didn't return) but not sophisticated enough for adults...especially those of us increasingly exhausted by this genre. Yes, Levi is fun, but there's little development of its central concept, with all of its cards – dramatically and comedically – essentially shown in the movie's trailer.
One would've thought the story of a high schooler who becomes an older, muscular super-hero would have room for a lot of heart and development of its domestic scenario, but outside of a scene with a security guard and a couple of bullies tormenting Billy's new, disabled foster brother, "Shazam!" doesn't have much time for Billy's adventures away from the standard formula.
Instead -- and this is undoubtedly to sell the film globally -- the accent even here is on action and CGI and monsters and the bad guy, the frustrated former little boy passed over for the "champion's mantle," who's trying to steal Shazam's power. It's extremely familiar in its pace, scoring, editing -- there's nothing new or fresh here, even with the younger protagonists ultimately taking on the guises of adult heroes -- and like too many "origin films," it takes far too long for the film to get going.
In the end, "Shazam!" is cute but if you've seen the trailer, you've already seen everything it has to offer. Had this film been made 20 or, more over, 30 years ago, you would've likely had a lot more dialogue, less effects, and a stronger, more sophisticated screenplay -- now it's just one more of these pictures, mostly comprised of fully interchangeable parts, rolling off the line before the next one hits in a few weeks. (130 mins., PG-13)
NEXT TIME: Kino Lorber's April releases including GREEN CARD. Until then, don't forget to drop in on the official Aisle Seat Message Boards and direct any emails to our email address. Cheers everyone!