Leading off Twilight Time's summer roster of limited-edition Blu-Rays is Mark Rydell's CINDERELLA LIBERTY (***, 1973, 116 mins., R), a flavorful character study of a sailor (James Caan) who falls for a troubled call girl (Marsha Mason) while on an extended "Liberty" pass.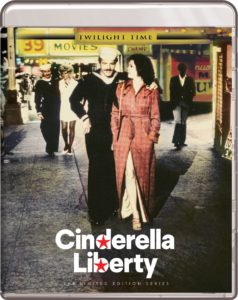 Darryl Ponicsan adapted his novel for this 1973 Fox production, which Rydell vividly shot, using Panavision, in authentic Seattle locales. "Cinderella Liberty" is dated in some ways, particularly in its now-improbable ending, but the performances of Caan, Mason, and Kirk Calloway as Mason's 11-year-old son are terrific and the infectious John Williams soundtrack — punctuated by vocals from lyricist Paul Williams and harmonica by Toots Thielemans, whom Williams would later collaborate so memorably with on "The Sugarland Express" — is one of the film's chief assets.
Fox's 2007 DVD of the film was quite good for its era, but Twilight Time's Blu-Ray (2.35) is even better, offering high detail and a natural looking transfer without heavy noise-reduction. Like the DVD, a gently "stereophonic" 2.0 DTS MA mix is included along with the original single-channel mono audio, while reprised extras include a commentary from Rydell, a vintage on-set promo reel, the theatrical trailer, and an isolated score track.
Glossy Fox melodrama from the Cinemascope era is on-tap in THE REVOLT OF MAMIE STOVER (**½, 92 mins., 1956). This adaptation of William Bradford Huie's novel was reportedly heavily sanitized for the cinematic sensibilities of the 1950s, with star Jane Russell playing the title character not as a prostitute but rather a dance hall "hostess" in Honolulu. Her Mamie strikes up a relationship with a wealthy writer (Richard Egan) en route from San Francisco in this Raoul Walsh-helmed studio affair, graced by a Hugo Friedhofer score and a memorable supporting turn from Agnes Moorehead as Russell's "boss." Twilight Time's Blu-Ray includes another strikingly sharp 1080p (2.35) Fox transfer with glorious 5.1 DTS MA stereo sound (a 2.0 track is also included), with the trailer and isolated Friedhofer score track on the supplemental side.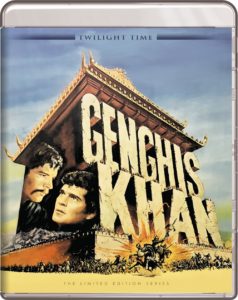 Viewers with a fondness for '60s widescreen spectacles should get a kick out of the seldom-circulated GENGHIS KHAN (**, 125 mins., 1965), a mostly forgotten Columbia production starring Omar Sharif in the title role. Henry Levin's film surrounds him with a fascinating all-star cast – Stephen Boyd, James Mason, Eli Wallach, Robert Morley, Francoise Dorleac and even Telly Savalas – in a picture hampered by a clichéd Clarke Reynolds-Beverley Cross screenplay. It's certainly not "Lawrence of Arabia," but aficionados of the genre should find sufficient entertainment here – if nothing else for its casting and the widescreen lensing of the great Geoffrey Unsworth. Twilight Time's Blu-Ray offers a fine 1080p (2.35) Sony-licensed transfer, marked by a somewhat limited color pallet. The often coarse 1.0 DTS MA mono sound (featuring a score by Dusan Radic) is typical of its time, with a music/effects track and the trailer rounding out the disc.
Finally, making its Blu-Ray debut is THE CHILDREN OF HUANG SHI (125 mins., 2008, R). This true story about a British journalist who sets out to chronicle the Japanese atrocities in China during WWII, is captured but rescued by a Chinese resistance leader (Chow Yun Fat) and sent to live in a children's orphanage, forms the basis of veteran director Roger Donaldson's film. "The Children of Huang Shi" is certainly well-intentioned and offers a fine cast (Jonathan Rhys Meyers as writer George Hogg; Michelle Yeoh and Radha Mitchell in supporting parts), but the film is tedious and never quite reaches the emotional heights one would anticipate from the central story. That said, this is nevertheless a good-looking film which Sony only issued on DVD in 2008. Twilight Time's attractive Blu-Ray includes a 1080p (2.35) transfer with 5.1 DTS MA sound, a Making Of featurette, the trailer, and an isolated track of David Hirschfelder's original score.
---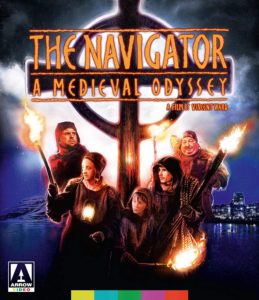 Arrow New Releases
Vincent Ward's second feature, THE NAVIGATOR: A MEDIEVAL ODYSSEY (90 mins, 1988),catapulted the New Zealand filmmaker onto the international stage. Nominated for the Palme d'Or at Cannes, this low-budget production chronicles how a young boy in the mid-14th century leads a group of his villagers into a strange, surreal world – namely, the then-present day New Zealand of the 1980s – while facing the fear of the Black Death. Short on financial means but long on cinematic invention, "The Navigator" showed Ward to be a force to be reckoned with as he produced a visually impressive fable that only disappoints with its bleak ending.
The picture that earned him a gig writing and directing (at least for a time) "Alien 3," "The Navigator" has been impressively brought to Blu-Ray by Arrow. The newly-available disc sports a 1080p (1.85) transfer supervised by Ward, a full-bodied 2.0 LPCM stereo soundtrack, and extras including a 1989 New Zealand TV documentary on Ward, a new appreciation of the film by critic Nick Roddick, and the trailer.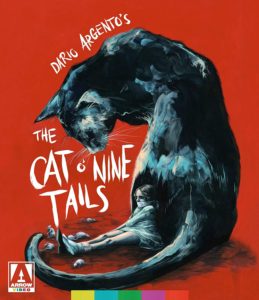 Coming August 14th is Arrow's brand-new 4K restoration of the Dario Argento thriller THE CAT O'NINE TAILS (112 mins., 1971, R), starring James Fransiscus and Karl Malden in a Hitchcockian thriller that most Argento fans rate as one of the director's lesser films. However, its straightforward plot and use of 2.35 widescreen may make it more accessible for those not fully immersed in Italian cinema. I even recall seeing the movie on a local station's "Dialing for Dollars Afternoon Movie" in a horribly dark, cropped TV print in the early '80s, which made watching the 2.35 transfer of Arrow's new Blu-Ray a particular revelation.
Previously brought to the format by Blue Underground, Arrow's Blu benefits from a 4K scan of the original camera negative and a number of new extras: a fresh commentary by critics Alan Jones and Kim Newman, plus new interviews with Argento, writer Dardano Sacchetti, production manager Angelo Iacono, and actress Cinzia DeCarolis; script pages for the lost ending; trailers; and mono Italian or English soundtracks, featuring music by Ennio Morricone (who provides a typically off-the-wall, early '70s score). Warmly recommended for Argento enthusiasts.
Finally, Sergio Martino's THE CASE OF THE SCORPION'S TAIL (95 mins. 1971) has been recently released by Arrow. This giallo stars Evelyn Stewart as a woman whose husband has died in a plane accident; summoned to Athens to collect his life insurance policy, she quickly finds out that others want in on the action…at the any price! Greek locales give this nicely shot (2.35) genre exercise some early '70s style, with Arrow's Blu-Ray boasting a new 2K restoration from the original negative; Italian and English soundtracks; commentary with writer Ernesto Gastaldi (in Italian with English subtitles); and new interviews/segments with co-star George Hilton, Martino, critic Troy Howarth and author Mikel J. Koven.
---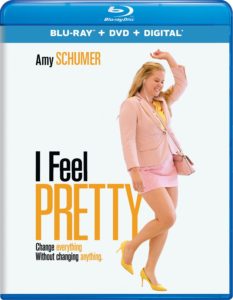 Also New & Noteworthy
I FEEL PRETTY Blu-Ray/DVD Combo Pack (111 mins., 2018, PG-13; Universal): Amy Schumer tones down her raunchy shtick, more or less, for this fanciful tale of an insecure woman – one who struggles with her weight and self-confidence – who takes a fall and wakes up believing she's the most beautiful and headstrong woman in the world. Predictable messaging about female empowerment and such follow, but "I Feel Pretty" is a likeable enough vehicle for Schumer, who proves appealing here under the direction of screenwriters Abby Kohn and Marc Silverstein. Helping matters is a capable supporting cast including Michelle Williams, Busy Philipps, and Saturday Night Live's Aidy Bryant. Universal's now-available Blu-Ray includes deleted scenes, a gag reel, 7.1 DTS MA sound, a DVD and Digital HD copy.
BLUMHOUSE'S TRUTH OR DARE Blu-Ray Combo Pack (100/101 mins., 2018, PG-13/Unrated; Universal): Savvy branding (Blumhouse slapped their name on the picture, much in the same way Disney and Marvel do for their products) helped fuel the box-office for this otherwise blah teen-horror outing. Lucy Hale and Tyler Posey – she of "Pretty Little Liars" fame, he of MTV's "Teen Wolf" series – star in this story about a game of Truth or Dare that scares up serious shenanigans…of the supernatural variety! The DOA ending should be enough to scare anyone but undemanding teen viewers away from the film, which nevertheless turned profitable for Universal commercially. Universal's Blu-Ray, out this week, includes the theatrical version of "Truth or Dare" plus an unrated Director's Cut version (adding a minute of material) plus two featurettes, commentary, a 1080p (2.39) transfer and 5.1 DTS MA sound. A DVD and Digital HD copy round out the disc.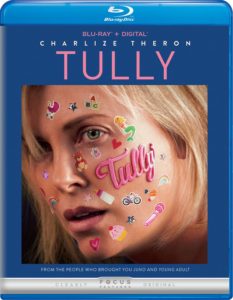 TULLY Blu-Ray (96 mins., 2018, R; Universal): A few years ago, screenwriter Diablo Cody was all the rage, working on a number of films including two collaborations with director Jason Reitman – one of which ("Juno") became a box-office hit, the other ("Young Adult") a commercial misfire that received mixed notices. The duo are back with "Tully," working with the latter's star – Charlize Theron – in the story of a hard-working mother balancing two kids with the birth of a third. She receives help in the form of a night nanny (Mackenzie Davis), though ultimately, not all is what is seems. "Tully" isn't exactly "Mary Poppins," and generated some controversy through its portrayal of postpartum depression. Make no mistake, where the movie goes is a stark turn from its trailers and advertising, though the performances are all worthwhile and Theron and especially Davis are superb together. Universal's Blu-Ray offers a solitary featurette, a 1080p (1.85) transfer, 5.1 DTS MA sound and a Digital HD copy.
DISOBEDIENCE Blu-Ray (115 mins., 2017, R; Universal): Rachel Weisz and Rachel McAdams give sensitive performances in this story of a Jewish woman (Rachel Weisz) who returns to her orthodox community after the passing of her father. There, she rekindles a forbidden love affair with her childhood friend (Rachel McAdams), who's since married a man (Alessandra Nivola) and remained in their faith. Sebastian Lelio directed this adaptation of Naomi Alderman's novel, now on Blu-Ray from Universal. The no-frills disc includes a 1080p (2.39) transfer, 5.1 DTS MA sound and a Digital HD copy.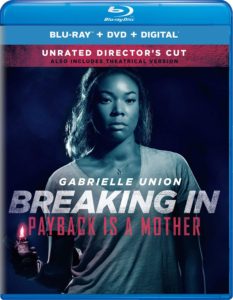 BREAKING IN Blu-Ray (88 mins., 2018, PG-13; Universal): Gabrielle Union struts her stuff as a mother who "will stop at nothing!" to rescue her two kids in this rote spring release. Director James McTeigue once helmed a big-budget action affair in "V For Vendetta" but here finds himself struggling to inject life into a push-button screenplay co-starring Billy Burke. Universal's Blu-Ray includes both the theatrical version of "Breaking In" along with an unrated Director's Cut, adding one minute of footage. An alternate opening is also on-tap plus a commentary with McTeigue and writer Ryan Engle, a slew of Making Of featurettes, a 1080p (2.39) transfer and 5.1 DTS MA audio.
FINAL PORTRAIT DVD (90 mins., 2018, R; Sony): Actor Stanley Tucci wrote and directed this offbeat picture that chronicles the friendship between American writer/art lover James Lord (Armie Hammer) and artist Alberto Giacometti (Geoffrey Rush), who asks his friend to pose for a portrait in Paris. Giacometti's artistic process ends up stretching well beyond the short time frame initially intended in a finely performed piece about creativity that's out on DVD July 31st from Sony. The disc includes behind-the-scenes footage, interviews with cast and crew, a 16:9 (2.39) transfer and 5.1 Dolby Digital sound.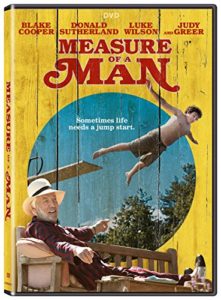 MEASURE OF A MAN DVD (100 mins., 2018, PG-13; Lionsgate): Coming-of-age film stars Blake Cooper as a rotund 14-year-old trying to get through his family vacation while being bullied by all sorts of folks, including an upstate NY townie (Beau Knapp) living nearby. Set in the Catskills but shot in Rhode Island, this adaptation of Robert Lipstye's novel takes place in the late '70s and offers fine performances from Cooper and Donald Sutherland as a Wall Street executive who hires Cooper's Bobby to work on his estate, helping him stand up for himself in the process. Lionsgate's DVD is out August 7th sporting a 16:9 transfer and 5.1 sound.
COUNTERPART – Season 1 Blu-Ray (9 hours, 2018; Lionsgate): J.K. Simmons fans have reason to celebrate with this week's Blu-Ray release of "Counterpart," an entertaining new Starz series. Giving Simmons not one but two chances to carry his own cable series, "Counterpart" stars the award-winning character actor as Howard Silk, part of a German-based spy agency who finds out his group is really safeguarding a parallel dimension. After he's thrown into the action, he finds out the only one can trust is himself – his doppelganger from that other dimension. Well-written, "Counterpart" gives Simmons a great showcase and is due back on the air in 2019 – until then, fans and new viewers can become acquainted with the show's first season. Available this week, Lionsgate's Blu-Ray offers two featurettes, 1080p transfers and active 7.1 Dolby TrueHD soundtracks.
LEGO DC SUPER HEROES, AQUAMAN – RAGE OF ATLANTIS Blu-Ray Combo Pack (77 mins., 2018; Warner): Aquaman teams up with Superman, Batman, Martian Manhunter, Wonder Woman and Jessica Cruz, a rookie Green Lantern, in Warner's latest, kid-centric animated Lego adventure. This time out, Aquaman is called away from his Atlantean home to join forces with the Justice League and take down an extraterrestrial threat. His adjustment period forms much of the comedy in this typically goofy but enjoyable Lego affair, with a shortened running time that makes the manic action more palatable for adults. Warner's attractive 1080p (1.78) Blu-Ray transfer is awfully nice, with 5.1 DTS MA sound, a DVD, Digital Copy, and bonus Lego minifigure of Cruz in her Green Lantern attire included as a bonus.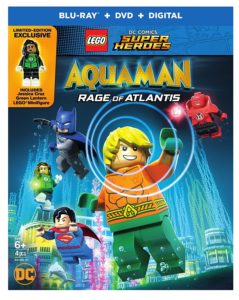 STREETS OF VENGEANCE Blu-Ray (101 mins., 2017, Martini Entertainment/Olive Films): Throwback homage to the low-budget femme-exploitation films of the '80s (think "Angel"), "Streets of Vengeance" stars Delawna McKinney as an ex-porn star trying to leave the industry behind when she's kidnapped by a cult that's trying to eliminate the world of women – at least those who believe they're using sex to destroy men. Paul Ragsdale and Angelica De Alba's film has been brought to Blu-Ray by Olive's Martini label sporting a bounty of extras (commentary, outtakes, interviews, Making Of materials), a 1080p (1.78) transfer and 2.0 stereo sound.
Acorn New Releases: Yannick Bisson returns as ace Detective William Murdoch in Season 11 of THE MURDOCH MYSTERIES (792 mins., 2017-18). Set once again in Edwardian Toronto, Season 11 of the popular Canadian series finds Murdoch imprisoned for a murder he didn't commit, leading friends Constable Crabtree (Jonny Harris), Inspector Brackenreid (Thomas Craig) and Detective Watts (Daniel Maslany) on a tear to clear his name. Meanwhile, Helene Joy's Dr. Julia Ogden remains in hiding before the dust settles and the crew gets back to doing what they do best – solving a series of crimes involving historical figures like Helen Keller, Alexander Graham Bell and Teddy Roosevelt. Acorn's Blu-Ray of the 2017-18 "Murdoch" season includes 1080p transfers and 5.1 DTS MA sound, along with under a half-hour of "Making Murdoch" featurettes.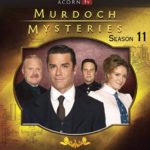 Also new this month from Acorn is KEEPING FAITH (480 mins., 2017), a mystery series from the BBC starring Eve Myles (veteran of "Broadchurch" and "Torchwood") as a Welsh lawyer with a loving husband (Bradley Freegard) and whom becomes the prime suspect in his unexpected, shocking disappearance. Secrets, of course, abound in their quiet town, involving both Eve's missing spouse and a criminal underbelly that forms the basis of the well-reviewed series. Acorn's Blu-Ray of this British import (which was available exclusively on the Acorn TV platform) includes a 45-minute featurette and short character introductions.
NEXT TIME: SUPERGIRL Flies on Blu-Ray! Until then, don't forget to drop in on the official Aisle Seat Message Boards and direct any emails to our email address. Cheers everyone!