Message Board (open 24 hours!)
Twitter - @andredursin (for everything else!)
It was one of the biggest comedy hits of the 1980s, returning close to $200 million when adjusted for inflation. Spawning six sequels, an animated TV series and recurrent talk of a big-screen resurrection, POLICE ACADEMY may not have received widespread critical acclaim – or in the case of its follow-ups, even a small amount of positive critical response – but it remains a viewer favorite, both for its wacky gags as well as its appealing assortment of rag-tag underdogs who triumph against all odds. If you're a fan, "Academy" addicts will be excited to learn that Shout! Factory has at last brought the series to Blu-Ray this month in a five-disc POLICE ACADEMY COLLECTION "Shout Select" box-set.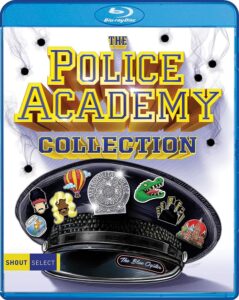 If you grew up in the '80s, you likely saw the series in one form or another, especially since the sequels progressively appealed to a younger demographic. That wasn't the case necessarily with the original POLICE ACADEMY (96 mins., 1984, R), which became a bona-fide, R-rated hit for the struggling Ladd Company, which had recently suffered a huge financial loss with "The Right Stuff."
My first exposure to the film came when the late Chris Lee, an elementary school buddy of mine, rented the original – or I should say his parents did, at some point once the film hit VHS. Though the film was R-rated for a few raunchy gags and brief nudity, it apparently got the green-light from Chris' folks, which was understandable seeing as the movie is positively tame compared to the standards of any modern comedy.
The Paul Maslansky production offers a series of colorful characters suiting up for the Police Academy – hungry to accept any new recruit – under the guidance of hapless Cmd. Lassarde (George Gaynes, Punky Brewster's "Henry") and domineering Captain Harris ("MASH" vet G.W. Bailey). The group includes smooth-talking Mahoney (Steve Guttenberg, who parlayed the film's success into a number of '80s leading roles), gun-crazed Tackleberry (the wonderful, late David Graf), sound FX wizard Larvell Jones (Michael Winslow), quiet muscleman – and florist! – Hightower (Bubba Smith), and Marion Ramsey as the soft-spoken Hooks. Along for the ride – though only in this installment – are Kim Cattrall as the picture's nominal female lead, though it's surprising how little she has to do in the picture; Donovan Scott as corpulent Leslie Barbara; and Andrew Rubin as the smooth talking George Martin.
The group proves to be less than competent in going through the usual police drills, but eventually, they (of course) come together and even help out during an actual riot in the unnamed city the action takes place in (actually Toronto, where the majority of the "Police Academy" films were shot).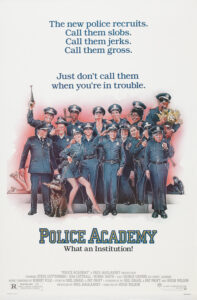 I hadn't seen "Police Academy" in years before a revisit nearly a decade ago, and much to my surprise, director Hugh Wilson's original film remains thoroughly entertaining. The first half offers the expected, "Stripes"-like shenanigans involving Mahoney and company causing havoc for Captain Harris, with Wilson – a veteran of "WKRP in Cincinnati" – moving the film right along, pacing the film briskly with little time to expand on the various characters (the six sequels would offer enough opportunities!) and focusing entirely on gags. The sheer momentum of the film, along with Robert Folks' terrific, memorable score, helps to overcome the hit-or-miss humor in the script – written by Wilson from an apparently raunchier, early draft by "Bachelor Party" scribes Neal Israel and Pat Proft – though there are a few amusing moments (The Blue Oyster Club in particular) along the way. Guttenberg's natural charisma also is a big asset, anchoring the comedically inclined supporting cast and displaying chemistry with both Smith and Winslow, who would have more screen time in subsequent adventures.
What surprised me particularly about the first "Police Academy" is the picture's brief shift into something resembling a serious action climax in its concluding moments. No, it's not especially heartpounding as the trainees find themselves in the midst of a real crisis, but it's easy to see why the film played so well with audiences, as Wilson delivers an ending that's treated just seriously enough to make it a legitimate crowd-pleaser. It's not a laugh riot, but it's an effective, trim piece of studio filmmaking that's thoroughly likeable, especially when viewed today, and carried by Folk's superb score.
Grossing $81 million back in 1984 – the equivalent of $239 million by 2023 standards – "Police Academy" was an immediate hit. It didn't save the Ladd Company, which ended its relationship with Warner Bros. the following year (selling off the series to WB in the process), yet the film's impact trickled down to a number of similarly-themed comedies, including Neal Israel's own "Moving Violations," as well as a litany of sequels that would be produced for the duration of the decade.
POLICE ACADEMY 2: THEIR FIRST ASSIGNMENT (87 mins., 1985, PG-13) is easily the best of the bunch. Taking advantage of the recently implemented PG-13 rating, this first sequel managed to tone down just enough of the raunch factor to enable kids back in the day (including yours truly) to get into screenings, opening up the series for younger viewers. In fact I firmly recall my viewing of the movie with my parents while we were on spring break in Florida back in April of '85, in a packed multiplex somewhere near Boca Raton.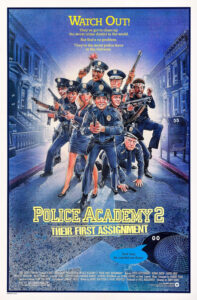 "Happy Days" vet Jerry Paris took over from Hugh Wilson while SNL veterans Barry Blaustein and David Sheffield strayed from the formula of its predecessor sufficiently to create a comedic product that's quite funny and far better than any of the films that followed it.
Here, the Academy graduates – Mahoney, Tackleberry, Jones, Hooks and Fackler – are brought into a tough precinct presided over by Cmt. Lassarde's brother (Howard Hesseman, taking over for George Gaynes, who appears only in a cameo), who's trying to clean up the streets. The new recruits do battle with a not-quite-vicious gang leader, Zed, played by Bobcat Goldthwait in an inspired comic performance that led to the character being brought back in subsequent sequels. The supporting cast is likewise strong: Tim Kazurinsky, one-time SNL cast member and screenwriter of "About Last Night…", generates a few laughs as a meek inner-city shop keeper; Colleen Camp makes an appearance as Tackleberry's partner; and minus G.W. Bailey's Captain Harris, Art Metrano serves up an inferior, even more outwardly comedic foil as the arrogant Capt. Mauser. Lance Kinsey, at least, is quite funny as Proctor, his brainless right-hand man.
While there's an episodic component to the film, and the movie's budget seems lowered from the original, "Police Academy 2″ is actually very funny, with ample gags and a quick pace. Robert Folk's wonderful scoring carries the film as well, adding in some exciting action cues and a sweeping love theme for Tackleberry's whirlwind romance with his new partner (it's too bad a boxed-set wasn't released of Folk's music for the various "Police Academy" sequels). "Police Academy 2″ opened March 29th, 1985 – nearly a year after its predecessor – and coasted to a $55 million gross, the equivalent of $157 million adjusted for current inflation.
Outside of a few f-bombs, "Police Academy 2″ wasn't as raunchy as its predecessor, establishing a trend that escalated further down to PG-level slapstick in POLICE ACADEMY 3: BACK IN TRAINING (83 mins., 1986, PG). This shoddy follow-up tries to recycle elements of the original "Police Academy" – with the return of several cast members missing from the second sequel (Leslie Easterbrook, Debralee Scott, Scott Thomson, Brent Van Hoffman) – but fails on nearly every conceivable level.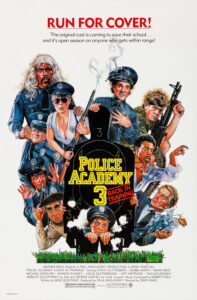 The big problem is that the sequel has no flow. At barely 80 minutes plus credits, the film shows every sign of having been cut significantly, as many scenes seem to begin midway through their duration and abruptly end, arbitrarily going into the next gag. Perhaps there was good reason for the pruning, as what's here isn't funny in the slightest, but the finished product is arguably the worst of the entire series.
The script by Gene Quintano – a scribe whose credits ranged from Cannon's "King Solomon's Mines" to the Jean-Claude Van Damme flop "Sudden Death" – finds Lassarde's Academy going up against Mauser's rival school in a competition to determine which outfit is best. Cue the original cast, who attempt to whip some of the new recruits into shape – these include half the cast of "Police Academy 2," including Tim Kazurinsky's timid shop owner and Bobcat Goldthwait's Zed. Regrettably, neither can muster any laughs, while even Steve Guttenberg's Mahoney feels like an afterthought in a film that shamelessly recycles its predecessors' gags and never finds a comfortable gear, all despite returning director Jerry Paris from Part 2. Even the end credits feel padded!
"Back in Training" nevertheless fared well at the box-office – coming just a few dollars under its immediate predecessor – bringing POLICE ACADEMY 4: CITIZENS ON PATROL (87 mins., 1987, PG) to production quickly. This installment was once again written by Gene Quintano and offers a slight upgrade over its predecessor (with G.W. Bailey returning from a two-picture hiatus as Captain Harris), though especially here, one can sense the film being cut for maximum slapstick effect – favoring its increasingly juvenile audience – at the expense of any coherent story.
Steve Guttenberg is back for one last go-around as Mahoney, though in hindsight it's hard to imagine why he bothered unless he had to fill out a contractual obligation. Mahoney makes just a few appearances in this romp, which finds the gang trying to train up a group of civilians, including "rad" skateboarders played by a clearly too-old David Spade and Brian Backer (best known as "Fast Times at Ridgemont High"'s Mark Ratner), for its "Citizens on Patrol" outreach program.
Sharon Stone fills the requisite female lead in "Citizens on Patrol," but the editors junked nearly all of the scenes she shared with Steve Guttenberg, essentially rendering her role pointless in the process. A couple of their discarded bits are included in the disc's deleted scenes (and were restored to the broadcast TV airings), but most of the film is focused on the assorted personalities of the "COP" participants, with Billie Burke generating most of the laughs as an elderly new recruit. Though the film is pretty blah – functioning as an uneventful send-off for Guttenberg and Bobcat Goldthwait's Zed – the hot-air balloon action climax is, admittedly, well handled by director Jim Drake, ranking as one of the series' most elaborate and effective set-pieces.
"Citizens on Patrol"'s box-office gross was $28 million – down sharply from Part 3's $43 million, but more than good enough to keep the series going for a pair of follow-ups that would be released as the '80s drew to a close.
POLICE ACADEMY 5: ASSIGNMENT MIAMI BEACH (90 mins., 1988, PG) dropped Mahoney and turned the series' attention to the supporting cast, most of whom have more to do. It also offers a more developed (relatively speaking) story than its immediate predecessors, with the gang – in Miami to help celebrate Commandant Lassard's award as "Police Officer of the Decade" – running into jewel thieves. Among the latter are veteran character actor/comedians Rene Auberjonis and Archie Hahn, who do – to their credit – amiably mug their way through Stephen J. Curwick's script. There's also a Mahoney fill-in, courtesy of Matt McCoy's Nick (Lassard's nephew), who gets to bat his eyes with female lead Janet (Gretzky) Jones.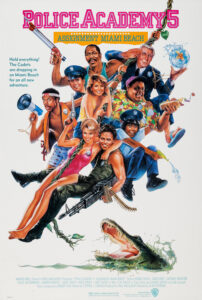 Moving back to its Toronto shooting locales, POLICE ACADEMY 6: CITY UNDER SIEGE (84 mins., 1989, PG) is arguably the most entertaining of the later series efforts. "Bob Newhart Show" vet Peter Bonerz directed and generates some laughs from the cast – here augmented with the return of Bruce Mahler's hapless Fackler plus Kenneth Mars and Gerrit Graham as the bad guys – while Stephen Curwick's script finds the gang trying to combat a rash of robberies across the city.
Though neither Parts 5 or 6 are particularly noteworthy, they're amiable enough and fun for young (and nostalgic) viewers, with more coherent story lines than the middle sequels of the series while Robert Folk's scores lend a consistent, sturdy assist.
With rapidly declining receipts ("Miami Beach" netted $18 million and "City Under Siege" dove sharply to $11 million) and the series having migrated to its next natural destination – a silly animated series strictly for little kids – it looked like "Police Academy" had hung up its cuffs at long last.
Producer Paul Maslansky and Warner Bros. opted to give it one more try, however, by utilizing post-Glasnost Russian shooting locales in the barely-released POLICE ACADEMY: MISSION TO MOSCOW (83 mins., 1994, PG).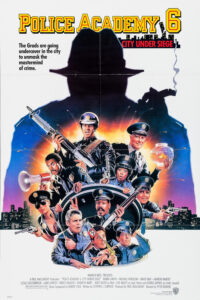 Other than allowing George Gaynes the ability to take top billing for the first time, this is a weak, belated series finale that sends Lassard and selected members of the original cast (Michael Winslow, David Graf, Leslie Easterbrook, and G.W. Bailey) to Russia in order to help apprehend a Russian mob boss (Ron Pearlman) who's embezzling money under the guise of a Tetris-like video game.
It's fun to see Christopher Lee and a pre-stardom Claire Forlani working together here, but beyond the novelty of its setting, "Mission to Moscow" is pretty feeble stuff. Warner Bros. understandably agreed, dumping the film out in a token, limited theatrical run in late August of '94 prior to sending it straight to video a few months later.
Warner released a basic Blu-Ray box-set in Europe nearly a decade ago, but only now has Shout! brought the franchise to high-def domestically – and with some exclusive new transfers as well. In fact, these 2K remasters (all 1.85) offer more detail and better color definition than the old Warner HD masters contained on the overseas Blu-Ray, even though there are a few quirks here and there (i.e. Robert Folk's music being cut off on the main titles of "Police Academy 2").
In all, though, it's a superior a/v package to all prior releases and Shout! has sweetened the pot by including a multitude of extra features, some of which have been newly produced for this collection.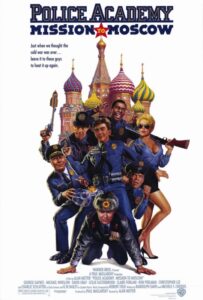 With the sequels combined in double-feature BD-50 discs (the original receives its own platter), a separate disc of special features are highlighted by a new interview with composer Robert Folk, who talks about becoming involved with the first "Police Academy" after Elmer Bernstein had to back out of the project. There are also new interviews with producer Paul Maslansky; Neal Israel and Pat Proft, discussing their script for the original film; star G.W. Bailey ("Captain Harris"), who details how he replaced Paul Dooley; actor Lance Kinsey ("Proctor"); assistant director Roger Joseph Pugliese (discussing the second movie's production); director Alan Myerson (detailing the 5th movie); and actor/director Peter Bonerz, who helmed "City Under Siege." Shout also recorded a new commentary for "Citizens On Patrol" with historian Russell Dyball which likewise debuts in the box-set.
Shout has also brought in the extras Warner produced for their DVD box-set from years back, including a cast commentary on the original "Police Academy" featuring Hugh Wilson, Paul Maslansky, Steve Guttenberg and other stars. Warner also produced individual featurettes for each picture which have been carried over (ranging from a half-hour to about 10 minutes each) along with trailers (oddly, several of the trailers are in stereo even though every film in the series, sans the final one, is in mono!), TV/video spots, an image gallery, and some 45 minutes of deleted/alternate scenes. Most of these Shout dug up themselves – many in rough, pulled off Youtube (or worse) condition, others in decent shape, with most culled from each film's broadcast TV version. This is especially true of "Police Academy 4," which boasts 15 minutes of discarded material.
In all, this is a superb presentation of a series that offers a great deal of nostalgia for '80s buffs and still supports lots of slapstick laughs for kids – provided you bypass the first picture (and parts of the second). Highly recommended!
---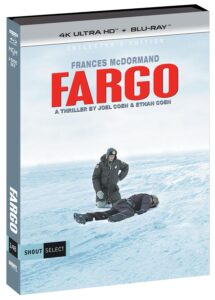 Also New From Shout! Factory
FARGO 4K UHD (98 mins., 1996, R; Shout!): The Coen Brothers' most satisfying film, starring Frances McDormand in her Oscar-winning role as a pregnant Minnesota police chief investigating a kidnapping/murder gone awry, premieres in a dynamic 4K Ultra HD presentation from Shout! Factory this month.
The movie is one of my favorite Coen films (along with "The Big Lebowski" and "No Country For Old Men"), mainly because of its potent mix of humor and mayhem, strong dialogue and fantastic performances from McDormand, William H. Macy, Harve Presnell and Steve Buscemi. It's a funny, incisive, suspenseful piece that ranks right up there with the Coens' finest work.
Shout's 4K/Blu-Ray combo includes a brand new 4K scan and restoration of the original camera negative (1.85) as supervised by cinematographer Roger Deakins. His outstanding cinematography gets a major jolt from the Dolby Vision HDR presentation here, making for a superb upgrade over the Blu-Ray and previous HD masters. The 5.1 soundtrack is effective when called upon, offering a slightly broader stage for Carter Burwell's haunting score than its 2.0 mix (also included).
Extras are culled from previous discs, including a decent though not especially comprehensive 2003 documentary, "Minnesota Nice," highlighted by then-recent interviews with the Coens, McDormand, and Macy. The brothers prefer not to give audio commentaries, so the spotlight is here turned over to cinematographer Deakins, who gives an occasionally interesting talk about the production of the film. A still gallery, trailers, and TV spots – plus Shout's own Blu-Ray based off the 4K remaster – are all included in the now-available 4K UHD combo pack.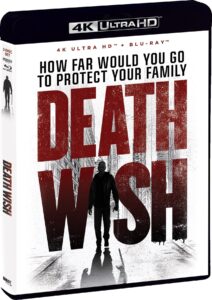 DEATH WISH 4K UHD (107 mins., 2018, R; Shout!): At some point, the prospects of remaking the Charles Bronson vigilante classic "Death Wish" may have seemed like a good idea. And, at some point, having gore auteur Eli Roth and star Bruce Willis involved may have likewise seemed like a smart course of action. Alas, the long-gestating return of initially mild-mannered Paul Kersey to the screen is a total whiff – a film shocking not for its violence but rather the amount of tedium it generates.
A totally disinterested Willis sleepwalks his way through this by-the-numbers updating of the Brian Garfield novel, following Kersey (now a surgeon instead of an architect) as he takes justice into his own hands after his family is viciously attacked. Even with Willis, Vincent D'Onofrio and Elisabeth Shue involved, there's scant reason to watch this tired affair when the Bronson originals – including Michael Winner's "Great Bad Movie" cult fave "Death Wish 3" – are readily available on disc for all to enjoy. Still a relatively recent film that missed a 4K UHD release, Roth's "Death Wish" debuts on 4K UHD November 28th from Shout. The Dolby Vision HDR (2.39) master goes above and beyond the 1080p Blu-Ray with added contrast (the 5.1/2.0 DTS MA sound options are the same) with extras including Roth's commentary, deleted scenes, trailers/TV spots, and a featurette.
POINT BREAK 4K UHD/Blu-Ray (122 mins., 1991, R; Fox): A modest box-office success that became a favorite on video and cable TV, Kathryn Bigelow's stylish action thriller "Point Break" gets a sparkling new UHD from Shout Factory on December 5th that finally does justice to the movie's glossy anamorphic cinematography.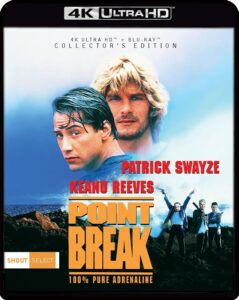 This slick-looking, silly but fun early '90s studio effort finds rookie cop Keanu Reeves assigned to track down a ring of surfing robbers who dress up in masks of former presidents and are lead by none other than Patrick Swayze himself.
While the film certainly falls into the "style over substance" category, the cast and Donald Peterman's lensing make this a larger-than-life production that was hampered on home video alternately by awful cropped transfers or colors that were difficult to convey in pre-high def presentations. Fox's old Blu-Ray was an acceptable enhancement at the time but this Shout 4K UHD (2.39) is a big improvement even on that master, presenting excellent detail and a wider contrast level courtesy of its Dolby Vision HDR. On the audio side, the original 2.0 audio offers a wider dispersal than the 5.1 track, each included here in DTS MA form.
Extras are recycled from previous presentations (additional scenes, four featurettes and the trailer), though even Blu-Ray fans can get in on the action thanks to an included 1080p platter, mastered from the same 4K scan of the interpositive as the UHD itself.
SPIRITED AWAY: LIVE ON STAGE Blu-Ray (320 mins., 2023; Gkids/Shout!): Hayao Miyazaki's anime triumph was adapted to the stage in Japan by director John Caird, filled with musical numbers, terrific sets and lifesized puppets. If you're a fan of the movie, you'll want to check out this impressive production which Shout has brought to Blu-Ray with two complete performances: each with its own cast – as recorded live at Tokyo's Imperial Theatre in 2022. The 1080p (1.78) transfer and 2.0 Japanese audio (English subtitled) are each fine.
---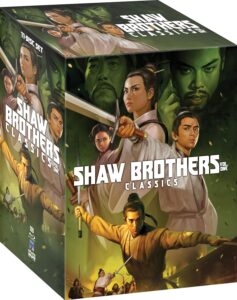 Martial Arts Mayhem!
How good have the last couple of years been for martial arts movie enthusiasts? It's impossible to comprehend how many vintage films from Hong Kong have not only become available for American genre fans but also in brand-new restorations – and many in jam-packed box-sets that offer a treasure trove of content, from Arrow's "Shawscope" boxes to Criterion's new Jackie Chan retrospective (reviewed below).
Shout! has taken the lead on much of the genre love over the last year, offering amazing SHAW BROTHERS CLASSICS Blu-Ray box-sets, as well as incredibly affordable (given the amount of films and scope of supplemental content) retrospective packages of stars like Jackie Chan (across two tremendous box-sets so far) and the great Sonny Chiba.
Chiba was one of many action stars who followed in the wake of Bruce Lee, becoming an international icon through films like the hard-hitting "Street Fighter" series in his native Japan – movies which developed followings via the grindhouse/drive-in circuit in the U.S. However, many of Chiba's films never matriculated to North America, making releases like Shout's SONNY CHIBA COLLECTION VOLUME 2 so essential for buffs.
This retrospective of Toei-licensed features, all produced between 1975-78, spotlights Chiba's work across a swath of genres, both period and contemporary in nature. Included in the Shout Select package are THE DEFENSIVE POWER OF AKIDO (82 mins., 1975), 13 STEPS OF MAKI (78 mins., 1975), KARATE WARRIORS (89 mins., 1976), THE GREAT OKINAWA YAKUZA WAR (95 mins., 1976), KARATE FOR LIFE (90 mins., 1977), GOLGO 13: ASSIGNMENT KOWLOON (92 mins., 1977), and THE OKINAWA WAR OF TEN YEARS (101 mins., 1978). All films feature 1080p (2.35) transfers with Japanese mono soundtracks and English subtitles, with extras including commentaries with historian Brian Bankston (on "Golgo 13" and "Karate For Life") and Chris Poggiali and Marc Walkow ("Karate Warriors").
One would be hard-pressed to find comparable packages as feature-rich and jammed with content as the SHAW BROTHERS CLASSICS Blu-Ray retrospectives – three volumes (with a fourth on the way) which have captivated fans with their phenomenal widescreen transfers of vintage "wuxia" pictures, many/some of which have been difficult to find on home video here at various points.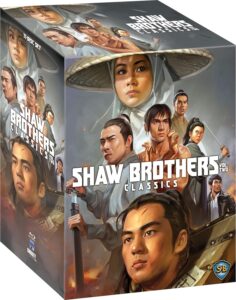 VOLUME 1 starts viewers out in 1967 with the release of THE ASSASSIN (118 mins.) and carries on to include THE THUNDERING SWORD (95 mins., 1967), THE GOLDEN SWALLOW (109 mins., 1968), THE JADE RAKSHA (96 mins., 1968), THE BELLS OF DEATH (89 mins., 1968), THE SWORD OF SWORDS (111 mins., 1968), KILLER DART (88 mins., 1969), THE INVINCIBLE FIST (99 mins., 1969), DRAGON SWAMP (111 mins., 1969), THE FLYING DAGGER (98 mins., 1969) and THE GOLDEN SWORD (106 mins., 1969). Extras offer commentaries from David West, Gilbert Po, James Mudge and many other HK film historians, while interviews include historian Leon Hunt discussing the genre from its roots here through "Crouching Tiger, Hidden Dragon"; Kim Newman talking about Sir Run Run Shaw's success and eventual work outside China; actress Cheng Pei-Pei; critic Tony Rayns, and dubber Peter Boczar along with numerous trailers. The 1080p (2.35) transfers are uniformly solid across the board with Mandarin audio, new English subtitles, and English dubs on more than half the pictures.
VOLUME 2 follows the Shaw Brothers into the 1970s with slightly more provocative stories and an accent, generally, more on the supernatural as well. LADY OF STEEL (88 mins., 1970) kicks off a winning roster also including BROTHERS FIVE (106 mins., 1970), THE CRIMSON CHARM (100 mins., 1970), THE SHADOW WHIP (79 mins., 1972), THE DELIGHTFUL FOREST (96 mins., 1972), THE DEVIL'S MIRROR (90 mins., 1972), MAN OF IRON (99 mins., 1972), THE WATER MARGIN (125 mins., 1972), THE BRIDE FROM HELL (78 mins., 1972), HEROES TWO (92 mins., 1973), genre classic THE FLYING GUILLOTINE (105 mins., 1973), and THE DRAGON MISSILE (86 mins., 1976). Commentaries grace every picture featuring Ian Jane, David West, Brian Bankston among others again placing each film into proper genre context while supplements include "An Iron Will," a 77-minute documentary on the Shaw Brothers' history; Tony Rayns discussing Shaw Brothers horror movies; several bonus extras on "The Flying Guillotine" and "The Water Margin" including an extended love scene; and bonus trailers.
VOLUME 3 ups the ante even further, offering a series of hugely popular martial arts efforts from the Shaw Brothers from the mid to late '70s. This 11-disc box houses KILLER CLANS (101 mins., 1976), THE SHAOLIN AVENGERS (97 mins., 1976), THE WEB OF DEATH (91 mins., 1976), THE VENGEFUL BEAUTY (83 mins., 1976), DEATH DUEL (88 mins., 1977), LIFE GAMBLE (100 mins., 1978), SOUL OF THE SWORD (89 mins., 1978), THE DEADLY BREAKING SWORD (106 mins., 1978), CLAN OF THE WHITE LOTUS (94 mins., 1980), SHAOLIN ABBOT (83 mins., 1979) and SHAOLIN RESCUERS (107 mins., 1979). In addition to commentaries and more superb 1080p (2.35) transfers, Volume 3 features James Mudge discussing director Chor Yuen; an interview with critic Shum Long-Tin; a talk with actor Ku Feng; a conversation with critic Frank Djeng on his Shaw Brothers memories; additional interviews with actresses Candice Yu and Susan Shaw; and plenty more.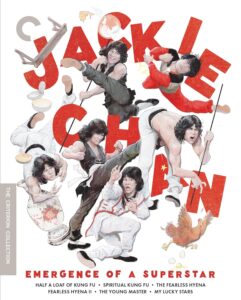 A fourth volume is due out in December, sure to usher in another dozen or so discs of classic kung fu for fans – a must this holiday season for those who have yet to splurge on them.
Also jumping into the fray this month is Criterion's JACKIE CHAN: EMERGENCE OF A SUPERSTAR (583 mins., 1978-85) Blu-Ray anthology, which offers Fortune Star-licensed presentations of some of Chan's earliest Hong Kong leading forays. The very silly HALF A LOAF OF KUNG FU and SPIRITUAL KUNG FU are included here offering comical riffs on typical martial arts movie formulas and cliches, but things perk up with THE FEARLESS HYENA and FEARLESS HYENA II, which are less frantic and offer more of Chan's patented mix of comedy and action, which would be fine tuned in later efforts like THE YOUNG MASTER and MY LUCKY STARS.
All six films have been restored in new 2K Fortune Star masters included herein (except for "Half a Loaf…", which is derived from an older but still acceptable HD master), with a bevy of soundtrack options on tap: classic English dubs (plus an alternate English dub on "Fearless Hyena II"); 5.1 contemporary dubs of "Young Master" and "My Lucky Stars"; plus subtitled, original Cantonese mono (with a few alternate stereo and 5.1) tracks on all the films. New commentaries on "Fearless Hyena" and "The Young Master" are provided by critic Frank Djeng with a fresh interview with historian Grady Hendrix discussing Chan's career. There are also archival interviews with Chan, Sammo Hung and others; a 1980 "Young Master" Cannes promo reel plus deleted scenes from the film; a 2005 interview about Lo Wei with HK cinema expert Paul Fonoroff; trailers and more.
---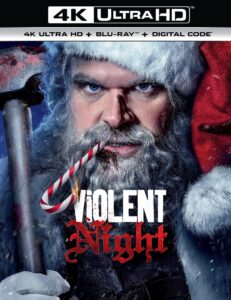 Also For the Holidays
LIFETIME – A VERY MERRY MOVIE COLLECTION DVD (Lionsgate): Exclusive to Walmart stores this holiday season are a pair of 12-movie sets featuring yuletide-oriented Lifetime Original movies. The two multi-disc DVD sets are now available and feature Lifetime movies that were produced between 2019-22 (earlier sets in the series are also available).
Included here in Volume 5 are CLOUDY WITH A CHANCE OF CHRISTMAS, MERRY TEXTMAS, MERRY SWISSMASS, A COUNTRY CHRISTMAS HARMONY, A SNOW-STOPPING CHRISTMAS, SERVING UP THE HOLIDAYS, SCENTSATIONAL CHRISTMAS, THE HOLIDAY DATING GUIDE, SWEET NAVIDAD, A NEW ORLEANS NOEL, WELL SUITED FOR CHRISTMAS and MERRY LIDDLE CHRISTMAS.
Volume 6, meanwhile, features SIX DEGREES OF SANTA, STEPPIN' INTO THE HOLIDAY, KIRK FRANKLIN'S THE NIGHT BEFORE CHRISTMAS, WRAPPED UP IN LOVE, SINGLE AND READY TO JINGLE, THE DOG DAYS OF CHRISTMAS, CHRISTMAS ON MISTLETOE LANE, RECORD BREAKING CHRISTMAS, BAKING ALL THE WAY, A RECIPE FOR JOY, A CHRISTMAS TO TREASURE and MERRY LIDDLE CHRISTMAS WEDDING.
All sets include perfectly acceptable 16:9 (1.78) transfers with 2.0 stereo sound and can be found in your local Walmart stores.
VIOLENT NIGHT 4K UHD (112 mins., 2022, R; Universal): The bizarre world of theatrical exhibition in the post-COVID world typically means new releases either fall into hugely expensive, corporate driven IP or low-budget efforts from major studios like "Violent Night," an insipid waste of time for "Stranger Things" David Harbour, playing a drunken Santa who has to save an estranged, wealthy family from thieves led by John Leguizamo, taking a much needed break from Papa Johns commercials.
The concept of this movie says "Die Hard meets Home Alone!" but there's really nothing at all equating this piece of trash from either of those movies. In order for any movie, even like "Violent Night" to function, you have to believe in the concept, no matter how outlandish it is, enough that you invest in the material. Alas, director Tommy Wirkola (of the equally dumb but comparatively more watchable "Hansel & Gretel" movie with Jeremy Renner) never gets this picture beyond the stage of resembling a 2-minute SNL digital sketch. "Santa takes a leak!" and "Santa vomits!" — and…what else do you have? Nothing really. The entire movie plays like some young executive's "high concept" where they didn't bother to hire anyone to cultivate an actual story or screenplay worth even a few minutes of the audience's time (much less a feature).
Ultimately, the entire film is phony — the bloody and badly choreographed action scenes work hand in hand with a cheap digital look to create a stillborn project accentuated by a witless, terrible screenplay. Even the score (ooo, Christmas Carols with a flourish of Michael Kamen! how fresh!) pays predictable homage to Christmases past — and movies so, so much better than this one.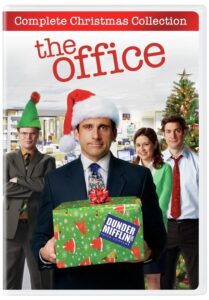 Making its debut on 4K UHD from Universal, "Violent Night" receives an HDR10 enhancement (2.39) over its previous Blu-Ray with Dolby Atmos sound also offered as another upgrade. The set also includes a Blu-Ray, Digital HD code, and the BD's supplements (behind-the-scenes featurettes, deleted/extended scenes, commentary).
THE OFFICE – THE COMPLETE CHRISTMAS COLLECTION DVD (aprx. 4 hours; Universal): The long-running NBC comedy generated a number of memorable holiday episodes over its run, all 7 of which have been collected in a new DVD anthology from Universal. "Christmas Party," "A Benihana Christmas," "Moroccan Christmas," "Secret Santa," "Classy Christmas," "Christmas Wishes" and "Dwight Christmas" are offered here plus a number of extras: deleted scenes, a producer's cut of "Secret Santa," and commentaries (16:9, 5.1).
NEXT TIME: The Kino Lorber November Wrap! Until then, don't forget to drop in on the official Aisle Seat Message Boards and direct any emails to our email address. Cheers everyone!