Message Board (open 24 hours!)
Twitter - @andredursin (for everything else!)
If you're looking for something a little offbeat this Halloween season, chances are you've never seen ARNOLD (95 mins., 1973, PG), which is out this month from Vinegar Syndrome on Blu-Ray. Making its high-def debut (its last home video appearance came via a "Lightning Video" VHS release in the '80s), "Arnold" is a weird time capsule – a black comedy a la "The Old Dark House" with Stella Stevens essaying the mistress of a wealthy, recently deceased old man who stands to inherit his estate…so long, after marrying "Lord Dwellyn" at his funeral, she lives in the mansion alongside his corpse. One that seems to be very much alive at that!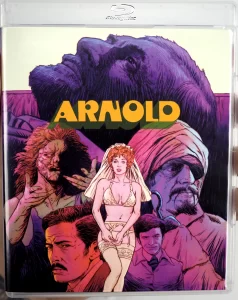 I'm not sure who was smoking what at Bing Crosby Productions but the later years of "BCP"'s existence included the production of numerous horror films like "Ben," "Willard," and this curio – which to be fair, isn't really trying to be scary, and functions more like a mystery/suspense thriller as the Lord's corrupt family (including his estranged wife, Shani Wallis, and sister Elsa Lanchester) and Stevens' boyfriend (Roddy McDowall) all succumb to some kind of family curse. The murders are along the lines of Agatha Christie as opposed to hardcore horror, and the movie's tongue-in-cheek elements include a hilarious opening where the glum attendees of the Lord's funeral are quickly supplanted by the chirpy "mod" sounds of Stevens' bridal party, singing the deliriously 70's title song from Wallis and composer George Duning.
Speaking of the score, this goofy soundtrack sounds like something Duning might've written for a Star Trek cartoon or another animated production of its time – bombastically commenting on the action at every turn. After a while, I admit "Arnold" – the score and the movie – wore me out, but it's fun for a few minutes at least, and adventurous viewers looking for an atmospheric whodunit with some '70s atmosphere should find it reasonably engaging.
Vinegar Syndrome scanned and restored this Paramount catalog title (1.85, mono) in 4K and the results on their new Blu-Ray are top flight in terms of detail. Extra features include a Mike White commentary and a video essay from Samm Deighan on "The Gothic Horror Comedy in Hollywood."
Also New From Vinegar Syndrome this October, just in time for Halloween, is CURSE OF THE SCREAMING DEAD (89/73 mins., 1981-82), a low-budget horror outing about a hapless boyfriend who finds a Civil War journal while unknowingly rummaging around a Confederate cemetery, leading to a mini-horde of zombie soldiers being unleashed and looking to retrieve it. This effort from director Tony Malanowski was a follow-up/remake of a film that offered a similar concept, NIGHT OF HORROR, which also finds Civil War soldiers terrorizing some hippies (some of whom are the same cast members).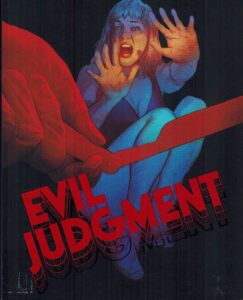 Lloyd Kaufman and Troma Films bought "Curse," leading to Kaufman's pronouncement of it being one of the worst of all the Troma movies in their vast library (and that says something!). Still, this small, "home grown horror" is kind of fun in a vintage, early '80s manner, with Vinegar Syndrome's Blu-Ray offering a 1080p (1.33, mono) transfer of both versions, each newly restored in 2K from their 16mm camera negatives. Extensive extras freshly produced by Vinegar Syndrome include Malanowski and actor Steve Sandkuhler's commentaries; a documentary on each version; extensive interviews, outtakes, and plenty more in the two-disc Blu-Ray package.
EVIL JUDGMENT (93 mins., 1984, Not Rated) was one of numerous Canadian tax shelter films that were shot back in the '70s and '80s. Coming on the heels of releases like "Visiting Hours," "Evil Judgment" finds a young woman getting involved in prostitution in an old dark house where its owner, along with the girl's friend, promptly end up dead. It's up to her, her estranged boyfriend and a veteran detective to find out who the culprits are in Claudio Castravelli's mix of slasher and giallo with a mostly inexperienced cast. That said, the body count is high, Michele Burke's make-up effects are convincing and the story reasonably compelling for its genre as well.
Making its Blu-Ray debut, Vinegar Syndrome serves up a 4K restoration (1.85, mono) of "Evil Judgment" with extras including a Castravelli and crew commentary track; another track featuring "The Hysteria Continues!"; interviews with Castravelli, Pietro L. Serapiglia and composer Corky Lang; plus a look at the giallo's influence on Canadian cinema with filmmaker Caelum Vatnsdal.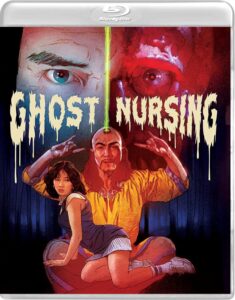 Hong Kong fanatics might want to take a glance at GHOST NURSING (90 mins., 1982), a wild affair with loads of gore – it fits right within its "Category III" designation – backing its tale of a woman who leaves HK for Thailand and a gig babysitting a "ghost child" whose spirit turns out to be very real indeed….and eventually possessing her boyfriend! Outrageous splatter makes "Ghost Nursing" worth a view for fans of this material (others might want to steer clear), with Vinegar Syndrome's 2K Blu-Ray restoration (1.85, mono) boasting an interview with star Billy Chan, video essay by Samm Deighan, Cantonese audio with English subs, and a Mandarin dub track.
Speaking of "The Troma Team," it's hard to believe what ultimately became an animated TV series aimed at kids started out as the hard R rated, original THE TOXIC AVENGER – a movie that carried an infamous rep amongst us elementary schoolers back in the mid '80s, in terms of which set of irresponsible parents would unknowingly rent this "hard R" rated movie for children desperate for super-hero action of any kind…even the grimy, gross and ridiculous variety.
"The Toxic Avenger" was a homegrown hit back in its time – and launched Troma really into the stratosphere of low (sometimes zero budget) horror, usually with a bit of accent towards either horror or humor…or sometimes both. The movie itself, about a hapless New Jersey janitor mutated into a monstrous do-gooder, is rough around the edges – all of its edges – but offers a lot of nostalgic entertainment for those of us who might've rented the film back in its day and sync up with its bombastic gore and sometimes tasteless sensibilities.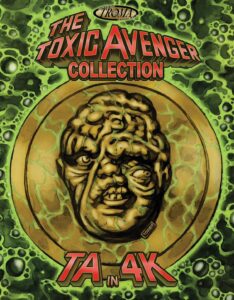 Troma this month celebrates 50 years (!) of business with their most ambitious home video release to date: a sprawling, eight-disc 4K UHD/Blu-Ray set – the UHD's with HDR10 and loads of extras. It encompasses the original THE TOXIC AVENGER (1984) plus THE TOXIC AVENGER II (1989), the overloaded (and shot at the same time) THE TOXIC AVENGER III: THE LAST TEMPTATION OF TOXIE (1989), and the belated CITIZEN TOXIE: THE TOXIC AVENGER IV (2000).
All four movies are included in their original unrated form from their original camera negatives, with just a few inserts in the 2nd film needing to be derived from exterior home video sources (some dialogue elements in the first third had been cut for pacing and no film elements remained). The transfers are as crisp as these thrifty productions allow – debris and the condition of the negatives manifest themselves, yet this "enhanced vintage" appearance is greatly preferable to a DNR'd transfer that would be at odds with the natural looking visuals contained here. Corresponding Blu-Rays are included plus 2.0 DTS MA tracks and loads of special features. These include new intros from Lloyd Kaufman; cast/crew commentaries; and a collectible Toxic postcard.
There are also cast and crew interviews, featurettes, an American Cinematheque tribute to Troma, vintage news pieces, the "At Home With Toxie" mokumentary, short films, original trailers, and more extras from previous home video releases of the four films – all housed inside an embossed cardboard case. A must for fans, needless to say!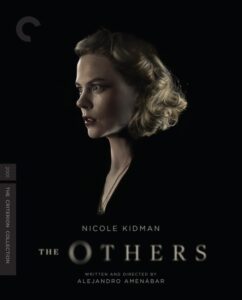 The Criterion Collection has remastered Alejandro Amenabar's THE OTHERS (104 mins., 2001, PG-13) for 4K UHD and Blu-Ray this Halloween.
Miramax's answer to "The Sixth Sense" became a sleeper hit at the box-office in August 2001, with most viewers unaware of how unoriginal its central concept was. Admittedly, writer-director-composer Amenabar's impressively shot picture succeeds in many areas, which makes it doubly disappointing that he made a fatal mistake in his storytelling: if you can figure out what's happening early on (as I did before the first 15 minutes were finished), there's nothing here that will frighten or surprise. Add on a cop-out of a climax — plus an ending that doesn't answer half of the questions the film raises — and you have a frustrating genre experience that could have been so much more.
Amenabar's story basically takes the "big shock" of "The Sixth Sense" and applies it to Henry James' "The Turn of the Screw," which formed the basis for Jack Clayton's outstanding film "The Innocents" — a superior movie that Amenabar completely rips off here in mood, look, and premise (i.e. a headstrong woman in charge of a young boy and girl in a spooky British mansion possibly infiltrated by ghosts with a female maid who seems to know more than she's letting on).
Angst-ridden Nicole Kidman gives a serviceable performance here as a single mother in the 1940s whose husband died in WWII and whose children both suffer from a debilitating disease that makes them sensitive to light. A trio of new servants arrive unannounced to Kidman's isolated, foggy English manor (as if that alone doesn't clue you in to what's really going on) to assist her and the two children: a young boy and an older girl who provides some antagonistic behavior towards her mother (a regrettably underdeveloped angle to the story). Both of the pale-skinned children hear all sorts of eerie noises around the house — the girl believes that the ghost of a boy named Victor lurks around shadowy corridors, while Kidman herself hears voices and doors that mysteriously slam shut.
It's hard to say "The Others" is a complete misfire, because most of it works, at least on a surface level: the performances are solid, the cinematography appropriately misty, and Amenabar gives the entire movie a classy feel that separates it from much of today's bland, over-the-top genre filmmaking (he also provides an effective orchestral soundtrack).
Still, it's easy to give too much credit to the film for bringing back memories of other, better chillers, and in addition to an often languid pace and notable lack of shocks, the movie misses the mark one too many times to recommend — especially for genre fans. Amenabar's telegraphed direction makes every plot point in the story visible from miles away, while his script misses all sorts of opportunities to develop more dramatic turns the story could have taken.
Still, the film captivated many audiences, and like Amenabar's "Abre Los Ojos," you're likely to either love it or hate it. Criterion's 4K UHD includes a sleek and dynamic new 4K digital restoration (1.85) with Dolby Vision HDR and a brand new Dolby Atmos soundtrack that's finely engineered. New extras include a commentary from Amenabar; Studio Canal's Making Of featuring Amenabar, Nicole Kidman, Christopher Eccleston, and producer Fernando Bovaira; a conversation between Amenabar and critic Pau Gomez; archival featurettes and programs; audition footage; seven deleted scenes; the trailer; and the Blu-Ray of this new remaster.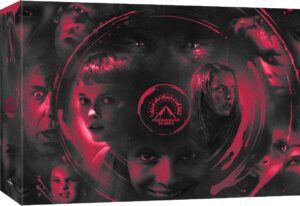 PARAMOUNT SCARES 5-Disc 4K UHD Box Set (Paramount): Paramount, which has been prolific with 4K UHD releases over the last year, has jumped into the Halloween fray with a 5-disc 4K UHD set offering one newly released title, three previously issued UHDs, and a special premiere that's exclusive to this box-set.
The latter is Tim Burton's superb SWEENEY TODD: THE DEMON BARBER OF FLEET STREET (116 mins., 2007, R), the ghoulish adaptation of the classic Stephen Sondheim musical that's tremendously entertaining, even if its overall translation proves to be a bit more graphic and less darkly humorous than its source material.
Johnny Depp is superb as the Demon Barber of Fleet Street, who returns to his grimy London home to seek vengeance on the magistrate (Alan Rickman) who imprisoned him, taking his wife and young daughter in the process. Helena Bonham Carter is the unhinged Mrs. Lovett, whose floundering pie shop proves to give Todd — the former Benjamin Barker — a "unique" means of disposing of those who stand in his way.
With a few musical exceptions (the opening and closing "Ballad of Sweeney Todd" has been reduced to an orchestral overture), the film is faithful to the show and stylishly assembled with the creative input of Burton's creative team (cinematographer Dariusz Wolski, production designer Dante Ferretti, costume designer Colleen Atwood). Depp's singing voice matches the intensity of his performance, and he's well complimented by Bonham Carter, even if her performance is more psychotic than prior stage renderings of the role by Angela Lansbury among others. The supporting cast is likewise exceptional, with Rickman turning in strong work as the villainous Judge, Timothy Spall as his cohort, and Sacha Baron Cohen in a highly amusing turn as the fraudulent hairdresser Adolfo Pirelli.
The subject matter is perfect for Burton's cinematic sensibilities, though it's somewhat surprising that the show's black humor was toned down while the violence and gore were raised up several notches. Some of the latter is due to the very nature of the cinematic medium, yet I couldn't help but think a less graphic interpretation wouldn't have served the picture more effectively, as the gore can be off-putting to mainstream audiences (and likely might've been the reason for the film's somewhat disappointing box-office in-take).
That said, "Sweeney Todd" is still a symphony of great filmmaking and one of the finest cinematic musicals to come our way in recent years. Paramount's "surprise" 4K UHD title in the SCREAMS box-set offers a sensational Dolby Vision HDR-enhanced transfer (1.85) that ranks as an immeasurable improvement over its early-format Blu-Ray, with less noise, a high level of detail, and superior contrast – all of which makes this a must for fans and a major selling point for the box. The audio track is the same Dolby TrueHD 5.1 mix from the Blu-Ray, but it's robust and highly pleasing, while that earlier Blu-Ray is also included with its older extra features (mostly featurettes) and ancient transfer intact.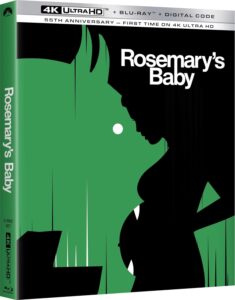 Another new title in the Paramount Scares box – albeit one also released independently – is the UHD debut of ROSEMARY'S BABY (137 mins., 1968, R), the William Castle-produced, Roman Polanski-helmed adaptation of Ira Levin's bestseller which needs little introduction for horror fans. Though not my favorite genre excursion amongst comparable "classics" of the era, this Dolby Vision HDR (1.85, mono) presentation should satisfy buffs with its high degree of detail and richer yet darker contrast level, which plays to the mounting paranoia Mia Farrow's heroine experiences throughout this late '60s box-office smash. The UHD also stands head and shoulders over the older Blu-Ray, which is also reprieved here with its brighter appearance and archival extra features.
The remaining three titles in the box-set have already been released previously. Here's a rundown:
PET SEMATARY (102 mins., 1989, R): While prior Stephen King movies like "The Shining" and "Carrie" did well financially, numerous other cinematic adaptations of the author fizzled out at the box-office, making the inexplicably huge intake of 1989's "Pet Sematary" hard to explain.
This cheap-looking and icky Paramount release does have Fred Gwynne as a native Maine-r who offers such sage advice as "sometimes dead is better." Indeed, director Mary Lambert might have been wise to keep the franchise dead even though this spring '89 release ranks as one of the highest-grossing of all King features, leading to not only a 2019 remake (and a new Paramount+ prequel movie) but a bizarre 1992 sequel with Lambert directing stars Eddie Furlong and Anthony Edwards (amazing as it may seem, the less-pretentious follow-up is actually better than the original…faint praise as that is). Aside from Elliott Goldenthal's score (which boasts a few strains of Lalo Schifrin's "Amityville Horror" in the main theme), there's little technically interesting about the '89 movie, and the stiff lead performances of small-screen stars Dale Midkiff and Denise Crosby do little to sustain viewer interest, much less sympathy.
Paramount's 4K UHD is a satisfying catalog affair, boasting Dolby Vision/HDR and a stronger contrast level than the original Blu-Ray. The latter's 5.1 DTS MA remix has also been ported over, with 2019 extras (on the UHD) including "Fear and Remembrance," which features members of the new cast looking back on the 1989 film; an interview with Lambert; and three new behind-the-scenes image galleries. Lambert's earlier commentary is also on-hand on the 4K UHD, while the included Blu-Ray offers the prior retrospective featurettes.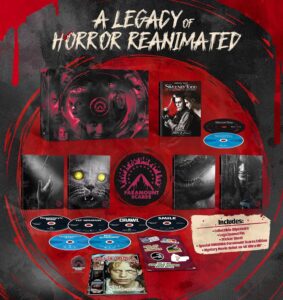 CRAWL (87 mins., 2019, R): Ridiculous but mildly entertaining genre exercise improbably finds a swimmer at the University of Florida (Kaya Scodelario) trying to save her injured father (Barry Pepper) from the clutches of actual gators during a Category 5 hurricane. Unlike director Alexandre Aja's free-wheeling remake of "Piranha," "Crawl" is a repetitious, mostly one-note affair that struggles to even reach the 90-minute mark with its slender story. Michael and Shawn Rasmussen's script focuses entirely on the two main characters, pausing ever so briefly to introduce a few characters who show up as sacrificial lambs, while our protagonists endure a brutal fight for survival. These "we're here to help!" scenes are utterly predictable – if you have a speaking line in the film and you aren't the two leads, you're a goner – and the formula of the duo getting into close scrapes, then getting away, only to repeat the same process, becomes tiresome – even if both Scodelario and Pepper form a tandem that's easy to root for. Still, if you're in the mood, "Crawl" has its moments, and the UHD is certainly good looking with its Dolby Vision HDR and 7.1 DTS MA sound, despite the unavoidably "digital" look of the production (it was shot on location…in Serbia!). The accompanying Blu-Ray is also a reprise of its previous disc with accompanying extras (deleted/extended scenes, motion comic, alternate opening).
SMILE 4K UHD (115 mins., 2022, R): Most post-pandemic box-office hits thus far can be grouped in two categories: expensive tentpoles and cheap horror fare like Parker Finn's "Smile," which performed well at the box-office for Paramount. Truthfully, though, the scares end up being minimal in Finn's original script involving a doctor (Sosie Bacon) whose own trauma clashes with a horrific phenomena in which a demon walks around, inhabiting its victims with a blank, creepy smile as evidence of possession. Finn had originally developed "Smile" as a short before expanding it into this feature-length treatment which seems awfully extended at its two-hour running time and is further burdened with a leaden, predictable ending. Paramount's attractive 4K UHD includes Dolby Vision HDR and Dolby Atmos sound, deleted scenes, Finn's commentary, a featurette, digital HD copy, and the original short itself, "Laura Hasn't Slept," which is more effective than the final feature.
Paramount's box-set also offers a number of fun features for fans: collectible slipcovers for each movie as well as a specially packaged Fangoria issue. Digital HD copies put the final touch on a "Volume 1" tagged edition promising more tricks & treats for a future Halloween.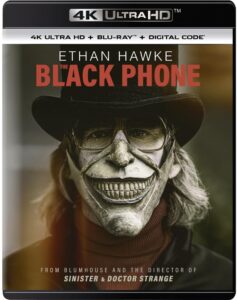 THE BLACK PHONE 4K UHD/Blu-Ray (103 mins., 2022, R; Universal): Superior effort from the Blumhouse crowd adapts a story by Joe Hill (Stephen King's son) and works primarily because of the efforts of director Scott Derrickson ("Doctor Strange"). Hill's story, adapted by Derrickson and C. Robert Cargill, offers Mason Thames playing a teenager abducted by a terrifying killer (Ethan Hawke); despite insurmountable odds facing his survival, Thames finds solace in a disconnected phone that improbably connects with Hawke's previous victims. "Black Phone" performed well at the box-office and ranks as one of the best horror entries from prolific producer Jason Blum, with fine performances and a worthwhile story that scores with a hugely satisfying ending.
Unquestionably one of the superior horror films of recent years, "The Black Phone" makes its way to 4K UHD from Universal (2.39, 7.1 DTS MA) featuring a Dolby Vision HDR presentation that's not overly splashy in terms of its dynamic range but offers a reasonable enhancement over the Blu-Ray (also included). That disc offers a number of deleted scenes, commentary, featurettes, Derrickson's short "Shadowprowler," plus a Digital HD copy.
The elder King is represented on 4K UHD this month by THE MIST (126 mins., 2007, R; Lionsgate). This heavy-handed, languid adaptation of Stephen King's story from writer-director Frank Darabont focuses on a group of Maine residents who hole up in a grocery store while a mist enshrouds them outside…and various creatures begin to appear around them.
King's original story might have been on the bleak side, but that's nothing compared to the endless narcissism of Darabont's film, which clearly thinks it's being more high-minded than it turns out to be. Thomas Jane is fine in what turns out to be a somewhat thankless role as the everyman single father trying to protect his young son, but other characterizations are one-dimensional at every turn, especially Marcia Gay Harden as the requisite religious fanatic in a role that might have you reaching for the remote long before the end credits roll. A few suspenseful moments do pop up intermittently, but they're negated by a hysterically downbeat finale that turned most audiences en mass against it.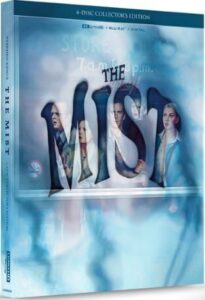 Debuting this month on 4K UHD, Lionsgate has produced a superb, deluxe four-disc Steelbook release for fans of "The Mist." Both the original color version and a B&W edition (each 1.85) Darabont preferred are included here alongside Blu-Rays featuring extensive extras (deleted scenes, behind-the-scenes "webisodes," a trailer gallery, and featurette on artist Drew Struzan) and a director commentary from previous releases. The Dolby Vision HDR heightens colors and contrasts though the movie's special effects aren't always well served by the uptick in resolution; the Dolby Atmos sound is, at least, finely tuned and a Digital HD copy rounds out the package.
Also new from Lionsgate in 4K UHD Steelbook form is THE WICKER MAN (93 mins., 1973, R).
Robin Hardy's filming of Tony-winning "Sleuth" author Anthony Shaffer's original screenplay has long been a cult favorite for obvious reasons. Edward Woodward gives one of his most distinguished performances as a cop summoned to a remote Scottish island in order to find a missing girl – what he uncovers instead is a living Pagan world of ancient customs, presided over by Christopher Lee's Lord Summerisle, who initially doesn't come off as overly menacing. Neither do some of the locals who pose quirks but seldom outright menace to Woodward's devoutly Catholic police officer – yet the placidity of their demeanor masks true horror within, leading to Shaffer's legendary shock finale that regrettably has been spoiled in countless artworks utilized for the picture's releases over the years.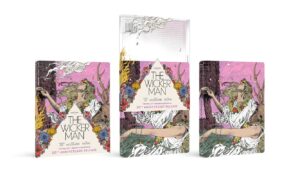 "The Wicker Man" has been hailed as one of the great horror movies of all-time by some. For others, myself included – who were overhyped on the picture's virtues before seeing it for the first time – the picture may seem somewhat overpraised. Yet there's no denying the curious pull this picture has, even for those who've seen it before. Hardy and cinematographer Harry Waxman create a fully credible foreign environment for Woodward to visit, from its opening shots of his sea plane to the small village environments which only casually reveal their true intentions – albeit too late for its doomed protagonist to save himself. The scoring by Paul Giovanni is fascinating in of and itself, sporting a number of performed on-screen folk songs which add a further surreal element to the picture – during these moments the film threatens to turn into one of the strangest musicals ever committed to the screen! The presence of the nubile Britt Ekland and Lee's sly performance add further appeal to an offbeat movie that – with its overt contrast of ancient and contemporary religions – unquestionably offers a unique cinematic experience on a number of levels, and one that functions just as successfully on repeat viewing.
Lionsgate's 4K UHD of "The Wicker Man" offers attractive artwork with the movie present in its "Final Cut" form, Hardy's preferred edit of the picture, here with Dolby Vision HDR (1.85) that enhances the standard 1080p presentation of this remaster previously seen in Imprint's 2022 box-set (plus assorted Studio Canal releases in Europe). A variety of special features are provided on both the 4K UHD along with the adjoining Blu-Ray, with a Digital HD code the final log on the fire.
---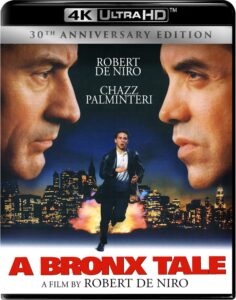 Also New on 4K UHD
A BRONX TALE 4K UHD (121 mins., 1993, R; Tribeca): For some odd reason, this rich and poignant adaptation of actor-writer Chazz Palminteri's play was never released on Blu-Ray domestically. Perhaps it was due to Savoy Pictures' bankruptcy (something which kept the likes of "Last of the Dogmen" also off the format until recently), but regardless, this long overdue 4K restoration of the low-grossing – but fondly remembered – Fall '93 release is one of the top releases this month for movie buffs.
Robert DeNiro starred in and directed Palminteri's own script, which offers a decidedly "Goodfellas"-type of feel off the bat with young Calogero (played by future "Veronica Mars" star Francis Capra and, later, Lillo Brancato) reflecting upon his childhood living in the Bronx circa 1960 – most specifically, his relationships with his bus driver pop (DeNiro) and a slick mobster (Palminteri) who lives around the corner. Eventually these two very different men and the way they lived their lives clash with "C" caught in the middle – though the second half of the film is also concerned with our now-teenage protagonist's relationship with an African-American girl (Taral Hicks).
"A Bronx Tale" is well-acted and captures the essence of time and place. It's also a very different type of film for DeNiro, who eschews playing the obvious mobster role here for a good-hearted father while Palminteri essays "Sonny" in an expansion of his one-man play. DeNiro only directed two features but he makes an assured debut here, capturing uniformly fine performances from the young actors playing "C" while letting the story unfold at a leisurely yet compelling pace. Once the movie shakes off the obvious influence from the first half hour of Scorsese's 1990 classic, it finds its own footing.
Tribeca's 4K restoration (1.85, 5.1 DTS MA) of "A Bronx Tale" includes Dolby Vision HDR, an archival featurette, new interviews with DeNiro and Palminteri, and looks pretty solid overall. There are times when it seems like a bit of DNR has been applied but it's a good looking disc on balance, especially considering the limited options fans of the movie have had to select from over the years on home video. In fact, given the movie's later adaptation into a Broadway musical with Alan Menken songs, it's stunning it's taken this long for "A Bronx Tale" to be seen in a meaningful way that audiences can appreciate again.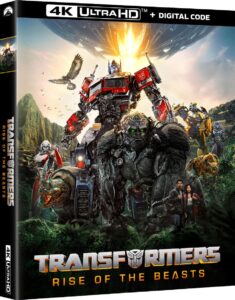 TRANSFORMERS: RISE OF THE BEASTS 4K UHD (127 mins., 2023, PG-13; Paramount): By the standards of the long-running "Transformers" franchise, this latest entry, "Rise of the Beasts," ends up an agreeable tale. Following the character-driven (but comparatively "low fi") "Bumblebee," "Beasts" roughly picks up a few years after the events in that "reboot," as Bumblebee, Optimus Prime and the rest of the Autobots have to take on "Terrorcons" trying to turn Earth into their latest galactic wasteland.
While "Beasts" ultimately turns into your typical modern Hollywood product where the human engagement drops off and you're left with just an endless stream of interchangeable (if easily comprehensible) action scenes — for the most part this is an appealing flick for Transformers fans. From a hilarious call back to the "racist robot" of the Bay years at one point, to a zippy pace and functional human characters (at least there's not an overwhelming amount of them), Steven Caple Jr.'s picture manages to find a middle ground between the bombast of the early films and the dialed-down approach from "Bumblebee."
Paramount's 4K UHD looks and sounds just as snazzy as you'd anticipate, from the Dolby Vision HDR (2.39) with its enhanced dynamic range to the Dolby Atmos soundtrack. Over an hour of special features includes deleted and extended scenes with a Digital HD code also on tap.
BARBIE 4K Ultra HD (114 mins., 2023, PG-13; Warner): Mattel and Warner Bros. struck box-office gold with this summer's "event movie" (or co-event, if you include the whole overinflated "Barbenheimer" PR hype) finding Margot Robbie as Mattel's title heroine, who comes to life in a candy-coated world visually realized by director Greta Gerwig, who co-wrote with Noah Baumbach. Gerwig spends a good half of the movie with a spirited, upbeat comedic sense — complete with pitch perfect turns from Robbie (of course) and Ryan Gosling as Ken — that found success with even non-"Barbie" fans, though eventually the material runs out of gas and lumbers to a sappy ending. Up until that point "Barbie" is good fun, beautifully presented in Warner's now-available 4K UHD (2.39, Dolby Atmos) with HDR10 enhancement, a Digital HD code, and six behind-the-scenes featurettes.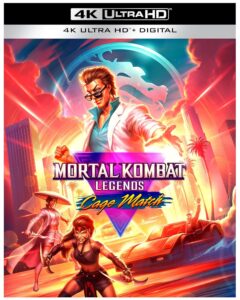 EVANGELION:3.0+1.1.1 THRICE UPON A TIME 4K UHD/Blu-Ray (155 mins.; Gkids/Shout!): Deluxe edition of Hideaki Anno's concluding entry in his "Rebuild of Evangelion" films brings the adventures of the Eva pilots to a bona-fide finish. This time out, the anti-NERV group heads to a "core-ized" Paris, hoping to restore the city, while Sinji travels to Japan along with other members of the Eva team. A big, sprawling story and stylized design make this "Evangelion" finale a must for anime fans – especially here in a 4K UHD/Blu-Ray package from Gkids and Shout! Factory. The 4K transfer is superlative while the Blu-Ray also boasts a capable 1080p (2.39) presentation; both discs feature 5.1 Japanese and English audio and extras including a booklet; art cards; "Evangelion:3.0" itself (46 hours!); "Evangelion:3.0" (120 mins.) featurettes; promo reels; trailers and TV spots; and deluxe packaging. An essential release for fans.
MORTAL KOMBAT: CAGE MATCH 4K Ultra HD (80 mins., 2023, R; Warner): Johnny Cage, one of the original Mortal Kombat heroes, takes center stage in this new direct-to-video feature from WB Animation. As voiced by Joel McHale, Johnny is an action movie star who, after his girlfriend (Jennifer Grey) goes missing, ends up getting wrapped up with Netherrealm villains in an effort to retrieve her. R-rated levels of violence make for a short but wild little ride with ample doses of humor and at least a novel period setting. Warner's 4K UHD boasts HDR10, 5.1 DTS MA sound and a Digital HD code.
---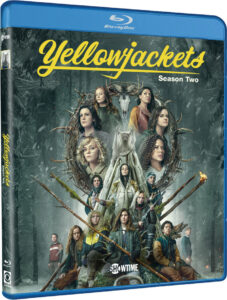 Also New & Noteworthy
YELLOWJACKETS Season 2 Blu-Ray (520 mins., 2023; CBS/Paramount): One of the more obvious issues with a lot of modern series on TV and streaming is that so many of them start off well that it's disheartening when you find out there's no endgame – or even a reasonable resolution – seemingly in sight once the program continues on.
We're perhaps not quite at that moment with "Yellowjackets," the acclaimed and popular Showtime series that mixes two time lines: a high school girls soccer team in 1996 crashes in the wild, eventually succumbing to "Lord of the Flies" like primal terror, while a present-day story revolves around several of the characters with heavy amounts of mystery involved. Melanie Lynskey, Juliette Lewis and Christina Ricci anchor the latter portion, but the younger cast really pulls their weight, especially the terrific Sophie Nélisse, who was in "The Book Thief" and really provides a star-making turn here – as does Sophie Thatcher as the teen version of Lewis' character.
Horror, suspense, and coming of age drama all worked well in the first season with the overall story only being "revealed" parts at a time – but the second season hedges its bets by dialing down the horror and supernatural components, vastly implying they're all a product of the characters' respective imaginations, and also greatly reducing the amount of gore. One senses the show took the temperature and realized much of its female-driven demographic didn't care for the R-rated splatter Season 1 contained and opted to switch things up, favoring "characters" at the expense of suspense and the overall story arc, which doesn't advance very far here either.
Hopefully the creators find a more satisfying balance for the show's third season – as well as a proper resolution, since it feels like the show has run out of gas by its conclusion. In the meantime, Season 2 of "Yellowjackets" is new on Blu-Ray and DVD sporting a 1080p transfer, 5.1 TrueHD audio and episode featurettes.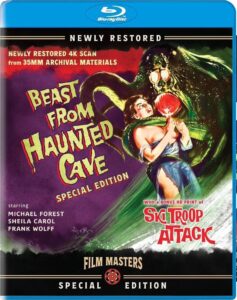 BEAST FROM HAUNTED CAVE Blu-Ray (65/72 mins., 1959; Film Masters): Roger Corman was renowned for thrifty low-budget fare that managed to entertain drive-in audiences of their time and continue today to offer nostalgic entertainment for '50s B-movie buffs. "Beast From Haunted Cave" was one of the many Corman efforts from the era, this one engagingly mixing up its thrills with a giant spider on the loose with a noir-ish tale of gangsters trying to pull off a heist. The premise is, as is usually the case, more exciting than the actual entertainment on-hand, but "Haunted Cave" is reasonable for what it is – a fast-moving effort shot on location in South Dakota with a better monster than you'd typically find in an early Corman production.
Film Masters' Blu-Ray restoration includes a crisp B&W transfer of both the theatrical version and the picture's longer TV version, along with a 35mm restored trailer, a still gallery, and commentary from genre expert Tom Weaver and filmmaker Larry Blamire. A second disc boasts Corman's SKI TROOP ATTACK, a WWII drama that Corman shot on the same locations with much of the same cast and crew. This supporting feature has its own commentary from C. Courtney Joyner and Howard S. Berger, a Ballyhoo documentary, and a good looking HD (4:3) master of its own. Film Masters' superb packaging offers two essays from Weaver and Joyner as well.
TOMBS OF THE BLIND DEAD Blu-Ray (83/101 mins., 1971; Synapse Films): Wild and woolly early '70s Spanish import became a worldwide hit thanks to its high level of gore and simple story of executed Knights Templar who awake from their slumber in time to kill unsuspecting victims — despite the fact they can't see and move based on the presence of sound alone. A number of "Blind Dead" sequels followed but this inaugural entry holds a special place in the heart of some '70s horror-philes, here receiving a new 2-disc Blu-Ray this month from Synapse. Disc 1 features the original 101-min. uncut version of the movie, in Spanish with an optional English "hybrid" version (that includes some subtitles for its undubbed sections) and loads of extras (multiple commentaries, a feature-length documentary, even footage from an alternate US opening sequence where the movie was crudely re-edited as part of the "Planet of the Apes" series!). Disc 2 features the official U.S. theatrical version, "The Blind Dead," with clear PCM sound and bonus interviews making for an enjoyably over-the-top slice of Spanish splatter.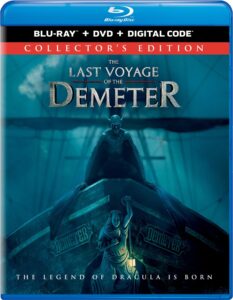 THE LAST VOYAGE OF THE DEMETER Blu-Ray/DVD (119 mins., 2023, R; Universal): Handsomely produced, if overly familiar, horror affair takes Dracula's oceanic passing on the doomed vessel Demeter and turns it into a full-fledged feature. It's basically "Alien on a Boat" as the Demeter's crew — including a Cambridge doctor (Corey Hawkins) plus a woman they find barely alive and buried in dirt (uh-oh!) — run afoul of the sleeping vampire, the victims being picked off one by one at a leisurely clip. Eventually the creature does appear but the languid pacing under the direction of "Let the Right One In"'s Andre Ovedral accentuates the movie's lack of surprises, albeit ending on an open note that promises — much like Universal's recent Monster-centric outings of recent years — a sequel that's never going to happen.
Debuting on Blu-Ray and DVD this Halloween after sputtering at the box-office, "Last Voyage of the Demeter" offers a fine 1080p (2.39) transfer with Dolby Atmos sound. The production value on this long-gestating project — which had been in the works for some 20 years — is high and the transfer and sound are both top notch, though some may lament the lack of a 4K UHD (for the moment). Extras include Ovedral's commentary, deleted scenes, featurettes, a DVD and Digital copy for a movie that old-school genre fans might appreciate in spite of its shortcomings.
THE CROWN – The Complete Fifth Season Blu-Ray (536 mins., 2022; Sony): The fifth season of the hugely popular Netflix series "The Crown" moves closer to the present with its further depiction of the "Charles and Diana" years with Dominic West and Elizabeth Debicki superbly embodying the former couple. Meanwhile, Imelda Staunton steps into the role of Queen Elizabeth II for a season that was mired in controversy in terms of reportedly fictionalizing some of its narrative, not to mention was disrupted by COVID-era shooting. Nevertheless another critically well-received season of the series, "The Crown"'s fifth year is now available for those seeking an attractive, good-looking Blu-Ray presentation with 1080p (2:1, 5.1 DTS MA) transfers and three featurettes included in Sony's recent release.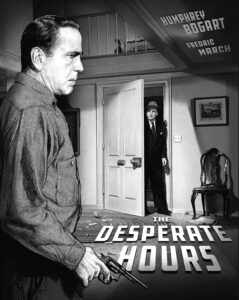 Arrow New Releases: A taut slice of '50s Hollywood filmmaking, THE DESPERATE HOURS (112 mins., 1955) finds Humphrey Bogart leading a trio of escaped convicts who push their way into a family home where Fredric March and his family reside. Joseph Hayes' script, adapted from his play, was based on an actual case and William Wyler's film offers powerhouse performances from both veteran stars, Bogart especially grizzled in a role essayed on stage by the much younger Paul Newman. Arrow's 6K scan of the original VistaVision negative (1.85, mono) results in a finely hued B&W Blu-Ray transfer with extras including a Daniel Kremer commentary; visual essay by Eloise Ross; new interview with director Wyler; lobby cards and a collector's booklet…THE IRON-FISTED MONK (93 mins., 1977) marked Sammo Hung's first directorial feature after a career as an actor/choreographer in assorted HK martial arts films. Hung also stars here as a regular guy pushed to to learning the ways of Shaolin after witnessing his uncle's death in a violent but punchy genre exercise, restored in 2K (2.35, mono) by Fortune Star. Arrow's Blu-Ray offers Cantonese, Mandarin and English dub options, the latter in either its "original export dub" (first time heard in the U.S.) and a 5.1 mix created much later for home video releases; commentary by Frank Djeng; archival Hung interviews; and an archival conversation with Casanova Wong.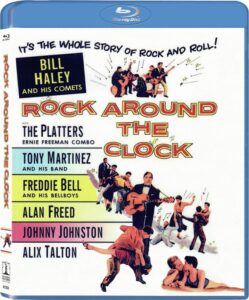 ROCK AROUND THE CLOCK Blu-Ray (77 mins., 1956; Sony): Rock & Roll became all the rage in the mid '50s thanks in some part to this Columbia feature about a promoter and musician who hit middle-America USA where they discover the sound that "the kids" are all into. Of course, the flimsy plot is just an excuse to debut, on the big screen, musical acts like Bill Haley & His Comets, performing their title smash, and The Platters (crooning classics "The Great Pretender" and "Only You"). Alan Freed, Tony Martinez, and Freddie Bell and His Bellows also pop up in a nostalgic time capsule of a film brought to Blu-Ray (1.85, mono) in a superb Sony catalog disc. The high bit-rate presentation affords for a detailed B&W image while a commentary by Kim Newman and Barry Forshaw is a lot of fun, putting both the movie and the music into the proper historical context.
MR. NORTH Blu-Ray (92 mins., 1988, PG; MGM): Wan adaptation of Thornton Wilder's novel "Theophilus North" doesn't seem to have much of a point, but it does offer a fabulous cast in a 1920s-set story about a Yale grad (Anthony Edwards) with mysterious powers who finds himself falling in and out of favor in Newport, R.I. high society. Producer John Huston and his "Prizzi's Honor" co-writer Janet Roach rewrote James Costigan's script for this Samuel Goldwyn Company release which also offers Robert Mitchum (who replaced an ailing Huston), Harry Dean Stanton, Lauren Bacall, David Warner, Mary Stuart Masterson and Virginia Madsen — all of whom look great, as does the superb Newport location shooting. It just doesn't amount to much, regrettably, under the direction of Huston's son Danny, although it's certainly nice to look at. This Blu-Ray premiere (1.85, 2.0 stereo) of "Mr. North" offers an appealing MGM catalog transfer with nice stereo sound, the movie offering an appropriately pleasant David McHugh score.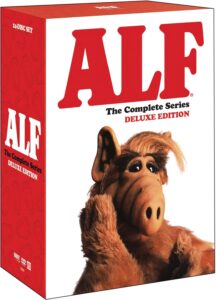 ALF – The Complete Series DVD (aprx. 60 hours, 1986-90; Shout! Factory): Back during the heyday of '80s sitcoms, producers tried a number of variations on traditional formulas in order to generate viewers. The NBC comedy "ALF" mixed a standard sitcom format with a furry, wisecracking alien who, having fled the now-destroyed planet Melmac, ends up with a "traditional American family" and attempts to acclimate himself to domesticated life on Earth.
Paul Fusco created the character and developed the series alongside veteran comedy writer Tom Patchett for a show NBC was bullish on back in the fall of '86 — the lovable design of ALF led to NBC pushing ALF dolls, lunch boxes and other merch on kids, especially during its first season when the show performed well initially in the Nielsens. NBC also launched an animated Saturday morning version of the show, running — like the sitcom itself — until 1990. By that point, the series' novelty and one-joke premise basically wore off, with viewers aware that "ALF" was little more than your average prime-time comedy beyond its appealing extraterrestrial lead.
Still a series that, if you grew up in the mid and late 80s, holds an enormous amount of fan appeal, "ALF" has been given the deluxe DVD treatment in a marvelous new release from Shout! Factory. This 24-disc box-set offers it all: the complete NBC series in its original broadcast form for the first time since it aired, along with "ALF: The Animated Series," its spin-off "ALF Tales," and the disappointing 1996 TV movie finale, "Project: ALF," which was too far separated from the series' premise to succeed. A new featurette includes comments from Fusco and Patchett, plus commentaries with Patchett and ALF himself, in character. Warmly recommended for ALF-philes!
Also New on DVD From CBS: Kiefer Sutherland jumps into the RABBIT HOLE (6 hours, 2023) in the new Paramount+ streaming series, playing John Weir, a corporate espionage expert who's framed for murder and has to — much like previous Sutherland heroes including a certain Jack Bauer — find a way out of his sticky predicament. CBS' Season 1 DVD is now available (16:9, 5.1) with a trio of featurettes offered on the supplemental end…Special Agent Jane Tennant and her team are back in Season 2 of NCIS: HAWAII (928 mins., 2022-23), probing more mysteries revolving around the military and national security, set against the gorgeous backdrop of the Aloha State. As is usual with these Hawaii-shot CBS series, the program does a good job incorporating real locations with comfortably formulaic yet compelling stories. All 22 episodes are included here plus deleted scenes and crossover episodes with "NCIS" and "NCIS: Los Angeles" (16:9, 5.1).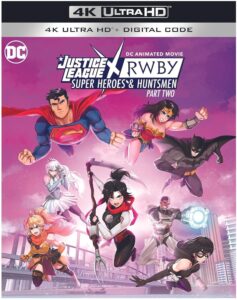 TITANS – Season 4 [Final Season] DVD (586 mins., 2022-23; Warner): Dick Grayson, Raven, Starfire and other young DC heroes who have brooded about three previous seasons of "Titans" get their chance to go out with a bang in this fourth, and final, season of the series. Now available on DVD, Warner's set includes the featurettes "Mystical Women," "Welcome to Metropolis" and "Baptism of Blood," with 16:9 transfers and 5.1 soundtracks.
More DC action is on tap with Part 2 of JUSTICE LEAGUE X RWBY – Super Heroes & Huntsmen (75 mins., PG), debuting on 4K UHD on October 31st. After Superman, Wonder Woman, Batman and other Justice Leaguers escape a virtual trap, they return to Earth only to discover that the Grimm — Remnant's resident creatures — have taken over. Thankfully, Team RWBY is there to save the day in this conclusion of the DC/RWBY crossover, on an HDR10 enhanced UHD also including 5.1 DTS MA sound, a Digital HD copy, and two behind-the-scenes featurettes.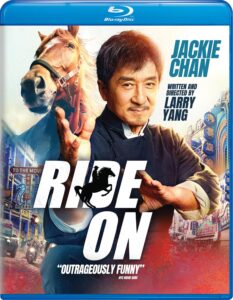 Well Go USA New Releases: The ever-youthful Jackie Chan shifts gears for an age-appropriate vehicle with RIDE ON (126 mins., 2023), a long but not unappealing, bittersweet action-comedy featuring Jackie as an old stuntman who, along with his faithful horse, become internet sensations after breaking free of debt collectors. After reviving his career, those bad guys come back for more at the same time Chan's Luo attempts to reconcile with his law student daughter. Wu Jing and Liu Haocun co-star in Larry Yang's film, which is more character-centric than Chan fans might anticipate and is new on Blu-Ray this week from Well Go (1080p, 5.1 DTS MA) featuring two featurettes and both an English dub and subtitled Mandarin audio.
Also newly released from Well Go is 3 DAYS IN MALAY (99 mins., 2023), actor-director Louis Mandylor's film about a group of marines left to guard an isolated outpost during WWII's "Operation Watchtower." MMA vetrerans "Cowboy Cerrone" and Quinton "Rampage" Jackson co-star in this low-budget, albeit sincerely intended, film Well Go has released in a no-frills Blu-Ray (1080p, 5.1 DTS MA)…Coming November 7th from Well Go is another independently produced war film which fares a bit better: WARHORSE ONE (126 mins., 2023), the product of actor/co-director Johnny Strong, which is set following the U.S. military's botched 2021 withdrawal from Afghanistan. Strong plays a SEAL whose copter goes down and leaves him trying to transport a young girl to safety behind enemy lines in a film that offers some uncertain performances but still works in spite of its modest budget. Well Go's Blu-Ray includes a 1080p transfer, featurette, commentary, and 5.1 DTS MA audio.
Mill Creek New Releases: With reboots all the rage, it's surprising nobody has been able to get a new, proper "He-Man" movie on the big screen, with the recent animated Netflix series HE-MAN AND THE MASTERS OF THE UNIVERSE (11 hours, 2021) instead serving as the defacto reboot of the '80s Mattel characters. As remakes go, this one seemed to be fairly well-received by fans, following He-Man and friends battling Skeletor for Castle Greyskull in a familiar but effective reworking of the franchise's premise. Mill Creek's DVD includes all three seasons – 26 episodes – of the show in 16:9 widescreen with 2.0 sound…A new "Double Danger" Mill Creek Blu-Ray combines WAIST DEEP (2006, R) starring Tyrese Gibson with the 1994 Gramercy Pictures release DROP SQUAD (1994, R), a Spike Lee production starring "ER"'s Eriq LaSalle in a story of a controversial African-American "deprogramming squad." Both Universal licensed transfers (2.35 on "Waist Deep," 1.85 on "Drop Squad") look OK with 5.1 DTS MA sound in the now-available single-disc release.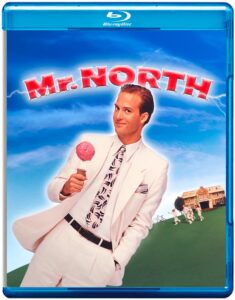 MOB LAND Blu-Ray/DVD Combo Pack (114 mins., 2023, R; Lionsgate): Shiloh Fernandez plays a family man driven to rob alongside his less reputable brother-in-law (Kevin Dillon) in Nicholas Maggio's film. Stephen Dorff co-stars as the mob enforcer who arrives from the Big Easy looking for revenge, threatening Fernandez's wife (Ashley Benson) while the local sheriff (John Travolta) can do little to remedy the situation. A good cast makes this uneven Saban Films production watchable with Maggio trying to craft more characterization than is typically seen in direct-to-vid thrillers like this. Lionsgate's Blu-Ray (2.39, 5.1 DTS MA) is a combo pack also featuring a DVD, Digital HD copy, commentary and a featurette…Also new from Lionsgate are TALK TO ME (94 mins., 2022, R), the A24 horror hit from earlier this year, plus Emile Hirsch in the very timely THE ENGINEER (93 mins., 2023). Hirsch stars as an ex-Mossad agent who leads a covert team trying to find the culprit behind a series of terrorist bombings in Israel, which claimed the life of a U.S. senator's daughter. Lionsgate's Blu-Ray (2.39, 5.1 DTS MA) includes interviews, the trailer, a DVD and digital HD copy.
THE ADVENTURES OF OZZIE & HARRIET DVD Seasons 13 (11 hours, 1964-65) and 14 (12 hours, 1965-66; MPI): One of the seminal sitcoms of the early days of television, "Ozzie and Harriet" ran for some 14 seasons on ABC, broadcast from the early '50s through the birth of the "mod" era of the mid-late '60s. With husband and wife Ozzie and Harriet Nelson playing themselves along with sons David and Rick, this situation comedy managed to showcase the clan – and the on-screen adolescence of the Nelson kids – in gently amusing, conventional story lines that laid the groundwork for many, many family shows to follow.
Even though the series ran for some 435 (!) episodes, it was never as visible in syndicated reruns as the likes of "Leave It to Beaver." Authorized by the Nelson estate, MPI has spent the last several years completely remastering the series from the original film negatives and given those of us who never really latched onto the show a new chance to enjoy its amusing comedic antics. Separate Season 13 and 14 DVD packages are available — the former marking its penultimate season (and final one in B&W), and the latter the rarely-screened final year of the series and its only season produced in color. Transfers and soundtracks are all top notch on two volumes that complete the full run of the series on DVD for long-time fans.
NEXT TIME: The latest from Kino Lorber, Warner Archive & More! Until then, don't forget to drop in on the official Aisle Seat Message Boards and direct any emails to our email address. Cheers everyone!