Message Board (open 24 hours!)
Twitter - @andredursin (for everything else!)
MVD has taken and run with the 4K UHD ball so far this year, showering movie buffs with terrific releases as diverse as the 1988 Best Picture winner "Rain Man" and Wes Craven's 1982 DC outing "Swamp Thing." This month MVD is back favoring the cult niche – always a popular crowd on home video – with several delectable releases including THE GIRL FROM RIO (94 mins., 1969; Blue Underground).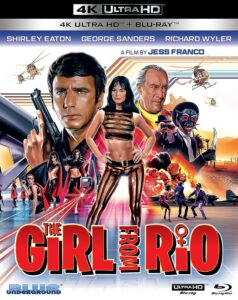 This late '60s B-effort from producer Harry Alan Towers and director Jess Franco was a sequel to "The Million Eyes of Sumuru," which starred Shirley Eaton as Sax Rohmer's villainess bent on world domination, with Frankie Avalon and George Nader essaying spies attempting to stop her latest conquest. The Towers production was theatrically released by American-International but was also a slow and plodding affair, despite being distinguished as one of the few English language productions to shoot at the Shaw Brothers studio in Hong Kong.
Two years later, Towers recruited horror/exploitation auteur Franco to helm the sexier, wilder sequel THE GIRL FROM RIO, which returns Eaton as Sumuru with George Sanders as a crime boss and Richard Wyler co-starring. Shot in Brazil, this is a decidedly R-rated affair that's equally sluggish but at least more entertaining than its predecessor, offering terrific location shooting of Rio in its late '60s prime that captures time and place – in addition to the usual goofiness with spies and Eaton's campy anti-heroine that may prove appealing for cult movie buffs and Franco devotees most of all.
Blue Underground's 4K UHD is yet another outstanding catalog release from the label, offering a superb 4K restoration (1.66) from the original camera negative, now with Dolby Vision HDR; on the audio side, the mono English audio seems on-par with its Blu-Ray predecessor. Colors and details are, expectedly, punchier and clearer than Blue Underground's previous Blu-Ray of the movie, which paired the film with the first Sumuru picture. As with before, the movie is presented in its uncut version (with its "eye-popping nudity, torture and lesbianism" on full display).
New supplements include a fresh commentary with Nathaniel Thompson and Troy Howarth; an interview with critic Stephen Thrower on Franco; additional scenes from the German version; and (on the accompanying Blu-Ray) the "Rifftrax" commentary from MST3K vets. Archival extras include a juicy featurette with Franco, Towers and Eaton that, in some ways, is more fun than the film itself.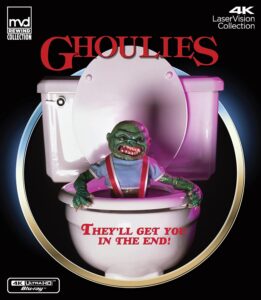 GHOULIES 4K UHD (81 mins., 1985, PG-13; MVD)/GHOULIES II Blu-Ray (89 mins., 1987, PG-13; MVD): MVD turns back the clock with deluxe editions of Empire Pictures' low-rent "Gremlins" knockoffs – with the original on 4K UHD – which should entertain undemanding '80s nostalgia nuts.
While "Ghoulies II" is, in some ways, a superior film to the plodding, original "Ghoulies," neither is what you'd call inspired genre entertainment – even by "Gremlins" rip-off standards, both fall below New Line's superior "Critters" series. In fact, despite good intentions, the series only fulfilled its goofy potential with the unabashedly comic, guilty-pleasure favorite "Ghoulies III: Ghoulies Go to College," which hopefully will receive the Blu-Ray treatment at long last one day.
In the interim, MVD's 4K UHD of "Ghoulies" looks more impressive than this movie has any right to. The Dolby Vision HDR (1.85, 2.0 PCM stereo) presentation is surprisingly robust and colorful, making this Luca Bercovici-helmed outing at least more visually appealing. The performances are over the top, from star Peter Liapis on down, plus you get a young Mariska Hargitay hanging out with John Carl Buechler's creatures – which regrettably don't get as much to do as you'd hope.
The UHD/Blu-Ray combo offers a few of the extras from the 2015 Shout Factory Blu, including Bercovici's 2015 commentary, plus another commentary with the director and John Andreasen. There are also interviews with producer Ted Nicolau, co-star Scott "Fast Times" Thomson, Bercovici, a half-hour doc, photo gallery and trailers.
"Ghoulies II" finds director Albert Band taking over the action, and quickening the pace as a carnival finds itself overrun by John Carl Buechler's creatures. Here, MVD's Blu-Ray (1.85, 2.0 PCM stereo) boasts another MGM catalog transfer with extras including a Making Of, interview with writer Dennis Paoli and deleted scenes. Retro artwork-adorned slipcovers and mini-posters add the icing on the cake.
CARLITO'S WAY 4K UHD/Blu-Ray Limited Edition (145 mins., 1993, R; Arrow): Brian DePalma's stylish, entertaining if overly familiar 1993 thriller functions as a showcase for Al Pacino as a Puerto Rican gangster whose attempts to go straight are shot down in the New York City underworld. David Koepp's adaptation of Edwin Torres' novels "Carlito's Way" and "After Hours" is mostly predictable, but DePalma picks up the slack with strong action scenes, atmospheric Stephen H. Burum cinematography, and dynamic performances from Pacino and an almost-unrecognizable Sean Penn as Carlito's lawyer.
Previously available on UHD from Universal, Arrow's new limited-edition offers the label's typically outstanding array of special features, all contained in deluxe hardback packaging with a fold-out poster, lobby card reproductions and a collector's booklet. The supplemental section is highlighted by two fresh commentaries from authors Dr. Douglas Keesey and Matt Zoller Seitz, respectively; new interviews with Edwin Torres, editors Bill Pankow and Kristina Boden, and critic David Edelstein, plus a look at the locations of the movie. Also on-hand are archival featurettes plus the trailer (which makes good use of John Williams' "Born on the Fourth of July" score). The HDR10 transfer (2.35) is excellent with DTS:X audio and 5.1/2.0 DTS MA options backing the occasionally overstated Patrick Doyle score. While the UHD technical presentation is roughly the same as the previous Universal 4K release, Blu-Ray fans will want to take note this is a newer remaster than the old, prior BD with sharper detail and less digital noise-reduction on-hand.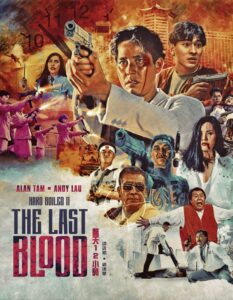 New from 88 Films, HARD BOILED II: THE LAST BLOOD (94 mins., 1991) is an unofficial sequel – more like a homage – to the John Woo-directed, late '80s Hong Kong smash. Here, HK cops Andy Lau and Alan Tam are tasked with saving the life of a Tibetan Lama after he's wounded by terrorists while his blood donor (Eric Tsang) is marked for assassination by hitmen. Wong Jing helmed this 1991 genre exercise which comes to Blu-Ray as another superb 88 Films package. In addition to a limited edition slipcover and poster, fans receive an insightful commentary by genre expert Frank Djeng, trailers, and a good-looking Media Asia-licensed 1080p transfer (1.85) in either its original Cantonese with optional English subs or an English dub track (available October 10th).
Now available from 88 is an earlier Hong Kong production: THE POSTMAN FIGHTS BACK (90 mins., 1982), which features Leung Kar-Yan as a courier in early 20th century China, charged with transporting a top secret cargo to a rebel leader. Actual Chinese history mixes with some potent action scenes and a fanciful plot in one of director Ronny Yu's earliest features, a precursor to his hits "The Bride With White Hair" and work in the U.S. market ("Freddy Vs. Jason," "Bride of Chucky"). 88 Films' now-available Blu-Ray (2.35) includes both the US and HK cuts, Cantonese audio on the latter and 5.1/mono on the former with an alternate score. There's also an archive interview with co-star Chow Yun-Fat, two conversations with Leung, and a vintage interview with Yu; trailers, still gallery, a fold-out poster and limited edition slipcover.
SUBURRA Blu-Ray (135 mins., 2015; Unearthed Films): Stefano Sollima's acclaimed 2015 film about the proposed development of Rome's harbor as a tourist destination – and how it becomes a mafia battlefield with competing political and criminal interests either at odds or intertwining with one another – arrives on Blu-Ray from Unearthed on September 26th. This potent thriller, which led Sollima to direct the "Sicario" sequel, includes 5.1 Italian audio with English subs; a 1080p (2.35) transfer; a two-hour Making of; production gallery; and trailers.
THE LAST ISLAND Blu-Ray (101 mins., 1990; Cult Epics): Dutch filmmaker Marleen Gorris produces her own spin on a potentially post-apocalyptic, end-of-mankind story with this 1990 drama. Paul Freeman ("Toht" from "Raiders of the Lost Ark") and Shelagh McLeod star as two of seven survivors — five men and two women — who walk away from an airplane crash on a remote island, leading to them wondering if they're the only ones left to carry on the human race. Compared to similar pictures, there's more of a feminist perspective, naturally, instilled in Gorris' film and point of view, making this worthwhile viewing for devotees of the director. Cult Epics' Blu-Ray (1.85, 2.0 PCM/DTS MA stereo) features a 2K transfer from an original 35mm print with an audio intro from producer Dick Maas; commentary from historian Peter Verstraten; a behind-the-scenes featurette; trailer; and interview with Politica Columnist Annemarie Grewel from 1990.
THE DEAD MOTHER Blu-Ray (111 mins., 1993; Radiance): Disturbing early '90s Spanish import from director Juanma Bajo Ulloa follows a criminal whose actions claim the life of a woman and leave her daughter, whom he also shot, impaired and mute. Years later, he finds her, abducts the now-grown girl and holds her for ransom before engaging in a very strange relationship. "The Dead Mother" may not be for every taste but curious viewers will appreciate the deluxe treatment given to the film by Radiance here. This two-disc set, which also features a CD soundtrack, includes a 4K restoration (2.35, 2.0) approved by the director; commentary by Bajo Ulloa; a Making Of documentary; 1989 short film, "Victor's Kingdom," by the director; gallery; and a limited edition booklet.
NEXT TIME: Kino Lorber New Releases, including THE TRAIN and THUNDERBOLT AND LIGHTFOOT in 4K! Until then, don't forget to drop in on the official Aisle Seat Message Boards and direct any emails to our email address. Cheers everyone!