Message Board (open 24 hours!)
Twitter - @andredursin (for everything else!)
Imprint's FILM FOCUS: JESSICA LANGE Blu-Ray box-set features four of the actresses' efforts made over a 14 year span (1982-96), pictures which earned Lange a pair of Oscar nominations and debut in the format all for the first time, including the well-reviewed adaptation of Beth Henley's play CRIMES OF THE HEART (105 mins., 1986, PG-13).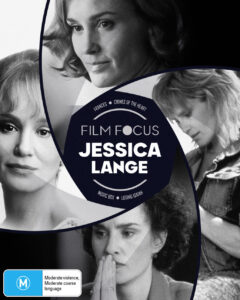 This Christmas '86 DeLaurentiis Entertainment Group release fared better than another DEG offering from the same month – the disastrous "King Kong Lives" – but still underperformed commercially. Watching the film today, it's easy to see why, as Henley's work is a bit too broadly realized by director Bruce Beresford, who cast three unique personalities to inhabit its trio of dysfunctional Southern sisters: Diane Keaton (the wallflower), Jessica Lange (free-spirited failed artist), and Sissy Spacek, who's jailed after shooting her husband and ultimately reveals she's been fooling around with a young African-American man.
Set in small-town Mississippi (though shot in DeLaurentiis' North Carolina studios), "Crimes of the Heart" offers some tart dialogue and watching all three stars near the peak of their careers remains delightful. Yet, it's also hard to envision this trio actually being from the same family, as their performances tend to drift along their distinctive personas. Henley notes her play, a Broadway hit in the early '80s, was also less overtly "comical" than the film, something that may have well served this picture better than the approach that was ultimately taken instead.
Visually, the claustrophobic staging and often dreary look of the film is surprising given Dante Spinotti served as cinematographer and the great Ken Adam as production designer. Even with a larger range of melodrama it's not hard hard to fathom why audiences found another tale of sassy Southern women – "Steel Magnolias," likewise adapted from a stage play – more appealing a few years later. What we're left with here is an occasionally funny but often unconvincing film whose message is diluted by the broadness of its performances and direction.
"Crimes of the Heart" debuts a serviceable Studio Canal studio master here (1.85) with mono sound. This is one instance where the movie – filled with on-location dialogue – would've been better served by stereo as some of the dialogue fails to register in a cramped mono mix. It also does no favors for Georges Delerue's effervescent score, which is tuneful and lovely despite playing at times in scenes where it doesn't feel necessary. (There's also one sequence early on where the audio is out of sync)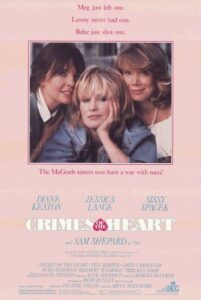 Extra features are, as with every Imprint release, outstanding. On the disc, viewers can find new interviews with Beth Henley and Bruce Beresford, who each discuss the play's move from Broadway to the big-screen and working with Dino, along with a commentary by author Karen Horsley. There are also archival interviews with Lange, Spacek, co-star Tess Harper (reuniting with Beresford after their "Tender Mercies" triumph), and producer Freddie Fields.
Lange previously essayed the fascinating, troubled actress Frances Farmer in FRANCES (140 mins., 1982, R), a Brooksfilm production that represented a reunion of producer Mel Brooks with his "Elephant Man" writers Eric Bergren and Christopher DeVore.
This biopic, helmed by Australian editor Graeme Clifford (who had just worked on Lange's "The Postman Always Rings Twice"), netted Lange an Oscar nomination for her performance as the outstpoken Farmer, who left Seattle for Hollywood and became a star – for a time – in the 1940s. Her Communist leanings led to her being blacklist and, eventually, put into a sanitarium – at least according to this picture's portrayal of her life, which affords Lange the opportunity to portray Farmer's beauty and intelligence as well as allegedly harrowing treatment from doctors.
I say "allegedly" because there were conflicting opinions on how much of this element of "Frances" was accurate, with some stating Farmer allowed a bestselling book based on her life to be heavily fabricated in order to sell copies. Meanwhile, that book's author later sued the production of "Frances" after Brooksfilm and EMI decided not to officially credit it but rather utilize its "facts" as part of the basis for the screenplay – leading to a court battle that the producers believe ultimately hurt the press surrounding the film.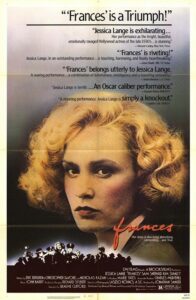 Either way, "Frances" is a bit of a disappointment all told. Despite running well over two hours, the film never settles into a comfortable editorial rhythm – it's clear material was hacked out in its early stages as co-star Sam Shepard (playing a composite character) shows up here and there with narration that covers the edits. Lange is always compelling and Frances' journey is as well, but one is left with the feeling another, more seasoned director might have gotten more out of the subject matter – in addition to a more focused screenplay, as this one was substantially retooled from its original concept (one that balanced Frances' career trajectory with a local Seattle politician).
"Frances" nevertheless sparkles with a lovely, bittersweet John Barry score, and this 2K Studio Canal master (1.85, stereo) is quite good all around. Superb supplements include an excellent interview with Brooksfilm producer Jonathan Sanger, director Graeme Clifford, and art director Ida Random. There's also a featurette on Farmer; archival interview with Lange; a new commentary with critic Matthew Asprey Gear and an older one from Clifford and David Gregory.
Jessica Lange collaborated with director Constantin Costa-Gavras on MUSIC BOX (126 mins., 1989, PG-13), the director making his penultimate English language studio film with this Carolco production. Costa-Gavras also reunited here with writer Joe Eszterhas following their 1988 Debra Winger-Tom Berenger drama "Betrayed" for this tale of a Hungarian immigrant (Armin Mueller-Stahl), living in Chicago, who's accused of being a Nazi war criminal. Lange portrays his daughter, a successful attorney, who comes to defend him – without actually knowing of his guilt or innocence.
Released as "adult counterprogramming" during the Holiday '89 movie season, "Music Box" didn't find much of an audience commercially and received mixed reviews. The provocative subject matter is of interest but, as Roger Ebert mentioned in his original review, this picture only carries the Holocaust as a background plot element in lieu of being a rather conventional, if undeniably well-made, "courtroom thriller" that falls in league with "Presumed Innocent" or the many John Grisham films that were to follow in the 1990s. Lange is excellent – and she earned another Oscar nomination here – even as Eszterhas' script fails to take advantage of numerous story elements that should've been better cultivated. There's no pay off for Lange's relationship with her son (Lukas Haas), and even the role of the father is left as a mere plot point – the audience isn't left knowing anything about him or his dramatic motivations.
The scope cinematography by Patrick Blossier, with much of the film shot in Hungary, is terrific and the movie is consistently watchable due to Costa-Gavras' direction – elements which come off well in this Studio Canal 2K master (2.35), which looks like an older scan due to its overly glossy appearance, which gives off an air of DNR. The 2.0 stereo sound is fine with most of composer Philippe Sarde's contribution relegated to the final third.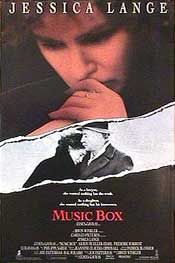 Terrific interviews were conducted for Imprint's box-set here with Joe Eszterhas, whose real-life relationship with his father ironically mirrored the premise of his script, plus production designer Jeannine Oppewall and co-star Michael Rooker, who like Armin Mueller-Stahl, isn't given enough to do in the film. There's also an excellent talk with Lukas Haas who reflects on his work on "Witness" leading into this film; archival featurettes and interviews with cast and crew; the trailer; and a new commentary by Cineaste Magazine editor Gary Crowdus.
The set is capped by the fourth Blu-Ray premiere, LOSING ISAIAH (107 mins., 1995, R), a sensitive and uniformly well-acted story of a social worker (Lange) who adopts an abandoned African-American "crack baby". Years later, after the birth mother (Halle Berry) has cleaned up her life, she challenges Lange for custody in Naomi Foner's finely articulated script, perfectly realized by director Stephen Gyllenhaal. With a stellar supporting cast including David Strathairn, Cuba Gooding Jr. and Samuel L. Jackson, "Losing Isaiah" is a moving, satisfying adult drama that's well worth a view. The Paramount 2K scan (1.78, 5.1/2.0) presented here is fine with an interview with Jeannine Oppewall and archival talk with Berry included on the supplemental end.
All four movies are contained in their own plastic cases, housed inside one of Imprint's patented, sturdy cardboard boxes. Recommended!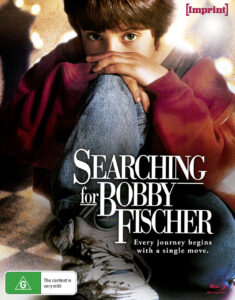 Also strongly worth checking out is the Blu-Ray debut of SEARCHING FOR BOBBY FISCHER (110 mins., 1993, PG-13). A first-class drama about seven-year-old chess prodigy Josh Waitzkin (Max Pomeranc), his relationship with his parents (Joe Mantegna, Joan Allen) and push towards competitive performance makes for a moving film by "Schindler's List" writer Steven Zaillian, who also directed this adaptation of a book by Fred Waitzkin (Josh's father).
Graced with a gorgeous James Horner score and supporting turns by Lauence Fishburne and Ben Kingsley, "Searching For Bobby Fischer" holds up as one of the most satisfying studio films of the early '90s. Imprint's Limited Edition offers loads of archival interviews from the real Josh Waitzkin, Max Pomeranc and other cast members; a look at Horner's score in the segment "Maybe It's Better Not To Win: Scoring 'Searching For Bobby Fischer'; and a commentary by Scott Harrison. The Paramount licensed master (1.85, 5.1/2.0) is just fine.
---
New From Criterion
Nicolas Roeg's exquisitely shot, surreal "adventure" film WALKABOUT (100 mins., 1971, PG; Criterion) is one of the many special films that came out of the 1970s. This unique picture tells a story in such an original manner that it is as fascinating for what it doesn't tell us as it is for its gorgeous locales and magnificent camera work.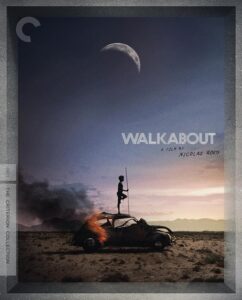 Roeg directed and shot the acclaimed film, which relates — in the form of a childhood memory — how a pair of well-off Australian children (Jenny Agutter and Roeg's son Lucien) end up isolated in the outback, where an Aborigine teen (on his Walkabout, or rite-of-passage into adulthood) guides them back to civilization. Roeg's treatment of the subject matter never romanticizes the Aborigine's life, nor does it make judgments on the characters and the culture clash that inevitably ensues; it simply shows us how similar everyday life can be regardless of the separation (geographical or otherwise) between cultures.
What Roeg does so effectively in this adaptation by Edward Bond of James Vance Marshall's novel is illustrate all the problems and pleasures that are inherent in the life experience, with looking backward a crucial element to the journey. John Barry's lyrical score is one of the film's highlights, being one of those Barry works characterized by long, flowing melodic lines, and a particularly effective use of chorus (the use of Stockhausen's "Hymnen" is striking, especially when framed against the untouched Outback).
It's a shame Barry's actual score was never commercially released at the time of its release, but the pre-Criterion treatment of "Walkabout" itself was just as regrettable — the movie was out-of-circulation for years until the late '90s, when Criterion issued the film on both laserdisc and DVD.
Now Criterion has revisited the film once again on 4K UHD in a marvelous new master (1.85, PCM mono) with Dolby Vision HDR. As you might expect, this new UHD affords audiences a fresh way to savor the movie's visuals, raising the movie's detail level with warmer, more saturated colors and higher contrasts – while still keeping the presentation in check with the movie's intended visual design.
The rest of the presentation (which is also on-hand in a remastered Blu-Ray) is essentially a reprise of Criterion's previous Blu, including a 2002 documentary on the career of actor David Gulpilil, plus the trailer, interviews with Jenny Agutter and Luc(ien) Roeg, plus the DVD's insightful commentary from Agutter and Nicolas Roeg, offering observations on the filming and the story itself. Still, no matter what their analysis of the film may be, the great thing about "Walkabout" is that, ultimately, its subjective meaning is left in the eyes of the viewer, for you to interpret and discuss.
New From Film Movement: Ryusuke Hamaguchi's PASSION (116 mins.) offers an introspective, character-driven study of the emotional fallout that stems from a couple's (Aoba Kawai, Ryuta Okamoto) announcement of their engagement and revelation of an earlier infidelity. Hamaguchi provides an introduction in "Passion"'s Blu-Ray (1.78, 2.0 Japanese with English subtitles) along with a video essay on the director by Kenji Fujishima…Also out October 17th from Film Movement, THE NIGHT OF THE 12th (114 mins.) is a French mystery-thriller starring Bastien Bouillon as a newly promoted captain charged with solving the death of a young woman living in the French town of Grenoble. This well-reviewed picture from director Dominik Moll features a 16:9 transfer with 5.1/2.0 French audio, English subtitles, and Paul Marques Duarte's short "Harbor" as a special bonus short film.
The real jewel this month from Film Movement is a Double Feature Blu-Ray of Yves Robert's MY FATHER'S GLORY and MY MOTHER'S CASTLE (208 mins. total, 1989-90, G/PG). These two lyrical adaptations of Marcel Pagnol's memories of growing up in idyllic Provence at the turn of the (20th) century, opposite his school teacher father and mother, serve as bittersweet recollections of Pagnol's childhood and are sumptuously shot and performed. There's not a lot of heavy drama that occurs here, just universal themes of growing up in rural, pre-WWI France in these lovely film adaptations. A video essay from professor Ludovic Cortade is included here plus a featurette with Yves Robert's son and a 16-page booklet featuring a Kat Ellinger essay. Both English subtitled pictures include strong 4K (1.85) Gaumont provided transfers and stereo soundtracks (5.1/2.0).
STRAYS Blu-Ray/DVD (93 mins., 2023, R; Universal): Producers Phil Lord and Christopher Miller have had the midas touch with many offbeat concepts, from "The Lego Movie" to "Solo" (before being fired) and producing this R-rated comedy about a dog, abandoned by his owner, who's corralled by a similarly abandoned pup from "the streets" in an effort to get back at the dog's owner (Will Forte). Alas, the laughs are pretty feeble in this "Look Who's Barking"-styled affair featuring the voices of Will Ferrell as "Reggie" and Jamie Foxx as the big-city canine "Bug." Dan Perrault's script goes for easy laughs and the concept is stretched thin at the 93-minute mark as well. A box-office underperformer, "Strays" hits Blu-Ray in a respectable 1080p (1.985) transfer with 5.1 DTS MA sound, the DVD, Digital HD copy, and Making Of featurette.
NEXT TIME: The latest from Vinegar Syndrome! Until then, don't forget to drop in on the official Aisle Seat Message Boards and direct any emails to our email address. Cheers everyone!