Message Board (open 24 hours!)
Twitter - @andredursin (for everything else!)
The recent passing of director William Friedkin makes Warner's new 4K UHD release of his classic THE EXORCIST (122/132 mins., R; Warner) a bittersweet occurrence, as this double-disc set preserves both the theatrical and "Version You've Never Seen" cuts in a generally stunning HDR10 presentation with immersive Dolby Atmos audio – a fitting tribute to the auteur's arguably finest work.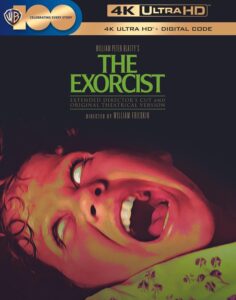 I've seen "The Exorcist" many times over the years on video, though theatrically only once — in its 2000 "Version You've Never Seen" edition, which has since been re-christened the "Extended Director's Cut." Not knowing how a packed audience of mostly-college students would react to that somewhat controversial re-edit of the groundbreaking horror classic, I sat pretty much in stunned silence as kids used to gore but little genuine scares from today's genre flicks sat quietly, patiently and spellbound by a movie that remains as fresh and potent today as it did 50 years ago.
William Peter Blatty's tale of demonic possession, shot in a documentary style by Friedkin and filled with tremendous performances (including Ellen Burstyn, Jason Miller, Max Von Sydow, and Lee J.Cobb), is obviously best remembered for cute little Linda Blair becoming inhabited by a demon that enjoys spewing buckets of pea soup and spouting endless profanities, but the other elements of the film remain just as intriguing and mysterious: the opening sequence of Von Sydow in Iraq, the strange coincidences and unexplained appearance of the "demon," and the religious themes which resonate throughout the movie and encourage repeat viewing.
Fans have long debated the alterations made to the 2000 revision — which adds a fantastic new stereo soundtrack and some 10 minutes of footage author/screenwriter producer Blatty never wanted excised to begin with – but for me, I found that it actually has more narrative shape and moves just a bit more coherently than Friedkin's original cut. True, the theatrical version of "The Exorcist" was (and still is) a classic, but some theological debate between priests Max Von Sydow and Jason Miller was cut against Blatty's wishes, as were scenes involving Linda Blair being examined by doctors that were referred to in the finished cut but never previously shown.
These sequences were deftly restored to the picture, along with the infamous "spider walk" sequence — a great new shock-scare moment further enhanced by additional "subliminal image" shots (one of which is neatly added to the film's climax). However, it's not just effects that make the scene's addition noteworthy: coming at the height of Burstyn's increasing paranoia, the spider-walk functions perfectly as a progression of horror following the discovery of filmmaker Burke Jennings' death.
The most satisfying addition, however, is the expanded finale with Cobb and priest William S. O' Malley that poignantly closes the film on a note that Friedkin's original ending was unable to do. The sound editing for the conclusion — which intriguingly includes a note of the film's opening Iraq music — is also effectively different in this version, reflecting the close of Blatty's original novel.
Whether or not you're a fan of this version of the film, there certainly seemed to be more point to the mostly-narrative enhancements found in the expanded "Exorcist" than in the purely-cosmetic changes George Lucas made to his "Star Wars" films. In some ways, the "Director's Cut" is the movie Blatty wanted all the while, and if nothing else, makes for an interesting contrast to the final cut Friedkin originally turned in.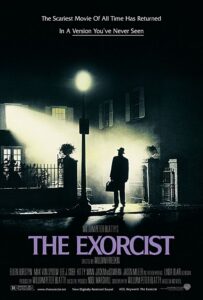 "The Exorcist" has long been a constant on home video regardless of format and it's a little surprising it's taken this long for Warner to bring the film to 4K UHD, which it's done in a bevy of releases around the globe. The studio's two-disc UHD set offers both cuts in an HDR10 (1.85) transfer that does one better than the 2013 Blu-Ray, which itself was a tremendous upgrade in terms of clarity, crispness and color over the DVD. Now in 4K, the varied contrasts and shadows stand out all the more in this HDR10 presentation, while still doing justice to Owen Roizman's cinematography. The big difference here is color, with far richer saturation visible throughout the film, while the climactic exorcism possesses – no pun intended – a bluer shade (in concert with Friedkin's Director's version) that might jar viewers expecting more of an adherence to older transfers.
On the audio side, the Dolby Atmos audio offers a refinement on Friedkin's past remixes of the film, with active use of surrounds (some rechanneled overhead for Atmos) and stereophonic effects, mostly all used for good measure. What's notable is that the movie's original mono soundtrack is also included on the theatrical version for the first time in…well, I'm not sure, as I can't recall ever hearing it before!
Fans may be understandably let down that Warner's two-disc UHD, while containing Friedkin and Blatty's commentaries from past releases, is otherwise devoid of extra features – for those, you'll have to activate the included Digital HD code, which supplies, via streaming, the extensive documentaries and other materials Warner packed in with previous discs. Either that, or pick up one of the many import variations available outside the U.S. which also include the Blu-Ray discs for the film (and which carry those essential supplements). It's the lone disappointment on an otherwise stellar 4K enhancement of William Friedkin's cinematic masterwork.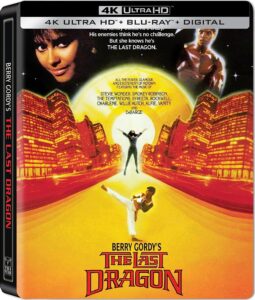 Sony continues to press forward with a series of 4K UHD Steelbook releases of new-to-format titles as well as some upcoming reissues with fresh content (as in the Director's Cut of "Rudy"). This month, studio has tapped into their back catalog for a welcome UHD of a kung-fu fighting relic from the '80s – BERRY GORDY'S THE LAST DRAGON (107 mins., 1985, PG-13).
This Winter of '85 Tri-Star release stars Taimak as a martial arts student seeking not the Force but rather "The Glow" in a gritty, urban NYC overseen by "The Shogun of Harlem" (played by an outrageously nutty Julius J. Carey III). Meanwhile, former Prince ingenue Vanity plays (what else?) a beautiful singer. The movie is ridiculous, dated '80s fun, meaning it's perfect entertainment for nostalgia freaks, and features a top-quality soundtrack of pop hits (including El Debarge's classic "Rhythm of the Night," performed on-screen as a music video during the film).
The glitzy new 4K UHD's Dolby Vision HDR (1.85) transfer absolutely fits the "neon tinged" appearance of the film to a tee. As is often the case with their UHD catalog titles, Sony remixed the original audio for Dolby Atmos and it's effectively "enhanced" for overhead directionality in a few places, while still retaining the original 5.1 and 2.0 sound mixes in DTS MA form. The UHD also offers a new commentary from comedienne/"Late Night With Seth Meyers" vet Amber Ruffin and author Lacey Lamar, while the included Blu-Ray reprises director Michael Schultz's spirited commentary track from the 2001 DVD release. Included in Schultz's talk is a hilarious story about how he accidentally deleted some 40 pages of writer Louis Venosta's script from his PC while he was off taking a nap! A 2015 retrospective featurette, "Return of the Dragon," which includes comments from Taimak, Berry Gordy and others, is on-hand plus the trailer.
---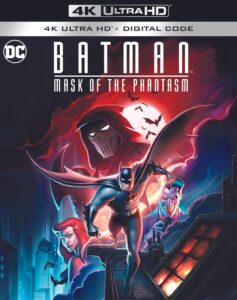 Also New on 4K UHD
BATMAN: MASK OF THE PHANTASM 4K Ultra HD (76 mins., 1993, PG; Warner): Excellent feature distillation of the acclaimed Batman animated series has developed a strong fan following since its meager performance at the Christmas '93 box-office. In fact, the 76-minute feature boasts a stronger, more coherent story than many of the Dark Knight's live-action flicks, coming to a poignant conclusion and strongly scored by Shirley Walker as well. Warner's 4K UHD includes an HDR10 4K grading (1.85) with 5.1 (new) and 2.0 DTS MA sound options; extras include a Digital HD code and the featurette "Kevin Conroy: I Am The Knight."
NATURAL BORN KILLERS 4K UHD/Blu-Ray (119/122 mins., 1994, R; Shout!): Strident Oliver Stone-helmed satire on mass media and the glorification of mass killers – embodied here by married psychos Woody Harrelson and Juliette Lewis – always felt like a product of its time and comes off even more strongly anchored to its era today than ever. From Stone and Robert Richardson's frantic camera and editorial rhythms to the caustic performances, "Natural Born Killers" is fascinating but heavy-handed at every turn, with one left wondering what Quentin Tarantino's original story might've ended up like had his writing not been reworked by Stone and co-writers David Veloz and Richard Rutowski.
Shout's 4K UHD (1.85) does include an effective Dolby Vision HDR transfer of the Director's Cut with 5.1/2.0 audio; this 2023 scan of the original camera negative is impressively textured, providing the eclectic visuals with supporting color and contrast. There are new interviews with co-editor Hank Corwin and producer Clayton Townsend; the theatrical cut on Blu-Ray; and archival extras from previous releases (deleted scenes, Stone's commentary, featurettes, etc.).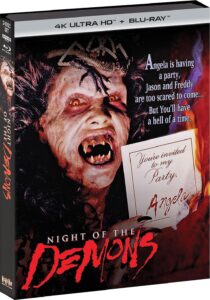 NIGHT OF THE DEMONS 4K UHD/Blu-Ray (90 mins., 1988, Unrated; Shout! Factory)/NIGHT OF THE DEMONS 2 Blu-Ray (96 mins., 1994, R; Shout! Factory): "Witchboard" helmer Kevin S. Tenney's late '80s cult favorite rides onto 4K UHD in a extras-filled special edition along with its later sequel in a new Scream Factory Blu-Ray.
Tenney's low-rent but agreeably silly original "Night of the Demons" – about a Halloween party held in a former funeral home that goes seriously wrong – is agreeably fun for buffs, boasting solidly gory make-up effects and a number of enjoyable kill sequences. In addition to a sensational 4K scan (1.85) of the uncut version's original camera negative that's included here on both 4K UHD and a remastered Blu-Ray, the former with Dolby Vision HDR, the disc serves up ample extras with some brand-new additions.
Among the latter is the original workprint version of the film, "The Halloween Party," plus fresh interviews with producer/writer Joe Augustyn and actress Jill Terashita. Carried over from the previous Scream Factory Blu-Ray are a commentary with Tenney and cast members; an earlier commentary with Tenney and his fellow producers; over an hour of interviews with Tenney, writer Joe Agustyn and actress Linnea Quigley; a promo reel; a video trailer; still galleries; and 5.1/2.0 DTS MA stereo audio.
Amelia Kinkade returned as undead villainess "Angela" in NIGHT OF THE DEMONS 2, which again was penned by Joe Augustyn and offers more of Steve Johnson's ghoulish make-up designs. Prolific Aussie director Brian Trenchard-Smith replaced Tenney behind the scenes but many fans didn't mind at all as the general consensus was this more amusing sequel relies on humor more than its predecessor – for the better.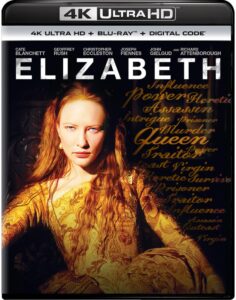 "Night of the Demons 2" premieres as a Shout Collector's Edition Blu-Ray (1.85) sporting a new commentary with cast members; fresh interviews with Kevin S. Tenney and Brian Trenchard-Smith; new conversations with Amelia Kinkade, Cristi Harris, producer Jeff Geoffray; plus an hour of dailies and even a "Night of the Demons 2" workprint with alternate/extended scenes. A behind-the-scenes photo gallery from Steve Johnson's archive rounds out the release.
PROMISING YOUNG WOMAN 4K UHD (114 mins., 2020, R; Universal): Carey Mulligan's terrific performance anchors the at-times brutally effective "Promising Young Woman," a searing, hard-to-describe "black comic thriller" from writer-director Emerald Fennell about a woman who sets out to exact revenge for a horrifying crime perpetrated on her friend (Alison Brie) years before. The performances are all on target, but viewers who might be sold by the movie's advertising campaign may be surprised to find a more sensitive, and introspective, film as opposed to a female "Death Wish." Universal's 4K UHD (2.39, 5.1) includes a stellar HDR10 grading that enhances the visuals of Fennell's film while incorporating a 5.1 DTS MA soundtrack. Extras include commentary with Fennell, featurettes and a Digital HD code.
Also new from Universal this month is a superior 4K UHD rendering of Shekhar Kapur's hit ELIZABETH (124 mins., 1998, R). This marvelous biopic, a showcase for Cate Blanchett in the title role, hits UHD with another capable HDR10 grading (1.85) of the picture with 7.1 DTS MA sound, the same track as its previous releases — both showcasing the film's sumptuous visuals and razor-sharp performances. Archival special features include two featurettes, Kapur's commentary, the Blu-Ray, and a Digital HD copy.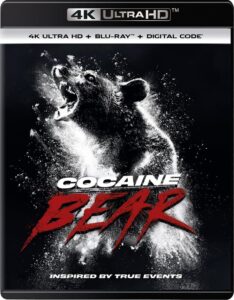 COCAINE BEAR 4K UHD/Blu-Ray (95 mins., 2023, R; Universal): Not exactly the reunion of "Americans" stars Keri Russell and Margo Martindale fans might have hoped for, "Cocaine Bear" is a nutty yet predictable "low concept" cheapie from Universal. Based "on a true story" that occurred in the mid '80s, director Elizabeth Banks' manic outing finds a Georgia bear having consumed a drug runner's cocaine after his plane went down, causing havoc for various parties like Russell, Martindale, O'Shea Jackson, Jr. and the late Ray Liotta. "Cocaine Bear" may be fun for a few minutes but if you've seen the film's trailer, you've basically seen it all, as the one-note script by Jimmy Warden and Banks' energy level fail to sustain the material to feature length. Debuting this week on 4K UHD after a spring Blu-Ray bow, this Dolby Vision HDR/Dolby Atmos presentation usurps the studio's previous Blu-Ray (which only offered 7.1 audio) and also includes that disc featuring an alternate ending, deleted/extended scenes, a gag reel, DVD and Digital code.
KISS THE GIRLS 4K UHD (115 mins., 1997, R; Paramount): First of three James Patterson-written thrillers featuring determined police detective Alex Cross to reach the big screen was the best of the lot – a well-oiled tale of a serial killer who abducts beautiful young women until one (Ashley Judd) is able to fight back. Judd has good chemistry here with Morgan Freeman, who comfortably settles into the Cross role despite the fact he'd only reprise it one more time (in 2001's Lee Tamahori-directed "Along Came a Spider"). Director Gary Fleder's film is effective and polished across the board, and became an unsurprising box-office hit. Paramount's 4K UHD is out this week featuring a Dolby Vision HDR transfer and 5.1 DTS MA sound; a Digital HD code is also included.
New on Blu-Ray September 26th comes a Double Feature pairing of two low-budget horrors from producer Gordon McLendon – titles that became synonymous with "The Creature Double Feature" on syndicated TV and, years later, part of the Mystery Science Theater 3000 catalog.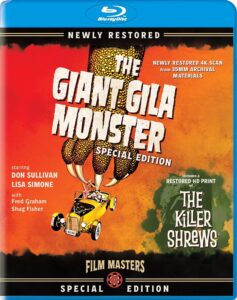 THE GIANT GILA MONSTER (74 mins.) is the main attraction here – a brainless melding of the giant monster movie with decidedly "lo-fi" special effects of a lizard terrorizing a small town where the cool kids hang out at the soda fountain and occasionally race their cars. It's terrible, of course – but also nostalgic black-and-white fun for those who remember this drive-in favorite from way back – albeit presented here as they've never seen it before, with a gorgeous 4K scan (1.33/1.85) from 35mm archival materials. No matter which aspect ratio you choose, the picture is finely detailed and healthy throughout. McLendon's other 1959 genre offering, THE KILLER SHREWS, is likewise presented on a second platter – and it's even worse by comparison – yet it stylistically fits right in with the B&W no-budget shenanigans of its predecessor.
Film Masters' Blu-Ray offers a booklet with essays from Don Stradley and Jason A. Ney, plus a commentary on "Gila" from "Monster Party Podcasters" and another chat on "Shrews" by Ney. There's also an archival interview with the former's star Don Sullivan; a full Ballyhoo/C. Courtney Joyner documentary on director Ray Kellogg; radio spots; and a 35mm restored trailer for "Giant Gila Monster."
---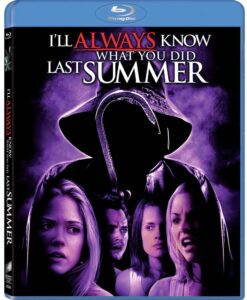 Sony Blu-Ray Titles
I'LL ALWAYS KNOW WHAT YOU DID LAST SUMMER Blu-Ray (91 mins., R; Sony): In-name-only follow-up to the Jennifer Love Hewitt chillers loses Love and gains a cast of relative unknowns as it mindlessly rehashes the concept of its predecessors: a group of teens stage a prank causing the death of one of their friends. Flashforward a year and a the killer with a hook is back, picking them off one by one. With no connection with the prior films (outside of "Captain Gorton with a Hook"), "I'll Always Know…" is a standard-issue hack 'n slash video affair with decent production values for small-screen features but little else to recommend it. Sony's Blu-Ray debuts the picture in HD for the first time (1.85, 5.1 DTS MA) with a half-hour "Making Of" and commentary from director Sylvain White.
A pair of new Sony Pictures Classics Blu-Ray catalog titles also premiere on disc this month.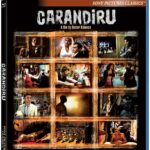 Hector Babenco's searing prison drama CARANDIRU (145 mins., 2003, R) portrays, in sordid detail, the execution of over 100 inmates in Brazil's largest correctional facility by police officers. Babenco's film follows a number of inmates who led the facility prior to the October 1992 "Carandiru Massacre," which is dramatized in an appropriately horrifying manner by the director of "Kiss of the Spider Woman." Sony's Blu-Ray offers 5.1 DTS MA sound, a fine 1080p (1.85) transfer and numerous extras: deleted scenes, a Making Of, Babenco's commentary, and historical footage of the Penitentiary and Carandiru's eventual destruction.
Gary Oldman wrote and directed NIL BY MOUTH (128 mins., 1997, R), a difficult yet rewarding character drama about a South London family struggling to get through drugs and poverty. The subject matter didn't endear this film to audiences despite Oldman, who wrote and directed, being supported here by producer Luc Besson and even a score from Eric Clapton – yet the performances are strong and the ultimate message sincerely rendered by all. Sony's Blu-Ray again features a capable 1080p (1.66) transfer with 5.1 sound and just the trailer on the bonus side.
---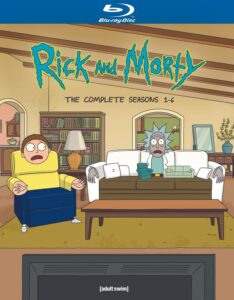 Complete Series Sets
RICK AND MORTY: The Complete Seasons 1-6 Blu-Ray (1364 mins., 2013-22; Warner): The hugely popular series from Cartoon Network's Adult Swim finds Rick Sanchez (voiced by Justin Roiland) living with his daughter's family and continuing to cause all kinds of trouble across the universe. This off-the-wall series, which regrettably met with recent "controversy" surrounding its co-creator, was a viewer favorite across its first six seasons, all of which have been collected by Warner in a new Blu-Ray box set.
All 61 episodes from the series (1080p, 5.1 DTS MA/Dolby TrueHD) are on-hand here with the supplements from their individual season discs. These include Animatics; deleted animatic sketches; a featurette; and episode commentaries from the series' creators. Not for every taste, but if you're in sync with the humor, this is a definitive must-have purchase. Note: for more specific reviews on the series, check the Aisle Seat Archives!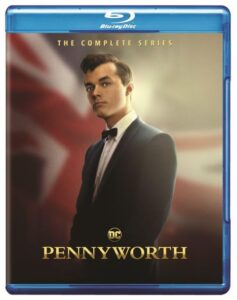 At some point, nearly every character in the Batman universe is going to have their own show – case in point being PENNYWORTH (564 mins., 2019-22; Warner), a surprisingly decent series focused on the Dark Knight's loyal butler. This one is a period prequel set in the 1960s, where the former SAS soldier (Jack Bannon) goes to work with Thomas Wayne (Ben Aldridge), years before he fathers the young Bruce. This Epix-broadcast Warner production offers enough reasonable intrigue – well performed by the cast – to satisfy hardcore "Bat" devotees, with all three seasons of the show now collected in a 7-disc Warner release. The no-frills Complete Series box-set includes better-than-broadcast HD transfers (2:1, 5.1 DTS MA) with the featurette "Reintroducing Pennyworth" plus a "Case File" for each Season 3 episode.
SUCCESSION: The Complete Series DVD (2018-23; HBO): Brian Cox plays Logan Roy, the patriarch of a powerful family whose four children (Jeremy Strong, Kieran Culkin, Sarah Snook, Alan Ruck) position themselves to inherit his legacy in this HBO series created by Jesse Armstrong. "Succession" started off as a moderate performer for HBO before becoming one of its more acclaimed recent series and a bona-fide ratings success – it also concluded this past spring with an expectedly controversial finale. HBO's DVD box-set includes the entire run of "Succession" in an affordable, economically-packaged oversized plastic clamshell case. The 16:9 transfers and 5.1 sound are fine, with extras including over two hours of bonus content, from cast and crew interviews to "Inside the Episode" featurettes.
---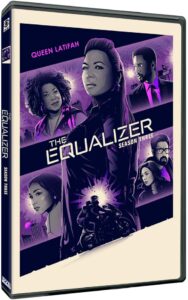 More Series on Disc
THE EQUALIZER Season 3 DVD (aprx. 13 hours, 2022-23; CBS): While Denzel Washington continues to kick up action on the big-screen, this CBS remake of the original Edward Woodward '80s series continues to generate decent ratings on TV. Queen Latifah's performance as Robyn McCall, balancing her domestic life with cases that utilize her special set of skills, anchors the show, about to enter (whenever this strike ends!) its fourth season. CBS' now-available Season 3 DVD includes the complete third season of the series with 16:9 transfers, 5.1 soundtracks and a gag reel.
STAR TREK: PICARD – The Final Season [Season 3] Blu-Ray (533 mins., 2023; CBS)/STAR TREK: PRODIGY – Season 1, Episodes 11-20 Blu-Ray (239 mins., 2022; CBS)/NCIS – LOS ANGELES The Final Season [Season 14] DVD (893 mins., 2022-23; CBS): Three series reach their end points: two with fan-friendly goodbye seasons, while another was met with a premature cancellation.
PICARD certainly does something of an about-face in its third season, trading in a little of its mopey moodiness from its uneven first two years for a largely acclaimed "fan service" finale that reunites Jean-Luc with members of the Next Generation crew. The result largely captivated hardcore fans and the CBS Blu-Ray offers top quality 1080p transfers, 5.1 DTS MA soundtracks, commentaries, featurettes, a gag reel and deleted scenes.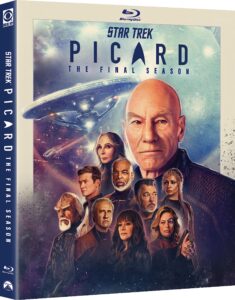 In the case of NCIS: LOS ANGELES, the 14th iteration of this long-running CBS spin-off bids adieu to Chris O'Donnell, LL Cool J and company in a much more conventional manner, with the team tackling the usual assortment of cases while Callen and Anna finally get engaged. CBS' six-disc DVD includes 16:9 transfers, 5.1 soundtracks, deleted scenes, featurettes, and the first-ever "NCIS" crossover event episode with the team joining up with the cast from "NCIS: Hawaii."
STAR TREK PRODIGY, meanwhile, was a valiant attempt at launching a Trek series for younger viewers with colorful animation and some "Star Trek: Voyager" connections for good measure. The result takes a bit to get going but is reasonably entertaining once it does, especially for pre-teens and hardcore Trek buffs. Alas, not enough viewers tuned into the Paramount+ series, which was unceremoniously canceled after its first season ended. Fans can still get their fill of the show with this Season 1, Episodes 11-20 package – basically a "Second" and final volume – from Paramount and CBS. The 1080p transfers and 5.1 DTS MA soundtracks are all top notch with three featuretttes and collectible character cards also on-hand.
FIRE COUNTRY – Season 1 DVD (945 mins., 2022-23; CBS/Paramount): Max Thieriot jumps from "Seal Team" to this new CBS series as a former convict who joins a prison release program fighting fires in northern California. The early-release inmates team with elite firefighters while Thieriot's Bode is also stationed in his hometown, adding character drama into this comfortably formulaic network series. Two featurettes are included in CBS' Season 1 package (16:9, 5.1), which is now available.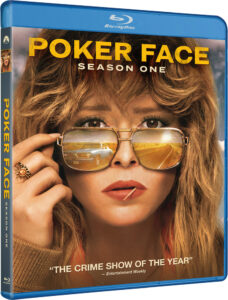 JACK RYAN – Season 3 Blu-Ray (389 mins., 2022; Paramount): Season 3 of the Amazon series finds John Krasinski's CIA analyst working in Rome when he uncovers a plot to restore the Soviet Empire. A broad conspiracy is, of course, afoot as Ryan attempts to confirm the intelligence while various international "incidents" begin to crop up. The third and apparently penultimate season of the series is new on Blu-Ray from Paramount (1080p) with Dolby Atmos sound and format-exclusive deleted scenes.
POKER FACE – Season 1 Blu-Ray (9 hours, 2023; Paramount): Natasha Lyonne nails one of her best roles as a cocktail waitress whose ability to see through to the truth gets her in hot water with a local mobster. Her hitting the road forms the basis of "Poker Face," an exciting and terrifically cast series that pairs Lyonne with everyone from Nick Nolte and Chloe Sevigny to Adrien Brody and Joseph Gordon-Levitt. It's an entertaining and well-acted show debuting on Blu-Ray and DVD this month from Paramount (16:9, 5.1) for those who have yet to stream the series.
---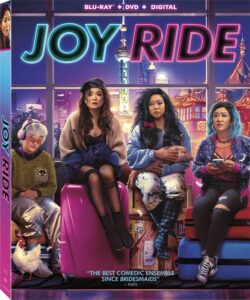 Quick Takes
JOY RIDE Blu-Ray/DVD (95 mins., 2023, R; Lionsgate): Raunchy comedy about a quartet of women (Ashley Park, Sherry Cola, Stephanie Hsu, Sabrina Wu) whose road trip turns into a series of mostly comedic misadventures hits upon the usual "Hangover"/"Bridesmaids" types of disparate character "bonding" and R-rated shenanigans. The difference in Adele Lim's film — which did not perform at the box-office as was expected — is the Asian-American casting which gives "Joy Ride" a little bit of novelty compared to the countless "Hangover" rip-offs that followed in the wake of that picture. Otherwise, this is expectedly tasteless in places though the ensemble is highly appealing. Lionsgate's Blu-Ray (2.39, Dolby Atmos) is now available sporting featurettes, a deleted scene, the trailer, DVD and Digital HD copy.
RUBY GILLMAN, TEENAGE KRAKEN Blu-Ray/DVD (92 mins., 2023, PG; Dreamworks/Universal): Making an animated film about a young teenage girl growing into adulthood didn't work out so well with Pixar and Disney's "Turning Red," and at least in terms of box-office, things were scarcely any better for Dreamworks' "Ruby Gilman" earlier this summer. The good news is this is, commercial results aside, a breezy and enjoyable kids film about the awkward title hero who embraces her destiny and comes to the aid of her family once her former bestie – a mermaid – proves to be the real villainess. Positive messages mix with some laughs and appealing characters in this Kirk DeMicco-helmed feature which is poised to find a larger audience on home video. Universal's Blu-Ray (2.35, 7.1 Dolby TrueHD) includes deleted scenes and featurettes, a DVD and Digital copy.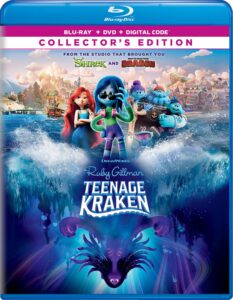 PADRE PIO Blu-Ray (104 mins., 2022; Gravitas Ventures): Shia LaBeouf gives a capable performance as Padre Pio in Abel Ferrara's undisciplined 2022 drama, set the end of WWI but with more of a seeming interest in Italian politics than being a story focused on Pio himself. The result is a disappointment despite an elaborate Italian/German production backing the mostly Italian cast, and Ferrara engaging in predictably self-indulgent, R-rated tangents. Gravitas' Blu-Ray includes a fine 1080p transfer and 5.1 sound.
Well Go USA New Releases: Cute Park Ji-Yeoh teams up with Ji Il-Ju to take on a zombie outbreak in GANGNAM ZOMBIE (81 mins., 2023), yet another tale of the undead from Asia which offers a fast-paced affair as the duo have to claw their way out of an office building with hordes of the undead lurking about outside. The brief running time is a plus in this South Korean import, which hits Blu-Ray September 26th from Well Go featuring a 1080p transfer and 5.1 Korean sound…Coming October 2nd from Well Go is CREEPY CRAWLY (92 mins., 2022), a new Thai import about hotel guests possessed by a freaky creature that jumps from victim to victim. Well Go's no-frills Blu is out October 2nd featuring a 1080p transfer and DTS MA sound, in Thai with English subtitles.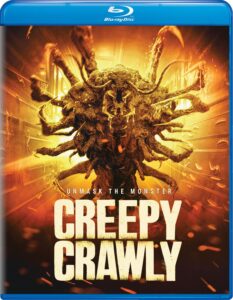 WHAT'S LOVE GOT TO DO WITH IT? Blu-Ray (109 mins., 2022, PG-13; Shout!): Lily James plays an aspiring filmmaker whose futile dating experience takes a turn for the better after she decides to film her neighbor Shazad Latif's arranged marriage to a bride from Pakistan. Sshabama Azmi and Emma Thompson co-star in Shekhar Kapur's film, on Blu-Ray from Shout (1080p, 5.1 DTS MA) with a featurette and trailer on the supplemental side…Also new from Shout this week is LONELY CASTLE IN THE MIRROR (116 mins., 2022), a new anime from director Keigo Sasaki that adapts Mizuki Tsujimura's novel about a young girl who's transported to a magical castle where she and six other students are engaged in a game with a mysterious connection between them all. An unusual and sensitive piece with Gkids and Shout's Blu featuring a 1080p (1.78) transfer with 5.1 Japanese or English audio, an art gallery and trailers.
DIRECTOR SPOTLIGHT: KEVIN MacDONALD (Mill Creek): Double-feature Blu-Ray pairs Macdonald's 2009 journalism thriller STATE OF PLAY starring Russell Crowe and Ben Affleck with the Jude Law submarine thriller BLACK SEA. Both Universal licensed transfers (2.35/2.40) look fine with 5.1 DTS MA sound and even the extras from their previous Blu-Ray releases (commentary with Macdonald on "Black Sea" plus a featurette; deleted scenes and Making Ofs on "State of Play").
---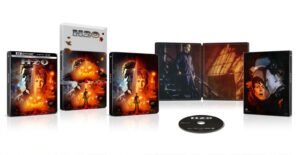 Paramount Catalog Titles
HALLOWEEN: H20 4K Ultra HD Steelbook (86 mins., 1998, R; Paramount): Pretending at the time to be the first genuine sequel to John Carpenter's original "Halloween" films, the 1998 Dimension offering "Halloween: H20" did add some validity to that claim by returning Jamie Lee Curtis to her original "scream queen" role as Laurie Strode, the teenager once attacked by Michael Myers in an Illinois small town and now, some 20 years later, finds herself as a single mom running a California boarding school, living under another name but also the specter of Myers.
This is a solid foundation on which to build "Halloween: H20" and the movie's high budget (for this kind of film) gives the picture a slick look and a polished production feel. Yet H20 comes across as a disappointment in virtually every regard. The story, by Robert Zappa and Matt Greenberg (based on a treatment by "Scream"'s Kevin Williamson), is utterly predictable right from the get-go. Talented co-stars like Adam Arkin and Michelle Williams are totally wasted as the script establishes a bare minimum of stock supporting characters as lambs for the slaughter, even though it goes to great lengths to develop a mother-son dynamic in Curtis and Hartnett that is all but abandoned midway through the film. More over, the screenplay fails to give Myers, "The Shape," anything to do. The masked killer never even gets to rack up a decent body count, aside from the movie's non-scary "Scream"-like opening sequence, and the kinds of set-pieces in which John Carpenter built suspense and terror in the original film–with Myers stalking unassuming victims in comfortable suburban settings–are completely lacking here.
If half of the blame goes to the script, then the rest has to be placed on the direction. Steve Miner, best known for movies like "House," "Warlock," and "Forever Young," spends the first half of his slow-moving 85-minute movie setting up an interminable amount of faux scares, dominated by endless steadicam shots showing characters going down barely lit corridors and open windows. After the first few times this device is reprised, most anxious viewers and horror buffs will be wanting the movie to get on with it, but even when it ultimately does, the rewards are hardly worth the wait. (One can only assume how short this movie would have been without those set-up scenes, however).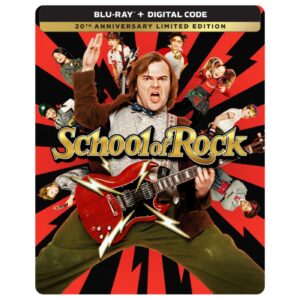 Nevertheless a big box-office hit that led to one direct sequel (the abysmal "Halloween: Resurrection") plus a pair of weird Rob Zombie-directed revivals, "Halloween: H20" is out in a new Steelbook 4K UHD package from Paramount. The Dolby Vision HDR transfer does an excellent job with warm yet stable colors while 5.1 DTS MA sound is on-hand along with a Digital HD code.
Also new in Steelbook form from Paramount is a Blu-Ray of SCHOOL OF ROCK (109 mins., 2003, PG-13), Richard Linklater's box-office hit starring Jack Black as a burned out guitarist who impersonates a substitute teacher and makes a group of 5th graders into respectable juvenile rockers! Mike White's funny script works and the film, while conventional, is irresistibly appealing. Paramount's Steelbook reprises its Blu-Ray (1080p, 5.1 DTS MA) with commentary from Black and Linklater, a kids commentary, multiple featurettes and a digital code.
NEXT TIME: Autumn Attack Edition Part 2! Until then, don't forget to drop in on the official Aisle Seat Message Boards and direct any emails to our email address. Cheers everyone!