Message Board (open 24 hours!)
Twitter - @andredursin (for everything else!)
If you, like me, grew up in the '80s, you can be forgiven for thinking that Sidney J. Furie was little more than a journeyman director. His attachment to slick but rather anonymous commercial projects like the "Top Gun" rip-off "Iron Eagle" and "Superman IV: The Quest For Peace" weren't indicative of the kinds of personal projects that informed his earlier work – movies that made an indelible impression on his devotees and offered evocative widescreen visuals to match their often rich human dimensions. Imprint's latest retrospective Blu-Ray box-set, DIRECTED BY SIDNEY J. FURIE, offers five of Furie's superior works from the 1970s including the release of two pictures making their home video debuts in any format.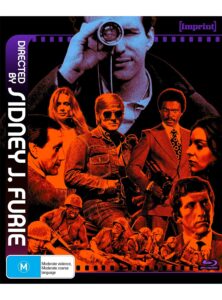 That includes SHEILA LEVINE IS DEAD AND LIVING IN NEW YORK (112 mins., 1975, PG), a quite wonderful character study that flopped at the box-office and even picked up a "BOMB" rating in Leonard Maltin's Movie Guide. Part of the disdain came through its adaptation of Gail Parent's book of the same name, a black comic look at a young Jewish woman's misadventures in New York City, hunting for a husband she ultimately never finds. While comedy writer Parent penned the film version along with her partner, Kenny Solms, the film was a totally different animal than the source material – a much more romantic and lyrical picture that was equally concerned with Sheila Levine's quest for self-worth and her own identity after moving from the Pennsylvania suburbs.
Since decades have passed and the public is no longer attached to the book, it's much easier for viewers to assess this Paramount release, and on its own level, it's a charming and well-acted film that plays to Furie's strengths. In Solms and Parent's film adaptation, Sheila's (Jeannie Berlin) assorted adventures in the big city include finding a job with a children's record company, contending with her pretty roommate (Rebecca Dianna Smith), and meeting a doctor (Roy Scheider) attached, it seems, with his bachelorhood. The film plays out with a mix of bittersweet passages, mild laughs, and quite a bit of emotion – all of it in gorgeous widescreen, communicated with moody lighting designed by Furie and cinematographer Donald M. Morgan, and graced with a lovely Michel Legrand score (the second of three outings with Furie).
This is a movie that's consistently watchable through its deft visual compositions and core performances. Berlin, who starred in "The Heartbreak Kid" and disappeared for some 15 years following this film's release (more on that in a moment), gives a superb performance on-screen here, believably capturing Sheila's eccentricities and vulnerability, but the real heart of the film is embodied by Scheider. Presumably appearing in the last project he shot prior to "Jaws," Scheider gives one of his best performances as the object of Sheila's affections, bringing a believable shading to a character who's, ultimately, just as vulnerable as she is.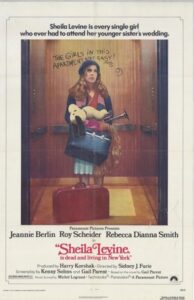 There are numerous scenes that linger long in the mind after the film is over which Furie allows his actors to shine in. This is especially true during the film's climax where Scheider's doctor finally lets his guard down and, in a recording booth session at Sheila's workplace, spills his heart out to our heroine. Furie shoots this scene with Scheider playing opposite Berlin, separated by the booth's glass but their images nearly coupled upon it – it's a long, beautifully performed take, superbly designed, that showcases both Furie's finesse and handling of actors.
That the movie turned out so strongly is a testament to Furie and the crew, since its production was a notorious nightmare with Berlin (Elaine May's daughter) apparently a train wreck on the set, causing near constant arguments and assorted issues on a daily basis. She eventually quit the film, leaving Furie and Morgan with the decision to resourcefully finish the picture on their own instead of Paramount taking her to court. Their efforts work nearly seamlessly as they employed a stand-in for location shots and relied on Scheider to single-handedly carry the picture's ending. That his performance was pulled off without the movie's star even present for its climactic moments illustrates Scheider's professionalism and elevates "Sheila Levine" as a must-see for his fans.
Only sporadically screened on TCM over the years and never released on home video anywhere – not even VHS – "Sheila Levine Is Dead And Living in New York" debuts on Blu-Ray in a highly satisfying 1080p (2.35) transfer via a 4K scan from the original camera negative. Details are clear, colors are strong, and the mono sound is fine, backing Legrand's memorable musical contribution (I did find his original pop tune, "Love Me Or Love People," to be used just a little too often throughout the movie – though I will admit you won't forget it after having seen this picture!). It's a shame the score never received a release, at least not beyond its love theme ("Wonder Where I'll Be Tomorrow") in Legrand's 1975 "The Concert Legrand" LP.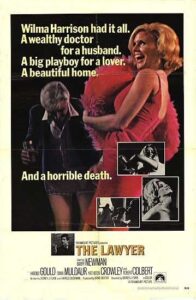 Daniel Kremer spearheads most of the extra features in Imprint's box, and on this disc, he's on-hand for a commentary with Furie who's a little hazy on the specifics of the production (he hadn't seen it since 1975) but recalls the crew's struggles with Berlin and the difficulty in finishing the movie without her. An audio interview with dp Donald Morgan is insightful and gives additional detail into how he and Furie tackled the movie's completion – elements that you'd never even guess occurred if you just watched the movie (as I had) without prior knowledge of Berlin's troubles. Other extras include a commentary with Samm Deighan and visual essays by Bill Ackerman (on the differences between the book and the film), Scout Tafoya (on Furie and New York City), and David Cairns ("Furie's 1970s Politics").
Another film making its first-ever home video appearance in "Directed By Sidney J. Furie" is THE LAWYER (120 mins., 1970, R), wherein Barry Newman stars as tough Harvard educated lawyer Anthony Petrocelli, who leaves the big city for the rural southwest and a murder case involving a local, prominent doctor's wife that closely echoes the same "Sheppard murder case" that inspired "The Fugitive."
This movie didn't apparently make much of a mark in theaters (to put it mildly) but did, interestingly enough, lead to a two-season network TV series, "Petrocelli," with Newman reprising his role several years after its release.
"The Lawyer" will probably be of interest for those who remember that show, but as a self-contained movie, it's not very effective. The plodding pace is a drawback as is the unnecessarily convoluted script, which puts too much of an emphasis on the plot. Newman is strong, but other roles are oddly cast, including an ineffective Harold Gould as a local lawyer, and it's all capped by one of the most repetitive scores I've ever heard by Marcus Dodds – buried within the period's "pop" sensibilities by a Bacharach-styled main theme, repeated to no end throughout the film, plus hilariously formulaic "twangy" guitars meant to underscore its setting.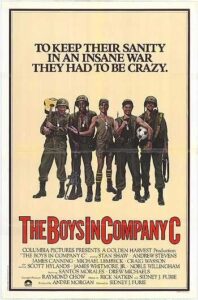 A curio that doesn't rank with Furie's best work, displaying little of the director's sense of composition that marked his earlier '60s output ("The Ipcress File" especially), "The Lawyer"'s obscurity still gives it some curiosity value, and Imprint's transfer (1.85), another 4K scan of the OCN, is superb. Extras include Daniel Kremer and Paul Lynch discussing the film with earlier Furie interview segments incorporated. There's also an interview with Newman, conducted prior to his passing at age 92 this past May, that's great to see, along with a talk with Joe Dante, discussing the director's influence on his work as well as Furie's uneven filmography as a whole. A visual essay from Kremer on Furie's Paramount output is on-hand along with brief interviews featuring co-star Diana Muldaur, who within the last few years shot a new (as of unreleased) film with Furie that also reunited her with Barry Newman.
It's remarkable how much influence Sidney J. Furie's THE BOYS IN COMPANY C (126 mins., 1978, R) had on Stanley Kubrick's "Full Metal Jacket." Not only does Kubrick's 1987 film resemble this earlier Vietnam War drama in concept and structure – a group of disparate American soldiers find themselves buried under the calamity of both brutal skirmishes and bureaucratic incompetence – but the director utilized this film's drill sergeant, R. Lee Ermey, who basically repeated his role so memorably for Kubrick nearly a decade later.
Though not a box-office success (being released the same weekend as the Blizzard of '78 certainly didn't help it in northeast markets), "The Boys in Company C" is, altogether, a superior film than "Full Metal Jacket" and one of the best of all the pictures made about the Vietnam conflict. Furie and co-writer Rick Natkin's script may be familiar in structure to anyone who watched the Kubrick movie, or Oliver Stone's "Platoon," but there's a plain, no-nonsense approach to the subject matter that's welcome and effective. There's none of the sermonizing from Stone's picture or the visual poetry of Coppola's "Apocalypse Now" (which, ironically enough, was shooting in the same Philippines area at the exact same time) – Furie is able to make his points about the nature of this war in a way that (at least until the ending) isn't obvious and heavy-handed.
It's also a fully entertaining film with marvelous moments, as "The Boys" (who include Craig Wasson, Andrew Stevens, Michael Lembeck, James Canning and Stan Shaw's often frustrated platoon leader) are sent into battle for reasons that have nothing to do with "winning" but the whims of generals looking to up their "body count" score. As Craig Wasson notes in an interview here, this is one of the few Vietnam films that didn't "blame" the war's shortcomings solely on "the kids" involved but placed more an emphasis on the military's poor strategic plans and often failed leadership.
The cast is terrific – especially Shaw and James Whitmore, Jr. as the company's lieutenant – and the widescreen lensing of Furie and Geoffrey Godar is accomplished. Though the film has a bit of a ragged feel at times – owing to having been cut down from a longer print – this is an effective movie on many levels and one that comes highly recommended as one of Furie's finest.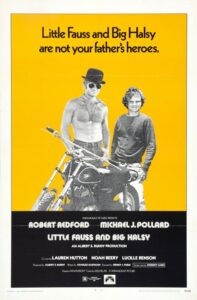 "The Boys in Company C" was an independent production financed mostly by Raymond Chow's Golden Harvest. Looking to branch out from Hong Kong-produced martial arts movies into the U.S. market, Golden Harvest eventually aligned with Columbia for the film's distribution after other studios turned the movie down – mostly out of concerns for its "hard R" levels of violence and profanity. That means the film's distribution resides with its library's parent company, Fortune Star, which has never been renowned for its home video transfers.
This 2K scan (2.35) from the original negative is, at least, natural in terms of preserving film grain but the source elements do display damage, some scratches, and inconsistency throughout. I've never seen the U.S. Blu-Ray that Hen's Tooth released but it sounds like this is the same master, encoded here at a higher bit-rate with lossless mono sound. Interestingly, the film has no original score at all even though composer Jaime Mendoza-Nava is listed with the music in the opening credits.
A wonderful array of supplements includes two commentaries, one from Daniel Kremer, screenwriter Rick Natkin and producer Andre Morgan, along with an archival commentary with Andrew Stevens. New interviews include Craig Wasson, Michael Lembeck, and Stan Shaw, while featurettes include Furie's audio conversation on the production and a visual essay comparing this picture with "Full Metal Jacket" via Kremer's musings.
Imprint's limited edition box-set is capped by two other, early '70s Furie pictures, both of which were released in the U.S. on Blu-Ray by Olive previously. I can't say either film is a particular favorite of mine though each has some value, especially when looked at within the context of the director's work at this time.
A film Robert Redford made as a contract fulfillment after backing out of a Paramount western named "Blue," LITTLE FAUSS AND BIG HALSY (99 mins., 1970, R) feels a bit like another sports-themed film the star just appeared in around the same time for Paramount: Michael Ritchie's superb "Downhill Racer." This picture about a temperamental motorcycle racer (Redford) who clashes with mechanic/aspiring cyclist Michael J. Pollard isn't, however, nearly as good, even with Redford hitting some of the same beats as a vain competitor who can't get out of his own way. Furie shot the film in scope and it looks impressive, yet the film's downbeat tone and lack of appealing characters make it more of a curio in Redford's then-surging career than anything else.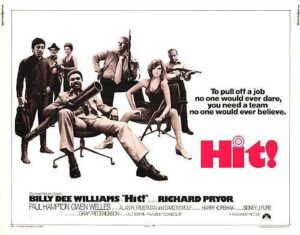 Imprint's Blu-Ray boasts a 2K scan (2.35) from the OCN with a commentary between Daniel Kremer and Sidney J. Furie leading a roster of special features that also include a talk with producer Albert S. Ruddy; part one of a conversation with producer Gray Frederickson; a featurette on Furie's widescreen compositions; a video essay from David Cairns; Furie's DGA Canada lifetime achievement award speech; and a "Trailers From Hell" segment featuring screenwriter Larry Karaszewski.
Last up is HIT! (135 mins., 1973, R), a would-be action thriller starring Billy Dee Williams as a government agent who wants to go after the source of the drugs that caused his daughter to fatally overdose. He assembles a Mission: Impossible-styled team – members that include Richard Pryor – to track down the traffickers in a film clearly inspired by the likes of "The French Connection" minus the directorial panache William Friedkin brought to that classic. Instead, "Hit!" suffers from a protracted set-up that encompasses much of the movie's bloated run time, making it more of a "caper" than a tightly constructed thriller. Ultimately, the glum tone and tedious pacing prove too much for the picture's positive attributes (location filming and Lalo Schifrin's solid score) to overcome.
Again working from a Paramount-licensed 2K (2.35) scan, this Blu-Ray isn't up to the fresh-looking "Sheila Levine" and "Lawyer" presentations, but it's serviceable. A Daniel Kremer/Sidney J. Furie commentary highlights the supplemental section that also counts the second half of the Gray Frederickson interview among its special features – in addition to a brief, older Billy Dee Williams phone interview; a talk with co-star Paul Hampton; and a video essay by Howard S. Berger and David Nicholson-Farjado.
Imprint's sturdy "hardback" box houses all five movies in individual cases with a booklet featuring notes and glossy photos. It's a terrific tribute to a filmmaker whose key works are well worth revisiting, with at least two of Furie's finest pictures offered within.
---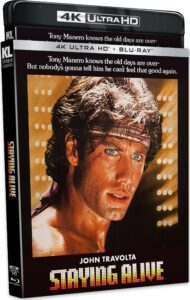 Kino Lorber August Releases
Dancing its way onto 4K UHD from Kino Lorber is STAYING ALIVE (96 mins., 1983, PG), the belated "Saturday Night Fever" follow-up which was, much like another Summer 1983 sequel — "Superman III" — heavily derided yet nevertheless one of the highest grossing films of the year at the box-office.
In fact, director Sylvester Stallone's movie shares, if anything, more in common with another 1983 smash, "Flashdance," than John Badham's 1977 predecessor. They're both incredibly silly, include several music video montages, and have about as much depth as your average Coors Light commercial.
Admittedly, "Staying Alive" is a far cry from the gritty streets of "Saturday Night Fever." John Travolta is back as Tony Manero, once again trying to make it big as a Broadway dancer but having to do so by starting out at the bottom. The script — by original scribe Norman Wexler and Stallone — is an utter mismash of show biz cliches, from Tony's faithful girlfriend (cute Cynthia Rhodes from "Runaway") to the obnoxious, bitchy queen (Finola Hughes) who uses and abuses Tony prior to her big show opening. And speaking of that, the absurd and over-inflated musical finale, "Satan's Alley," is indeed an all-time camp classic, complete with original songs by the Bee Gees and Frank Stallone.
Fortunately, it all goes down nice 'n easy as a guilty pleasure favorite — a movie that feels more like a standalone film than a sequel, placing its returning protagonist into a movie with a very different tone and cinematic approach. Most of the reason for that could be attributed to star Travolta's reported rejection of previous "Fever" sequel scripts, the actor wanting to dial down the "grit" and play up the romantic/aspirational aspects of Tony's journey.
For fans, Kino's "Staying Alive" 4K restoration (1.85) looks fabulous with Dolby Vision HDR and fantastic colors that truly do provide this visually muscular production with appropriate "pop." The 5.1 and 2.0 sound options are both fine, the movie offering loads of pop tunes with some late underscoring by Johnny Mandel. In addition to an interview with Hughes there's a great David Del Valle/Ed King commentary that provides ample research and insight into Travolta's reluctance to make the film and the sequel's popularity with audiences, in spite of its widespread critical rejection. Numerous trailers include the memorable teaser which boasts a prominent use of Stallone directing Travolta behind the scenes.
Kino's other late August 4K UHD release, THREE DAYS OF THE CONDOR (117 mins., 1975, R), is another superlative catalog remaster from the Paramount vaults — a 4K scan of the 35mm original camera negative with Dolby Vision HDR.
This terrifically entertaining Dino DeLaurentiis production is one of director Sydney Pollak's best movies — one of the many '70s "conspiracy thrillers" that, unlike some of its genre peers, doesn't forget to be entertaining. Robert Redford was at his peak here, starring as a CIA agent whose team has been eliminated, and whose path back "in" to his superiors is fraught with danger and double-crosses. Lorenzo Semple, Jr. and Pollak regular David Rayfiel adapted James Grady's book that benefits from location lensing, Dave Grusin's score, and a great cast also including Faye Dunaway, Max Von Sydow, Cliff Robertson and John Houseman among them.
"Condor" makes its U.S. 4K UHD debut from Kino Lorber in a disc that surpasses a Studio Canal import version in terms of brightness (this Dolby Vision HDR grading is much easier on the eyes), compression/clarity (Kino's disc is superior), and even color, with this transfer being a bit more balanced and richer. Stereo remix options (5.1/2.0 DTS MA) comprise the soundtrack with extras including a new Steve Mitchell/Nathaniel Thompson commentary and archival supplements: Pollack's commentary, the 2003 half-hour "More About the Condor" retrospective doc (left off Paramount's previous Blu-Ray release), and 2004 "Something About Sydney Pollack" documentary.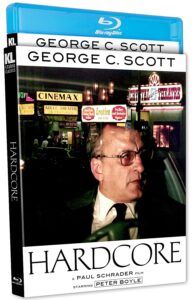 Paul Schrader's tough 1979 thriller HARDCORE (108 mins., 1979, R) returns to Blu-Ray this month from Kino Lorber. Schrader's original script pits church-going, Midwestern father George C. Scott against the seedy underbelly of Southern California, where his daughter has run away from home and gotten involved in the porn industry.
Scott's excellent performance is over-the-top at times – especially when he's forced to watch evidence of his beloved child's "employment" in a porno – but he's also flamboyantly entertaining in a John Milius-produced effort that's a modern variant on "The Searchers." Co-stars include Peter Boyle – his name "boxed" below the title – and, in a rare dramatic turn, Dick "Bewitched" Sargent. However, it's Season Hubley's performance as a hooker who helps Scott's conservative dad search the mean streets that really gives the film a strong emotional undercurrent.
"Hardcore" was vividly shot by Michael Chapman and offers a Sony licensed 1080p (1.85) AVC encoded transfer that boasts high detail, crisp color and elements in generally excellent condition. Some sequences look positively photo-realistic with outstanding detail, in fact. 1.0 DTS MA mono audio houses an okay Jack Nitzsche score plus the trailer, a commentary with Schrader — who discusses shooting the movie in his home town of Grand Rapids, Michigan and working with the notoriously difficult Scott — and a reprised "Twilight Time" commentary with historians Paul Scrabo, Lee Pfeiffer and Eddy Friedfeld.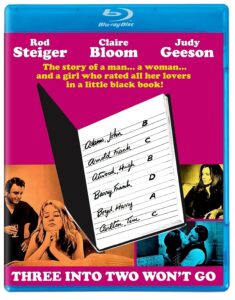 THREE INTO TWO WON'T GO Blu-Ray (93 mins., 1969, R): Reasonably compelling tale of a dysfunctional marriage circa the late '60s stars Rod Steiger as a philandering British husband who hooks up with young hitchhiker Judy Geeson. Unfortunately (?) for Steiger, she decides to hang around town, taking a job as a maid and subsequently walking over to his new home where his (already) unhappy wife (Claire Bloom) awaits. Peter Hall directed this seldom-circulated, UK-made Universal release, which takes an awful long time to put all its cards on the table and ends right when it's getting interesting. As a result, this "mod" era domestic drama comes off as interesting but not altogether satisfying, though Steiger, who always had a tendency to ham it up, keeps himself in check for the most part. Francis Lai's score is pleasant and Peggy Ashcroft offers strong support as Bloom's mother. Kino Lorber's Blu-Ray is out this week (1.85, mono) featuring a Troy Howarth/Nathaniel Thompson commentary plus a TV version with padded, specifically-shot scenes featuring Geeson's family trying to find her whereabouts.
IS PARIS BURNING? Blu-Ray (173 mins., 1966): International epic boasts a mostly French cast with a few American cameos incorporated in an attempt to sell the movie to U.S. audiences. While the end result met with mixed reception, "Is Paris Burning?" is still an interesting and captivating attempt to convey the history of Paris' final hours under Nazi occupation at the end of WWII.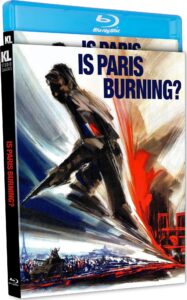 Sporting a fragmented script credited to Gore Vidal and Francis Coppola (other screenwriters are listed with material for the French and German scenes), "Is Paris Burning?" utilizes newsreel footage, authentic locales, and actual tales of the French resistance's fight to reclaim the city and prevent a Nazi wave of destruction ordered by Hitler in the waning hours of WWII. The film is decidedly episodic, opening somewhat raggedly with one woman's futile attempt to find her POW husband before he's dragged off to Germany, and unfolding with often brief cameos by U.S. stars like Kirk Douglas (as General Patton!), Anthony Perkins (as a soldier wanting to see the Eiffel Tower), Glenn Ford, and Robert Stack as the Americans finally intervened in the effort. Orson Welles, on the other hand, garners more screen time in a solid performance, while Gert Frobe essays a somewhat sympathetic Nazi who knows full well that the battle is over (the scene in which the two have a discussion while sitting next to a table full of desserts is unintentionally amusing, however!).
The Rene Clement-directed film does have its problems — its length for one — and nearly every star, regardless of their country of origin, has been dubbed to the point where even Kirk Douglas doesn't sound like Kirk Douglas. Some of the dubbing is atrocious, but "Is Paris Burning?" does have its bright spots: terrific black-and-white cinematography in full widescreen, a compelling central story that survives in spite of its structural problems, and a glorious Maurice Jarre score. Jarre deftly combines the bold, militaristic sound of war with gentle Parisian waltzes, making for a memorable soundtrack that carries much of the picture.
Kino Lorber's Blu-Ray includes a superb soundtrack, featuring the Roadshow Overture, Intermission and Entr'acte, plus a 4K scan of the original 35mm camera negative (2.35) which is perfectly framed though varies in terms of the condition of the print. Obviously, some newsreel footage looks excessively grainy, as do scenes involving subtitles; other sequences are flawless, and the B&W cinematography is likewise excellent (there's a final color shot at the very end). A new commentary from Daniel Kremer and Howard S. Berger is the sole new extra.
"Is Paris Burning?" is an interesting war epic that — despite its flaws — comes highly recommended both for its historical relevance and its relatively offbeat presentation, which separates it from many of its peers in the genre. Recommended, for Jarre's score and the cinematography alone.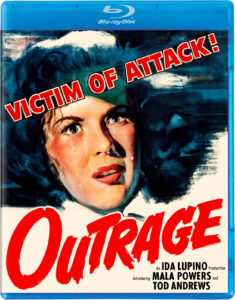 Another Clement film, THE DAY AND THE HOUR (110 mins., 1963), likewise debuts this month from Kino Lorber on Blu-Ray. This French import is also set in WWII where Simone Signoret plays an isolated French woman who gets involved in the Resistance after discovering a group of Allied airmen, downed behind enemy lines, whom she helps smuggle into Spain. Stuart Whitman and Genevieve Page co-star in this acclaimed French romantic war-time drama, on Blu-Ray in a new 4K Gaumont restoration (2.35) offering the same clear, impressive widescreen B&W cinematography as Clement's "Is Paris Burning?" A new commentary by Samm Deighan and the trailer comprise the supplemental section.
An earlier French classic, STRANGERS IN THE HOUSE (95 mins., 1942), has also been restored by Gaumont in 2K. This is an early '40s thriller from writer Henri-Georges Clouzot ("Wages of Fear," "Diabolique") who adapted "Maigret" creator Georges Simeone's novel about a former attorney (Raimu) who, along with his daughter (Juliette Faber), hears a gunshot and finds a dead man in the attic of the dilapidated old mansion they're living in. Prolific French director Henri Decoin helmed "Strangers in the House" which not only boasts Gaumont's new transfer in Kino Lorber's Blu-Ray (1.37 B&W, French with English subtitles) but a commentary by Howard S. Berger and Nathaniel Thompson as well.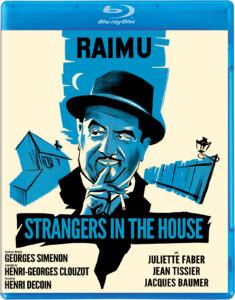 More Noir and Other Thrillers
FORCE OF EVIL Blu-Ray (79 mins., 1948): Restored in 4K by Paramount, UCLA and the Film Foundation, "Force of Evil" is one of John Garfield's best – a punchy noir with Garfield essaying a disillusioned lawyer whose mob boss gets him involved in a numbers game that ultimately costs both him and his brother (Thomas Gomez). Independently made, shot on location in NYC and released through MGM theatrically, "Force of Evil" offers a fast-moving story, terrific performances from Garfield, Gomez, Marie Windsor and Beatrice Pearson, and an intriguing script by director Abraham Polonskly and Ira Wolfert that's layered with Biblical illusions and a realism lacking in most Hollywood productions of its time. This 4K transfer (1.37 B&W) is solid in Kino Lorber's Blu-Ray with extras including an intro from Martin Scorsese and a new commentary by Imogen Sara Smith.
OUTRAGE Blu-Ray (75 mins., 1950): Actress Ida Lupino produced, directed and co-wrote this stark drama, controversial for its time, that follows a small-town bookkeeper (Mala Powers) who's raped on the way home from her job. The violence takes an immediate toll on her personal and professional well-being – making for a character-driven portrait of domestic violence and sexual assault that was frank and certainly unusual for its era. Credit Lupino for helming a film of this nature, which Paramount restored in 4K (1.37 B&W) from the 35mm fine grain. Kino Lorber's Blu-Ray makes for a fascinating view, and is complemented by a commentary from Imogen Sara Smith.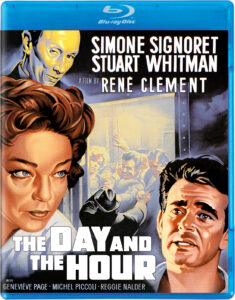 Vintage Releases
AUDIE MURPHY COLLECTION II Blu-Ray (Kino Lorber): Three '50s Technicolor westerns Audie Murphy produced for Universal arrive on Blu-Ray for the first time this month in Kino Lorber's "Audie Murphy Collection II" box-set. SIERRA (83 mins., 1950) stars Murphy as the son of mountain man (Dean Jagger) hiding out for a murder he didn't commit; their lives are uprooted after Wanda Hendrix gallops into their secluded mountain valley. A crooning Burl Ives co-stars with Tony Curtis in an early role. Murphy essays a young Jesse James in KANSAS RAIDERS (80 mins., 1950) who learns the head of "Quantrill's Raiders" (Brian Donlevy) isn't what he's cracked up to be. Curtis again appears in this slick, fast-moving Universal-International sagebrush saga co-starring Marguerite Chapman. The third entry here is DESTRY (95 mins., 1954), a Technicolor remake of the classic "Destry Rides Again" – even hailing from the same director, George Marshall! Henry Mancini contributed to the score, with another impressive Technicolor presentation on-hand here from Kino Lorber. Extras include new historian commentaries on each film by, respectively, Toby Roan; C. Courtney Joyner and Henry Parke; and Lee Gambin and Gary Frank.
Kino Classics' August releases include a double-bill from the Ernst Lubitsch Collection. THE DOLL (68 mins., 1919) is a color-tinted silent about a naive young man told to marry in order to inherit his family's fortune – he opts to do so with a doll (!), unaware it's really the daughter of the puppet designer he bought it from (!!). A gentle comedy that's matched here with I DON'T WANT TO BE A MAN (45 mins., 1918), another Lubitsch farce about a tomboy who decides to dress up in the clothes of the opposite sex in order to better enjoy life. Mistaken identities and big laughs are each a part of the two films, presented here on Blu-Ray from Kino Classics featuring commentaries by Joseph McBride, the two movies in 2012-13 German restorations (1.33) with German intertitles and English subtitles.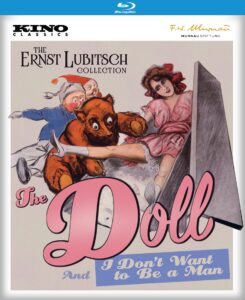 Antonio Morendo and Pola Negri were two of the silent era's superstars and their coupling in THE SPANISH DANCER (106 mins., 1923) ranked as one of the biggest pictures of its respective era. Directed by Herbert Brenan and designed by cinematographer James Wong Howe, "The Spanish Dancer" offers a level of spectacle that was jaw-dropping then and impressive still today with its massive sets and scores of extras. Milestone's Blu-Ray (1.37) includes a brand new orchestral score by Bill Ware along with a composer interview; restoration demo; and a commentary from historians Scott Eyman and Naima Prevots.
Foreign & Special Interest
Pietro Marcello's SCARLET (104 mins., 2022) is the director's follow-up to "Martin Eden," offering Raphael Thiery as a WWI vet who, following the war, raises his young daughter (Juliette Joun) over two decades between wars in their native Normandy. The kind of "auteurism" we seldom see on the big-screen, Marcello's visually impactful "Scarlet" is packed with impressive visuals and a Gabriel Yared score that create a romantic, if not exaggerated, framing of the past – all within a striking 16mm framework (1.55) that incorporates archival footage. The resolution is satisfying as well. Kino Lorber's Blu-Ray includes a Q&A with Marcello, the trailer, documentary, and both 5.1/2.0 sound.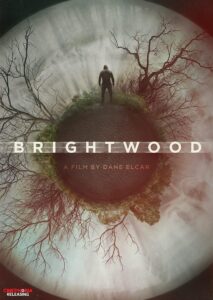 Tilda Swinton narrates LAST AND FIRST MEN (71 mins., 2020), a strange – certainly not for every taste – yet undeniably visually impressive feature that marked the only directorial work of the late composer Johann Johannsson, whose eye captures Communist-era monuments that, some two billion years from now, here represent the last surviving remnants of humanity. Johannsson adapted a 1930 British sci-fi novel by Olaf Stapledon for this weird but compelling piece of art, debuting on Blu-Ray from Metrograph Pictures and Kino Lorber (5.1/2.0) this month.
Coming on DVD this month from Kino Lorber is the French comedy TWO TICKETS TO GREECE (111 mins., 2022) which stars Laure Calamy and Olivia Cote as childhood friends who bond after they decide to finally take their dream vacation to Greece together. Kristin Scott Thomas co-stars in the Greenwich/Kino DVD (2.40, 5.1/2.0, French with English subtitles). Also newly released this month from Greenwich is THE MELT GOES ON FOREVER: THE ART & TIMES OF DAVID HAMMONS (101 mins., 2021), a documentary by Judd Tully and Harold Crooks that profiles the life and output of African-American artist David Hammons from his professional beginnings during the Watts rebellion in the '60s through worldwide acclaim. Kino Lorber's DVD (1.78, 2.0) is out now…Finally, Greenwich brings the 2020 French import from director Antoine Barraud, MADELINE COLLINS (107 mins.), to DVD August 29th. Virginie Efira stars as a woman splitting her time, and her lives, between two different families, one in Switzerland, the other in France. A psychological study with a superb Efira performance, "Madeline Collins"' DVD includes a 16:9 (1.78) transfer, 5.1/2.0 sound, and French audio with English subtitles.
Coming from Cinephobia Releasing, BRIGHTWOOD (84 mins., 2022) is set on a running path to nowhere where squabbling married couple Dana Berger and Max Woertendyke find they're stuck in a literal loop with no way out – and a killer closing in. Dane Elcar does a capable job helming "Brightwood," expanding it from a 17-minute short named "The Pond" also included here in Cinephobia's DVD (2.35, 5.1). Extra features include deleted scenes and a commentary with Elcar and the actors.
---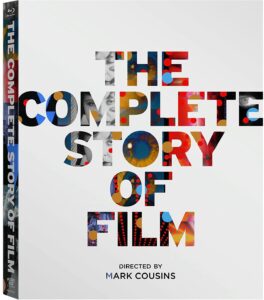 New From Music Box Films
Mark Cousins' "The Story of Film" comes to Blu-Ray from Music Box Films this month. THE COMPLETE STORY OF FILM (1123 mins., 2011-21) offers an engrossing, worldwide survey of the medium from the Irish filmmaker/author — but this is not purely an academic exercise into the creation of movie-making, the myth of Hollywood, and the evolution of the art form. Instead, while offering an abundance of historical insight, Cousins' journey is a personal, if not downright subjective one at times, focusing on the expected film clips from the great movies you'd anticipate seeing — but done so through Cousins' unmistakable lens and Irish brogue.
What results in this mammoth undertaking yields a predominantly global perspective about the importance of cinema and the regional adoration for the form — not just in America and the UK but in India, Japan, France and elsewhere. These sojourns bring the history of recorded film to vivid life in the movie's initial episodes before Cousins jumps from decade to decade — with tangents of course — raising points about technical evolutions as well as textural ones involving social commentary, racism, etc.
Few will agree with every point Cousins is making, but that's the nature of "The Story of Film: An Odyssey" (2011). This is an individualistic perspective that's always interesting even if you depart from one of his many thesis — and in fact, I did quite a lot of that in Cousins' 2021 follow-up, "The Story of Film: A New Generation." This "epilogue" tries to paint an enthusiastic picture of where cinema has gone in recent years, but it's hard, at least for me, to feel the same level of excitement over "Frozen" and "Joker" as being marked as hallmarks of classic cinema.
No matter, if you find yourself entranced by Cousins' perspective, this is a rewarding and enormously well-researched effort — a sprawling 18-hour odyssey that Music Box has released here in a four-disc Blu-Ray set. Movie clips were remastered in HD and it's a reasonably good looking package with 5.1/2.0 DTS MA sound options and bit-rates just fine for the material on-hand.
---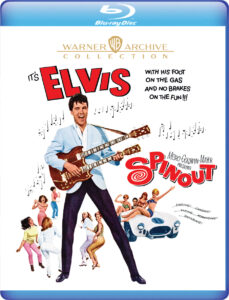 Warner Archive New Releases
Five new titles are available this week from Warner Archive, spotlighting a wide variety of entertainment for movie buffs from across a handful of cinematic eras.
Elvis Presley films came at viewers fast and furiously throughout the '60s, and even though the formula was well established by the time SPINOUT (93 mins., 1966) hit theaters, this breezy concoction of familiar elements from previous Presley films still manages to entertain – especially now backed by the Archive's gorgeous 1080p (2.35, mono) transfer. This MGM production features Elvis as a top driver being tailed by a trio of potential love interests (Elvis vet Shelley Fabares plus Deborah Walley and Diane McBain) in a Panavision-shot vehicle with decent songs. Director Norman Taurog was an experienced pro and nails the Presley formula perfectly here, keeping the running time tidy and offering nice locations to go along with the tried-and-true script by Golden Age TV vets Theodore J. Flicker and George Kirgo. The trailer and two bonus Tom & Jerry cartoons are also included.
The Spencer Tracy-Elizabeth Taylor classic "Father of the Bride" has long been a viewer favorite – less so its sequel FATHER'S LITTLE DIVIDEND (82 mins., 1951), which picks up with Tracy's patriarch musing about grandfatherhood this time around after his daughter (Elizabeth Taylor) announces she's having a baby. This MGM sequel brings back all of its lead cast, plus writers Albert Hackett and Frances Goodrich and director Vincente Minnelli – and while it's certainly entertaining, "Dividend" doesn't amount to much, feeling like a mere footnote after the success of its predecessor. A new 4K scan (1.37 B&W, mono) awaits viewers on Warner Archive's Blu-Ray along with two Tom & Jerry cartoons and a "Pete Smith Specialty" short.
THE LIFE OF EMILE ZOLA (116 mins., 1937) marked Warner Bros.' first Best Picture Oscar winner: a well-written and certainly acted biopic with Paul Muni playing the French author seeking justice for wrongly convicted Captain Dreyfuss (Joseph Schuildkraut, who won a Supporting Actor Oscar) in a finely tuned studio picture directed by William Dieterle. Making its Blu-Ray debut from Warner Archive, "Emile Zola" offers a highly detailed 1.37 B&W transfer with mono sound, backing Max Steiner's score. Extras include two classic WB shorts, the 1939 Lux Radio Theater broadcast, and trailer.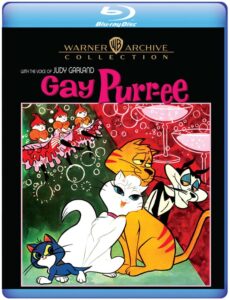 Animation fans should be excited by the remastered Blu-Ray release of GAY PURR-EE (85 mins., 1962), a film notable for being the last gasp of the UPA studio as well as a picture written by Dorothy and Chuck Jones. Their tale of a sophisticated "country cat" – voiced by Judy Garland – who heads to the City of Light in the 1890s, pursued by Robert Goulet's fellow country-bumpkin feline, only to get wrapped up in numerous shenanigans was a box-office failure at the time of its release. Although the animation isn't nearly up to Disney levels and young kids may not find the story appealing, Jones aficionados and Golden Age animation fans should find much to enjoy here – plus a number of nice original tunes from "Wizard Of Oz" songwriters Harold Arlen and E.Y. Harburg. Warner Archive's Blu-Ray (1.85, mono) features five demo records and two additional WB cartoons.
Jacques Tourneur's films are often an interesting lot, with the veteran director staging a Cinemascope western in his 1955 Allied Artists release WICHITA (81 mins.), one of the many films about the life of Wyatt Earp to hit theaters. Joel McCrea capably fills the saddle as Earp in a brief but effective, action-heavy Walter Mirisch production co-starring Vera Miles, Lloyd Bridges and Peter Graves. The transfer is outstanding in the Archive Blu-Ray (2.55, 2.0 mono) with a pair of bonus MGM cartoons included on the supplemental side.
Finally, of the many film versions of Louisa May Alcott's book, the 1933 RKO production of LITTLE WOMEN (115 mins.) stands tall and arguably above later, nearly equally acclaimed outings. Katharine Hepburn is terrific as Jo, leading an outstanding cast flawlessly helmed by director George Cukor in a picture that retains its charm today. The Archive Blu-Ray (1.37 B&W, mono) features an audio-only "scoring stage suite" plus a pair of WB shorts and cartoons, with a razor-sharp remastered transfer serving as the icing on the cake.
---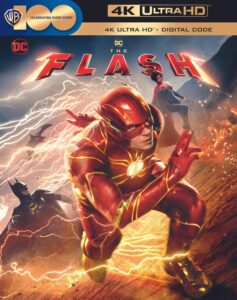 Also New & Noteworthy
THE FLASH 4K UHD (144 mins., 2023, PG-13; Warner): "Smörgåsbord" styled super-hero effort from DC and director Andy Muschietti offers just enough heart to separate it from the typical Marvel cookie-cutter formula.
Despite his off-screen issues Ezra Miller gives an appealing performance as Barry Allen, who screws up the space time continuum after he tries to go back into the past to save his murdered mother. There he meets both "Batman '89" (Michael Keaton) and Supergirl (the cute Sasha Calle), plus a younger version of himself, whom he also bestows with super-powers. The group is out to stop General Zod (Michael Shannon) on his apocalyptic arrival on Earth, but The Flash finds out that toying with the past carries its own set of consequences.
"The Flash" has a lot of entertaining, enjoyable elements going for it, from a disarming sense of humor to a script that actually builds up some genuine emotion. That latter component is why the DC movies, uneven as they've been, do offer the potential for more viewer engagement than the standard-issue Marvel formula, which has become so calculated that nearly every scene in their recent fare feels marginalized by focus groups and meddling studio executives.
Where the movie gets into trouble comes in its bloated running time (the trailer gave far too much away, seeing as the "search for Superman" encompasses a fairly big chunk of the plot) and, surprise surprise, a seemingly endless climax wherein characters pound on each other — repeatedly. The narrative point is made quickly but the film drags on interminably through these scenes — just as it does in so many genre entries.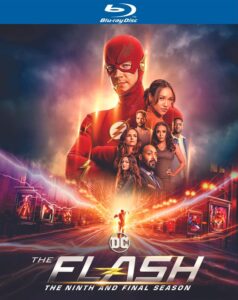 That's too bad because the opportunity was lost here to really craft a super-hero movie with some heart and soul — instead, Keaton's involvement, while welcome, doesn't have much of a pay-off, and the "multiverse" cameos are let down by some terrible, video-game leveled CGI.
There is a terrific cameo at the end I didn't see coming, and even though that's diminished by some obvious editorial fix-ups (as Miller's clearly not even sharing the same scene with this actor), it gives this odd "inbetweener" entry, meant to serve as a bridge between the Zach Snyder and upcoming James Gunn DC "eras," a nice send-off. "The Flash" is ultimately a little too long to really hit the target but there's enough here to make it, at least, one of the more likeable super-hero movies in some time.
Warner's 4K UHD (1.85) of "The Flash" is out this week and looks and sounds as snazzy as you'd anticipate with Dolby Vision HDR and Dolby Atmos sound. Extra features include featurettes, deleted scenes and a Digital HD code.
Fans of the small-screen THE FLASH (780 mins., 2022-23) can bid adieu to the long-running Grant Gustin rendition of Barry Allen with its Complete Ninth and Final Season on Blu-Ray. While not nearly regarded as the apex of this WB/CW TV series, season 9 wraps up the main plot threads from the show — minus some of its core supporting players who seem to come and go — which fans should appreciate. Warner's Blu-Ray (1.78, 5.1 DTS MA) is out this week boasting a featurette and deleted scenes…Also new from Warner is the Complete First Season of SMILING FRIENDS (102 mins., 2022-22), another ribald series that follows Pim, Charlie, Allan and Glep as they attempt to generate smiles for a harried, often overworked populace of humans and creatures alike. This good-natured, gleefully grotesque Zach Hadel/Michael Cusack created series is due out shortly in a second season, with Warner's Season 1 Blu-Ray including commentary, 5.1 DTS MA soundtracks and 1080p transfers.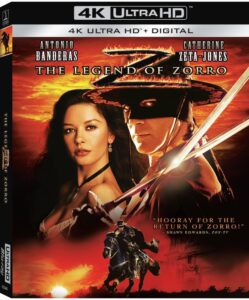 THE LEGEND OF ZORRO 4K Ultra HD/Blu-Ray (130 mins., 2005, PG-13, Sony): Belated sequel to the 1998 hit has a bit too much story and not enough dramatic momentum moving it forward — it's as if the filmmakers never found a compelling hook for a sequel, and the movie was eventually made with as promising a plot as they could find. That being said, director Martin Campbell's reunion with stars Antonio Banderas and Catherine Zeta-Jones is still a moderately engaging of old-fashioned matinee fun, with Zorro out to stop a terrorist (the wonderful Rufus Sewell) from causing havoc when California is about to join the union. James Horner's spirited score and Phil Meheux's scope cinematography provide a boost to the entertainment, which moves in fits and starts and, while serviceably entertaining, ultimately is too contrived to measure up to its predecessor.
Sony's 4K UHD improves upon its older Blu-Ray with Dolby Vision HDR (2.35) and an excellent Dolby Atmos soundtrack. Extras are carried over from the Blu-Ray with commentary from Campbell, deleted scenes (including an abandoned sequel set-up prologue and epilogue), several Making Of featurettes, the Blu-Ray, and a Digital HD code.
Lionsgate New Releases: While Robert DeNiro's name obviously no longer carries the same cache it once did, ABOUT MY FATHER (90 mins., 2023, PG-13) is at least a lighter, less raunchy comedy affair than some of his recent outings. Sebastian Maniscalco co-wrote and stars in this story of Maniscalco's protagonist, about to be wed to the lovely Leslie Bibb, who brings his Italian hairdresser pop (DeNiro) to meet her family (including David Rasche and Kim Cattrall). Laura Terruso's film generates a few mild laughs and it's nothing remarkable – but the bottom line is the film is still at least more appealing than the likes of "Bad Grandpa." Lionsgate's now-available Blu (2.39, Dolby Atmos) offers three featurettes, the DVD and a Digital HD code.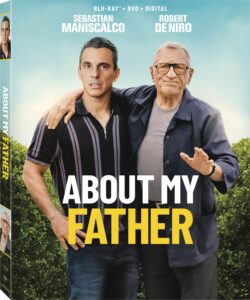 Sadly taking the reigns of the kinds of Grade-C affairs Bruce Willis was often relegated to is Mel Gibson, who pops up in another mundane crime thriller, this one called CONFIDENTIAL INFORMANT (88 mins., 2022, R). While Gibson's role amounts to little, it's Dominic Purcell and Nick Stahl (Gibson's young co-star in 1993's "The Man Without a Face") who do the heavy lifting in a drab story about cops who get wrapped up with a cop killer during a crack epidemic. Kate Bosworth (her career also having seen better days) co-stars. Lionsgate's Blu-Ray (2.39, 5.1 DTS MA) includes a Digital HD code and a commentary with director Michael Oblowitz, composer Roy Hay, and dp Christopher Squires.
Recent box-office success THE BLACKENING (96 mins., 2023, R) attempts to serve up social commentary, genre satire and bloody thrills in a cohesive package that director Dewayne Perkins occasionally loses control of. That might be a good thing for some viewers as this frantic mash-up proves to be lively if nothing else, serving up food for thought along with ample doses of outrageous violence. Lionsgate's 4K UHD includes a Dolby Vision HDR transfer (2.39) with Dolby Atmos audio, the Blu-Ray, Digital HD copy, commentary, deleted material, and numerous featuettes.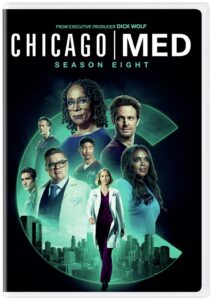 TV on DVD: The juggernaut TV franchise that keeps on going, NCIS: Season 20 (934 mins., 2022-23; CBS) picks up after Season 19's cliffhanger finale, with special agent Parker on the run and the NCIS team attempting to figure out how to clear him. "NCIS: Hawai'i" agents are also on-hand to help in these 22 episodes from the CBS' series 20th season. Three crossover shows with other NCIS series are also included (two from LA, one from Hawaii) here on DVD along with several commemorative featurettes and commentaries on select episodes (16:9, 5.1).
Universal has lined up Season 8 of CHICAGO MED (15 hours, 2022-23), one of prolific TV producer Dick Wolf's numerous shows on the NBC line-up. This time out, Dr. Halstead (Nick Gehlfuss) tries to navigate the medical supply chain shortage while Oliver Platt's Dr. Charles handles psychiatric care and S. Epatha Merkerson (vet of Wolf's "Law & Order" franchise) is in charge of maintaining quality care. Steven Weber, Brian Tee, Jessy Schram, Domninic Rains and Marlyne Barrett also star in the Emmy winning series' eighth year, on DVD in a no-frills Universal box-set this month (16:9, 5.1).
NEXT TIME: Aisle Seat Season 27 premieres! Until then, don't forget to drop in on the official Aisle Seat Message Boards and direct any emails to our email address. Cheers everyone!