Message Board (open 24 hours!)
Twitter - @andredursin (for everything else!)
Bruce Lee fans have a major reason to celebrate this month with the release of Arrow's UK "Bruce Lee at Golden Harvest" UHD box-set, which preserves all of the legendary star's big-screen features in new 4K transfers with one exception: the set only includes a Blu-Ray of Lee's biggest – and certainly best – cinematic vehicle, ENTER THE DRAGON (99/102 mins., 1973, R), which not coincidentally finds its way to 4K UHD worldwide from Warner this week. This is a smashing UHD restoration of one of the biggest box-office phenoms of the 1970s, released just a month after its star's untimely passing.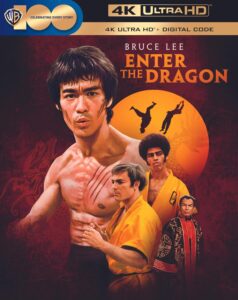 While director Robert Clouse dabbled in the martial arts genre throughout his career, never again would he helm as effective and finely-tuned an action piece as "Enter the Dragon." Michael Allin's script sends Lee's martial arts instructor and expert fighter to a private island where he – along with a gambler (John Saxon) and a fellow Vietnam vet (Jim Kelly) – engage in a tournament presided over by the villainous "Han," whose island paradise is really a front for international narcotics trafficking. After being employed by British intelligence to ferret out Han's dealings, Lee also finds out the thug responsible for his sister's death is employed there as a bodyguard, adding an additional emotional charge to a wild martial arts odyssey.
"Enter the Dragon" was a blockbuster of the type we seldom see at the movies anymore, selling so many tickets its unadjusted box-office gross would approach over $1.5 billion according to most estimates. After headlining a succession of serviceable Hong Kong-made kung fu imports, Lee's charisma was finally matched by a solid, straightforward script mixing punchy martial arts sequences – choreographed by Lee himself – with spy sleuthing, shot on location and backed by one of the best scores of Lalo Schifrin's career. The formula was laid down here for imitators to follow for years to come, but none of them captured the potency of the various genre elements Clouse and producers Fred Weintraub, Paul Heller and Golden Harvest's Raymond Chow used to effectively back up their star here. It's a potent piece of pop culture and still a hugely entertaining film in its own right.
Warner's 100th Anniversary celebration continues this month with "Enter the Dragon"'s debut 4K UHD release. Criterion and, again, Arrow have more recently released the title in their own respective Bruce Lee boxes, but this is the only UHD edition of "Dragon" that's available and it's a tremendous looking HDR10 (2.35) presentation with pleasing grain and potent colors. The movie's original theatrical version (99 mins.) is included here alongside the more widely-available Special Edition (102 mins.), which was for a time the only cut fans could find on DVD and Blu-Ray. A wonderfully layered new Dolby Atmos track is on-hand along with a 2.0 mono mix, commentary from Paul Heller and Michael Allin, and archival intros from Lee's wife, Linda Lee Cadwell. A Digital HD code is also included in an essential release Lee fans can use to supplement their Arrow or Criterion box-sets of the star's other output.
Two other Warner 4K UHDs are also brand new this month, affordably priced and quite outstanding in their specific HDR10 transfers.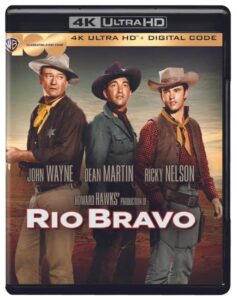 Howard Hawks' John Wayne classic RIO BRAVO (141 mins., 1959) is one of the director's quintessential westerns, offering a textbook genre script with Wayne the noble sheriff who teams with a gimpy deputy (Walter Brennan), the town drunk (Dean Martin), and a young "whippersnapper" (Ricky Nelson) to ward off an attempt at springing a criminal from the town jail.
Angie Dickinson and Ward Bond star in this highly-regarded Hawks film, one that I've always respected but never been a huge fan of. True, all the performances are engaging, but the picture is just a bit "leisurely" and what might have seemed fresh in the Jules Furthman-Leigh Brackett script at the time comes across as being a little cliched and predictable today. Nevertheless, "Rio Bravo" is a film that western fans consider one of the genre's finest, and is unquestionably an influential picture as well (leading to works like "Assault on Precinct 13," whose director, John Carpenter, talks on this disc's commentary track), even if it does, admittedly, take an awfully long time to reach its destination.
Nevertheless, Warner's 4K UHD (1.85, mono) offers a spectacular restoration in the format with HDR10. The colors and overall image quality is miles ahead of the older VC-1 Blu-Ray transfer from early in that format's lifepsan, and any fan of Wayne or westerns would do well to upgrade (note no corresponding Blu-Ray is included, nor any of its fine extra features, outside the Carpenter/Richard Schickel commentary).
EAST OF EDEN (115 mins., 1955, PG), meanwhile, is another visual feast that's been enhanced by its 4K UHD presentation. Director Elia Kazan's loose adaptation of the John Steinbeck novel about two teenage boys (one "good," one "bad") and their relationship with father Raymond Massey has always been remembered as one of James Dean's finest roles; certainly Kazan gets the most out of the movie's widescreen lensing, which looks dynamic here in Warner's UHD, capturing a pre-WWI California with gorgeous detail that's finely preserved in this HDR10 (2.55, Dolby Atmos) transfer. The symphonic look of the picture is undermined a bit by an occasionally overpowering Leonard Rosenman score, but the film's emotional moments – the sequences between Dean and Massey in particular – more than compensate for its shortcomings. Richard Schickel's commentary is again on-hand plus a Digital HD code.
---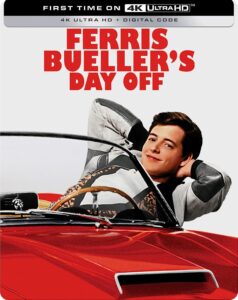 John Hughes in 4K
FERRIS BUELLER'S DAY OFF 4K UHD (102 mins., PG-13, 1986; Paramount): John Hughes' 1986 comedy smash offers Matthew Broderick in one of his quintessential roles as a high schooler who decides to take a day to enjoy the sights and sounds of Chicago, pair up with girlfriend Mia Sara, help his best friend (Alan Ruck) fight his disconnected parents, all the while avoiding his school principal (the marvelous Jeffrey Jones) and obnoxious sister (Jennifer Grey), each in hot pursuit.
Hughes' film has endlessly quotable lines, hilarious moments, and sensational sequences from start 'til end, and now has been restored in one of Paramount's best 4K UHD releases of the year: the Dolby Vision HDR transfer (2.35) looks perfectly framed and offers a pleasing amount of grain and detail. Colors are warmly rendered, and the Dolby Atmos sound is a nice reworking of the previous 5.1 remix.
For extras, Paramount's UHD brings back Hughes' sporadic DVD commentary – heard for the first time since its 1999 recording – while including four excellent, 2009-produced featurettes which essentially comprise an hour-long documentary: "Getting the Class Together," "The Making of Ferris Bueller's Day Off," "Who Is Ferris Bueller?" and "The World According To Ben Stein" offer interviews with Matthew Broderick, Alan Ruck, Jeffrey Jones, Jennifer Grey, Ben Stein, producer Tom Jacobson, co-star Edie McClurg and other supporting players, with vintage interviews of John Hughes and Mia Sara interspersed throughout.
These featurettes offer a delightful retrospective on the production of the movie and the often improvisational nature of Hughes' style. Consequently, it's refreshing (and deservedly so) to see as much attention here given to the "bit parts" that made "Ferris Bueller" a classic, from McClurg and Ben Stein to Richard Edson and Kristy Swanson, as opposed to stars like Broderick, Ruck and Jones. Everyone discusses how quickly the film went into production, how fast Hughes worked on the script, and how willing the director was to let his cast take chances — all of which paid off splendidly with a movie that remains a viewer favorite, now some 37 years after its initial release (was I just out of 5th grade that long ago? Yikes!).
The UHD also offers "The Lost Tapes," a series of videotaped 1986 interviews with the stars mostly in-character, in addition to taped footage of the dining room sequence — noteworthy here because it contains dialogue which didn't make it into the final cut. A Digital HD code rounds out Paramount's newly available, Steelbook-housed UHD release.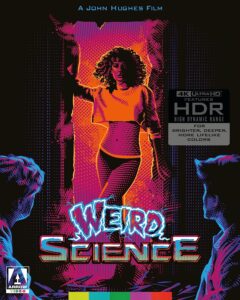 There's been a recent tendency for certain film critics to reflect on Hughes' '80s teen films (to say nothing of crass outings like "Porky's'") and analyze their deficiencies through the strict Political Correctness of our current zeitgeist – this one portrays minorities in a bad light, that one reinforces gender stereotypes, that kind of thing. In fact, the booklet notes in Arrow's 4K UHD Special Edition of WEIRD SCIENCE (94 mins., 1985, PG-13) do exactly that – but in this case, it's not exactly Breaking News. This August '85 release has always been a dopey high school comedy with broadly played, if not cartoonish, characters that were never meant to be taken literally to begin with.
Anthony Michael Hall and Ilan Mitchell-Smith essay Hughes' high school protagonists here – social outcasts picked on by their peers (including Robert Downey, Jr. as a fellow classmate and Bill Paxton as Mitchell-Smith's older brother). What follows is a "Frankensteinian" attempt to create The Perfect Woman – which the duo does, impossibly, in the form of Kelly LeBrock. A year separated from her title turn in Gene Wilder's "The Woman in Red," LeBrock is born from the greasy keyboard of the boys' bedroom, ultimately becoming a then-contemporary Mary Poppins with powers that enable our heroes to overcome their tormentors and gain self-confidence with (more age-appropriate) ladies along the way.
"Weird Science" is a breezy '80s wish-fulfillment fantasy for teenage boys, and it's no surprise the film's mores would grate on the socially-aware critics of today. The bigger issue is that the picture was deficient even by the standards of its time – Hughes had a way around teens but he lost his touch with a more outlandish story and uneven script marred by a lack of laughs. Though fondly remembered by some viewers, the film has little of the charm of Hughes' Molly Ringwald films or a grounding in reality that makes those pictures endearing (in spite of their "horrifying" ethnic/gender stereotypes).
Fans will still be happy, though: Arrow's 4K UHD is a reprise of its super 2019 Blu-Ray release, paying tribute to the film with a superb Dolby Vision HDR 4K (1.85) scan of the original negative. The film is presented in its theatrical version plus a seamlessly branched Extended Cut, running three minutes longer, and with some material that was included in the syndicated TV edit of the film (itself contained here in standard-definition, with dubbed-over profanity).
Extras again include an interview with Ira Newborn, who details his relationship with Hughes but somewhat laments the fact he wasn't given the chance to write a standard orchestral "theme and variations" score for him; conversations with makeup artist Craig Reardon, casting director Jackie Birch, editor Chris Lebanzon, and supporting actor John Kapelos; plus Universal's older retrospective doc, trailers, image galleries, and a PDF of the shooting script.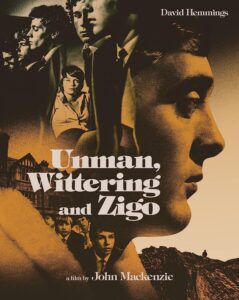 New from Arrow this month on Blu-Ray is Jackie Chan as NEW FIST OF FURY (82/120 mins., 1978), a follow-up to the Bruce Lee classic "Fist of Fury" which here stars Nora Miao as the fiancee of the late Chan Zhen, who heads to Taiwan to lay low – only to tun afoul of Chan Sing's Japanese master, who wants to take over the local Chinese-owned martial arts schools. Jackie eventually pops up as a thief who's forced to take sides in the conflict in this lengthy affair which only kicks into gear in its second hour; for that reason, it's understandable some fans may prefer the heavily shortened 82-minute "re-release" version of the film, included here along with its original two-hour theatrical cut. Arrow's 2K transfer (2.35) looks super with Mandarin and English audio options and extras including commentary by Frank Djeng and Michael Worth, a commentary on the shorter cut by Brandon Bentley, who also chips in a video essay comparing this film to another "Fist of Fury" sequel shot at the same time; trailers, a fold out poster, and more in the Blu-Ray Limited Edition.
Coming later this August from Arrow is the first ever home video release of UNMAN, WITTERING AND ZIGO (102 mins., 1971) – no, not a drama about a group of lawyers, but an adaptation of Giles Cooper's late '50s radio play concerning a group of students at an elite British private school who literally toss one of their schoolmasters off a cliff. David Hemmings plays his replacement, who finds out very quickly his death was intentional, and attempts to deal with these apparently privileged young psychopaths along with his young wife (Carolyn Seymour).
Directed by John Mackenzie, scripted by Simon Raven and shot by Geoffrey Unsworth, this is not really a mystery – the boys admit their guilt to Hemmings immediately in the film – but a psychological drama with commentary, of sorts, on the British "public school" and its institutional structure, made a few years after Lindsay Anderson's "If…" (albeit with a story originally written over a decade prior). The movie is engrossing and well-made, certainly, but the film tends to lose punch as in its second half before ending on a disappointing note, providing less a sound dramatic resolution than wanting to leave the audience with unanswered questions.
Arrow's 1080p (1.85) Blu-Ray transfer offers a high level of detail, the movie benefiting not just from Unsworth's lensing but also Michael J. Lewis' score. Extras include Kim Newman and Sean Hogman's commentary; Matthew Sweet's interview on the film; interviews featuring Carolyn Seymour, James Wardroper, Michael Cashman and Michael Howe; the 1958 radio play; trailer; and Arrow's traditional booklet notes and original/new artwork.
---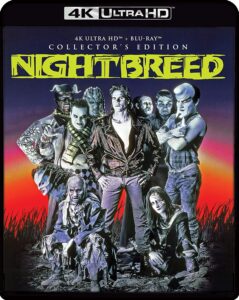 Also New on 4K UHD
Debuting in 4K UHD this month from Shout! Factory is a combo pack of Clive Barker's NIGHTBREED (102/120 mins., 1990, R/Unrated). Featuring the theatrical cut of Barker's 1990 film in a new 4K master as well as a reprise of its Blu-Ray edition from 2014 – housing the horror auteur's superior Director's Cut – this is the definitive presentation of the cult hit, recklessly cut down and reshot at the insistence of Morgan Creek executives before being meticulously restored nearly a decade ago.
"Nightbreed" is certainly a flawed movie even in Barker's 120-minute Director's Cut, but at least it's an entertaining and occasionally inspired monster mash, mixed with slasher horror and capped by a love story. If nothing else, the picture is certainly unique, and comes much closer to being a satisfying product in the Director's Cut.
Barker's adaptation of his short novel "Cabal" tells the story of Boone (Craig Sheffer), a troubled young man with visions of a nightmarish monster land named "Midian." His psychiatrist, Decker (played by director David Cronenberg), though, is the real monster in the movie – a serial killer who pins his killings on Boone. With nowhere else to go, Boone finds Midian, a sanctuary for shapeshifters, demons and other creatures of the night, but the group initially rejects him because he's a mere human. After Decker pursues Boone, though, our hero is killed and resurrected as part of the Nightbreed, leading him to help the cause of the persecuted monster-outsiders and fight back against humans who believe Boone is responsible for the murders.
Morgan Creek didn't care for Barker's original cut of "Nightbreed," which balances horror with a strong love story between Boone and his girlfriend Lori (Anne Bobby), and also focuses heavily on the monster community of Midian. By the time "Nightbreed" reached theaters in the winter of 1990, the movie had been cut down and reshot, shifting much of the focus away from the monsters and towards Cronenberg's Decker. Apparently thinking Decker's slasher-villain would be more marketable to the Freddy & Jason-loving masses than the gallery of ghouls living in Midian, Morgan Creek changed the shape and very intent of Barker's story.
The final product didn't work and fizzled out at the box-office – yet enough of Barker's intent seeped through, allowing for "Nightbreed" to generate a cult following. The film's admirers had, for years, hoped that Barker's intended cut would see a release – and years prior, a crudely-packaged "Cabal Cut" surfaced, restoring all kinds of lost scenes off a VHS workprint dub and mixing them together with the theatrical version. The result was a bloated and unfocused 160-minute cut that needed some trimming – yet it was long believed that the deleted footage was lost in the Morgan Creek archives. The prospects of a genuine restoration appeared bleak, with murmurs floating about that some restored scenes would have to originate from a VHS source, or might be lacking audio and would necessitate subtitles.
All of those early reports, thankfully, were completely inaccurate in so far as to the 2014-minted Director's Cut edited by Barker and restoration producer Mark Allan Miller goes. Showing a consistently crisp and healthy image from start to finish, with just a bit of dirt in the added scenes visible once in a while, the Director's Cut of "Nightbreed" was, and still is, a triumph for all involved. There's little disparity between the new scenes and material derived from the theatrical version, which was sourced from an interpositive at Warner Bros., which originally distributed the home video release as part of its arrangement with Morgan Creek (the film was theatrically released by Fox). The 5.1 DTS MA and 2.0 DTS MA stereo mixes are wonderfully handled, offering an active sound design with a glorious Danny Elfman score (more on that in a moment).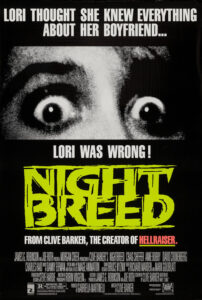 Barker opted not to include every last scrap of material for this version – a wise idea since at the two-hour mark, the running time for "Nightbreed" feels just about right. Barker and Miller removed the reshot Morgan Creek scenes and added some 40 minutes of new/alternate material, resulting in a film that's 20 minutes longer than its theatrical cut but containing more many alterations than the time disparity alone suggests. In every way, this is a superior version of the picture – the story has time to breathe in its early going, allowing for Boone and Lori's relationship to more satisfyingly develop. The monsters are also given more focus, and that's key to this new version of "Nightbreed." Morgan Creek wanted more of a straight-ahead slasher movie – but Barker's story was more of a dark fantasy than a pure horror film, and this new "Nightbreed" is, naturally, much more aligned with what was intended all along.
Not that the movie isn't without its faults. Barker's limitations as a director are evident throughout the picture, which – despite having been shot on an expansive set at Pinewood Studios – is claustrophobically staged and executed. There's no real sense of scale or scope in the movie, with Barker's style exhibiting a vanilla, "point and shoot" type of approach. The make-up effects are striking and some stop motion animation is utilized at one point, but one can only imagine how much more visually powerful the film may have been in the hands of a veteran director.
Thankfully, Danny Elfman's music compensates for the movie's weaker aesthetic elements. For every composer there's a particularly fruitful era in their filmographies, and for Elfman, there's little disputing that "Nightbreed" fell during one of the most creative and successful times of his career. His first score written after "Batman" and prior to "Dick Tracy" and "Edward Scissorhands," Elfman's "Nightbreed" is, quite simply, one of the most appealing scores in the composer's oeuvre. Sure, it's as dark, pulse-pounding and exciting – colored by tribal percussion and chanting choral passages – as you'd expect, but it's also gorgeous. Otherworldly, melodic and surprisingly romantic, it's the most polished technical element in the picture (Barker has said as much), and its orchestrations are striking. At times Elfman sustains scenes with an almost Herrmann-like use of strings, while in others, he characterizes the monsters and their plight with a genuinely poignant sensitivity. It all culminates in a lovely ending – one that was unceremoniously dropped from the original theatrical release – and an End Credits track that was likewise trimmed, leaving off the redemptive final notes of the composer's music that's, at last, restored here.
Shout's new 4K UHD Combo Pack reprises the contents of the 2014 Blu-Ray in terms of its Director's Cut transfer (1.85, 5.1/2.0 DTS MA) and extras – while adding a brand new 4K scan of the Theatrical Version (1.85, 2.0 DTS MA) from "the best surviving film elements." This is a fresh UHD transfer (also available here in a new Blu-Ray from the same source) that offers Dolby Vision HDR and a pleasingly wider range of colors and contrasts while keeping detail at a high level. While it's disappointing the Director's Cut wasn't rendered in 4K, it's understandable given uneven results likely would've resulted from the range of materials used in its original assembly. The one drawback with the UHD is its bass-heavy (nearly to the point of distraction) 2.0 mix (the only soundtrack on the theatrical cut).
In terms of extras, the 2014 suppmental package is reprised in its entirety, kicking off with a Barker/Miller commentary. It's an engaging track occasionally stymied by a lack of focus, but fans ought to enjoy it just the same. Craig Sheffer, Anne Bobby and members of the supporting cast are on-hand – minus Barker – in a 72-minute documentary on the film that's heavy on the actors' anecdotes about the production, and light on the recutting of the picture (save for a few minutes at the very end). Separate featurettes on the 2nd unit directors and make-up artists are on tap, and it's rounded out with Fox's brief original theatrical trailer, narrated by Charles Aidman and partially underscored with "Enemy Mine" music. A bonus disc of additional goodies include deleted scenes, special effects footage and plenty more.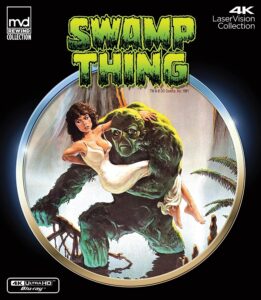 "Nightbreed" may still be a flawed film, but it's nevertheless an entertaining, offbeat genre-bending experience that's stuffed with imaginative elements and a sumptuous Danny Elfman score. Backed by a more satisfying ending and more emotional content throughout, the Director's Cut remains the superior edit of the film, yet fans who gravitate towards the Theatrical – or want to have it preserved in the best possible package – should still be thrilled with this new UHD release.
While DC Comics and Warner Bros. have mostly fumbled their post-Zack Snyder slate of super-hero properties thus far, one of the early, post-"Superman" efforts in the DC stable, SWAMP THING (91/93 mins., 1982, PG/Unrated; MVD), has hit 4K UHD from MVD's Rewind Collection in a superlative new Dolby Vision HDR transfer preserving – for the first time in the U.S. – both cuts of the 1982 Wes Craven-directed picture.
This Benjamin Melniker/Michael E. Uslan production was a box-office dud back in its day, serving up a PG-rated comic book that did meet with some agreeable reviews and an audience that eventually developed via home video back in the '80s. It was also a film that met with a little controversy over the years: while intended to be shown in its original PG version, an uncut international edit of director Wes Craven's movie surfaced by mistake on DVD in the U.S. via MGM's initial release in the format. Noteworthy primarily for its uncensored footage of star Adrienne Barbeau's breasts (intended to sell the film in foreign markets apparently), it was quickly withdrawn and replaced with its PG rated cut – the same version that appeared in Shout's Blu-Ray edition a few years ago. MVD's new 4K/Blu-Ray contains both versions for the first time in a U.S. release, which ought to excite fans of the picture indeed.
Granted, "Swamp Thing" is a clunky adaptation of the DC Comics protagonist, which over time turned into a trippy, adult comic book (or "graphic novel" as they say nowadays). One could see a "Swamp Thing" movie made today being a graphic and surreal affair (and Warner did try a short-lived series a few years ago which netted decent reviews before being quickly canceled), but back in '82, the property was filmed as a straight monster flick — with too much talk and not enough action (almost certainly the result of a meager production budget). It's not a total slog in the swamp, however: Barbeau's performance and some hammy work from villainous Louis Jourdan do partially overcome the movie's sluggish pace.
MVD's all-new Collector's Edition UHD/Blu-Ray combo serves up both cuts (1.85) in remastered transfers, the UHD boasting Dolby Vision HDR and the result is a nice, natural looking image that breathes new life into the movie. The original mono sound is fine, but the big takeaway is how detailed the image is, even if the low-budget roots of this production are more plain to see than ever as a result. The transfers were licensed through MGM and presumably were both sourced from European prints as they each open with the Joe Harnell-composed United Artists logo (UA released the film overseas while Embassy handled domestic distribution).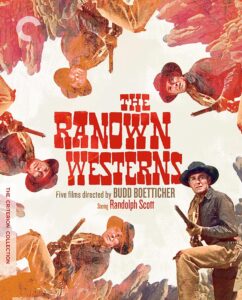 Extras include two commentaries carried over from the Shout release featuring Wes Craven and makeup artist William Munns, respectively. Also included are the Shout interviews which feature Barbeau, who discusses working on the film and with Craven, and also notes her surprise over seeing her topless nudity after signing a contract that prohibited it (obviously the reason why MGM pulled the initial DVD release of the picture, and why that "uncensored" version was never formally released in the U.S. until now). There's also a 13-minute talk with "Swamp Thing" creator Len Wein, along with an interview with co-star Reggie Batts, plus two featurettes from the 88 Films UK Blu-Ray, one examining the character's comic book origins, "Swamp Screen: Designing DC's Main Monster," and "From Krug to Comics: How the Mainstream Shaped a Radical Genre Voice" featuring Kim Newman. Photo galleries and the trailer round out a slipcover-adorned release with a collectible mini-poster also on-hand. Highly recommended for all Swampies!
Another sparkling 4K UHD available this month is THE RANOWN WESTERNS, Criterion's celebration of genre star Randolph Scott's partnership with director Budd Boetticher. The tandem turned out some seven films together with their five Columbia efforts restored here in spectacular Dolby Vision HDR presentations with unsurpassed clarity and spotless encoding.
The films have long been considered top-tier by western enthusiasts, as the scripts by the likes of Burt Kennedy and Charles Lang often subvert traditional genre cliches and often offer a fresh perspective on well-worn genre formulas. I can't say I was enamored by the sometimes pedestrian scores by Heinz Roemheld, but the intensity of these pictures – with their brief running times and "direct" screenplays which don't waste any time – is certainly laudable. Included here are THE TALL T, based on an Elmore Leonard story, which co-stars Richard Boone and Henry Silva as sadistic killers; the just-okay DECISION AT SUNDOWN; BUCHANAN RIDES ALONE; RIDE LONESOME; and the Cinemascope trappings of COMANCHE STATION.
Scott himself produced these pictures, which buffs have long admired for their strong characterizations, and Sony's restorations are nothing short of amazing with HDR and detail so crisp and clear it puts previous Blu-Rays (especially a Mill Creek Scott box which came out a year ago) to shame. Criterion's UHD/BD box offers the new Dolby Vision transfers with introductions featuring admirers like Martin Scorsese and Taylor Hackford; a new program with Farran Smith Nehme on Scott; three commentaries with Jeanine Basinger on "Tall T," Jeremy Arnold on "Ride Lonesome," and Taylor Hackford on "Comanche Station"; archival programs with Boetticher interviews; a Super 8 version of "Comanche Station"; trailers and more.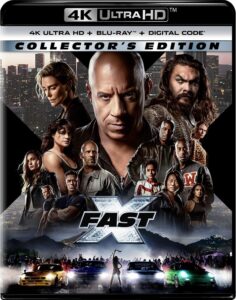 FAST X 4K UHD/Blu-Ray (140 mins., 2023, PG-13; Universal): It's been a rough go for aging action franchises at the U.S. box-office this summer, what with the 5th Indiana Jones, 7th Mission: Impossible, and 10th (yes, 10th!) "Fast and Furious" sequel all slowing down with their domestic receipts. This one at least keeps the action on Earth as Dom and company have to take on a new villain – a kingpin's son (an unabashedly off-the-wall Jason Mamoa) who wants revenge after the gang's Brazilian exploits that occurred in the series' best entry, "Fast Five." Franchise stalwart Justin Lin was to return here and direct "Fast X," but a falling out with star Vin Diesel lead him to only retain a screenplay and producer credit. Journeyman action helmer Louis Leterrier ("The Incredible Hulk," the "Clash of the Titans" remake) stepped in to juggle what's become a massive ensemble cast that includes a trio of both "With" and "And" credits for big-name stars who pop in and out of the movie, to say nothing of some very brief cameos for other characters who died off in earlier sequels (series fans are all used to those types of resurrections by now!). The action, sure, still works when the set-pieces take center stage but the bloated run time and meager dramatic elements are par for the course for the series, which sadly seems like it's out of gas at this stage – albeit not worldwide as the movie's foreign box-office still beat the stuffing out of both Harrison Ford and Tom Cruise's latest sequels. Universal's 4K UHD (2.39) includes razor sharp Dolby Vision HDR and Dolby Atmos sound along with a lightweight assortment of bonus features, the Blu-Ray and a Digital HD code.
The delightful 1953 William Wyler comedy ROMAN HOLIDAY (118 mins., 1953; Paramount) also premieres in 4K for the first time in a UHD upgrade of its 2020 "Paramount Presents" Blu-Ray. This classic romantic comedy with Audrey Hepburn as a princess who runs away from her royal responsibilities — and falls for American journalist Gregory Peck along the way — is an undisputed viewer favorite among Golden Agers. This UHD offers a Dolby Vision HDR (1.33) transfer of the movie with TrueHD mono audio and a Blu-Ray reprise of its 2020 disc, sporting a Leonard Maltin interview on the picture plus most of the extras from its "Centennial" DVD edition, including two different retrospectives on Hepburn's work at Paramount, a tribute to Dalton Trumbo, a costume design featurette, trailers and other galleries. A Digital HD code is also on tap.
---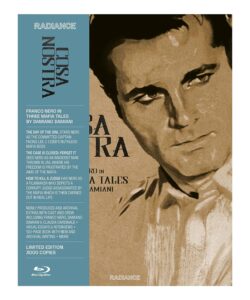 Also New & Noteworthy
Radiance New Releases: International star Franco Nero scored successes across a wide swath of genres including a trio of Italian contemporary dramas from director Damiano Damiani, a few of which found a domestic release stateside. COSA NOSTRA is Radiance's new Blu-Ray anthology providing a trio of remastered features from the star/director duo, graced with an abundance of marvelous special features as well.
The hardbound case-adorned package includes Nero facing off with crime boss Lee J. Cobb in THE DAY OF THE OWL (103 mins., 1968); fighting the system as an innocent man thwarted by the mob in THE CASE IS CLOSED: FORGET IT (109 mins., 1971); and a filmmaker whose fictional movie about a mob assassination happens for real in HOW TO KILL A JUDGE (111 mins., 1975). Though these Italian dramas are rooted in political commentary apropos to its native country during its respective time, Damiani's character-driven pictures are nevertheless well worth a view, and Radiance's Blu-Rays include 2K (1.85, mono) restorations of each movie, in their native Italian or English dubs, with two different cuts of "Owl" included for good measure. New interviews include Nero discussing each picture with archival Making Of segments; a look at the Italian crime genre with Mike Malloy; a visual essay on Lee J. Cobb and an archival interview with co-star Claudia Cardinale; a visual essay on Damiani from Rachael Nisbet; a conversation with Alberto Pezzotta; a visual essay by David Cairns on "How to Kill a Judge"; plus trailers, new subtitles, and a massive, 120-page book on Damiani's works that puts the proverbial cherry on top.
Also new from Radiance this month is Benny Chan's Hong Kong import A MOMENT OF ROMANCE (92 mins., 1990), which follows a low-level crook who's ordered to kill the beautiful girl he's inadvertently taken hostage after a busted heist; he, naturally, refuses, and high tails it on the lam along with her in a visually stylized, potent import here restored in 4K (1.85, mono) on Blu-Ray. Radiance's limited-edition features a transfer from the OCN plus an archival audio interview with Chan; a visual essay by David Desser on the movie; and a commentary by Frank Djeng.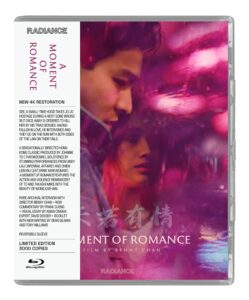 Film Movement New Releases: Two Korean releases comprise Film Movement's latest DVD releases. Hong Sung-Eun's ALONERS (91 mins., 2020) is a contemporary Korean drama starring Gong Seung-yeon as a call center employee training a naive young hire (Jung Da-eun) at the same time dealing with problems involving her neighbor and father at home. A moody character drama from director Hong Sung-Eun new on DVD from Film Movement with Luisa Martiri and Tanya Modini's Australian short "The Moths Will Eat Them Up" as an extra…Park Kang's SEIRE (102 mins., 2021) follows a new father who indulges his wife's superstitions until he opens the door to an evil spirit when he attends his ex-girlfriend's funeral. Another creepy, and well-reviewed, Asian horror outing debuting on DVD (2.39, 5.1/2.0 Korean with English subtitles) this month from Film Movement.
1923 – Season 1 Blu-Ray (465 mins., 2022-23; Paramount): After the hit "Yellowstone" prequel "1883," prolific creator/writer/producer Taylor Sheridan pushes ahead 50 years where the Dutton family – here led by the likes of Harrison Ford and Helen Mirren – attempts to settle their ranch while taking on corporate forces in the face of dastardly Timothy Dalton. There are also the adventures of wayward Dutton nephew Spencer, who's out fighting WWI and lions (and tigers and…) overseas, while an additional – and extremely graphic – subplot involves eventual Rainwater matriarch Teonna's mistreatment at the hands of horrendous Catholic nuns and priests.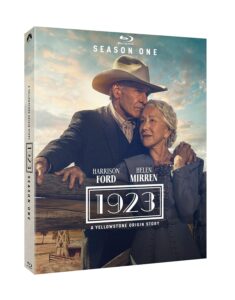 "1923" offers spectacular visuals and a terrific cast – along with some plotting that can be just as uneven as its parent series. The show settles into a strong groove several episodes in before becoming excessively violent and at times needlessly gratuitous in its heavy-handed historical revisionism – though fans of most Sheridan series are used to it by now. For many the highly-rated "1923," which debuted on Paramount+ before airing more recently on Paramount Network, will offer satisfying entertainment just the same, and Paramount's now-available Blu-Ray (5.1 Dolby TrueHD, 1080p) offers a handful of featurettes and a strong a/v package.
YOU HURT MY FEELINGS Blu-Ray/DVD (93 mins., 2023, R; Lionsgate): Niocole Holofcener's films are typically an acquired taste, as her latest work about a female writer (Julia Louis-Dreyfus) who's shocked after her husband (Tobias Menzies) renders an unfavorable reaction to her most recent work attests. The cast tries hard but the material is overly familiar, hitting predictable beats with a story line that never really captivates; for die-hard Louis-Dreyfus fans, and most especially aficionados of Holofcener's previous outings (along similar lines). Lionsgate's Blu-Ray (1.85, 5.1 DTS MA) includes a commentary from the star and director, a featurette, DVD and Digital HD copy.
MY BEST FRIEND IS A VAMPIRE Blu-Ray (89 mins., 1988, PG; Lionsgate): Wan late '80s youth comedy – released in the wake of "Fright Night" and "The Lost Boys" – features Robert Sean Leonard (soon-to-be star of "Dead Poets Society") as a high schooler who turns into a vamp while attempting to land crush Cheryl Pollak. Writer Tab Murphy would soon net career successes with assorted Disney scripts including "Beauty and the Beast" (to say nothing of cult fave "Last of the Dogmen"), but this Kings Road Entertainment product is pretty lifeless in terms of its comedy and overall energy, despite having old-pros like Rene Auberjonis and David Warner in the cast. Presented on Blu-Ray as part of Lionsgate's "Vestron Video" Collector's Series," "Vampire" sports a number of extras including commentary by director Jimmy Huston with historian Nathaniel Thompson involved; new interviews with Tab Murphy and production exec Ken Aguado, plus a talk with co-star Paul Wilson; along with trailers, a still gallery, respectable 1080p (1.85) transfer, 5.1/2.0 DTS MA sound and a Digital HD code.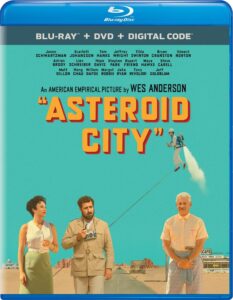 ASTEROID CITY Blu-Ray/DVD (105 mins., 2023, PG-13; Universal): Wes Anderson's latest portrays the denizens in a fictional desert city in the middle of suburban U.S.A. circa the mid '50s – or at least the '50s we typically see portrayed in pop culture circles – when a series of "world-changing events" befalls their small town. All of Anderson's usuals (Jason Schwartzman, Edward Norton, etc.) are here, plus added big names (Scarlett Johansson, Tom Hanks, Margot Robbie), in a typical Anderson concoction that's even less cohesive than the director's usual standard of "non sequiturs" with a baffling plot that will provide the most satisfaction for – naturally – the director's fans. Universal's Blu-Ray is out this week sporting 7.1 DTS MA sound, a Making Of, DVD and Digital HD code.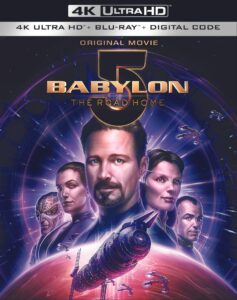 BABYLON 5: THE ROAD HOME 4K Ultra HD/Blu-Ray (79 mins., 2023, PG-13; Warner): Series creator J. Michael Straczynski is back in the "Babylon 5" universe for this all-new animated movie which finds John Sheridan (still voiced by Bruce Boxleitner) taking a trip through multiple universes and time lines in an extension of the "Babylon 5" universe. Numerous original cast members return for a movie that fans will most appreciate — certainly newcomers will be better off waiting for the remastered Blu-Ray version of the series to hit stores from Warner late this year. Warner's 4K UHD includes HDR10 and looks good though the limited scope of the animation doesn't necessarily make for a huge enhancement over the also-included Blu-Ray (both have 5.1 DTS MA sound). Commentary and a featurette round out the combo pack plus a Digital HD copy.
METALOCALYPSE: ARMY OF THE DOOMSTAR Blu-Ray (83 mins., 2023, R; Warner): Another fan-favorite series returns from the grave in this feature-length revival of the popular Adult Swim series. "Army of the Doomstar" reunites the members of the "heaviest heavy metal band" as Nathan Explosion juggles personal and professional issues while being tasked with writing the "Song of Salvation" that can save the earth. Interviews with co-creator Brendon Small among others are included in Warner's Blu-Ray plus a 5.1 DTS MA soundtrack and Digital code.
OTHER PEOPLE'S CHILDREN Blu-Ray (104 mins., 2023; Music Box): Virginie Efira, Cesar-winning French actress, stars in this romantic drama as a high school teacher who falls for a divorced parent (Roschdy Zem) with his own young daughter. Efira's subsequent desires to have her own children form the basis of this contemporary Parisian import from director Rebecca Zlotowski. Music Box's Blu-Ray (2.35) includes 5.1 French audio, English subtitles, an interview featurette, the trailer, and TIFF Originals Q&A.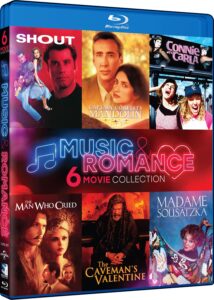 NIGHT OF THE ASSASSIN Blu-Ray (101 mins., 2023; Well Go USA): Korean period actioner follows an assassin who goes into hiding after a plague surfaces – but has to be pressed back into service after a killer begins taking his own revenge against local villagers. Well Go's Blu-Ray (1.85, Korean with English subtitles) is now available...New this week is KILL SHOT (94 mins., 2023; Well Go USA), Ari Voak's indie actioner set in the wilds of Montana where a former SEAL (Rib Hillis) and his client (Rachel, not Leigh, Cook) come across misplaced terrorist money which they, unwisely, attempt to take for themselves. Well Go's Blu-Ray includes a 1080p transfer and DTS MA sound.
Mill Creek New Releases: Coming later this month from Mill Creek is the three-disc Blu-Ray anthology MUSIC & ROMANCE: 6 MOVIE COLLECTION. This Universal-licensed package includes several new-to-Blu-Ray premieres, including the heavily cut and unintentionally funny '50s "Dead Poets Society" rip-off SHOUT (88 mins., 1991, PG-13) which stars John Travolta, Richard Jordan, Heather Graham, Linda Fiorentino, James Walters and a young Gwyneth Paltrow. Also on-hand here are Shirley MacLaine in the British production MADAME SOUSATZKA (122 mins., 1988, PG-13), Christina Ricci and Johnny Depp in the forgotten indie THE MAN WHO CRIED (99 mins., 2001, R), Samuel L. Jackson in Kasi Lemmons' THE CAVEMAN'S VALENTINE (105 mins., 2000, R), the Nia Vardalos/Toni Collette buddy flick CONNIE AND CARLA (93 mins., 2004, PG-13), and the breezily enjoyable romantic WWII drama CAPTAIN CORELLI'S MANDOLIN (128 mins., 2001, R) with Nicolas Cage and Penelope Cruz. The transfers are decent and the DTS MA sound well rendered across the lot.
Newly available from Mill Creek is the independent thriller NEFARIOUS (98 mins., 2023, R), an adaptation of Steve Deace's book "A Nefarious Plot" about a serial killer who announces, on the day of his execution, that he's a demon who wants to be executed as part of his master plan. Cary Solomon and Chuck Knozelman wrote and directed this religiously-oriented picture with a good performance from Sean Patrick Flanery at the film's center (2.39, 5.1 DTS MA).
New on DVD from Shout: MAVKA: THE FOREST SONG (99 mins., 2023) is an animated fantasy for kids from the Ukraine that follows Mavka, the forest spirit, who's chosen to become a new "guardian." At the same time she's in love with a human musician who offers more "Earthly" companionship in a film new on DVD (2.39, 5.1) with featurettes and music videos also on tap…SESAME STREET: ABBY & ELMO'S AMAZING ADVENTURES (150 mins.) includes well over two hours of fun following Elmo and Abby Cadabby, with special guests like Ginnier Goodwin and Jason Mraz on-hand. Shout's DVD is now available.
NEXT TIME: Imprint's SIDNEY J. FURIE box and more! Until then, don't forget to drop in on the official Aisle Seat Message Boards and direct any emails to our email address. Cheers everyone!