Message Board (open 24 hours!)
Twitter - @andredursin (for everything else!)
Action, adventure, and Cinemascope splendor are ingredients that Hollywood studios attempted to inject into the box-office of the mid 1950s, with Warner Bros. offering a pair of often maligned epics now beautifully restored on Blu-Ray. Leading the charge from Warner Archive is LAND OF THE PHARAOHS (104 mins., 1955), a spectacular restoration of director Howard Hawks' widescreen box-office disappointment. Less interested in adhering to the "Biblical Epic" formula of its time than some of its peers, this Cinemascope affair – co-penned by William Faulkner – is instead a fascinating portrait of Jack Hawkins' Pharaoh wanting to construct a great pyramid and doing so with the assistance of an architect (James Robertson Justice) now a slave among his people.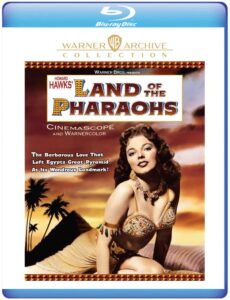 Soapy intrigue via Joan Collins' queen adds camp value to a film that's high on spectacle (check out all the extras, back when they weren't generated by computers!) and enriched by a marvelous Dimitri Tiomkin score. The movie is a little stilted and downright silly in places but it's never less than entertaining – plus offers a marvelous ending – and it's all enhanced by one of the year's best catalog presentations on Blu-Ray.
Warner Archive's restoration offers a colorful, detailed, nearly immaculate 1080p (2.55) transfer that makes all the positive components of Hawks' production that much more enjoyable on home video. From its end-to-end stacking of extras to its vibrant color and the glorious Tiomkin soundtrack, presented here in a robust 5.1 DTS MA mix, this Archive Blu-Ray easily ranks as one of the finest restorations of its kind in recent years. Archival extras include Peter Bogdanovich's commentary, interpolated with his vintage Hawks interviews, plus the trailer and WB cartoon "Sahara Hare."
Shortly after "Pharaohs," Warner dipped back into the well for another Cinemascope epic meant to steer audiences away from the cathode rays of their TV sets and back into theaters. HELEN OF TROY (121 mins., 1956), shot at Rome's famed Cinecitta Studios, offers director Robert Wise behind the helm of a romantic adaptation of Homer's "Iliad," pairing Rossana Podesta's Helen with Jack (Jacques) Sernas' Paris – the ill-fated lovers whose romance tore apart ancient Greece.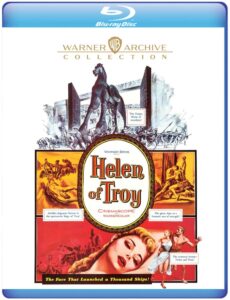 Though not appearing in the same crisp, pristine condition as "Pharaohs," "Helen of Troy" still features a color-drenched transfer and a gorgeous 5.1 stereo soundtrack. The picture boasts a wonderfully lyrical Max Steiner score that, like Tiomkin's "Pharaohs," works overtime to supply a sense of grandeur to big-screen dramatics that seldom support the level of visual spectacle – from sets worked on by future Oscar winner Ken Adam to its Harry Stradling cinematography – the movie offered to audiences of the day. The dubbed-over leads don't generate the star power many of the movie's counterparts did at the time, and the characterizations outside of Helen and Paris are mostly lightweight, nearly comic book in nature. Instead, the accent is on a fast-moving story that packs most of its action into a rip-roaring finale.
Fans of the film ought to be pleased with the transfer and sound, while Warner has included a few vintage TV segments related to the film that are marred only by their jerky frame-rate encoding. For Golden Age fans this makes a terrific double-bill with "Land of the Pharaohs," a pair of "Widescreen Spectaculars" as only Hollywood could make them back in the '50s.
Red Skelton's performance as a lovestruck night club "hat check boy" who pines for songstress Lucille Ball makes DuBARRY WAS A LADY (101 mins., 1943) still worth some consideration today. That being said, this is not one of the great MGM musicals of its era, with Roy Del Ruth's movie unwisely trimming some of the Cole Porter songs from its Broadway source and playing up the "revue" styled elements which run the gamut from Zero Mostel's mugging to Gene Kelly's dancing and Tommy Dorsey and His Orchestra performing in a film that comically takes its cast back to 18th century France. It doesn't amount to a whole lot but fans of the stars should savor Warner Archive's stylish new 1080p (1.37) color transfer with a bonus MGM cartoon ("Bah, Wilderness") and the trailer…Additional, and earlier, musical fun of the MGM variety can also be found in Warner Archive's release of the seminal movie musical THE BROADWAY MELODY (100 mins., 1929). This early talkie lead to a flurry of follow-ups and established the formula for the "All Talking! All Singing! All Dancing!" extravaganza, becoming one of the all-time box-office smashes in the process. A strong Arthur Freed/Nacio Herb Brown song score supports its age-old story of sisters (Bessie Love, Anita Page) who hit the Great White Way – it's completely dated but fascinating for genre fans at the same time. A slew of vintage shorts are included in the 1080p (1.37 B&W) Warner Archive restoration.
THE DAMNED DON'T CRY (103 mins., 1950) was one of Joan Crawford's trademark roles, the first of three films she would make with director Vincent Sherman. Here, Crawford essays her usual "tough girl" persona as a woman who ascends the ladder from lower-class housewife to gamblers and gangsters with predictable consequences. Still, the formula Crawford established in "Flamingo Road" works well enough again with the star in top form; Warner Archive's Blu-Ray preserves the B&W starkness of its source (1.37, mono) thanks to a superb transfer. Special features include an archival commentary by Sherman; a 1951 "Screen Director's Playhouse" radio broadcast; the trailer; and featurette "The Crawford Formula: Real and Reel."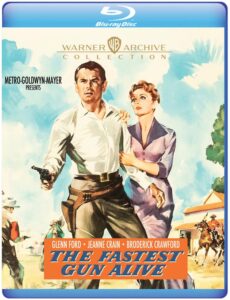 F. Scott Fitzgerald's "Babylon Revisited" was adapted by MGM and director Richard Brooks as THE LAST TIME I SAW PARIS (116 mins., 1954), a glossy soaper with a great cast, led by Elizabeth Taylor as the sister who weds an American serviceman (Van Johnson) in post-WWII Paris. Donna Reed is "the other sister" with Eva Gabor and Walter Pidgeon co-starring along with a young Roger Moore. Another sparkling Archive remaster (1.75, mono) awaits viewers here with extras including the trailer and a Tom & Jerry cartoon "Touche Pussycat."
Finally, western fans haven't been neglected this month either from the Archive, including the Blu-Ray release of CIMARRON (124 mins., 1931), the epic adaptation of Edna Ferber's book that's best known for its epic 1899 Oklahoma Land Rush sequence. The rest is a bit of a creaky melodrama following generations of a family settling the land in one of the first "talkie" westerns, restored here by the Archive in a 1080p (1.29, mono) B&W transfer with bonus shorts and cartoons. "Cimarron"'s eventual '50s remake starred Glenn Ford, who netted more success in the character-driven western THE FASTEST GUN ALIVE (89 mins., 1956). A B&W MGM western from director Russell Rouse, Ford plays a former gunslinger pushed, reluctantly, back into a fight by bad guy Broderick Crawford. Jeanne Crain and Russ Tamblyn co-star in this short but effective character study with an Andre Previn score. Warner Archive's Blu-Ray (1.85, mono) offers a pair of bonus Tom & Jerry cartoons on the special features end.
---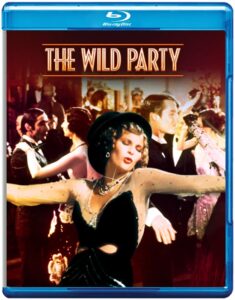 Also New & Noteworthy
THE WILD PARTY Blu-Ray (107 mins., 1975, R; MGM): The '70s were filled with tales of Hollywood debauchery set in the 1920s and 30s – movies that met with highly mixed results. Rod Steiger stumbled through "W.C. Fields and Me," James Brolin and Jill Clayburgh headlined "Gable and Lombard," Richard Dreyfuss played a washed-out director slumming in porn in the X-rated "Inserts," and director John Schlesinger presented a horrifyingly downbeat take on "Tinsel Town" through his filming of Nathanael West's book "The Day of the Locust."
Director James Ivory added another log onto the fire with "The Wild Party," the only time "Merchant/Ivory" would ever be associated with Samuel Z. Arkoff's American-International – but unlike those other films, this 1975 period drama at least paints a more sincere portrait of its troubled celebrities during the late era of silent movie making.
James Coco plays "Jolly Grimm," a silent comedian on his last legs whose latest film is already problematic since the era of sound has dawned in Hollywood. Grimm opts to throw a lavish party in a last-ditch effort to show the picture and net some backers – which sadly culminates in a tragic orgy wherein Grimm, his girl (Raquel Welch), a rising leading man (Perry King) and others find their fates tied together.
Merchant/Ivory's brand name would seem to be a mismatch with American-International, and the two entities indeed clashed in 1975 when the film was released. AIP cut the film down to 91 minutes and it subsequently bombed, though James Ivory's original 107-minute cut was released a few years later in 1981 where it met with still-mixed – but at least comparatively more positive – notices.
Even in its longer cut, "The Wild Party" is a problematic picture since the audience is keenly aware what's about to transpire dramatically – as a result, Ivory and writer Walter Marks (working off Joseph Moncure March's "narrative poem") never establish a real sense of tension or foreboding that the material requires. Welch is quite good here though Coco is miscast in a role that finds him alternately groveling with would-be investors or growling at his guests – the shifts in his personality seem too mechanical, too much "acting!" to come off as believable, while there's just not enough sympathy generated for Jolly's sad state of affairs.
Yet the movie manages to provide a compelling viewing just the same, mainly because of its interesting peripheral players – roles belonging to David Dukes, Tiffany Bolling and Royal Dano among others – and Walter Marks' songs. These original compositions from the songwriter of "I've Gotta Be Me" evoke the era perfectly and nearly turn "The Wild Party" into a full-blown movie musical. Certainly the picture perks up whenever they're on-screen – it's unfortunate this movie wasn't made a decade earlier (or even a decade later) when the musical itself wasn't so out of fashion.
MGM debuts "The Wild Party" on Blu-Ray for the first time later this month in Ivory's preferred 107-minute version. The 1080p (1.85, mono) transfer is excellent with fine grain visible and the sound in likewise healthy shape.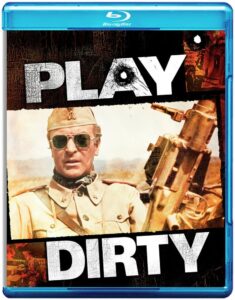 PLAY DIRTY Blu-Ray (118 mins., 1968, R; MGM): Michael Caine reteamed with his "Harry Palmer" producer Harry Saltzman, then still involved with the James Bond pictures, for the cynical 1968 WWII adventure "Play Dirty," a bitter late '60s "revisionist war" film returning to Blu-Ray after a 2017 Twilight Time release.
In "Play Dirty," Caine plays a British petroleum officer working for the British army in North Africa who's sent a series of criminals – including one played by Nigel Davenport — for a mission to knock out an African fuel depot.
"Play Dirty" was apparently rife with production issues, including the departure of Richard Harris, who was signed to play the Davenport role and reportedly quit several days into shooting, as well as director Rene Clement, who was replaced by journeyman Andre De Toth after Harris' exit. The resulting film has some well-executed action scenes but seems aloof and overly interested in punching across its ambivalent morality, not to mention the heavy-handed "ironic" soundtrack of cheery French tunes and "You Are My Sunshine," used to punctuate the bitter nature of its screenplay.
A movie that I've seldom seen aired on television over the years, "Play Dirty" boasts what appears to be the same MGM (2.35) catalog transfer with DTS MA mono sound as the Twilight Time release, with a 2.0 DTS MA soundtrack backing Michel Legrand's sparse score.
GO TELL THE SPARTANS Blu-Ray (114 mins., 1978, R; MGM): Sincerely-produced war drama was one of the first to attempt to convey the Vietnam War and its various facets on the big-screen. It's a laudable effort that received scant commercial play and is let down by merely serviceable cinematics, including workmanlike direction from Ted Post and a score by TV vet Dick Halligan. Nevertheless, "Spartans" — about a U.S. major (Burt Lancaster) trying to keep his detachment of South Vietnamese and American soldiers alive after bureaucrats decide to send them to a quiet French outpost, drawing Viet Cong resistance – is an interesting view in spite of its shortcomings. Previously available as a Scorpion title with exclusive interviews, "Go Tell the Spartans" here receives a no-frills MGM catalog master (1.85, mono) for those who missed the earlier disc.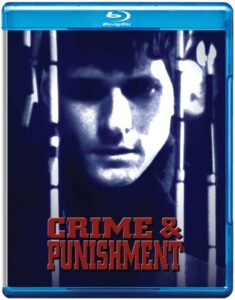 CRIME AND PUNISHMENT Blu-Ray (122 mins., 2002, Not Rated; MGM): Menahem Golan – yes, the "Golan" in Cannon's Golan-Globus – had a limited run after leaving Cannon behind at his 21st Century Film Corporation. In addition to producing an infamously goofy take on "Captain America" and a halfway decent Robert Englund version of "Phantom of the Opera," Golan stepped behind the director's chair a couple of times – with his final effort being this unreleased take on Dostoyevsky's novel, adapted to modern times by writer/producer Damian Lee. Golan recruited a wild cast, from Crispin Glover as the young student who murders to stay afloat, to John Hurt, Vanessa Redgrave, Margot Kidder, Theodore Bikel, Clive Revill and Sophie Ward – an ensemble that makes this respectable misfire at least worth a look for curious viewers, though there's no way around the excessive Robert O. Ragland score. Making its Blu-Ray debut (2.35) in an acceptable MGM catalog disc, "Crime & Punishment" streets on August 29th.
AMERICAN POP Blu-Ray (96 mins., 1981, R; Sony): One of Ralph Bakshi's best, and certainly most ambitious, films arrives on Blu-Ray after a lengthy wait. This sprawling tale of an immigrant family with musical talent whose stardom takes generations to realize is, like most Bakshi efforts, a little messy and uneven – yet the hand-drawn animation and adult subject matter are thoroughly captivating when played back today. Add in a terrific soundtrack and you have a picture that recalls an era in which animation could be used as a medium expressly for adults – to think Columbia released "American Pop" a few months before another R-rated animated feature, "Heavy Metal" – taking risks and presenting Bakshi's world view in a manner live-action couldn't match in terms of making a direct artistic appeal to the viewer. Sony's no-frills Blu-Ray offers a solid if not spectacular 1080p (1.85) transfer with an expertly engineered Dolby Stereo track (2.0 DTS MA) sporting numerous recognizable songs (which kept the film off home video completely until its previous home video release – a 1998 DVD) and Lee Holdridge's orchestral support.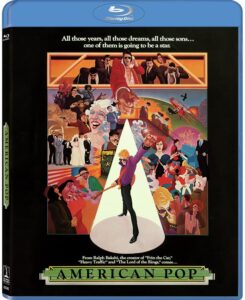 DORIS DAY AND ROCK HUDSON Romantic Comedy Collection Blu-Ray (Universal): The palpable chemistry between Doris Day and Rock Hudson remains the prime reason to check out Universal's anthology of romantic comedies starring the duo, offered here in a newly reissued triple pack. The set is of course led by the 1959 seminal genre hit PILLOW TALK (103 mins., 1959), a glossy Ross Hunter production featuring an engaging script by Stanley Shapiro and Maurice Richlin. Universal's 1080p (2.35) transfer looks vibrant for the most part – there does seem to be a bit of processing involved but there's still a healthy amount of grain present, and the widescreen framing (essential to enjoying the picture) is perfect. The DTS MA mono soundtrack is acceptable, and Universal included a few extras to sweeten the package, most notably a group commentary with Nick Redman, Julie Kirgo and Jeff Bond that's a pleasure to listen to. Other extras include two featurettes on the film and three previously-released featurettes on the history of Universal studios. The set also features Day and Hudson in LOVER COME BACK (107 mins., 1961) as well as SEND ME NO FLOWERS (100 mins., 1964), the last of the duo's efforts, with co-star Tony Randall stealing much of this particular outing. Universal's catalog transfers (1.85, DTS MA mono) are fine in both instances, though minus the widescreen dimensions of "Pillow Talk," both films exhibit a far blander, less cinematic visual sheen.
CSI: VEGAS Season 2 DVD (14 hours, 2023; CBS): The "CSI" franchise added some new blood with CBS' latest spinoff "CSI: Vegas." Here, Maxine Roby is back with Catherine Willows joining in for a variety of cases in "Sin City" including a killer hoping to unleash his nefarious plan on Vegas' unsuspecting residents, to the suspicious death of a participant in an extreme eating contest. All 21 second-season episodes from "CSI: Vegas" are included here with 16:9 (1.78) transfers and 5.1 Dolby Digital soundtracks.
---
In Theaters
MEG 2: THE TRENCH (**): Water-logged shark sequel starts off fine and concludes with a reasonably fun 20 minute finale — but everything inbetween is a dull, lifelessly directed affair.
Jason Statham and about half the original cast — plus their writers — return for another go-around though not, tellingly, director Jon Turtletaub, who's replaced here — ineffectively — by British indie horror auteur Ben Wheatley. Wheatley struggles to get any tension going during the movie's endless mid-section in "The Trench" where Statham and friends run afoul of an evil corporation mining for precious materials along the bottom of the dangerous ocean floor — in fact, it's so bland the actors look like they're wandering through sets and delivering lines with the least amount of energy possible given their supposedly dire circumstances. The dark sets, unexciting creatures, and lack of suspense might even make you feel like you're watching a rerun of "Leviathan" — only not as good (is that even possible?).
Once things return to the surface, the movie reasonably recycles the effects-filled conclusion of its predecessor with a few additional prehistoric beasties on land as the tourist-saturated "Fun Island" is besieged by multiple "Megs" — finally delivering the absurd action fans expect (and there are a couple of fun homages to "Jaws 2"), but it's all too long in coming to offset the tedium that came before. It also leads you to wonder — why not just set this sequel completely there to begin with? Why not have fun with the premise and have Statham be running the resort or something absurd along those lines? "Meg 2" shows so little ingenuity and cinematic energy that it comes off as nearly a contractual obligation for all involved — a sequel almost completely without bite.
NEXT TIME: Big 4K Catalog Titles and more! Until then, don't forget to drop in on the official Aisle Seat Message Boards and direct any emails to our email address. Cheers everyone!