Message Board (open 24 hours!)
Twitter - @andredursin (for everything else!)
Movies based on Stephen King novels, so prevalent on the big screen throughout the 1980s, were boosted in terms of critical acclaim and box-office by Castle Rock's adaptation of "Misery" in 1990. The production company would go back to the well for numerous other King projects over the course of the next decade, starting off with NEEDFUL THINGS (120/188 mins., 1993, R), an uneven picture that nevertheless offers one of the strongest acting ensembles to be found in any film based on one of the author's works.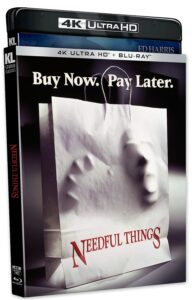 Initially developed by director Peter Yates, who eventually bowed out while still receiving an Executive Producer credit, "Needful Things" isn't so much "scary" or even classifiable as outright "horror" as it is a supernatural thriller laced with a touch of black comedy. It's a typical King mixture into which screenwriter W.D. Richter injected some playfulness – after all, its very premise involving the Devil opening up an antiques shop in a small Maine town, spurring the worst elements of humanity to manifest amongst its "local yocal" populace, carries with it the notion that the Old Man (here in the form of Max Von Sydow) is just out to toy with people, crushing their hopes and dreams via his mere meddling.
It's a concept that that could've been made into a potent "dark fantasy" a la "Something Wicked This Way Comes" or "The Witches of Eastwick," but director Fraser C. Heston (son of Charlton) doesn't get the pacing and tone quite right. The script is literate, but too much of the film seems repetitive and on an emotional flatline – Von Sydow's "Leland Gaunt" provides a trinket or memento to individual townspeople (including J.T. Walsh and Amanda Plummer) that causes them to eventually cave into their most animalistic instincts, beating up on – sometimes literally – one another in the process. Meanwhile, good guy sheriff Ed Harris suspects something is amiss, as even his diner-owning sweetheart (Bonnie Bedelia) succumbs to Gaunt's spell.
With a little finessing "Needful Things" could've been a cracking good film, but the 120-minute theatrical version of the picture – which opened and quickly closed in the late August '93 dumping grounds – failed to register with audiences. Heston's workmanlike handling seemed more suited to TV than the big screen – with the movie's pace and overall level of restraint playing like one of the many Stephen King TV mini-series that were big back in the '90s as opposed to something like Rob Reiner's celebrated "Misery" or Castle Rock's next King film based on "The Shawshank Redemption."
This feeling was cemented when Turner Broadcasting, which owned Castle Rock, packaged a substantially enhanced TV version of "Needful Things" when it came time for its basic cable broadcasts. Augmented with over an hour of discarded material, "Needful Things"' extended version loses just a bit of R-rated violence (no real loss, as the film is already closer to a PG-13 than most King flicks) but gains an appreciable amount of character development and several excellent sequences that never should've been cut to begin with.
The pacing is even more "leisurely" and laid back, but if viewed in the context of being a high-class King TV mini-series as opposed to a movie, "Needful Things" functions better and the longer cut enables more of the standout cast to make an impression: Harris and Bedelia are both highly appealing and have good chemistry together, Von Sydow is engagingly devilish, and Walsh and Plummer each handle their eccentric characters with the right amount of increasing mania. The TV version is flabby, no doubt, and a better cut surely could've been produced as a compromise between it and its theatrical counterpart – yet when the choice has to be made, there's little doubt the long version of "Needful Things" is the superior viewing experience.
Kino Lorber's new 4K UHD boasts the theatrical cut of "Needful Things" in a superb Dolby Vision HDR master (1.85), newly minted via a 4K scan of the 35mm original camera negative, with both 5.1 and 2.0 audio. It also includes the 188-minute TV version on a separate Blu-Ray, upscaled (pretty well at that) from a standard-definition broadcast master. This is as good as the longer cut of the movie will ever appear given how it was assembled, seeing as there are "shifts" in the image when cuts were made as well as recycled music cues the TV version editors had to utilize in its creation. It's worth noting this is one of Patrick Doyle's best scores, providing the film with some energy its pedestrian direction desperately needed.
For extras, a new 18-minute interview with W.D. Richter is included plus the trailer and the 2015 Kino commentary with Fraser Heston and late Scorpion Releasing guru Walt Olsen. This is a frustrating track with Heston reading prepared comments for a time and Olsen later peppering him with a flurry of good questions in the final minutes which one wishes were raised earlier. Nevertheless, it's a nice inclusion on a highly recommended package for fans of the movie.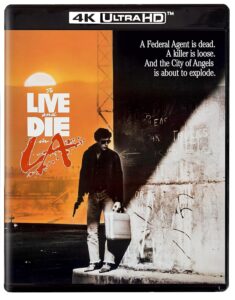 Also new on 4K UHD this month from Kino Lorber is TO LIVE AND DIE IN L.A. (116 mins., 1985, R), William Friedkin's stylish thriller that's actually a bit ho-hum until its razzle-dazzle car chase sequence.
William Petersen, who only in the later stages of his career received the recognition (thanks to "CSI") that was long overdue him, scores here in an early role as a federal agent who's gone over the edge. Willem Dafoe, meanwhile, essays a counterfeiter that Petersen is pursuing by any means necessary in Friedkin's thriller, scripted by the director and Gerald Petievich from his novel.
It's mostly dated, "Miami Vice"-kind of action, right down to Wang Chung's soundtrack, yet there are some strong performances from Petersen and Dafoe, supporting turns from John Turturro and Dean Stockwell, and a "money" set piece in the movie's well-executed auto chase that have made the movie a cult favorite. It's not quite the classic its fans make it out to be (Petersen's partner exclaims "I'm too old for this @#&!" before being executed days before his retirement), but it's certainly worth seeing, especially with the brilliant Dolby Vision UHD enhancement viewers receive here: warmly bathed colors stand out along with clear detail in this 4K scan of the 35mm OCN, resulting in a superior transfer bringing home viewers that much closer to Friedkin and cinematographer Robby Muller's slick visual work. The 2.0 and 5.1 DTS MA soundtracks are also well-engineered with high stereophonic fidelity, while viewers should note this 4K scan is also housed (in 1080p form) on the adjoining Blu-Ray platter.
For extras, Kino Lorber brings in supplements from MGM's 2003 DVD (a typically chatty commentary from Friedkin, plus featurettes, deleted scenes and a retrospective documentary) and interviews from the 2016 Arrow/Shout Blu-Rays featuring William Petersen, co-stars Debra Feuer and Dwier Brown, Wang Chung, and stunt coordinator Buddy Joe Hooker.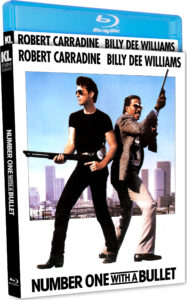 More Action & Adventure
NUMBER ONE WITH A BULLET Blu-Ray (103 mins., 1987, R): Cannon's entry into the cop-buddy sweepstakes of the 1980s held some initial promise: a script by Dirty Harry vet Gail Morgan Hickman seemed destined to star Jim Belushi, who added a rewrite along with his Saturday Night Live writing pals Andrew Kurtzman and Rob Riley. All ended up credited in the film that was eventually released, yet the Jack Smight-helmed "Number One With a Bullet" was torpedoed by a miscast Robert Carradine in Belushi's role (he wisely decided to make "Red Heat" instead) and an indifferent Billy Dee Williams in a part Smight pegged for a young Denzel Washington. It's unlikely Denzel could've really helped this formulaic affair which is technically well-executed by Smight with solid action scenes – it's Carradine's abrasive performance and lack of chemistry with Williams, who seems barely awake, that dampens the fun. With a solid TV supporting cast including Valerie Bertinelli, Peter Graves and Doris Roberts, and an early score from "Simpsons" composer Alf Clausen, "Bullet" debuts on Blu-Ray in an excellent 2K scan (1.85) of the 35mm interpositive. The 2.0 stereo sound is strong, and a commentary with action genre specialists Mike Leeder and Arne Venema rounds out the release.
52 PICK-UP Blu-Ray (110 mins., 1986, R): Rather seedy John Frankenheimer adaptation of Elmore Leonard's novel was one of the few bona-fide "A list" titles from The Cannon Group. Roy Scheider plays a businessman who cheats on his wife (Ann-Margaret) and pays the price after he's blackmailed by a psycho (John Glover from "Smallville") with footage of him in bed with another woman. Top-notch production values and fine performances from Scheider and Glover help, but "52 Pick Up" is a little uneven in its pacing, with lots of talk and not a whole lot of action, with the viewer ultimately coming away feeling like they'll need to take a shower just from hanging out with its characters. This is the same MGM master (1.85, 2.0 stereo) that was seen in Kino Lorber's earlier Blu-Ray, but improved somewhat with a higher bit-rate. There's also a new commentary with Steve Mitchell and Edwin Samuelson, trailers, TV spots, and an isolated music track with Gary Chang's serviceable synth score.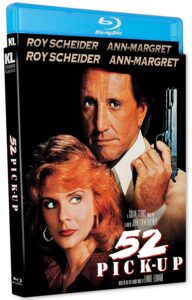 GLORIA Blu-Ray (123 mins., 1980, PG): Director John Cassavetes' filmography includes many moody, character-driven works, and his output as a director seldom included studio films like "Gloria." Ironically, Cassavetes never intended to direct the film, either, but rather sold his script to Columbia Pictures – opting to make it only when Gena Rowlands expressed an interest in playing the title role. The resulting film – a heartfelt story of a former mobster's girlfriend (Rowlands) grudgingly becoming a protector to a young boy (John Adames) whose family is offed by the mob – showed that Cassavetes could have had equal success in studio fare, if he ever wanted to travel down that road.
Though "Gloria" didn't perform all that well at the box-office – even with Columbia's backing – it's a strong film that includes superb turns from both Rowlands and an unaffected performance from young John (Juan) Adames, whose lack of acting experience served him well in a grounded and believable portrayal of the emotionally ravaged boy. Together with its location shooting and a nuanced Bill Conti score, "Gloria" hits right at the heartstrings without cloying sentimentality – making for a distinctive Cassavetes project. Kino Lorber's Blu-Ray (1.85, mono) brings "Gloria" back into print following a 2018 Twilight Time release featuring comparable a/v quality from the Sony vaults and trailers.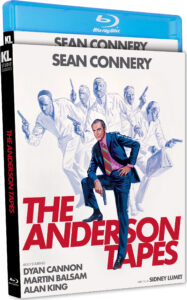 THE ANDERSON TAPES Blu-Ray (99 mins., 1971, PG): Blah Sidney Lumet heist thriller "The Anderson Tapes" was one of many '70s box-office disappointments for star Sean Connery, who tried to shake off his James Bond effort with this Columbia production the same year he starred in his (supposed) Bond swan song, "Diamonds Are Forever." While this one doesn't entirely work – not even with an interesting supporting cast ranging from Dyan Cannon to Alan King and Christopher Walken – there's still sufficient nostalgic fun to be found here with its cast and Quincy Jones' "mod" '70s score. Kino Lorber's Blu-Ray (1.85) boasts a solid Sony catalog master, similar to Arrow's UK release of the film (and superior to a Mill Creek double-feature, the movie's sole prior U.S. format appearance), with the same Glenn Kenny commentary as was heard on the Arrow disc. The trailer and a TV spot are also included.
THE GREAT TRAIN ROBBERY Blu-Ray (110 mins., 1978, PG): Re-issue of Kino Lorber's earlier "Great Train Robbery" disc corrects that release's overly-bright gamma level and benefits from a higher bit-rate encoding. Otherwise it's the same MGM HD master (1.85, mono) as before with identical archival extras (Michael Crichton's commentary, trailer, TV spots). The movie itself is one of those underwhelming affairs that despite its period setting, terrific premise – "a turn of the century 'French Connection'" – and cast never gets its act together, leaving Sean Connery and Donald Sutherland to do their best under Crichton's pedestrian direction. Jerry Goldsmith's score is terrific too, but this is an instance where you're better off listening to the album again.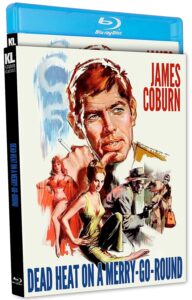 DEAD HEAT ON A MERRY-GO-ROUND Blu-Ray (107 mins., 1966): James Coburn plays a just-released convict who returns to society and tries to knock over a bank at LAX in this generic '60s heist picture – albeit one with a blackout twist ending. Coburn is cool and suitably suave in his performance as Eli Kotch, a con man who latches onto Boston girl Camilla Sparv and assembles a team of experts to help him put the heist over. Bernard Girard's film is light and provides nostalgic '60s entertainment, along with a Stu Phillips score typical of the era. On the downside, the movie goes on a bit, and is almost too low-key for its own good. Kino Lorber's Blu-Ray offers a respectable Sony-licensed master (1.78, mono) with the trailer as the sole extra. Be on the lookout for an early appearance for a very young Harrison Ford as well.
A DANDY IN ASPIC Blu-Ray (107 mins., 1968, R): Attractively-lensed but convoluted Cold War thriller was sadly the last film of director Anthony Mann, who passed away during production, leaving the picture to star Lawrence Harvey to complete. Sadly, we'll never know how this espionage affair would've turned out if Mann completed the film himself – what we're left with is a detached story with Harvey as a Russian double agent attempting to leverage his Soviet bosses with British intelligence whom he's been undermining. The scope cinematography and cool supporting cast boasts Mia Farrow, Harry Andrews and Peter Cook, but the picture is ultimately flat and uninvolving. Kino Lorber's Blu-Ray (2.35, mono) boasts a detailed, crisp transfer and extras that were included in the Powerhouse Indicator UK release (featurettes and an appreciation from critic Richard Combs).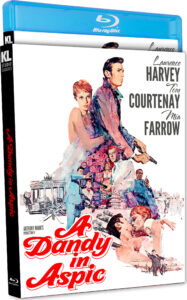 NEVADA SMITH Blu-Ray (130 mins., 1966): Lucien Ballard's widescreen lensing of California and Nevada locales receives a new 4K mastered transfer from the 35mm OCN in Kino Lorber's premiere Blu-Ray release of "Nevada Smith." Steve McQueen landed the title role in this prequel to Harold Robbins' bestseller "The Carpetbaggers," which became a box-office smash for Paramount in 1964; here, McQueen essays Alan Ladd's role from that film with Karl Malden, Brian Keith, Martin Landau and Suzanne Pleshette leading a superb cast in Henry Hathaway's sturdy if overlong western. The Paramount licensed new master (2.35) is excellent, Alfred Newman's score sounds just fine in the mono soundtrack, and a new commentary is included from C. Courtney Joyner, fellow historian Henry Parke and producer Mark Jordan Legan.
'50s Fare
FILM NOIR: THE DARK SIDE OF CINEMA XV Blu-Ray: Kino Lorber's fan-favorite film noir box-sets hit their 25th iteration, here compiling a trio of Universal releases from the late '50s. George Nader and Phyliss Thaxter give strong performances in MAN AFRAID (84 mins., 1957), a Cinemascope offering with Nader playing a man of the cloth who has to kill a burglar in self-defense; he later has to protect his son (Tim Hovey) from the slain man's father (Eduard Franz) who's out for revenge. Harry Keller helmed the Universal-International release…Former Tarzan star Lex Barker plays a former O.S.S. agent on the trail of Joseph Stalin, who's undergone plastic surgery prior to faking his death, in THE GIRL IN THE KREMLIN (81 mins., 1957), a Cold War programmer best known for leading lady Zsa Zsa Gabor in a dual role. Future "Star Trek" writer/producer Gene L. Coon worked off a Dewitt Bodeen ("Cat People") story with William Schallert in a supporting role…Finally, Universal contract player Jeff Chandler essays a lawyer defending a socialite accused of murder – while running afoul of Jack Carson's small-town sheriff – in THE TATTERED DRESS (93 mins., 1957), another Cinemascope-lensed noir effort directed by Jack Arnold and co-starring Jeanne Crain and Gail Russell. All three movies debut on Blu-Ray in new 2K transfers from 35mm fine grains with commentaries provided by David Del Valle and David DeCoteau ("Man Afraid"), Emma Westwood and Paul Anthony Nelson ("Girl in the Kremlin"), and Jason Ney ("The Tattered Dress").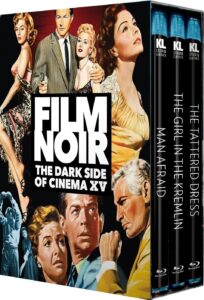 Available separately from Kino Lorber is another noir from the era, HUMAN DESIRE (91 mins., 1954), director Fritz Lang's reunion with his "Big Heat" stars Glenn Ford and Gloria Grahame. An adaptation of an Emile Zola novel, "Human Desire" offers Ford as a Korean war vet who makes the mistake of fooling around with his railroad boss' wife (Grahame). Broderick Crawford co-stars in a Columbia B&W noir preserved here in a solid catalog master (1.78) with the trailer and an interview with actress Emily Mortimer on-hand in the slipcover-adorned Blu-Ray.
THE BRIDGES AT TOKO-RI Blu-Ray (102 mins., 1955): A new, superior 4K scan of the original 35mm camera negative enhances Kino Lorber's Blu-Ray of "The Bridges at Toko-Ri," James Michener's story that follows a veteran WWII Navy pilot (William Holden) after he joins the fight in Korea as a reservist. High-flying action intertwines with familiar on-ground story elements, including Holden's relationships with his wife (Grace Kelly) and fellow officers (Mickey Rooney), making this Mark Robson-helmed hit the "Top Gun" of its era. Kino Lorber's new 4K (1.85) scan is a big improvement over the Imprint release, and includes the trailer and a fresh, enlightening commentary by Steve Mitchell and Steven Jay Rubin.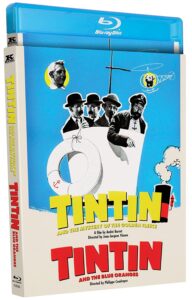 Foreign & Special Interest
TINTIN AND THE MYSTERY OF THE GOLDEN FLEECE (102 mins., 1961)/TINTIN AND THE BLUE ORANGES (100 mins., 1964) Blu-Ray: The adventures of Herge's boy reporter and Captain Haddock first reached the realm of live-action in a pair of early '60s French productions.
In "The Mystery of the Golden Fleece," Tintin (Jean-Pierre Talbot) and Captain Haddock (Georges Wilson) head off to Istanbul where they search for a sunken treasure, while "The Blue Oranges" sends Tintin off to the desert to claim a citrus that might hold the clue to feeding the world's population. In the latter, Talbot returned to play Tintin opposite new actors inhabiting Haddock (Jean Bouise) and Professor Calculus (Georges Loriot in the first film, Felix Fernandez in the sequel).
Both films look healthy and robust in these Gaumont licensed masters (both 1.66), each film in French with English subtitles. A recommended Kino Classics release for comic strip lovers and "Tintin" fans above all.
STAR PILOT Blu-Ray (91 mins., 1966): Italian sci-fi fantasy offers an abundance of camp and appropriately Euro-flavored flair, as you might expect from an era where genre films like "Barbarella" encapsulated the mood and look of the time. Raro Video's 4K restoration of "Star Pilot" preserves the entertainment of Pietro Francisci's production starring Leonora Ruffo, Anthony Freeman, Kirk Morris and Gordon Mitchell, the disc featuring a nice 1080p (1.33) transfer in Italian with English subtitles. There's also an English-language cut of the film and a commentary from historian David Del Valle on tap as well.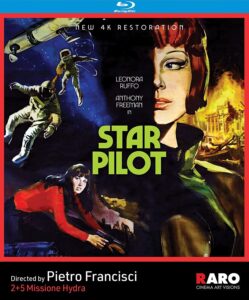 Kino Classics New Releases: Carl Theodor Dreyer's MICHAEL (94 mins., 1924) broke all sorts of ground in the 1920s as being one of the first gay-oriented feature films ever made. This German production follows a love triangle between an artist (Benjamin Christensen), his model (Walter Slezak) and a femme fatale (Nora Gregor) who comes between them. A fascinating silent film restored here on Blu-Ray with an insightful commentary from Scandinavian cinema historians Amanda Doxtater and Maxine Savage (1.33, German with English subtitles)…"Napoleon" auteur Abel Gance's first sound film, END OF THE WORLD [LA FIN DU MONDE] (95 mins., 1931), also carries a historical relevance as being France's first all-sound movie. It's also a disaster movie about a comet heading for Earth and a scientist's attempts to unify the globe before certain apocalypse occurs – a film that carried an enormous budget for its time and became an infamously notable money loser, one that found Gance trying to outdo himself in an early glimpse of auteurism spiraling out of control. Kino Classics' Blu-Ray includes a Gaumont-licensed 1080p transfer (1.37 B&W) in French with English subtitles and interviews with Laurent Veray, Serge Bromberg, Christophe Gauthier and Leon Rousseau on the supplemental side.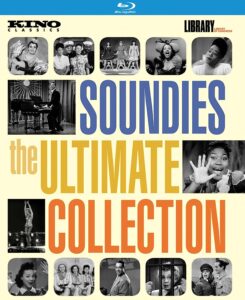 Curated by Susan Delson, some 200 vintage 1940s shorts have been combined in the spectacular anthology SOUNDIES: THE ULTIMATE COLLECTION (600 mins., 1940-46). This is an amazing assortment of what were essentially music videos in the pre-television age, spotlighting talents as diverse as Count Basie to Duke Ellington, Doris Day and countless others. These shorts offer not only a fascinating musical journey but a remarkable glimpse into the pop culture of its time, and this Kino anthology is one of the year's best in terms of its sheer breadth of content. 35mm and 16mm sources were preserved by the Library of Congress (among others) and are spotlighted here with extensive, insightful supplements, from filmed intros from Delson to a 44-page booklet. Two additional interviews provide additional background to a genre that many of us have never been exposed to – and certainly never like this, in full high-def, before.
Cohen New Releases: Vadim Perelman, the director of "House of Sand and Fog," helmed PERSIAN LESSONS (127 mins., 2020), a searing Holocaust drama about a Jewish man (Nahuel Perez Biscayart) who avoids execution by saying he's Persian – creating his own version of Farsi to teach to the head of the camp (Lars Eidinger). A dramatic, well-acted film debuting on Blu-Ray this month from Cohen (2.66, 5.1/2.0 English subtitled)…Cohen has also released, on DVD, Bernard-Henri Levy's documentary SLAVA UKRAINI (94 mins., 2023), a look at the war in footage filmed around the Ukraine during the second half of 2022. A Q&A with Levy is a special feature in the now-available disc (16:9, 2.0 stereo).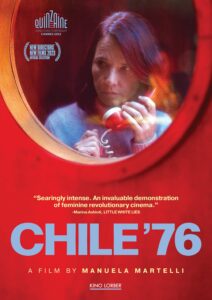 New on DVD
Broadway great James Lapine helmed the documentary IN THE COMPANY OF ROSE (85 mins., 2023), a profile of Rose Styron, wife of author William Styron and a celebrity friend to the likes of the Kennedys, Clintons, Leonard Bernstein and others. An interesting and focused biography new on DVD from Greenwich Films and Kino Lorber (1.78, 5.1/2.0)…Kino Lorber and Virgil Films have released YES I AM: THE RIC WEILAND STORY (61 mins.), one of the "unknown" founders of Microsoft who became a philanthropist later in life along with an LGBTQ community pioneer. His struggles with depression and body of work are the subject of Aaron Bear's documentary featuring Bill Gates among others who knew him (16:9, 2.0)…Ralph Fiennes stars in his sister Sophie Fiennes' adaptation of T.S. Eliot's FOUR QUARTERS (87 mins., 2023), which has been captured in its original stage production which Ralph Fiennes performed and directed. The DVD (16:9, 5.1/2.0) is now available.
Manuela Martelli's CHILE '76 (96 mins., 2022) follows an upper middle class woman (Aline Kuppenheim) in Chile during the early part of the Pinochet dictatorship. Her attempts to help an injured young man who opposes the regime are the subject of Martelli's well-reviewed mix of political thriller and character-driven drama. Kino's DVD includes a 16:9 transfer (5.1/2.0) with a Cannes interview with Kuppenheim on the supplemental side…Cinephobia Releasing's AMOR BANDIDO (80 mins., 2021) features Daniel Werner's controversial Argentinian import about the relationship between a teenage school boy and his older teacher – who's latter kidnapped! Werner's film is presented here on DVD (16:9, 5.1) in Spanish with English subtitles and a brief three-minute interview with Werner…MHz Choice has lined up a Complete Series set of ABER BERGEN (1288 mins.), an acclaimed legal drama out of Norway. Odd-Magnus Williamson and Ellen Dorrit Petersen star as two of the country's top defense lawyers whose marriage falls apart, leaving the firm they established together to take sides based on the cases they're handling. All three seasons of the series are collected here in a 9-disc DVD set with 16:9 transfers and English subtitles…Also new from MHz is DELIVER US (463 mins., 2019), the Danish TV psychological chiller that premieres on Blu-Ray in a two-disc set with a 1080p transfer and Danish audio with English subtitles.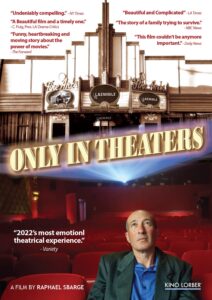 Raphael Sbarge's documentary ONLY IN THEATERS (93 mins., 2023) examines the legacy of the Laemmle family and their Arthouse Cinema chain in Los Angeles. Offering historical insight as well as touching upon contemporary issues about where movie-going is heading, "Only in Theaters" boasts a strong and poignant message new on DVD (2.35, 5.1/2.0). Kino's disc includes commentary, an alternate opening and extended interviews…THE COW WHO SANG A SONG INTO THE FUTURE (99 mins., 2022) is an Algerian import about a dead woman (Mia Maestro) who returns from the sea very much alive in a character-driven drama with ecological overtones. Francisca Algeria's picture is new on DVD this month from Kino (1.85, 5.1/2.0 Spanish with English subtitles)…Finally, Suzanne Rae's documentary CLOSE TO VERMEER (81 mins., 2022) looks at the Rijksmuseum museum showcasing Amsterdam's exhibit of Vermeer, including the entire creation of the display. Deleted scenes and the trailer are included in the now-available Kino DVD (16:9, 5.1/2.0 Dutch with English subtitles).
---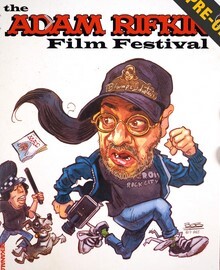 OCN July Wrap
THE ADAM RIFKIN FILM FESTIVAL Blu-Ray (122 mins., Dekanalog): "Detroit Rock City" director Adam Rifkin's eclectic career sprang out of a series of homemade 8mm films he produced back as a mere child in his Chicago suburb. Dekanalog's two-disc set preserves numerous comedic shorts Rifkin produced through his teen years from 1975-87, all with a collectible slipcover and interviews featuring Rifkin and many of his childhood friends/cast mates. Scout Tafoya also provides an oral history while Bob Fingerman's artwork lovingly evokes the Mad Magazine covers of the era.
THE QUEEN OF HOLLYWOOD BOULEVARD Blu-Ray (93 mins., 2017; Darkstar Pictures): Director Orson Oblowitz spins a gritty tale of a 60-year-old strip club owner whose mob debt rises to the surface, leading to her waging a path of destruction through the L.A. underworld. Darkstar's Blu-Ray (1.85, 5.1 DTS MA) includes a commentary with the director and star Rosemary Hochschild; outtakes of author/tattoo artist Jonathan Shaw's readings; behind the scenes footage; and deleted scenes…Also new from Darkstar is PRAGUE NIGHTS (99 mins., 1969), a little-seen Czech horror anthology from the late '60s that horror fans of the era should groove towards. Commentary with Tereza Brdeckova (who's also interviewed here) is included plus Jiri Brdecka animated shorts, a 1080p (1.37) transfer and English subtitles.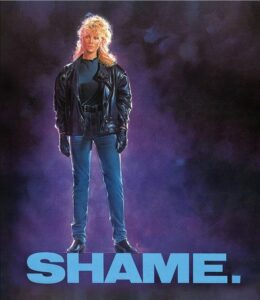 Lawrence Lau's "Category III" youth drama SPACKED OUT (90 mins., 2000; Kani Releasing) sports a 2K restoration on Blu-Ray (1.78) with interviews, booklet notes, and more, while ONCE A MOTH (110 mins., 1976) is a fascinating Filipino drama set in the late '60s about a nurse (Nora Aunor) living near a U.S. Air Force base when tragedy strikes. Utopia's Blu-Ray hails from one of the only remaining prints left of the film, which is still battered by elements and is missing its first reel. The 2K (1.85) transfer is as good as can be expected under the circumstances with extras including interviews, a restoration demo and booklet notes detailing this previously "lost" film from director Luptia Aquino-Kashiwhara…Utopia Releasing brings viewers the 2019 Ethan Eng film THERAPY DOGS (84 mins.), a portrait of pre-COVID high school malaise, offered here in a 1080p (1.78) master with commentary and featurettes…The 2003 indie horror outing GRAVEYARD ALIVE (82 mins.; ETR Media) is most distinguished by its use of the old anamorphic process Techniscope (2.35) to back its B&W visuals and pulpy story about a nurse who's transformed into a zombie. Elza Kephart's film has been resurrected, no pun intended, here with a behind the scenes booklet included, commentary with the director and cast, and a vivid 1080p (2.35) transfer with DTS MA sound.
Australia's Umbrella label has imported SHAME (94 mins., 1988), a story of a woman (Deborra-Lee Furness) who wanders into a dusty outback town where a local gang rapes its women…at least until the girls decide to rebel. A full slate of extras for this low-budget Aussie thriller include interviews, commentary and a 1080p (1.85, mono) transfer…Wojciech J. Has' HOW TO BE LOVED (98 mins., 1963) is one of the great Polish director's seminal works, a downbeat tragedy about a woman who recalls the end of the German occupation and the actor she tried to hide from the Nazis. Professor Annette Insdorf's commentary is included in Yellow Veil's Blu-Ray along with a 1080p (1.37) transfer, interviews and essays.
Andrew Bujalski's FUNNY HA HA (89 mins., 2002; Factory 25) was a shot-on-16mm indie phenom that has fallen trough the cracks over the years, but this Factory 25 Blu-Ray should enable the film's portrait of a young college grad's personal journey to find new viewers. A 2023 restoration is on-tap here plus an interview with Bujalski and actress Kit Zauhar, an experimental title sequence plus a 20 page booklet.
---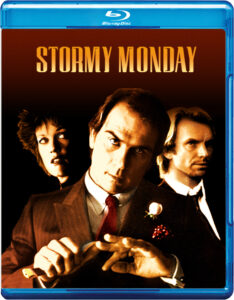 MGM Blu-Ray Rundown
Mike Figgis' directorial debut nets a second Blu-Ray release in North America: the moody but slow-going STORMY MONDAY (93 mins., 1988, R), a modern (late '80s) noir starring Sean Bean as a young man living in Newcastle who finds himself wedged in the middle of a squabble between a local club owner (Sting) and an American gangster (Tommy Lee Jones), not to mention a blossoming relationship with the latter's ex (Melanie Griffith). The casting of top-billed Jones and Griffith tried to give "Stormy Monday" some appeal in North America, but this Atlantic Entertainment co-production barely made a blip on the box-office radar domestically. Figgis devotees might find the picture to be more palatable than most, seeing as "Stormy Monday" suffers from a fragmented narrative and self-conscious editing, though Roger Deakins' location cinematography is a plus. These elements are served in a fine MGM catalog master (1.85) with stereo sound (note this release does not contain any of the extras from Arrow's earlier, discontinued edition).
Brian Denney had a terrific run at Orion Pictures in the '80s, scoring another fine performance opposite an equally good James Woods in BEST SELLER (95 mins., 1987, R), the type of adult drama, prevalent at the time of its release, that's basically ceased to exist in today's cinema. Dennehy plays a retired cop and popular novelist (shades of Joseph Wambaugh) who finds a possible muse in the form of an ex-hit man (Woods); his motivations, though, initially aren't of the rehabilitative variety, in an interesting Larry Cohen script expertly played by both leads and helmed by John Flynn. Previously available in an Olive no-frills release, MGM's disc (1.85) offers the same basic transfer and stereo sound.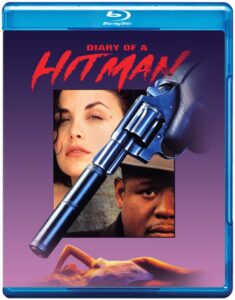 A peculiar but completely watchable adaptation of a play by Kenneth Pressman, expanded to feature length, DIARY OF A HITMAN (96 mins., 1991) makes its Blu-Ray debut from MGM. This is a strange, oddly satisfying film about a hitman (Forest Whitaker) who's about to retire when he receives one last assignment: rub out the young wife (Sherilyn Fenn) of a former mobster (Lewis Smith) who claims she's a drug addict…except she isn't. Whitaker and Fenn – the "Twin Peaks" vet who seemed destined for stardom even though, despite working steadily, her career never seemed to reach its full potential – are terrific here leading an interesting cast that also includes Sharon Stone (like Fenn, a pupil of acting coach Roy London, who not coincidentally directed this film), Lois Chiles, and an odd cameo from Jim Belushi. MGM's catalog master (1.85, 2.0 stereo) is serviceable with the movie sporting a jazzy Michel Colombier score apropos to the time.
Sincere performances attempt to salvage John Madden's heavy-handed direction in the drama GOLDEN GATE (90 mins., 1990, R), an "American Playhouse" Theatrical Films presentation starring Matt Dillon as an FBI agent who causes the death of a Chinese immigrant. Years later, his guilty conscience leads him to the man's daughter (Joan Chen) in a script by "M. Butterfly"'s David Henry Hwang that wants to touch upon a number of issues involving McCarthyism, the persecution of immigrants, and a would-be noirish romance – all spanning a number of decades – but is hamstrung by its brief running time and Madden's direction (he'd admittedly fare better with "Shakespeare in Love"). MGM's Blu-Ray (1.85, stereo) offers a perfectly acceptable catalog transfer.
---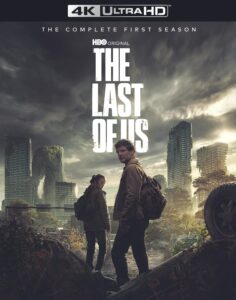 Also New & Noteworthy
THE LAST OF US 4K Ultra HD (521 mins., 2023; HBO/Warner): Outstandingly produced adaptation of the hugely popular Playstation video game is set within the familiar confines of a zombie-infested, post-apocalyptic wasteland where – 20 years after humanity's either been wiped out or turned into "infected" mutants – Pedro Pascal's Joel is tasked with transporting a 14-year-old, Ellie (Bella Ramsey), out of the quarantine zone for unspecified reasons. Their journey across the undead USA is fraught with peril and vividly rendered encounters in an HBO series that was met with unanimous critical acclaim and massive ratings – though if you've played the games, there's not a lot of suspense happening here. HBO's gorgeous 4K UHD with Dolby Atmos sound ought to give fans an even better presentation of "The Last of Us" than its broadcast and streaming versions thanks to its high bit-rate and Dolby Vision HDR implementation. The UHD also comes with over two hours of bonus features and three never-before-seen featurettes.
JUSTICE LEAGUE: WARWORLD 4K UHD/Blu-Ray (81 mins., 2023, R; Warner): This month's new DC animated offering puts the Justice League members through a series of disparate time periods in search of Wonder Woman, Batman and Superman, who have been imprisoned on the "battle planet" known as Warworld. Typical animation and R-rated violence might give this effort some traction with older comic book fans, but the story – outside the novelty of its setting with a trio of nearly self-contained vignettes comprising much of the action – still doesn't amount to very much in the end. Warner's attractive 4K UHD offers an HDR10 transfer with DTS MA 5.1 sound, two featurettes, the Blu-Ray disc and a Digital HD copy.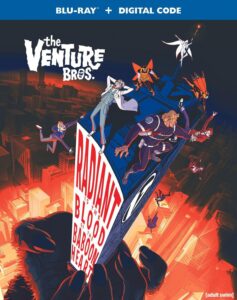 THE VENTURE BROS. RADIANT IS THE BLOOD OF THE BABOON HEART Blu-Ray (84 mins., 2023, R; Warner): Solid comedy awaits fans of the Cartoon Network Adult Swim series in this continuation of "The Venture Bros." Doc Hammer and Jackson Publick's script revolves around Doc's new invention as well as a mysterious woman from the Bros.' past in a feature-length follow-up from the recently-canceled network series. Creator commentary and two featurettes are included in Warner's Blu-Ray (1.78, 5.1 DTS MA) which also comes with a Digital HD code.
ROBOT MONSTER 3D Blu-Ray (63 mins., 1953; BayView Entertainment): The latest restoration from the 3-D Film Archive spotlights one of the most infamous of Grade Z '50s sci-fi forays from independent producers hoping to hit the genre jackpot. This silly slice of hokum, scored by Elmer Bernstein (!), finds a hulking giant from another planet – adorned in a gorilla suit with a helmet and corresponding TV antenna attached – trying to wipe out the last vestiges of humanity. "Ro-Man," though, has his issues after he falls for Claudia Barrett's female lead, while a young protagonist and an intrepid archaeologist (George Nader) try to stave off certain doom for the rest of us (or what's left of us).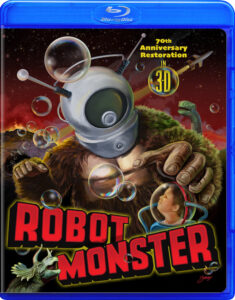 "Robot Monster" is one of those genre efforts that fans of the era and this particular type of film are going to enjoy – everyone else probably will get a kick out of the 3-D and little else, but that's to be expected given the movie's rep. The 3-D Film Archive's presentation is another stunner for 3D Blu-Ray enthusiasts, offering clear stereoscopic 3-D with only a few moments where duplicate frames had to be used due to damaged original elements. As with the Archive's recent releases, if you no longer have a 3D TV around, a new anaglyphic 3-D transfer has been struck which looks pretty nifty on its own terms (complete with a set of glasses included). Abundant extras include vintage 3D shorts and new featurettes, commentary and plenty more – a treasure trove of nostalgia for baby boomers and 3D buffs alike.
SOUTH PARK Seasons 21-25 Blu-Ray (900 mins., 2017-2022; Paramount): Fans of Trey Parker and Matt Stone's long-running Comedy Central series will want to add this anthology of the show's 2017-22 output to their Blu-Ray libraries. The earlier portions of this run are clearly the best, taking viewers from "The Trump Years" through the pandemic, when some of the humor was much more uneven in its laugh ratio. "Mini commentaries," deleted scenes and concept art are included in Paramount's Blu-Ray (1080p, 5.1 Dolby TrueHD) which is now available…Bryan Cranston is back in Season 2 of YOUR HONOR (535 mins., 2023), the Showtime series with former judge Michael Desiato here given a possible shot at redemption after a fed recruits him to take down a New Orleans crime syndicate. Paramount's three-disc DVD offers deleted scenes and featurettes and is now available (16:9, 5.1)...Fans of the TEENAGE MUTANT NINJA TURTLES (3462 mins., 2003-09) can check out Paramount's release of the 2003-09 Nickelodeon animated series. Compiled here are all 155 episodes from this incarnation of TMNT along with the fan-favorite TV movie mash-up "Turtles Forever." 4:3 transfers and stereo sound are present in the now-available DVD box-set.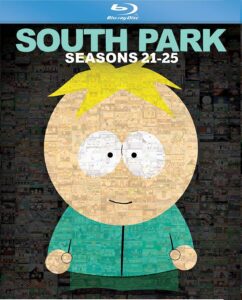 BEAU IS AFRAID Blu-Ray (179 mins., 2023, R; Lionsgate): Another off-the-wall concoction from the warped mind of filmmaker Ari Aster, who gave audiences the feel-good hits "Hereditary" and "Midsommar." This three-hour long epic taps into the paranoid mind of Joaquin Phoenix's Beau, allegedly attempting to "get home to Mom" in a David Lynchian-styled journey filled with bizarre images and a story that leaves it up to the viewer to determine its point – assuming they make it all the way to the end. A Making Of featurette is included along with the DVD and Digital HD copy in Lionsgate's currently-available Blu-Ray (1.85, 5.1 DTS MA).
THE BLACK DEMON DVD (100 mins., 2023, R; Paramount): Not-entirely unwatchable attempt to siphon off the success of "The Meg" – just in time for the release of its sequel – offers Josh Lucas in his sabbatical from "Yellowstone" as an oilman whose family is put in jeopardy after a megalodon appears near their deep sea rig. Some half-baked poetry is baked into Bose Esquierra's script but Adrian Grunberg's direction is decent, the director coming off recent-ish affairs with Mel Gibson (the decent "Get the Gringo") and Sylvester Stallone (the horrendous "Rambo: Last Blood"). Paramount's DVD is now available (16:9, 5.1).
CARMEN Blu-Ray (116 mins., 2023, R; Sony): Unusual mix of dance and dramatic tension in Benjamin Millepied's film about a young woman (Melissa Barrera) forced to leave her home in the desert behind after her mother is slain; she then meets with a recovering soldier (Paul Mescal) whom she begins an erotic affair. One of those films that would once constitute the "art house" scene, "Carmen" is beautifully filmed and passionately told – even if the very nature of its storytelling won't appeal to everyone. Sony's Blu-Ray (2.39) looks gorgeous with 5.1 DTS MA sound and nine behind-the-scenes featurettes included in the now-available disc.
CRIMINAL MINDS: Evolution Season 16 Blu -Ray (466 mins., 2022-23; CBS): The BAU returns in time to thwart an "UnSub" who spent the pandemic building up a network of serial killers! At least "Criminal Minds" manages to find a way to use COVID to explain its hiatus, as Joe Mantegna, Paget Brewster and crew return for a new season of the long-running CBS series. The three-disc Blu-Ray package, now available, includes 1080p transfers, 5.1 DTS MA soundtracks and three behind-the-scenes featurettes.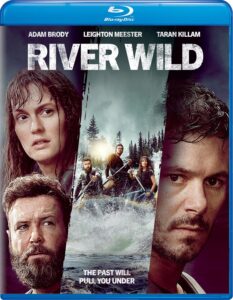 LOVE AGAIN Blu-Ray (104 mins., 2023, PG-13; Sony): Serviceable romantic comedy finds journo Sam Heughan inheriting a cell phone belonging to the late fiancee of Priyanka Chopra Jonas; he decides, after receiving her texts to her lost love, to do what anyone would do and ask Celine Dion (who produced and plays herself) how to approach her. Jim Strouse's film is formulaic but not half-bad, filling a neglected big-screen need with decent chemistry between the leads. Sony's Blu (1.85, 5.1 DTS MA) is out now sporting deleted scenes and a featurette.
RIVER WILD Blu-Ray (91 mins., 2023, PG-13; Universal): Remake of the Fall '94 Meryl Streep hit makes a bunch of changes from Denis O'Neill's original script – not for the better – as another whitewater vacation trip goes south for Leighton Meester and her brother Taram Killam once he invites troubled childhood pal Adam Brody along. The casting of ex-SNL'er Killam is a little bit odd but the alteration of the main concept to suit a brother/sister/friend dynamic is the major culprit as it loses much of the family dynamic that made its predecessor so successful. Debuting on Netflix this August, "River Wild" also hits Blu-Ray (2:1, 5.1 DTS MA) from Universal in a good looking release.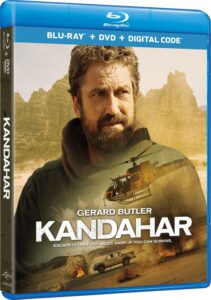 KANDAHAR Blu-Ray/DVD (120 mins., 2023, R; Universal): Gerard Butler reteams with director Ric Roman Waugh for another action affair, similarly plotted to Guy Ritchie's recent "The Covenant," with Butler essaying a CIA op trying to escape Afghanistan along with his interpreter. The action is potent but there's a lot of "down time" in Mitchell Lafortune's script that dilutes the material and stretches the film out to a sometimes tedious length. Universal's Blu-Ray (2.39, 5.1 DTS MA) is available now also including a DVD and Digital HD copy.
REVOIR PARIS DVD (104 mins., 2023; Music Box): Cesar Award-winner Virginie Efira plays a woman, still recovering from a terrorist attack, who attempts to put the pieces of the event – and her fragmented life – back together, recovering her own strength and forging a relationship with a fellow survivor (Benoit Magimel) in the process. Alice Winocour directed this moving actor's showcase for Efira, new on DVD this week (1.85, 5.1 French with English subtitles) from Music Box. The disc includes interviews with Efira, Magimel and Winocour, plus a Q&A with the director.
NEXT TIME: Warner 4K catalog plus the latest from Warner Archive on Blu-Ray! Until then, don't forget to drop in on the official Aisle Seat Message Boards and direct any emails to our email address. Cheers everyone!