Message Board (open 24 hours!)
Twitter - @andredursin (for everything else!)
One of the seminal sci-fi fantasies of the 1950s, INVADERS FROM MARS (73 mins., 1953; Ignite/MVD) has been long due for a thorough remaster, and now, after years of stops and starts – not to mention delays due to the pandemic – Ignite Films has produced a simply outstanding 4K UHD restoration of William Cameron Menzies' B-movie favorite. Previously available in a limited release through Ignite directly last year, MVD rolls out a "retail" edition of the film this month, making it an essential release for any fan of '50s sci-fi fantasy.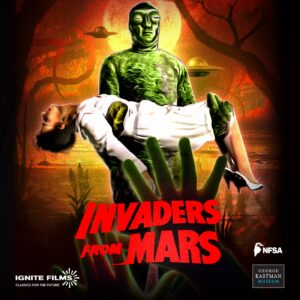 Now, I will admit that if "Invaders" was produced before your time – be it the theatrical run or TV airings throughout the '60s and '70s – some of the picture's enduring popularity might be hard to ascertain. Menzies' film about a young boy (Jimmy Hunt) who watches an alien invasion start in his own backyard, taking possession of his parents (Leif Erickson, Hillary Brooke) and others living in Small Town U.S.A., is at its best in its first half. Menzies, the famed production designer of "Gone With the Wind," utilizes expressionistic sets and distorted camera angles to stage a child's nightmare – set against the backdrop of '50s Cold War tensions – to superb effect, especially given the movie's thrifty budget.
However, the second half of the film, once Hunt convinces an astronomer (Arthur Franz) and a doctor (Helena Carter) to call in the troops, plods along with too many military-related scenes and plot elements. One misses the fantastical elements of the invasion itself – the swirling sand pit of doom that lures in unsuspecting humans, and a giant head controlling the "mu-tant" alien goons – elements which have enabled the film to thrive over the many decades since its release.
That said, "Invaders From Mars" is still an effective and fun genre effort from its time, one of the earliest sci-fi films to have been produced in color (SUPERcineCOLOR to be exact) prior to George Pal's "War of the Worlds," which would hit theaters a few months later.
That color vividness, though, has never been replicated as well as here in Ignite's meticulous reconstruction of the film. "Invaders From Mars" fell into the public domain for a while and later languished in inferior home video releases that were struck from "best available" but limp source materials. Ignite scoured the globe, finding healthy elements that were incomplete, and eventually had to pull together their restoration from a myriad of sources, including the OCN and master positives.
The end result is a spectacular 4K UHD (1.37, mono) with HDR10 that offers high detail and color saturation unseen in any previous home video edition or TV broadcast. Credit restoration guru Scott MacQueen with pulling off this essential presentation of "Invaders," and to Ignite for not cutting any corners in this release.
Ignite's UHD also carries new interviews with Jimmy Hunt, Menzies biographer James Curtis, and his eldest granddaughter Pamela Lauesen. There's also a retrospective featurette sporting comments from admirers like John Landis and Joe Dante, amongst other genre luminaries, who detail the film's influence on them. Additional extras include an April 2022 screening intro from John Sayles; before/after restoration clips; alternate scenes (restored in 2K) from the (unnecessarily) expanded International Cut; an extensive still gallery; and in-depth booklet notes from MacQueen, providing a "deep dive" into his restoration work. Bravo to all involved!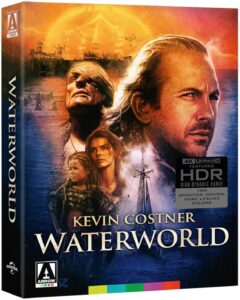 WATERWORLD 4K UHD Limited Edition (136 [theatrical], 176 [TV Version], 178 mins. ["Ulysses" Uncensored TV Version], 1995, PG-13; Arrow): Star Kevin Costner and director Kevin Reynolds' much-derided and yet surprisingly entertaining 1995 sci-fi epic receives a UHD do-over of its 2019 Arrow Blu-Ray Limited Edition.
Basically condemned before its release as an expensive turkey destined to fail, this straightforward Western-on-Water is something like an aquatic Shane with Mad Max overtones, starring Kevin Costner as "The Mariner" – a man with gills in a post-apocalyptic world where the polar ice caps have melted, causing what's left of humanity to live on the open ocean, fighting for survival and the increasingly faint hopes of ever seeing dry land. The Mariner eventually comes to the aid of a floating atoll on its last legs, helping one of its inhabitants (the fetching Jeanne Tripplehorn) and a little girl (Tina Majorino) who's adorned by a mysterious tattoo that may reveal the location of ground. The jet-skiing bad guys, meanwhile, are led by an over-the-top Dennis Hopper, donning an eyepatch as a crazed loon in command of the Exxon Valdez (yes!), one of a few clever touches in Peter Rader and David Twohy's script.
In the cinematic world of the early/mid '90s, when Hollywood was still adapting to the technology of CGI, "Waterworld"'s practical production was a well-documented nightmare. The uncertain, shifting conditions of shooting on the water in Hawaii led to a production that spiraled out of control amongst numerous other problems – yet much to everyone's surprise, the finished product was, and still is, pretty fun. Reynolds' action scenes are crisply staged and the human drama, while familiar, is engaging enough, anchored by Costner and Tripplehorn, with little Majorino delivering a sympathetic turn as the child who might hold the key to humanity's future. On the musical side, James Newton Howard was brought in to replace Mark Isham when Costner took the film over from Reynolds, and his rousing, swashbuckling soundtrack is one of the film's chief assets.
"Waterworld" stayed afloat in theaters and didn't turn into the "Ishtar"-esque turkey most pundits had expected, even though the best version of the film wasn't seen on-screen. For that, fans had to catch the film when it premiered a few years later on television.
First broadcast on ABC, the two-part (later combined into one single 177-minute edit for DVD) version of "Waterworld" features a great deal of added character development as well as an interesting coda to the picture's ending. Along with a number of alternate takes (detailed here), many fans ultimately embraced this cut – which Universal released on DVD over a decade ago – as a more fleshed-out epic compared to the 136-minute theatrical version. Going one step further, enterprising fans eventually compiled the added TV material into a so-called "Ulysses Cut" that restored the profanity and slight trims from the PG-13 theatrical release, thereby creating a "definitive" edit of the longer version.
Arrow's UHD is a virtual reprise of its 2019 Blu-Ray limited edition set (long since sold out) with the added benefit of the UHD offering a Dolby Vision HDR/Dolby Atmos presentation of the movie's theatrical cut. This transfer is more or less in line with Universal's standalone HDR10-mastered UHD disc (just with Atmos instead of Universal's use of DTS:X, and DV instead of HDR10), so fans will want to gauge whether or not the bounty of extras and deluxe packaging Arrow produced here is worth another dip into the seas of "Waterworld."
As with before, Arrow's box compiles all three of these versions, with the theatrical cut on 4K UHD and the "Ulysses Cut" and TV version contained on separate Blu-Ray discs. Both 5.1 and 2.0 DTS MA soundtracks are present but the 5.1 is much more impressively layered and presented with discrete channel information.
Arrow's supplements are, once again, highlighted by "Maelstrom: The Odyssey of Waterworld," a feature-length doc that includes new interviews with producer Charles Gordon, director Kevin Reynolds, original writer Peter Rader, cinematographer Dean Semler and other crew members. This is a lengthy and watchable retrospective that dispels some of the press-generated rumors that cropped up during production, though on the whole, this isn't nearly as meaty as one would expect given the movie's reputation as a result. Ample time is devoted to detailing the technical aspects of the shoot, but cast members aren't on-hand outside of archival interviews, and the 102-minute running time is extended by an excess of film clips. There is some talk about Mark Isham's original score late in the game, which was removed in favor of James Newton Howard's more robust "swashbuckling" effort, but surprisingly little conversation about the restored material that comprises the longer edits of the picture.
Also included are "Dances With Waves," an archival EPK featurette; Glenn Kenny's look at ecological-apocalypse films, "Global Warnings"; still galleries and a full run of trailers. It's all capped in the Limited Edition by a 60-page book sporting booklet notes and six collector's postcards. Overall, if you missed the previous Blu-Ray box and have UHD capability, this comes highly recommended!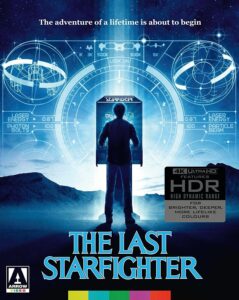 THE LAST STARFIGHTER 4K UHD (101 mins., 1984, PG; Arrow): Back when sci-fi movies were about more than just special effects, along came "The Last Starfighter," a sleeper hit in the summer of 1984.
Lance Guest plays a high school student and college hopeful who finds out his high score on the video game "Starfighter" is worth more than a few bonus tokens. Guest is soon whisked away to another galaxy by a Harold Hill-like hustler (Robert Preston, utterly charming here) to save the universe with the help of an extraterrestrial co-pilot (Dan O'Herilhy). Will Guest save the day, or will his heart forever belong to his loving girlfriend (Catherine Mary Stewart) back on Earth?
The combination of Jonathan Betuel's script with Nick Castle's on-target direction results in a marvelously entertaining movie that mixes sci-fi with comedy and an appealing romance between Guest and Stewart. The performances are all terrific, from the appealing young leads to old pros Preston and O'Herilhy, while Craig Safan's outstanding score — one of the finest of the 1980s — graces the drama and enhances the movie at every turn.
While the movie's effects were cutting edge for their time (and have, obviously, dated a little bit), "The Last Starfighter" wasn't just another "Tron." The film's enormous amount of heart and warm characterizations continue to sustain the film decades after its original release, making it one of the best of the so-called "'Star Wars' clones" that followed the release of George Lucas' original classic.
Arrow's 4K UHD edition of "The Last Starfighter" – debuting a 4K Dolby Vision remaster from the original camera negative – provides a much-needed enhancement on the soft, mediocre HD releases Universal provided years ago on Blu-Ray and HD-DVD. This 4K encode offers immediate and appreciable gains in detail, skin tones, and overall clarity from that murky looking old HD master (as well as modest gains over Arrow's own 2020 Blu-Ray release, which was derived from the 4K) while boasting your choice of 2.0, 4.1 and 5.1 audio mixes. The 4.1 track is a specially nice inclusion here, having been mixed to accompany the 70mm theatrical release of the movie.
Carried over from the 2020 disc are supplements including a commentary with Lance Guest and his son, Jackson; new interviews with Catherine Mary Stewart, Craig Safan, Jonathan Betuel, FX supervisor Kevin Pike, author Greg Bear (discussing the company that produced the CGI FX), and a talk with Estil Vance, an arcade collector who attempted to reconstruct the movie's Starfighter game. Meanwhile, extras reprieved from the earlier Special Edition DVD include commentary with Castle and production designer Ron Cobb, plus a 30-minute look at the production of the movie (and primarily its visual effects). The original trailer and image galleries make for another essential Arrow UHD upgrade.
MALLRATS 4K UHD Limited Edition (96/123 mins., 1995, R; Arrow): Kevin Smith's "Mallrats," his 1995 first "studio" film, is sillier, less pretentious, and in some ways more satisfying than most of his "indie" efforts. In this 1995 Gramercy release, Jeremy London and Jason Lee head to the mall after being dumped by their respective girlfriends (Shannen Doherty and Claire Forlani), where they run into Jay & Silent Bob, try and ruin Michael Rooker's game show, and win their significant others back. The film is unabashedly silly and just goes for laughs more than anything, but it's not a bad virtue to have, with the dated nature of some of the humor now amplified by the disintegration of the American mall over the decades since its release.
"Mallrats" has been brought to home video a number of times before, and this 4K UHD (Dolby Vision HDR) presentation offers a dynamic new transfer in otherwise the same package as Arrow's 2020 Limited Edition Blu-Ray. As with before (but now with the benefit of Dolby Vision HDR), Arrow's exclusive, new restoration houses both cuts of the film — the original theatrical cut and an extended version (123 minutes), featuring virtually all of the supplements from the movie's initial home video release. This UHD transfer (1.85) has been supervised by Smith and cinematographer David Klein while both 5.1/2.0 DTS MA are soundtracks on-hand. Arrow has also included the sanitized TV cut and new interviews with Smith, Jason Mewes, Daniel Klein and others who worked on the shoot. An archival Making Of is included along with the same commentary track, additional outtakes, featurettes and as much "Mallrats" as a Smith devotee can handle.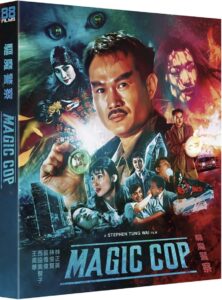 MAGIC COP Blu-Ray (88 mins., 1990; 88 Films): Zesty concoction of martial arts, horror components and comedy with "Mr. Vampire" star Lam Ching Ying essaying another cop who embraces the power of magic in order to stop a villain using zombies to smuggle drugs into Hong Kong. An entertaining and certainly energetic picture typical of late '80s HK cinema, "Magic Cop" is presented here by 88 Films in a 1080p (1.85) transfer with 2.0 and 5.1 audio options in either Cantonese (via its original soundtrack or its "home video mix") or an English dub. Extras include a commentary with Frank Djeng and Marc Walkow, interview with Tung Wei, the Taiwanese cut with an alternate score, plus limited-edition slipcase/poster and a stills gallery.
BROKEN MIRRORS Blu-Ray (110 mins., 1984; Cult Epics): While a serial killer kidnaps a housewife, two workers at the brothel he frequents decide to turn their fortunes around in Marleen Gorris' 1984 film "Broken Mirrors." A well-reviewed if disturbing picture about sexual power (or lack thereof), Cult Epics brings the film to Blu-Ray this August in a new 4K transfer from the original 35mm negative (1.66). Peter Verkstraten provides a commentary with US "sex worker" Margot St. James interviewed in a 1984 piece provided here on the supplemental side.
WHAT THE WATERS LEFT BEHIND: SCARS Blu-Ray (90 mins., 2023; Cleopatra/MVD): Sequel to the 2020 indie horror outing takes up with a new set of characters – a rock band – which squabbles en route to a gig, breaks down on the road, and finds haunted ruins nearby. Nothing goes well from there – obviously! Cleopatra's Blu-Ray, out July 11, includes a 1080p transfer, DTS MA sound and bonus trailers.
NEXT TIME: Kino Lorber July Rundown! Until then, don't forget to drop in on the official Aisle Seat Message Boards and direct any emails to our email address. Cheers everyone!