Message Board (open 24 hours!)
Twitter - @andredursin (for everything else!)
Originally intended as an epic, two-film collaboration between director David Lean and writer Robert Bolt, THE BOUNTY (131 mins., 1984, PG; Imprint) endured the rough seas of development hell that nearly wiped out the duo's planned adaptation of "Mutiny on the Bounty." By the time the film was made, the passage of time had dropped Lean and an ailing Bolt out of the project, but producer Dino DeLaurentiis continued undaunted after star Mel Gibson expressed an interest in the material.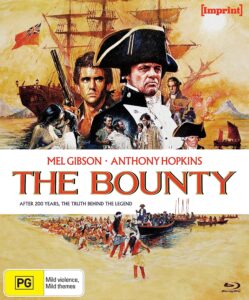 The eventual film that was made from Bolt's script, "The Bounty," is an underrated, highly entertaining film presenting a Captain Bligh (Anthony Hopkins) and Spencer Christian (Gibson) that are neither "good" nor "bad," but rather each sympathetic to a degree. That "neutral" rendering on the part of director Roger Donaldson and the stars was intentional, and makes for an absorbing character study played out against spectacular widescreen visuals courtesy of Donaldson and cinematographer Arthur Ibbetson. Also outstanding is Vangelis' synthesized score, which is unconventional yet never feels out of place save for a "drum machine" end credits arrangement of the main theme.
Imprint's appropriately bountiful Blu-Ray box-set, newly released this month, showcases the type of marvelously produced supplemental package the label does so well. First off, on a technical level, the disc offers a gorgeous 1080p (2.35) new transfer from a 4K scan of the OCN; whether or not "The Bounty" ever makes it to UHD (and it's probably doubtful), this is an exceptional new transfer that surpasses the earlier MGM master seen in releases from Twilight Time among others. Both 5.1 DTS MA and 2.0 LPCM stereo tracks are on-hand, along with the same isolated (mono) music track TT included on their Blu-Ray years back.
Supplements in this two-disc set include, on the first disc, two archival commentaries first heard in a European DVD release (one by historical consultant Stephen Walters, the other with Donaldson, producer Bernie Williams and production designer John Graysmark), plus the Edward Fox-narrated "The Making of 'The Bounty'," released to coincide with the film, and a Walters-narrated 2004 visual essay from the same UK DVD.
The second disc Imprint includes here is rich with special features that bring the viewer a full appreciation of not just the finished product, but also the David Lean version that came so heartbreakingly close to happening. That element is a major part of "A Fated Ship," a 1981 New Zealand TV documentary looking at the construction of "The Bounty" replica before the plug was pulled on Lean's vision. There's also a 1984 doc, "In Bligh's Wake," examining the trip that occurred several years later when The Bounty sojourned from its New Zealand port to Tahiti in order to participate in the film's production.
These vintage docs are packed with priceless archival footage and are enhanced with all-new interviews covering the production of the final "Bounty" film. These include conversations with director Roger Donaldson (who was originally set to direct "Conan the Destroyer" before Dino moved him onto this project), members of the crew, dubbing mixers, and 2nd unit cameraman Doug Milsome, all of whom reflect on the shoot. There's also a look at the different adaptations of "Mutiny on the Bounty" as well as a career-encompassing overview of Vangelis' work from Daniel Schweiger.
Packaged in a hardbound box with a glossy booklet sporting the original production notes and new comments from Stephen Walters, this is a must for any fan of the film or even a casual viewer who might be hitting the high seas with "The Bounty" for the first time.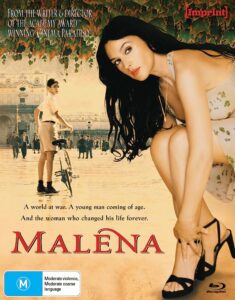 Giuseppe Tornatore's MALENA (108 mins., 2000; Imprint) was, much like his earlier (and best known) film "Cinema Paradiso," cut down by the Weinsteins for its poorly-received U.S. release via Miramax. The original version has been scarcely circulated over the years – and never in North America – but nevertheless stages a comeback this month via a reappearance in Imprint's Limited Edition Blu-Ray.
Like "Cinema Paradiso," Tornatore's film is a nostalgia-bathed tale of growing up in a small Sicilian town, this time during WWII. His protagonist here is Renato (Guiseppe Sulfaro), a teenage boy whose growing sexual appetite is lit by the curvaceous Malena (Monica Bellucci), a mysterious single woman whose reputation becomes sullied via the gossip and rigidness of the townspeople surrounding them.
While Tornatore's longer edit of "Cinema Paradiso" is a little too uneven – making its U.S. shortening at least understandable if not preferable – Miramax's cuts to "Malena" were more detrimental. The film's overriding message is clear, but Tornatore still mixes in some hilarious anecdotes with movie-inspired dream sequences of young Renato and Malena that were mostly excised from the American version. These changes made for a disjointed picture that plays much more smoothly in Tornatore's original edit, which is also more successful at getting inside the hormone-raging mind of its lead character, while providing viewers additionally revealing glances at Bellucci's beauty. The film doesn't quite capture the emotional range of "Cinema Paradiso" but it's a very entertaining film with superb, Oscar-nominated cinematography by Lajos Koltai that captures time and place, as well as a moving conclusion.
The original, full cut of "Malena" was only released on Blu-Ray in a Korean release several years back. Not having seen it, I can't compare it with Imprint's effort, which on its own terms offers a splendidly encoded 1080p (2.35) presentation of a 2K scan of the Italian version. Details are clear while the high bit-rate 5.1 DTS MA sound is perfectly mixed, preserving clear dialogue and Ennio Morricone's score.
Special features include the Italian TV doc "The Life & Dream of Giuseppe Tornatore," plus assorted featurettes and interviews with Tornatore and Morricone from the time of the movie's production. There's also recording session footage of the score, the trailer and TV spots as well.
---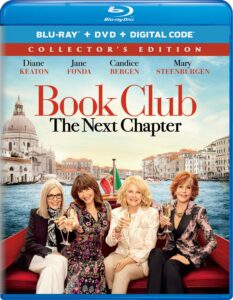 Quick Takes
BOOK CLUB: THE NEXT CHAPTER Blu-Ray (107 mins., 2023, PG-13; Universal): The four ladies comprising "The Book Club" are back – Diane Keaton, Jane Fonda, Candice Bergen and Mary Steenburgen – for another trip, this time to Italy where they're able to again break through the confines of their day-to-day existence for a bit of self-realization (and fun, of course). Director Bill Holderman returns here alongside writer/producer Erin Simms for this follow-up which offers the same kind of breezy entertainment for an older demographic as its predecessor, this time augmented with Italian locales. The ladies are all in fine form, while Giancarlo Giannini, Andy Garcia, Craig T. Nelson and Don Johnson lead the equally veteran male support. Three featurettes, 1080p (1.85) transfers, 5.1 DTS MA sound and a Digital HD copy are included with a DVD in the newly released combo pack.
ARE YOU THERE GOD? IT'S ME, MARGARET Blu-Ray (106 mins., 2023, PG-13; Lionsgate): Judy Blume's classic young-adult novel took decades to reach the screen, finally doing so this past spring as a feature from award-winning producer James L. Brooks. While not the box-office hit that was initially forecast, writer-director Kelly Fremon Craig's film is a sensitive, poignant adaptation of its period-set source about a precocious young 11-year-old (Abby Ruder Fortson) dealing with all kinds of issues after her mom (Rachel McAdams) moves her outside New York City, to a new school and new life. Fortson is superb as is McAdams and Kathy Bates as Margaret's grandmother; not really a "kids movie" at all, adults and especially those having familiarity with the source material will get the most mileage out of it. Lionsgate's Blu-Ray (1.85, Dolby Atmos) is out this week, including the DVD, a Digital HD copy, multiple featurettes, deleted scenes and the trailer.
ONE RANGER Blu-Ray/DVD (96 mins., 2023, R; Lionsgate): Thomas Jane plays a Texas ranger who tracks a bank robber all the way to jolly o'l England, where he's forced to team up with a local agent (Dominique Tipper) and her supervisor (on-demand mainstay John Malkovich). Jesse V. Johnson helmed this pretty down the middle "contemporary western" now on Blu-Ray (2.39, 5.1 DTS MA) featuring commentary, deleted scenes, a featurette, DVD and Digital HD copy.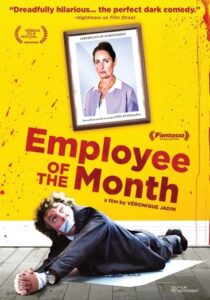 Film Movement New Releases: A cleaning supply employee (Jasmina Douieb) and an intern (Laetita Mampaka) find themselves dealing with blood on their hands in the comedy EMPLOYEE OF THE MONTH (79 mins., 2022), a Belgian import Film Movement debuts on DVD July 11th (1.85, 5.1/2.0 French with English subtitles)…Chinese director Wen Shipei's ARE YOU LONESOME TONIGHT? (95 mins.) is a solidly crafted thriller about a man (Eddie Peng) who hits a pedestrian, only to later find out – after falling for the dead man's wife (Sylvia Chang) – that the body was filled with bullets. A dogged detective (Wang Yanhui) is also on the case in this engrossing film, on DVD July 18th (2.35, 5.1/2.0 Chinese with English subs) along with Shipei's 27-minute short "Killing Time."
Mill Creek Double Features: The enduring lesson stemming from the release of WHITE NOISE (2005, PG-13) seems to be that even badly-reviewed horror movies could fill theaters in the dead of winter, a time previously – at least before COVID – renowned for freezing audiences out of theaters. Mill Creek's double-feature Blu-Ray pairs the then-groundbreaking – yet not very good – Michael Keaton supernatural thriller with its Canadian-lensed, direct-to-video sequel WHITE NOISE 2: THE LIGHT (2008, PG-13) starring Nathan Fillion and Katee Sackhoff. Both films contain 1080p (2.35) transfers with 5.1 sound and extras including commentaries and featurettes.
More recommended is a Richard Pryor double-bill that includes the goofy WHICH WAY IS UP (1977, R), which provides the comic with a trio of roles in a Carl Gottlieb/Cecil Brown written remake of Lina Wertmuller's "The Seduction of Man"; plus the John Badham-directed THE BINGO LONG TRAVELING ALL-STARS AND MOTOR KINGS (1976, PG), a serio-comic look at a '30s Negro League team that also features James Earl Jones and Billy Dee Williams in its outstanding cast. Both films debut on Blu-Ray in the U.S. with capable Universal HD masters (1.85, mono) in an affordable, single-disc Mill Creek double-feature.
NEXT TIME: INVADERS FROM MARS '53 on 4K UHD! Until then, don't forget to drop in on the official Aisle Seat Message Boards and direct any emails to our email address. Cheers everyone!