Message Board (open 24 hours!)
Twitter - @andredursin (for everything else!)
Fizzling out at the Fourth of July box-office like a wet firecracker, the much-maligned INDIANA JONES AND THE DIAL OF DESTINY (**) serves up a leaden array of endless action scenes with a miserable female lead and a dour Indiana Jones who's lost his mojo.
Steven Spielberg had the good sense to say no to this first Indy adventure produced under the Disney regime and Lucasfilm executive Kathleen Kennedy, whose creative miscalculations are as evident here as they've been within her turbulent productions in a galaxy far, far away. It's just unfortunate Harrison Ford didn't veto this project as well, or at least hold out for another rewrite of a script cobbled together by a series of writers including David Koepp and this movie's director, James Mangold.
What's on-screen is a messy film sorely missing Spielberg's humanistic sensibilities, as well as a leading lady who could've better supported Ford, who here plays a retiring Professor Jones as well as, in the movie's opening sequence, a younger version with "de-aging" FX that only fail whenever you hear the actor's older, gravely voice coming from his more youthful looking visage. Indy's involved in yet another globe-trotting adventure here – this time circa the late '60s – to find the title device, one that takes him into contact with a Nazi (Mads Mikkelsen) trying to turn back the clock, literally, and the daughter (Phoebe Waller-Bridge) of a former archaeologist colleague (Toby Jones). She's a plucky sort who really doesn't want Indy around, has a Short Round-wannabe tagging alongside her, as well as a conflicting set of priorities apparently meant for viewers to draw a parallel with the Indy character from the original "Raiders" – but that's pretty much where that comparison completely ends.
Presumably one of the four credited writers on this movie did, in fact, have a good idea going involving a trip to the past and Indiana Jones, at different stages of his life, being involved in an adventure that spanned decades…but this movie manages to completely bungle whatever potential that premise originally had. A reasonably diverting first 20 minutes and an OK final reel bookend an exhausting string of frenetic action scenes, all shot in the modern blockbuster style, that offer next to no dramatic engagement. It's made even worse considering the film's Disney-fied run time of some 2½ hours – nearly a half-hour longer than any previous entry in this series, and yet the picture doesn't make that additional run time count where it really matters.
Ford is trying hard – and looks better here than he did in the previous (also misfired) entry in the franchise, "Kingdom of the Crystal Skull" – but he still needed some support and, there's just no way around it, Waller-Bridge is completely miscast. Beyond the annoying scenes of her constantly talking down to/saving Indy, Waller-Bridge is never appealing all in this role, which obviously was intended by Kathleen Kennedy to pivot off this movie into her own franchise. But in a sign of how poorly judged her casting was — because it truly sinks this movie — she's completely out of her element throughout. Even reported re-editing that removed some of her character's most obnoxious lines — if that happened — can't compensate for just her general performance, which fails on its own basic terms.
On a visual level, cinematographer Phedon Papamichael is more adept than "Crystal Skull"'s DP Janusz Kaminski and "Dial of Destiny" proves to be a sunnier looking film – even though there are lots of dead bodies (RIP Antonio Banderas, 3rd billed for 5 lines of dialogue) and a tone that's just unrelentingly "down". When Indy talks about his dead son and keeping him from being shot up in Vietnam, there's an element of "reality" being thrown into the fabric of this Saturday Matinee, comic book franchise that never existed before…and really doesn't belong here. After you digest that depressing moment, instantly you know there's never going to be any genuine relief for Indy that will save his aching heart — no wonder why the film was clearly setting the character up for a sacrificial finale. With a reported $295 million budget (!), it's clear loads of post-production work went on, leading to an obviously reshot finale that brings back a certain someone ("you won't believe your eyes"…said no one ever!) — but there's scarcely any "joy" to be felt there…or from really anything else in the film. The Spielberg touch — even given how lifeless "Crystal Skull" was — is sorely missed.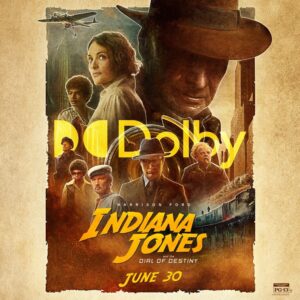 Musically, the disappointment extends to John Williams' frenetic, thankless score, which has no chance to do anything but serve up leftover "Greatest Hits"-styled scraps during the interminable action scenes. There's little "down time" for drama, or human engagement, or scenes where characters really interact in a way that doesn't have to do with the plot or setting up whatever action scene is coming next.
"Dial of Destiny" is an easy sequel to dismiss, but before anyone goes "you're just an aging fanboy who wouldn't have been happy with anything," I'll add a few easy ways this picture might've been good – and acknowledge straight up that time travel wasn't a bad idea. The '60s setting held promise. And sure, using a young lead to throw some of the load off an elderly Indy was also a good idea…in concept. The problem is James Mangold and this "writing staff" failed to find the potential right in front of them — even though they had cast another female lead who was perfectly capable, in this very movie, in the form of Shaunette Renée Wilson, playing a young government agent in sizzling '60s attire, who blows Waller-Bridge off the screen in terms of charisma. One could've seen her playing some funky grad student of Indy's, getting wrapped up in a zippy time-travel adventure that might've served up a great deal of fun and contrast with Ford's "get off my lawn" old professor. Instead, after a few minutes of injecting some life on-screen, her character ends up dead — just like the movie. (154 mins., PG-13)
TOMORROW: A Kino Lorber 4th! Until then, don't forget to drop in on the official Aisle Seat Message Boards and direct any emails to our email address. Cheers everyone!