Message Board (open 24 hours!)
Twitter - @andredursin (for everything else!)
Two of director John Frankenheimer's best films hit 4K UHD this month from Kino Lorber, one representing a picture from the director's earliest – and most prolific – time frame, as well as a later thriller that marked a career comeback. Both pictures include superb new MGM licensed 4K masters with Dolby Vision HDR and a number of extras as well.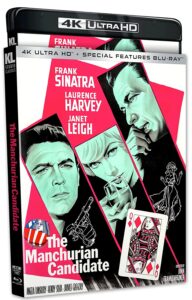 Despite being plundered in a pointless, early 2000's remake from director Jonathan Demme, Frankenheimer's THE MANCHURIAN CANDIDATE (127 mins., 1962, PG-13) remains one of the top political thrillers of all-time – if not the definitive movie of its genre – for its performances (Frank Sinatra, Laurence Harvey, Janet Leigh, and a chilling turn from Angela Lansbury), script (George Axelrod adapted Richard Condon's novel), and taut, efficient Frankenheimer direction, the latter clearly years ahead of its time.
Despite being out of circulation for over two decades, MGM re-issued the movie to a new generation of viewers and critics back in the late '80s, leading to a flurry of releases across numerous platforms from various labels. What marks Kino Lorber's 4K UHD (1.85, mono) is the debut of a new Dolby Vision HDR presentation, derived from a 4K scan of the 35mm original camera negative. Similar to last month's "Night of the Hunter" UHD, this is an impressive presentation for its additional grain and enhanced texture compared to previous releases, showing even older B&W films can benefit from HDR implementation. Both 5.1 and 2.0 mono soundtracks are included, along with a number of older MGM extras (note the Blu-Ray remains a Criterion exclusive, so the included BD here only houses supplements). In addition to interviews conducted in the late '80s with the principals (Sinatra, Frankenheimer, and Axelrod), two later retrospective featurettes are also on-hand: "Queen of Diamonds" with Angela Lansbury and "A Little Solitaire" with director William Friedkin. Both share their views on the film and its legacy, while the original commentary track with Frankenheimer has also been included.
Frankenheimer's last solid film, RONIN (121 mins., 1998, R), also receives a commendable UHD from Kino Lorber with a new scan of the original camera negative bolstered by Dolby Vision HDR, plus a Blu-Ray boasting a 1080p edition of this same 4K remaster.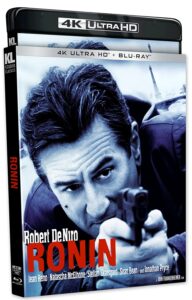 Frankenheimer's realistically filmed and impressively staged action sequences — which were a precursor to (and possible influence on) the "Bourne" pictures — were seldom more effective than they were in "Ronin," a low-key, taut, and decidedly old-fashioned thriller that enabled the director to concentrate on what he does best — provide excitement without padded exposition or reliance on visual effects. Especially when viewed in 2023, it's refreshing to see a film that's fully satisfied to create a skillfully told, if leisurely, tale that wouldn't have been made any different decades before.
Robert DeNiro and Jean Reno are the principal leads in the simple, straightforward and uncluttered plot, co-written by David Mamet under a pseudonym, which could be best described as a more realistic rendition of the James Bond movies some years after the fact, in that the characters are former mercenaries and government employees, but seeking work in a world where the employers and secret packages are more suspect and deadlier than ever.
The performances of DeNiro, Reno, Natascha McElhone ("The Truman Show"), and Jonathan Pryce give the material the required nuance, double-crossing and deceit that it needs, but it's really Frankenheimer's show all the way. The French locales add immeasurably to the atmosphere and mood of the picture, while the car chase sequences — much discussed and lauded by critics and fans — deliver the goods in such a manner that you wonder why many prerequisite auto pursuits are so bland by comparison. With crisp editing and a pounding pace, Frankenheimer illustrates that pure filmmaking beats CGI, blue-screen, and other modern forms of filmmaking trickery any day of the week. From Nice to the tunnels of Paris, Frankenheimer evokes favorable comparisons to the equally dizzying set-pieces of his more memorable films ("French Connection II," "Black Sunday") via the movie's two extended, masterfully executed car chases, which certainly rank as some of the finest action filmmaking of the '90s.
Kino Lorber's 4K remaster looks tremendous here on UHD, the 4K (2.39) scan appearing potent and 5.1 DTS MA sound replicating the original audio design. Extras are included in the Blu-Ray (also derived from the same 4K scan), reprising MGM's older supplemental package. The original disc's alternate ending and commentary with Frankenheimer have been reprieved, while a handful of featurettes (most running 10-20 minutes) include a look at Tony Gibbs' editing, Robert Fraisse's cinematography, and Elia Cmiral's score to name a few. Vintage interviews from the Venice Film Festival and the original Making Of featurette make for a nice cap to a solid package all around.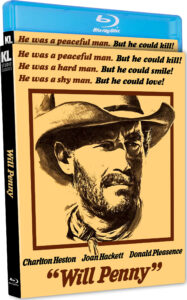 Vintage, Drama & More June Releases
WILL PENNY Blu-Ray (109 mins., 1968, G): Though Charlton Heston's later career performances are often relegated to a discussion of "Planet of the Apes" or "Soylent Green" amongst movie buffs, there are some classic performances by Heston that many folks tend to overlook, and his role as "Will Penny" in Tom Gries' truly excellent, wonderfully written latter-day western is understandably viewed as one of his finest.
Heston plays Will, an aging cowhand who rambles along from job to job, trying to find work before winter sets in and takes its toll on his tired body. After running into young wife Joan Hackett and her young son (Gries' own real-life son, Jon) on their way west, Will is attacked by a group of thieves (including Donald Pleasence as a deranged preacher and Bruce Dern in one of his countless roles as a psycho villain) that nearly costs him his life. Fortunately, Hackett nurses Will's broken bones and falls in love with the hard-working man, who ultimately has to choose between his own needs and her future, balancing hopes and dreams with reality.
Although critics don't generally look at "Will Penny" as a "post-modern" western like "The Wild Bunch," this fine film is a realistic and honest look at a tough yet equally moral man who is torn by having to choose between his real affections for the (married) mother and son, and the reality that his own life is approaching its sunset. The movie manages to be emotional and subdued at the same time, getting mileage out of Heston and Hackett's superb performances, not to mention excellent support turned in by Lee Majors (in his first starring role), Anthony Zerbe, Ben Johnson, and Pleasence as the heavy. If there's one area where Gries' script comes off as formulaic, it's the ruthless gang of thugs lead by Pleasence and son Dern, which seem identical to so many of the PG-rated, sadistic villains seen in other westerns (particularly "The Cowboys") during the late '60s and early '70s.
Otherwise, "Will Penny" is essential western viewing, made even more memorable by Lucien Ballard's cinematography and David Raksin's superb score. A new 4K scan of the 35mm original camera negative (1.85, mono) is on-hand in Kino Lorber's Blu-Ray with a fresh commentary featuring historians C. Courtney Joyner and Henry Parke along with the movie's script supervisor, Michael Preece. The disc also carries over retrospective featurettes produced for Paramount's DVD, including a look at the movie with Heston and Jon Gries among others, along with a brief look at "The Cowboys of 'Will Penny.'"
MR. WONG COLLECTION Blu-Ray: Monogram Pictures wasn't renowned for their production values, cranking out B-pictures for several decades, through the Great Depression and WWII, and into the early days of TV. They did score a major coup when they signed Boris Karloff at the height of his fame to play Mr. Wong – an Asian detective in a handful of movies intended to replicate the success of Fox's (far superior) Charlie Chan series. These five pictures – talky as they may be – do offer Golden Age fans the ability to see Karloff sleuth through a number of mysteries, presented here in Kino Lorber's Blu-Ray anthology in HD for the first time. The MGM licensed 1080p masters (1.33 B&W) include Karloff's five Wong pictures, "Mr. Wong, Detective" (1938), "The Mystery of Mr. Wong" (1939), "Mr. Wong in Chinatown" (1939), "The Fatal Hour" (1940) and "Doomed to Die" ["Mystery of the Wentworth Castle"] (1940), with the original also offering a commentary by Tom Weaver and Larry Blamire. These movies lack the production sparkle of the Chan pictures but Karloff buffs and Golden Age mystery aficionados should still be pleased with their long-overdue release in HD.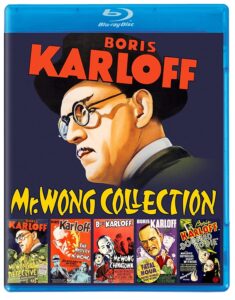 DUET FOR ONE Blu-Ray (107 mins., 1986, R): Before the sun set on the cinematic aspirations of Golan-Globus, Cannon Films attempted several "prestige" projects to go along with their usual diet of Chuck Norris, Charles Bronson and Tobe Hooper. One of these was this Andrei Konchalovsky adaptation of Tom Kempinski's play about a MS-afflicted violinist (Julie Andrews) whose husband (Alan Bates) carries on an affair while her career comes to an apparent end. A vehicle for Andrews, who's supported here by the likes of Bates, Max Von Sydow, Rupert Everett and Liam Neeson, "Duet For One" is a strange movie with good performances, ending on a curious note that's in keeping with Cannon's oddball film output from the era. Seldom shown over the years, Kino's Blu-Ray includes a new 2K scan (1.85) of the 35mm interpositive with a new commentary by Daniel Kremer on-hand.
PRISON GIRLS 3-D Blu-Ray (88 mins., 1972): Cult director Tom DeSimone's 1972 drive-in fave "Prison Girls" was noteworthy for being, in its own words, "the first real adult film in 3-D!" Naturally, some soft-core entertainment is on-hand here, but the real benefit to the picture is the 3-D Film Archive's restoration (1.85) which includes both a proper polarized transfer plus, for those of us without 3-D playback capability at this point, a new anaglyphic (red/cyan) transfer that's perfectly respectable in its own right. A deleted scene, the trailer, and a new commentary by historians James G. Chandler and Ash Hamilton comprise the supplemental section in Kino Lorber's Blu-Ray.
Kino Lorber Reissues: Kino Lorber is revisiting a number of their early Blu-Ray titles now with higher bit-rate presentations, resulting in a finer image than their previous iterations – even though they're derived from the same MGM master.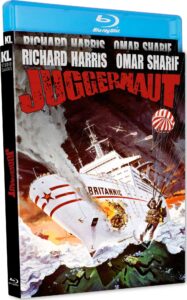 These include JUGGERNAUT (110 mins., 1974, PG), Richard Lester's film about a terrorist seizure of ocean-liner HMS Britannic. Lester, who was brought in to save the troubled production prior to the start of shooting, has the backing of a terrific cast here – Richard Harris, Omar Sharif, Anthony Hopkins, David Hemmings, Shirley Knight and Ian Holm among them – but "Juggernaut" is unfortunately one of Lester's least interesting works, an overly clinical film that's missing a compelling emotional component. Kino Lorber's Blu boasts the same MGM master here maxed out with a superior bit-rate (1.85, mono) and a new commentary by Steve Mitchell and Nathaniel Thompson.
One of Gene Hackman's numerous leading roles from the 1980s, THE PACKAGE (108 mins., 1989, R) offers an attractive pairing of Hackman with Tommy Lee Jones in the story of a veteran military operative tasked with transporting a fellow soldier (Jones) to a court martial – unaware of the vast conspiracy he's tied onto. This Orion release offers another dependable supporting cast including John Heard, Dennis Franz, Reni Santoni and Joanna Cassidy, and the actors keep you going even as Andrew Davis' picture comes close to veering off target several times. A higher bit-rate slightly improves this dated MGM master (1.85, 2.0 stereo) with archival extras also on-hand including a previously shot interview with Cassidy.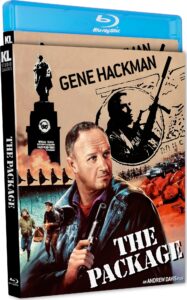 Martin Cruz Smith's bestseller GORKY PARK (128 mins., 1983, R) was turned into a solid if workmanlike Orion release from writer Dennis Potter and director Michael Apted. William Hurt is the Russian detective trying to track down a Moscow serial killer with the KGB trying to throw him off-course. Lee Marvin, Brian Dennehy and Ian Bannen also appear with a fine, potent early action score by James Horner adding to the entertainment. MGM's older master holds up pretty well here (1.85, 2.0 mono) with an Apted interview and full run of trailers/TV spots carried over from Kino's previous disc.
Available with a brand-new 2K scan of the 35mm interpositive is the Dino DeLaurentiis production THE WHITE BUFFALO (97 mins., 1977, PG), the star-studded mix of old-time western and "Jaws" ripoff with Charles Bronson essaying Wild Bill Hickok, driven to find the elusive title creature along with Crazy Horse (Will Sampson). The premise is terrific and Richard Sale's script – based on his own book – may have read fine, but J. Lee Thompson's pokey direction fails to bring the material to life, and even John Barry's mundane score is – for him – a drag. At least Kino brought Bronson authority Paul Talbot along to record a new commentary, while the 1080p (1.85, 2.0 mono) transfer is satisfying.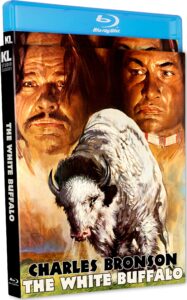 Kino Classics: Two new Kino Classics Blu-Rays celebrate silent films from around the globe. Rin Tin Tin's biggest box-office hit, CLASH OF THE WOLVES (68 mins., 1925), leads the pack, a rugged outdoor spectacle that received a 4K restoration and here debuts a new score by Ben Model. An earlier Rin Tin Tin feature, WHERE THE NORTH BEGINS (73 mins., 1923), set in the Canadian rockies is also included here via a 2K restoration with a score by Jon C. Mirsalis. Anthony Slide also provides a commentary on the former in this double-feature Blu-Ray…Regarded as one of Ernst Lubitsch's top comedies made in his native Germany, THE OYSTER PRINCESS (57 mins., 1919), debuts in a Blu-Ray Kino Classics double-bill alongside his earlier comedy MEYER FROM BERLIN (51 mins., 1919). Both pictures feature commentaries from historian/author Joseph McBride, with German intertitles on the former and, since it was sourced from the Netherlands, Dutch intertitles on the latter (both with English subtitles of course).
Foreign Fare: It seemed every few months back in the '80s and early '90s we'd get an American remake of a French comedy. Touchstone Pictures' library was littered with them, and director Ivan Reitman attempted his own transplant in "Father's Day," with mixed results, despite casting the apparent sure-fire teaming of Robin Williams and Billy Crystal. The original that film was based on, LES COMPERES (91 mins., 1983), is a vastly superior picture, coupling Pierre Richard and Gerard Depardieu in a major box-office hit written and directed by the man responsible for most of those French imports, Francis Veber. "Les Comperes" has been restored here in 2K by Gaumont resulting in an excellent transfer (1.66, French with English subs) with Kino Lorber adding a new commentary by Howard S. Berger, Nathaniel Thompson and Steve Mitchell…An earlier collaboration between the trio of Richard, Depardieu and Veber, LA CHEVRE (94 mins., 1981), is also debuting on Blu-Ray from Kino Lorber in a 2K restoration (1.66, French with English subtitles). This box-office hit was later remade into the Martin Short-Danny Glover U.S. comedy "Pure Luck," and includes another commentary by Berger, Mitchell and Thompson in Kino's Blu-Ray.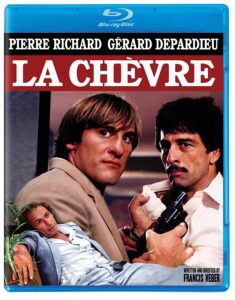 From Raro Video comes a new Blu-Ray restoration of CALIBER 9 (103 mins., 1972), a thriller from Italian genre specialist Fernando Di Leo, starring Gastone Moschin as a small-time crook unable to convince everyone he's trying to go straight. This is a rather extensive remastering, in 4K, from the original negatives for what's regarded as one of Di Leo's best films. Raro's Blu includes a 1080p (1.85) AVC encode with an alternate English dub, documentaries, a photo gallery with Moschin's narration, and a commentary by historian Rachael Nisbet…Carlos Conceicao's TOMMY GUNS (123 mins., 2022) is set in 1974, before Angola's independence from the Portuguese, and mixes up different genres – from colonial commentary and drama to suspense-thriller – in its portrait of disparate characters attempting to escape the inevitable history about to befall them. The director's commentary and deleted scenes are included in Kino's now available Blu-Ray (2.35, 5.1/2.0, English subtitled).
Quick Takes
Also on Blu-Ray: The sensitive Canadian film YOU CAN LIVE FOREVER (96 mins., 2022; GDE/Kino Lorber) paints the relationship between a gay teen, sent to live with her Jehovah's Witness relatives, and the daughter of their "Witness Elder." Sarah Watts and Mark Slutsky's film offers an interesting setting and is now on Blu-Ray from GDE and Kino Lorber (1.85, 5.1/2.0 stereo) with a blooper reel…With THE SEVERING (70 mins., 2019), "Mothman Prophecies" helmer Mark Pellington spins an unusual dance film here alongside choreographer Nina McNeely. A still gallery, commentary, music video and a 1080p (1.33, 2.0 stereo) transfer are on-hand in Kino Lorber's now-available Blu-Ray…Hou Hsiao-hsien's MILLENNIUM MAMBO (105 mins., 2001, R) serves up a stylish look at characters in a quasi-futuristic Taipei, with vivid colors and sounds enhanced via a new 4K restoration. Metrograph Pictures' Blu-Ray (1.85, 5.1/2.0 Mandarin with English subtitles) offers a re-release trailer, video essay by Adrian Martin and Cristina Alvarez Lopez, and a commentary from critic K. Austin Collins.
Zeitgeist Films brings viewers two Blu-Rays featuring the works of indie director Peter Greenaway, starting with his 1992 smash THE DRAUGHTMAN'S CONTRACT (108 mins., 1992), the offbeat 17th century mash-up of mystery, costume drama and eroticism that propelled Greenaway – as well as composer Michael Nyman – onto international fame. A new BFI 4K restoration (1.66, 2.0 stereo) leads this Zeitgeist Special Edition including four deleted scenes, Greenaway shorts, a brief interview with Michael Nyman, behind-the-scenes footage, the director's commentary and video introduction. Another Zeitgeist Blu-Ray, this one a two-disc set, features Greenaway's earlier A ZED & TWO NOUGHTS (116 mins., 1985), coupled here with the strange quasi-documentary THE FALLS (194 mins., 1980). Video pieces from Greenaway are also on-hand plus two more '70s Greenaway shorts and introductions from the filmmaker…Also out from Zeitgeist is a new 4K restoration of TALES FROM THE GIMLI HOSPITAL REDUX (64 mins., 1988), Guy Maddin's eccentric film about two men sharing a room in a Manitoba hospital circa the turn of the 20th century. A new commentary by Maddin is on-hand alongside the director's 2000 short "The Heart of the World" (1.37, 2.0 stereo)…Finally, new on DVD from Zeitgeist is Pierre Foldes' BLIND WILLOW SLEEPING WOMAN (108 mins., 2022), an animated adaptation of Haruki Murakami stories that employs a stylized, striking 3D motion capture process. MPI's DVD includes the trailer, featurettes, a 16:9 transfer and an alternate French audio track.
DVD New Releases: Film preservation takes center stage in the Spanish/Canadian documentary FILM: THE LIVING RECORD OF OUR MEMORY (124 mins., 2021), wherein director/writer Ines Toharia meets with film archivists, curators, and directors including Ridley Scott, Costa-Gavras and others. An important look at the preservation of art in the digital age and the often political barriers that exist today in keeping art from fading away (16:9)….CINEMA SABAYA (95 mins., 2022) examines both Palestinian and Israeli women who attend a video workshop where they learn about their collective similarities. Director Orit Fouks Rotem's acclaimed film (16:9, 5.1/2.0 Arabic/Hebrew with English subtitles) is now on DVD featuring cast/crew interviews and a Q&A panel featuring the director.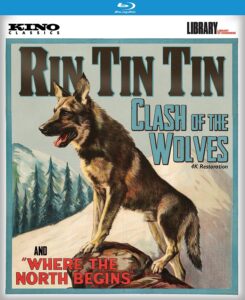 CONCERNED CITIZEN (81 mins., 2022): Israeli black comedy follows a socially progressive man's attempt to "improve" his Tel Aviv neighborhood. The subsequent fallout from his well-intentioned plan comprises Idan Haguel's contemporary-set picture, on DVD from Greenwich Films and Kino Lorber (16:9, 5.1/2.0 Hebrew with English subtitles)…PARAGOLD (85 minsa., 2022): A quartet of Paralympic equestrians are profiled in Ron Davis' documentary, filmed at the 2020 Paralympic Games in Tokyo (16:9, stereo)…NAM JUNE PAIK: MOON IS THE OLDEST TV (109 mins., 2023) is Amanda Kim's documentary about Paik, an American avant-garde artist renowned for his work in the video realm. Kino Lorber's DVD boasts a 16:9 transfer with 5.1/2.0 stereo sound…Finally, SUBLIME (100 mins., 2022) hails from Cinephobia Releasing and premieres, on DVD, Mariano Biasin's portrait of gay adolescents. A full slate of supplements on the DVD (16:9, 5.1/2.0 Spanish with English subtitles) incorporates Biasin's commentary, a photo reel, music video, and a Making Of segment.
---
New From MVD
McBAIN Blu-Ray (104 mins., 1991, R; Synapse): Christopher Walken turns action hero in director James Glickenhaus' mostly-forgotten early '90s genre exercise. Walken plays a POW who sets out to repay the man who rescued him from Vietnam by helping his sister (Maria Conchita Alonso) topple a corrupt Colombian regime. Michael Ironside and Steve James suit up with Walken in this mildly enjoyable, over-the-top (if overlong) affair that was mostly known only to home video devotees back in the day. Synapse's Blu (1.78, 5.1/2.0) sports a new transfer, exclusive 5.1 sound, commentary with Glickenhaus and historian Chris Poggiali, and the trailer (available July 11).
SHIN ULTRAMAN Blu-Ray (118 mins., 2022; Cleopatra/MVD): Ultraman fans will get the most mileage out of this surprisingly good "Shin" reboot of the classic hero, here once again tasked with saving the Earth from a flurry of kaiju, but with an emphasis on characters and the men and women populating the "SSSP Kaiju" defense force. Decent FX work and a more mature tone than usual dominate, but there's still a sense of fun that won't rub fans of the source material the wrong way. Cleopatra's Blu-Ray is out July 11th featuring both an English dub (5.1/2.0) and the original Japanese audio (5.1) with the trailer and an image gallery on-hand for extras.
THE IRON PREFECT Blu-Ray (118 mins., 1977; Radiance): Guiliano Gemma, celebrated star of numerous Italian crime films, essays the atypical "good guy" title role here in the story of a law man who takes on the mob. Director Pasquale Squitieri's acclaimed picture is deemed as one of his essential works, a hard-nosed crime drama from a prolific era in the genre, co-starring Claudia Cardinale and backed here by a superlative Radiance remaster. A new 2K restoration (1.85, mono) of the original negative includes both Italian and English audio (featuring an Ennio Morricone score) and plenty of extras: archival interviews with the star and director; a new interview with Squitieri biographer Domineco Monetti; Alex Cox's appreciation of the film; the trailer; and extensive booklet notes. Highly recommended for Italian cinephiles when it debuts July 18th.
STOOGE O-RAMA Blu-Ray (600 mins., CineMuseum/Kit Parker/MVD): Three Stooges fans will be overwhelmed with this three-disc Blu-Ray anthology of "archival rarities" which include a newly updated, HD-mastered presentation of documentary "Stooges: The Men Behind The Mayhem" and 1937 "lost" theatrical featurette "Surprise, Surprise" sporting Moe, Larry and Curly. There's an equally little-seen 1934 Shemp short, "Everybody Likes Music," along with a sprawling eight hours of bonus material, from outtakes and color home videos to vintage commercials, TV performances, interviews and more goodies all new in a features-packed CineMuseum/Kit Parker release (available July 11th).
New From Well Go USA: Brandon Vera stars as a hard-nosed soldier, just getting out of prison, when he finds out the world has been overrun by a zombie apocalypse in Joey De Guzman's Filipino horror thriller DAY ZERO (82 mins., 2022). This fast-moving affair at least doesn't waste any time even while serving up cliches we've seen before, many times over. Well Go's Blu-Ray (1080p, 5.1 DTS MA) features English-subtitled Filipino audio and is due out July 11th.
NEXT TIME: More of the latest releases! Until then, don't forget to drop in on the official Aisle Seat Message Boards and direct any emails to our email address. Cheers everyone!