Being a DeLaurentiis film, "Serpico" is one of the Italian producer's many films controlled outside the U.S. by Studio Canal. SC did their own 4K restoration of the film a couple of years ago, yet their UHD release was plagued by an excessively warm color grade that wasn't at all faithful to the movie's original appearance. Kino Lorber's brand new 4K UHD includes a Dolby Vision HDR presentation (1.85) of the film that's based on an entirely different grading of the film, and the results speak for themselves. This 4K scan of the OCN looks far more neutral and satisfying in color tone, while offering a generous amount of grain. The soundtrack (5.1/2.0), meanwhile, is based off a Paramount stereo remix produced with strong channel separation and comes off quite well in either rendition here.
A marvelous, comprehensive supplemental section is offered on the Blu-Ray platter, including a new commentary from Howard S. Berger, Steve Mitchell and Nathaniel Thompson plus materials culled from Paramount's previous home video releases ("From Real to Reel," "Inside Serpico," "Favorite Moments" featurettes; a photo gallery with Lumet's narration) and the Studio Canal edition. The latter involve a pair of terrific half-hour segments, making their U.S. release debuts: the excellent interview "Sidney Lumet: Cineaste New York" and "Serpico" documentary "Looking For Al Pacino." A must for "Serpico" fans, Pacino and Lumet aficionados alike.
This new Dolby Vision HDR master (1.85) adds a layer of heightened contrast that 4K UHD owners can savor thanks to Kino Lorber's dynamic presentation. It's a crisp and satisfying image with extras including the archival featurettes "Beyond a Reasonable Doubt: Making of 12 Angry Men" and "Inside the Jury Room," plus commentaries from Gary Gerani and Drew Casper. Kino Lorber has enhanced the package by also including their previous Blu-Ray edition of "12 Angry Men," the 1997 cable TV remake directed by William Friedkin which I reviewed here.
RAWHEAD REX 4K Ultra HD/Blu-Ray (89 mins., 1986, Unrated): Author Clive Barker wasn't reportedly happy with this early version of his work, which he scripted from one of his short stories – yet the cult of Barker fans who flocked to the likes of "Nightbreed" may still want to give this unintentionally funny 1986 monster opus a look. David Dukes plays an American historian who gets too close to the title creature while working in Ireland with his family, resulting in some shoddy FX even by low-budget standards and an ending that especially should generate some laughs.
Kino Lorber's 4K UHD includes a brand new 4K restoration (1.85, 5.1/2.0) from the original camera negative that's clearer, sharper and more colorful than KL's 2017 format effort. The supplemental package reprises a few extras from that disc and incorporates some new materials as well, from a 2017 commentary by director George Pavlou and moderator Stephen Thrower, plus interviews with actors Henrich von Bunau and Ronan Wilmot, visual effects artists and genre authority Stephen R. Bissette. This release boasts conversations with composer Colin Towns and actors Hugh O'Conor and Cara Venus Lunny plus the trailer.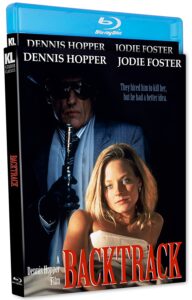 New on Blu-Ray
BACKTRACK Blu-Ray (116/100 mins., 1990, R): Actor/director Dennis Hopper assembled a wild cast for this busted 1990 thriller which was initially finished by Hopper in a 116-minute "Director's Cut" – only to have it re-edited a whole bunch of times before being released to tepid reviews and non-existent box-office. This included a shortened Theatrical Cut which still credited Hopper as the director, and then another (?) version dubbed "Catchfire" which apparently listed Alan Smithee instead. Kino Lorber's Blu-Ray brings us Hopper's original cut, as scored by Michel Colombier, plus the shorter theatrical edition, which boasts a superior orchestral score from Curt Sobel – both versions look great and offer an abundance of weirdo entertainment for buffs.
The barely-released, Dick Clark-produced "Backtrack" is an undeniably compelling, if consistently strange, star vehicle for Hopper, who managed to recruit Jodie Foster inbetween her 1989 and 1992 Best Actress Oscar wins, plus Joe Pesci (uncredited), John Turturro, Dean Stockwell, Fred Ward, singers Bob Dylan and Toni Basil and…yes…even Vincent Price. Oh and Charlie Sheen too – in a cameo filmed in one of Hopper's homes!
There are a lot of odd elements running about in "Backtrack," which is little more than a simple chase movie wherein artist Foster – dabbling in LED displays – witnesses a mob killing and scrambles to stay alive. In hot pursuit is Hopper's hitman, who's been hired by mob goon Pesci – just a few months shy of relaunching his career full blast with "Goodfellas" – not to mention cop Ward, who seems particularly disconnected (not to mention under-utilized) from everything that's going on here. That's likely to be expected since an uncredited Alex Cox and writer Tod Davies were brought onboard to rewrite this script days before shooting began – the result is a patchwork of curious performances and uneventful cinematic flourishes on behalf of Hopper, who doesn't bring a particularly distinguished visual flair to the material (it's still more fun than "The Hot Spot").
Yet, I couldn't stop watching "Backtrack." There's not much suspense here or even romance (how could there be when Hopper is basically playing your "friendly neighborhood rapist"), but there is much to keep and maintain a movie buff's interest. Foster is attractive here and engaged even playing opposite Hopper's overly mannered performance which occasionally features his anti-hero blasting out a saxophone (hey, it was the era of Kenny G) while Pesci drops f-bomb after f-bomb at Turturro, who comes off like he's auditioned for the Coen Brothers. Actor after actor – Catherine Keener also appears as a truck driver's wife – wanders into and out of the film like Hopper was staging a party and kept the camera going…maybe that was the point, since Cox and Davies in their terrific audio commentary offer that much of the film was shot in several of Hopper's homes.
Kino Lorber's debut Blu-Ray of this Vestron Pictures release sports Hopper's original cut (which aired on cable a short time after the film's release) plus the shorter theatrical edit. Michel Colombier's jazzy score for Hopper's edit has its moments but often comes off as shrill and noisy – the Vestron folks had the right idea when they brought in Curt Sobel to rescore the movie. His more melodic and orchestral score fares much better (and is far easier on the ears), though the film did lose some of its edgier parts on the cutting room floor – and rough around the edges is what this ramshackle cinematic affair does best.
The 1080p (1.78) transfers and stereo soundtracks (2.0) are superb on both transfers, with Cox and Davies' hugely enjoyable commentary providing a unique insight into this obscure outing that's barely a footnote on the respective CV's of its hugely talented cast members.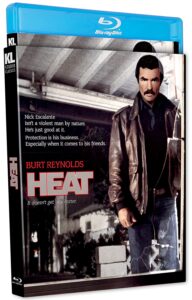 HEAT Blu-Ray (101 mins., 1986, R): Another troubled project, this one a Burt Reynolds production that offered a William Goldman screenplay intended to provide its then-fading star a shot of box-office legitimacy. The end result went through a litany of directors with Dick Richards (under "R.M. Richards") shooting most of it, reportedly between two different tenures, with director Jerry Jameson also responsible for a significant portion of the finished product. Either way, "Heat" proves to be an ironic title as Reynolds' Vegas bodyguard takes revenge on a gangster's son after brutally assaulting a female friend (Karen Young). The cast – also including Peter MacNicol, Howard Hesseman, Diana Scarwid and Joseph Mascolo – is capable but there's just no energy in this downbeat product which Jason Statham and director Simon West decided to remake – using the exact same Goldman script! — to equally indifferent results in 2014's "Wild Card." Kino Lorber's Blu-Ray includes a decent Lionsgate licensed HD master (1.78, mono) with commentary from Brandon Bentley and Mike Leeder, the trailer and an alternate ending which was used in various European releases of the film.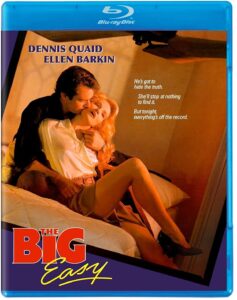 THE BIG EASY Blu-Ray (101 mins., 1987, R): The easy-going charm of Dennis Quaid and chemistry between him and co-star Ellen Barkin is what really powers "The Big Easy," a New Orleans-set crime drama with local detective Quaid trying to investigate a goon's murder while having to deal with Barkin's assistant D.A., who's in town to probe police corruption. Prolific '80s writer Daniel Petrie, Jr. penned the script with journeyman director Jim McBride helming what would be his most acclaimed theatrical feature (he'd have notably less success reuniting with Quaid on the ill-fated Jerry Lee Lewis biopic "Great Balls of Fire!" for Orion a short time later). Making its long overdue Blu-Ray debut from Kino Lorber (1.85, mono), "The Big Easy" sports a good looking HD master with the trailer and a commentary by McBride, moderated by Douglas Hosdale.
TERMINAL INVASION Blu-Ray (84 mins., 2002, R): Cable TV-movie from "Friday the 13th" creator Sean S. Cunningham does boast a typical Bruce Campbell performance as a convicted murderer who finds himself fighting to save the world from aliens stranded at an airport during a blizzard! Lewis Abernathy's script may have been intended for something on a grander scale than this USA cable movie but it offers minor pleasures – mostly thanks to Campbell's charisma – for undemanding genre buffs. Commentary from Cunningham and producer Chuck Simon, plus a costume test, comprise the extras in the slipcover-encased Kino Lorber Blu-Ray (1.78, stereo).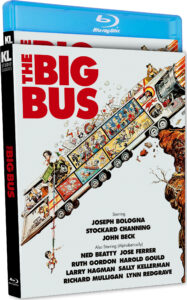 Swinging '60s and '70s New Releases
Around the time that Mel Brooks parodies were big at the box-office, and before the Zucker/Abrahams/Zucker team hit gold with "Airplane!," the disaster genre was skewered in the uneven though often amusing 1976 parody THE BIG BUS (88 mins., 1976, PG).
Falling somewhere between one of Brooks' lesser parodies (i.e. "History of the World Part I") and a Z-A-Z farce, "The Big Bus" chronicles the unsurprisingly wacky events that transpire during the inaugural launch of a nuclear-powered bus on a non-stop run from New York to Denver. Bus driver Joe Bologna, designer Stockard Channing, and a wacky cast of passengers (Ruth Gordon, Richard Mulligan, Sally Kellerman among them) attempt to stay on-course even as Jose Ferrer hatches a plan to blow it up and insane Lynn Redgrave tries to have intercourse with every passenger on it!
Numerous period references abound (from the Bicentennial to the Andes mountain plane crash cannibalism), but the biggest laughs come during an early barroom brawl, with Bologna and co-star John Beck using – I kid you not – half-broken milk cartons as weapons! It's a funny scene in a movie that offers sporadic laughs, though truth be told, the Z-A-Z films and Brooks handled this kind of material better elsewhere with swifter pacing and a higher level of energy.
Still, "The Big Bus" is a pleasant ride and Kino Lorber's Blu-Ray boasts a new 4K scan (2.35) of the original camera negative that's in fine shape with stereo sound (5.1/2.0) and a new commentary by Howard S. Berger and Nathaniel Thompson. David Shire's score, as is usually the case, is terrific.
THE TRUTH ABOUT SPRING Blu-Ray (102 mins., 1965): Hayley Mills' graduation from Disney lead to a number of projects where the actress, aging out of kid roles, uneasily tried to branch out into more "adult" fare. Initially, though, Mills would find a "soft landing" in barely-more mature outings like "The Truth About Spring," a labored affair with Hayley as the tomboy daughter of old salt John Mills, providing a real father/daughter dynamic that's meant to augment Richard Thorpe's film. Despite their pairing, this is a slow-going affair with Mills not just playing off her dad but Disney favorites James MacArthur (the young man of privilege who falls in love with her) and David Tomlinson, obviously to cater to the demographic that supported Mills' most successful box-office endeavors. Add in a "comical" score by Robert Farnon and you have a movie that could've passed as a Disney live-action film from the era had it reworked just a few elements of James Lee Barrett's "young adult" script. Kino Lorber's Blu-Ray (1.85, mono) is derived from a serviceable Universal HD master and includes the trailer and a commentary by Gery Gerani.
MOMENT TO MOMENT Blu-Ray (108 mins., 1966): One of Jean Seberg's Hollywood vehicles places the star into a "Hitchcock Lite" story of a housewife who ends up in a passionate affair with an American sailor – and a body! Alec Coppel penned "Vertigo" as well as the short story that inspired this Universal production, set on the French Riviera but confined to soundstages that, under the direction of vet Mervyn LeRoy, make for a claustrophobic, stagy piece. Luckily the star power of Seberg and Honor Blackman keep the audience invested, as does Henry Mancini's sleek, polished score, typical of its time. Howard S. Berger and Nathaniel Thompson offer an insightful commentary along with the archival "Moment to Moment with Mancini" featurette trailer and a fresh 2K master (1.85, mono) from Universal.
HELL IS FOR HEROES Blu-Ray (90 mins., 1962): Taut and exciting early feature from director Don Siegel offered Steve McQueen a perfect role as a rules-dying soldier whose unorthodox methods help a beleaguered, battered squad of GI's as they fight off advancing numbers of Nazis along France's Siegfried Line. Between Siegel's direction and Leonard Rosenman's score, "Hell Is For Heroes" is a gritty WWII film from its era backed by McQueen's performance and a dynamite ensemble cast that also includes McQueen's "Magnificent Seven" cast mate James Coburn, plus Fess Parker, Bobby Darin, Harry Guardino and Bob Newhart. A crisp 4K scan of the original camera negative (1.85 B&W, mono) adds to the presentation in Kino Lorber's slipcover-adorned Blu-Ray along with a commentary by historians Steve Mitchell and Steven Jay Rubin.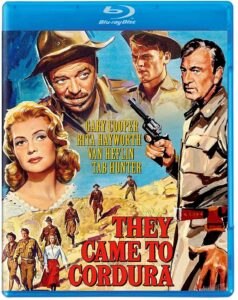 They Came From the '50s!
THEY CAME TO CORDURA Blu-Ray (124 mins., 1959): Superior Columbia Cinemascope western starring Gary Cooper, Rita Hayworth, Van Heflin and Tab Hunter receives a standalone release from Kino Lorber, offering far superior compression to its previous appearance as part of a Mill Creek double-feature. Robert Rossen's historical piece follows a group of American military vets as they become involved in the fight against Pancho Villa in 1916 Mexico; with a solid sense of scope, Rossen and Ivan Moffat's script craft more developed characters than one typically finds in films of the era, while Hayworth is at her best. Kino Lorber's Blu-Ray (2.35) boasts a trailer and a welcome, lengthy half-hour look at the film with filmmaker Bertrand Tavernier.
THE MISSISSIPPI GAMBLER Blu-Ray (99 mins., 1953): Glossy '50s Technicolor melodrama affords star Tyrone Power a showcase as a riverboat gambler attempting to build a casino while trying, and failing, to pursue lovely Piper Laurie. Julia Adams completes the love triangle in director Rudolph Mate's picture, the kind of star-driven project audiences gravitated towards at the time, and which has been beautifully presented here in a new 2K master (1.37) from Universal. Toby Roan provides the commentary on Kino Lorber's debut HD release of the Universal-International production with the trailer also included.
FILM NOIR: THE DARK SIDE OF CINEMA XII Blu-Ray: Kino Lorber's 12th retrospective of film noir faves dives into the Universal vaults for a trio of films produced between 1949-55. Undertow (70 mins., 1949) was marked by future horror maven William Castle's direction, the picture starring Scott Brady as a WWII vet just trying to live a quiet life when he's framed for murder. Rock Hudson provides an early appearance. Richard Basehart, meanwhile, plays a recently-released convict who tries to stay on the straight and narrow in Outside the Wall (80 mins., 1950); despite his best efforts and a relationship with Marilyn Maxwell's nurse, he becomes wrapped up in a robbery syndicate. Finally, there's melodrama to spare in Hold Back Tomorrow (75 mins., 1955), a low-budget film from director Hugo Haas about a death row inmate (John Agar) who wants to spend a final night with a woman (Cleo Moore) before he's hanged. All three pictures fresh 2K Universal masters (B&W, mono) with commentaries on "Undertow" by Tim Tierney (Brady's son) and Jason A. Ney, plus historian Alan K. Rode on "Outside the Wall."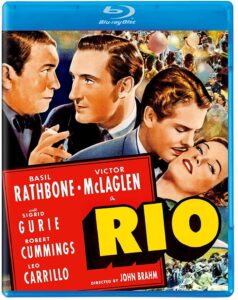 Vintage New Releases
RIO Blu-Ray (77 mins., 1939): Director John Brahm's movies are usually interesting ("The Lodger," "Hangover Square"), and while the 1939 Universal melodrama "Rio" isn't one of his best, it's still a compelling film with a fine performance from Basil Rathbone. The soon-to-be Sherlock Holmes stars as a Devil's Island escapee who heads to Rio and meets up with his wife (Sigrid Gurie), only to find out she's fallen for American engineer Robert Cummings. That, naturally, does not sit well with Rathbone. Short but effective with Kino Lorber's Blu-Ray derived from a new 2K master (B&W 1.37, mono) and presented with a new commentary by historian Samm Deighan.
HIGH, WIDE AND HANDSOME Blu-Ray (104 mins., 1937): One of the earliest efforts from prolific musical songwriters Oscar Hammerstein II and Jerome Kern, "High, Wide and Handsome" tells the story of Randolph Scott's farmer who strikes it rich drilling for oil in his small Pennsylvania town. His good fortunes spill over literally to his neighbors, but their prosperity is soon threatened by a villainous railroad entrepreneur. Irene Dunne is top billed as Scott's beloved in a rather stilted musical from director Rouben Mamoulian, still worth seeing for genre fans for its songs and Kino Lorber's superb new 4K scan (1.37 B&W). Commentary by Eddy Von Mueller adds proper historical and genre insight into the production…Dunne also stars in the Universal screwball comedy LADY IN A JAM (78 mins., 1942) about a young woman who squanders her inheritance and Patric Knowles as the doctor – posing as her chauffeur – who falls for her. Ralph Bellamy co-stars with Kino Lorber's Blu-Ray (1.37 B&W) offering a commentary from Allan Arkush and Daniel Kremer.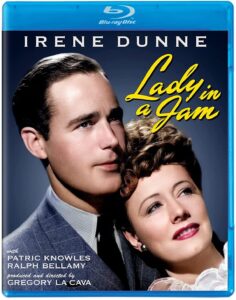 YOU AND ME Blu-Ray (94 mins., 1938): Fritz Lang devotees will be the most receptive audience for this strange romantic comedy/melodrama/musical pastiche starring George Raft and Sylvia Sydney as department store workers – and ex-cons – who fall for one another. Kurt Weill provided music while director Lang added some of his usual expressionistic touches for a Paramount production most critics and Lang buffs concede didn't entirely work, yet retains some curiosity value for cinephiles. That especially holds true thanks to Kino Lorber's high bit-rate 2K master (1.37 B&W mono) which also features a fresh commentary by historian Simon Abrams…Romantic comedy shenanigans are in-store in the interesting SEARCH FOR BEAUTY (78 mins., 1934), an early Paramount product that couples Buster Crabbe (future Flash Gordon and Tarzan) and Ida Lupino about budding Olympic athletes who are brought onboard a health magazine actually run by con artists. Veteran support is turned in by Robert "King Kong" Armstrong and James Gleason in this briskly paced comedy, on Blu-Ray (1.37 B&W) from Kino sporting a 2K scan of the 35mm fine grain and a commentary from historians Lee Gambin and Emma Westwood.
New From Kino Classics: Harry A. Pollard was one of the prolific directors of the silent era, as evidenced by two of his funniest comedies being issued in new Universal restorations this month by Kino Lorber. Kino's double-feature Blu-Ray couples OH, DOCTOR! (66 mins., 1925) with Reginald Denny and Dolores Hicks alongside POKER FACES (83 mins., 1926) starring Edward Everett Horton. Both features are presented in 1.33 B&W with mono soundtracks (Jake Monaco and Zach Marsh provided the scores, respectively) and commentaries by historian/author Adam Nayman…the great Lon Chaney counted THE TRAP (33 mins., 1922) as one of his first big hits: an over-the-top melodrama about a trapper left by his lady for his rival. Location shooting in Yosemite marks this silent film preserved here in a 4K restoration by Universal (1.33, B&W/color tinted, score by Kevin Lax) with bonuses including the fine 1996 documentary "Lon Chaney: Behind the Mask" (65 mins.) and 1914 short "By the Sun's Rays" featuring an even earlier Chaney appearance…A more contemporary experience is on-hand in the "sci-fi lesbian extravaganza" FLAMING EARS (89 mins., 1991), an underground import from Germany restored in 4K on Kino Classics' Blu-Ray (1.33, stereo, German with English subtitles) with a trio of short films included on the supplemental side.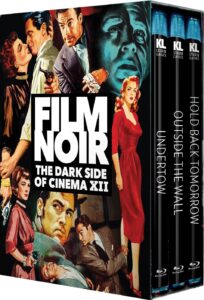 Foreign/Specialty Fare
MAN ON THE TRAIN Blu-Ray (90 mins., 2022, R): Patrice Leconte helmed this short but effective character drama coupling an aspiring thief (Johnny Hallyday) and a retired poetry teacher (Jean Rochefort) in a small French village. An effective sense of time and place is established in this acclaimed 2002 French release, premiering this month on Blu-Ray from Kino Lorber (2.35) in French with English subtitles.
THE NEW GODFATHERS Blu-Ray (96 mins., 1979): Alfonso Brescia-directed Italian effort stars Gianni Garko as an Italian customs official trying to stop American mafiosos from bringing drugs into the country – with the improbable help of a Naples crime boss (Mario Merola) who smuggles cigarettes. Raro Video's Blu-Ray (2.35) of "The New Godfathers" includes both its Italian language version with English subtitles as well as the U.S. release cut with dubbed English audio and a segment featuring Mike Molly discussing the film.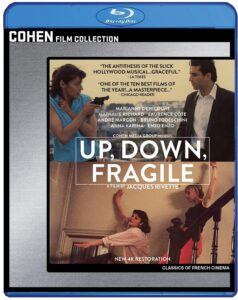 Jacques Rivette earned widespread acclaim for his 1995 genre masher UP, DOWN, FRAGILE (170 mins.,Cohen Film Group), a lengthy picture about a trio of young Parisians (Nathalie Richard, Marianne Denicourt, Laurence Cote) with music and character-driven drama delicately balanced throughout. Richard Pena's commentary compliments a 4K restoration (1.85, mono) of the film, presented here in French with English subtitles…New from Artsploitation Films is the independent thriller VIRTUAL REALITY (84 mins., 2021), a film about a director who makes a dark magic pact to get his career going – and soon wishes he never did. Lionel Cornestein helmed this Argentinian import (1.85, 5.1 in Spanish with English subtitles).
DVD Quick Takes: Judd Hirsch plays a Miami resident and Holocaust survivor whose life changes after he gets an iphone in the Marvin Samel-helmed comedy-drama iMORDECAI (102 mins., 2022), co-starring Sean Astin and Carol Kane. Greenwich's DVD (16:9, 5.1/2.0) is now available. Also new from Greenwich is the Charlotte Rampling starrer JUNIPER (94 mins., 2021), the story of a veteran war correspondent having to deal with her grandson after the death of his mother. Matthew J. Saville's film co-stars Marton Csaokas and is now available on DVD (16:9, 5.1/2.0)...THE HUNTERS: Complete Seasons 1 & 2 (264/270 mins., 2018-21; MHz) features Rolf Lassgard as a retired cop investigating mystery, corruption and more in this acclaimed "Scandi Noir" series, presented here on 4 DVDs by MHz Networks sporting 16:9 transfers and Swedish soundtracks with English subtitles.
New from Milestone Film & Video are the documentaries ARAB ISRAELI DIALOGUE/IMAGINE PEACE, the 1974 Lionel Rogosin effort featuring Rashed Hussein and Amos Kenan, as well as Michael Rogosin's 2019 follow-up to his father's feature. An interview between Lionel Rogosin and Amos Kenan is included in this Milestone DVD (1.33/1.78). Milestone has also released another DVD coupling of Rogosin works: WOODCUTTERS OF THE DEEP SOUTH (1973, 84 mins.) and his son Michael's follow-up WORKING TOGETHER (37 mins., 2022)...Virgil Films' new DVD release for April is WHAAM! BLAM! ROY LICHTENSTEIN AND THE ART OF APPROPRIATION (78 mins., 2022), a feature-length look at the artist credited with instigating the "Pop Art" movement of the 1960s alongside Andy Warhol (16:9, 5.1)…Finally, First Run Features' SCRAP (78 mins., 2022) offers a presentation of Stacey Tenenbaum's acclaimed documentary about how the metals we often discard can be used by artists in fascinating new ways (16:9. 2.0).
---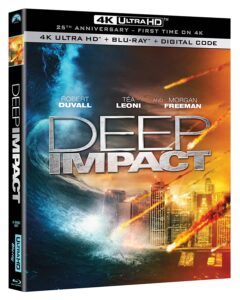 New From Paramount
Debuting on 4K UHD this month from Paramount is the solid '90s disaster flick DEEP IMPACT (121 mins., 1998, PG-13), a Dreamworks production about Earth's impending collision with a comet that's more entertaining — and certainly more emotionally resonant — than other apocalyptic genre efforts from its time, namely the silly Michael Bay outing "Armageddon" and Roland Emmerich's "The Day After Tomorrow." Director Mimi Leder receives strong performances from the likes of Robert Duvall, Morgan Freeman, Tea Leoni, Elijah Wood, Leelee Sobieski and Vanessa Redgrave as the Bruce Joel Rubin-Michael Tolkin script satisfyingly balances character with sci-fi disaster, culminating in superb ILM effects and strongly backed by an excellent James Horner score.
Paramount's 4K UHD includes a rock-solid Dolby Vision HDR (2.35) transfer with 5.1 Dolby TrueHD audio, and this is a good looking disc with a nicely balanced use of HDR. Included in the extras is a 30-minute featurette examining the film's evolution from Bruce Joel Rubin's original draft to Michael Tolkin's involvement and the production of Mimi Leder's film. All three are interviewed with extensive special effects footage on-hand, along with a brief discussion of the film's editing (Leder says she cut several scenes between Elijah Wood and Leelee Sobieski after test screenings, though only brief clips of said sequences are shown). Leder and F/X supervisor Scott Farrar are also on-hand to provide a commentary track on the film, which I found vastly superior to the similarly-themed "Armageddon," and holds up well in Paramount's UHD.
80 FOR BRADY Blu-Ray (98 mins., 2023, PG-13; Paramount): Wan comedy is something of a throwback to the '80s and '90s when sassy elderly folks could generate laughs simply by saying a few bad words. Mix it in with a dash of football to grab a younger demo (courtesy producer Tom Brady) and you have "80 For Brady," wherein pals Lily Tomlin, Jane Fonda, Sally Field and Rita Moreno decide to leave their respective Boston homes and hit Super Bowl LI in Phoenix, just in time to sort out a variety of issues — and watch the greatest comeback in Super Bowl history. There are some mild laughs here but this feels like a TV commercial padded to feature length, so generic in its construction and filmmaking approach that it evaporates right in front of your eyes. Paramount's Blu-Ray (1.85, Dolby Atmos) boasts a digital copy and a number of featurettes, extended/deleted scenes, and cast interviews.
---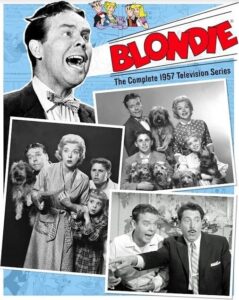 Also New & Noteworthy
BLONDIE: The Complete 1957 Television Series Blu-Ray (676 mins., 1957; ClassicFlix): The long-running classic Chic Young comic strip, which began in 1930 and is now just seven years shy of celebrating its 100th birthday (!), found success in a number of different venues beyond the printed page. That included a long run of movies – several dozen in fact – produced through the '50s when an attempt was made at bringing the adventures of Dagwood Bumstead and Blondie Boopadoop to television.
The results didn't last long, even though NBC had great expectations for the series: Hal Roach Studios produced it, with Pamela Britton starring as Blondie and none other than Arthur Lake, who played Dagwood throughout the "Blondie" film series, reprising his role of Dagwood. Veteran support was further added with Harold Peary ("The Great Gildersleeve" on radio and film) essaying frenemy Herb Woodley, while the show utilized classic '50s sitcom conventions and stories alternately set at Dagwood's job and the Bumstead domestic abode.
ClassicFlix brings the entire run of the 1957 "Blondie" TV series to Blu-Ray with all 26 episodes featuring terrific, crisply detailed 1080p (1.33 B&W) transfers. The image is far beyond any previous release of the show, which naturally is not on the level of "Leave it to Beaver" or "Fathers Knows Best" but still should satisfy both "Blondie" fans as well as any lover of Golden Age TV (NBC would try again with "Blondie" in 1968 to even less success, the revived series failing to make it through its 14 produced episodes before being canceled). The two-disc set is now available.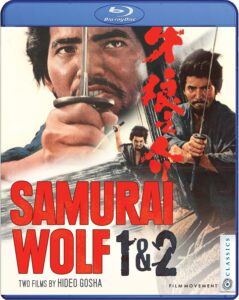 On Blu-Ray From Film Movement: The latest release in Film Movement's Joseph W. Sarno "Retrospect Series" couples the director's first "psycho-sexual" offering for mainstream theaters, the color effort "Moonlighting Wives" (90 mins., 1966), as well as a story in a more familiar B&W trapping, the Long Island-lensed "The Naked Fog" (96 mins., 1966). Both features star Tammy LaTour and have been newly restored from original film elements (1.33) and include interviews with Sarno and cinematographer Jerry Kalogeratos.
Coming May 16th from Film Movement on Blu-Ray is a double-disc set of SAMURAI WOLF 1 & 2 (146 total mins., 1966-67), two samurai films I was not familiar with previously. These Toei productions from director Hideo Gosha star Isao Natsuyagi as the title character – a wandering samurai (sound familiar?) who finds trouble not far behind after he travels into a small town. In the sequel, "Samurai Wolf 2: Hell Cut," Gosha's warrior is ensnared yet again by a triangle of deceit and local squabbles. Crisp acting and pacing make these two efforts (which, combined, run under 2½ hours) highly entertaining, graced by attractive widescreen lensing (2.35) preserved in Film Movement's Blu-Ray via new 2K restorations, each film in Japanese with English subtitles. Extras include an interview with Tomoe Gosha; commentary by Chris Poggiali; and a 20-page booklet with notes by author Robin Gatto.
Finally, also coming May 16th is writer-director Marley Morrison's SWEETHEART (103 mins., 2023), a British import about an awkward teen girl (Nell Barlow) who discovers her sexual identity while on a seaside vacation with her "normal" family. This well-reviewed coming-of-age picture debuts on DVD with a 16:9 (2.39, 5.1/2.0) transfer with the similarly-themed short "Admit One" included s a bonus feature.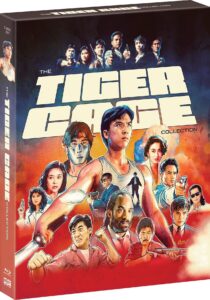 THE TIGER CAGE COLLECTION Blu-Ray (94/96/94 mins., 1988-91; Shout! Factory): Fans of late '80s Hong Kong action in a straightforward, no-frills (i.e. unlike the films of John Woo) manner may well enjoy this trio of HK imports from Fortune Star, debuting on Blu-Ray May 9th from Shout! Factory.
Shout's three-disc set includes the original "Tiger Cage" (94 mins., 1988) from martial arts choreographer extraordinaire Yuen Woo-Ping, which sports a flurry of cops and bad guys running afoul of one another in modern day Hong Kong. Two sequels would be produced including "Tiger Cage 2" (96 mins., 1990) which features star Donnie Yen and some of the original cast reprising their roles, and the later "Tiger Cage 3" (94 mins. , 1991), which doesn't.
Attractive 1080p (1.85) transfers are on-hand here with mono Cantonese audio tracks (subtitled) or English dubs, typical of the era. Extras include commentaries on each installment by David West; featurettes on the trio by critics Frank Djeng, Victor Fan and James Mudge; an interview with actor Vincent Lyn about his work on the original film; and a talk with action choreographer Bill Lui on the second "Tiger Cage."
Also due out May 9th from Shout! is Alberto Vazquez's UNICORN WARS (92 mins., 2022), the writer-director's dark animated feature with cutesy forest-dwelling animals, teddy bears and unicorns doing battle in a magical forest. This is a violent and weird, intentionally offbeat, effort billed as "Bambi meets Apocalypse Now," though the end result is too uneven in its assorted narrative components to really score beyond curious genre aficionados. GKids and Shout's Blu-Ray (1.90, 5.1 DTS MA) is in Spanish with English subtitles and includes extras like an interview with Vazquez, a featurette and animatic mock-ups.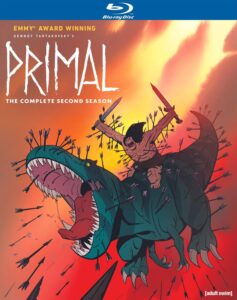 PRIMAL Season 2 Blu-Ray (222 mins., 2022; Warner): I can't say enough about the risk-taking animation of Genndy Tartakovsky, who previously produced the eclectic "Samurai Jack," the family fun of the "Hotel Transylvania" series, and the underrated, early (and probably "non canon" at this point) edition of "Star Wars: The Clone Wars." His latest series, the Adult Swim aired "Primal," is an undisputed winner that's even more compelling than anything he's produced so far: a dialogue-free, action-packed, violent thrill ride set in a Prehistoric fantasy land where a caveman and a dinosaur become bonded after their respective families are wiped out. This landscape isn't for the faint of heart, with not just dinosaurs but fantastic beasts and other creatures lurking at every corner — but together, the duo forge an unlikely "association" that leads to them becoming the hunters instead of the hunted.
Presented in a vividly rendered widescreen frame, "Primal" has no pretentions other than serving up 20-minute-ish episodes that constantly advance its 10-episode story line in a way that doesn't require dialogue or narration. In this day and age, this kind of storytelling is positively refreshing — the series is also most definitely R-rated, violent and unsuitable for young kids, while the visuals are something out of a Frank Frazetta/"Heavy Metal"-esque type of stylized world that's not meant to be a straight chronicle of primordial life. Instead, the freedom that exists here for Tartakovsky and his staff to unleash a surprising and off-kilter landscape adds to the series' tension, as a threat could exist at any turn for the central odd couple.
Season 2 of "Primal" debuts on Blu-Ray this week from Warner (2.39, 5.1 DTS MA) and it's a superb continuation that climaxes in a satisfying finale to the main storyline (it will continue, "reconfigured," in "anthology specials" going forward). The transfers and soundtracks are once again outstanding and a bonus featurette, "Genndy Tartakovsky's Primal: Inside the Evolution," is included on the slipcase-enclosed Blu-Ray.
HIS DARK MATERIALS: Season 3 Blu-Ray (471 mins., 2023; HBO/Warner): Third and final season of HBO's glossy adaptations of Philip Pullman's trilogy of books is based on "The Amber Spyglass," as Heaven stages its own war with Lord Asriel (James McAvoy) generating help from all quarters and MacPhail (Will Keen) trying to stop Lyra's prophecy from becoming reality. Ruth Wilson, Amir Wilson and Dafne Keen return in this well-mounted adaptation that Pullman fans should be pleased with. HBO's Blu-Ray (1080p 5.1 DTS MA) is straightforward in terms of its no-frills presentation but offers top picture and sound.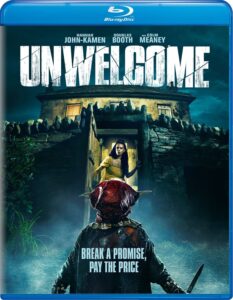 STAR TREK LOWER DECKS Season 3 DVD (4 hours, 2022; Paramount): Mike McMahan's comedy take on Trek may not be to every taste, but if you're in-tune with its brand of humor, "Lower Decks" is likely to score with you once again. Paramount's Season 3 preserves the latest adventures of the U.S.S. Cerritos crew in a two-disc DVD set (16:9, 5.1) that sports over 45 minutes of extras, including commentaries and a pair of featurettes.
CHAMPIONS Blu-Ray (124 mins., 2023, PG-13; Universal): Well-intentioned feel-good comedy from Bobby Farrelly reunites the director with his "Kingpin" star Woody Harrelson. In David Marques and Javier Fesser's script, Harrelson plays a down-on-his-luck minor league hoops coach who's court ordered to take on a new assignment: a team of players with developmental disabilities. In the process, of course, he learns many life lessons in a film that does feel overly contrived and edited so that the one-liners feel more the product of the writers than its characters — but there's no denying "Champions" isn't entertaining, despite its overlong running time. Universal's Blu-Ray (2.39, 5.1 DTS MA) is out this week sporting a dozen deleted scenes, Farrelly's commentary, and a Digital HD copy.
UNWELCOME Blu-Ray (104 mins., 2023; Well Go USA): Not even the beautiful Irish countryside is safe from demons in Jon Wright's pretty solid horror effort about a young couple who retreats to a rural home, only to run afoul of new neighbors and a group of "Redcap" creatures who lurk about. This is kind of a more earthy, downbeat variation on "Ghoulies" and the like, which takes its time getting going but does offer a pretty interesting ending. Well Go's Blu-Ray is out May 9th (1080p, 5.1 DTS MA) sporting behind the scenes content, featurettes and the trailer…Also coming May 16th from Well Go USA, YOUNG IP MAN (79 mins., 2020) focuses on Ip Man trying to fight off an escaped convict after he infiltrates his martial arts school and holds his students for ransom. A conspiracy involving local politicians adds further tension in this Hi-Yah! original, on Blu-Ray from Well Go sporting a 1080p transfer with both DTS MA Mandarin and English dub tracks.
NEXT TIME: More of the latest releases! Until then, don't forget to drop in on the official Aisle Seat Message Boards and direct any emails to our email address. Cheers everyone!