Message Board (open 24 hours!)
Twitter - @andredursin (for everything else!)
Vinegar Syndrome's latest slate of releases is unquestionably highlighted by PRIMAL RAGE (92 mins., 1988, Not Rated), an unintentional hoot of an Italian horror movie shot on location at Miami's Florida International University. Called by some a precursor to modern zombie thrillers like "28 Days Later," the tongue was planted firmly in cheek (I think) in this effort from director Vittorio Rambaldi – the son of Carlo, the special effects genius who created "E.T." — which mixes American sensibilities with wild, ridiculous gore sequences and some hilarious moments that make for one of the most purely "fun" discs I've watched this year.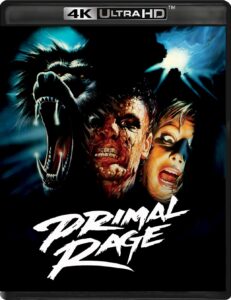 The story is simple enough: scientist Bo Svenson's meddling with monkeys results in one of the writers from the student paper getting bitten – and turned into a mucus-spewing wild man who starts by throwing a tantrum in the emergency room and spreads to murder, proceeding to take his "Primal Rage" out on unsuspecting victims. The virus spreads around to another girl and then threatens to engulf the entire campus, unless it can be stopped by intrepid student reporter Patrick Lowe, who kicks off the fun by moped-ing around campus, snapping pics of an aerobics class, to the strains of the movie's would-be hit single "Say the Word" – an upbeat pop ditty by "The Facade Band" that factors heavily in the movie's climax.
As you can tell "Primal Rage" is a goof but it's a good one for folks whose sensibilities fall in line with this messy thriller that – deaths, severed heads and the Rambaldi family's fabricated fungus infections aside – somehow manages to impart a "feel good" atmosphere even as the credits roll. Maybe it's just that song, which makes you feel like you're back in the '80s, the hero getting the girl and driving off into the sunset, all to the strains of melodious pop music.
Vinegar Syndrome premieres "Primal Rage" in a 4K UHD/Blu-Ray combo package (yes!) that offers a naturally filmic, beautifully detailed image, scanned in 4K (1.85) from its original camera negative. The mono soundtrack is clear (though the movie lists Dolby Stereo in the end credits, the source is only mono), the film featuring some '80s pop plus a score by Claudio Simonetti, while the extras are terrific. Presented on the accompanying Blu-Ray disc, "Primal Rage" features a full, feature-length Making Of documentary, "Baboon Bite Maniacs!," which assembles surviving cast and crew for their fond memories of making this oddball genre exercise – it's nearly as much fun as watching the film itself. A 2020 video interview with producer Bill Immerman and still gallery round out the release.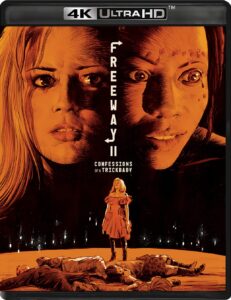 Also New on 4K UHD from Vinegar Syndrome this spring is a surprise (considering its rep) 4K restoration of FREEWAY II: CONFESSIONS OF A TRICKBABY (98 mins., 1998, Not Rated). I scarcely remembered this follow-up to the Reese Witherspoon/Kiefer Sutherland cult hit (which Vinegar Syndrome released on 4K UHD earlier this winter), which really shares no connection with its predecessor outside the title and returning director Matthew Bright. It's a raunchy tale of a teen prostitute who's imprisoned, breaks out, and attempts to high tail it to Mexico with a fellow cellmate in tow – all of it best served as a launching pad for star Natasha Lyonne, whose quips and personality are the picture's most watchable attribute. Vinegar Syndrome's 4K UHD includes an HDR10-enhanced 4K scan (1.85) from the original 35mm camera negative with a Blu-Ray copy and extras including a new 98-minute documentary, 2018 interviews with Bright and producer Chris Hanley, additional archival interviews, a still gallery, and nearly a half hour of behind the scenes footage.
On Blu-Ray from Vinegar Syndrome is the two-disc retrospective MEXICAN GOTHIC: THE FILMS OF CARLOS ENRIQUE TABOADA. This is a fascinating set that looks at a trio of the Mexican filmmaker's genre exercises: the eerie "Poison For the Fairies" (90 mins., 1986), the earlier "Darker Than Night" (102 mins., 1975), and the suspense-thriller "Rapina" (113 mins., 1975). All three transfers have been exclusively scanned in 4K (1.85) for this Blu-Ray anthology with supplements including video essays by Valeria Villegas for each picture, running 15 minutes apiece. The Spanish sound is clear mono with English subtitles.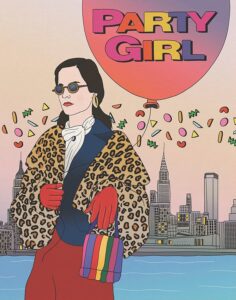 From Fun City Editions
Parker Posey's career took off after the release of PARTY GIRL (94 mins., 1995, R; Fun City Editions), an indie comedy which was conventional enough to score with mainstream audiences and find commercial appeal off the arthouse circuit. Not only was it picked up by Columbia's home video division for its initial VHS premiere, but it even became a Fox TV sitcom in 1996 (albeit one that lasted for just a handful of episodes).
Posey is certainly the standout element in Daisy von Scherler Mayer's film, playing the title role – a twentysomething who's arrested after throwing a house party in New York City. As part of her penance, her godmother (Sasha von Scherler, the director's mom) hires her to work at a public library where she attempts to adjust from a bleary-eyed series of hangovers to holding some life responsibility…while taking a few steps backwards along the way.
"Party Girl" fits comfortably alongside other NYC-set films of the era, including Whit Stillman's movies, as it paints a specific portrait of time and place – and yet it's also a movie that's easily accessible with comedic elements that are played perfectly by Posey. She's sarcastic and winning in a part that deservedly launched her career, though it's also somewhat bittersweet that she never really held another lead role as satisfying as this one.
I recall watching "Party Girl" on home video back in the day and Fun City's Blu-Ray offers a 4K restoration from original 16mm film elements, providing a properly cinematic appearance that eluded previous home video releases. This was a film shot on a shoestring budget in under 3 weeks by von Scherler Mayer, who went onto helm the kids flick "Madeline" and underrated comedy "The Guru" before becoming mostly entrenched in a prolific TV career.
Von Scherler Mayer is one of the interviewees in FCE's stellar supplemental package here, recalling the film's production, while other conversations can be found with Parker Posey, music supervisor Bill Coleman, co-writer/producer Harry Birckmayer, and a commentary with writer Jake Fogelnest. Booklet notes, an image gallery, reversible artwork, the trailer, and a collectible slipcover put the finishing touches on another great FCE release, their first of the new year.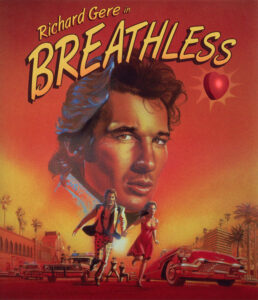 Fun City is also back with a remastered edition of Jim McBride's BREATHLESS (100 mins., 1983, R), the Americanization of Godard's new-wave classic of the same name. This Orion remake stars Richard Gere, coming off "American Gigolo" and the success of "An Officer and a Gentleman," as a hood who meets and beds a French exchange student (Valerie Kaprisky) in Vegas. After accidentally shooting a cop, he heads to L.A. to meet up with Kaprisky, risking his life in the process.
I am not a huge fan of this particular film, but it's at least a slick and stylish effort from McBride and co-writer L.M. "Kit" Carson, with Richard H. Kline's assured cinematography – along with Gere's performance – being its strong suit. Fun City's new Blu-Ray is also a big enhancement on the earlier MGM HD master, boasting an exclusive 2K restoration (1.85, mono) that's far more "alive" than the previous Shout Blu-Ray in terms of color and overall appearance. Extras include a new interview with McBride and exclusive commentary from Glenn Kenny; there are also supplements including deleted scenes, an alternate ending, McBride's intro, isolated music and booklet essays.
VS Partner Labels New Spring Releases
THE ASSASSINATION OF THE TSAR [Tsareubiytsa] (102/104 mins., 1991; Deaf Crocodile): Fascinating Russian production stars Malcolm McDowell as a present-day mental patient who believes he's the assassin of both Alexander II and Tsar Nicholas II. Oleg Yankovskiy essays the doctor trying to piece history, and time, back together in a film by Karen Shaknazarov that was filmed twice: first in an English version (still mostly dubbed by Russian actors sans McDowell), then a slightly different Russian cut with a different score. Both versions are included here in 2K restorations (1.37, stereo), the English version having been rescored by John Altman. Supplements include generous interviews with McDowell and Shaknazarov, a commentary with Samm Deighan and more.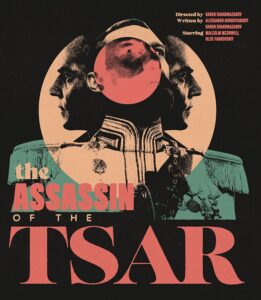 GINA Blu-Ray (95 mins., 1975; Canadian International Pictures): Celine Lopez plays an exotic dancer who arrives in Quebec to strut her stuff at a dumpy motel where she runs afoul of a skidoo gang (this is Quebec we're talking about after all) and gets assaulted before staging her own brand of revenge. Denys Arcand's movie is more than just a "Death Wish" variant, capped by a phenomenally choreographed snowmobile chase, and hits Blu-Ray here in a new 2K scan from a 35mm print (1.85, mono). Supplements include commentary by Kier-La Janisse and Justine Smith; a video essay by Alexandra Heller-Nicholas; an interview with Arcand and audio conversations with cast members; trailers; and more.
NIGHTMARES Blu-Ray (83 mins., 1980; Umbrella): Aussie thriller by "Ozpolitation" director John D. Lamond features Jenny Neumann as an actress whose fellow cast members are being slaughtered in a slasher with Down Under sensibilities, restored by Umbrella and released here in the U.S. through Vinegar Syndrome. This special edition includes commentary by Lamond with "Not Quite Hollywood"'s Mark Hartley, who also provides extended interviews from his terrific documentary here. Additional trailers, deleted scenes and Alexandra Heller-Nicholas' booklet notes round out the good-looking package, complete with a scope (2.35) transfer and mono sound.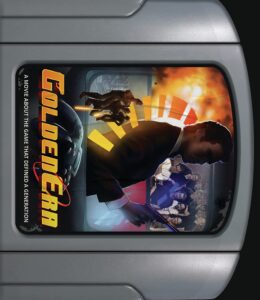 GOLDENERA Blu-Ray (100 mins., 2022; ETR): Drew Roller's documentary charts the legendary mid '90s partnership between Nintendo and Rare, the UK design house comprised of less than a dozen young grads whose video game adaptation of "Goldeneye" became a system seller for the Nintendo 64 – and one of the defining titles of its generation. A compulsively watchable doc presented on Blu by ETR (1.85, 2.0 stereo) with over a half hour of extras.
From Yellow Veil Picures comes a deluxe edition of Fabrice du Welz's CALVAIRE (91 mins., 2004), a French thriller about a traveling performer who's locked up by a deranged innkeeper in a dusty, nowhere town. Du Welz's intro and commentary are included in Yellow Veil's Blu (2.35, stereo) sporting extensive supplements…The life and music of Lee "Scratch" Perry is relayed in THE UPSETTER (95 mins., 2008), a look at the Jamaican musician/artist who spearheaded the entire Reggae movement. Ethan Higbee and Adam Bhala Lough's acclaimed production, narrated by Benicio Del Toro, debuts on Blu-Ray (1.33) sporting a 2022 director's commentary, trailer, deleted/scenes, and a 24 page booklet from Factory 25…Lizzy Goodman's book MEET ME IN THE BATHROOM (108 mins., 2022) about the New York music world around the time of 9/11 was adapted into a documentary feature by Dylan Southern and Will Lovelace. Utopia's new Blu-Ray includes the doc (1.78, 5.1) with commentary from Goodman and the directors, premiere footage and more.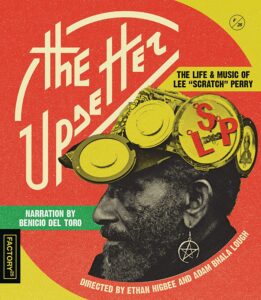 Culture Shock Releasing dives back into the zany world of '90s home video schlock with FLESH MERCHANT (100 mins., 1993), director Mike Tristano's tale of a detective searching for her missing, aspiring actress sister, and uncovering a sex trafficking ring engulfing Hollywood in the process. Culture Shock's Blu-Ray (1.33, stereo) boasts a Tristano commentary, interviews and the original trailer…Salome Jashi's TAMING THE GARDEN (92 mins., 2021) is an acclaimed film from the Georgian filmmaker, presented on Blu-Ray from Big World Pictures (1.78, stereo) sporting a deleted scene and the trailer…In HOW TO BUILD A TIME MACHINE (82 mins., 2015), director Jay Cheel produced a unique look at two men attempting to build their own time travel devices, one of them constructing a life-size replica of the machine from George Pal's 1960 movie adaptation of H.G. Wells' novel. Commentary, deleted scenes and featurettes are included in Collective's Blu-Ray (1.78, 2.0)…Addison Heimann's HYPOCHONDRIAC (97 mins., 2022) is new on Blu-Ray from XYZ Films sporting interviews, commentary, deleted scenes, a 1080p (2.35) transfer and 5.1 DTS MA sound.
Note the best venue to purchase Vinegar Syndrome and their affiliated partners is directly through the VS website.
---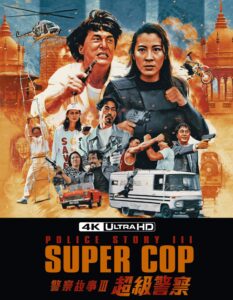 Also New & Noteworthy
POLICE STORY III: SUPERCOP 4K UHD/Blu-Ray (96/91 mins., 1992-96, R; 88 Films): Yet another outstanding box-set from 88 Films, this one for the third "Police Story" franchise entry that ranks among the best efforts of star/producer Jackie Chan.
Jackie is, of course, here paired opposite Michelle Yeoh's Chinese cop who comes to Hong Kong to take down drug smugglers; there's a little political commentary in terms of their friction (dailed down further in the U.S. release cut) but most of director Stanley Tong's freewheeling sequel is fast-moving fun with Chan doing his usual acrobatic stuntwork with charisma to spare. The end result was widely acclaimed by fans and continues to be a popular title among Chan devotees, even though it wasn't quite the hit even in Hong Kong that Golden Harvest hoped for (making less money, as it turns out, than "Police Story II").
In the U.S., Miramax picked up the film for distribution in the wake of "Rumble in the Bronx"'s later success. Retitling the film "Supercop," the movie did meager U.S. box-office in late July 1996, even with the movie having been newly re-dubbed (Chan and Yeoh handle their own voices), re-scored (by Joel McNeely), and slightly trimmed – undoubtedly even casual Chan fans were aware this was just a recut of a four-year old movie that was widely available on home video outside the U.S. (and in assorted boots inside it).
88 Films' UHD/Blu-Ray box gives fans their choice of the 96-minute Hong Kong version (in Cantonese Atmos/mono or with its own "classic English dub") as well as the Dimension "Supercop" release (5.1 DTS MA). While I ordinarily don't endorse dubbed Miramax recuts in general, this one isn't at all bad, with McNeely's score faring better than the original HK version and a couple of "edgy" bits having been tossed aside. Viewers can pick between the two, each in superb Dolby Vision HDR transfers (2.35) that offer nicely saturated colors and natural grain.
Supplements include a commentary by genre authority Frank Djeng; featurettes on Chan, Yeoh, and Tung, plus a 2004 interview with the director; outtakes/behind the scenes footage; a full run of trailers from around the world; a 1984 Guy Laroche commercial with Chan and Yeoh; and all of it housed inside a hardback case with a gorgeous 80-page booklet, foldout poster, and six lobby card reproductions. Highly recommended!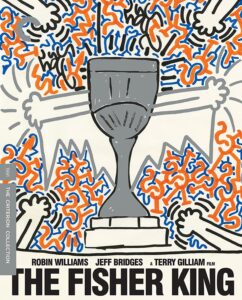 THE FISHER KING 4K/Blu-Ray (138 mins., 1991, R; Criterion): "The Fisher King" is easily one of director Terry Gilliam's finest movies, even if he was essentially a "director-for-hire" adapting Richard LaGravenese's marvelous script to the screen. No matter, it's a shame Gilliam seldom channeled his talents back into the studio system after helming this well-received comedic-drama with fantastical overtones as ex-shock jock Jeff Bridges attempts to help a homeless history professor (Robin Williams) with delusions of retrieving the Holy Grail from a Manhattan building.
Both Bridges and Williams do some of their best work here, complimented by strong support from Amanda Plummer and Oscar-winner Mercedes Ruehl, who's just great as Bridges' long suffering girlfriend. The film is funny, insightful, romantic and thoroughly appealing; LaGravenese's script keeps Gilliam's flights of fancy grounded in reality, but when they do occur, they don't completely derail the film (though some would argue they're the weakest part of the picture).
Criterion's 4K UHD (1.85, 5.1 DTS MA) offers an upgraded edition of their 2015 Blu-Ray, with Dolby Vision HDR further showcasing Gilliam's visuals in a new director approved 4K digital master. The disc is otherwise a reprisal of that presentation, sporting interviews with Gilliam, producer Lynda Obst, LaGravenese, Bridges, Plummer and Ruehl; conversations with artists Keith Greco and Vincent Jefferds on the creation of the Red Knight; a 2006 interview with Robin Williams; a new video essay with Bridges' on set photos; 1991 footage of Bridges training as a radio DJ; deleted scenes; costume tests; trailers; and an older commentary track with Gilliam. The 5.1 DTS MA audio is the same as its earlier release, offering some dated early '90s songs and a fine George Fenton score (there's also a pleasant rendition of "How About You" performed by Harry Nilsson over the end credits).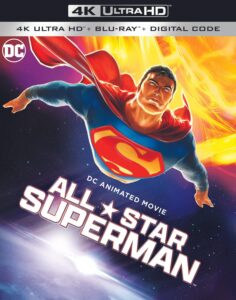 ALL-STAR SUPERMAN 4K UHD (76 mins., 2011, PG; Warner): Eagerly anticipated 2011 animated rendition of the popular "All-Star Superman" comic book from Grant Morrison and Frank Quitely – which effectively "remixed" iconic elements from the Superman mythos with its own take and stylized design – proved to be something of a disappointment.
Here, Superman confronts his own (im)mortality, has a final run-in with Lex Luthor, romances Lois Lane for the last time and meets future Kryptonians in a plot that extracts many narrative strands from its source material, yet fails to place them into a cohesive whole. The underwhelming story is further compounded by disappointing voice work, from James Denton's tepid reading of the Man of Steel to "Mad Men"'s Christina Hendricks' surprisingly bland Lois Lane. They're so weak that they fail to add the proper nuances to material that cried out for a more effective, dramatic performance.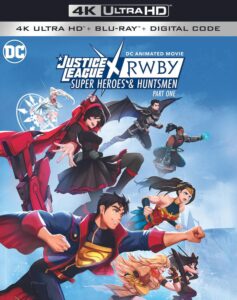 The animation is quite good, and Warner's new 4K UHD transfer with HDR10 grading surpasses its previous Blu-Ray, but the final result doesn't really work – like a bizarre cross between "Superman: The Animated Series" and "Watchmen." Warner's UHD also includes the new featurettes "An All-Star Adaptation" and "An All-Star Salute to the Silver Age," plus commentary from Morrison and producer Bruce Timm, a lengthy interview on the comic's history, a digital comic, Blu-Ray and Digital HD code.
Also new from Warner on 4K UHD for DC fans is JUSTICE LEAGUE X RWBY: Super Heroes & Huntsmen Part 1 (80 mins., 2023, PG). This is a superior feature-length mash-up between the RWBY characters created by the late Monty Oum (my high school classmate's brother) and the DC universe, wherein Team RWBY is tasked with restoring their Remnant world as well as heroes like Superman, Batman and the rest of the Justice League — who have been transported there and de-aged into teenagers in the process! Enjoyable interaction between the respective characters makes this one of the better DC animated efforts of late, and it all looks great on 4K UHD with 5.1 DTS MA sound. Extras include a Digital HD code, the Blu-Ray, three featurettes and two bonus cartoons.
---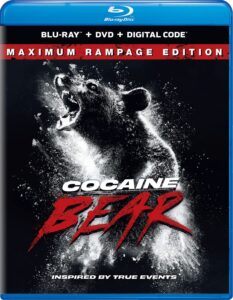 New on Blu-Ray
MAGIC MIKE'S LAST DANCE Blu-Ray Combo pack (112 mins., 2023, R; Warner): Confounding concluding (?) entry in Steven Soderbergh's "Magic Mike" series sends Channing Tatum off to London where he becomes involved with a socialite (Salma Hayek Pinault) who has something more than dancing up her sleeve. Reid Carolin's script and Soderbergh's direction lack the energy of the series' first (and best) outing, with the project feeling like a "final chapter" that didn't need to be told. Warner's Blu-Ray (1080p, 5.1 DTS MA) includes the DVD, Digital HD copy, deleted scene, and a behind-the-scenes featurette.
COCAINE BEAR Blu-Ray Combo Pack (95 mins., 2023, R; Universal): Not exactly the reunion of "Americans" stars Keri Russell and Margo Martindale fans might have hoped for, "Cocaine Bear" is a nutty yet predictable "low concept" cheapie from Universal. Based "on a true story" that occurred in the mid '80s, director Elizabeth Banks' manic outing finds a Georgia bear having consumed a drug runner's cocaine after his plane went down, causing havoc for various parties like Russell, Martindale, O'Shea Jackson, Jr. and the late Ray Liotta. "Cocaine Bear" may be fun for a few minutes but if you've seen the film's trailer, you've basically seen it all, as the one-note script by Jimmy Warden and Banks' energy level fail to sustain the material to feature length. Universal's Blu-Ray (2.39, 7.1 DTS MA) boasts an alternate ending, deleted/extended scenes, a gag reel, DVD and Digital code.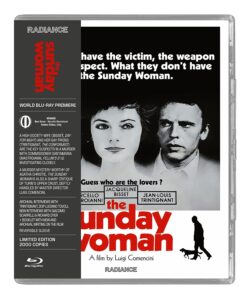 THE GREEN HORNET Blu-Ray (258 mins., 1940; VCI): Fans of old-time serials will get a kick out of these Saturday Matinee adventures featuring George W. Trendle's hero, who migrated from radio to the big screen for the first time in this 1940 Universal serial. All 13 "thrilling chapters" are on-hand with Gordon Jones as Britt Reid, newspaper editor who dons the guise of the Green Hornet with faithful sidekick Kato (Keye Luke) fighting crime beside him. VCI's 1080p transfer (1.37 B&W) is generally pleasing even if the image has been "cleaned up" a fair amount; extras include liner notes by Martin Grams, Jr., an audio conversation about VCI's restoration and a pair of classic Green Hornet radio shows.
THE SUNDAY WOMAN Blu-Ray (109 mins., 1975; Radiance): Italian murder-mystery – with socio-political overtones – offers Marcello Mastroianni as a detective working the killing of a Turin architect. Jacqueline Bisset and Jean-Louis Trintignant are chief on the list of suspects in Luigi Comencini's character-driven piece with solid performances from a game cast and a fine Ennio Morricone score. Radiance's restoration boasts the worldwide Blu-Ray debut of "That Sunday Woman" – in 1.33 or an alternate 1.85 framing – sporting mono Italian sound, English subtitles, a new interview with historian Richard Dyer; archival conversations with cinematographer Luicano Tovoli and Giacomo Scarpelli, whose father worked on the film; a vintage TV interview with Trintignant; the trailer; and a 24-page booklet in this 2000-copy limited edition run (available May 3rd).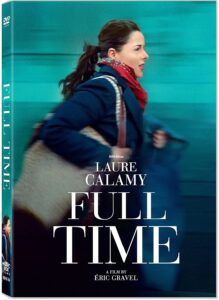 NEW GODS: YANG JIAN Blu-Ray/DVD (128 mins., 2022; Gkids/Shout): Animation house Light Chaser spins a new adaptation of Chinese mythological figure Yang Jian, here reconfigured as a former hero turned bounty hunter who has to stop his nephew who's hunting after an artifact that can cause unknowable destruction. Anime fans should groove to this polished presentation here in Gkids' Blu-Ray (2.39, 5.1 DTS MA) with audio in either subtitled Mandarin or an English dub; bonus features include an interview with director Zhao Ji, cast interviews, a Making Of, art gallery, and DVD enclosed within the slipcase-adorned package.
FULL TIME DVD (93 mins., 2023; Music Box Films): Laure Calamy gives an excellent performance in this French drama about a single Mom trying to take care of her kids, get to her hotel job, and interview for a better venue of employment – all with a transit strike throwing a wrench in all of her best laid plans. A fast-moving and straightforward film with Calamy's sympathetic, harried performance at its center, "Full Time" is new on DVD this month from Music Box (5.1 French with English subtitles, 2.39). The disc includes an interview with director Eric Gravel, a Filmmaker Q&A, isolated score track and the trailer.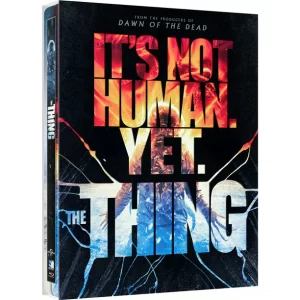 THE THING Blu-Ray Steelbook [Walmart Exclusive] (103 mins., 2011, R; Mill Creek): Respectful, and nicely mounted, prequel to John Carpenter's 1982 take on the John W. Campbell, Jr. story "Who Goes There?" offers decent monster thrills on an old-fashioned level.
The lovely Mary Elizabeth Winstead stars as an American scientist whisked away to Antarctica in order to study a Norwegian crew's find of the century: a massive alien craft entombed in the ice…and a survivor frozen nearby, outside the craft. Unbeknownst to Winstead and her mostly nameless companions, once the extraterrestrial thaws out, it's able to swallow its prey whole and reanimate itself in the guise of another life form.
Eric Heisserer's script includes a couple of nice touches that Carpenter and his screenwriter Bill Lancaster missed in the '82 version – namely, that the alien can't replicate inorganic matter like tooth fillings – but for the most part is content to rehash its predecessor's principal set-pieces, thereby serving as more of a remake than anything else. Consequently, fans of the original "Thing" are likely to be bored with what amounts to a serviceable, yet uninspired, reworking of scenes from the Carpenter film (the blood test, etc.), though at least director Matthjs van Hejningen visually pays tribute to its predecessor with an effective mix of CGI and Alec Gillis/Tom Woodruff make-up replicating Rob Bottin's legendary work from the 1982 picture. The human element of the film, though, never pays off with threadbare character beats, though I'd be happy watching Winstead in pretty much anything – she manages to be attractive and convincing here, and the only distinguishing element in an otherwise bland acting ensemble.
Mill Creek's Blu-Ray Steelbook of "The Thing" '11 is now available exclusively at Walmart. The disc's 1080p (2.35) transfer and 5.1 DTS MA sound are fine — it's been a while since I watched the Universal 2011 release (so ancient by today's standards that it was VC-1 encoded!) so I can't do a direct A/B comparison. However, Mill Creek has done a nice job in producing a pair of new featurettes to go alongside a full slate of extras from the original home video release (deleted scenes, commentary, Making Of segments, etc.).
NEXT TIME: Kino Lorber April Wrap! Until then, don't forget to drop in on the official Aisle Seat Message Boards and direct any emails to our email address. Cheers everyone!