Message Board (open 24 hours!)
Twitter - @andredursin (for everything else!)
In the annals of wacky teen comedies from the '80s, SECRET ADMIRER (98 mins., 1985, R; Kino Lorber) is one of the best – a nutty romp involving mistaken identities, secret crushes, and feuding parents, which returns to Blu-Ray in a new 2K transfer from Kino Lorber.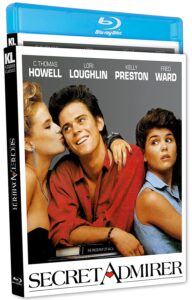 C. Thomas Howell stars as your typical high school student circa 1985 – in love with the pretty prom queen (Kelly Preston) and oblivious to the fact that his equally cute best friend (Lori Loughlin) really has the hots for him. The relationship between the three is stirred up by a letter Howell receives from a secret admirer — a letter which then passes into the hands of his parental units, who, after reading it, believe they're cheating on one another!
Fred Ward, Dee Wallace Stone, Leigh Taylor-Young, and Cliff DeYoung essay the adults, and the scenes in which they play off one another are priceless — a nice contrast to the movie's more standard but nevertheless likeable youth romance. The Jim Kouf-David Greenwalt script is unusually smart for this kind of fare, and Greenwalt infuses the movie with a lot of energy thanks to his direction. You also get a surprisingly adequate electronic score by "Miami Vice" composer Jan Hammer, some bouncy '80s rock 'n roll, and a memorable race-to-the-finish-line finale. What more can I say? "Secret Admirer" is a guilty pleasure, and it's a good one! C. Thomas would never again be "The Man" so much as he was back in the summer of '85.
Previously available on an out-of-print Olive release, Kino Lorber's Blu-Ray of "Secret Admirer" boasts a new 2K scan of the 35mm interpositive (1.85) which is a tad darker compared to the previous MGM HD master but also more detailed; on the audio side, the original Dolby Stereo sound has, alas, been mixed down to mono instead. A welcome new commentary is included featuring Greenwalt, Jim Kouf and associate producer Lynn Kouf, as moderated by Daniel Kremer. The trailer and radio spots round out the slipcover-adorned package.
Another '80s comedy premieres a new 2K scan this month from Kino Lorber: Susan Seidelman's MAKING MR. RIGHT (98 mins., 1987, PG-13), an Orion release that followed the director's 1985 breakout hit "Desperately Seeking Susan," but failed to attain the same level of commercial or critical success. Ann Magnuson stars as a PR executive who falls for the lifelike robot (John Malkovich) creation of a scientist (also Malkovich) who has aspirations of exploring outer space in a movie that never found an audience in theaters but receives another shot here thanks to Kino Lorber's Blu-Ray (1.85), boasting a 2K scan of the 35mm interpositive; commentary from Seidelman and Magnuson; interviews with the duo; and the trailer.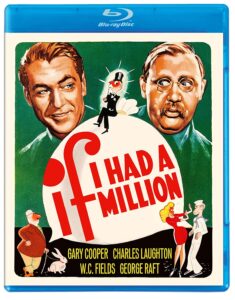 New Releases From the Golden Age
IF I HAD A MILLION Blu-Ray (88 mins., 1932): Early Pre-Code anthology film is set in motion by a dying tycoon (Richard Bennett), who hands a million bucks each to eight different people. From a Marine (Gary Cooper) to Charles Laughton's office worker, "If I Had a Million" charts the alternately comedic or dramatic fates for these individuals, with W.C. Fields (who provides arguably the movie's most memorable set-piece), May Robson, George Raft and Charles Ruggles among the familiar faces popping up in a Paramount production helmed by five different directors including Norman Taurog and Norman Z. McLeod. Allan Arkus and Daniel Kremer provide the commentary in Kino Lorber's Blu-Ray featuring a sturdy Universal catalog master (1.37 B&W).
COUNSELLOR AT LAW Blu-Ray (82 mins., 1933): The story of a Jewish lawyer who rises to prominence – only to find his friendships tested after he allows a former client to win a case after committing perjury – offers an actor's showcase for star John Barrymore. This adaptation of a popular Broadway play adapted by its author, Elmer Rice, is a finely acted affair with Barrymore under the direction of William Wyler. Universal's 2K master (1.37 B&W) is superior with a commentary by Daniel Kremer and Catherine Wyler offering numerous insights into the production of this pre-Code Paramount hit.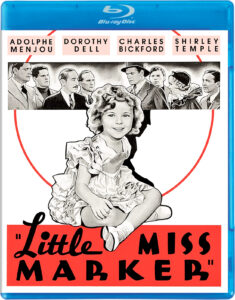 LITTLE MISS MARKER Blu-Ray (80 mins., 1934): One of the box-office smashes of 1934, this first adaptation of the Damon Runyon story became one of young Shirley Temple's most popular films, with Temple playing the adorable little orphan who becomes the responsibility of Adolphe Menjou's "Sorrowful Jones." Dorothy Dell and Charles Bickford also appear in a film that was remade several times over the years but never to the same success as this Paramount production. Lee Gambin and Elissa Rose essay Kino Lorber's commentary with the Universal HD master (1.37 B&W) appearing in good shape.
THE CRUSADES Blu-Ray (125 mins., 1935): Cecil B. DeMille epic sends Richard the Lionhearted (Henry Wilcoxon) off to the Holy Wars where he marries a princess (Loretta Young) he has to rescue in a B&W mid '30s Paramount affair typical of its director. The spectacle level is high even though the dialogue is often creaky, but fans of Golden Age pre-Code works and DeMille's movies especially ought to have a lot of fun with this. Allan Arkush and Daniel Kremer's commentary is included in Kino Lorber's Blu-Ray (1.37 B&W) along with the trailer.
NEVER SAY DIE Blu-Ray (82 mins., 1939): Before taking off with more "solo" oriented projects, Bob Hope was teamed with Martha Raye in this breezy comedy about a millionaire (Hope), fleeing a femme fatale widow (Gale Sondergaard), who instead marries an oil heiress (Raye), believing that he has only two weeks left to live. Shenanigans ensue with the cast doing its best to keep Elliott Nugent's comedy afloat; they mostly succeed, with Andy Divine co-starring and Preston Sturges credited as one of three screenwriters. Kino Lorber's Blu-Ray includes commentary by Paul Anthony Nelson and Lee Zachariah, the trailer, and a finely detailed 1080p (1.37 B&W) transfer, derived from a 2K scan of the 35mm fine grain…an earlier Hope comedy, THANKS FOR THE MEMORY (75 mins., 1938), I found more entertaining, this one featuring Bob as a novelist attempting to juggle his latest work with his new bride (Shirley Ross) and a gaggle of meddlesome friends. Albert Hackett and Frances Goodrich's play "Up Pops the Devil" was adapted by Lynn Starling and retitled with Hope's hit song from "The Big Broadcast of 1938," even though "Thanks For the Memory" itself doesn't appear in this film. Michael Schlesinger's commentary is included in Kino Lorber's Blu-Ray (1.37 B&W).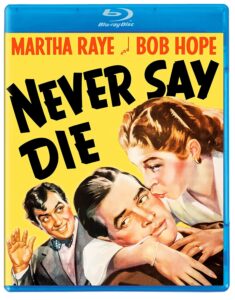 From The '40s Through the '60s
LUCKY JORDAN Blu-Ray (84 mins., 1942): Alan Ladd stars in the title role of this WWII-era drama: a gangster who's pushed into the draft, and while going AWOL, finds his purpose after running afoul of Nazis after he steals a car filled with German military plans. Helen Walker and Sheldon Leonard co-star in this Paramount release co-written by Karl Tunberg and Darrell Wade. A new Universal 2K scan of the 35mm fine grain is on-tap in Kino Lorber's Blu-Ray (1.37 B&W) plus a fresh commentary by historian Samm Deighan.
TOMAHAWK Blu-Ray (82 mins., 1951): Tidy, exciting western programmer features Van Heflin as Jim Bridger, a real tracker and American Indian sympathizer, albeit in a mostly fictional Hollywood story involving a wagon route's construction and issues surrounding native Sioux territorial rites. German Sherman helmed this short but sweet Technicolor effort from director George Sherman co-starring Yvonne DeCarlo and a young Rock Hudson; the Universal 1080p (1.37) master is strong and a commentary from Lee Gambin and Rutanya Alda adds historical context…Western fans can also saddle up for more Saturday Matinee styled action in the Joel McCrea vehicle BORDER RIVER (80 mins., 1954), with McCrea playing a confederate who's stolen Union gold and heads to Mexico – only to run afoul of Pedro Armendariz and a double-cross. Yvonne DeCarlo again co-stars in another George Sherman western from Universal-International, here preserved in a crisp Universal master (1.37) with a new commentary by Toby Roan.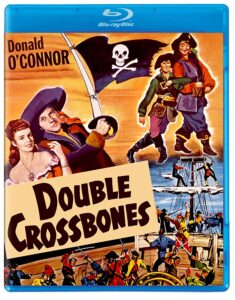 DOUBLE CROSSBONES Blu-Ray (76 mins., 1951): Fans of Donald O'Connor will be most receptive to this silly Technicolor comedy wherein O'Connor's clerk assumes a pirate identity after being accused of being one; his shenanigans at sea eventually work out in a colorful confection helmed by Abbott & Costello vet Charles Barton, co-starring Helena Carter. Lee Gambin provides another commentary alongisde fellow historian Gary Frank while the Universal HD master (1.37) is perfectly acceptable.
NO MAN IS AN ISLAND Blu-Ray (114 mins., 1962): Workmanlike war picture tells the remarkable true story of a Naval officer who escapes into the mountains of Guam after the attack on Pearl Harbor, where he wages what becomes a one-man battle against the Japanese basically through the rest of WWII. Jeffrey Hunter plays George Tweed, whose story is more interesting than this sturdy, formulaic picture from director-writers John Monks, Jr. and Richard Goldstone, which feels more like it had a small-screen budget despite its color cinematography and eventual Universal distribution. Kino Lorber's Blu-Ray (1.85) features a welcome commentary from action movie specialists Steve Mitchell and Steven Jay Rubin.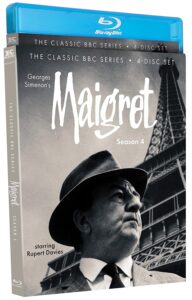 Foreign and Specialty Titles
MAIGRET: Season 3 (715 mins., 1962) continues Kino Lorber's survey of the vintage early '60s BBC TV adaptation of author Georges Simenon's international bestsellers. Rupert Davies returns here as Simenon's stalwart French detective Jules Maigret though 13 third season (1962) episodes of the series, which hadn't been seen in decades before being remastered in HD by Network from original film elements (1.33 B&W). Season 3 of the series includes mysteries like "The Madman of Vervac" and "The Crooked Castle," and Kino has included the exclusive featurette "Simenon on Simenon," a 2021 interview with Georges' son John…Also just released is Season 4 of MAIGRET (715 mins., 1963) which sports another 13 episodes from the series, spread across four Blu-Rays, featuring the cases "The Fontenay Murders" and "The Crime at Lock 14," plus the extra feature "Play of the Month: Maigret At Bay" (92 mins., 1969) and restoration notes.
ARSENE LUPIN COLLECTION Blu-Ray: Three-film collection houses a trio of Parisian imports charting the exploits of Maurice Leblanc's "gentleman-thief." Offered here are the 1957 full color outing "The Adventures of Arsene Lupin" (103 mins.) featuring Robert Lamoureux as Lupin, who would return in the sequel "Signed, Arsene Lupin" (99 mins., 1959, B&W). Jean-Claude Brialy, meanwhile, took over the title role in "Arsene Lupin Vs. Arsene Lupin" (111 mins., 1962) opposite Jean-Pierre Cassel and Francoise Dorleac. Though also shot in B&W the film marked Lupin's first foray into widescreen, with Kino Lorber's Blu-Ry transfer hailing from a 1080p (2.35) Gaumont scan (the first film is framed at 1.37 with the 1959 sequel at 1.66). All three films feature original French audio with English subtitles and come recommended heartily for Francophiles.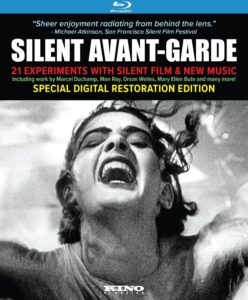 THE MAN WITHOUT A WORLD (98 mins., 1991; Milestone): Fascinating silent movie shot in 1991 by filmmaker Eleanor Antin, who directed the picture as if it was produced by a 1920s Soviet director, Yevgeny Antinov. The result was Antin's ode to her Mom, a Yiddish performer, with its story of a gypsy dancer (also Antin) who arrives in a local village and changes the lives of the disparate individuals who live there. Offbeat and graced here with a new score by Dodnald Sosin and Alicia Svigals, "The Man Without a World" debuts on Blu-Ray (1.33 B&W) along with two other Antin cinematic endeavors: "From the Archives of Modern Art" (1987) and "The Last Night of Rasputin," plus a conversation with actress Christine Berry.
New Kino Classics Releases: Recently released by Kino Classics is SILENT AVANT-GARDE (188 mins., 1922-2022), an anthology of 21 short art movies derived from respective 35mm and 16mm elements, all in HD (up to 5K) scans. Included here are early efforts like "Twenty-Four Dollar Island" and "Pas De Deux," from directors like Robert J. Faherty, Sergei Eisenstein, Edward Tisse and Warren Newcombe among others, all offering a glimpse at the potential for the silent movie to entertain, provoke and enlighten, all without the benefit of dialogue. This digital restoration edition curated by Bruce Posner — whose work is also included herein — includes over three hours of material and is now available on Blu-Ray from Kino Lorber…Joe May's ASPHALT (94 mins., 1929) is a highly regarded late '20s German drama about a young cop (Gustav Frolich) who's assigned to escort a diamond thief in custody, only to find out she's the alluring Betty Amann. Kino Classics' Blu-Ray (1.33) includes 2.0 and 5.1 stereo tracks and a historian commentary by Anthony Slide.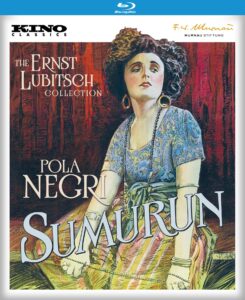 Three new German silents from The Ernst Lubitsch Collection are freshly released on Blu-Ray this month from Kino Classics. THE WILDCAT (Die Bergkatze) (85 mins., 1921) and the earlier WHEN I WAS DEAD (37 mins., 1916) showcase Lubitsch's deft comedic touch; the former features Paul Heidemann as a lieutenant captured by outlaws who falls for the daughter (Pola Negri) of their leader, and the latter a 1916 color-tinted domestic farce. Both are included in their own Kino Classics Blu-Ray release with commentaries from Anthony Slide and Joseph McBride, respectively…Negri also starred in Lubitsch's SUMURUN (103 mins., 1920), aka "One Arabian Night," the story of a harem girl (Jenny Hasselqvist) who breaks with tradition and rejects an old sheikh in favor of a cloth merchant. The disc also includes screen test footage for Lubitsch's unrealized production of "Marguerite and Faust," which he was going to direct in the U.S. All three features have been restored with German intertitles and optional English subs.
Cohen Film Collection New Releases: Sandrine Bonnaire and Jerzy Radziwilowicz star in Jacques Rivette's SECRET DEFENSE (174 mins., 1997), a flowing, fully developed character-driven thriller about a scientist (Bonnaire) who discovers that her father was murdered by a family friend. A 4K restoration (1.85) graces this Cohen release along with commentary by Columbia professor Richard Pena…Israeli's entry for the Best Foreign film at the 94th Oscars, LET IT BE MORNING (101 mins., 2019) is director Eran Kolirin's adaptation of Sayed Kushua's novel examining modern living in Jerusalem with several characters locked down in a rural village by the Israeli military. Cohen's Blu-Ray is now available sporting a 1080p (2.39) transfer and 5.1/2.0 sound, in Arabic/Hebrew with English subtitles.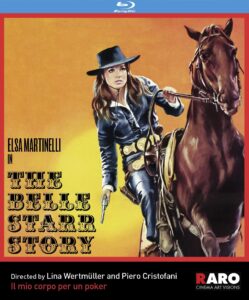 THE BELLE STARR STORY Blu-Ray (99 mins., 1968; Raro Video/Kino Lorber): Elsa Martinelli, whom American audiences may recall from the John Wayne affair "Hatari!," stars in the title role in this 1968 spaghetti western – the one and only film in its genre to be helmed by a woman, as the great Lina Wertmuller replaced credited co-director Piero Cristofani (using the pseudonym "Nathan Wich"!) shortly after filming began. Samm Deighan details the movie's unique place in western history with Raro Video's 1080p (1.85) transfer and Italian sound coming off as both perfectly acceptable.
On DVD: MHz Networks debuts Season 1 of PARIS POLICE 1900 (438 mins., 2021) on DVD this month. Set in Paris at the turn of the 20th century, this period police procedural chronicles Marc Barbe's police chief as he investigates the murder of a young woman with the help of a courtesan whom he recruits as a spy. English subtitles are included with the original French audio (16:9) in the three-disc set.
French author and recent Nobel Prize recipient Annie Ernaux provides a look into her family's memories with THE SUPER 8 YEARS (65 mins., 2022), a documentary charting their travels from 1972-81, in outings to Albania and Egypt and the USSR, via an 8mm camera her husband took with them (1.33). Kino's DVD includes Ernaux and David Ernaux-Briot's interview from the NY Film Festival…From Virgil Films, BURLESQUE: HEART OF THE GLITTER TRIBE (76 mins., 2023) is Jon Manning's documentary about the modern new wave of burlesque, as seen through the perspective of a dozen performers (16:9, 2.0).
Greenwich Films new releases on DVD this month include THE MAN IN THE BASEMENT (114 mins., 2021), a French picture about a Jewish couple (Jeremie Renier, Berenice Bejo) forced to live with a former history teacher (Francois Cluzet) who's also a Holocaust denier (16:9, 5.1/2.0, French with English subtitles)…the documentary I GOT A MONSTER (90 mins., 2023) examines the country's most corrupt police unit – Baltimore's "Gun Trace Task Force" – in a compelling production from executive producer Norman Lear, based on the best-selling book of the same name (16:9, 5.1/2.0)…Keith Maitland's DEAR MR. BRODY (98 mins., 2020) looks at a real-life case involving a 21-year-old "hippie millionaire" who decided to give away his fortune to those in need – an idealistic pursuit that, predictably, didn't end up as intended. Maitland's doc is new on DVD sporting a 16:9 (1.78) transfer and both 5.1/2.0 audio.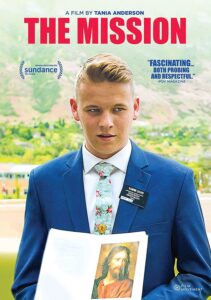 Film Movement New Releases
In THE MISSION (95 mins., 2023), director Tania Anderson follows four young missionaries from the Church of Jesus Christ of Latter-Day Saints to Finland, where they engage in a two-year training regiment – mostly being rejected but occasionally triumphing in their religious endeavors. A nicely-rounded piece from Anderson with Film Movement's DVD boasting a 16:9 transfer and 5.1/2.0 sound…Also available April 11th from Film Movement on DVD is Philipp Stolzl's CHESS STORY (112 mins., 2023), a taut profile of Dr. Josef Bartok (Oliver Masucci), who spent his time locked up in Gestapo solitary confinement by memorizing chess moves. Film Movement's DVD includes an introductory essay and the short "Der Tunnel" (16:9, 5.1/2.0 German with English subtitles).
NEXT TIME: PRIMAL RAGE fuels the latest from Vinegar Syndrome! Until then, don't forget to drop in on the official Aisle Seat Message Boards and direct any emails to our email address. Cheers everyone!