A bona-fide genre staple, "The Magnificent Seven" is one of those home video "frequent fliers," appearing in every format from a 2006 Special Edition DVD to a Blu-Ray box (with the sequels) back in 2010. Like most popular titles in the MGM catalog, this UA-Mirisch production has been restored in a 4K scan of the original camera negative – an "existing" scan that had, to be specific, 2022 "restoration and color grading" performed on it.
The end result is included in Shout Select's UHD/BD and either presentation is a superior transfer to the earlier 2010 Blu-Ray in terms of detail. The UHD's Dolby Vision HDR grading is a little bit inconsistent at times, I felt, in some of the exterior sequences, while other moments look impressive. Overall, though, I'm not sure the remastered Blu-Ray, based off the same 4K scan, isn't as satisfying because it doesn't suffer from the unevenness of the HDR grade.
Either way, this is a highly recommended package for its 4K scan no matter which way you go. On the audio side, Shout has included three options: the original mono, a 5.1 remix that's mostly a gentle rechanneling of the mono (same mix as the previous Blu-Ray), and a 2.0 stereo track much more aggressive in its pseudo-multi channel placement of music and dialogue.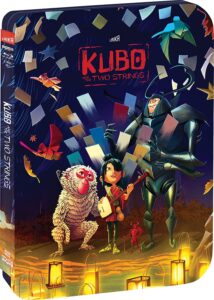 Extras, meanwhile, have been carried over from the 2006 DVD release. These include the commentary track featuring Eli Wallach, James Coburn, and producer Walter Mirisch, plus featurettes on Elmer Bernstein's score (courtesy of comments from sage Jon Burlingame), a 45-minute retrospective documentary, trailers, and "Lost Images" from the movie. Also retained is a commentary from Sir Christopher Frayling and an interview with the historian, which were both omitted from the 2010 Blu-Ray.
Also New From Shout in 4K are gorgeous, remastered 4K Ultra HD editions of two Laika Studios hits: THE BOXTROLLS (96 mins., 2014, PG), which wasn't Laika's most successful picture yet is certainly still a charming enough for kids, and the terrific KUBO AND THE TWO STRINGS (102 mins., 2016, PG), a picture regarded as one of their finest efforts, an enchanting, Japanese-set fantasy that looks positively spellbinding here in a new Dolby Vision HDR restoration.
Both pictures benefit from the Dolby Vision treatment (1.85 on "Boxtrolls," 2.39 on "Kubo") with 7.1 Dolby Atmos mixes capping both productions. Extras on both movies run the gamut from "Inside Laika" retrospectives (featuring test footage) to storyboards, commentary tracks, and original featurettes from each picture's prior Blu-Ray. Shout has utilized collectible limited-edition Steelbook packaging on both of these UHD/Blu-Ray combo packs, which street on February 28th.
---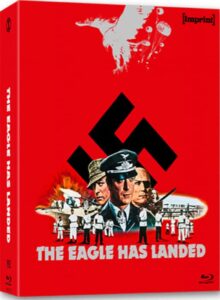 Imprint New Releases
Jack Higgins' international bestseller THE EAGLE HAS LANDED (135 mins., 1977, PG; Imprint Editions/ViaVision), about a failed German WWII plot to kidnap Winston Churchill in a quaint English village, became a sturdy – if unspectacular – thriller under the guidance of veteran director John Sturges. Michael Caine stars as the most sympathetic German in the cast, with Robert Duvall, Donald Sutherland, Jenny Agutter, Jean Marsh, Donald Pleasence, Treat Williams and Larry Hagman acting out screenwriter Tom Mankiewicz's cinematic distillation of Higgins' novel.
A box-office hit that played worldwide throughout 1977, the movie version of "The Eagle Has Landed" manages to be mildly satisfying because of its cast, yet multiple reports that Sturges left the film high and dry, not participating in post-production, is something that seems evident from the finished product. This is a movie that should've been a lot more exciting than it is, starting from a languid first half-hour comprised of dry introductory scenes, to a pace and tone that takes forever to settle in. This is underscored by the audience's first meet-up with Duvall, Caine and Sutherland, where it doesn't feel like we're meeting characters, but rather actors with specific personalities inhabiting them.
Granted there's always a suspension of disbelief involved with a film, but getting to the point where you believe what's happening and become invested in the drama takes an inordinate amount of time here. There's just an overall sense of urgency lacking in the movie and even its basic blocking of various scenes (Sturges' direction is dull to a fault), and only in the movie's last 45 minutes does "Eagle" finally kick into another gear and hint at the tremendous potential this material had.
Nicely shot in scope, "The Eagle Has Landed" was reportedly one of Mankiewicz's favorite scripts, yet he – along with Michael Caine – blamed Sturges for the finished product being little more than the workmanlike outing that it is. Even Lalo Schifrin's score (whose main title had to have been temp-tracked with Michel Legrand's score for "The Three Musketeers") isn't overly memorable, making this a film that manages to work because of its assembly of stars from around the globe – and provided you come into it knowing the picture as a whole doesn't live up to the talents involved in its production.
Imprint's two-disc Limited Edition Blu-Ray follows respective ITV and Shout releases in the UK/US from years back. The HD master (2.35, 2.0 stereo) seems to be the same as those discs though the compression is fairly good here, arguably a notch above the Shout release, and the stereo soundtrack is robust. The set also includes the movie's Extended Version (151 mins.) on a separate Blu-Ray – note, however, this is sourced from the best-available ITV master, meaning it's upscaled standard definition. The image at least is fairly clean (2.35, 2.0 stereo) and includes several discarded scenes of note, even though it prolongs an already slow-going opening act.
Supplemental features are, of course, enjoyable across the board. These include new commentaries, one on the theatrical cut by 60s/70s action-adventure specialists Steven Jay Rubin and Steve Mitchell, and a talk on the extended version with podcaster (and prolific TV producer) Phoef Sutton, C. Courtney Joyner, and Treat Williams joining in via teleconference. There also new featurettes with Kim Newman on the movie, plus a longer audio essay on Sturges' career involving Daniel Kremer, Nat Segaloff and Michael Schlesinger.
We also get a feature-length, two-part assembly of recently conducted crew interviews courtesy of James McCabe which are nice to have, along with, on the second disc, recycled supplements from previous ITV DVD editions, with vintage interviews, location segments, and a Mankiewicz interview among them.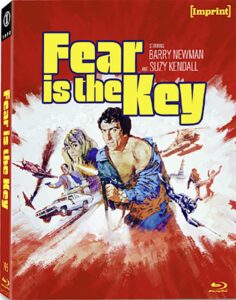 The number of Alistair MacLean movie adaptations back in the '60s and '70s were prolific enough to basically start a sub-genre all their own. Yet not all of them were high-profile studio films, necessarily, like "The Guns of Navarone" and "When Eagles Dare," as the bestselling author also became involved with a number of decidedly lower-scaled thrillers which met, generally, with less commercial fanfare, though many of these retain their appeal today when revisited on home video.
One of the films that falls into the latter category is FEAR IS THE KEY (104 mins., 1972, PG), which finds Barry Newman as a determined deep sea salvage diver who gets involved in a local fracas while driving through Louisiana, wherein he kidnaps an oil heiress (Suzy Kendall) and is later entangled with the crime boss (John Vernon) her father is unwittingly associated with. Vernon's out to pull a big score and eventually needs Newman's help – unaware of the latter's master plan.
Shot on location in Louisiana by a British crew including director Michael Tuchner and cinematographer Alex Thomson, and marked with a superb, effectively modulated performance from Newman, "Fear is the Key"'s ace card is also part of its problem. A lengthy car chase sequence that comprises a good chunk of the picture's first half is its strongest asset, with Newman and Kendall fleeing Bayou cops and Roy Budd's dazzling jazz score pounding away in the background. It's electric early '70s action filmmaking, but once it ends and the plot – adapted by Robert Carrington from MacLean's novel – kicks into gear, you can't help but feel a sense of deflation that there's nothing left to come that will match it.
As it turns out, if anything, the movie veers off into the other direction entirely, trying to generate suspense from unraveling Newman's scenario of revenge and a finale that's so "low-fi" it could have worked just as well on the radio. It's not entirely disappointing – particularly if you're aware of it – but when your first act is the most memorable portion, you know viewer indifference is the most probable reaction to the material as a whole.
An Anglo-EMI production initially released in the U.S. by Paramount and seldom released on home video, "Fear is the Key" looks marvelous in this 2.35 Blu-Ray transfer provided to Imprint by Studio Canal. The scope framing looks plenty wide and the image is healthy with Thomson's lensing being a major plus; there's also an early appearance from Ben Kingsley as a goon working with Vernon. Extra features include an enjoyable commentary from Kim Newman and Sean Hogan, a new 40-minute set of cast/crew interviews, a conversation with associate producer Gavrik Losey, and the trailer.
---
Warner Archive New Releases
Warner Archive jumped into the New Year with no less than five new-to-Blu-Ray format premieres of a wide variety of features – some more obscure than others, with a couple of fan favorites in the mix for high-definition treatment at long last.
One of those is the highly entertaining Lucille Ball-Desi Arnaz MGM comedy THE LONG, LONG TRAILER (96 mins., 1954), which catapulted off Lucy and Desi's TV success to tell the story of honeymooners who decide to take a roadtrip in a 40-foot motor home – and come to regret at least portions of that experience.
With Vincente Minnelli helming, "The Long, Long Trailer" offers both typical MGM studio gloss and a script by Albert Hackett and Frances Groodrich that makes good use of its stars' chemistry. Though in full color and big-screen sized, there's an awful lot of "I Love Lucy"-styled slapstick on-hand here, and the movie is all the better for it, since the comedic portions tend to work better than its more syrupy dramatic passages.
Still, if you're a fan of Lucy, this is a movie you've likely seen and probably enjoyed since it was rebroadcast on TV for many, many years, and Warner Archive's gorgeous 1080p (1.75, 2.0) transfer preserves the studio's stellar restoration. Extras include a Peter Smith Specialty short, "Dixieland Droopy" cartoon and the trailer.
The Robert Donat-Greer Garson version of GOODBYE MR. CHIPS (115 mins.) needs little introduction for Golden Age fans. This is an early MGM classic that should always be in print – and here makes its Blu-Ray (1.37 B&W) format debut with a fine grain transfer that possesses more detail than you've ever seen from this vintage first adaptation of James Hilton's novel. A little too long but nevertheless impeccably performed by Donat in his Oscar-winning turn, this is the best adaptation of the story, and holds up today as one of the many classics from the immortal movie-going year of 1939.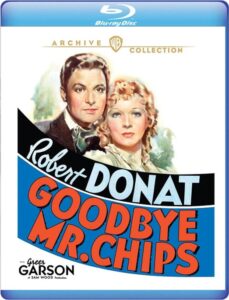 Joan Crawford shot to super-stardom with her performance in the silent MGM hit OUR DANCING DAUGHTERS (84 mins., 1928), a movie with a post-synced music score. Crawford stars in this Roaring '20s drama as a party girl who knows when to quit – while her friend learns, the hard way, about the consequences of living the high life. A box-office smash co-starring Johnny Mack Brown, Dorothy Sebastian and Anita Page, "Our Dancing Daughters" was one of the landmark hits of its era and launched Crawford on a career that would endure for decades. Warner Archive's Blu-Ray features a 1080p (1.37 B&W) AVC encode with mono audio.
Speaking of star power, there's plenty in WIFE VS. SECRETARY (87 mins., 1936), an MGM confection with Clark Gable as a publisher whose wife (Myrna Loy) begins to believe there might be something cooking between her husband and his sexy secretary (Jean Harlow) – even though she has a boyfriend of her own (Jimmy Stewart!). A finely tuned studio product, "Wife Vs. Secretary" isn't a classic but the chance to watch a handful of great stars together should be an offer many Golden Age fans won't refuse. Warner Archive's now-available Blu-Ray (1.37 B&W) includes the Oscar-winning short "Crime Doesn't Pay," another short "The Public Pays," and the trailer.
Finally, Fritz Lang's offbeat western RANCHO NOTORIOUS (89 mins., 1952) has long held a fascination among genre buffs. This RKO release stars Arthur Kennedy as a cowboy looking to find out who killed his girl, and whose journey ends up leading him to the Chuck-a-Luck, an out-of-the-way ranch presided over by Marlene Dietrich's experienced saloon songstress. Mel Ferrer co-stars in an intentionally "intimate" character-driven genre outing that plays to Lang's strengths. Warner Archive's Blu offers another strong (1.37) 1080p transfer with mono sound.
---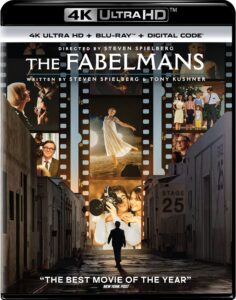 4K UHD New Releases
THE FABELMANS 4K Ultra HD/Blu-Ray (141 mins., 2022, PG-13; Universal): If all things were equal and Steven Spielberg's name wasn't involved with "The Fabelmans," is there really any chance this pedestrian examination of a '60s Jewish family and its aspiring filmmaker teen hero would have generated multiple Academy Award nominations?
Spielberg's autobiographical film, which under a script by the director and Tony Kushner, retells his existence with a brilliant yet detached father (Paul Dano) and eccentric Mom (Michelle Williams) in '60s suburbia, from New Jersey to Arizona and, eventually, California. Spielberg's alter-ego, "Sammy," is nicely played by Gabriel LaBelle and the sequences of him trying to acclimate to high school life after being uprooted by his father's new job are watchable enough – yet even those moments are just along the lines of a typical "Wonder Years" episode, while there's little else in this movie's episodic structure that's truly remarkable.
Much of the drama is supposed to be generated by the mother's infidelity and eccentricity – but Williams fails to convincingly inhabit this offbeat/stubborn/lovable character, her performance coming off as affected and with echoes of "acting!" as Jon Lovitz once enthused on the good old days of Saturday Night Live. Dano is also overly mannered and, in his own way, not entirely believable either – it's as if Spielberg opted to go with what he felt were "talented younger stars" for these parts but neither delivers the kind of performance the film needs to be grounded in for their crucial sequences to work – and the movie is much more about them than any concerns about Sammy's future filmmaking prowess. By contrast, at least Seth Rogen believably portrays the Uncle who has eyes for Williams, even though their relationship is mostly kept at a distance from Sammy, away from him – and the audience.
The net result simply doesn't amount to much, capped by an underwhelming finale that feels like the end of just another "episode" in the film, Sammy dancing into the end credits without generating any sort of real emotional undercurrent. "The Fabelmans" is a disappointingly minor film that was sold as being as its director's most personal – either way, it's also far from being his best.
Universal's 4K UHD (1.85) of "The Fabelmans" includes Dolby Vision HDR and a 7.1 Dolby TrueHD soundtrack – as you'd expect the movie is technically up to par through Janusz Kaminski's trademark lensing and John Williams' sparse score. What would have been more interesting for Williams, and the audience, is if Spielberg had isolated Williams' contributions to the sequences involving Sammy's cinematic work, as Williams' sparse score has little to do but comment on the family drama in a conventional and thankless way. Extra features include three featurettes, a Digital HD copy and the Blu-Ray.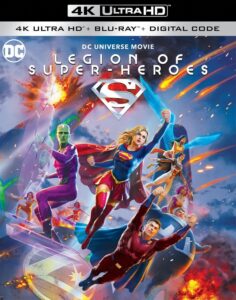 LEGION OF SUPER-HEROES 4K Ultra HD/Blu-Ray (83 mins., 2023, PG-13; Warner): It's the 31st Century and Supergirl (voiced by Meg Donnelly) decides to leave her former "space time" and head off to the Legion Academy, where a new crop of DC super-heroes comprises a futuristic Legion of Super-Heroes. There she meets up with Brainiac 5, connected to the original Brainiac, plus a scheme by the "Dark Circle" that looks for a dangerous weapon in the Legion's vaults. It's futuristic animation for DC fans with a different slate of heroes than normal, and it's good to see Supergirl getting the opportunity to lead the action for a change. Warner debuts this latest DC animated offering on 4K Ultra HD and Blu-Ray this week sporting an HDR10 transfer (1.85) and 5.1 DTS MA audio. The transfer and sound are both terrific, with extras including multiple behind-the-scenes featurettes, two bonus cartoons, a Blu-Ray and Digital HD copy.
Blue Underground kicks off their 2023 slate with 4K UHD editions of two Jess Franco pictures the label previously brought to Blu-Ray back in 2015, here upgraded with 4K restorations, Dolby Vision HDR and key all-new extras.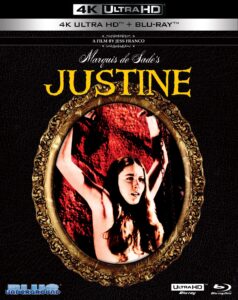 Both pictures are based on works of the Marquis de Sade: PHILOSOPHY IN THE BOUDOIR [aka EUGENIE] (87 mins., 1970) boasts the lovely Marie Lijedahl as a young woman who becomes initiated into a sadomasochistic island paradise overseen by "Dolamnce" (Christopher Lee, who claims he had no idea about the film's sex and violence before signing onto the script). JUSTINE (124 mins., 1969), meanwhile, stars Romina Power as a French virgin who leaves an orphanage and falls into a world of prostitution and Jack Palance as a sadistic monk! Both films are certainly best appreciated by Franco devotees, but if you're one of them, Blue Underground's 4K mastered transfers are superior (1.66 on "Justine," 2.35 on "Eugenie") with clear DTS MA English audio (featuring scores by Bruno Nicolai) and ample supplements.
Archival supplements spotlight interviews with Franco and producer Harry Alan Towers on both films, Marie Lijedahl and Christopher Lee on "Eugenie," trailers, and more – along with some fresh additions fans should be excited about. These include newly recorded commentaries with Nathaniel Thompson and Troy Howarth on both pictures, along with an interview with star Jack Taylor on "Eugenie." "Justine" also features a conversation with co-star Rosalba Neri, an expanded still gallery, and even better for fans, the 96-minute U.S. release version, "Deadly Sanctuary," presented here in a high-def transfer that debuts on home video for the first time.
Richard Linklater's terrific DAZED AND CONFUSED (102 mins., 1993, R; Criterion) compares favorably with George Lucas' "American Graffiti" as a perfect, cultural snapshot of a specific time and place.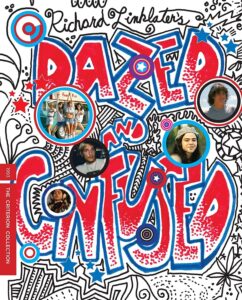 Just as Lucas' 1973 film captured the early '60s, Linklater's movie does the same for the spring of '76, showing a generation about to head out on their own in an era dominated by bad hairstyles, atrocious fashions, and some seriously good rock 'n roll. Frequently hilarious and filled with insights into growing up that aren't just exclusive to its decade, "Dazed and Confused" boasts a plethora of future stars in leading roles (Ben Affleck, Matthew McConaughey, Parker Posey among others), a great soundtrack, and a perfect mix of laughs and heartache that have made it not just a cult classic but a defining film for the era it depicts.
Criterion's new 4K Ultra HD edition of "Dazed and Confused" includes an attractive 4K restoration of the director's cut with Dolby Vision HDR and 5.1 DTS MA sound on UHD, with a Blu-Ray boasting the film in 1080p (1.85) and its special features. The latter include a commentary from Linklater plus a 50-minute documentary, "Making Dazed," from filmmaker Kahane Corn. This is one of those rare disc documentaries that's every bit as superlative as the film it chronicles, and Criterion's other supplements are likewise as enlightening: numerous deleted scenes, rare on-set interviews and behind-the-scenes footage, auditions and a spectacular booklet with essays and even Linklater's personal letters to the cast.
---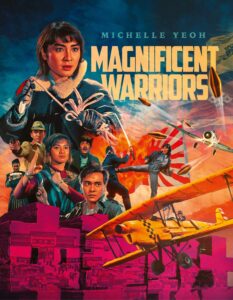 Also New & Noteworthy
MVD New Releases: 88 Films resurrects an archival Hong Kong action-adventure this month with MAGNIFICENT WARRIORS (92 mins., 1987), starring Michelle Yeoh as a pilot who gets involved with another rogue in fighting off the Japanese in rural China during WWII. David Chung's production offers strong fight choreography and a brisk running time that, unlike some other HK efforts from the era, has little down time and plenty of punch. 88 Films' Blu-Ray offers a new 2K restoration (2.35) of the theatrical cut with its original ending restored, plus Cantonese or English dubbed mono; commentary with Frank Djeng; archival interviews with Yeoh and stunt coordinator Tung Wai; English opening credits, HK trailers, a slipcover, double-sided artwork and plenty more. Highly recommended for martial arts fans!
Also out this month from MVD is the independent horror flick THE LONG DARK TRAIL (79 mins, 2023; Cleopatra Entertainment). This production of writer-directors Nick Psinakis and Kevin Ignatius finds two brothers, fleeing from an abusive father, heading back to their estranged mother's home in northwestern Pennsylvania – unaware the dangers there are just as strong since she's joined a vile, sadistic cult. Cleopatra's Blu-Ray includes a 1080p transfer, behind-the-scenes footage, interviews and bloopers.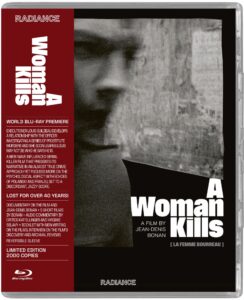 A WOMAN KILLS Blu-Ray (69 mins., 1968; Radiance Films): "Lost for over 40 years" notes Radiance's packaging for this French thriller from director Jean-Denis Bonan – a movie rooted in the New Wave of its country's cinema of the era, but with a serial killer plot that lends more relevance to contemporary thrillers. In "La Femme Bourreau," a prostitute is executed for the deaths of several hookers yet the killings continue, leading a female cop to forge a relationship with the man actually responsible – yet unaware of who he is.
Stark black-and-white cinematography marks this effort which never found worldwide distribution due to controversy surrounding the director's debut picture, leading to it being buried for many decades. Radiance's 2K restoration (1.33 B&W) is outstanding and their 2,000-copy limited Blu-Ray also offers a number of extras, including a commentary by critics Kat Ellinger and Virginie Selavy; a documentary on Bonan's 'Cursed' Films; a handful of Bonan's short movies, produced between 1962-67; the trailer; and extensive writing on the movie by the likes of Catherine Wheatley, Richard Thomas, Cerise Howard and an interview with Francis Lecomte.
CHICAGO 20th Anniversary Blu-Ray Steelbook (113 mins., 2003, PG-13; Paramount): The long-awaited filming of Bob Fosse, John Kander and Fred Ebb's Broadway musical came to the screen in 2003 where it became a box-office smash and the recipient of six Oscars including Best Picture. This faithful adaptation of its source has Renee Zellweger as a nightclub-wannabe who's imprisoned for murdering her lover. Catherine Zeta-Jones plays the torch singer Zellweger emulates who's also on murderer's row in '30s Chicago, while Richard Gere essays the high-priced attorney who ultimately represents both.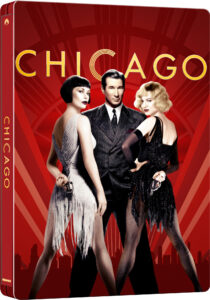 Director Rob Marshall and screenwriter Bill Condon employ the device of having most of the musical numbers originate from the minds of the various characters — a decision that results in production numbers that are, more or less, faithfully reproduced from Fosse's stage version. You may get tired of the cross-cutting between the movie's "reality" and fantasy sequences, but Marshall's direction is sure-handed most of the way and the choreography (based on Fosse's original staging) is vibrant.
The song adaptations, meanwhile, are excellent and the performances right on the money: Zeta-Jones (in her Oscar-winning role) is sensational while Zellweger proves to be a pleasant surprise as the anti-heroine. John C. Reilly and Christine Baranski shine in supporting roles. Only Gere seems a little out of his element, with a singing voice that at times resembles Buddy Hackett (!), but he does, to his credit, manage to pull off a few deft dancing moves. Despite the lack of a strong story and subtext, "Chicago" is a breezy blast of musical entertainment with a memorable score and zesty song sequences. Anyone who enjoys a good musical — the kind they just don't make anymore — is urged to check it out.
Paramount's 20th Anniversary limited-edition Steelbook houses the previously released 1080p (1.85, 7.1 Dolby TrueHD) Blu-Ray transfer with archival extras including a commentary track with Condon and Marshall, which is fairly informative, though it might have been equally fascinating to hear the creators of the original show discuss the long road of "Chicago" to the silver screen; the deleted musical number "Class" with Zeta-Jones and Queen Latifah; and a promotional featurette.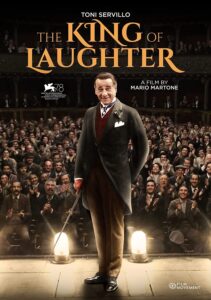 Film Movement New Releases: Mario Martone's THE KING OF LAUGHTER (133 mins., 2022) stars Toni Servillo as Naples playwright Eduardo Scarpetta, whose popularity and entire career are threatened after he parodies Gabriele D'Annunzio's "The Daughter of Iorio" and is sued for plagarism. A well-received piece debuting on DVD from Film Movement this month (2.39, 5.1/2.0) with the label's disc sporting Emaniele Palamara's short "La Smorfia" as an extra…Christian Duguay's BELLE AND SEBASTIAN: THE ADVENTURE CONTINUES (97 mins., 2015) is the 2015 French sequel about a young boy and his dog Belle who join with his grandfather (Tcheky Karyo) to find lost cousin Angelina (Marguax Chatelier). Beautiful widescreen cinematography graces this Gaumont adaptation of Cecile Aubry's story, presented here in a 2.39 transfer but only English dubbed audio…The Vietnamese documentary CHILDREN OF THE MIST (92 mins., 2022) chronicles the disappearance of a 12-year-old girl in the northwestern Vietnamese mountains who's kidnapped in an ages-old tradition of "bride kidnapping." A Q&A with director Ha Le Diem is included in Film Movement's DVD (1.78, 2.0, English subtitled).
New From Well Go USA: Dangerous convicts stage a revolt about a cargo ship out at sea, but unaware of what's lurking below them in the gory, wild Korean thriller PROJECT WOLF HUNTING (123 mins., 2022), which debuts this month from Well Go USA. A genre mash-up with plenty of action and gore, "Project Wolf Hunting" hails from director Kim Hong-Sun and Well Go's Blu sports a 1080p transfer and either the original Korean language (5.1 DTS MA) or an English dub, plus behind-the-scenes/Making of content.
GIOVANNI'S ISLAND Blu-Ray (101 mins., 2014; Shout!/GKids): Mizuo Nishikubo's 2014 historical anime is set on the fishing island of Shikotan where a local boy and a Russian girl form a friendship in a post-WWII Japan. A moving piece presented here in a 1080p Blu-Ray (1.78, 5.1 DTS MA) with extras including a Making Of featurette, music video, art gallery and interview with actor Polino Ilyushenko.
NEXT TIME: Kino Lorber new releases including MARATHON MAN in 4K and more! Until then, don't forget to drop in on the official Aisle Seat Message Boards and direct any emails to our email address. Cheers everyone!