Message Board (open 24 hours!)
Twitter - @andredursin (for everything else!)
It's just been one of those weeks – I went to upload this week's Aisle Seat on Thursday morning when the entire column froze during a laptop crash. When I went back to open up the document, the column was replaced with a number of pound signs! Thus this week's Aisle Seat had to be rewritten from scratch and I apologize in advance for any grammatical errors – yet I can't delay this column any longer because I've received a number of exciting new releases since the holiday column went live.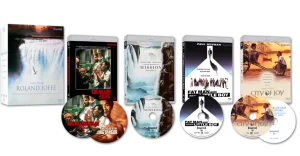 Imprint New Releases: Kicking off 2023 is another in Imprint's spectacular line of multi-film retrospectives on Blu-Ray. Whether it's the Harry Palmer or Odd Couple collections Imprint released last year, or the Film Noir sets of both vintage and contemporary eras, Imprint's presentations combine movies with superb extras, giving buffs the ability to craft their own, virtual film festivals at home.
DIRECTED BY ROLAND JOFFE is the latest entry in these Imprint anthologies, and it collects the director's first four – and his two most successful among them – features with all-new extras and a documentary interview recounting his career.
In fact, it's hard to argue that Joffe's first feature, THE KILLING FIELDS (141 mins., 1984, R), isn't his finest – this is a harrowing, extraordinary film, and one of the best from a terrific year at the movies.
Joffe's picture tells the true story of New York Times journalist Sydney Schanberg (Sam Waterston), stationed in Cambodia during the early '70s. The Vietnam conflict by this point had spread into the nation, spurring the revolutionary forces of the Khmer Rouge to take over the country piece by piece. At great personal risk, Schanberg decides to stay in Cambodia to chronicle the horrors of the Khmer Rouge, but eventually has to leave following the evacuation of the capital Phnom Penh. His friend and interpreter, Dith Pran (an Oscar winning performance by Haing S. Ngor), however, doesn't make it out with him, and instead tries to survive in a country where some two million Cambodians were executed by the growing communist forces.
"The Killing Fields," in a highly competitive year ("Amadeus," "Places in the Heart," and "A Passage to India" were just a few of the other acclaimed pictures of 1984), earned Oscars for Ngor's performance as well as film editing and Chris Menges' cinematography. This is a fabulous film – horrific in depicting the horror of the Cambodian crisis, humane in its treatment of the impacted people, and suspenseful in its portrait of Pran's survival. Joffe captures the movie with a realistic, almost documentary-like approach, and all of the performances are spot on, especially from the leads, while small roles are populated with familiar faces like John Malkovich, Julian Sands, and Craig T. Nelson. The movie gets a bit syrupy at the end with its use of John Lennon's "Imagine," but emotionally the picture gets away with it through the conviction of the filmmakers and Bruce Robinson's fact-based screenplay. It's one of the finest films of the '80s.
Long available on Blu-Ray in the U.S. from Warner, Imprint's Blu-Ray (1.85, 5.1/2.0) offers up a similar looking transfer to that release, with natural color and fine grain along with a high bit-rate. In addition to Joffe's archival commentary, the package includes new interviews with Julian Sands and Chris Menges, along with a segment on Mike Oldfield's score. The 2015 feature-length doc "The Killing Fields of Dr. Haing S. Ngor" occupies a second disc here, recounting Ngor's own escape from Cambodia along with his tragic, eventual murder in Los Angeles. It's a superb companion to the movie itself, with other extras including an archival Making Of, David Putnam interview, and additional conversations with Joffe and writer Bruce Robinson. The set is capped with 1984 interviews with Ngor and Sam Waterston, plus the real Sydney Schanberg and Dith Pran.
THE MISSION (125 mins., 1986, PG) followed his "Killing Fields" triumph, with Joffe working from a script by the great Robert Bolt (of his classic David Lean collaborations and "A Man For All Seasons"). The resulting film about a Jesuit priest (Jeremy Irons) and a former slave trader (Robert DeNiro) attempting to bring God's word to a tribe deep in the South American jungles is stronger in its aesthetic components – Chris Menges' cinematography, Ennio Morricone's score – than its rather staid emotional range. Imprint's Blu-Ray here (2.35, 5.1/2.0) offers a fine transfer with Joffe's commentary and a 1986 "Omnibus" documentary on the movie from the BBC – extras also included in Warner's U.S. Blu-Ray. Unique to the Imprint release are Texas TV personality Bobbie Wygant's press tour interview with Irons, a 1996 interview with Joffe, along with a new featurette with Menges and a segment on Morricone's highly praised score featuring Daniel Schweiger.
The other two pictures in Imprint's collection represent Joffe's efforts to tell compelling humanist stories against starkly different historical backdrops. Neither film met with critical or commercial success, yet since neither are on Blu-Ray in the U.S., their inclusion here comes as a welcome opportunity to reassess Joffe's follow-ups, which despite their obvious shortcomings, are at least noble miscalculations (I wouldn't call either an outright failure).
FAT MAN AND LITTLE BOY (126 mins., 1989, PG-13), the story of the building of the Atomic Bomb with Paul Newman as General Leslie Groves and Dwight Schultz as Robert Oppenheimer, was a high-profile disappointment for Joffe, who arrived in the U.S. for one of his few "studio" movies. Despite Vilmos Zsigmond's cinematography and a marvelous cast (John Cusack, Bonnie Bedelia, Laura Dern and John C. McGinley rank among the ace supporting ensemble), Bruce Robinson's script – co-written by Joffe – feels too artificial in its dramatic structure and dialogue to come off as convincing. Still, the movie looks the part and buffs may find it compelling to compare this picture with Christopher Nolan's upcoming "Oppenheimer." Imprint's Blu-Ray boasts a solid Paramount HD master (2.35) again with 5.1/2.0 sound, another segment on the music featuring Daniel Schweiger, and other extras culled from vintage EPK materials along with Bobbie Wygant's press tour conversations with the likes of Cusack and Schultz.
The set is capped with the inclusion of CITY OF JOY (135 mins., 1992, PG-13), a well-meaning adaptation of Dominique LaPierre's popular novel about several characters – a priest, an American doctor, and an Indian rickshaw driver – in the slums of Calcutta. Even though it seems this film was made independently without a surplus of studio money, Mark Medoff's script disappointingly adheres to Hollywood convention in its reconfiguration of the material to suit Patrick Swayze, here trying hard (at times too hard) as an American doctor who heads to India after a tragic loss. Om Puri essays the rickshaw driver and family man trying to survive on the streets, though the film's focus ends up straying towards a formulaic conflict involving a local thug (Art Malik) trying to close down the medical clinic the disparate characters find themselves in.
Another film that struggled to find an audience at the box-office, "City of Joy" became a Tri-Star release domestically was handled by Pathe in some international markets. Thus, the French company's 2019 restoration fuels Imprint's disc, which offers a clean, healthy 1080p (1.85) AVC encode that's the best of the four films here in terms of its visual presentation (again, 5.1 DTS MA and 2.0 PCM tracks are included on the audio side). For supplements, Impulse offers a phone interview with Art Malik and both an interview and restoration segment with Joffe, culled from the French Blu-Ray (both in French with English subtitles). A vintage "India and Cinema" short is included along with numerous Bobbie Wygant chats with Swayze, Pauline Collins, Puri and Joffe.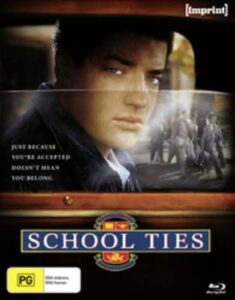 Imprint's set, presented in a hardbound box, is capped with a disc featuring the 85-minute Daniel Griffith-produced documentary "Prisoners of Our Own History: The First Four Films of Roland Joffe," which offers Joffe recalling his work on the quartet with numerous anecdotes of interest throughout. It's an engaging and insightful cap to a terrific retrospective highlighting a director who, despite consistently working for the last 25 years, has never come close to matching the notoriety and acclaim of his early output (though I'd argue his much-maligned take on "The Scarlet Letter" remains underappreciated).
Also new from Imprint this month is SCHOOL TIES (102 mins., 1992, PG-13), a Paramount drama featuring Brendan Fraser as a Jewish student who hides his religious identity while attending a snobby prep school in Massachusetts during the 1950s. Eventually the truth comes to light once his rivals conspire to take him down, leading to an occasionally heavy-handed drama – written by "Law & Order" creator Dick Wolf – that struggles to arrive at a satisfying resolution. Still, this box-office letdown from September of '92 offers a good performance from Fraser and early appearances by a variety of future stars, including Matt Damon, Ben Affleck, Chris O'Donnell and Cole Hauser among others. Imprint's Blu-Ray (1.85, 5.1/2.0) hails from an older yet still serviceable Paramount master with a new commentary by critic Jim Hemphill and plenty of archival EPK materials on-hand, including interviews with Fraser, O'Donnell, Damon, producer Sherry Lansing and director Robert Mandel.
---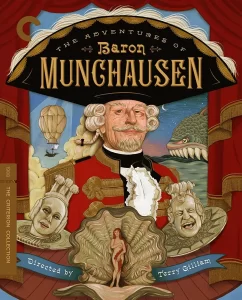 New on 4K UHD
THE ADVENTURES OF BARON MUNCHAUSEN 4K UHD/Blu-Ray (127 mins., 1989, PG; Criterion): Terry Gilliam's follow-up to "Brazil" was this final entry in his loose "trilogy" of fantasies, begun in 1981's "Time Bandits" and continued in Gilliam's controversial 1985 Orwellian semi-spoof.
The 1988 "Baron Munchausen" is a highly uneven, gargantuan production that remains as interesting for its turbulent off-camera problems – namely, a budget that spiraled hugely out of control, signaling Gilliam's now-infamous inability to manage productions of this magnitude – as it is for the eclectic content that did end up on-screen.
John Neville stars as the title character, an aging aristocrat who spins a succession of yarns in a war-torn European city during the late 18th century. The Baron's fanciful tales take him and his gang (including Eric Idle and a young Sarah Polley) to the moon, where they meet a delusional king (an unbilled Robin Williams), to underneath the earth's surface where King Vulcan (Oliver Reed) feuds with his gorgeous wife Venus (a young and incredibly attractive Uma Thurman), and finally back to the "present" and a huge battle with the Turkish army.
I've only watched the picture a few times over the years and it's as odd as I recall: marked by some great portions, some interminably weird passages, some funny parts, several bizarre moments…a schizophrenic piece that's not nearly as satisfying as "Time Bandits" but it's still quite watchable for what does work – namely, the lush sets of Dante Ferretti, Gabriella Pescucci's costumes, Guiseppe Rotunno's cinematography and, in terms of set pieces, the Baron's meeting with Uma, making one of her earliest screen performances. Those aspects tend to clash with the more self-indulgent elements of Gilliam's film, including Robin Williams' prolonged and bizarre cameo (can you believe Sean Connery was initially cast in the part?), and even Michael Kamen's mostly standout score, which has some gloriously romantic passages and a few obnoxious ones as well (the Sultan's songs, anyone?).
It's a mixed bag – with a strange ending too – but Gilliam's film is packed with so much memorable imagery and the occasional chuckle that "The Adventures of Baron Munchausen" offers ample entertainment in spite of – and occasionally because of – its excesses.
"Munchausen" was still one of the costliest flops of its day, once intended to be produced for just over $20 million but ultimately made at a price tag more than double that – and with a minuscule box-office return that still likely designates it as one of the biggest money losers of the last several decades.
With that kind of reputation it's no surprise that Criterion's 4K UHD talks extensively about the movie's problems, though its most substantial supplement is the Sony documentary produced for their 2008 Blu-Ray. "The Madness and Misadventures of Munchausen" offers a detailed account of the movie's crazed production, and whether you're a Gilliam fan and/or have seen the superb documentary "Lost in La Mancha," you're likely aware that Gilliam's abundant imagination doesn't always gibe with the hard reality of production costs and common sense.
This 72-minute doc from Constantine Nasr attempts to offer an objective account of what went so horribly wrong behind-the-scenes, with Gilliam assessing blame on a number of different parties, most notably producer Thomas Schuhly, changes in the regime of Columbia Pictures (which bankrolled the movie under David Puttnam's command), and a succession of completion bond companies. Schuhly is quick to point out that he wasn't the bad guy, while even Gilliam's cohort Eric Idle describes working on the film as an utterly horrible experience. One gets the sense that the truth behind the problems lies somewhere in the middle of the "blame game," particularly since Gilliam would run into similar issues later on in his career as well.
Either way, it's an absorbing account of the picture's shoot, with co-writer Charles McKeown, Idle, Neville, co-stars Sarah Polley (who has since written about the trauma she endured on the movie's set, blaming Gilliam for the problems), Robin Williams, Jonathan Pryce, and others also on-hand to discuss the picture's production. Other extras include an archival commentary with Gilliam and McKeown, storyboards with narration from the duo, deleted scenes, a South Bank Show spotlighting Gilliam, and an early Gilliam short. What's new is a visual essay on other Munchausen movies, plus Gilliam narrating an array of visual effects footage plus reading off review cards from the picture's disastrous U.S. preview screenings in the fall of 1988.
The extras are fine, yet the strongest component in Criterion's 4K UHD (1.85) is its spectacular Dolby Vision HDR grading of the film, which brings the movie's amazing visuals, colors and contrasts to the home environment in a way that's nothing short of spectacular. The movie looks absolutely amazing, and with so much of the film's appeal lying with its visuals, it goes without saying the UHD does a far better job than any previous release in replicating Gilliam's world. On the audio side, the 5.1 DTS MA score is layered with activity and Kamen's sometimes offbeat, yet often enchanting – even occasionally soaring – score.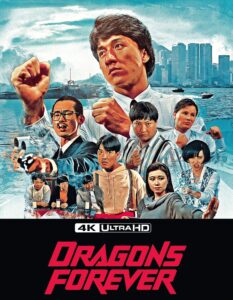 DRAGONS FOREVER 4K UHD/Blu-Ray (94 mins., 1988; 88 Films): Jackie Chan fans and Hong Kong martial arts buffs can rejoice over this marvelous 88 Films restoration of the "final" collaboration between "Dragons" Chan, Sammo Hung (who also directed) and Yuen Biao – three big genre stars who teamed up here, in mostly atypical roles as well. The net result, which finds Chan as a lawyer who finds out the fishery he's representing is really a front for narcotics embezzlement, offers a mix of action and comedy with a dizzying climax, which fans typically have ranked among Chan's best HK work.
There's certainly no denying the spectacular extras and presentation of 88 Films' 4K UHD, sporting Dolby Vision HDR (1.85) and no less than three different cuts of the film: the original HK version, its English dubbed export cut, and a "Cyclone Z" variant from Japan that exclusively offers some of Jackie's patented end credit outtakes. The transfer is superlative with crisp detail and color – a far cry from most of Fortune Star's masters of this title over the years. Extra features are highlighted by new and vintage commentaries, interviews with HK cinema authorities, Atmos sound for the Cantonese language options, a hardbound case and extensive booklet notes (similar to Arrow's releases) along with lobby card reproductions and a large fold-out poster. It may only be January, but this will undoubtedly be a contender for top 4K catalog release of the year.
HALLOWEEN ENDS 4K UHD/Blu Ray (111 mins., 2022, R; Universal): When David Gordon Green was signed to direct the latest Halloween trilogy, fans were very excited, especially after his first entry was widely acclaimed by buffs and became a box office smash. Regrettably, most fans have experienced a case of viewers' remorse after an indifferent second installment and this lame finale, an outright bust that pivots away from Michael Myers and onto a new male character whose curious exploits take the focus off the masked one. Jamie Lee Curtis also takes a takes a backseat until the movie finally straightens itself out in the final 15 minutes, by which point even some of the hardest of hardcore fans may have checked out. Universal's 4K UHD (2.39) is now available featuring deleted and extended scenes, a gag reel, Making Of featurette and Digital HD copy. The Dolby Vision presentation looks excellent, as is the Dolby Atmos sound, but at the end of the day, it's hard to envision most "Halloween" fans feeling like this one is anything but a trick.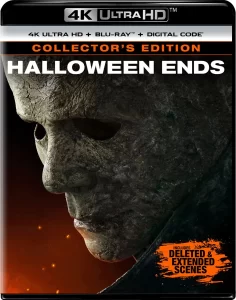 BLACK ADAM 4K UHD/Blu-Ray (125 mins., 2022, PG-13; Warner): While James Gunn tries to pick up the pieces of the fragmented DC movie universe, fans will have to deal for the next couple of years with leftovers that were went into production before he took the "DCU" over. Case in point is "Black Adam," Dwayne Johnson's feeble attempt at being a superhero – or an anti-hero of sorts – which proves to be as drab and formulaic as any genre exercise you'll ever see. Director Jaime Collet-Serra tries to bring some visual panache to this story of an Egyptian bestowed with super-powers who heads into the modern world and clashes with the Justice Society, but only Pierce Brosnan in his few minutes as Dr. Fate generates any on-screen charisma. The rest is by-the-mumbers all the way, filled with routine fight sequences and faux-climaxes as interchangeable as the next entry in this genre. Warner's 4K features Dolby Vision HDR and Dolby Atmos sound (2.39) plus Making Of featurettes, a Digital HD copy and Blu-Ray.
---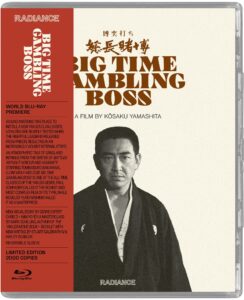 Also New & Noteworthy
New from Radiance Films this month is Kosaku Yamashita's BIG TIME GAMBLING BOSS (95 mins., 1968), an impressive widescreen drama set in mid 1930s Tokyo where competing forces vie for control over a local gang once its leader is too ill to continue on. "Lone Wolf & Cub"'s Tomisaburo Wakayama stars along with Koji Tsuruta in a story written by "Battles Without Honour and Humanity"'s Kazuo Kasahara, which earned widespread critical acclaim and debuts here on Blu-Ray from Radiance in a 2000 copy limited edition. Radiance's 1080p (2.35) transfer is superb and extras include a visual essay by Mark Schilling on the Yakuza film genre; a visual essay by Chris D. on the movie; the trailer; PCM mono audio (Japanese with English subtitles); a 28-page booklet with writing by Stuart Galbraith IV among others; and a reversible sleeve with both original and newly commissioned artwork.
SHE SAID Blu-Ray/DVD (125 mins., 2022, R; Universal): Carey Mulligan and Zoe Kazan's performances as NY Times reporters who expose Hollywood sexual abuse, leading to the creation of the #metoo movement, are the strongest asset of Maria Schrader's "She Said." A box-office disappointment (as is seemingly any movie these days for adult audiences), "She Said" debuts on Blu-Ray from Universal featuring a 1080p (1.85) transfer, 5.1 DTS MA sound, a featurette, DVD and Digital HD copy.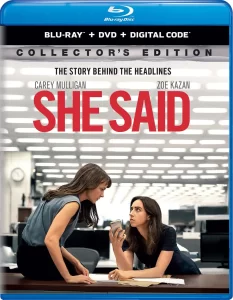 THE STAIRCASE DVD (520 mins., 2022; Warner): The real-life trial of Michael Peterson has been the subject of numerous documentaries yet that didn't dissuade HBO from producing their own dramatization of the case, with Colin Firth starring as Peterson and Toni Collette as his ill-fated wife, Kathleen, who "fell down the stairs" in 2001, causing a much-publicized trial and a family that fractured into groups supporting either parent. This is a well-acted look at the subject, though if you've already watched one of the many non-fiction efforts about this subject, you might feel "The Staircase" is a little long and overly familiar. Warner's DVD includes a 16:9 transfer, eight "Inside the Episode" segments and additional featurettes.
GERRY ANDERSON: A LIFE UNCHARTED DVD (92 mins., 2022; MPI): Actual audio of the influential, pioneering SFX master is meshed with "deep fake technology" to craft a more "immersive" documentary than you might expect with this Anderson-produced look at his life and times, from his childhood through the creation of his iconic TV and film features. MPI's DVD (16:9, 2.0) is out this week.
INU-OH Blu-Ray/DVD (97 mins., 2021, PG-13; Gkids/Shout!): Though set in 14th century Japan, Masaaki Yuasa's animated feature is a "glam rock opera" following a wealthy young man and a biwa priest who combine to form a formidable musical duo – at least until the powers-at-be conspire to take them down. Raucous music and animation are on-hand in the imaginative "Inu-Oh," on Blu-Ray (2.39) this month from Shout and Gkids. Extras in the BD/DVD combo pack include a Yuasa interview, US Premiere Q&A, trailers and more…Also new from Shout! is director Joe Cornet's western GUNFIGHT AT RIO BRAVO (80 mins., 2022, Not Rated), starring Mr. Universe Alexander Nevsky as a Russian gunslinger (!) who teams up with an overwhelmed sheriff (Cornet himself) to dispatch a gang overrunning a dusty Texas town. Shout's DVD offers a 16:9 (2.35) transfer and 5.1/2.0 sound.
THE GRANDMASTER OF KUNG FU Blu-Ray (75 mins., 2019; Well Go USA): Kung-fu action set at the end of the Qing Dynasty, when Japan and other outside forces were trying to exert their will on China and its ancient culture. Into the fray comes a former martial arts master who rises up to defend tradition against Japan's efforts to seize a martial arts stronghold. Well Go's Blu includes a 1080p transfer and DTS MA Mandarin audio with English subtitles (out January 31st).
Film Movement New Releases: On DVD this month from Film Movement is 200 METERS (96 mins., 2022), Ameen Nayfeh's film about a Palestinian construction worker (Ali Suliman) who has to travel over 200 kilometers just to find another way into Israel after he's denied entry to see his sick son and family. Film Movement's DVD includes a 16:9 transfer, 5.1/2.0 sound (English subtitled) and Nayfeh's similarly-themed earlier short "The Crossing"…the French documentary BEING THUNDER (85 mins., 2020) provides a profile of "Genderqueer" performer Sherente, a "Two Spirit" teen from the Narragansett Tribe in Rhode Island. Stephanie Lamorre's picture offers additional interviews with Sherente's parents, a 16:9 transfer and 2.0 sound.
FATHER OF THE BRIDE DVD (117 mins., 2022, PG-13; Warner): Yet another version of the old Spencer Tracy/Elizabeth Taylor classic, here tailored for star/producer Andy Garcia as the patriarch who has trouble giving away his daughter. Gloria Estefan plays opposite Garcia in an appropriately Cuban-American take on the material, scripted by Matt Lopez, which still plays fairly conventionally under the direction of Gaz Alazraki. Warner's DVD (16:9, 5.1) of this HBO premiere is now available.
NEXT TIME: Kino Lorber, Vinegar Syndrome & more of the New Year's latest! Until then, don't forget to drop in on the official Aisle Seat Message Boards and direct any emails to our email address. Cheers everyone!