Message Board (open 24 hours!)
Twitter - @andredursin (for everything else!)
The 1999 comic book spoof MYSTERY MEN (122 mins., PG-13; Kino Lorber) seemed to arrive, in many ways, just before its time. Before super-heroes became the cinema's preeminent movie genre, a short time prior to star Ben Stiller having a breakout hit with "Meet the Parents," and just ahead of co-star Geoffrey Rush suiting up as the villain in the "Pirates of the Caribbean" franchise there was this late summer '99 Universal box-office disappointment – one worthy of some reappraisal in light of the veritable hundreds of comic book projects we've seen over the many years since.
Indeed, as I wrote back at the time, if "a similarly-themed super-hero lark like 'Buckaroo Banzai' is regarded as a cult classic these days, then there's some hope for 'Mystery Men.' This amiable comic-book spoof features several goofy comedic performances and a generous assortment of laughs, even if it never becomes as truly wacky and over-the-top as you hope it would."
Greg Kinnear plays a goody-goody superhero who's kidnapped by the evil Casanova Frankenstein (Geoffrey Rush, whose dialogue is mostly incomprehensible gibberish) in a metropolis that looks an awful lot like Joel Schumacher's Gotham City. To the rescue come three loser-heroes, played by Stiller (who gets angry), William H. Macy (who shovels well), and Hank Azaria (who uses a Brit accent and throws his mother's kitchen utensils), who all recruit a collection of similar underdog-types to save the day.
With a cast like that, and on-target supporting roles filled by the likes of Janeane Garafolo and Wes Studi (hilarious as the message-spouting hero "The Sphinx"), you know "Mystery Men" will have its share of laughs. Fortunately, it does, with most of them coming during the first half hour; Stiller in particular seems in tune with the manic energy of the film and Macy's timing is perfect, as it seemingly always is.
The reason why the film just misses the mark, though, is because the filmmakers weren't confident enough to completely go for Mel Brooks or Zucker Brothers-inspired laughs. Instead, in ultimately opting for a "Batman & Robin" styled mix of comedic moments and big special effects, the film feels firmly rooted in its era, more conventional in its overall approach than one might expect, and saddled with a bloated running time (not to mention two appearances of the obnoxious Smash Mouth hit "All Star"). Some blame on that front has to go out to director Kinka Usher, who made his feature debut with "Mystery Men" but never made another feature (Usher has enjoyed, before and since, an incredible array of success as a prolific director of commercials). Screenwriter Neil Cuthbert, meanwhile, managed to write one other feature before disappearing off the map – sadly for him it was 2002's unholy Eddie Murphy bomb "Pluto Nash."
Still, there are some choice moments in the film, enough so that "Mystery Men" may be worth another look – especially now, and considering that the movie has never been treated right on home video, with its color scheme faring poorly in a lousy DVD transfer and not a whole lot better in HD-DVD/Blu-Ray catalog discs years later. This 4K UHD Kino Lorber release (with an accompanying Blu-Ray mined from the same new scan of the original camera negative) is a massive upgrade on that score, offering Dolby Vision HDR that produces clearer details and warmly saturated, but controlled, colors that are a huge gain over earlier releases. Both 5.1 and 2.0 DTS MA tracks convey the original sound design while extras include archival EPK, deleted scenes, and Usher's commentary – plus all-new supplements. These include interviews with Kinka Usher, production designer Marilyn Vance, VFX supervisor Todd Tucker, and film music expert Daniel Schweiger who discusses the movie and Stephen Warbeck's underrated scoring.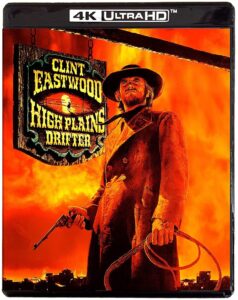 Kino's other 4K UHD premieres this month feature two Clint Eastwood favorites from the 1970s – making one surmise Eastwood projects are a solid bet for UHD treatment.
One is a revisit for Kino Lorber of their 2020 Blu-Ray, albeit here with an even more impressive 4K scan of the original camera negative: HIGH PLAINS DRIFTER (105 mins., 1973, R), one of Clint's later westerns, which rides onto UHD for the first time.
"Drifter" is an odd, moody genre outing, written by Ernest Tidyman and directed by Clint himself, starring Eastwood as a nameless drifter who aids the members of a small town from a gang of gunmen who had killed their prior sheriff. Supernatural overtones abound (is Eastwood that dead sheriff, or a messenger sent to exact revenge?) in this early '70s favorite which Universal first did justice on Blu-Ray several years ago, and Kino Lorber presented with fresh new extras in 2020. As good as that Universal catalog master was, it's surpassed here by a Dolby Vision HDR grading that showcases a marvelous 4K scan of the original camera negative. Bruce Surtees' original cinematography is surprisingly colorful given the subject matter, and his natural hues adapt splendidly to UHD, making an already good looking film even more impressive.
Kino Lorber's UHD otherwise includes extras from its 2020 release plus 2-channel and 5.1 DTS MA sound, along with a new commentary from one of our favorite historian duos in Steve Mitchell and Nathaniel Thompson. Returning extras include a commentary from director/historian Alex Cox and recent interviews with supporting stars Marianna Hill, Mitchell Ryan and William O'Connell. A vintage featurette, "A Man Named Eastwood," is also present here plus vintage trailers, TV and radio spots, a promo gallery, and two "Trailers From Hell" segments featuring Josh Olson and Edgar Wright.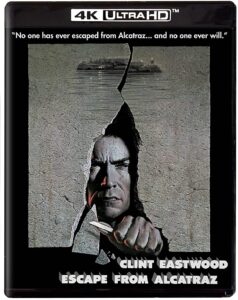 The other Eastwood 4K UHD debut is ESCAPE FROM ALCATRAZ (112 mins., 1979, PG), a no-frills, entertaining if somewhat unmemorable outing with Clint the bank robber who spearheads the only break out of Alcatraz. Richard Tuggle, who later helmed the Eastwood psychological thriller "Tightrope," wrote this Don Siegel-directed Paramount picture, filled with a top notch supporting cast, including Fred Ward, Roberts Blossom and, as the warden, Patrick McGoohan. "Escape From Alcatraz"'s previous Blu-Ray came in the form of a straightforward Paramount release that's enhanced here by a new 4K scan of the original negative (1.78) with Dolby Vision HDR. This is a more subtle enhancement over previous editions, likely because there isn't anything flashy about the movie's appearance to begin with, though colors here seem a little warmer by and large. New and welcome extras include another Mitchell/Thompson commentary and interviews with Tuggle and co-star Larry Hankin.
Bronson, Silva & Other Super Spies
THE VALACHI PAPERS (125 mins., 1972, PG): Interesting if crudely-made Dino DeLaurentiis production stars Charles Bronson as Joseph Valachi, one of the earliest mob informants. After being given the "kiss of death" by crime boss Vito Genovese (Lino Ventura) while in prison, an aging Valachi spills the beans to the FBI, becoming an informant in the early '60s. Valachi then recounts his life on the streets of New York City, with another mafia don, Salvatore Maranzano (Joseph Wiseman), his marriage to another mobster's daughter (Jill Ireland), assorted grizzly mafia adventures (including putting a castrated man out of his misery), and eventual conviction on heroin trafficking. James Bond vet Terence Young helmed "The Valachi Papers," which Stephen Geller (along with a pair of Italian writers) adapted from Peter Maas' non-fiction account of Valachi's testimony to the federal government. It's a compelling but sometimes hard to follow film, shot mostly in Italy, that gives off a strange vibe with its mostly-dubbed dialogue and sloppy production errors – including a NYC skyline with the World Trade Center front and center of the frame, in scenes set in the 1920s! The narrative also feels disjointed at times, compounding its shortcomings.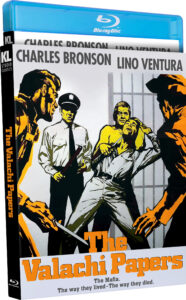 Nevertheless, "The Valachi Papers" is worth a look for Bronson aficionados and mafia movie buffs alike – even if it does not live up to "NBC-TV Chicago"'s hilarious critic quote that asks "Is it as good as 'The Godfather'? The answer is…no, it is better"!
Previously released in 2017 by Twilight Time, "The Valachi Papers" is back in circulation in a perfectly acceptable 1080p (1.85) Sony catalog master. Detail is as strong as the occasionally weathered source material allows; I'm not sure what kind of budget "Valachi" was shot with, but it certainly does not give off the impression of an expensive production, with claustrophobic sets and rather flat cinematography dominating most of the action. The DTS MA mono sound is a bit rough as well, with Riz Ortolani's score backing up the action. A new commentary by Bronson expert Paul Talbot is included plus a full run of TV and radio spots.
NIGHT GALLERY – Season 3 Blu-Ray (390 mins., 1972-73): Rod Serling's follow-up to "The Twilight Zone" came to an end with the third season of "Night Gallery." Behind the scenes, Serling reportedly continued to bicker with producer Jack Laird, whose "quality control" was definitely not up to Serling in his heyday, resulting in a show that unquestionably was a step down from the Zone, with many episodes falling into a formulaic framework with endings telegraphed far in advance.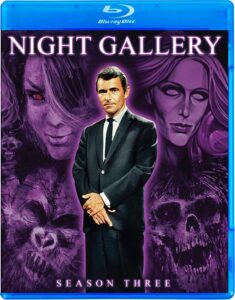 This final season from the series still includes a few Serling scripts along with directorial outings from Jeannot Swarzc, John Badham and Leonard Nimoy among them – and stars like Bill Bixby, Sandra Dee, Sally Field, Burl Ives, Burgess Meredith, Chuck Connors, Geraldine Page, Mickey Rooney, Dean Stockwell and Raymond Massey among many others. As with Kino Lorber's previous two volumes, brand new 2K scans (1.33) of the interpositives grace this multi-disc set with an abundance of extras. These include 15 full commentaries from historians like Tim Lucas, David J. Schow, Kim Newman and Stephen Jones; Craig Beam's third featurette on the series' problematic adaptation to syndication; and another 10 episode commentaries featuring stars, directors, admirers like Guillermo Del Toro, archival comments from Serling himself and more.
THE BLOOD BEAST TERROR Blu-Ray (87 mins., 1968): Peter Cushing took a break from Hammer to star in this independently made, ridiculous British chiller he reportedly didn't care for (to put it mildly). Yet this is an engaging enough throwback film, closer to the 1940s than the bloodier genre efforts he was starring in around this time, with Cushing chipping in a fine performance as a detective investigating mutilated bodies found in the English countryside. Could a suspicious entomology professor Robert Flemyng be to blame? Euro London Films licensed this 2K restoration (1.66) of a movie that's probably best appreciated with the fun commentary from Kim Newman and Stephen Jones turned on.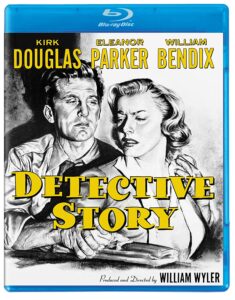 '50s Favorites
DETECTIVE STORY (103 mins., 1951): Dated is one word to describe William Wyler's 1951 adaptation of Sidney Kingsley's stage play, starring Kirk Douglas as a hardened NYC detective who has to cope with a number of problems. Chief among those is the growing tension between he and wife Eleanor Parker, who harbors a shameful secret, and a bevy of everyday cases, including an early role for Lee Grant as a shoplifter and future 007 villain Joseph Wiseman as a petty thief. Robert Wyler (older brother of the director) and Philip Yordan adapted Kingsley's play, retaining its taut dialogue and dramatic situations that were quite frank for their time – something you have to keep in mind since any episode of "Law and Order" is more graphic than "Detective Story." What keeps the film worthy of viewing are the performances, including William Bendix (as a precinct detective), Wiseman, Grant, Parker, and Douglas as the uncompromising protagonist, whose tough-guy antics mask a bitter and despondent personality. Kino Lorber's Blu-Ray debuts a new 4K scan of the original camera negative that captures the gritty detail of its 1.37 B&W frame and also premieres a commentary from historian Alan K. Rode.
Josef von Sternberg's "Shanghai Express" was remade by producer Hal Wallis as PEKING EXPRESS (85 mins., 1951), with Joseph Cotten leading a group of disparate characters traveling from Shanghai to Peking when Marvin Miller takes their train hostage. John Meredyth Lucas wrote William Dieterle's remake with Corinne Calvet, Edmund Gwenn and Benson Fong also on-hand. A new 4K scan (1.37) from the 35mm CFG highlights another strong 1080p (1.37) Paramount remaster in Kino Lorber's Blu-Ray, which also includes a commentary from historian Eddy Von Mueller.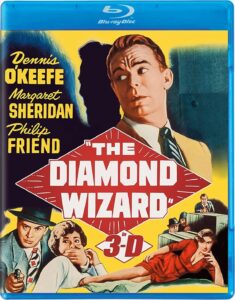 Noteworthy as the sole 3D feature shot in the UK during the format's Golden Age period, THE DIAMOND WIZARD (83 mins., 1953) is a halfway decent affair even in 2D. Dennis O'Keefe directed and stars as an American agent who teams up with Scotland Yard's Philip Friend in searching for a missing scientist – while O'Keefe attempts to bring in the criminals who stole a million from the U.S. Treasury. 3-D fans should enjoy yet another strong release from The 3-D Film Archive, with both polarized 3D and anaglyphic (red/blue) transfers offered here alongside a restoration featurette, alternate opening credits (which list another director), the trailer, and a commentary by Mike Ballew.
Growing up in the '80s you couldn't go long watching Johnny Carson on "The Tonight Show" without hearing a Ronald Reagan joke referring to the President's acting career and one film in particular: BEDTIME FOR BONZO (83 mins., 1951). This wan comedy stars "Ronnie" as a college professor who decides to adopt a precocious chimpanzee in order to win the love of the Dean's daughter. Typical comedic shenanigans ensue in a film directed by Carson's future producer – Fred De Cordova – which was likewise the source of many laughs on late night TV, back when actual comedy – and not political advocacy – used to be king. Kino Lorber's Blu-Ray premieres a new 2K master (1.37 B&W) from Universal with the trailer and a commentary by Eddy Von Mueller.
Bob Hope fans have long enjoyed a fruitful relationship with Kino Lorber, with the label debuting numerous Hope comedies from his heyday over the last few years on Blu-Ray. This month brings one more: FANCY PANTS (92 mins., 1950), which stars Hope – comically affected British accent in tow – playing (literally – he's actually an unemployed actor) a valet in the Old West where he meets up with, and eventually falls for, local Lucille Ball. A remake of "Ruggles of Red Gap" reuniting Hope with "Ghost Breakers" director George Marshall, "Fancy Pants" has been licensed from Paramount and bows on Blu-Ray for the first time in a highly attractive presentation from 4K scans of the 35mm YCM three-strip Technicolor elements. The high bit-rate transfer offers mono sound and no extras.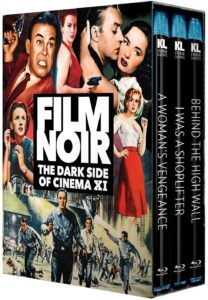 Noir From Around the World (and Other Thrillers)
Kino's FILM NOIR: THE DARK SIDE OF CINEMA XI kicks things into the late '40s and '50s with a trio of cult favorite titles: A WOMAN'S VENGEANCE (96 mins., 1947) is the best of the lot, with director Zoltan Korda staging a suspenseful tale of Charles Boyer marrying mistress Ann Blyth after his handicapped wife (Rachel Kempson) dies; her nurse (Mildred Natwick) ends up going to the police in an exciting, well-acted drama written by Aldous Huxley. Also on-hand is I WAS A SHOPLIFTER (82 mins., 1950), featuring Scott Brady as a cop who goes undercover with Tony Curtis chipping in an early performance, and BEHIND THE HIGH WALL (85 mins., 1956), a prison-set noir with a twisty plot and stars Tom Tully, John Gavin and Sylvia Sidney. New 2K/4K transfers (1.37 B&W) are on-hand in Universal-licensed masters with a commentary from historian Jason Ney on "A Woman's Vengeance."
Bathing beauty Esther Williams attempted a straight dramatic role just once in the 1956 Universal-International release THE UNGUARDED MOMENT (95 mins.). This Technicolor film noir stars Williams as a high school teacher being preyed upon by a peeping tom in a story co-written by Rosalind Russell (!), co-starring George Nader and John Saxon. A fetching new 2K master (1.85) is on-hand in this Harry Keller-helmed outing presented with two separate commentaries (from David DeCoteau and Jason Ney) and the trailer.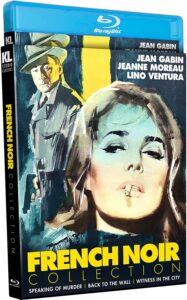 Jean Gabin, Jeanne Moreau and Lino Ventura are a few of the big names that populate FRENCH NOIR COLLECTION, Kino Lorber's three-disc anthology of B&W film noirs from France. Each presented here in 2K restored transfers courtesy of Gaumont are SPEAKING OF MURDER (85 mins., 1957) with Gavin in a script by "Rififi" writer Auguste Le Breton and director Gilles Grangier. Moureau, meanwhile, top lines BACK TO THE WALL (93 mins., 1958), while the writing of "Vertigo"/"Diabolique" Thomas Narcejac informs WITNESS IN THE CITY (86 mins., 1959), the story of a dead mistress whose husband (Ventura) decides to take vengeance on her murder. Trailers are included with the crisp 1080p transfers (1.37/1.66) coming off as attractive and highly detailed.
Henry Silva gives a delicious performance in ASSASSINATION (95 mins., 1967), an otherwise routine European thriller featuring Silva as a secret service agent who assumes his fictional brother's identity (after undergoing plastic surgery) in order to take down a crime ring. Evelyn Stewart co-stars in Emilio Miraglia's good-looking widescreen exercise, presented here in a Jolly Film licensed transfer (2.35) with a commentary by Howard S. Berger, Steve Mitchell and Nathaniel Thompson plus the trailer and a collectible slipcover.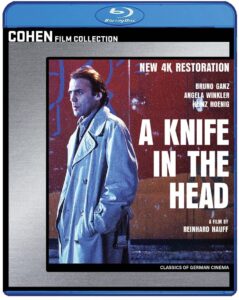 Cohen Film Collection New Releases
Several superb entries from the Cohen Film Collection are new on Blu-Ray this month.
French director Patrice Leconte is represented by two separate releases, one of which is a double feature pairing his 2001-02 consecutively-shot features: FELIX AND LOLA (92 mins., 2001) and LOVE STREET (90 mins., 2002). "Flix and Lola" follows Philippe Torreton's amusement park operator who's spellbound by a woman who spends a night riding alone in a bumper car. The duo fall in love before he tries to piece together her past in a finely-acted, moody film (2.39, 2.0 French with English subtitles). "Love Street" is a period effort set in 1945 Paris, where starcrossed lovers Patrick Timsit – as the handyman at the about to be closed Oriental Palace brothel – and Laetitia Casta – a prostitute with an aspiring singing career – come together. Both films sport 1080p (2.39) transfers with 2.0 French audio, English subtitles, podcaster commentaries, and trailers.
Leconte's other Cohen release this month is a 4K restoration of one of his most acclaimed pictures: MONSEIUR HIRE (79 mins., 1989, PG-13). This is a short but hauntingly effective mystery/character drama about a reclusive man who spends his nights watching his beautiful next door neighbor – when she finds out she's being spied on at the same time a local girl has been murdered, the tables are turned in an odd and effective Leconte piece, vividly shot in widescreen. Those scope dimensions have been restored to their full glory in Cohen's Blu-Ray (2.39, French mono with English subtitles), which also includes an interview with Leconte and star Sandrine Bonnaire and a commentary track by Wade Major.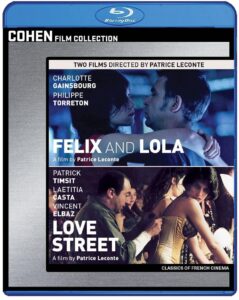 Also new from Cohen this month are Reinhard Hauff's 1978 drama A KNIFE IN THE HEAD (114 mins.) with a breakout performance from Bruno Ganz as a bystander who survives an inadvertent bullet from the police, but finds himself in the middle of conflicting social forces thereafter – the police who try to frame him as a radical, and revolutionaries who proclaim him to be a hero. This German import was a hit on the art house circuit at the time and debuts on Blu-Ray in a new 4K restoration (1.66) with bonus interviews with Hauff and producer Eberhard Junkersdorf…An Academy Award nominee for Best Foreign Film, ENTRE NOIS (111 mins., 1983) is director Diane Kurys' quasi-autobiographical story about a Jewish woman who escapes a Nazi internment camp, through the Alps to Italy, where she forms a friendship with another woman who left a similar situation. A 40-minute interview with Krys is included here (2.35) in another Studiocanal 4K restoration, on Blu-Ray November 29th…Fernando Leon De Aranda's THE GOOD BOSS (120 mins., 2021) offers a plum role for Javier Bardem, playing the owner of an industrial scale manufacturer vying for a coveted Business Excellence award. This character-driven piece includes interviews with Bardem and the director, the trailer, and a 1080p (2.39) transfer in Spanish with English subs.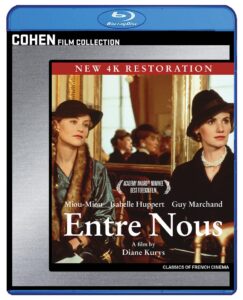 Also on Blu-Ray: Mathieu Amalric's sixth directorial sojourn, HOLD ME TIGHT (97 mins., 2021), features Vicky Kireps as a woman fleeing from her family in a picture widely acclaimed upon its release last year. Amalric's accomplishments as a director haven't been nearly as discussed as his on-screen performances, yet the release of this sleeper on Blu-Ray by Kino (1.85, 5.1/2.0 French with English subtitles) should open the picture up to a wider audience in the U.S. Kino Lorber's Blu-Ray also includes a subtitled commentary by Amalric, interviews, a Q&A from the Angelika Film Center, and a photo gallery…Three documentary features from directors Rob Epstein and Jeffrey Friedman, properly titled ROB EPSTEIN AND JEFFREY FRIEDMAN COLLECTION, are contained in a new two-disc Blu-Ray from Milestone and Kino. Included here are "Common Threads" (80 mins., 1989), "Where Are We? Our Trip Through America" (72 mins., 1992) and "Paragraph 175" (78 mins., 2000), each offering the duo's perspective on gay history and its relationship with pop culture and the country at large. Deleted scenes and commentaries are included in Milestone Film & Video's package.
Raro Video brings viewers LE SOLDATESSE [The Camp Followers] (118 mins., 1965), a WWII drama by director Valerio Zurlini. Anna Karina and Mario Adorf stars in this drama involving a frustrated lieutenant (Tomas Milan) charged with transporting prostitutes to different areas around Axis-controlled territory. An introduction by Marco Muller is included in this Raro Video/Kino Lorber Blu-Ray sporting a B&W 1080p (1.85) transfer in Italian with English subtitles..Also new from Raro is THE SCENT OF THE NIGHT (99 mins., 1998), an Italian import from director Claudio Caligari about a cop who enhances his income by working with low-level crooks – what happens after he's caught and tries to go straight informs this well-received character drama, here on Blu featuring a 1080p (1.85) transfer in Italian with English subtitles.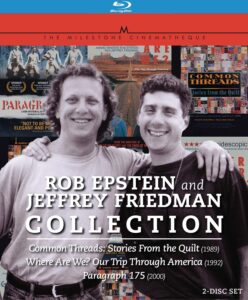 New on DVD from Kino is the documentary PAUL TAYLOR: CREATIVE DOMAIN (82 mins., 2014), a look at one of the world's most renowned choreographers, who died in 2018. This documentary, shot over a multi-year span from 2010, looks at his creative process in a feature from Kate Geis. Kino Lorber's DVD includes a "Dance on Camera Festival" Q&A, and interview with current Paul Taylor Dance Company Artistic Director Michael Novak (16:9, 2.0)…Greenwich Films brings music fans a new documentary, LET THERE BE DRUMS! (94 mins., 2020). This effort from Justin Kreutzmann includes interviews from Ringo Starr, Stewart Copeland, Taylor Hawkins and many other drummers in a profile of the art (16:9, 5.1/2.0)…RIDERS OF THE PURPLE SAGE: THE MAKING OF A WESTERN OPERA (82 mins., 2020) is Kristin Atwell Ford's look at composer Craig Bohmler's efforts to bring a 1912 Zane Grey book to the stage. Peter Coyote narrates the feature-length documentary (16:9, 2.0)…Zeitgeist and Kino Lorber are also releasing LOVING HIGHSMITH (87 mins., 2022), a new documentary from Eva Vitija, narrated by actress Gwendoline Christie, which profiles the author, her prolific writing and private lesbian relationships. The DVD is now available sporting additional interviews, a score recording segment, a 16:9 transfer and 5.1/2.0 sound.
The life of Walt Disney World performer Billy Flanigan is chronicled in the Cullen Douglas documentary BILLY FLANIGAN: THE HAPPIEST MAN ON EARTH (85 mins., 2022), on DVD from GDE and Kino Lorber (1.77, 5.1/2.0)…Aengus James' AFTER THE MURDER OF ALBERT LIMA (97 mins., 2019) is a dark comic odyssey about a man who decides to hire a pair of bounty hunters to find out who murdered his father in Argentina (16:9, 5.1/2.0, with commentary by Aengus James)…BURIED: THE 1982 ALPINE MEADOWS AVALANCHE (96 mins., 2022) is a documentary from Jared Drake and Steven Siig, profiling the 3rd deadliest avalanche in U.S. history, one that occurred in Lake Tahoe in 1982. The efforts of the rescuers involved is recounted in a gripping documentary (16:9, 5.1/2.0).
Director Nabil Ayouch's CASABLANCA BEATS (105 mins., 2021) is an autobiographical piece about a former rapper who teaches hip hop in an urban neighborhood (5.1/2.0 Arabic with English subtitles, 1.78)…LOVE, CHARLIE (96 mins., 2021) is Rebecca Halpern's documentary about the rise and fall of early "celebrity chef" Charlie Trotter (1.78, 5.1/2.0)…Phil Wall's THE BOOK KEEPERS (89 mins., 2021) movingly chronicles the book tour of author Carol Wall's son and husband, who pick up the pieces after she dies a short time after her debut memoir's publication (16:9)…Finally, Scott Coffey's IT TAKES THREE (95 mins., 2017) mixes a contemporary teen romance with "Cyrano" in a breezily enjoyable youth comedy. Gunpowder & Sky's DVD (2.39, 5.1/2.0) includes deleted scenes and trailers.
---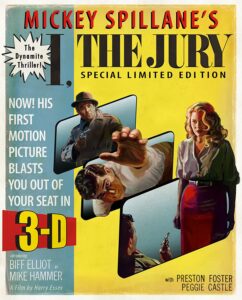 Also New & Noteworthy
I, THE JURY 4K UHD/3D Blu-Ray/Blu-Ray Limited Edition (88 mins., 1953): Mickey Spillane's tough-talkin' private eye Mike Hammer first reached the screen – at the height of his best-selling paperback popularity – with this independent, Victor Saville production in 1953. Biff Elliot gives something of a one-note performance – arguably in keeping with the character's persona – as Mike Hammer, who's out to uncover what happened to his military vet friend, taken down after losing an arm in combat. Hitting the Big Apple during Christmas time (albeit only with post cards and the occasional Christmas tree marking the setting!), Hammer parades through a succession of suspects and the occasional femme fatale en route to an action packed climax.
"I, The Jury" is a movie that's going to appeal to Mike Hammer fans first and foremost, with a secondary recommendation for genre buffs, provided they're aware of what they're in for. Coming in towards the end of the genre's popularity, the picture – directed by Harry Essex who also scripted – is a lot less polished than your typical Hollywood affair, though it does boast a Franz Waxman score. The performances are mostly limited in scope (especially where Elliot is concerned) and the film delivers as many unintentional laughs as it does action. Still, that might be – for some – part of its charm.
There's no denying ClassicFlix's outstanding limited edition package, which houses transfers restored by the UCLA Film & Television Archive and Romulus Films. Presented on 4K UHD as well as Blu-Ray here (both 1.37 B&W) and a 3D Blu-Ray, this is a sterling package of a somewhat ramshackle production that's enhanced with insightful supplements. These include a commentary from genre writer Max Allan Collins; an archival commentary with Biff Elliot and his nephew Josh Shalek from 2004; a 2006 interview with Elliot; featurette "Deep in the Shadows: The 3D World of I The Jury"; an unaired 1954 Mike Hammer TV pilot from Blake Edwards with Brian Keith in the lead role; two "O. Henry Playhouse" TV episodes; and an episode of the TV series "Public Defender" with Elliot.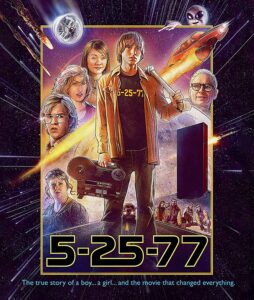 5-25-77 Blu-Ray (132 mins., 2022, Not Rated; MVD): Writer-director Patrick Read Johnson wrote and directed this autobiographical piece, set in the spring of 1977 where high schooler "Pat Johnson" ("Freaks & Geeks" alumnus John Francis Daley) is obsessed with making homemade 8mm sequels to "Jaws" and "Planet of the Apes." He eventually flies out to L.A., meets with the likes of Douglas Trumbull and gets into a screening of "Star Wars" – all the while navigating a coming of age tale a lot more familiar than a story set in a galaxy far, far away.
Johnson's ordeal in making "5-25-77" is in many respects more interesting than the film itself. Shot mostly two decades ago then grounded by financial and other obstacles (despite having the likes of Gary Kurtz among its producers), Johnson's labor of love was at last completed and here debuts in a bulky two-plus hour picture reportedly a lot trimmer than some 3-4 hour cuts he screened at various times in the last decade. The movie shows signs of some "editorial indecision," as it takes a long time for the story to settle into a comfortable rhythm, relying on a lot of montages that result in fragmented pacing. There's no question about the movie's heart and intentions, but it's unfortunate another party, separated from the material, couldn't have made some adjustments to the picture's dramatic structure and pace.
MVD deserves credit, at least, for bringing the picture out on Blu-Ray for viewers to discover. The disc includes a 1080p (1.78) transfer with 5.1 sound, the soundtrack (carrying a score by David Russo) at times coming off as overbearing. Extras include a commentary with Johnson, a 2013 Q&A from the Fantastia Film Festival and photo galleries.
CHILDREN SHOULDN'T PLAY WITH DEAD THINGS 4K UHD/Blu-Ray (87 mins., 1972, PG; VCI/MVD): Before "Porky's" and "A Christmas Story" — even before his cult horror item "Black Christmas" — Bob Clark helmed this zombie-fied horror outing about an obnoxious director (Alan Ormsby) who leads his small troupe to a small Florida island where he decides to raise the dead — unwisely.
Horror fans looking for something a little offbeat with an effective amount of early '70s atmosphere ought to do well as VCI and MVD's 50th Anniversary UHD/BD includes a brand new 4K UHD presentation, though truthfully, I didn't detect much difference between the UHD (which does not contain HDR) or the remastered Blu-Ray (1.85). Both offer reasonably natural looking, grainy transfers in keeping with the movie's low budget origins, though this is not a film I'm familiar with to compare with other transfers. Extras across the three-disc set include a 90-minute documentary on Clark's genre work; commentary by Clark; interviews, music videos, radio spots, liner notes and more. Highly recommended for fans.
---
New From Mill Creek
MOST DANGEROUS GAME Blu-Ray (94 mins., 2022; Mill Creek): The latest adaptation of the oft-told story about a remote island where its mad owner (Casper Van Dien) hunts human prey is a so-so action outing from writer-director Justin Lee. Christopher Tamburello stars as a young man who has the misfortune to end up shipwrecked on Van Dien's island along with his father (Judd Nelson); Tom Berenger is also around, but thrills are few as Tamburello tries to not only survive but turn the tables on Van Dien. Mill Creek's original movie is now available on Blu-Ray (2.35, 2.0 DTS MA) with two featurettes included on the bonus side.
Also new from Mill Creek is ULTRAMAN NEXUS (aprx. 17 hours), a complete series set following a first responder who joins with the monster-fighting Night Raiders, saving the life of Ultraman in the process – before learning their parent organization is anti-Ultra! The complete "Nexus" series is new on DVD featuring 16:9 transfers and Japanese stereo sound, subtitled in English. Also included in this DVD box-set is ULTRAMAN: THE NEXT (97 mins.), a feature-length adventure that's 16:9 enhanced and likewise features its original Japanese audio with English subtitles.
---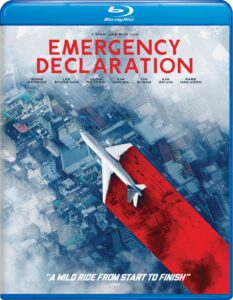 Quick Takes
LOST ILLUSIONS Blu-Ray (150 mins., 2021; Music Box Films): Adaptation of Honore De Balzac's novel follows a young 19th century poet (Benjamin Voisin) who leaves his town for Paris alongside his love (Cecile de France), who quickly abandons him – all the while getting involved in muckraking journalism. Elaborately shot and produced, "Lost Illusions" premieres this month on Blu-Ray in a superb 1080p (2.39) transfer with 5.1 French DTS MA sound, English subtitles, two featurettes, a photo gallery and a trailer.
Well Go USA New Releases: An entertaining thriller from South Korea, EMERGENCY DECLARATION (141 mins., 2022) pits airline passengers against an on-board, suspected terrorist and a potential virus about to break out and kill them all. Action and character drama makes this a slick, polished production new to Blu-Ray this month sporting a 1080p transfer with 5.1 DTS MA Korean audio (English subtitled) and a number of extras, plus an English dub…Coming December 6th from Well Go, ALIENOID (143 mins., 2022) is another successful Korean import that sends a pair of ancient Goryeo Dynasty warriors into the present day; there, they join the fight against an alien running around, trying to exterminate humanity. The first in a planned two-series cycle, "Alienoid" offers ample action in a reasonably fresh genre mash-up; Well Go's Blu-Ray is out December 6th with a Making Of, 5.1 DTS MA Korean audio and English subtitles.
BLONDE - THE MARILYN STORIES DVD (Film Chest Media): Interesting compilation of archival Marilyn Monroe features and documentaries from Film Chest streets on December 6th. Included in the three-disc DVD package are Larry Buchanan's 1976 low-budget outing "Goodbye, Norma Jean" featuring Misty Rowe as Marilyn; the 1991 ABC TV movie "Marilyn and Me" starring Susan Griffiths; and a 2001 CBS "docudrama" "Blonde" starring Poppy Montgomery in the title role. There's also a feature-length Monroe doc, her first TV appearance from 1953, 1967's "The Legend of Marilyn Monroe" and a 1986 documentary as well. Interesting breadth of material here for Monroe fans.
NEXT TIME: The latest reviews! Until then, don't forget to drop in on the official Aisle Seat Message Boards and direct any emails to our email address. Cheers everyone!