Message Board (open 24 hours!)
Twitter - @andredursin (for everything else!)
The great Akira Kurosawa virtually never ventured outside Japan for his cinematic sojourns, making his 1975 epic DERSU UZALA (142 mins.) a picture to treasure. This rugged, Serbian-shot outdoor adventure offers a straightforward story of a Russian military officer (Yuri Solomon) who's charged with surveying the Mongolian frontier shortly after the turn of the 20th century. To his aid comes a resourceful local guide (Maksim Munzuk), who not only saves his life, but represents an old, nature-based world slowly being eradicated by the rise of civilization.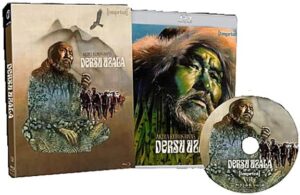 "Dersu Uzala" is a film where nature dominates every inch of the frame: the widescreen lensing and outstanding sound design (more on that in a moment) capture a grandeur only filmmakers like Kurosawa could realize, even though what it's conveying – the wind, rain, creak of the trees, beauty of a sunrise, the harshness of a snow storm – is something all around us in the natural world. Seldom has a movie made the conventional elements of the planet so exciting in cinematic terms, but "Dersu Uzala" has all of that. Tellingly, once the audience spends time in interior confines of "civilization" at the end, all of it goes away, and – like Dersu – we're left with the quiet, empty space of nondescript living quarters he's unceremoniously sentenced to after his eyesight fails him.
The picture, mostly a Russian funded production, would be the only time in Kurosawa's career where Japan was not the focal point, and for that reason alone, "Dersu Uzala" – which won the 1976 Academy Award for Best Foreign Film – is a picture to especially cherish.
It's also a movie that's been notoriously difficult to find, and once more, in a quality presentation at that. Shot in 70mm, Roger Corman imported the film and released it through his New World Pictures, albeit only in 35mm prints that I assume were also mono. Both would severely compromise the beauty of the film's scope cinematography as well as its intricate, outstanding sound design: its multi-channel stereo track envelops the listener with birds chirping, the flowing breeze and other elements that are as integral to the film's appeal as its visuals.
Imprint's premiere Blu-Ray release of "Dersu Uzala" was sourced from a Mosfilm restoration that does a good job conveying the movie's 2.35 frame. The transfer may not be on the level of a 4K remaster, but it's still quite acceptable and, apparently, vastly superior to the movie's poor home video releases found around the rest of the globe. Even better is the sound: the original multi-channel audio from the 70mm prints, both its original Russian dialogue as well as its English dub, are contained in outstanding 5.1 DTS MA tracks. These are both tremendously active mixes, and since the dialogue was post-synced anyway, the English dub is more functional than you might expect.
Extra features, as always with Imprint's releases, are in abundance here. A new commentary from Japanese cinema critic Stuart Galbraith IV offers ample information about the project's history and Kurosawa's tenuous standing in the Japanese film industry when it was made. Historian Michael Brooke provides additional information in a new interview, while David Schecter offers his perspective on the movie's score in an audio essay. Archival interviews with Yuri Solomin are also on-hand here, along with vintage footage of his character – the real Vladimir Arseniev. Highly recommended!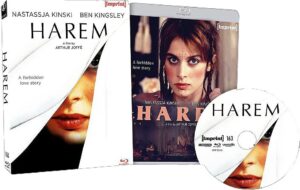 Two releases from the mid '80s are also new to Imprint's Limited Edition Blu-Ray collection this month, including the premiere format release of HAREM (114 mins., 1985, R).
This French production stars Natassaja Kinski as a New York City stock trader who, one day after missing the ferry to her friends' wedding, is kidnapped and whisked off to the Middle East. There, she meets other women, mostly Islamic, who have become part of a Prince's harem – he being played by Ben Kingsley, showing just how quickly the "Gandhi" Oscar winner had to slum to find major leading roles.
Produced by Alain Sarde and directed by Arthur Joffe (who wrote the picture with Tom Rayfiel), "Harem" is a strange movie. The premise is compelling, yet the movie isn't very convincing in terms of its dramatic structure – mainly because there's just not enough heat between Kinski and Kingsley, who of course fall for one another. In a different movie "Harem" could've had something interesting to say about Middle Eastern cultural traditions clashing with the contemporary world that Kinski embodies, yet the movie bypasses all of that, and misfires with its muddled "love story" that never gels.
On the positive end, "Harem" is a picture that's never less than watchable in spite of its shortcomings. The elegant widescreen lensing of Pasqualino DeSantis creates a positively "filmic" presentation that's accentuated by Kinski's physical beauty. Add in a marvelous score by the producer's brother, Philippe Sarde, which mixes lyrical and jazzy moods with a dash of exotic Middle Eastern flair, and "Harem" is one of those near-misses that's still worth a look in Imprint's new Blu-Ray.
A new 1080p (2.35) 2K scan debuts here in Imprint's Blu-Ray, sourced from Studio Canal and enhanced by a crisp 2.0 DTS MA stereo track. Extras include a German trailer, plus a video essay on Kinski's '70s/'80s prime by Kat Ellinger, and a commentary from critic Scott Harrison.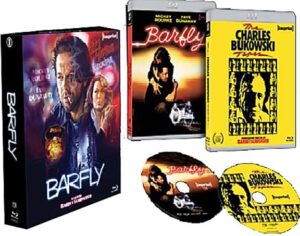 A movie that curiously remains unreleased on Blu-Ray in the U.S., BARFLY (100 mins., 1987, R) is probably the goofiest movie about alcoholism you're likely to ever encounter. That's probably no surprise since this original script by novelist Charles Bukowski, incorporating autobiographical elements, was produced through Menahem Golan and Yoram Globus' Cannon Group with the help of Francis Ford Coppola.
This mix of contrasting industry bedfellows resulted in an unusual movie from French director Barbet Schroeder, following a frustrated, bleary-eyed writer (Mickey Rourke) through his adventures in L.A., meeting up with eclectic types including his new conquest, a fellow drunk played by Faye Dunaway. Their relationship plays out even while a literary agent (Alice Krige) tracks down Rourke's writer, hoping he's sober enough to take a chance on bringing his work to the masses.
"Barfly" doesn't have much of a plot – it's a character-driven piece, shot on-location in the same bar Bukowski frequented, filled with offbeat performances and moments where you laugh at the same time you're put off by Rourke and Dunaway's grotesque, excessive behavior. That's surely the point of "Barfly," which remains entertaining on its serio-comic journey into functioning (and non-functioning) alcoholics and the environment they live in.
"Barfly" has been released on Blu-Ray outside the U.S. many times before and Imprint's release includes the same, serviceable MGM catalog master (1.85) that populated them. Extras include an archival commentary by Schroeder and a new commentary from a pair of L.A. preservation experts. Revealing new interviews include conversations with Krige, co-star Frank Stallone (the most entertaining of the quartet), editor Eva Gardos and production designer Bob Ziembicki. A vintage featurette and trailer round out the disc, while for Bukowski fans, Imprint's box-set also houses Schroeder's four-hour "The Charles Bukowski Tapes," a lengthy doc included here in upscaled 720p on its own Blu-Ray disc.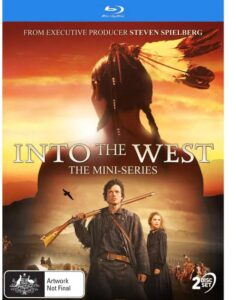 Also new from Via Vision on Blu-Ray is the format premiere of INTO THE WEST (9 hours, 2005), one of producer Steven Spielberg's expensive cable mini-series from the '90s and '00s. This TNT-broadcast Dreamworks production houses an entertaining journey back to the American Frontier, wherein both Native Americans and a family of settlers find their respective fortunes intertwined – for better or worse. Entertaining instead of being overly preachy and heavy-handed, this is a fast-moving and solid production counting Josh Brolin, Matthew Modine, Keri Russell, Skeet Ulrich, Beau Bridges and Graham Greene amongst its cast. Production values and special effects were top-notch for their time, and Geoff Zanelli's scoring is also first-rate.
"Into the West" makes its way to Blu-Ray in Imprint's double-disc set, sporting quite excellent 1080p (1.85) transfers and either 5.1 DTS MA or 2.0 PCM stereo soundtracks. The Paramount-licensed master is just fine for the most part, with extras ported over from its DVD release, including several featurettes and a Robbie Robertson/Sarah McLachlan music video.
NEXT TIME: TOP GUN: MAVERICK Flies in 4K plus more of the latest releases! Until then, don't forget to drop in on the official Aisle Seat Message Boards and direct any emails to our email address. Cheers everyone!