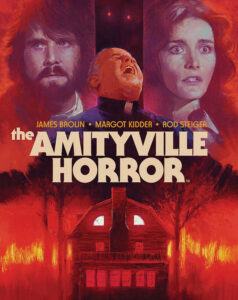 James Brolin and Margot Kidder essay George and Kathy Lutz, who move into the quiet Long Island community of Amityville. Unbeknownst to them, their new home was previously occupied by a family that was slain by their teenage son in a series of brutal shootings. Whether or not the teenager was driven mad by the house (or something in it), the Lutzes soon find themselves being barraged by a variety of haunted house cliches: slime flowing out of toilets, glowing eyes in the upstairs bedroom, invisible playpals of their young children telling them secrets, and George being taken over by some kind of entity from another dimension. Even a local priest (Rod Steiger) fails to clean the house of its inherent evil after giving it the old Father Merrin try.
Directed by Stuart Rosenberg, "The Amityville Horror" is standard but competent late 70s horror. The performances are solid but the movie has that "plastic" kind of look so many films of its era do. More effective is Lalo Schifrin's score, which unfortunately was copied in so many other genre films (and used in even more trailers) that it's then-unique mix of child chorus and creepy orchestral arrangements also seems well-worn.
Perhaps it's understandable when you find out – as divulged in the new Vinegar Syndrome "My Amityville Diaries" documentary – the whole project began percolating as a CBS Movie of the Week before AIP worked out an agreement that saw it producing the film and giving the "Eye" broadcast rights thereafter. It's like watching an "Eight Is Enough" episode crossed with "The Exorcist" – but really, what's wrong with that?
A film that's racked up plenty of miles on home video over the years, Vinegar Syndrome's 4K UHD easily surpasses all previous renditions of "Amityville Horror," thanks to a 4K (HDR10) restoration from the original 35mm camera negative. This is a pleasing, natural image, and although the movie's mundane visual scheme doesn't necessarily make for a lot of impressive HDR highlights, it's an appreciable enhancement that should be a big hit with fans. On the audio end, Vinegar Syndrome remastered the original Dolby Stereo soundtrack for 5.1 and includes it here ("unaltered") plus an alternate 2.0 stereo mix as well.
Extras include that brand-new documentary, "My Amityville Diaries," along with extras carried over from the out-of-print Scream Factory Blu-Ray. These include "For God's Sake, Get Out!," which is a superb look back at the success of the film, sporting interviews with Brolin and Kidder, who isn't ashamed to admit the movie was her "pay day" following "Superman." Radios spots and the original trailer are also on hand, though the most entertaining extra is a full-length commentary from parapsychologist Dr. Hans Holzer. The late Dr. Holzer may be known to some for his occasional appearances on Leonard Nimoy's old series "In Search Of…," particularly in the Amityville episode where he was a lead investigator. Here, Holzer engages in a fascinating, if not completely off-the-wall, discussion of the actual Lutz haunting, noting where the filmmakers went wrong in making the movie and needlessly messing with the "actual" accounts of what happened in the house. It's the kind of talk one wishes you'd hear more often in a commentary. There's also a 10-minute conversation with Lalo Schifrin, discussing his oft-imitated score, plus young co-star Meeno "Voyagers!" Paluce, writer Sandor Stern, another interview with Brolin, and the original trailer.
"Amityville" was followed by two Dino DeLaurentiis-produced theatrical sequels and an endless succession of direct-to-video affairs. These included THE AMITYVILLE CURSE (91 mins., 1990, R), a Canadian-shot thriller that purports to be an adaptation of Hans Holzer's book of the same name – yet what's on-screen is mostly a hackneyed, if well-executed (considering its budget), haunted house outing with a married couple wishing they never decided to buy and renovate that dastardly home in Amityville. What looks like it was (for many years) the most obscure of the many "Amityville" sequels has been remastered here for Blu-Ray by Canadian International Pictures, scanned in 2K (1.85) from the original 35mm camera negative. A historian commentary is on-hand plus new interviews with director Tom Berry, actress Dawna Wightman, cinematographer Rodney Gibbons (with a separate featurette with the DP recounting his other pictures including the slasher fave "My Bloody Valentine"), booklet notes and a stereo soundtrack…Also new from CIP this month is the 1964 drama NOBODY WAIVED GOODBYE (80 mins.), a cautionary tale about a high schooler who decides to forge his own path, nixing his parents and girlfriend, and heads out into the real world – and a quick turn down the wrong path. Don Owen's organic teen drama has been restored in 2K here (1.33 B&W) from the 16mm interpositive and includes the 1968 documentary "Christopher's Movie Matinee" plus three shorts directed by Owen along with the 1962 short "Lonely Boy" featuring Paul Anka which preceded theatrical showings of this picture.
Another major 4K UHD premiere this month from Vinegar Syndrome is TEXAS CHAINSAW MASSACRE 2 (101 mins., 1986). Director Tobe Hooper's only sequel to his groundbreaking 1974 horror staple is a frothier, wildly uneven brew that ups the comedic elements at the same time it delivers more down-home gore. Dennis Hopper and Caroline Williams are the duo who run into Leatherface and his clan in this Cannon-produced 1986 release, which wants to be a parody at the same time it asks you to take portions of it seriously. Indeed, the movie's original advertising campaign — which hilariously satirized "The Breakfast Club" with the Sawyer family in the same poses as the cast of John Hughes' film — directly ties in with the satirical element, though the finished film was neither quite as amusing, or scary, as most fans hoped.
Indeed, following on the heels of the hilariously good "Lifeforce" and hilariously bad "Invaders From Mars," Hooper concluded his tenure at Cannon with the same uneven results that marked his previous two pictures at the studio. No doubt there are some hysterical moments and memorable sequences scattered about "Texas Chainsaw Massacre 2," but it's a bumpy ride best recommended for fans of the original, and not its later, much more serious remake/prequel(s).
Those fans, however, ought to be thrilled with the almost-encyclopedic special edition Vinegar Syndrome has here compiled for 4K UHD and Blu-Ray. For starters, the brand new restoration with HDR10 from the original 35mm camera negative results in a more detailed, colorful image (1.85) than MGM's previous HD master. Backed with the original Ultra Stereo 2-channel sound and this is a pleasingly "filmic" image from a fresh master, also offered here on Blu-Ray in a 1080p SDR presentation.
Extra features are absolutely abundant. Commentaries include a new discussion by historian Patick Bromley while a pair of archival commentaries are also on-tap featuring Tobe Hooper, Caroline Williams, co-star Bill Moseley, and make-up guru Tom Savini, plus another track with Hooper solo. The included Blu-Rays house a wealth of extras, one of which reprises archival MGM goodies (deleted scenes and documentary), bonuses from the "Electric Boogaloo" Cannon documentary (extended interviews with Tobe Hooper and co-producer Cynthia Hargrave) and Scream Factory and Arrow's previous releases (interviews, a Horror's Hallowed Grounds featurette, etc.). The other Blu-Ray disc, meanwhile, serves up a fresh plate of new supplements. These include interviews with Caroline Williams, Tom Savini, makeup artist Gabe Bartalos, actor Kirk Sisco, make-up artist Barton Mixon, actors Barry Kinyon and Bill Johnson, plus an additional featurette sporting much of that same group. Trailers from around the world and a collectible slipcover in Vinegar Syndrome's deluxe hardbound packaging make for a fantastic release that's one of the year's top UHD releases.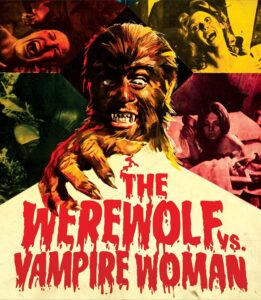 Fans of Spanish werewolf Waldemar Daninsky should be similarly excited by the 4K UHD premiere of THE WEREWOLF VS. VAMPIRE WOMAN (87/94/95 mins., 1971). This was the third released film in the series starring Paul Naschy as the cursed lycanthrope, brought back to life here just in time to help a pair of French girls looking for the tomb of infamous Countess Wandesa. The group inadvertently resurrects the vampire in the process, leading to a rampage of terror before Waldemar decides he's the only thing stopping a plague of the undead from flowing across the land.
Reportedly the most successful entry in the series and widely regarded as one of Naschy's best, "The Werewolf Vs. Vampire Woman" has long been a fan favorite. Vinegar Syndrome's 4K UHD offers a comprehensive package of the picture, including no less than three different cuts of the film: the 87-minute, international "nude" export version is the one presented with HDR10 grading, newly restored from the 35mm original camera negative. The image is highly detailed and healthy, with the original Spanish soundtrack or its English dub both on-hand. Two other Blu-Rays are included, one of which boasts the "clothed" version of the film, as well as the "nude integral version" – both of these run several minutes longer and contain Spanish audio with English subtitles.
The Blu-Ray special features disc offers the superb 2010 documentary "The Man Who Saw Frankenstein Cry: Paul Naschy, The Life and Legend of a Horror Icon," a feature-length tribute sporting interviews with John Landis, Mick Garris, Joe Dante, and Naschy himself. There's also a new interview with Naschy's son, Sergio Molina, the trailer, alternate end title sequences, and a stills gallery.
New on Blu-Ray this month, Sergio Bergonzelli's BLOOD DELIRIUM (94 mins., 1988) serves up splatter du jour. John Philip Law stars as a tortured painter who not only thinks he's Vincent van Gogh reincarnated but that he can also bring back his wife – who's dead – from the grave in order to use her as his muse. When that doesn't work, he employs a living young woman (Brigitte Christensen) to spur his creative impulses, which now include using human blood as one of his favorite colors.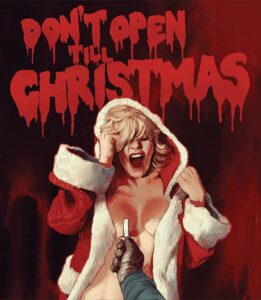 There's a slick, albeit blunt, tone to this ghoulish affair co-starring Gordon Mitchell that should captivate hardcore splatter fans. Vinegar Syndrome's Blu-Ray has been newly restored in 2K from its original 35mm camera negative (1.66), resulting in a clear image that allows you to savor every blood-soaked frame. In addition to containing English and Italian soundtracks, Vinegar Syndrome has also included a new commentary track with historians Eugenio Ercolani and Troy Howarth; a 20-minute interview with co-star Marco DiStefano; a fresh interview with Christensen; a half-hour talk with assistant director Corrado Colombo, the trailer, and alternate Italian credits.
A British chiller from the "video nasty" days of the 1980s, DON'T OPEN TIL CHRISTMAS (87 mins., 1984) is also headed to Blu-Ray this month, just in time for the season. This very uneven film, the work of multiple directors and obvious reshoots, has a straightforward premise: that a deranged killer is knocking off anyone dressed up as Santa Claus. This naturally casts agloom over London's holiday season, leading Chief Inspector Harris (Edward Purdom, who also directed the film – at least until he quit!) to investigate before more Holiday Santas are slain.
Purdom left the film for a time, was replaced by director Alan Birkinshaw under a pseudonym, and then later returned to complete a bizarre and mostly lightweight film that has some ghoulish deaths that tend to clash with the rest of the picture's tone. There's also a "Solid Gold"-like musical performance by Caroline Munro that makes you feel like you're watching a TV variety special from the era – it's all very odd, but one that adventurous horror fans might want to check out just the same.
Vinegar Syndrome's premiere Blu-Ray (1.66) is newly scanned and restored in 2K from 35mm internegative and includes a lengthy new interview with Munro; a talk with Birkinshaw, also featuring unused scenes; conversations with Purdom's daughter Lilan, plus an hour-long archival talk with Birkinsaw. There's also a revealing, fun hour-long retrospective documentary, deleted scenes from an unseen rough cut, a locations featurette, and new commentary with historian Amanda Reyes and extras producer Ewan Cant.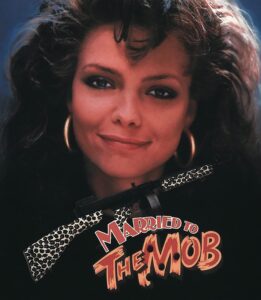 Fun City Editions' latest Blu-Ray releases spotlight a pair of star-driven vehicles from the '80s.
The lighter of the duo is easily Jonathan Demme's MARRIED TO THE MOB (104 mins., 1988, R), a movie that sums up the typical director-motivated Orion release from its era. Coming off the superior "Something Wild," Demme here dabbles in a seemingly more "madcap" film of eccentric characters and situations as frustrated mob wife Michelle Pfeiffer finds out she can't leave the grasp of "the family" – not even after her philandering husband (Alec Baldwin) is offed by boss Dean Stockwell. Taking a job in the Big City, Pfeiffer's heroine is then pursued by Stockwell, his wife (Mercedes Ruehl) – who thinks he's cheating with her – and Matthew Modine's offbeat FBI agent who has a thing for Pfeiffer even while she's the subject of her team's investigation.
There's a lot of zaniness on-hand in Demme's movie: silly laughs, offbeat dialogue, and a general fast-paced tone that make this picture a veritable '80s updating of a classic screwball comedy. The cinematography of Tak Fujimoto lends the picture a glossy, upbeat visual appearance, and David Byrne's surprisingly effective score adds an additional flavor. Pfeiffer's performance is right on-target though there are some moments when the overall "world" that Demme establishes here, and the respectively off-the-wall characters who populate it, nearly engulf her central performance: there's not a lot of "grounding" to the comedy, and the peripheral characters nearly have as much screen time as the leads. That, however, may be a good thing if you find yourself responding to the material – for me "Married to the Mob" is certainly well worth seeing, even though I found "Something Wild" to be a lot more on-point dramatically.
Fun City has rolled out another outstanding release with "Married to the Mob." The interviews with Matthew Modine and Mercedes Ruehl are both candid and hugely enjoyable, both paying tribute to Demme and his calm on-set demeanor, while writers Barry Strugatz and Mark R. Burns discuss their screenplay. These are just compelling, wonderful slices of movie-making history, while the trailer, an image gallery, new commentary from "I Saw What You Did" podcasters, and booklet notes round out the release. As always, the 1080p (1.85) 2K restoration from the 35mm interpositive is clear, colorful and an enhancement on MGM's earlier master (released in a now out of print Kino Blu-Ray), while crisp stereo sound highlights Byrne's score.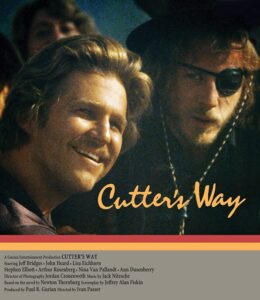 Fun City's other new release is Ivan Passer's 1981 film CUTTER'S WAY (109 mins., R), a gritty tale of a Santa Barbara gigolo (Jeff Bridges) who teams up with a wheelchair-bound Vietnam vet (John Heard) and their equally alcoholically-impaired female friend (Lisa Eichhorn) to solve the murder of a young woman whose body Bridges unknowingly saw being thrown into a dumpster one night.
The performances of Bridges and especially Heard go for broke in "Cutter's Way," which is a gritty, narcissistic little picture that's easy to admire but hard to like. That's because the embittered protagonists and their respective hang-ups, while believably rendered, aren't especially appealing, and Jeffrey Alan Fiskin's script – adapting a Newton Thornburg novel – leads to both a predictable climax involving a local business tycoon (Stephen Elliott) and a bleakly downbeat ending.
A movie that understandably failed to muster much commercial business (UA released it through their "United Artists Classics" specialty label), "Cutter's Way" does carry a rep amongst some film buffs as being brilliant. I wouldn't quite go there personally, but the picture does have its admirers and, for them, Fun City's Blu-Ray is an enhancement on Twilight Time's out-of-print 2016 format endeavor. A new 2K restoration (1.85) from the 35mm interpositive results in a more accurately colored, fresher looking transfer, while a full slate of terrific extras include an interesting new interview with former UA Classics executive Ira Deutchman, detailing the picture's journey to the screen and especially its failed first release (under its novel's title "Cutter and Bone"). Archival supplements include interviews with Ivan Passer, writer Jeffrey Alan Fiskin, producer Paul Gurian, plus a featurette on composer Jack Nitzsche, an audio intro from Jeff Bridges and an overseas video intro by director and admirer Bertrand Tavernier. An older commentary with AD Larry Franco and unit production manager Barrie Osborne is reprieved here plus an isolated score track, a new commentary by novelist Matthew Specktor, and the Twilight Time discussion from Julie Kirgo and the late Nick Redman.
---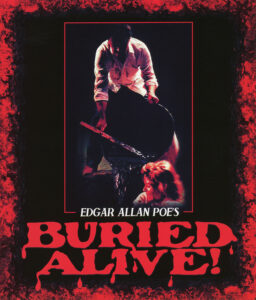 Also New From Vinegar Syndrome
BURIED ALIVE Blu-Ray (91 mins., 1989, R): Mildly enjoyable production from Menahem Golan's 21st Century Film Corp. and prolific B-producer Harry Alan Towers is a South African-lensed (loose) take on the Poe perennial. Karen Witter (later Karen Lorre, ex-wife of blockbuster TV producer Chuck Lorre) stars as the new teacher at a girls reform school haunted by its past and a seriously disturbed mad man still lurking about. "Edge of Sanity"'s Gerard Kikoine's film is ridiculous but very watchable and graced with a solid score by Frederic Talgorn, plus a very late appearance by the great John Carradine, the debut of future star Nia Long, and none other than Donald Pleasence in one of the most ridiculous rugs you'll ever see. A new 2K restoration from the 35mm interpositive (1.85, mono) graces Vinegar Syndrome's Blu-Ray alongside an interview with star Ginger Allen and co-star William Butler.
MUTANT HUNT Blu-Ray (88 mins., 1987, Not Rated): A moderately amusing "Terminator"/"Robocop" knock-off produced for Empire Pictures by director Tim Kincaid, "Mutant Hunt" at least houses some intriguing bursts of unintentional humor as a bounty hunter and an engineer's sister team up to stop "Dr. Z"'s madcap plan that turns cyborgs into killing machines – all in the far-off, futuristic year of 1992! This low-budget effort is spirited and helplessly out of control, though you still might want to reach for the remote to get through its slow sections. A new 4K master (1.33, 2.0 stereo) awaits you in Vinegar Syndrome's Blu-Ray plus a commentary with historian Elizabeth Purchell, interviews with actors Mark Legan and Dr. J. Buzz Von Orsnteiner, and makeup artist Ed French.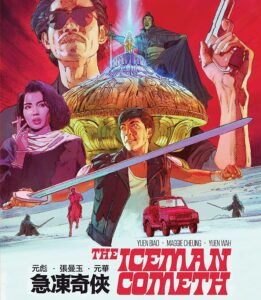 Maggie Cheung and Yuen Biao star in THE ICEMAN COMETH (115/122 mins., 1989), a Hong Kong affair that plays an awful lot like a Mandarin variation on "Highlander," wherein battling warriors from the Ming Dynasty find themselves frozen in time – and soon thawed out 300 years later to carry out a final confrontation in a modern HK. Comedy, action, martial arts and a dash of dark fantasy are rolled into this fan-favorite concoction, presented here by Vinegar Syndrome in a two-disc Blu-Ray featuring both the original 115-minute HK cut (Cantonese or two English dubs), or its 122-minute Mandarin version (subtitled). Insightful extras include commentary from Samm Deighan, an interview with DP Poon Hang Sang, talks with Yuen Biao and co-star Yuen Wah, and trailers.
DEVIL RIDER Blu-Ray (95 mins., 1991; Culture Shock): A contemporary mash-up of horror and western, "Devil Rider" cooks up ample mayhem after yuppie Rick Groat tries to sell his friends on constructing a resort ranch out in the middle of nowhere, causing The Devil Rider (Groat's brother Tag) to return, seeking on vengeance on all who mistreat the land. Vic Alexander's film has been presented uncut here on Blu-Ray (1.85) with the original VHS version presented in 1.33 as a special feature. Interviews and an introduction from writer Bud Fleisher round out the release…Also due out from Culture Shock is a double-disc Blu-Ray of DEATHCEMBER (145 mins., 2019), a holiday horror anthology film sporting appearances from the likes of Barbara Crampton and the involvement of directors Lucky McKee, Ruggero Deodato and Trent Haaga among others. Numerous supplements, director's cut versions of individual sequences, 13 commentaries and plenty more are thrown into the yuletide brew (1.85, 2.0 stereo) along with footage of the Budapest Scoring Orchestra recording the main theme and more.
---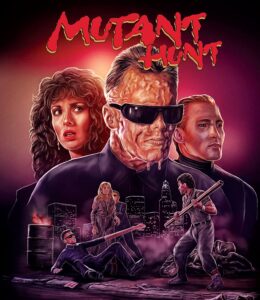 Quick Takes
VILLAINS Blu-Ray (90 mins., 2019; Gunpowder & Sky): Bill Skarsgard and Maika Monroe play a couple looking for a new start down South when they happen to break into a home, only to run into crazy couple Kyra Sedgwick and Jeffrey Donovan, whose placid demeanor houses something truly disturbed underneath. Dan Berk and Robert Olsen's film (2.39, 5.1) is here given the full Special Edition treatment from Gunpowder & Sky, the disc housing commentaries (one from 2019, another from 2022) from the duo, plus interviews, deleted scenes and more.
From Factory 25: Filmmaker Steve Buscemi lands a new investor (Seymour Cassel) for his latest film – only to wonder where the $250,000 is flowing from – in the acclaimed, Sundance-honored 1992 indie comedy IN THE SOUP (102 mins., Not Rated), Alexandre Rockwell's enjoyable outing with a fantastic cast (Jennifer Beals, Sam Rockwell, Stanley Tucci, Carol Kane, Will Patton, and indie director Jim Jarmusch among them). Factory 25's Blu (1.78) includes a new 4K restoration with extras sporting a 2014 Rockwell feature "Little Feet," post-screening Q&A and a 32-page booklet…the very strange APE (86 mins., 2013) follows a would-be stand-up comic and pyromaniac who's had just about enough. Joel Potrykus' film debuts on Blu-Ray this month from Factory 25 (1.78) sporting nearly an hour of extras including the short "Coyote," commentary, deleted scene, and numerous featurettes.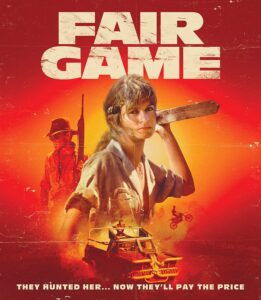 Dark Star New Releases: The Aussie thriller FAIR GAME (86 mins., 1986) has long been a favorite of cult enthusiasts, especially those with an interest in all things Down Under. This is a scrappy, low budget offering about a woman pushed to "the limit" after poachers decide to take out animals and cause general havoc in her wildlife sanctuary. Her revenge makes for an Aussie "Death Wish" wannabe brought here to Blu-Ray (1.85, mono) with extras including commentary from director Mario Andreacchio and writer Rob George, interviews, behind-the-scenes extras, and several of the director's short films…PVT CHAT (86 mins., 2020) is Ben Hozie's character drama about an internet gambler who establishes an online, then a real, connection with a "cam girl" from San Francisco. "PVT Chat" debuts here on Blu-Ray (2.1:1, 5.1) from Dark Star sporting Hozie's previous feature "Annunciation" and shorts, deleted scenes, commentary and interviews.
---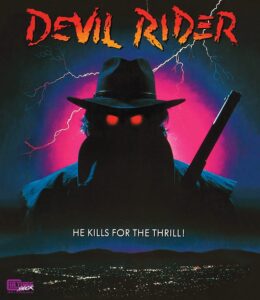 Foreign Fare
The Russian import ZEROGRAD (103 mins., 1988) is Karen Shakhnazarov's satirical drama about an engineer (Leonid Filatov) who heads to an isolated city where nothing makes sense in the director's trenchant take on Communism and the Soviet Union. A new 2K restoration (1.37) from Mosfilm highlights Deaf Crocodile's Blu-Ray plus a Samm Deighan commentary and a new interview with the director…Kani Releasing's VIVA EROTICA (99 mins., 1997) showcases a different type of Hong Kong import, this one starring HK star Leslie Cheung as a filmmaker who stumbles into making his first soft-core production. One of the many acclaimed films to arrive from the prolific era of '90s Hong Kong cinema, "Viva Erotica" debuts on Blu-Ray sporting an interview with director Lo Ch-leung, commentary from "Saturday School" podcasters, a 1080p (1.85) transfer and stereo sound, in Mandarin with English subtitles. Also new from Kani is WHAT'S UP CONNECTION (121 mins., 1990), the follow-up to "Robinson's Garden" (reviewed last month) from director Masashi Yamamoto. This Japan/Hong Kong co-production utilizes its straightforward premise – a HK teen wins a trip to Japan and heads overseas through the slums of Osaka – for a wild commentary on Asian relationships, cultural differences and politics circa the late '80s. A new scan from 35mm elements graces Kani's Blu-Ray with a 1080p (1.85) transfer, stereo sound, interviews with Yamamoto and more goodies enhancing a disc that's a must for the director's devotees.
Dekanalog New Releases: The gross-out Vietnamese horror outing KFC (69 mins., 2016) earns its badge for "extreme cinema" fans only with director Le Binh Giang staging a grotesque series of flesh-curdling sequences with little coherence; Dekanalog's Blu-Ray (1.85, 5.1) includes an interview with the director, trailers and a critical essay…From Tunisia comes DACHRA (114 mins., 2018), a film about journalism students who dead out to a dreary old village, the scene of an old crime, where the dead still lurk about. The flowing, long takes of director Hateem Nechi make for an unsettling experience. Dekanalog's Blu-Ray (2.35, 5.1) includes trailers, an intro from Evrim Ersoy and an interview with filmmaker Abdelhamid Bouchnak…Italian horror auteur Dario Argento chips in a dramatic performance in Gaspar Noe's VORTEX (142 mins., 2021), an intriguingly told tale of an elderly man trying to care for his wife (Francoise Lebrun) as she heads towards dementia. Two separate Q&A sessions with Noe and the trailer are on-tap in Utopia's Blu-Ray (2.39, 5.1).
NEXT TIME: The latest Imprint releases! Until then, don't forget to drop in on the official Aisle Seat Message Boards and direct any emails to our email address. Cheers everyone!