This 4K transfer was first released on streaming by Paramount several years ago, and now the master itself, with Dolby Vision HDR, has premiered on 4K UHD in a Paramount Presents double-feature with Pal's earlier '50s sci-fi favorite WHEN WORLDS COLLIDE.
The transfer offers outstanding colors and comes highly recommended for fans, even though the disc lacks the original mono sound, not to mention has a blue-hued shot of Mars at the picture's opening (it's been this way since the UHD stream was released, though Criterion corrected it for their Blu-Ray presentation). Outside of those drawbacks (the color of Mars being a minor one all told), this is an otherwise superb package with extras including two archival commentaries (one from stars Barry and Robinson; another with Joe Dante and historians Bob Burns and Bill Warren); the half-hour "The Sky is Falling: Making War of the Worlds" documentary; the shorter featurette "H.G. Wells: The Father of Science Fiction"; the trailer; and, naturally, the original Orson Welles Mercury Theatre broadcast from 1938.
"When Worlds Collide" offers an attractive 1080p (1.33) transfer that certainly looks cleaner and more recent than the Imprint Blu-Ray release from a year ago. The mono sound is acceptable, and a Digital HD copy (one code for each film) is included inside the slipcover-adorned, double-disc set. Highly recommended!
Dwayne Johnson produced and voices Krypto the Superdog – the devoted canine companion to Superman – who here finds himself wrapped up in an adventure requiring him to assemble his own team of heroes (disparate shelter animals) in order to save the Man of Steel (John Krasinski) and other Justice Leaguers from Lex Luthor and company. The comic situations are to be expected but there are a good amount of laughs and director Jared Stein and the movie's team of animators keep the visuals bright, colorful and the story engaging for both kids and older comic book fans. The movie's voice cast is also superior, with Keanu Reeves voicing Batman and numerous comedy vets (Natasha Lyonne, Thomas Middleditch, Kate McKinnon, etc.) backing up the fun.
Warner's attractive 4K UHD includes a spotless, candy-coated HDR10 transfer with Dolby Atmos sound. The Blu-Ray (which also houses the Atmos track) includes deleted scenes and a number of featurettes as extras with a Digital HD code also on-tap. Recommended – especially if you have kids!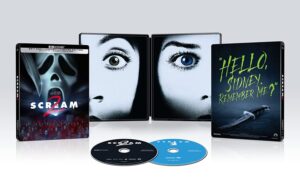 SCREAM 2 4K UHD (120 mins., 1997, R; Paramount): In director Wes Craven and scribe Kevin Williamson's first (and best) sequel to their original 1996 hit "Scream," the duo abandoned some of the grizzlier elements of its predecessor and created, if anything, an even more engaging pop-horror thriller the second time around.
Neve Campbell, Courtney Cox, David Arquette and Liev Schrieber all return from the original, and naturally, there's a bevy of veritable lambs for the slaughter as the movie follows the original's protagonist, Sidney (Campbell), onto the hallowed grounds of some undisclosed college campus where (uh-oh!) mysterious murders begin once again. Williamson's script contains the requisite "hip" dialogue for Generation-Xers (lines referring to Six Degrees of Kevin Bacon, Entertainment Weekly, and "Saved by the Bell") and also gets into what makes (most) genre sequels such hackneyed affairs; some commentary is also made about how movies can sometimes send wrong signals to real-life psychos, but hey, it's only "Scream 2," so don't be looking for too much food for thought.
Craven and Williamson also dialed much of the gore down a notch in this picture (compared to its previously NC-17-rated original), and refrain from dwelling on excess carnage–the "much more elaborate" murders and expanded bodycount aside. It all boils down to a supremely entertaining picture, populated by engaging young actors (and actresses, of course), filled with good dialogue, a few frights, and all deftly packaged together by Craven – more so than any of the handful of sequels that followed.
Paramount's 4K UHD (2.35) looks terrific as you'd expect, backed by Dolby Vision HDR and 5.1 DTS MA sound – certainly spiffier than the previous Blu-Ray. Ported-over extras in the Limited Edition Steelbook include commentary by Craven and crew, deleted scenes, outtakes, trailers, a music video, featurettes and a Digital HD copy.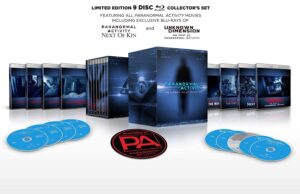 Fans of the PARANORMAL ACTIVITY series – which started out unassumingly with the original's 2009 theatrical release and carried through six big-screen sequels and a recent follow-up, PARANORMAL ACTIVITY: NEXT OF KIN (96 mins., R), which debuted on Paramount+ and premieres here, exclusively in Paramount's nine-disc, series-spanning PARANORMAL ACTIVITY: THE ULTIMATE CHILLS COLLECTION Blu-Ray box. 1080p transfers and 5.1 DTS MA sound back each disc in the series, with 2015's THE GHOST DIMENSION (Part 6 for those scoring at home) including its 3-D version (in 3D Blu-Ray format). All the entries except "Next of Kin" include Unrated and R-rated versions, while the feature-length UNKNOWN DIMENSION: THE STORY OF PARANORMAL ACTIVITY (94 mins.), offered here on a bonus disc, brings buffs a look at the franchise's run, which perhaps has come to a close – at least for now.
---
TV on Disc
CBS has a number of Complete Series packages available this month on Blu-Ray, starting with a mammoth set compiling all 106 episodes of DEXTER (93 hours, 2006-13/2021; CBS).
Michael C. Hall starred as one of the most caring serial killers on record in this disturbing, compulsively watchable Showtime series, with Hall portraying the anti-hero of Jeff Lindsay's books: a homicidal youth raised by a cop who channels his psychotic issues into knocking off individuals who generally deserve their fate. It's not always easy viewing but the performances and production are top-notch, and the series, through some seven seasons, gained a big cult fanbase both through its Showtime airings and occasional, edited-down CBS broadcasts.
After the series concluded its 2006-13 run, Hall returned for DEXTER: NEW BLOOD, reprising his role of Dexter, now relocated to Iron Lake, NY after setting aside his "Dark Passenger" for nearly a decade — yet, as expected, trying to go straight yields a return to the darkness after his estranged son shows up. Jennifer Carpenter and John Lithgow also reprise their roles for this mini-series farewell which most fans seemed to embrace as a satisfying send-off for the offbeat crime series.
CBS' Blu-Ray box contains all eight seasons of "Dexter" plus "New Blood," all presented in 1080p (1.78) transfers with 5.1 Dolby TrueHD audio and over three hours of extras from their previous Blu-Ray releases: commentaries, cast interviews, and Making Of featurettes.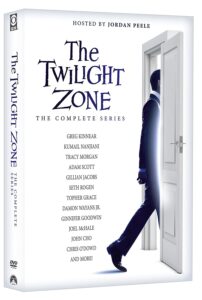 Jordan Peele's much-hyped revamp of THE TWILIGHT ZONE (823 mins., 2019-20; CBS) followed in the footsteps of previous efforts to remake the property – which was always a perilous undertaking. Whether it was the tragic production associated with Steven Spielberg and John Landis' 1983 big-screen movie, or mostly forgotten TV revivals from the mid '80s and early 2000's, a myriad of different producers and writers have found it difficult to recapture the power and potency of Rod Serling's original creation.
Actor/filmmaker Peele gave it another go, and the results were just as mixed as you might expect. His CBS All Access (Paramount+) streaming production offers strong production values and stars (Kumail Nanjiani, Seth Rogen, Sanaa Lathan, John Cho and Tracy Morgan among others), yet the actual stories are a mostly ineffective run of contemporary tales with a couple of overtly sharp allegories, one involving illegal aliens, in the mix. At least they saved the best for last, as the season one finale, "Blurryman," proves to be reasonably engaging, with a capper of an ending that's livelier than the rest of an uneven year one – to say nothing of a Season 2 that was released, to diminishing returns, on DVD only. CBS' Complete '19-'20 Zone DVD set includes all 20 episodes with 16:9 transfers, selected commentaries, deleted scenes, featurettes and more.
Launched as a sexier, steamier companion to Fox network smash "Beverly Hills 90210," MELROSE PLACE (170 hours, 1992-99; CBS) was a spin-off from "90210″ that focused on the older exploits of twentysomethings in an L.A. apartment complex. The show launched in 1992 (during 90210's third season) and lacked the more appealing characters from its younger, earlier-time slot brethren. More of an explicit night-time soap opera, "Melrose" nevertheless quickly gained its own following and really took off once Heather Locklear joined the cast as the scheming "Amanda," augmenting its initial core group of stars (Josie Bissett, Laura Leighton, Andrew Shue, Courtney Thorne-Smith, etc.).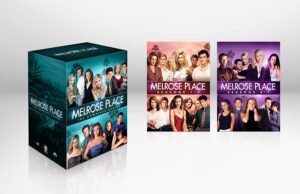 A show that says "90s" in more ways than one, CBS' massive DVD box compiles every episode from the glossy Aaron Spelling/Darren Star series in one 54 disc set. The 1.33 transfers are fine, the stereo sound likewise passable (some songs have, naturally, been replaced here and there), and extras are carried forward throughout the set, housed in two separate, oversized plastic cases: commentary by Darren Star on some episodes; featurettes and more, albeit mostly related to the first three seasons of the show.
Finally, Star Trek fans have had a rough go of it lately, trapped in the Alex Kurtzmann hell of uneven projects running the gamut from the heavily derided "Discovery" to the mixed results of "Strange New Worlds." PICARD (473 mins., 2022; CBS) would seem to be the project to bring Trekkies together of all persuasions, yet this moribund show is morose and at times outright depressing, with an aging Jean-Luc trapped in his own alternate hell fashioned by Q. The expected cameos crop up here and there but this is a joyless affair for the most part, well acted yet bitter and sad – with heavy-handed politics thrown into the fray, adding insult to injury. CBS' Season 2 set of the series includes a gag reel, featurettes and deleted scenes, plus 1080p (1.85) transfers and 5.1 DTS MA soundtracks...Season 2 of WALKER (833 mins., 2021-22) brings back Jared Padalecki as the younger Texas Ranger, still trying to piece together what led up to his wife's death while taking on the usual episodic story lines mixing local crime and family drama. Deleted scenes and a gag reel comprise CBS' multi-disc set (1.78, 5.1), which is now available.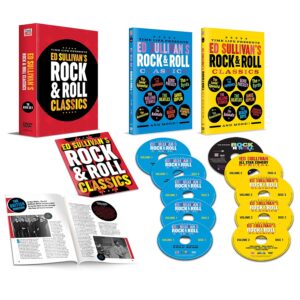 ED SULLIVAN'S ROCK & ROLL CLASSICS 10 DVD Set (Time Life): Another tremendously entertaining Time Life retrospective takes viewers to Studio 50 and the iconic "Ed Sullivan Show," which became the standard-bearer for music acts seeking to blast their tunes into the national landscape. This 10-disc DVD set offers no less than 128 uncut performances from the show, from the 1950s through the 70s, providing a veritable who's-who of music and pop culture from those decades. The Bee Gees, Buddy Holly, Elvis, Neil Diamond, Stevie Wonder, The Beach Boys, The Jackson 5, The Supremes, Tom Jones, Ike & Tina Turner, The Mamas & The Papas, Smokey Robinson, The Band and, of course, The Beatles' unforgettable performances are all present and accounted for in this anthology of great music and nostalgic TV.
Time Life has augmented the box with never-before-released, unedited interviews from the "History of Rock 'N' Roll" documentary, featuring David Crosby, Gladys Knight, James Brown, Michelle Phillips and more. A bonus included DVD, "The All-Star Comedy Special," spotlights comedic guests from the Sullivan show, while a 36-page booklet includes a full spread with archival photos and trivia.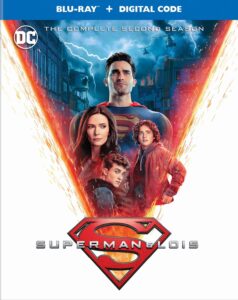 SUPERMAN & LOIS: The Complete Second Season Blu-Ray (636 mins., 2021-22; Warner): The latest edition of Superman and company finds Kent kids Jonathan and Jordan dealing with life in a Smallville netting national headlines following the Man of Steel's confrontation with Tal-Rho. Meanwhile Lois' credibility is questioned at the Smallville Gazette; Lana uncovers a Cushing family secret; and John Henry Irons and daughter Natalie settle in to make Earth their home. This well-received CW series continues to be generally appreciated by Superman fans, with Warner's Blu-Ray (1.78) including two featurettes, good-looking transfers, a digital code, and 5.1 DTS MA soundtracks.
THE MAYOR OF KINGSTOWN Season 1 Blu-Ray (528 mins., 2021-22; Paramount): It takes a while to rev up but "Yellowstone" creator Taylor Sheridan's downbeat if well-executed Paramount+ series manages to moderately entertain once it does. Jeremy Renner's strong performance as the new "Mayor" of the McLusky family – trying to go straight while avoiding past demons that are divulged as the season progresses – anchors Sheridan's tale of a blue-collar Michigan town and the prison that serves as its major industry. Dianne Weist is also terrific as Renner's mother, though don't expect highly-billed Kyle Chandler to last for long (it's surprising he didn't just provide an unbilled cameo). Paramount's Blu-Ray of the series' first season is now available (1.78, 5.1 Dolby TrueHD) with numerous extra features, behind-the-scenes featurettes and interviews.
WINNING TIME: THE RISE OF THE LAKERS DYNASTY Blu-Ray (574 mins., 2022; Warner): Highly entertaining HBO series chronicles the rise of the Los Angeles Lakers to multiple NBA titles during the '80s, from its owner's (John C. Reilly) brashness to the drafting of Magic Johnson (Quincy Isaiah), who anchors the team's court dominance alongside the great Kareem Abdul-Jabbar (Solomon Hughes). Predictably, the squad's off-floor antics are nearly as memorable as what's on the court in this 10-episode mini-series that should entertain even non-hoops fans. HBO's Blu-Ray of the series includes 1080p transfers, 5.1 DTS MA sound, featurettes and a Digital HD copy.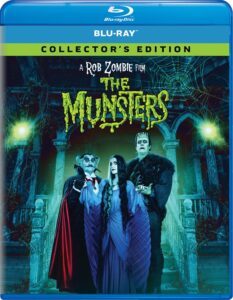 THE MUNSTERS Blu-Ray (110 mins., 2022, PG; Universal): When "redneck horror" specialist Rob Zombie announced his plans to make his own version of '60s TV fave "The Munsters," many immediately wondered what kind of seedy adaptation Zombie was going to cook up. To give credit where it's due, Zombie has made a PG-rated affair suitable for most kids, making this — yes — his first "family movie". On the downside, his "Munsters" is an undisciplined, bloated mess that offers a few bits and pieces of amusement, but for the most part stumbles through a bland plot that plays like a pilot for a series we're (thankfully) never going to have. The additional lack of tension makes for a misfire despite all the good intentions. Universal's Blu-Ray (1.78, 5.1 DTS MA) includes a commentary from Zombie and a featurette.
For vintage "Munsters" fans, a more suitable and satisfying release will be MPI's DVD of MARINELAND CARNIVAL (2 hours, 1965). This hour-long mid '60s special sends Fred Gwynne, Yvonne De Carlo, Al Lewis and other original series cast members to Marineland for a TV one-off, while MPI's DVD adds further value with Gwynne's character appearance on "The Danny Kaye Show"; additional skits and vintage talk show interviews; and a new featurette with Butch Patrick.
---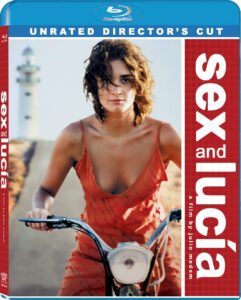 Also New & Noteworthy
SEX AND LUCIA Blu-Ray (128 mins., 2001, Unrated; Music Box Films): Controversial, explicit film manage to launch Paz Vega into stardom with her role as a woman who meets a diver on a Mediterranean island after losing her long-time boyfriend. Plenty of erotic scenes and gorgeous shooting locales dominate Julio Medem's movie, but to what point? Fans of the film are more likely to tell you than casual viewers, though Music Box's attractive 1080p Blu-Ray (2.39, 5.1 DTS MA, Spanish with English subtitles) looks appropriately warm and inviting. Extras include a Making of, cast/crew interviews, a video essay, photo gallery and trailers.
Lionsgate New Releases: The not-bad INTO THE DEEP (91 mins., 2022, R) is an adequate little thriller, wherein cute Ella-Rae Smith sets sail for a voyage on a pleasure cruise with mysterious Matthew Daddario — only to have things go haywire after Jessica Alexander shows up, forcing Smith to choose which suspicious story between the duo she believes. Director Kate Cox receives three decent performances from the leads but the movie, which starts off well, is ultimately undone by a predictable climax looking to score social points instead of generating suspense. Lionsgate's now-available Blu-Ray (2.39, 5.1 DTS MA) offers an attractive a/v presentation and a Digital HD copy…I'm not sure how many unreleased direct-to-demand "thrillers" featuring the now-retired Bruce Willis are out there, but the second-billed star seems, alas, detached in the rote affair WIRE ROOM (97 mins., 2022, R). Kevin Dillon plays the new recruit in Willis' Homeland Security agency, tasked with protecting a cartel member integral to their investigation, but there's nothing new on-hand in Matt Eskandari's picture, debuting on Blu-Ray (2:1, 5.1 DTS MA) this month from Lionsgate, the release including a Digital HD copy.
Scott Mann's FALL (107 mins., 2022, PG-13) attempts a literal high-wire act wherein two young women (Grace Caroline Currey, Virginia Gardner) climb to the top of — and have no way down from — an old radio tower. The producers of "47 Meters Down" attempt to generate suspense from Mann's premise but the film is a little too silly in spite of being well acted, though at least someone here was trying. Lionsgate's Blu-Ray (2:1, 5.1 DTS MA) is out October 18th with commentary, a music video, Making Of, the trailer and a Digital HD copy…It's been a while since we've seen a "body swap" movie so there's some novelty to be found in MACK & RITA (95 mins., 2022, PG-13), the story of a 30-year-old woman (Elizabeth Lail) who improbably unlocks her future AARP-membered self, "Aunt Rita," in the guise of Diane Keaton, during a Palm Springs bachelorette weekend. Taylour Paige is Mack/Rita's best friend in Katie Asleton's "feel good" movie which boasts zero surprises but, again, it's been so long since we've seen this formula that some viewers might enjoy it just the same. Lionsgate's Blu-Ray (1.85, 5.1 DTS MA) includes a digital copy and a pair of featurettes…GUARDIANS OF TIME (99 mins., 2022, PG) finds a young girl, her sister, and a pair of cousins finding a magical book that unlocks a fantasy forest realm where they can control time — and also have to do battle with some bad guys in order to get back to the real world. Wan "Narnia" wannabe from Grindstone and Lionsgate, new on DVD this month (2.39, 5.1).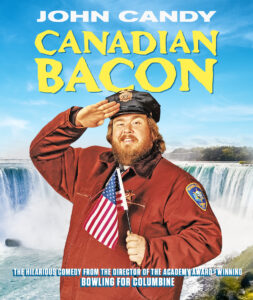 CANADIAN BACON Blu-Ray (95 mins., 1995, PG; MVD): Michael Moore's attempt at a fictional comedy resulted in this little-seen affair about a U.S. President (Alan Alda) who attempts to start a war with Canada. John Candy, in one of his last performances, is the small-town sheriff who ends up part of the international fracas in a movie that's heavy-handed in its execution though at least backed by an appealing cast (Kevin Pollak, Rip Torn, etc.). MVD Rewind Collection's Bu-Ray includes a competent MGM catalog master (1.85, 2.0) with the trailer as its sole extra, wrapped up in MVD's usual slipcover-graced package.
RUMBLE Blu-Ray (94 mins., 2021, PG; Paramount): Good-natured if innocuous animated offering from WWE and family specialists Walden Media is set in a world where monster wrestling is a thing, and a teenage girl teams up with an underdog beast to become a champion. I'm not sure if COVID curtailed this movie's development but "Rumble" is awfully scattershot even considering its 90-minute run time, though kids might still warm to its likeable monster roster. Paramount's Blu-Ray (1080p, 5.1 DTS MA) includes a Digital HD copy, deleted scenes and featurettes…Also on the animated front from Paramount is PAWS OF FURY: THE LEGEND OF HANK (97 mins., 2022, PG), which is — incredibly — a remake of "Blazing Saddles," with Andrew Bergman credited alongside everyone else who worked on the script for the 1974 Mel Brooks classic (that includes Brooks and Richard Pryor). This PG-rated kids cartoon version finds its hero in Hank (voiced by Michael Cera), a dog who's tasked with becoming town samurai for a cat community in order to stop a vile villain (voiced by Ricky Gervais). Samuel L. Jackson is his sensei (of sorts) in this Nickelodeon co-branded feature which might generate some laughs for the younger set. Paramount's colorful Blu-Ray (1080p, Dolby Atmos) is out October 18th sporting a Digital HD code and behind-the-scenes featurettes.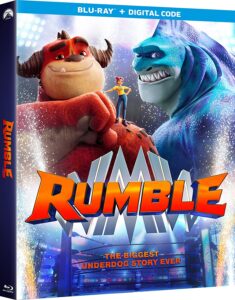 ORPHAN: FIRST KILL (98 mins., 2022, R; Paramount): It's been over 13 years since the release of "Orphan," but in this age of trying to find properties to "franchise," it's probably unsurprising Paramount tapped Dark Castle's 2009 release for a continuation — though "First Kill" is actually a prequel, explaining how psycho Leena first came to impersonate the young daughter of a Connecticut family and arrive in the United States. Isabelle Fuhrmann does an admirable job once again with this character and Julia Stiles adds some class as the doomed matriarch of the family who quickly figures out that this "girl's" not her daughter — but the movie is obviously lacking its predecessor's (err, follow-up's) big twist so "First Kill" fails to overcome its mostly mundane plot. Paramount's Blu-Ray is out October 18th featuring a 1080p transfer, 5.1 DTS MA sound and a Digital HD copy.
THE FLASH: Complete Eighth Season Blu-Ray (844 mins., 2021-22; Warner): Barry Allen needed the help of his future "speedster kids" to knock off Godspeed during the seventh season of "The Flash." Back to an eighth season, this fan-favorite CW series settles Barry back into the Central City groove, dealing with Killer Frost (as usual) while his family at STAR Labs is back to support The Flash for one more season — including a five-episode crossover with "Arrowverse" characters dubbed "Armageddon." Though apparently positioned as the series' final season, "The Flash" was renewed for one more year, so fans might find themselves a bit puzzled by the show's occasional overtures to its "endgame" — even if they don't come here. Warner's Blu-Ray (1.78, 5.1 DTS MA) is out October 18th sporting deleted scenes, a gag reel, two featurettes and a Digital HD copy.
MORTAL KOMBAT LEGENDS: SNOW BLIND 4K UHD/Blu-Ray (82 mins., R, 2022; Warner): Kano is back and trying to take over the "Earthrealm " by hooking up with some Black Dragon assassins and coercing allegiance from villagers all over. To the rescue comes Kenshi, who hopes the retired Kuai Liang still has the power within him to battle the bad guys in this latest animated adventure based on the popular video game franchise. This violent R-rated affair sports an HDR10 master on 4K UHD this month with 5.1 DTS MA sound; it goes without saying the movie looks good and ought to appeal to fans if nothing else. Warner's combo pack also includes the Blu-Ray, a Digital HD code, commentary, and several featurettes on the accompanying BD disc.
THEY CRAWL BENEATH Blu-Ray (88 mins., 2022; Well GO USA): Independent thriller follows a young cop (Joseph Almani) who's crushed while working on his uncle's car when an earthquake strikes. What he hears and experiences afterwards makes for a claustrophobic affair, co-starring Michael Pare, from director Dale Fabrigar, on Blu-Ray this month from Well Go. The disc offers a 1080p transfer and DTS MA audio.
MOON, 66 QUESTIONS DVD (108 mins., 2022; Film Movement): Greek family drama stars Sofia Kokkali as a woman who returns home with her young, barely-speaking daughter (Lazaros Goergakopoulos) to Athens. There, she attempts to reconcile with and understand her declining father before he passes. Strong performances from both leads make Jacqueline Lentzou's film worthwhile, with Film Movement's DVD also offering her earlier "The End of Suffering (A Proposal)" in a 16:9 (1.85) transfer and 5.1/2.0 audio (in Greek with English subtitles).
THE HARBINGER DVD (115 mins., 2022; Screen Media): Independent horror outing finds a couple moving their tormented young daughter to a seemingly placid Midwestern town — only to have their new neighbors start to die and a Native American soothsayer proclaim that their girl has to pass on in order for her soul to be saved. Screen Media's DVD (16:9, 5.1) is available this week.
NEXT TIME: More of the latest! Until then, don't forget to drop in on the official Aisle Seat Message Boards and direct any emails to our email address. Cheers everyone!