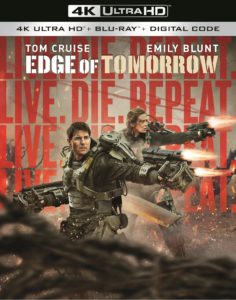 New on 4K UHD
Described quite accurately in its earliest blurbs as a sci-fi variation on "Groundhog Day" – and later (kind of) retitled LIVE DIE REPEAT in the wake of the film's mediocre box-office – is the Tom Cruise futuristic adventure EDGE OF TOMORROW (113 mins., 2014, PG-13; Warner), a sturdy, entertaining addition to the star's mostly reliable roster of genre outings.
The plot, concocted by Christopher McQuarrie, Jez Butterowrth and John-Henry Butterworth (based on a Japanese young adult novel), stars Cruise as a U.S. military PR person who's improbably swept up in the battle against an extraterrestrial invasion. Despite having no combat experience, the international "United Defense Force" commander (Brendan Gleeson) assigns Cruise's William Cage right to the battlefront in an effort to blitz the aliens through France. Unfortunately, the military's plan is squashed from the outset, and Cage seemingly dies in the fight after encountering an advanced "Mimic" (tentacle-laden creatures that burrow through the ground) – only to wake up and relive the exact same day over again. Cage ultimately discovers that he's gained the extraterrestrials' upper-hand – the ability to consciously relive time, thereby adjusting to its enemy's behavior – and seeks out the help of a decorated soldier (Emily Blunt) who once had the same ability.
"Bourne Identity" director Doug Liman seems right at home in "Edge of Tomorrow," which offers the regulation battle sequences and special effects, albeit with a twisty, if straightforward, story that truly does mimic (no pun intended) the 1993 Bill Murray comedy. Cage relives each day, remembering every moment and attempting to adjust his actions accordingly, while trying to persuade – often futilely – his superiors that he knows how the enemy is able to consistently win each battle. He – much like Murray's beleaguered weatherman – also runs the gamut of emotions, from fascination to depression over being unable to advance the clock forward, though his connection with Blunt's Rita Vrataski ultimately gives him just enough motivation to keep going.
It's a film that's naturally repetitive, but Liman does a good job mixing up the various scene reprisals with an effective alteration in camera work and good humor. This isn't a comedic film by any stretch, but it's also one that doesn't take itself overly seriously. Cruise is engaged and charismatic as his character grows from a pampered official to a genuine force on the battlefront as believably as such a premise allows, while Blunt is likewise strong as humanity's only prior victor against the creatures.
Eventually, "Edge of Tomorrow" wears itself out with a dreary climax set under the Louvre where our heroes have just one chance at saving the planet. With the action taking place in a dank, murky setting, I lost count – and interest – in the resolution of Cage and his team, as Liman's shaky-cam and excessively rapid-fire editing pushed this viewer's tolerance level one too many times. It's a bit of a disappointment, but not enough to put a damper on what's an otherwise well-constructed and satisfying piece of summer escapism.
Warner brings "Edge of Tomorrow" to 4K UHD in an HDR10 presentation that looks great and sounds even better: this Dolby Atmos track is packed with LFE activity, enough to easily shake your walls and anything loose on shelves. Special features include several featurettes (Storming the Beach, Weapons of the Future, On the Edge with Doug Liman), deleted scenes and an Ultraviolet HD copy plus the Blu-Ray.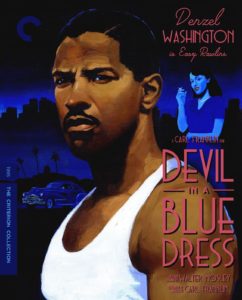 DEVIL IN A BLUE DRESS (101 mins., 1995, R; Criterion): Richly atmospheric, if not completely satisfying, studio-produced thriller finds Denzel Washington comfortably inhabiting the role of "Easy" Rawlins, a private eye in post-WWII Los Angeles hired to find a missing woman (Jennifer Beals). Intended to launch a franchise based on the books by Walter Mosley, "Devil in a Blue Dress" unfortunately fizzled at the box-office in the fall of 1995, nixing Sony's future hopes of having Washington reprise the character, which is a shame, because this Jonathan Demme production – helmed by Carl Franklin, who also scripted – is beautifully shot (by Tak Fujimoto), acted (Washington is joined by Tom Sizemore, Maury Chaykin and a young Don Cheadle who's just terrific) and scored by Elmer Bernstein. Even if the central mystery isn't as appealing as its characters, this is a fine picture worthy of a revisit (or first-time view).
"Devil in a Blue Dress" was previously released on Blu-Ray by Twilight Time but here makes its 4K UHD debut from Criterion. Available July 19th, this is a dynamic Dolby Vision HDR transfer, supervised by the director, with 5.1 DTS MA sound (the accompanying Blu-Ray is derived from the same 4K master). Colors and contrast levels are all impressive, enhancing the already exquisite technical attributes of the production. Extra features include Franklin's audio commentary; a new interview with Franklin and Don Cheadle; a new interview between novelist Walter Mosley and screenwriter Attica Locke; a 2018 on-stage conversation from Chicago's Noir City Film Festival featuring Franklin and historian Eddie Muller; and Cheadle's screen test.
---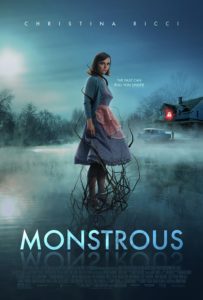 Quick Takes
MONSTROUS Blu-Ray (92 mins., 2022, PG-13; Screen Media): Intentionally stylized drama has a horrific premise, wherein a mother (Christina Ricci) and her son leave his abusive ex-husband behind, only to run into seemingly supernatural occurrences in the rural California farmhouse that they flee to. Director Chris Sivertson is reasonably effective at establishing time and place, as well as an eerie mood, throughout "Monstrous," but Carol Chrest's script plays its hand just a little too obviously, to the degree where seasoned viewers are likely to guess the "twist ending" in advance. Still, Ricci does some good work here, and the film is well-produced on its modest budget. Screen Media's Blu-Ray (1080, 5.1/2.0) is now available.
Film Movement New Releases: Three stories from Yoshida Kota mark SEX DRIVE (70 mins., 2022), an offbeat exploration of three characters and their respective relationships to food — and sex. Not for every taste (perhaps literally?), "Sexual Drive" debuts on DVD this month from Film Movement (1.78, 2.0 stereo, Japanese with English subtitles)…Also coming July 12th from Film Movement, POPPY FIELD (81 mins., 2022) follows the relationship between two gay men in Bucharest, where their reunion is thwarted by far-right groups. Filmmaker Eugen Jebeleanu's film debuts here on DVD (1.85, 5.1/2.0, Romanian/English/French with subtitles) with George Dogaru's short "A Normal Guy" included as an extra feature, plus a New Romanian Cinema Festival interview with Jebeleanu.
NEXT TIME: More of the latest reviews! Until then, don't forget to drop in on the official Aisle Seat Message Boards and direct any emails to our email address. Cheers everyone!