Message Board (open 24 hours!)
Twitter - @andredursin (for everything else!)
Australian cinema hit its apex in the '70s and '80s, reaching its height when the likes of Mad Max and Crocodile Dundee became box-office smashes all over the world. Stars like Mel Gibson and Nicole Kidman and directors from George Miller to Phillip Noyce all found breakout success in the U.S., while a number of Australian comedies and dramas likewise met with North American distribution – if not in theaters than many on home video.
One of the many "offbeat comedies" exported from Down Under was THE COCA-COLA KID (98 mins., 1985, R; Fun City Editions), a really, really "eccentric" effort that comes off as a little too arch for its own good. The movie's weirdness undoubtedly prevented it from finding much of an audience in the U.S., though the picture still generated a small cult following – viewers who ought to appreciate Fun City Editions' latest Blu-Ray restoration.
Eric Roberts stars as an American Coca-Cola executive who heads to Australia in order to whip up sales for the brand. There, he finds one section of the country where Coke isn't "the real thing," and is being bested by an old codger (Bill Kerr) whose self-brewed soft drink has long quenched the local thirst. Roberts' subsequent efforts to do his job is hampered by a series of wacky supporting characters, including the staff secretary (the luminous Greta Scacchi) with a troubled ex-husband. Eventually, the native land wins Roberts over, with the executive even trying to find the "Australian sound" for a new commercial jingle.
Not every Aussie comedy found a receptive audience in the U.S. – remember when Warner Bros. tried to turn "Young Einstein"'s Yahoo Serious into the next Paul Hogan? – and one can understand how "The Coca-Cola Kid" had trouble selling its disparate elements. Frank Moorhouse's script, based on a number of his short stories, is accordingly episodic in nature but doesn't click under the direction of Serbian director Dusan Makavejev, whose equally obtuse films included the largely forgotten black comedy "Montenegro" with Susan Anspach. Some of the project's ineffectiveness should also be laid at the decision to cast Roberts, not known for his comedic chops and awfully rigid here, even in the later stages of the film by which point his character is supposed to have loosened up.
"The Coca-Cola Kid" does have some good things going for it though that make it worth a watch: Scacchi is bubbly in a movie that followed her breakout performance in Merchant-Ivory's "Heat and Dust" in 1983, this role offering the actress the immediate opportunity to showcase her range. Dean Semler's lensing is assured as always, and other familiar names in the credits include Kennedy-Miller production designer Graham (Grace) Walker. Tim Finn's original songs and William Motzing's score lend the film some energy as well, and the movie does seem to get a firmer handle on its material in its later stages (though honestly, I remember my parents turning off the movie well in advance of this point, back when my family rented the VHS in the '80s!).
Fun City's Blu-Ray (1.85, 2.0 DTS MA stereo) hails from a new 2K restoration of its 35mm interpositive and looks splendidly detailed with high contrast. This marks the worldwide Blu-Ray debut of "The Coca-Cola Kid," which was last seen on DVD in an MGM disc nearly 20 years ago and an Umbrella release from Australia several years later. Fun City reprises the half-hour 2009 retrospective doc from Umbrella's DVD featuring Scacchi and producer David Roe, while adding an 11-minute new interview with Roberts and a superb commentary with film programmer Lars Nilsen and FCE's Jonathan Hertzberg. The trailer, an image gallery, and booklet cap another intriguing catalog release from Fun City that should captivate the movie's fans and others with an interest in Australian imports from the prolific 1980s.
---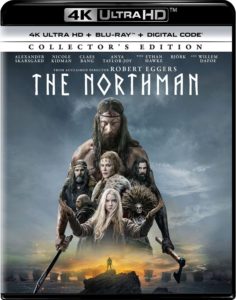 New on 4K UHD
Robert Eggers brings the world of THE NORTHMAN (137 mins., 2022, R; Universal) to the screen with all the authenticity that marked the auteur's previous works, "The Witch" and "The Lighthouse." As an examination of time and place, there's no doubt this is a striking and even powerful visceral experience – yet dramatically, there's just not enough in the movie's screenplay to nourish its leisurely pace and hefty 2+ hour run time.
Alexander Skarsgard plays the title role – the slain son of a Viking prince (Ethan Hawke) whose mother (Nicole Kidman) was abducted by his uncle (Claes Bang). Years later, Skarsgard tracks down her whereabouts, hoping for vengeance with an unquenchable thirst, only partially tamed by his relationship with a Slavic outcast (Anya Taylor-Joy) he meets along the way.
The script, credited to "Sjon" and Eggers, offers few layers beyond its straightforward premise – "The Northman" is entirely about bringing this violent universe to life with historical accuracy. Viewers expecting a Viking "300" will want to head elsewhere as Eggers' visual eye captures the grit, grime, and also wild beauty of its striking environments in meticulous detail, but moves slowly through what turns out to be a predictable dramatic structure. Producer Arnon Milchan and other Hollywood suits provided more funding for Eggers than his past productions, and it's all up on-screen – which makes it a pity that the movie wasn't more involving.
"The Northman" is basically just a one-note tale of revenge in a place where right and wrong scarcely makes a difference – as its protagonist (it's difficult to call him a hero) finds at the end, he's no more righteous than the man who killed his father at the movie's open. That's surely the point, yet one wishes there was more to the story, more layers and characters, that could have added further dimension to what's a superb technical exercise but little else.
Universal certainly brings a powerful a/v presentation to disc here in the form of a 4K UHD (2:1) with both Dolby Vision and Dolby Atmos capability. This is a picture whose visuals comprise its principal appeal, and only the UHD with its use of HDR enables one to fully appreciate the project's aesthetic elements. The Blu-Ray and a Digital HD code are also included, plus a number of extras, including Eggers' commentary, 12 minutes of deleted/extended scenes and supporting Making Of featurettes.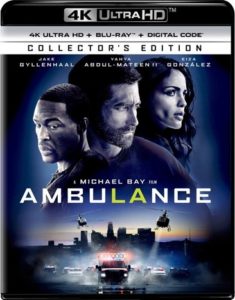 AMBULANCE 4K UHD/Blu-Ray (137 mins., 2022, R; Universal): Agreeable quasi-return to form for director Michael Bay, here remaking a 2005 Danish film to modest success. Working with a scaled back budget of $40 million, Bay puts his typical swirling camera and fast-paced editorial rhythms to good effect in this story of two L.A. criminals (Jake Gyllenhaal, Yahta Abdul-Mateen II) who pull off a score but then have to get out of the city in an ambulance where a courageous EMT (Eiza Gonzalez) is trying to keep alive a cop the duo accidentally shot.
Hopped up in an over-the-top performance recalling Bay's previous work with Nicolas Cage, Gyllenhaal provides ample bombastic energy while Abdul-Mateen II, as his adopted brother, serves up a more sympathetic protagonist – a military vet trying to get enough money to cover for his wife's operation. Gonzalez is also quite good but the real star of the show is Bay's work within the confines of a smaller-scaled production than the blockbusters of yore he once produced – though not a hit in theaters, "Ambulance" is exactly the kind of slick, watchable picture that's perfect for home viewing, even if the tone uneasily veers from lighthearted excessiveness to violent tragedy in its final third.
Universal's 4K UHD is dynamic with its Dolby Vision HDR usage – I started watching this on the Peacock streaming platform and got about 30 minutes in before Universal sent me the UHD for review. The difference between the two presentations is striking, as the UHD's visuals and colors are dizzying and so much more effective than the standard 1080p transfer. Dolby Atmos audio offers a throbbing, by-the-numbers Lorne Balfe score while extras include the Blu-Ray, Digital HD copy, and a number of special features.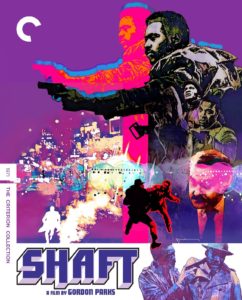 The grooviness of Isaac Hayes' soundtrack, the backdrop of a gritty, grimy Big Apple, and the legendary performance of Richard Roundtree as SHAFT (100 mins., 1971, R; Criterion) are the main components viewers remember today about director Gordon Parks' 1971 film. The bad-ass P.I. unafraid of dealing with thugs and cops alike – of any color – Roundtree's groundbreaking lead role may have fueled many a blaxploitation film to follow, but the MGM-produced original was the movie that turned heads and became a socio-political staple for cinephiles to discuss for decades to come.
Talk to most viewers who have seen "Shaft" and they instantly start humming Hayes' classic theme, or recall Roundtree's performance – the movie itself, on the other hand, is just kind of "there." In all honesty, "Shaft" isn't all that exciting once you get into Ernest Tidyman's plot, which finds Shaft reluctantly taking on the case of a missing woman – the daughter of a Harlem mob boss (Moses Gunn) – all the while tensions between rival gangs and mobsters threaten to turn NYC into a battle zone. Parks' movie evokes its specific setting with a realistic street feel, but the mystery isn't that involving, and the action isn't that exciting either.
Shaft would return in a serviceable 1972 sequel, "Shaft's Big Score!," which Parks directed from an original Tidyman script (in widescreen and with a larger budget), along with the underrated, more James Bond-like "Shaft in Africa" (arguably more entertaining than either of its predecessors) and a short-lived TV series also featuring Roundtree. There were also "Shaft"-titled, failed franchise starters in 2000 (Samuel L. Jackson in John Singleton's solid updating) and 2019 (the less-said-the-better comedic bomb from "Deadpool" helmer Tim Story).
Criterion's 4K UHD/Blu-Ray edition of "Shaft" sports a Dolby Vision HDR remastering of the 1971 original, complete with a nifty PCM stereo soundtrack "remastered with creative input from Isaac Hayes III." The on-location recorded dialogue is still coarse at times, but the pure stereo breadth of this mix sounds fabulous, and superior to the movie's comparatively cramped, original mono track (also, of course, included here). Visually the new UHD (1.85) transfer captures the movie's detail in a clear, unadulterated manner with a higher degree of accuracy and color than the previous Blu-Ray, with this same new master also included here on a separate Blu-Ray platter.
Extras include "Shaft's Big Score!" itself – in a 1080p Blu-Ray (2.35) with ample extras. These include an engaging, three-part 2019 documentary on the series and its cultural legacy from Constantine Nasr; another doc sporting filmmakers and scholars discussing the film; the archival "Soul in Cinema: Filming Shaft on Location" featurette from 1971; vintage interviews with Parks, Hayes, and Roundtree; music scholar Shana L. Redmond discussing Hayes' score; a fresh interview with costume designer Joseph Aulisi; another video essay on "the Black detective" on-screen from novelist Walter Mosley and historian Kinohi Nishikawa; trailers; and an essay from Amy Abugo Ongiri.
---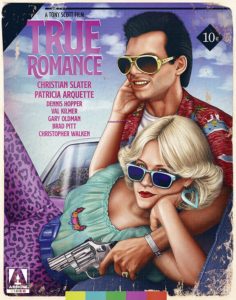 Arrow New Releases
Long-time readers know I'm not a huge aficionado of Quentin Tarantino, yet I do have a small soft spot for TRUE ROMANCE (121 mins., 1993, R/Unrated), a violent, highly uneven and offbeat 1993 thriller which Tarantino scripted. However, under the direction of Tony Scott, "True Romance" feels like a combination of a typical Tarantino outing with a more polished studio picture, which – probably due to my own sensibilities – results in a movie that finds a pleasing middle ground between its creative and commercial interests. Even better, the offbeat supporting cast (Dennis Hopper, Val Kilmer, Gary Oldman, Brad Pitt, Christopher Walken) does a fine job supporting The Q Man's story of a runaway couple (Christian Slater and Patricia Arquette) trying to make off with a suitcase of stolen mob property. The violence is a bit much – and as is sometimes the case with Tarantino, it's hard to know if what you're watching is a celebration or a condemnation of it – yet there's no denying the picture's style and the brilliance of the cast, which keeps you watching along with its slick scope cinematography.
"True Romance" was and is a Morgan Creek property that was distributed for many years by Warner Bros. However, the label's out-of-print Blu-Ray effort wasn't one of their best, and since Morgan Creek is back in charge of their own library's distribution, it's enabled labels like Arrow to do their own restoration of the company's projects, including "True Romance."
Now available in the U.S. in a Limited Edition UHD box-set (separate Blu-Ray and combo releases are also available), "True Romance" is elevated by snazzy, vivid Dolby Vision HDR grading and a meticulous restoration from the original camera negative that blows away Warner's previously, comparatively muddy 1080p effort. All of it adds to Scott and cinematographer Jeffrey Kimball's visual flair, which is a big key to the picture's appeal. The disc retains what appears to be the same 5.1 mix (DTS MA) as Warner's release, and like a lot of Morgan Creek's 5.1 tracks, it's a little fizzy and the dynamic range comes off as a little constrained. The restoration of the original PCM 2.0 stereo audio here, then, is a definite plus, coming off as better balanced in its engineering than the 5.1 track.
Extra features – in addition to a 60-page booklet, hardbound case, lobbycard postcards and a double-sized poster – sport a bevy of commentaries: a new track from Tim Lucas, and archival tracks recorded for past releases, featuring Scott on one channel, Tarantino on another, and yet one more with Arquette and Slater. There are also new, selected-scene commentaries with co-stars Saul Rubinek and Bronson Pinchot; fresh interviews with costume designer Susan Becker, composers Mark Mancina and John Van Tongeren, editor Michael Tronick, and a conversation with Scott biographer Larry Taylor. Deleted scenes, an alternate ending, assorted EPK materials and interviews, image galleries and additional behind-the-scenes materials make for a must-have for fans.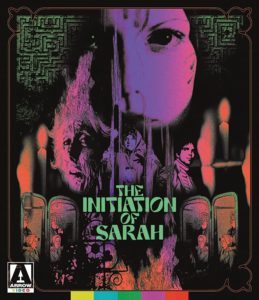 Also New From Arrow on Blu-Ray this month are a pair of genre chillers sporting varying degrees of entertainment for buffs.
THE INITIATION OF SARAH (97 mins., 1978, Not Rated) is a minor league "Carrie" knock-off starring Kay Lenz, Morgan Brittany, Morgan Fairchild, Tony Bill and Shelley Winters. Shot for ABC by producer Charles Fries and based on a story co-authored by future "Fright Night" scribe Tom Holland, "Sarah" offers sorority shenanigans with telepathic outsider Lenz spurned by her sister's (Brittany) uppity group and soon embraced by a less popular sorority overseen by nutty "Special Guest Star" Shelley Winters, then in the firm center of her own career zaniness. This is an agreeable enough effort for those with a fondness for '70s network TV fare, though even as "Carrie" rip-offs go, there are better. A new 2K restoration (1.33) highlights Arrow's Blu-Ray along with lossless mono sound; a commentary from TV movie authority Amanda Reyes; an appreciation of the movie by several critics and podcasters; a visual essay by Alexandra Heller-Nicholas; a new interview with critic Samantha McLaren; and a new interview with Tom Holland.
A lurid, late '80s take on Jekyll & Hyde featuring Anthony Perkins in one of his later roles, EDGE OF SANITY (90 mins., 1989, R) is a seriously weird Harry Alan Towers production that looks like a cross between a Hammer movie and a MTV music video with amped-up, loony psycho-sexual overtones. Certainly it's Perkins' show and he generates a potently eccentric performance in Gerard Kikoine's direct-to-video affair, which is enlivened by a Frederic Talgorn score and just enough entertainment to please horror fans. Arrow's terrific 2K transfer (1.85, 2.0 PCM stereo sound) easily usurps drab looking VHS releases from the time and enhances the Allied Vision production; new extras include a commentary by writer David Flint and author Sean Hogan; an interview with producer Edward Simons; a new talk with critic Stephen Thrower, plus a chat with Jack the Ripper expert Dr. Clare Smith; an interview with Kikone; and another conversation with the director discussing his work.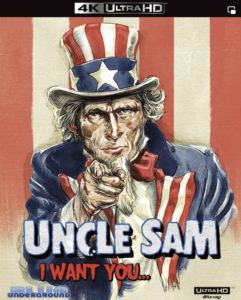 UNCLE SAM 4K UHD (90 mins., 1997, R; Blue Underground): Writer Larry Cohen and director William Lusting tried to recapture the manic B-movie pleasures of their "Maniac Cop" series with this intermittently amusing horror tale of a perished Gulf War vet who returns to his hometown, haunting the unpatriotic (and, ultimately, anyone else for that matter) including draft-dodger Timothy Bottoms and Korean war vet Isaac Hayes.
With a cast that also includes P.J Soles, William Smith, Robert Forster and Bo Hopkins, you'd think that "Uncle Sam" is an exploitation fan's dream, yet there's a reason this mid '90s effort has flown under the radar for so long. After a promising start the movie just goes through the motions, though there is something enjoyable about watching its zombified Uncle Sam offing victims left and (mostly) right.
The movie also looks good considering its budget in full 2.35 widescreen, and even better here on UHD via Blue Underground's superb Dolby Vision HDR grading – raising the bar over their previous Blu-Ray outing. The 5.1 DTS MA soundtrack is fine, with extras carried over from the label's previous package. These include two commentaries, one with Lusting, Cohen and the producer; and another, earlier (DVD-era) talk with Lustig and Hayes. There's also "Fire Stunts" with commentary from stunt coordinator Spiro Tazatos, a deleted scene, gag reel, trailer, and poster and still galleries, plus a 3-D lenticular slipcover.
A robust 4K effort for a movie that's not quite as enjoyably flag-waving for horror fans as you'd hope, but does offer sporadic pleasures.
Richard Elfman wrote and directed ALIENS CLOWNS & GEEKS (87 mins., 2022; MVD), an eccentric comedy wherein an out of work actor because a pawn between killer clowns and invading aliens. Elfman, whose previous efforts include the low-budget cult item "Forbidden Zone" (fairly unwatchable as it is), works in a number of familiar faces here including Bodhi Elfman, French Stewart, Verne Troyer and Marty Klebba, while son Danny provides the score along with "Ego Plum" of "Spongebob" fame. MVD's now-available Blu-Ray includes an interview with Richard Elfman, interviews with the cast/crew, a music video, the trailer, a 1080p transfer and 5.1 sound.
---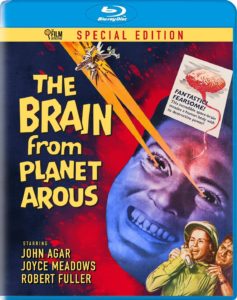 Quick Takes
STRAWBERRY MANSION (91 mins., 2020, Not Rated; Music Box Films): Offbeat, interesting effort from writer-directors Albert Birney and Kentucker Audley, with Audley starring as a taxman probing dream audits (by 2035, our unconscious selves are plagued with product placements!) when he meets an old woman whose dreams are stored on VHS. He also ends up falling in love with her younger self (Grace Glowicki) before an array of monsters, both real and from her own past, begin to manifest themselves. Eclectic storytelling dressed up with stop-motion special effects, "Strawberry Mansion" is an intriguing if uneven indie cinema affair, on Blu-Ray (1.85, 5.1 DTS MA) this week from Music Box. The disc is packed with extras including commentary with Birney and Audley; a Making Of featurette; test footage, Birney's other shorts, deleted/extended scenes and more.
THE BRAIN FROM PLANET AROUS Blu-Ray (71 mins., 1957; The Film Detective): Independently produced late '50s sci-fi B-effort has a few interesting ideas, raising it a little above the bar as its era's alien-invasion films go. John Agar stars as a scientist corrupted by "Gor," a brain entity from the planet Arous, who wants his body to start his quest for world domination. Luckily for us, the scientist's wife, Sally (Joyce Meadows), is tasked with stopping him, thanks to a good alien from the same planet that's trying to save us all. Nathan Juran helmed some good ("7th Voyage of Sinbad") and bad ("Attack of the 50 Foot Woman") genre films during the '50s and '60s, and he does a capable job with a little movie that falls somewhere inbetween, but is at least somewhat thoughtful. The Film Detective's Blu-Ray includes a 1080p B&W transfer (in both 1.85 and 1.33) with extras including an introduction from Joyce Meadows; a commentary featuring Tom Weaver, David Schecter, Larry Blamire, and Meadows; two featurettes on Juran; and a full color booklet sporting Weaver's astute booklet notes.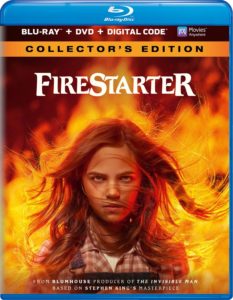 FATHER STU Blu-Ray (120 mins., 2022, R; Sony): Independent Mark Wahlberg production stars the actor in a true story of a wayward son named Stuart Long who utilizes a motorcycle accident to turn his life around — subsequently finding his calling, against questions from the church as well as his parents (Mel Gibson, Jacki Weaver), as a man of the cloth. Writer-director Rosalind Ross' film is sincerely acted but is rough around the edges, taking numerous reported liberties with Long's story and coming off a little strong — as an R-rated vehicle — for its intended audience. Still, it's difficult not to be moved by the final act of "Father Stu," which Sony has released on Blu-Ray (2.39, 5.1 DTS MA), the disc featuring a Digital HD copy, a Making Of featurette, and over 10 minutes of deleted scenes.
FIRESTARTER Blu-Ray (94 mins., 2022, R; Universal): Feeble Blumhouse adaptation of the Stephen King '80s bestseller, previously turned into a barely above-average Dino DeLaurentiis production back in 1984, fails to find cinematic justice yet again. This revision from writer Scott Teems and director Keith Thomas comes off like typical streaming-service dreck, with a low-wattage cast headed by Zac Efron (remember him?) as the parent to young Charlie McGhee (Ryan Keira Armstrong), the little girl with pyrokinetic powers. At barely 90 minutes this lacks the character development of the 1984 film and is structured more like a pilot for a prospective series than a satisfying, faithful take on King's original novel. Generally dismissed by King fans (as was the case with the recent revision of "The Stand" produced for Paramount+), "Firestarter" was a simultaneous theatrical/Peacock release just weeks ago, and now hits Blu-Ray from Universal. The disc (2.39, 5.1 DTS MA) boasts an alternate ending, gag reel, deleted/extended scenes, DVD and a Digital HD copy.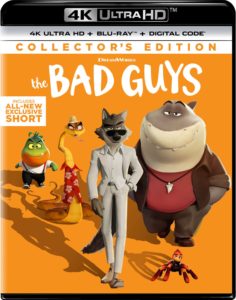 THE BAD GUYS 4K UHD Blu-Ray Combo Pack (100 mins., 2022, PG; Universal): Dreamworks animated feature brings Mr. Wolf, Mr. Snake, Mr. Piranha, Mr. Shark and Ms. Tarantula to the screen — the anti-heroes from Aaron Blabey's popular Scholastic children's book series, who here seek to reform their villainous ways by waging a campaign that they're turning a new leaf. Big, broad laughs and a vivid color scheme mark this fun effort that kids should enjoy, though the movie tends to drag on just a little at 100 minutes. Dreamworks/Universal's attractive 4K UHD includes HDR10 and Dolby Atmos sound plus a Blu-Ray which features an equally strong 1080p (2.39) transfer and Atmos audio. The BD also includes an all-new exclusive short, "Maraschino Ruby," plus a digital copy, and plenty of extras, including deleted scenes and Making Of featurettes.
SCOOBY-DOO! AND GUESS WHO? The Complete Second Season DVD (582 mins., 2021; Warner): Old-school Hanna-Barbera art design is the key ingredient in this latest animated incarnation of the classic cartoon canine and his Mystery Inc. teammates. This second season of the series, now on DVD from Warner in a multi-disc set (16:9, 5.1), boasts all 26 episodes with special guest stars ranging from Terry Bradshaw and Cher to Jason Sudeikis and Jessica Biel. An enjoyable enough "throwback" effort for nostalgic adults and kids alike…Also new from Warner on DVD is AQUAMAN: KING OF ATLANTIS (137 mins., 2021), a kid-oriented take on the DC super-hero with stylized art-direction that aired recently on HBO Max. For those without a subscription to that streaming service, Warner brings the series to DVD with 16:9 transfers and 5.1 soundtracks.
THE SECRET OF SKINWALKER RANCH – Seasons One & Two DVD (13 hours, 2022; Lionsgate): Utah's Skinwalker Ranch has apparently been a hub for all kinds of activities, from UFO and and supernatural occurrences to bizarre animal deaths. This History series sets out to document the strange happenings in an 18-episode, two-season examination, here captured by Lionsgate (16:9, 2.0) in a four-disc DVD set that's now available.
NEXT TIME: Kino Lorber's June releases! Until then, don't forget to drop in on the official Aisle Seat Message Boards and direct any emails to our email address. Cheers everyone!