Message Board (open 24 hours!)
Twitter - @andredursin (for everything else!)
Some 15 years ago one of my columns kicked off with reviews of Walter Hill's THE WARRIORS and Brian DePalma's THE UNTOUCHABLES – both on HD-DVD (don't worry, it's not the time for a "format wars" retrospective!) – and this week happens to mark both the release of the former in a brand new Imprint Limited Edition Blu-Ray, and the latter in Paramount's long-awaited 4K UHD. What are the odds?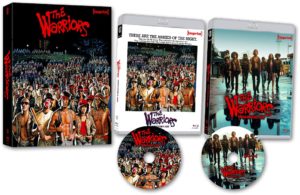 Imprint's THE WARRIORS (94 mins., 1979, R) double-disc Blu-Ray is a cause for celebration as it brings (outside of a German Mediabook) Hill's original '79 theatrical version back in circulation at long last.
In 2005, Hill tweaked his cult classic for a Special Edition DVD that drew raves for its remastered transfer and sound, as well as heavy criticism for Hill's editorial changes – namely comic-styled freeze-frames interspersed throughout the movie and a prologue that established the story within the context of a futuristic, comic book updating of a Greek myth. This narrative element is inherently baked in the material to begin with, making it an unnecessary component that fans have long criticized this remaster for, while the comic book panels constantly break up the film's momentum.
Imprint's Blu-Ray restores the far superior Theatrical version while also offering the Director's Cut, both in sterling 1080p transfers, licensed from Paramount (1.85) and each featuring 5.1/2.0 stereo soundtracks, the former in DTS MA, the latter in PCM. Since the movie's so short, the bit rate is bountiful, leaving grain to be finely, and fully, articulated in the image with little encoding issues. These are older Paramount masters but they hold up well, and short of a 4K restoration, should be more than satisfying for any "Warriors" fan, making Andrew Laszlo's striking, stylized cinematography even more impressive than ever.
The movie – chronicling the odyssey of a New York City gang as they attempt to get back home to Coney Island after a "gang conclave" among rival groups goes seriously wrong – remains highly entertaining. It's ironic that the film, upon its original release, was pegged as being senselessly violent and encouraging amoral behavior when what's actually on-screen would scarcely extend beyond PG-13 boundaries today – all the while major cities in 2022 are rife with rising crime and news stories that are far more graphic and disturbing than anything in the picture. Divorced from its era, "The Warriors" is an assured and tight piece of escapist entertainment – one of Hill's best movies – and a movie that's long been a viewer fave for obvious reasons.
Imprint's theatrical cut disc is where it's at in terms of new supplemental features produced expressly for this release. Roughly 10 minutes of scenes added to ABC's network TV airing, set during the Coney Island day time (and later reconfigured so nearly all the film takes place at night), have been included, derived from rough secondary sources. These are fascinating glimpses of the editorial process, and a welcome inclusion (previously, Hill only referred to these deleted scenes in the 2005 documentary).
New on-camera interviews include composer Barry De Vorzon discussing his acclaimed score and stars James Remar, David Patrick Kelly ("Warriors…come out and plaaaaa-yay!") and Dorsey Wright recounting the film's production. There's also a fresh featurette, "Literally Classic," looking at the source material's mythic roots, and a visual essay by critic Chris O'Neill. A photo gallery, the trailer and TV spot are also on-hand as well as a commentary by writer Walter Chaw.
Equally satisfying is Chris Poggiali and Michael Gingold's new commentary on the Director's Cut disc, which is likely going to get more use for its supplemental materials. In addition to the insightful, trivia-filled commentary, Imprint here reprises all the extras from the 2005 DVD, most notably Laurent Bouzereau's excellent retrospective documentary. Offering interviews with Hill, cast members James Remar, Deborah Van Valkenburgh and others, this four-part documentary expertly chronicles the production of the picture.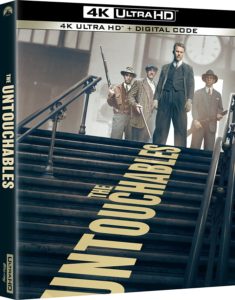 The two-disc set is housed in one of Imprint's glossy hardback cases, and is limited to just 2,000 copies. Unless Paramount remasters the theatrical version for a potential 4K UHD, there's little chance this superb package is going to be equaled, making it a highly recommended purchase for "Warriors" buffs.
Debuting this week in a much-needed 4K UHD remaster is Brian DePalma's THE UNTOUCHABLES (119 mins., 1987, R; Paramount), the Summer '87 box-office smash that still ranks as one of the finest films for its director, writer David Mamet, as well as stars Kevin Costner, Robert DeNiro, and Sean Connery, who deservedly copped an Oscar for his role here as veteran Chicago cop Jimmy Malone. This beautifully packaged entertainment, a slick updating of the classic TV series with Robert Stack, represents big studio filmmaking from the '80s at its best.
Long overdue for a remaster (we've been watching the same, DNR-riddled HD master for years), Paramount brings fans just that with a 4K UHD (2.35) layered with Dolby Vision HDR that's a huge improvement over the previous 1080p presentation, from framing to color and overall texture. Detail is more evident as well, all of it better replicating Stephen H. Burum's elegant widescreen lensing. The sound's Dolby Atmos mix (7.1 compatible) seems on-par with the DTS 6.1 track from the earlier Blu, highlighting Ennio Morricone's rich, memorable score (one of his best).
The disc is capped by Laurent Bouzereau's four-part, 2005 Making Of featurette ("The Script, The Cast"; "Production Stories"; "Reinventing the Genre"; "The Classic"), which includes interviews with DePalma, producer Art Linson, co-star Charles Martin Smith, and cinematographer Stephen Burum. Running about an hour all told, this is a solid Making Of that examines the production from DePalma's initial attachment to the script through casting (Mel Gibson was interested at one point) and box-office success. The interviews are interspersed with vintage clips of Costner, Connery, etc. on the set, and some revealing anecdotes are passed along, including how Bob Hoskins was paid off after the studio insisted on DeNiro taking the role of Al Capone. DePalma, meanwhile, discusses working with maestro Morricone, whose score "lifted" Smith, Costner, and Garcia out of their seats at a preview screening in New York.
The original trailer, vintage featurette ("The Men"), and Digital HD copy round out a must-have 4K UHD for buffs.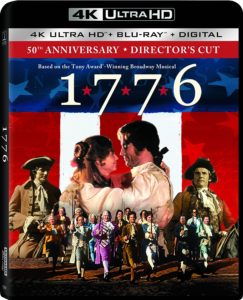 Newly available on 4K UHD this month from Sony with a number of new supplemental features – or, more precisely, older extras that haven't been seen since the Laserdisc era – 1776 (165/168 mins., 1972, PG; Sony) is Sherman Edwards and Peter Stone's classic, unique musical on the signing of the Declaration of Independence. The straightforward Columbia film version, directed by Peter H. Hunt – repeating his stage duties – captures the essence of its source with a top notch cast mostly returning from the Broadway stage, including William Daniels as John Adams, Howard Da Silva as Ben Franklin and Ken Howard as Thomas Jefferson.
There have been numerous cuts of "1776," starting with a 141-minute theatrical version producer Jack L. Warner supervised, one that haphazardly removed the song "Cool, Cool, Considerate Men," arbitrarily trimmed a pair of others and discarded various dialogue exchanges. It was also released in mono. Pioneer's Special Edition laserdisc from the early '90s restored all the missing bits, some from a rough B&W workprint, plus remastered the soundtrack in stereo for the first time. This 177-minute version, which Hunt signed off on at the time, came complete with an "editorially created" Overture and Intermission and was, for many years, the preferred choice for die-hard fans of the film, even after Hunt's DVD "Director's Cut" debuted in 2002. The latter Hunt reworking ran 165 minutes but missed several components of the longer version, including the unexpurgated versions of early songs "Piddle, Twiddle and Resolve" and "The Lees of Old Virginia."
Like Sony's 2015 Blu-Ray, this new 4K UHD includes both that "Director's Cut" and an "Extended Version" running 168 minutes. This version is still missing the laserdisc's Overture/Intermission but only about a minute of actual footage from the laserdisc cut. For most fans, this cut manages to be "close enough" to the laserdisc edit while vastly enhancing the technical end with a superb a/v presentation, with the UHD going the extra mile by here adding Dolby Vision HDR and Dolby Atmos sound – a track that is complemented by the same 5.1 DTS MA mix as the previous Blu-Ray. The colors and brightness levels are most impacted by the HDR, as you'd anticipate, bringing out the movie's visuals in a manner that surpasses the Dolby Vision-less 4K stream Sony issued several years ago, while the sound boasts wide separation during its song passages.
Sony's 4K UHD also includes a number of new special features, starting with a bonus Blu-Ray disc that includes a straight, 4:3 standard-definition transfer of the 177-minute laserdisc cut, complete with Joe Caporiccio and Peter Hunt's commentary. It's a wonderful inclusion to go alongside the debut HD release of the theatrical version (141 minutes) for the nostalgic, though anyone interested in seriously watching "1776" should avoid this edit for obvious reasons.
Extra features include nine screen tests, five of which are new and exclusive to this set; a range of deleted/alternate scenes with Hunt's commentary, as seen in the previous Blu-Ray; an only sporadically interesting 2015 commentary with Hunt, Daniels and Howard, plus the 2002 DVD's commentary with Hunt and Peter Stone. A pair of trailers and Digital HD copy round out the three-disc set plus a slipcover featuring the movie's rather mundane original theatrical art. Highly recommended!
---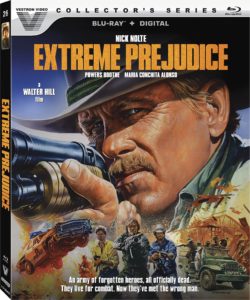 New & Noteworthy Blu-Rays
EXTREME PREJUDICE Blu-Ray (105 mins., 1987, R; Lionsgate): Excellent "Vestron Video" Collector's Series edition of the 1987 Walter Hill/Carolco collaboration proves to be one of the year's top catalog discs to date.
For "Extreme Prejudice," Hill dusted off an old John Milius script and made a number of alterations for this reportedly troubled production, one which was edited down and saw Jerry Goldsmith replace Ry Cooder as composer. The changes seem to have been designed to nudge "Extreme Prejudice" into the "slick action" genre Carolco was trafficking in during the '80s, back when Sly and Arnold were all the rage.
The net result is a little pokey in places – no matter the pulse-pounding nature of Goldsmith's superb score, the movie still plays out like an old western exercise uneasily reconfigured as a modern-day vehicle (something Hill himself laments was a problem). Yet the film's action is potent and the cast is terrific: you get a multitude of bad guys in the form of Powers Boothe, Michael Ironside, Clancy Brown and William Forsythe among them, plus the sultry Maria Conchita Alonso and, as the heroic lead, a constipated looking Nick Nolte. The border-set locations are well captured by Matthew F. Leonetti and Goldsmith's score offers the same mix of orchestra and electronics that adorned "Hoosiers," another, then-recent score of the maestro.
Lionsgate has gone above and beyond by including superb new extras in this Blu-Ray, which itself looks as good as a Studio Canal HD master (1.85, 2.0 DTS MA stereo surround) that's been floating around Europe for several years at least. An informative new commentary from historians C. Courtney Joyner and Henry Parke really dives into the background to the film, Milius' involvement, and the movie's troubled shoot – more than just reading Wikipedia, this is a meticulously well-researched and engaging listen. New interviews, meanwhile, offer fun conversations with Michael Ironside, Clancy Brown and cinematographer Matthew F. Leonetti, while a full run of trailers, TV spots, and a vintage featurette are also included. Segments of Goldsmith's score are isolated with comments from John Takis, while a Digital HD copy and an hour-long Hill interview from French TV round out a fabulous package on all fronts.
KINKY BOOTS Blu-Ray (106 mins., 2006, PG-13; Paramount): The original comedy that inspired the later stage musical debuts on Blu-Ray from Paramount. Joel Edgerton and Chiwetel Ejofor star in Julian Jarrold's 2006 indie hit, with Paramount's Blu-Ray (5.1 DTS MA, 1080p) boasting commentary with Jarrold and the stars, plus two featurettes, deleted scenes with Jarrold's commentary, and a Digital HD copy.
---
It might be an overstatement to call Tom Cruise "The Last Movie Star," but it's hard to argue in 2022 there's an actor still working today who commands a project, and the screen itself, the way Cruise still can. It's a commendable feat that's no small accomplishment when you analyze the constrained marketplace that is the U.S. box-office in these post-pandemic times – an era in which movies where teenagers aren't the central demographic have become a nearly extinct species, dominated instead by super-heroes and recycled "Intellectual Properties" owned by massive corporations.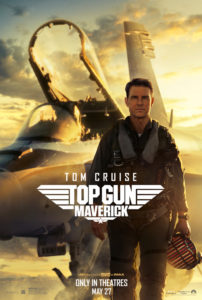 TOP GUN: MAVERICK (131 mins., PG-13) is still, obviously, a revisit of one of the all-time '80s blockbusters, but it's been produced with so much skill and soul that it scarcely resembles the generic sequels and comic book films taking up residency in our nation's multiplexes in the 21st century – a programming shift that could be felt before COVID came along, as ticket sales were on a downward trajectory even prior to 2020.
This long-gestating project, which was once planned for release in 2019 but held onto by Paramount (wisely, as it turns out), is as good as any "reboot" Hollywood has attempted over these last several decades – likely because Cruise personally took on this project and has spent years fine tuning every element. The final result, clearly, shows.
"Maverick" tweaks the original "Top Gun" formula but finds an older, wiser – but just as fiery – Pete "Maverick" Mitchell called back to the elite Top Gun flight training school in San Diego. There, much to the chagrin of the Vice Admiral (Jon Hamm), Maverick is placed in charge of the latest graduates from the elite Navy program, with an upcoming mission to shoot down a uranium facility (in the movie's major concession to foreign box-office revenue, the offending nation is not named) as his central focus. Among the new "Top Guns" is "Rooster" (Miles Teller), the son of "Goose" – Anthony Edwards' character from the original, who of course perished in a tragic accident – who was kept out of the Navy by Maverick himself years before. Rooster has never gotten over it, and this dramatic conflict becomes one of several plot threads – along with Maverick's rekindled relationship with local bar owner Jennifer Connelly – that credited writers Ehren Kruger, Eric Warren Singer and Cruise favorite Christopher McQuarrie utilize to put some twists on its 1986 predecessor's formula.
Ultimately, the movie doesn't stray too far off the beaten path, though there are some surprises in the final half-hour that are effectively handled by director Joseph Kosinski, who between this movie and the under-appreciated "Tron: Legacy," seems to have a firm grasp on helming contemporary reworkings of movies from the 1980s. Visually, as you'd anticipate, the film is a trip – the aerial sequences are outstandingly edited and easier to comprehend than those in the original "Top Gun," with Cruise occasionally flying on his own, in footage you can tell hasn't been doctored by modern CGI.
The sound design, editing and effects are just expertly handled on every front – but lurking underneath it all is an emotional undercurrent absent from the original. Cruise wells up a couple of times in a performance that replaces the actor's youthful cockiness with more of a world-weary eye reflecting his life experience – Cruise's scene opposite a frail Val Kilmer manages to include some of his finest work, wrapped up in a well-oiled machine of a movie that doesn't have a wasted scene within it.
So much of today's programming is "more of the same" that to rave about a modern sequel revisit that likewise gives you "more of the same" seems like it could be overstating its virtues – but I'd argue that's not the case with "Top Gun: Maverick." This picture goes above and beyond in terms of entertainment value, coming off as a celebration of not just its predecessor but every reason why we go to the movies in the first place. This picture's ending had me fighting back tears (I ended up losing that battle) no matter I knew exactly what was coming – and that entirely speaks to Cruise, Kosinski, and the production team getting nearly everything right, from its story and characterizations, sense of humor and dazzling action, all the way down to the undeniably effective hodge-podge soundtrack (is it Harold Faltermeyer, Lady Gaga, Hans Zimmer or Lorne Balfe? Does it really matter when it works so well?) that swells with emotion at just the right moment. At least for this weekend, there's a reason to go back to the movies again.
NEXT TIME: ROBOCOP in 4K and more! Until then, don't forget to drop in on the official Aisle Seat Message Boards and direct any emails to our email address. Cheers everyone!