Message Board (open 24 hours!)
Twitter - @andredursin (for everything else!)
Kino Lorber's on-going round-up down the dusty trail of Sergio Leone's Clint Eastwood westerns has already yielded a superlative 4K UHD of their greatest collaboration – "The Good, The Bad and the Ugly" – and that classic's two "Dollars" predecessors receive similar restorative triumphs this month on both UHD and remastered Blu-Ray as well.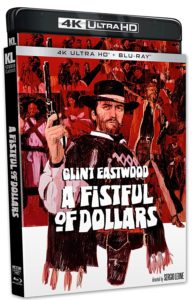 A FISTFUL OF DOLLARS (100 mins., 1964, R) marked Eastwood's first appearance as the Man With No Name, in a 1964 Leone favorite that's also a little leaner, less thematically developed, early Spaghetti Western effort. It's a movie where the style – Leone's visual eye, the editing, and of course Ennio Morricone's score – broke the mold, yet the script – featuring Eastwood's Man With No Name pitting two groups of criminals against one another – isn't quite on the level of its follow-ups.
Neither is the film as extravagantly designed as Leone's sequels, though Kino Lorber's new 4K UHD platter (no HDR) does include a dynamically detailed and satisfying presentation with shot-by-shot color grading that fans enjoyed with Kino's "Good, Bad" UHD – making for a better balanced, less yellowish spectrum compared to older MGM format releases. Audio options include the original mono and a 5.1 remix, while extras culled from the "Leone Anthology" DVD box-set include commentary by Christopher Frayling, "The Christopher Frayling Archives" and other featurettes; there are also outtakes, radio spots, trailers, a Location comparison, interview with actress Marianne Koch, and Kino's own, terrific commentary with Tim Lucas. These goodies are mostly included on the enclosed Blu-Ray, also featuring the same new color re-grading, and adorned with a slipcover of original poster artwork.
FOR A FEW DOLLARS MORE (132 mins., 1965, R) was filmed on the heels of its predecessor and looks even more impressive on both UHD and Blu-Ray, principally because the picture was produced on a more elaborate budget. Eastwood's cool gunslinger here finds himself going up against rival bounty hunter Lee Van Cleef as they team up to take down Gian Maria Volonte's bandit and his gang – the action is punchier, the visuals more refined, with Ennio Morricone's score punctuating another classic that helped redefine the western in the mid 1960s.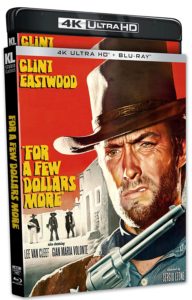 Again featuring shot-by-shot color grading from Kino Lorber, "For A Few Dollars More" likewise debuts on UHD May 30th from the label. As with their other Leone/Eastwood restorations this disc surpasses all previous format incarnations thanks to its more finely textured 4K restoration, with both a "corrected" mono soundtrack and 5.1 mix available on the audio end. Once again, extras from MGM's older releases have been carried over, including another Christopher Frayling commentary, Eastwood interview, radio spots and trailers, featurettes, and profile of the U.S. release version. Kino's disc also houses an Alex Cox featurette and Tim Lucas' fine, insightful commentary which aids in one's understanding of the film's production history and enduring legacy. The enclosed Blu-Ray again includes a 1080p remaster with the same shot-by-shot color correction performed on the movie. Highly recommended – and here's hoping "Duck, You Sucker" is next!
BREAKOUT (96 mins., 1975, PG): Director Tom Gries' movie – a minor Charles Bronson vehicle from the mid '70s – can't seem to make up its mind as to whether it wants to follow the plight of framed American businessman Robert Duvall – sent to rot in a Mexican prison for a murder he didn't commit – or the rough and tumble pilot (Bronson) Duvall's wife (Jill Ireland) hires to spring him out. Eventually, "Breakout" settles in on the efforts of Bronson and his team (including Randy Quaid and Sheree North) and plods along before the movie's "big climax," which doesn't amount to anything particularly exciting.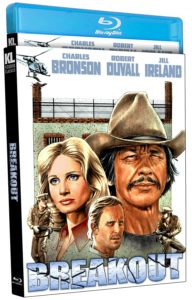 Despite the cast and premise, "Breakout" is a disappointment – a letdown that extends to Jerry Goldsmith's unmemorable score – though it does boast one of the most unintentionally funny "dummy deaths" in film history, looking more like a piñata being broken apart than a human body!
"Breakout" makes its standalone Blu-Ray debut from Kino Lorber though the movie was previously issued in a four-movie Bronson anthology from Mill Creek back in 2018. Kino Lorber's transfer appears to be based on the same Sony master (2.35) though the compression and encoding are superior here. The DTS mono sound is OK though there's not much to take away from in Goldsmith's score, at least from a thematic standpoint. In addition to trailers and TV spots, the disc includes an informative new commentary from Paul Talbot, Bronson historian and author.
Cinema Italiano
Prior to "Breakout," Bronson found his groove in Italy during the late '60s and early '70s before returning home for a steady stream of mostly reliable box-office vehicles. One of the films that bridged the gap was Sergio Sollima's VIOLENT CITY (108 mins., 1970), a moody crime drama starring Bronson as a hit man, double crossed by his last boss and left for dead by the woman (Jill Ireland) he loved. Looking for revenge, he ends up crossing paths with his old boss (Telly Savalas, sandwiching this between Blofeld and "Kojak"), leading to a tense, bloody finale.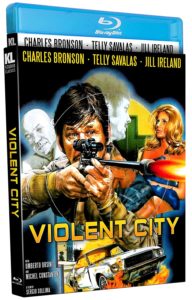 "Violent City" sounds like a crackerjack Italian crime thriller but it's something of a disappointment all told. The movie's languid pace obscures a couple of terrific set-pieces Sollima executed, including an opening car chase through the claustrophobic streets of Saint Thomas that nothing else in the film can match. Bronson is so dailed back he seems like he's sleepwalking while most of the material can be played on fast-forward with little detriment to its effectiveness, save for missing a score by Ennio Morricone that features a couple of memorable tracks.
"Violent City" was (wisely) recut by United Artists for its U.S. release and retitled "The Family." For Bronson fans, Kino Lorber's double-disc Blu-Ray offers an Italian restoration of the full-length "Violent City" with several minutes of subtitled scenes since UA didn't dub those into English. There's also the Italian release cut (that apparently has some variations in scenes) and a banged-up print of "The Family," running 13 minutes shorter than the other versions. Extras include an interview with Sollima, trailers, and another commentary by Paul Talbot, resident Bronson authority.
"King Kong" knockoffs were prevalent all around the world in the late '70s, and the Italian/Canadian entry YETI: GIANT OF THE 20TH CENTURY (101 mins., 1977, Not Rated) was one of the least-seen logs added onto the cinematic fire. A thrifty production from director "Frank Kramer" (aka Gianfranco Parolini), this one finds a kindly professor uncovering a frozen relic that his corporate bosses promptly want to exploit for commercial purposes. The monster is dubbed a Yeti but it's really more like the Brawny Paper Towels guy with a bad case of 5 o'clock shadow and a nasty, beaten-up parka. Low-grade special effects intermingle with a not-awful story that takes too long to get going – it's also not quite bad enough to appreciate on a camp level, leaving "Yeti" stuck in a cinematic limbo worth visiting for monster movie completists only. Code Red's Blu-Ray includes a glossy looking restoration from the original Italian 35mm camera negative (1.85, mono). The movie sports an Orff-inspired soundtrack from composer Sante Maria Romitelli, right down to a "Carmina Burana" disco-styled "Yeti" theme song!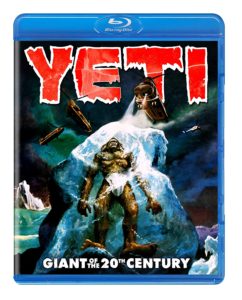 Another fad that seemingly everyone around the world participated in during the early '80s, TREASURE OF THE FOUR CROWNS (101 mins., 1983, PG) boasts a cool title, a neat poster, the use of "Super-Vision 3D" and…well, that pretty much wraps it up. In fact, I can safely rank this Cannon Group release at the very bottom of the 3-D movies released during the format's '80s revival.
It's not hard to see why, either: Tony Anthony plays J.T. Striker (as opposed to T.J. Hooker), an adventurer tasked with retrieving a magical artifact from a temple presided over by an insane cult leader. So far, so good – yet the "thrills" and excitement level never percolate under the tired direction of Ferdinando Baldi, with limp performances and a tedious script. That leaves 3D to save the day, but the movie's blurry cinematography even curtails the third dimension from making an appreciable impact – depth of field effects are poorly rendered, with the occasional "let's throw an object into the camera" effect being all we're left with. Even Ennio Morricone's score comes off like one of those "let's give them the cassettes I've stashed away for a rainy day" efforts, often at odds with the material playing out on-screen.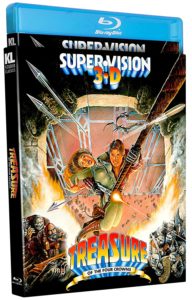 Give the 3-D Film Archive and Kino Lorber credit, at least, for restoring the picture. As with the Archive's last couple of releases, two versions have been struck: a 3D Blu-Ray polarized version and an old-style anaglyphic (red/cyan) version that's far superior to those old 3D renderings we'd see on local TV broadcasts back in the day. Still, the movie's fuzzy cinematography – which I assume is due to its inherent, original source materials – makes this notably less impressive than the Archive's outstanding presentation of kung-fu flick "Dynasty" which I reviewed a few months ago. Kino Lorber's disc includes both 5.1 and 2.0 stereo tracks, a pair of anaglyphic 3-D glasses, the trailer, an audio interview with Tony Anthony and a commentary by Jason Pichonsky.
If old-school sword-and-sandal adventure is your bag, then SON OF SAMSON (89 mins., 1960) should offer just enough Saturday Matinee-styled entertainment to satisfy. Everyone else might want to sample its cinematic wares first, however, as this Italian import really has nothing to do with Samson – in fact, the title character is Maciste (Mark Forest), your resident cinematic bodybuilder from the era who's out to take down the villainous queen (the sultry Chelo Alonso) presiding over Egypt during the Persians' vile rule. There are some action scenes but too much talk and not enough peripheral engagement for casual viewers; hardcore genre fans, though, might take to it, especially because of Kino Lorber's attractive 1080p (2.35) transfer with mono sound. The disc also includes an informative, chatty commentary with historians David Del Valle and Michael Varrati.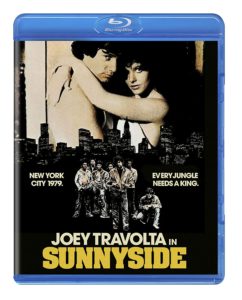 New From Scorpion Releasing: A strange, B-level mash-up of "The Warriors" and "Saturday Night Fever" with a Travolta headlining – just not John – SUNNYSIDE (100 mins., 1979, R) is a little-known American-International release that occasionally shows signs of breaking out of its spare parts…yet doesn't quite get there.
Joey Travolta, older sibling to the then-superstar Sweathog, plays a Queens guy whose gang, the Nightcrawlers, joins forces with the rougher Warlocks to knock over a local amusement park – when things go wrong, Travolta's Nick has to figure out if his future is on the streets or a more traditional life with his girlfriend (Stacey Pickren). Some familiar faces populate the supporting cast – Talia Balsam, Chris Mulkey, Mykleti (billed here as Michael) T. Williamson – and director Timothy Galfas occasionally generates an effective "slice of life" scene that's mildly effective opposite the movie's flavorful location shooting. Alas, the "Warriors"/"Wanderers" mandated "gang element" holds the picture back, with those sequences being far less convincing (populated with an almost comical use of the f-bomb than either of its genre brethren from 1979).
The languid pace also restricts "Sunnyside" from its cult potential, but for the curious, this isn't an uninteresting small film resurrected here on Blu-Ray with a 2K master (1.85, mono) and a fun 10-minute interview with Mulkey, whose long career as a character actor was a year or two away from really taking off.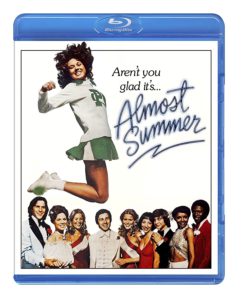 More entertaining from the same era is ALMOST SUMMER (88 mins., 1978, PG), an amenable high school comedy from the age when 30-something actors could play teenagers and nobody really seemed to mind. Martin "Lords of Flatbush" Davidson's movie finds a series of characters in the midst of a class presidential election, including win-at-all-costs strategist Bruno Kirby, his ex-girlfriend Lee Purcell, jock Tim Matheson (a few months before "Animal House" launched him into stardom), relative unknown John Friedrich ("The Wanderers") and Kirby's younger, gawky teen sister Didi Conn, whose name gets placed in a little box coming off her role in "Grease." The first half of "Almost Summer" is awash with pedestrian comedic hyjinks but the movie improves substantially in its more dramatic concluding portion, leading to a nicely rendered, poignant finale. The music score, meanwhile, is quite pleasant with Mike Love delivering an appropriately Beach Boys-ian original title tune, co-written by Brian Wilson himself, that makes this Motown/Universal co-production mildly diverting, if completely a relic of its time.
Scorpion's Blu-Ray includes a new 2K master (1.85) of what looks like a somewhat worn-down source; given the movie's scant plays on home video over the years, though, this should come as little surprise. Extras are terrific, including a half-hour "remote" interview with Tim Matheson that plays as much of a career retrospective as it is a look at this film's production. Longer on-camera conversations are included with director Martin Davidson; his wife, costume designer Sandra; and Lee Purcell, who definitely doesn't look 74! The mono audio is fine and the trailer is also included for a minor sleeper that's worth a look, especially for nostalgic viewers.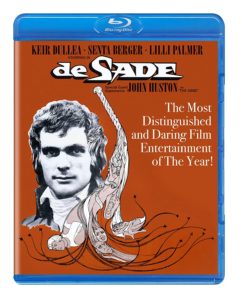 Raise your hand if you've never heard of DE SADE (104 mins., 1969, Not Rated), which arrived in my Kino shipment this month and immediately generated a "what the…" expression on my face. How could I have possibly missed this American-International look at the infamous Marquis with a post-"2001" Keir Dullea in the lead and a script by AIP stalwart Richard Matheson? As it turns out, there's a reason "De Sade" has received scant discussion over the years, as credited helmer Cy Endfield's biopic is a disappointing bore – even with a cast including Senta Berger, Lilli Palmer and John Huston, making one of his many "Special Guest Appearance" stints of the era as "The Abbe." The film seems stuck between one of AIP's Poe adaptations from the early '60s and a more liberating type of '70s biopic that the likes of Ken Russell would bring to one of his many nutzoid features of that decade. The net result isn't without interest for cult cinephiles – particularly for its backstory – but what's on-screen isn't very interesting. Scorpion and Kino Lorber's Blu-Ray (1.85, mono) includes a new 2K master, interview with Matheson, the trailer, and a commentary with Tim Lucas more engaging than the film itself, since the picture was plagued with production problems (no surprise).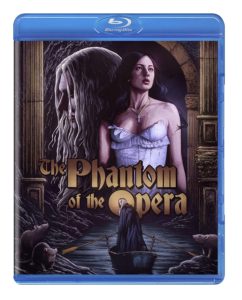 Also debuting this month from Scorpion is the 1996 BBC Films production JUDE (123 mins., R), a period adaptation of Thomas Hardy's "Jude the Obscure," starring "Dr. Who"'s Christopher Eccleston as a stonemason with a thirst for knowledge; after a failed marriage he heads to Christminster and falls in love with his free-spirited, "modern" cousin (Kate Winslet) before tragedy strikes. Michael Winterbottom's film debuts on Blu-Ray (2.35, 5.1/2.0) with the trailer and a new commentary from Daniel Kremer and fellow historian/critic Scout Tafoya.
Last (and arguably least) among Scorpion's new/upcoming releases is Dario Argento's misfired adaptation of PHANTOM OF THE OPERA (100 mins., 1998, Not Rated), an unsatisfying take on Gaston Leroux's oft-filmed novel from writers Argento and Gerard Brach. Julian Sands essays the Phantom with Argento's daughter Asia on-hand as Christine, but it's the script and some poor lapses in taste — plus unintended comedy — that make this gory version even a huge comedown from Robert Englund — never mind Lon Chaney! Scorpion's Blu-Ray (1.85, 2.0 DTS MA) is available June 7th and offers a commentary with Troy Howarth and Nathaniel Thompson plus interviews with Dario Argento, set designer Antonello Geleng, and producer Giuseppe Colombo.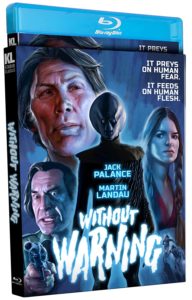 WITHOUT WARNING (89 mins., 1980, R) is one of the many "rural" horror offerings of the '70s and early '80s, boasting a premise that somewhat resembles "Predator" (alien camps out for the weekend terrorizing locals). Jack Palance and Martin Landau topline Greydon Clark's low-budget 1980 indie affair, which offered a chance for upstarts Dean Cundey (cinematography) and Greg Cannom (make-up effects) to hone their craft, while letting its veteran leads generate a few unintentional yucks with bombastic performances. MGM has produced a brand new 2K master (1.85) of the film and the image offers some enhancements in terms of color over the studio's previous 1080p presentation, which Shout! released some eight years ago. Extras have been reprieved from that edition, including commentary from Clark, interviews with Cundey, Cannom, actor Chris Nelson, co-star Tarah Nutter, co-writer Daniel Grodnick, a "Trailers From Hell" segment plus the trailer and DTS MA mono audio.
TIMES SQUARE Blu-Ray (111 mins., 1980, R): Occasionally poignant but ultimately disjointed drama from director Allan Moyle follows two troubled teens – Robin Johnson's disaffected youth and Trini Alvarado's privileged daughter of an NYC political candidate – as they hit a dilapidated Times Sqaure in the pre-Guiliani years, on the run from Alvarado's father and ready to cause a ruckus. Punk music, light lesbian infatuation (which was apparently explicit in Moyle's original cut of Jacob Brackman's script), and Tim Curry as a DJ playing the girls' surrogate make for a movie that has a ragged dramatic flow, offering intermittently good scenes within an overall story structure that can't quite find its focus. A box-office disappointment that's become something of a cult picture, especially among gay viewers, "Times Square" debuts on Blu-Ray featuring a 1080p (1.85) transfer via an attractive 4K scan of the original camera negative; stereo sound; an archival commentary by Moyle and Johnson; and a new commentary by Kat Ellinger.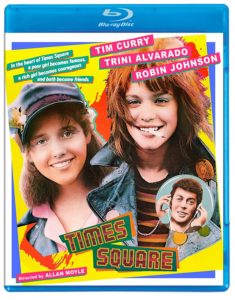 FRANCIS THE TALKING MULE: 7 Film Collection Blu-Ray (1950-56): Before Mr. Ed became a small screen star, Chill Wills lent his vocal talents to the resourceful military mule that befriends befuddled Army officer Peter Stirling (Donald O'Connor) and saves the day – more than a few times – as the duo head from active duty to domestic life, the WAC's, Navy, and seemingly everything inbetween.
A big-screen hit throughout the '50s for Universal-International and paired with various Abbott & Costello movie broadcasts when I was a kid during the early '80s, Francis starred in no less than seven features, all of them collected here in 2K remasters (1.37 B&W, mono) from Kino Lorber. The set kicks off with the first, and best, outing, "Francis the Talking Mule" (1950), which itself was adapted from a book by a former U.S. army captain. O'Connor and Francis would return for "Francis Goes to the Races" (1951), "Francis Goes to West Point" (1952), "Francis Covers the Big Town" (1953)," "Francis Joins the WACs" (1954) and "Francis in the Navy" (1955). Most of the series' principal creative team – including director Charles Lamont, O'Connor and Wills – departed when Universal tried to keep the series going with "Francis in the Haunted House" (1956). Audiences didn't take to the final sequel, which finds Mickey Rooney replacing O'Connor and Paul Frees substituting for Wills.
All seven movies look clear and crisp in these 2K remasters while extras include commentaries on each installment from the likes of Lee Gambin, Eddy Von Mueller, Toby Roan, Paul Anthony Nelson and others. Entertaining fluff for the nostalgic and younger viewers alike.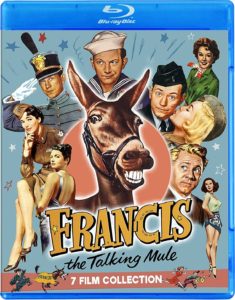 FLOWER DRUM SONG Blu-Ray (133 mins., 1961): Not usually considered among the top Rodgers & Hammerstein films but nevertheless a very entertaining, watchable musical that benefits from its then-unique story of a Chinese immigrant (Miyoshi Umeki) who comes to San Francisco along with her father as part of an arranged marriage. Once in the Bay Area, though, Umeki meets another man (James Shigeta) while her would-be spouse (Jack Soo) is already involved with dancing hall performer Nancy Kwan.
R&H's score is pleasant and the Alfred Newman/Ken Darby orchestrations make for a robust audio presentation in Kino Lorber's debut Blu-Ray of the 1961 Ross Hunter/Universal production, which Henry Koster directed in widescreen, reportedly lightening some of the source material – also based on C.Y. Lee's novel – in the process. While contemporary viewers may need some adjustment to what might perceived to be stereotypical "Asian characters" here and there, the fact the entire setting is focused on then-modern day Asian-Americans lends an enormous amount of appeal to the picture and the performances are likeable across the board, even with Japanese actors playing Chinese roles in several instances.
Kino Lorber's package offers a dynamic 2K master (2.35) with 5.1 DTS MA sound and legacy extras from Universal's 2006 DVD. These include several Making Of featurettes and an archival commentary track from Kwan and the late Nick Redman.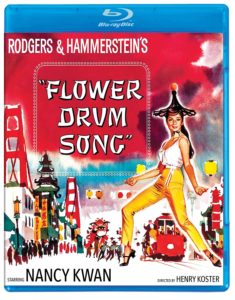 International Corner
SACCO & VANZETTI Blu-Ray (125 mins., 1971): Italian drama retells the story of two Italian immigrants who were tried, convicted and eventually executed in Boston for a robbery and murder they claim they did not commit. All sorts of dubious legal maneuverings played a pivotal role in this case, which became a worldwide sensation throughout the 1920s and lead to judicial reforms in the state of Massachusetts. Guiliano Montaldo's film stars Gian Maria Volonte and Riccardo Cucciolla in the lead roles and is a little heavy-handed in its dramatic presentation – not to mention doesn't entirely feel authentic in its depiction of Boston (the movie was shot in Ireland) or its English-speaking cast members like Milo O'Shea and Geoffrey Keen. Nevertheless a compelling picture, "Sacco & Vanzetti" debuts on Blu-Ray (1.85) this month from Kino Lorber featuring both Italian and English audio tracks, the trailer, and a commentary by Alex Cox. Ennio Morricone's score is a little syrupy, especially via the involvement of Joan Baez, who collaborated with the maestro on the title track "The Ballad of Sacco & Vanzetti."
MIKLOS JANCSO COLLECTION: Six Films Blu-Ray (Kino Classics): Director Miklos Jancso was known for developing the tracking shot, cementing his place in cinematic history, even though his actual films are not as well known in the English speaking world. Kino Classics' dynamic Blu-Ray includes six of Jancso's most acclaimed pictures, all in brand-new 4K restorations, spread across four discs. Included here are "The Round-Up" (1966) and "The Red and the White" (1967; also available in a standalone two-movie Blu-Ray reviewed last month); "The Confrontation" (1968) and "Winter Wind" (1969); "Red Psalm" (1971) and "Electra, My Love" (1974). The respective 2.35/1.66 presentations are detailed and healthy, while additional Jancso shorts and commentaries (from Michael Brooke, Jonathan Owen, Kat Ellinger and Samm Deighan respectively) are also included. A booklet featuring an introduction from Martin Scorsese puts the finishing touch on a highly recommended release for Jancso admirers…Also new from Kino Classics via the UCLA Film & Television Archive, MAMBA (74 mins., 1930) was something of a lost movie for many years: an ambitious attempt by an independent company, Tiffany Productions, to compete with Hollywood's big studios. Jean Hersholt stars as a diabolical land owner who challenges a German military officer (Ralph Forbes) for the hand in Eleanor Boardman in what was billed as the first all-spoken Technicolor drama – yet this frank, pre-Code affair fell out of circulation until an original print was recovered decades later in Australia. Subsequently restored, "Mamba" debuts here on Blu-Ray (1.33) from Kino Lorber sporting a documentary on the Australian film collectors who found the last print; an interview with Paul Brennan on the movie's restoration and rediscovery; a slideshow gallery; and a new commentary from Australian cult director Brian Trenchard-Smith…On DVD from Kino Classics is THE WOBBLIES (88 mins., 1979), Deborah Shaffer and Stewart Bird's documentary account of the formation of the Industrial Workers of the World union in Chicago, shortly after the turn of the 20th century. "The Wobblies" has been restored in 4K by the Museum of Modern Art and presented here on DVD in a Special Edition disc (1.33, mono) with extras including interviews with Shaffer and Bird, a conversation with author Paul Buhle, and original recordings of archival IWW songs.
GOMORRAH: Season 5 Blu-Ray (500 mins., 2021): The most popular Italian TV export in recent memory comes to a close with this fifth and final season of "Gomorrah." This time out, the best efforts of Salvatore Esposito's Gennaro and Marco D'Amore's Ciro have failed as a war between the rival Patrizia and Levante clans inevitably spills put on the streets of Naples, with one last confrontation between them all to determine the fate of the city. All 10 episodes have been included here (1.85, Italian 5.1/2.0 and alternate English dub) in good looking transfers that street on May 31st.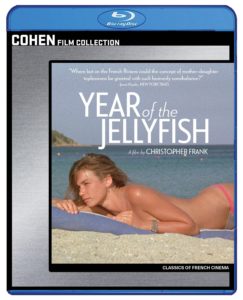 New from the Cohen Film Collection is a strange, offbeat genre exercise from 1953: DEMENTIA (56 mins.), a weird tale of a man-hating woman who walks around town, fending off assorted pimps and low-lifes, while recalling the horrible upbringing that lead to her current mental state. John J. Parker's original cut, narrated by William Thompson (of "Plan Nine From Outer Space" fame), is a lot more subtle than a reworked version that appeared in 1955: this one, retitled "Daughter of Horror," accentuates the exploitative elements of the material and adds a heavier-handed narration by none other than Ed McMahon! Both versions of this unusual theatrical outing have been collected here on Blu-Ray by Cohen, each in new B&W remastered (1.37) transfers, with "Dementia" hailing from its 35mm negative…In the French/Algerian/Belgian financed TWO MEN IN TOWN (118 mns., 2014, R), Forest Whitaker plays an ex-con who's recently converted to Islam, and tries to start a new life until small-town sheriff Harvey Keitel won't leave him alone – unable to overcome the fact Whitaker was responsible for killing his deputy years before. Cohen's Blu-Ray (2.39, 5.1/2.0) includes a Making Of documentary and trailers.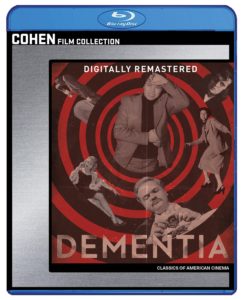 Three French imports also join the Cohen Film Collection this month. YEAR OF THE JELLYFISH (110 mins., 1984) is a provocative drama – probably best appreciated among T&A enthusiast genres – about a young woman (Valerie Kaprisky) who becomes obsessed with her mother's gigolo. Lots of nudity and attractive bodies abound in Christopher Frank's film, which earned split reviews when it opened in the U.S. in 1987. Cohen's Blu-Ray (1.85, mono) offers the movie with English subtitles…Rachid Bouchareb's OUTSIDE THE LAW (139 mins., 2010) looks at three brothers who fought for Alergia's independence from France in a post-WWII Europe. Cohen's Blu-Ray (2.35, 5.1/2.0 ) includes a Making Of, deleted scenes, interview with the director, cast interviews; trailers; and English subtitles…Fanny Liatard and Jeremy Trouilh's GAGARINE (98 mins., 2020) is a recent French production about a teenager, living in a Paris housing project, who dreams about becoming an astronaut, but is pressed into more Earthly action in order to save the home his family lives in. English subtitles are included in Cohen's Blu-Ray (2.39, 5.1/2.0).
DVD Quick Takes: New from Greenwich Films and Kino Lorber this month, VIVA MAESTRO (99 mins., 2022) is a moving documentary from Ted Braun that follows conductor Gustavo Dudamel on his mission to bring music, art, and life to all corners of the globe, especially those in his native Venezuela. A richly told piece recommended on a number of levels, on DVD this month from Greenwich (16:9, 5.1/2.0)…Filmmakers Renan Ozturk and Freddie Wilkinson take to retracing the steps of photographer/mountaineer Bradford Washburn in the scenic doc THE SANCTITY OF SPACE (100 mins., 2020), offering impressive views of Alaska's tallest peaks (16:9, 5.1/2.0)…Vincent Kelner's A TASTE OF WHALE (85 mins., 2021) examines the annual slaughter of some 700 whales on the Faroe Islands and the battle between locals supporting the event and animal rights activists trying to stop it (1.78, 5.1/2.0)…A look at young activists, THE REVOLUTION GENERATION (79 mins., 2021) debuts this month on DVD from Greenwich (16:9, 5.1/2.0), profiling leaders "revolutionizing systems that have failed their generation."
Also new on DVD from Kino Lorber and Zeitgest Films, THE UNMAKING OF COLLEGE (83 mins., 2021) is Amy Goldstein's documentary profile of Hampshire College students who staged a 75-day "sit in" in order to "save" their institution of higher learning. Goldstein also provides a commentary in the now-available DVD (16:9, 5.1/2.0)…THE WIGGLES: SUPER WIGGLES (57 mins.) will appeal to younger viewers, with the Wiggles joining together with the "Fruit Salad TV" Wiggles and boasting over 25 new songs (16:9, 2.0).
NEXT TIME: More of the latest releases! Until then, don't forget to drop in on the official Aisle Seat Message Boards and direct any emails to our email address. Cheers everyone!