Message Board (open 24 hours!)
Twitter - @andredursin (for everything else!)
Dynamic 4K UHD of Bernard Rose's quasi-classic 1992 thriller CANDYMAN (99 mins., R/Unrated, Shout! Factory) offers a spectacular new Dolby Vision grading of the movie – via a 4K transfer of the original negative – which enhances Anthony B. Richmond's cinematography through the use of HDR. This Rose/Richmond-approved master brings "Candyman"'s home presentation – complete with both theatrical and unrated cuts – that much closer to matching the theatrical experience, while Philip Glass' rightly celebrated score clicks with a multitude of audio options: 5.1 and 2.0 DTS MA mixes which have appeared on previous releases, along with a new Dolby Atmos soundtrack that adds height effects to an already-superlative audio experience.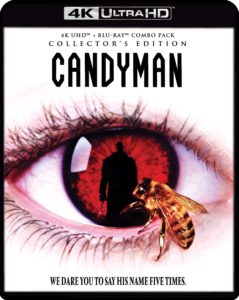 The three-disc set includes a bevy of extras from past editions, including a "Movie Crypt Podcast" commentary with Rose, a separate commentary from director Rose and star Tony Todd, and a third commentary with critics Stephen Jones and Kim Newman. There are also retrospective interviews with stars Todd, Virginia Madsen, production designer Jane Ann Stewart, Douglas E. Winter, makeup effects artists and more; and the option to watch the movie on an adjoining Blu-Ray, also sporting both theatrical and unrated cuts. Older extras include an informative commentary track with cast members Madsen, Todd, and Kasi Lemmons, plus the 20-minute "Making Of" entitled "Sweets to the Sweet: The Candyman Mythos," which examines director Rose's attempts to bring Clive Barker's "The Forbidden" to the screen, along with other archival extras.
"Candyman" remains one of the top horror films of the 1990s, due to its intriguing story and setting, highlighted by Rose's distinct filmmaking style, which is not only tense and foreboding, but downright eloquent for a genre film. Madsen stars as a graduate student whose research into the urban legend of "Candyman" (the ever-menacing Todd) ends up unearthing the title character, instigating a series of grizzly murders that authorities ultimately believe are the work of Madsen herself in the process. The setting of Chicago's now-defunct Cabrini Green — menacing in its urban decay — lends ample atmosphere to a film that's capped off by Glass's effective, haunting score, which adds layers of moody, Gothic-tinged beauty to the picture.
While it's unfortunate that Jordan Peele had to turn "Candyman" into a social justice warrior with his ill-advised 2021 franchise revisit, Rose's original remains a wicked genre favorite across the board, and the Scream Factory UHD comes highly recommended.
Also new from Shout! is a Special Blu-Ray edition of Roger Nyguard's 1998 documentary TREKKIES (86 mins., PG), a loving look at the eclectic crew who populate Star Trek fans and especially those who participate in conventions. Nyguard followed this up with a sequel that wasn't nearly as well-received, but the original "Trekkies" retains its entertaining, affable nature, and Shout's Blu-Ray includes a 1080p (1.33) transfer with DTS MA 2.0 stereo sound. Nyguard and producer Denise Crosby, meanwhile, revisit the production in a new featurette debuting on the disc...Coming May 31st from Shout in a Blu-Ray/DVD combo pack is POUPELLE OF CHIMNEY TOWN (100 mins., 2020, PG), the Japanese animated film from writer/producer Akihiro Nishino and director Yusuke Hirota. This fantasy focuses on a young boy named Lubicchi and his relationship with a man made of garbage, Poupelle, in an anime-styled picture debuting in North America from Shout and 11 Arts. The Blu-Ray offers a 1080p (2.35) transfer with 5.1 DTS MA Japanese (subtitled) or English audio, an interview with Hirota and Nishino, additional interviews, a Malibu Film Society Q&A, DVD copy, and both a collectible art booklet and slipcover.
---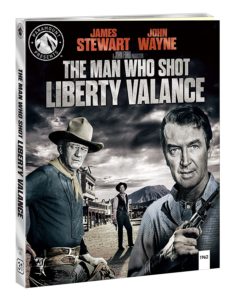 Also New & Noteworthy
THE MAN WHO SHOT LIBERTY VALANCE "Paramount Presents" 4K UHD/Blu-Ray (123 mins., 1962; Paramount): The inaugural 4K UHD release from Paramount in their remastered "Presents" line is John Ford's celebrated 1962 western classic, starring Jimmy Stewart as a Senator who flashes back on his life in a small town and the man (John Wayne) who saved him from a local bad guy (Lee Marvin). This meditation on a grittier Old West, legends and aging heroes isn't just one of Ford's best, but likewise ranks with the finest work from stars Stewart and Wayne as well, even as it eschews the director's penchant for location-based filming and color vistas in favor of a more contemplative, B&W, stage-bound approach that's richly performed and told courtesy James Warner Bellah and Willis Goldbrick's script.
"Liberty Valance" first bowed on Blu-Ray relatively late in the format (2015) considering its pedigree, but Paramount has thankfully not wasted as much time upgrading the picture to UHD in a "Paramount Presents" combo pack with a remastered Blu-Ray alongside. The UHD's Dolby Vision grading and 4K restoration (1.85) are superb, while both 5.1 TrueHD and mono sound comprise the audio offerings. After dropping all of its extras for the 2015 Blu-Ray, Paramount here ports over the extras from its 2009 Centennial Edition DVD, including a retrospective documentary, select-scene commentary with Dan Ford, plus another commentary with Peter Bogdanovich; both tracks also incorporate archival comments from Stewart, John Ford and Lee Marvin as well. A brand-new Leonard Maltin introduction and a slipcover make for a must-have for western fans.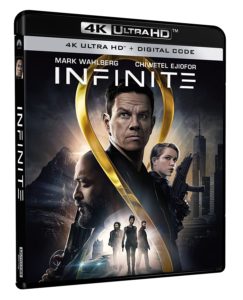 INFINITE 4K UHD (106 mins., 2021, PG-13; Paramount): One of the numerous films intended for theatrical play that debuted instead at home during COVID, "Infinite" may have been done a favor in so doing since this is a disappointing sci-fi yarn from star Mark Wahlberg and director Antoine Fuqua.
In Todd Stein's overly familiar script, Wahlberg plays a troubled guy plagued by memories and visions from lives he never led – or did he? After being saved by a secretive group named the Infinites, Wahlberg's life begins to make more sense even after he's plunged into saving the world from a madman trying to destroy humanity. Incredibly ho-hum given the talent involved, "Infinite" plays like a retread of any number of similarly themed genre exercises, but without any kind of energy – the entire project comes off like "been there, done that" from its direction through the cast, which also includes Chiwetel Ejiofor, Sophie Cookson and Dylan O'Brien. Paramount's 4K UHD includes Dolby Vision HDR and Dolby Atmos – making for a perfectly competent technical presentation – plus a Digital copy and featurettes.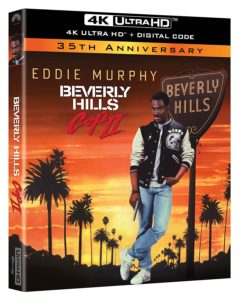 BEVERLY HILLS COP II 4K UHD (102 mins., 1987, R; Paramount): Eddie Murphy's box-office smash "Beverly Hills Cop" was followed by the slick-looking – but comparatively humorless – box-office smash "Beverly Hills Cop II," which put the accent on action with director Tony Scott – fresh off Top Gun" – helming a scope-shot affair. This bombastic but far less appealing movie comes off more like a "Silver Pictures" product of the late '80s, with Murphy called back into action after the death of Beverly Hills commandant Ronny Cox, which promptly sends Axel Foley off to the West Coast to take on a group of international munitions smugglers that include Jurgen Prochnow and Brigitte Nielsen. Boasting a slick look but less humor, "Cop II" rode the wave of Murphy's appeal – one could argue it would never be higher than the Summer of '87 – to huge grosses but the picture just isn't very likeable. Paramount's 4K UHD does include a dynamic Dolby Vision HDR grading that does justice to Jeffrey Kimball's widescreen lensing while the throbbing 5.1 DTS MA mix includes a score by the returning Harold Faltermeyer. A digital copy is also included.
LICORICE PIZZA Blu-Ray (134 mins., 2021, R; MGM/Universal): Paul Thomas Anderson's ode to adolescence is presumably set within his own mileu of '70s Los Angeles, following the coming-of-age relationship between a teen boy (Cooper Hoffman) in love with an older girl (Alana Haim) he meets at a high school picture day event. Their adventures in and around Los Angeles include run-ins with either vaguely disguised people – like Sean Penn playing "Jack (William) Holden" – or outright depictions of actual stars, with Bradley Cooper essaying movie mogul Jon Peters. Some of this material registers and Anderson and his DP Michael Bauman shoot it in a way that really does evoke the era – but the bloated running time smacks of self-indulgence, as much of Anderson's work typically falls victim of. Universal's Blu-Ray boasts a superb 1080p (2.35) transfer with 5.1 DTS MA sound, a Digital copy, DVD, camera tests and additional extras.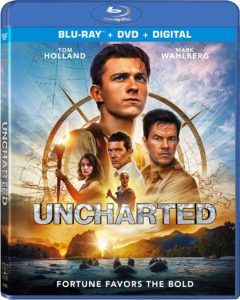 UNCHARTED Blu-Ray/DVD (116 mins., 2022, PG-13; Sony): Disappointing big-screen version of the long-running Sony Playstation video game franchise – itself a modern day version of Indiana Jones with young thief Tom Holland brought into the fold of treasure hunter Mark Wahlberg in order to find a Magellan fortune lost some 500 years before. The plot sounds surefire but the execution is wobbly under the direction of "Zombieland"'s Ruben Fleischer, making for a dreary CGI-dominated green-screen affair with push-button set-pieces and two leads arguably both miscast from their video game incarnations. Even Antonio Banderas' villainy goes by the wayside once he unceremoniously departs this would-be franchise starter (hopefully). Sony's Blu-Ray (2.39, Dolby Atmos) includes deleted/extended scenes, Fleischer's commentary, Making Of featurettes, a DVD and Digital HD copy.
DOUBLE INDEMNITY Blu-Ray (108 mins., 1944; Criterion): New restoration of the Billy Wilder film noir classic includes a commentary from critic Richard Shickel; a new interview with scholar Noah Isenberg; a conversation featuring critics Eddie Muller and Imogen Sara Smith; Volker Schlondorff and Gisela Grischow's 1992 film "Billy, How Did You Do It?", sporting interviews with the director; a 2006 video documentary on the making of the picture; radio adaptations from 1945 and 1950; trailers; and a booklet essay by critic Angelica Jade Bastien. The 1080p (1.37) B&W transfer is crisp and detailed, and lossless mono sound round out a two-disc package for Blu-Ray owners.
---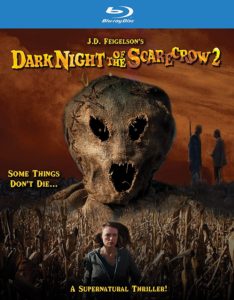 Quick Takes
DARK NIGHT OF THE SCARECROW 2 Blu-Ray (85 mins., 2021; VCI): J.D. Feigelson, who directed the original CBS TV-movie "Dark Night of the Scarecrow," returned to produce this independent follow-up. This time out, Amber Wedding plays a single mother who moves with her young son (Aidan Shurr) to the same rural town that Larry Drake's supernatural scarecrow haunted in the original 1981 cult favorite – once she tells an old scarecrow effigy her reason for being there, a series of killings start anew. It's been a long time since its predecessor but this is an agreeable enough modern sequel that at least bears the involvement of its original director. VCI's Blu-Ray includes a 1080p (1.78) transfer and 5.1/2.0 stereo sound.
A WEEK IN PARADISE DVD (100 mins., 2021, Not Rated; Screen Media): Malin Akerman is attempting to recover from a failed marriage when she strikes up a new relationship with the chef (Philip Winchester) at the Caribbean resort she's staying at. Philippe Martinez's film offers a nice cast with Connie Nielsen co-starring, but the film is poorly executed with awkward direction and sluggish pacing. Screen Media's DVD (16:9, 5.1/2.0) is now available.
BLOODY ORANGES DVD (105 mins., 2021, Not Rated; Dark Star): French black comedy follows several story threads — a retired couple entering a dance contest, a corrupt politician, a girl looking to score, and a lawyer looking to boost their social status — in a wild affair where each incident leads to the most shocking outcome imaginable. Dark Sky brings "Bloody Oranges" to the U.S. via a DVD sporting a 16:9 (2:1) transfer and 5.1/2.0 English-subtitled French audio.
ROW 19 Blu-Ray (78 mins., 2021; Well Go USA): A doctor onboard a flight begins to think there's a supernatural force onboard – and not just an ill-tempered fellow passenger disgusted by another layover – in this Russian import. Director Alexander Babev's thriller debuts on Blu-Ray May 31st from Well Go featuring DTS MA audio in Russian (subtitled) or an English dub.
LOCKDOWN DVD (89 mins., 2022, R; Lionsgate): A trio of criminals take hold of a police precinct and toy with the officers as well as a hooker (Bai Ling) who can't wait to turn the tables on them in this low-budget thriller directed by Massimilano Cerchi. Michael Pare plays the FBI agent trying to help in "Lockdown," which Lionsgate has recently released on DVD (1.78, 5.1).
MIDNIGHT Blu-Ray (106 mins., 2022, Not Rated; Epic Pictures): "Squid Game"'s Wi-Ha Jun plays a serial killer trying to get to a deaf woman (Jin Ki-Joo) who witnessed his latest slaying in a Korean import new on Blu-Ray June 7th from Epic (1080p, 5.1/2.0 Korean with English subtitles). The disc also includes two trailers.
NEXT TIME: Kino Lorber May releases! Until then, don't forget to drop in on the official Aisle Seat Message Boards and direct any emails to our email address. Cheers everyone!