Message Board (open 24 hours!)
Twitter - @andredursin (for everything else!)
A nice diversity among 4K UHD catalog titles is on-tap this week, with studios bringing us lush new restorations of one of the great MGM musicals ever made – SINGIN' IN THE RAIN (103 mins., 1952; Warner) – as well as one of the wildest forays into adult animation ever undertaken by a major studio, HEAVY METAL (90 mins., 1981, R; Sony), the latter in a spectacular Steelbook edition alongside its limp, in-name-only sequel "Heavy Metal 2000."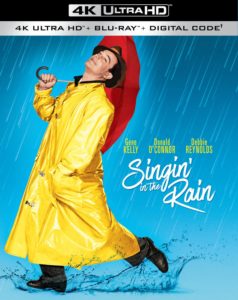 Fans of musicals need little introduction to SINGIN' IN THE RAIN, which remains a bouncy and delightful affair with a subject matter that's historically appealing – capturing Hollywood and its stars during the transition from silents to talkies – as well as ripe for both comedic and certainly musical potential. Under the direction of star Gene Kelly and Stanley Donen, this colorful confection fulfills that premise with lots of humor – courtesy of the Adolph Green-Betty Comden story; terrific ensemble performances from Kelly, Donald O'Connor, Debbie Reynolds, Jean Hagen and Cyd Charisse; and of course, the great Nacio Herb Brown-Arthur Freed score, which taps into their littany of hits written for MGM's musicals of the late '20s and '30s.
Often cited as not just one of the classic musicals of all-time but one of the great movies, period, "Singin' in the Rain" makes for an ideal 4K UHD from Warner. The HDR10 transfer doesn't overhaul the movie's colors but offers a wider gamut of its original spectrum on UHD, while offering both the previous 5.1 DTS MA remix and original mono sound for purists. Extras include a group commentary from the previous Blu-Ray, along with a collection of extras on the corresponding BD release (itself identical to its last format appearance). A Digital HD copy is also included.
Switching gears is HEAVY METAL, the Summer '81 Columbia Pictures release from producer Ivan Reitman that provided a big-screen canvas for the same-titled magazine that curated sci-fi/fantasy stories for older readers. This ambitious R-rated film was one of the first "adult cartoons" as it captured a variety of genre stories – some humorous, others alternately horrifying and expansive – all with liberal doses of sex and gore. Not all of the stories are great but the film is consistently fast-moving (you don't have to wait long for something new to come along) and compelling to look at, with a variety of art styles fashioned by a number of animators assigned to each respective segment. It was a project that few filmmakers had attempted up until that point, save Ralph Bakshi's scattershot forays into adult animation, with a wider box-office net cast thanks to the movie's song-heavy Elektra Records soundtrack, which featured a bevy of hot rock groups and, in particular, Journey's smash single "Open Arms."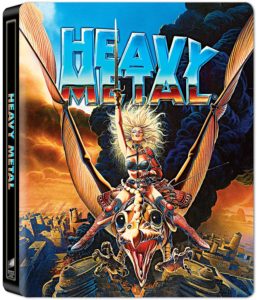 The result worked, with "Heavy Metal" becoming a cult classic. It also became a "Midnight Movie" since the movie's wide roster of songs prevented a home video release of any kind until the laserdisc/DVD era. Until then, your only hopes of even seeing the film were catching a late show mostly in second-run theaters, or an airing on cable TV.
"Heavy Metal" has remained a consistent home video performer ever since, but no release has ever come close to matching Sony's magnificent new 4K UHD presentation. With Dolby Vision HDR grading, this 4K transfer (1.85) is eye-opening not just for its enhanced detail but overall impeccable image, besting its previous Blu-Ray, which now looks like it has something of a "veil" on the image by comparison. On the audio side, the bass-heavy Dolby Atmos remixed soundtrack is guaranteed to test the limits of one's home theater speakers, though I personally found it a little over-the-top in terms of the low end. Not to fear, both the 5.1 DTS MA track from previous releases as well as the original Dolby Stereo (2.0) mix are also included here, with Elmer Bernstein's grand score supporting the film whenever a rock track is out having a smoke – especially during the climactic "Taarna" sequence.
Sony's deluxe Steelbook packaging utilizes the classic original poster art for the film and includes a brief new featurette on the movie sporting comments from the late Ivan Reitman and fans like Kevin Smith. The Blu-Ray includes the same extras as previous editions (alternate framing story, the rough cut, "Imagining Heavy Metal" doc and deleted scene) and a Digital HD copy. The set is capped by the inclusion of "Heavy Metal 2000" (88 mins., 1999, R), a weak direct-to-video follow-up featuring the voices of Julie Strain and Michael Ironside that's best left forgotten. That disc includes a perfectly serviceable 1080p (1.85) master with 5.1 DTS MA sound and a number of extras (featurettes, animation tests, etc.).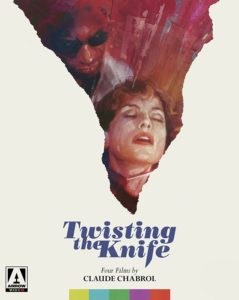 New from Arrow this month is another Blu-Ray retrospective featuring the works of French auteur Claude Chabrol. TWISTING THE KNIFE: FOUR FILMS BY CLAUDE CHABROL features a quartet of pictures more contemporary than those featured in Arrow's previous Chabrol box; these include the Isabelle Huppert-Michel Serrault film THE SWINDLE, along with THE COLOR OF LIES, Huppert again in NIGHTCAP, and the character-driven drama of THE FLOWER OF EVIL. The four-disc set includes an HD master of "Color of Lies" and all-new 4K restorations of the other three pictures along with PCM uncompressed stereo audio (DTS MA 5.1 on "Nightcap" and "Flower of Evil") and loads of extras. These include commentaries by critics Barry Forshaw, Justine Smith and Farran Smith Nehme, archival interviews, visual essays, behind-the-scenes featurettes, select scene commentaries from Chabrol, trailers, screen tests, trailers and image galleries. The deluxe Limited Edition package is housed in one of Arrow's typically sturdy hardbound cases with an 80-page booklet sporting ample new writing on Chabrol and his cinematic excursions.
---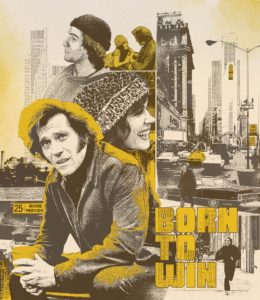 New From Fun City Editions
Another '70s film off the beaten path from Fun City Editions, BORN TO WIN (88 mins., 1971, R) is an offbeat picture with a group of stars digging deep into performances atypical given their respective filmographies. This especially applies to George Segal, who here plays "J.," an NYC hairdresser addicted to heroin and living a life mostly away from his estranged wife (Paula Prentiis, second-billed for barely minutes of screen time), who's got a habit of her own and needs their collective neighborhood dealer (Hector Elizondo) to fulfill her needs. Segal wants a way out of this existence even as he's tracked by a pair of undercover cops (one of them played by Robert DeNiro) and finds it – seemingly – in the form of a young woman (Karen Black) whom he initially sets out to rob.
Assorted portrayals of junkies on-screen became prevalent in '70s cinema, and truthfully, many of these films have a grittier, more satisfying edge than "Born to Win," which David Scott Milton wrote for Czech director Ivan Passer, making his American debut. This UA release offers some humor and levity to Segal's downwards escalation, but for whatever reason, I had a difficult time really getting into this film and its characters. You give credit for Segal for trying to make a "serious" film about life in the gutter at a time when New York City itself was heading into its '70s decline, yet I was more interested in the location shooting – with its assorted landmarks and marquees which capture everything from "Song of Norway" playing at the Cinerama Theater to Lauren Bacall's Broadway vehicle, "Applause" – than where the story was going.
Nevertheless a film worthy of some respect – and another "deep cut" from Fun City that even die-hard movie buffs are likely unfamiliar with – "Born to Win" makes its Blu-Ray debut in a 2K restoraton (1.85) from the movie's 35mm interpositive; it's a gritty, unadulterated, naturally "filmic" transfer that fits the movie's look perfectly. The trailer, an image gallery, booklet essay from Justin LaLiberty and a fresh commentary from writer Jason Bailey and filmmaker Michael Hull lend insight into the production and the picture's genre.
---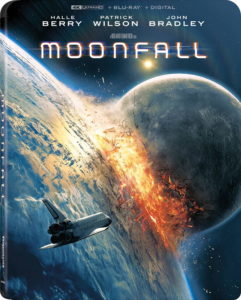 Also New & Noteworthy
MOONFALL 4K UHD (130 mins., 2022, PG-13; Lionsgate): After getting his act together for the surprisingly passable "Midway," Roland Emmerich retreats back to grade-Z level disaster shenanigans, minus any of the big-screen sizzle that marked the likes of "Independence Day."
"Moonfall" is a virtual blockbuster on a budget, with NASA director Halle Berry and disgraced astronaut Patrick Wilson having to fly a last-second mission to the moon knowing it's tilting off its axis and some kind of technological entity is there, wiping out anything coming in its direction. If they don't succeed, it's curtains for the rest of us as the tide is washing in at every coast.
The expected ensemble of disparate characters from Emmerich's fare is on-hand but the B-level cast — get ready for the big Donald Sutherland cameo! — is indicative of how threadbare this movie is. Meanwhile, mediocre green-screen FX stand in for nearly every location, from outer-space to the streets of L.A., while every real world set looks like a conference room at the Holiday Inn where everyone was staying. If this film truly cost its reported $150 million or so, you wonder where it went, because it's not on-screen.
Thus, "Moonfall" has none of the scope or excitement from Emmerich's usual work, and the mundane nature of the production extends down to the visual effects animation, which seem like re-skinned variations on some of the groundbreaking ILM creations seen in "The Abyss" and "T2" — effects now over 30 years old. This is an entirely disposable misfire that makes even Emmerich's unnecessary "Independence Day 2" look more watchable by comparison.
Lionsgate's 4K UHD (2.39, Dolby Atmos) boasts Dolby Vision HDR along with commentary from Emmerich and his usual writer/composer collaborator Harald Kloser, two featurettes, the Blu-Ray, and a Digital copy.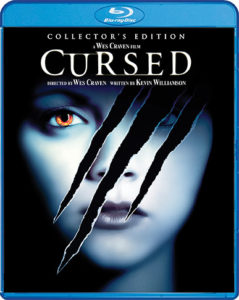 CURSED Blu-Ray Collector's Edition (97/99 mins., 2005, PG-13/Unrated; Shout! Factory): A box-office disappointment that was "Cursed" in more ways than one, this busted reunion of "Scream" director Wes Craven with writer Kevin Williamson proved to be an unlucky follow-up that was literally years in the making. Whatever Craven and Williamson initially concocted in 2003 didn't satisfy Miramax/Dimension and the dreaded Weinsteins, who ordered so many alterations that subsequent reshoot sessions took longer than entire films to complete. Cast members like Skeet Ulrich, meanwhile, came and went (all that remains of Skeet are press photos), Rick Baker make-up effects mostly went by the wayside, and entire plot lines were moved around, shuffled and changed. By the time "Cursed" was released in 2005, the finished product – allegedly the 3rd or 4th version of the film to be previewed – showed scant evidence of having been worth all the trouble.
It's an unfortunate misfire as L.A. brother/sister duo Christine Ricci and Jesse Eisenberg find themselves with a werewolf in their midst. Could the culprit be Joshua Jackson, Milo Ventimiglia, or possibly Judy Greer? Williamson's original script dealt with a lupine serial killer but any sense of suspense has long been jettisoned from "Cursed"'s final cut, which plays like a silly, throwaway PG-13 horror movie along the "Scream" lines, albeit disjointed and watered down. Not even some eclectic casting like Scott Baio, Shannon Elizabeth and Mya can help – this is one moribund production in every sense, an example of how Miramax couldn't, at times, leave well enough alone.
Scream Factory's Collector's Edition of "Cursed" includes both the theatrical and unrated versions of the movie in new 4K (2.40) scans. Alas, any hopes of seeing Craven's original version or even the first-reshot edit – both of which are allegedly far superior to either cut included here – seem to have been diminished by Shout's failed attempts to license said earlier versions from new Miramax library owner Paramount. Extras include interviews with editor Patrick Lussier, actor Derek Mears, select-scene comments from Mears and FX artist Greg Nicotero, and scattered extras from previous home video releases.
SCREAM 4K UHD/Blu-Ray (114 mins., 2021, R; Paramount): The self-aware horror franchise is back for another go-around – minus the Weinsteins – with a functional and mostly agreeable outing that (of course) finds a new killer donning the Ghostface mask in Woodsboro. Some 25 years after the original "Scream," this follow-up from writers James Vanderbilt and Guy Busick utilizes a new cast of teens as lambs for the slaughter while returning appearances by Courtney Cox, David Arquette and Neve Campbell should make long-time fans of the franchise feel right at home. It's nothing groundbreaking but still, under the direction of Matt Bettinelli-Olpin and Tyler Gillett, superior to the last "Scream" entry and slickly handled. Paramount's good-looking 4K UHD (2.35) includes Dolby Vision and 7.1 DTS MA audio with deleted scenes, commentary, featurettes and a tribute to the late Wes Craven provided for good measure. A Digital HD copy is also included.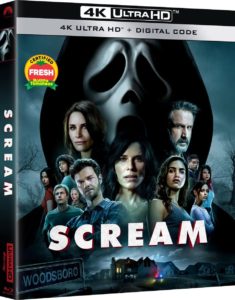 JACKASS FOREVER Blu-Ray (96 mins., 2022, R; Paramount): Johnny Knoxville, Steve-O and most of the "Jackass" gang are back for a COVID-lensed follow-up that offers the expected raunchiness – and, for the sensitive and squeamish, numerous injured male body parts – but also a gradually diminishing stream (bad choice of words) of laughs as the picture progresses. Big physical gags and an occasional prank are included, but outside of one "Bad Grandpa" sequence, the movie feels much more constrained in scope than prior efforts, almost certainly due to pandemic-related concerns. Worth a watch for series fans just the same, "Jackass Forever" debuts on Paramount (1.85, 5.1 DTS MA) this month sporting a slew of never-before-seen bonus stunts and a Digital HD copy.
SPIDER-MAN: NO WAY HOME Blu-Ray (148 mins., 2021, PG-13; Sony): Leave it to Spider-Man to smash post-'rona box-office records with this all-star "multi-verse" mash-up that ends (I guess) the "Home" portion of the Tom Holland era, with Peter Parker trying to undo some of his life as the webslinger – namely his now-public ID – but consequentially creating a rift in the universe that requires the help of Dr. Strange (Benedict Cumberbatch) to repair. This rather ingeniously allows director Jon Watts to delve into classic Spider-Man cinema lore with cameos (which I assume everyone is aware of by now) and returning characters galore – but truthfully, this overly-busy film isn't quite as much fun, or as resonant, as its similarly-themed animated predecessor, "Spider-Man: Into the Multiverse." Still an international smash that brought viewers back into theaters during the pandemic (albeit with no competition), Sony spins a satisfying Blu-Ray (2.39, 5.1 DTS MA) for the film with over 80 minutes of bonus content, a Digital HD copy, and DVD also on-board.
THE GREAT: Season 2 DVD (aprx. 9 hours, 2021; Paramount): I found that a little of the Hulu dramatic series "The Great" went a long way, despite all its abundant critical acclaim. There's certainly nothing deficient with any of the performances, as Elle Fanning's Catherine the Great constantly tries to one-up husband Peter III (Nicolas Hoult) in a bawdy slice of historical revisionism from writer-creator Tony McNamara – the man behind "The Favourite" whose at times strident sense of humor makes for a show where less, at times, feels like it would've yielded more. One's sensibilities will dictate your overall tolerance level for "The Great," which segues into a second-season here from Paramount (16:9, 5.1 Dolby Digital) in a four-disc DVD and includes deleted scenes and a blooper reel…Also new from CBS is Season 5 of THE GOOD FIGHT (8 hours, 2021), with Christine Baranski back, and running alongside Liz (Audra McDonald) an African-American law firm. Both Baranski and McDonald have since moved onto HBO's terrific "The Gilded Age" but fans of this series should be riveted by its fifth season, guest starring Mandy Patinkin, Wanda Sykes and Wayne Brady. CBS' DVD (16:9, 5.1) includes deleted scenes and a gag reel.
BLACKLIGHT Blu-Ray/DVD (105 mins., 2022, PG-13; Universal): Liam Neeson is back collecting a check in "Blacklight," playing a deep covert "fixer" who works for the government. Once he uncovers evidence of the suspicious "Operation Unity," Neeson utilizes a journalist (Emmy Raver-Lampman) to help expose the group, all the while his FBI boss (Aidan Quinn) refuses to help. Mark Williams' movie is push-button stuff that Neeson has covered, many times, elsewhere before – and far more entertainingly – but he still gives it his all, even as this particular outing fails to support him. Universal's Blu-Ray (2.39, 5.1 DTS MA) of the Briarcliff release includes two featurettes, a DVD, and Digital HD copy.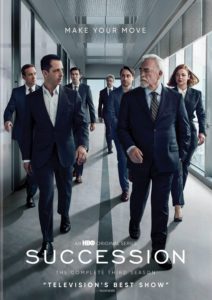 CONSTANTINE: THE HOUSE OF MYSTERY Blu-Ray (76 mins., 2022, R; Warner): The latest release from the DC animated universe collects four "DC Showcase shorts" including John Constantine trying to break his way out of the "House of Mystery" with the help of Zatanna. Warner's Blu-Ray offers this short along with "Kamandi: The Last Boy on Earth!", "The Losers," "and "Blue Beetle," all presented in 1080p transfers with 5.1 DTS MA sound and a Digital HD copy. Available May 3rd, the release also includes the featurette "DC Showcase: One Story at a Time."
SUCCESSION: Complete Third Season DVD (545 mins., 2021; HBO/Warner): In Season 3 of the acclaimed, hit HBO series, Logan Roy (Brian Cox) is about to step down as CEO of his conservative media empire, leading each of his four kids: son Kendall (Jeremy Strong), political consultant Shiv (Sarah Snook), executive Roman (Kieran Culkin) and his half-brother Connor (Alan Ruck) – to jockey for position in order to inherit its future. Season 3 offers more of the tart writing and delicious performances that have marked this HBO show's run, and Warner brings "Succession"'s third season to DVD May 17th (16:9, 5.1). The multi-disc set includes several behind-the-scenes featurettes.
---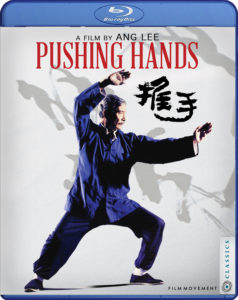 New From Film Movement
An early effort from Ang Lee that showcases the director's penchant for cultivating rich human emotion on-screen, PUSHING HANDS (105 mins., 1991) finds an aging tai chi master (Sihung Lung) having to relocate from Beijing to New York in order to live with Americanized son Bo Z. Wang. In addition to clashing with the culture as well as Wang's wife (Deb Snyder), Mr. Chu eventually finds balance after he volunteers to teach tai chi at a local school. "Pushing Hands" is not a film many are familiar with, but that should change thanks to Film Movement's new 2K restoration of the film (1.85, mono) which debuts on Blu-Ray May 10th. The image is crisp and warmly rendered with a round-table interview featuring frequent Lee collaborator James Schamus plus Ted Hope and Tim Squyres. NYU Cinema Studies professor Zhen Zhang also provides a look at the film and where it fits within Lee's filmography in the accompanying 16-page booklet.
New on DVD from Film Movement, LOVECUT (94 mins., 2022) is a Swiss/Austrian import that chronicles the sex-ploits of six Vienna teens in the digital age. This look at three young couples and their relationships is new from Film Movement on DVD (2.35, 2.0 German with English subtitles)…the Belgium drama PLAYGROUND (72 mins., 2022) is a hard-hitting drama about a young girl whose older brother is bullied at school. First-time director Laura Wandel's movie offers universal themes about bullying and the hapless adults running schools (seems like it doesn't matter what country you're in), with Film Movement's DVD including a 16:9 (1.85) transfer with 5.1/2.0 sound (French with English subtitles). Wandel's short "Foreign Bodies" is also included in the disc.
Also New From Lionsgate: "True Blood" alumus Ryan Kwanten plays a hit man with an ailment that scientist Hugo Weaving attempts to decipher in the futuristic thriller EXPIRED (103 mins., 2022, R). Ivan Sen's film co-stars Jillian Nguyen as the singer Kwanten falls for in a movie assembled out of parts from better movies, but does at least offer some visual flair, captured well in Lionsgate's now-available Blu-Ray (2.40, 5.1 DTS MA), sporting a Making Of, the trailer, and a Digital HD code…New on DVD, MY SWEET MONSTER (98 mins., 2021, PG) is a Russian-animated fairy tale that pivots around "Bogey," a quasi-human "king of the wilderness" who teams up with Princess Barbara after she flees her arranged marriage to a dastardly postman. Robotic rats and musical numbers dance around this kid-centric tale, now on DVD from Lionsgate (2.39, 5.1 Dolby Digital).
---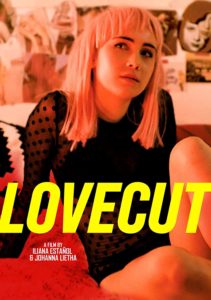 Also New & Noteworthy
DINGO DVD (110 mins., 1991; Dark Star Pictures): The music of Miles Davis and Michel Legrand – along with numerous jazz performers – is the main draw to this unusual, offbeat film from director Rolf De Heer which struggled to find an audience worldwide. Dark Star's DVD captures the widescreen lensing (2.39) of the location shooting which transports viewers on a fairy-tale about a musician (Colin Friels) who heads from the Outback to Paris, hoping to meet his legendary idol (Davis). Dark Star's DVD includes a 16:9 transfer plus 5.1/2.0 stereo.
JACKIE GLEASON TELEVISION TREASURES DVD (aprx. 5 hours; MPI): Jackie Gleason fans should be thrilled with this MPI anthology which packages together a wide swath of materials onto its two DVD platters. Included here is an hour-long "Jackie Gleason Show" crica 1953 with special guest Peggy Lee and all of its original commercials intact. Favorite sketches from Gleason's 1962-66 series "American Scene Magazine" are included with "Honeymooners" sketches as a prime inclusion, while more "Honeymooners" skits are included from the 1966-70 run of "The Jackie Gleason Show." The Jeff Garlin-hosted doc "Genius At Work" (2006) rounds out a superb set.
CLEAN Blu-Ray (93 mins., 2018; IFC Films/RLJE): Adrien Brody is the whole show in Paul Solet's 2018 indie film about a garbage man trying to turn his life – and his broken surrounding community – around when a young girl, reminding him of his daughter, ends up in trouble. This stirs a return to his old, violent ways in an at least compellingly performed film on Blu-Ray May 10th from RLJE (2:4, 5.1 DTS MA).
KIN: Season 1 Blu-Ray (7 hours, 2021; AMC/RLJE): British series finds an Irish family outmanned by an international cartel that attacks them once they engage in a gangland war. While they sustain an endless array of losses in Dublin, they find their family bonds keep them together in a hard-hitting series starring Charlie Cox, Ciaran Hinds, Clare Dunne and Aidan Gillen. This AMC+ series comes to Blu-Ray May 10th from RLJE (1.78, 5.1 DTS MA).
The moving documentary WRITING WITH FIRE (97 mins., 2021) profiles a group of fearless women journalists who maintain Khabar Lahariya, India's only female-led news outlet, and their reporting of issues often related to the country's social and political climate. A strong feature from directors Sushmit Gghosh and Rintu Thomas that's new to DVD from Music Box this month (1.85, 5.1), with the disc also sporting a Making Of, Filmmaker Q&A, and the trailer.
"Ms. Lauryn Hill" is among the producers of Udi Aloni and Ayana Morris' documentary WHY IS WE AMERICANS (102 mins., 2020), a feature-length effort that chronicles Amiri Baraka and his work as a playwright/poet/activist in the city of Newark, New Jersey. A rich family saga in addition to a political commentary, Corinth brings "Why is We Americans" to DVD this month featuring many extras: a NYC premiere Q&A, LA premiere video, post-theatrical film discussion, the trailer, and a Danny Glover deleted scene.
NEXT TIME: Kino Lorber May releases and more! Until then, don't forget to drop in on the official Aisle Seat Message Boards and direct any emails to our email address. Cheers everyone!