Message Board (open 24 hours!)
Twitter - @andredursin (for everything else!)
A trio of new 4K UHD releases highlight Kino Lorber's latest format forays, including a Dolby Vision presentation of David Cronenberg's "Eastern Promises," the Sidney Poitier-Rod Steiger classic "In the Heat of the Night" and Billy Wilder's Oscar winner THE APARTMENT (125 mins., 1960), the brilliantly performed 1960 Best Picture winner that's much more a drama with comedic overtones than a comedy with dramatic passages. Proving equally adept at drama as well as comedy in the film is Jack Lemmon, never better as a clog in the corporate machine who's loaning out his humble Manhattan abode to philandering executives at his workplace – including new boss Fred MacMurray.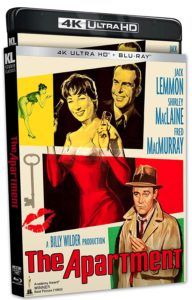 Shirley MacLaine – seldom more appealing – plays the elevator operator Lemmon pines over but tries to forget about once he finds out she's MacMurray's mistress. Circumstances bring them together, but likely not how modern audiences might expect, in a Wilder-I.A.L. Diamond script that's bittersweet and warmly emotional, leading to a satisfying ending. Along the way the movie is anchored by Lemmon's alternately charming and at times surprisingly edgy performance, the actor displaying a full range of emotions as we become invested in his character's plight, hoping he'll finally overcome his reticence and stand up for himself – whether or not he gets the girl.
The movie's settings of 1960 NYC populated with endless rows of office workers nearly comes off today looking like a sci-fi fantasy, but the core relationship between the characters and the sharp dialogue remain firmly contemporary in their appeal. A deserved movie classic, "The Apartment" has endured over the years as a movie buff's favorite, and Kino Lorber's 4K UHD debuts a lovely and detailed B&W scope image with superb clarity. For a comparison of how improved the transfer is compared to previous home video incarnations (spare an out-of-print Arrow Blu-Ray which did offer a remastered 1080p image), one only needs to go as far as Kino's included Blu-Ray, which hails from an older MGM master (it even has windowboxed opening credits) and isn't nearly as satisfying in terms of its level of detail or even framing.
Extras include commentaries by Wilder biographer Joseph McBride and historian Bruce Block, the trailer, and archival "Inside the Apartment" and "The Art of Jack Lemmon" featurettes from older MGM releases. The original mono soundtrack is included along with an effective 5.1 DTS MA soundtrack that channels Adolph Deutsch's serviceable underscore into stereo (the movie's popular central theme was actually a contribution from composer Charles Williams, written for a British drama over a decade prior).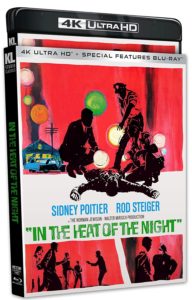 A sure-fire candidate to lead my "Best Discs of 2022" is Kino's magnificent IN THE HEAT OF THE NIGHT (110 mins., 1967), director Norman Jewison's hugely entertaining Oscar winner for Best Picture that here debuts in an essential 4K UHD package. Sidney Poitier brings the expected — yet mostly controlled — fire as Philly cop Virgil Tibbs, who improbably becomes a partner in a small Mississippi town's murder investigation presided over by lawman Rod Steiger. He may be prejudiced but he's not nearly as racist as some of the local-yocals who try and stymy their efforts to uncover the killer of an engineer that leaves his widow (Lee Grant) and a slew of suspects behind. Stirling Silliphant's script works as a sharp character drama capturing late '60s race relations with outstanding performances from both Poitier and especially Steiger, whose cagy sheriff is smarter than he first appears. Credit to Jewison for keeping both actors in check and allowing bursts of emotion that don't get in the way of their otherwise finely modulated performances, ranking with each actor's finest (especially so for Steiger, who deservedly copped the Best Actor Oscar here, and who often was a little over the top elsewhere).
Kino Lorber's irresistible 4K UHD packs in a high bit-rate HVEC encoding of MGM's 4K remaster — a marked improvement on MGM's earlier Blu-Ray — with both a strong 5.1 DTS MA remix and the original mono sound present. If that wasn't enough, a Blu-Ray Double Feature disc is also included with the previously out-of-print Poitier Tibbs sequels, THEY CALL ME MISTER TIBBS! (1970) and THE ORGANIZATION (1971), along with three featurettes reprised from MGM's 2008 "In the Heat of the Night" anniversary DVD. The 4K UHD also contains a new commentary from Steve Mitchell, Nathaniel Thompson and Robert Mirisch, plus the first DVD's commentary sporting archival cast/crew interviews.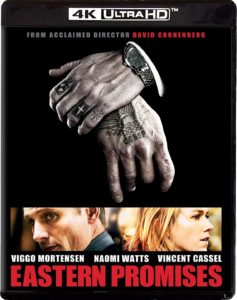 Switching things up is EASTERN PROMISES (101 mins., 2007, R), also debuting from Kino Lorber on 4K UHD this month. Another taut, tense thriller from director David Cronenberg, "Eastern Promises" follows a British midwife (Naomi Watts) in Russia who crosses paths with the local mob, including crime boss Viggo Mortensen, after a young girl dies while in her hospital's care. On the mark performances and an involving pace make "Eastern Promises" a strong companion piece to Cronenberg's "A History of Violence" — it may not be the most emotional or compelling ride, but it's a rock-solid, well-executed contemporary thriller across the board, and one of my favorite films from the director.
"Eastern Promises," which was shot by the great Peter Suschitzky, has always been treated with care on home video, so it's no surprise Kino's 4K UHD presentation with Dolby Vision/HDR10 – supervised by the cinematographer, who also color graded the image – is likewise stellar. Howard Shore's score also comes across well in the disc's DTS MA soundtrack, while interviews include a trio of featurettes with David Cronenberg, and segments with both Naomi Watts and screenwriter Steve Knight. Kino has included a Blu-Ray in the package featuring a 1080p (1.85) presentation of the same new Suschitzky-approved transfer.
New From Code Red: A low-budget horror anthology from 1979, SCREAMS OF A WINTER NIGHT (90/125 mins.) has been fully restored by Code Red in a version preserving a fourth story from James L. Wilson's film that was trimmed before the movie went into wide distribution. That tale involving a tree witch has been optionally reinserted into the film alongside its more familiar PG-rated, theatrical version in Code Red's Blu-Ray, which goes into wide distribution this month through Kino Lorber for the first time after limited-edition 2019 pressings became a hot commodity on the secondary market. This 2K scan (1.78) from the original 16mm camera negative looks superb with the trailer and an interview with co-star Gil Glasgow included on the supplemental end…Italian director Fernando Di Leo's '70s crime thrillers have generated a fair amount of admirers over the years, but his penultimate film, the dismal jungle action flick THE VIOLENT BREED (91 mins., R), is a sad late effort from the prolific filmmaker. Henry Silva, Harrison Muller and Woody Strode are former Vietnam vets who find themselves on opposite sides of Southeast Asia smuggling in a cheaply made – and very thrifty-looking – piece of Italian exploitation that Cannon later picked up for distribution. Still, don't be fooled into thinking this is a goofy Golan-Globus genre exercise from the '80s – it's a badly dubbed and tedious effort Code Red has resurrected here for Blu-Ray with what looks like a rough looking print (1.85, DTS MA mono) as its source.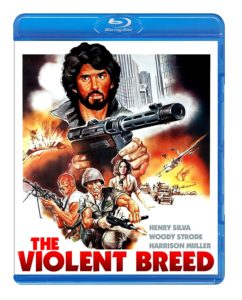 Code Red also brings back the age of the '70s sex comedy with not one but two "sex-ploitation" affairs from early in the decade. DAGMAR'S HOT PANTS, INC. (95 mins., 1971, R) stars Diana Kjaer as a Copenhagen call girl running her own business, who decides to hang it up – but not until she visits all her clients and assorted friends for a final goodbye (1.66, DTS MA mono, 2K remaster with the trailer). Meanwhile, long before writing the likes of "Down and Out in Beverly Hills" and "Moon Over Parador," Leon Capetanos co-directed – alongside future "Cujo"/"Alligator" helmer Lewis Teague – DIRTY O'NEIL (90 mins., R, 1974), the touching story of a policeman (future "Blade Runner" co-star Morgan Paull) who enjoys his time cavorting with local women and coaching girls basketball. Art Metrano – later a veteran of the "Police Academy" films – also appears in this cult relic from the mid '70s, preserved by Code Red with a new 2K master (1.85) and the trailer.
Finally, back in 2nd grade, I recall urging my Mom to let me stay up late and watch the ABC Sunday Night Movie STARFLIGHT: THE PLANE THAT COULDN'T LAND (115 mins., 1983) seeing as it had an exciting sci-fi premise and Lee Majors, inbetween "The Six Million Dollar Man" and "The Fall Guy," playing the pilot of a new "hypersonic jet" that can attain breakneck speeds for its passengers just outside the Earth's atmosphere. Unfortunately a number of circumstances turn Starflight One's maiden voyage into a nightmare – including the hiring of director Jerry Jameson, who must've been picked based on his work with "Airport '77" but fails to bring even that sequel's level of excitement to a shockingly glum, lifeless TV-movie redeemed only somewhat by John Dykstra's competent special effects.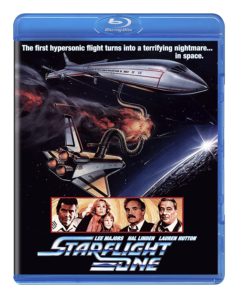 Majors leads a predictably "all-star cast" but the Robert Malcolm Young script is less interested in the fantastic than a sleepy Majors having to choose between his wife (Tess Harper) and girlfriend (Lauren Hutton), while Hal Linden is onboard as the designer trying to guide the nearly-helpless Starflight One back to Earth. Robert Webber, Ray Milland (of course), Michael Sacks, Gail Strickland, future "Bernie" Terry Kiser and even Marlon Brando's sister Jocelyn appear – but the movie is DOA in terms of the fun factor, even down to Lalo Schifrin's uninspired score.
A new 2K master (framed in 1.66; note the movie was apparently theatrically released to some European markets) is on-hand in Code Red's Blu-Ray plus a trailer. As for my 2nd grade self, I was able to watch some of "Starflight" before my parents felt it wasn't worth it and sent me off to bed – luckily, they would relent and let me stay up for all of (the far, far superior) "V" once it aired on NBC just a few months later!
Sci-fi fans should be highly motivated to pick up Kino's EDGAR G. ULMER SCI-FI COLLECTION, which includes a trio of modestly-budgeted films from the prolific director, who kicked off his career with Universal's 1934 version of "The Black Cat" but mostly stayed a hair outside the studio system, producing many imaginative films – even with limited resources at his disposal. This Blu-Ray package, licensed through MGM, includes three of Ulmer's efforts, most notably the highly regarded THE MAN FROM PLANET X (71 mins., 1951), a UA-released Saturday Matinee affair about an alien invader planning on beginning his global conquest for world domination in a small Scottish village. Also included here is BEYOND THE TIME BARRIER (75 mins., 1960), which stars "Planet X's Robert Clarke as an Air Force pilot propelled into the year 2024, where he encounters a Wells-like underground city. The triple feature concludes with the slender THE AMAZING TRANSPARENT MAN (58 mins., 1960), which finds a safecracker turning invisible and driven mad by his exposure to radiation. Kino's MGM licensed B&W transfers (1.85 except for 1.37 on "Planet X") are all strong and a swath of insightful commentaries include three discussions on "Planet X," one featuring Tom Weaver, David Schecter and Joe Dante, with another sporting Gary Rhodes and Ulmer's daughter Arianne Ulmer Cipes, and a third from historian Richard Harlan Smith; Weaver, Schecter and Rhodes again on "Time Barrier"; and David Del Valle on "Transparent Man." Trailers put the cap on a must-have for '50s genre buffs.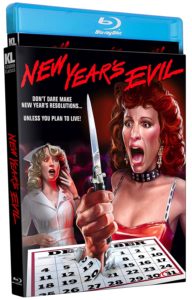 NEW YEAR'S EVIL Blu-Ray (86 mins., 1980, R): Standard-issue '80s slasher from the Cannon Group ought to appeal strictly to undemanding horror aficionados thanks to its no-nonsense direction and score from "In Search Of…" composers W. Michael Lewis and Laurin Rinder. Alas, that's pretty much all there is to say about this mostly tedious slasher that has precious little to distinguish it from the bulk of its genre brethren being produced around that time. Nostalgic genre buffs – and fans of "Happy Days"' Pinky Tuscadero, Roz Kelly (who stars) – might get a kick out of Kino Lorber's Blu-Ray effort just the same, with a brand-new 2K master (1.85) debuting here and offering warm colors and good detail. Kino Lorber's new disc also reprises extras from the out-of-print Scream Factory release, which included an underwhelming commentary with director Emmett Alston, a Making Of retrospective sporting interviews with co-star Kip Niven, cinematographer Thomas Ackerman and other crew members; the trailer; a DTS MA mono soundtrack; and slipcover featuring newly commissioned artwork.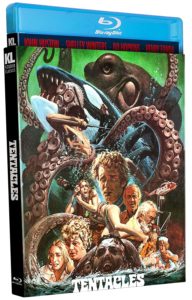 If the likes of "Orca," "Grizzly" and "Day of the Animals" were up your alley, don't miss TENTACLES (101 mins., PG), the 1977 "Jaws" rip-off with a slumming John Huston, Shelley Winters and Henry Fonda trying to remain calm while a giant octopus stalks a quaint seaside community. This AIP/Italian co-production – mostly shot in California – is hilarious fun, with solid underwater photography and some dubious dubbing making for a spicy cinematic seafood entrée, especially for devotees of "Jaws" cash-ins. Claude Akins and Bo Hopkins co-star with Stelvio Ciprani providing an appealingly ""70s" score. Previously part of a discontinued Scream Factory Blu-Ray double-bill with the Danish monster opus "Reptilicus," Kino Lorber's Blu-Ray includes what seems to be the same MGM master of "Tentacles" – itself comprised of the longer Italian release print (2.35), running over 10 minutes longer than the U.S. version, and backed by full stereo sound. The trailer and radio spots round out the release along with another collectible slipcover.
Available for the first time in a standalone Blu-Ray double feature are the memorable Vincent Price "Dr. Phibes" chillers produced for American-International, THE ABOMINABLE DR. PHIBES (94 mins., 1971, PG-13) and its inferior – if still entertaining – sequel, DR. PHIBES RISES AGAIN (89 mins., 1972, PG). Camp humor and a ghoulishly romantic story line — with Phibes attempting to bring his dead wife back to life — run through each picture, a pair of films Price fans usually rank with his more entertaining '70s efforts. Both films (1.85, mono) have been included here along with several commentaries by historian Justin Humphreys (both entries), Tim Lucas ("Rises Again"), and director Robert Fuest ("Abominable").
GRAND SLAM Blu-Ray (119 mins., 1967, PG): Italian imports were bountiful throughout the '60s and '70s, often times with American stars appearing to lend some box-office appeal to English speaking audiences. Janet Leigh and "Special Guest Star" Edward G. Robinson qualify among the latter in this agreeable 1967 caper that finds a team of criminals attempting to steal $10 million in diamonds from a Rio vault. Robert Hoffman, "Thunderball"'s Adolfo Celi and a young Klaus Kinski lead the ensemble cast in a flavorful outing from director Guliano Montaldo that's more serious and suspenseful than other genre excursions made during its era. Though the movie drags a little in its second half, the last scene is a hoot, and Ennio Morricone's lighthearted score another plus. Kino Lorber's Blu-Ray (2.35, mono) includes a new commentary from Howard S. Berger, Steve Mitchell and Nathaniel Thompson; the image looks quite good despite the source elements looking a little rough at times ("Grand Slam," while domestically released by Paramount, was licensed through its Italian distributor).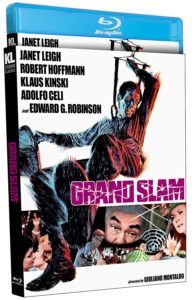 Rock Hudson Double Bill: A pair of Rock Hudson comedies from his heyday at Universal have recently debuted on Blu-Ray from Kino Lorber.
Howard Hawks tried to rework "Bringing Up Baby" and some of his other classics for the non-classic – but still enjoyable – MAN'S FAVORITE SPORT? (120 mins., 1964), which pairs Hudson as a fishing tackle salesman who's all surface knowledge. When he has to enter an actual competition, the gig is up – at least unless Hudson and press agent Paula Prentiis can turn him into an expert overnight. With the stars' chemistry and Henry Mancini's score, "Man's Favorite Sport?" is entertaining yet the bulky two-hour run time drags out the inevitable a lot longer than it should have. Comments from Prentiss and husband Richard Benjamin are incorporated into Michael Schlesinger's commentary, while the Universal 1080p (1.85) master offers nice detail and color.
Hudson followed up "Man's Favorite Sport?" with the more briskly paced rom-com STRANGE BEDFELLOWS (98 mins., 1965), which boasts scenic European location shooting and a fluffy Panama-Frank comedic plot involving American executive Hudson and his rocky relationship with Italian wife Gina Lollobrigida. Gig Young, Edward Judd and "Guest Star" Terry-Thomas enliven a predictable yet genial Universal concoction typical of its star's efforts from the era. Kino Lorber's Blu-Ray boasts another solid Universal catalog master (1.85, 2.0 DTS MA mono) with the trailer and a new commentary by historian Eddy Von Mueller.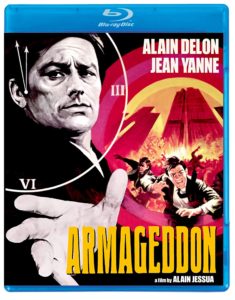 More vintage comedy is on-tap in Universal's 1939 pairing of W.C. Fields and Edgar Bergen, YOU CAN'T CHEAT AN HONEST MAN (79 mins.). Fields plays a circus ringmaster fleeing from creditors when he meets up with Bergen, who brings his creations Charlie McCarthy and Mortimer Snerd as well onto the big-screen. This is universally admired as one of Fields' best comedies and the film has been treated to a new 2K master (1.37 B&W) from Kino Lorber this month, the disc offering an abundance of Golden Age comedy with the trailer and a new commentary from historian Michael Schlesinger. Two other titles are new from Kino spotlighting the legendary comic: YOU'RE TELLING ME (66 mins., 1934) boasts a new 2K master in a looser Pre-Code comedy co-starring Adrienne Ames and Larry "Buster" Crabbe (1.37 B&W, with a vintage "Wayne and Shuster" doc), while MAN ON THE FLYING TRAPEZE (66 mins., 1935) features Fields as a beaten-down husband who just wants an afternoon off to watch a wrestling match. Hilarity ensues in this Paramount release (1.37 B&W, with the same "Wayne and Shuster" doc), again presented in a fine 2K Universal remaster.
The latest entry in Kino Lorber's popular noir anthologies, FILM NOIR: THE DARK SIDE OF CINEMA VI, includes three genre exercises from the late '40s and early '50s. Fred MacMurray falls for Ava Gardner while in pre-war SINGAPORE (1947) before losing her during a Japanese attack; Howard Duff, Dan Duryea and Shelley Winters cross paths in JOHNNY STOOL PIGEON (1949); while a few years before he became a horror impresario, William Castle helmed Richard Conte and Stephen McNally in the Bay Area gangster saga THE RAGING TIDE (1951). All three Universal licensed titles have been newly remastered with 2K transfers (1.37 B&W), trailers, and commentaries by historians Kat Ellinger and Lee Gambin ("Singapore"), Jason A. Ney ("Johnny Stool Pigeon"), and David Del Valle and Miles Hunter ("Raging Tide").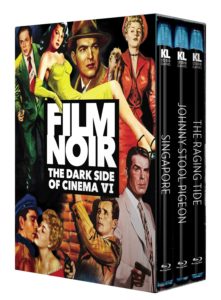 Foreign Thrillers: Two French thrillers from the mid '70s premiere in HD this month, both licensed through Studio Canal.
Alain Delon and Jean Yanne star in Delon's own production, ARMAGEDDON (93 mins., 1977), a suspense-thriller about a deranged repairman (Yanne) whose terrorism makes him a popular name with the mass media covering his every move. Delon is the INTERPOL psychologist trying to nab him in a Alain Jessua-helmed picture premiering on Blu-Ray (1.66, DTS MA mono) with the trailer and a commentary from Howard Berger, Steve Mitchell and Nathaniel Thompson.
Jean-Paul Belmondo, meanwhile, plays a man framed for murder and just out of prison after seven years in THE BODY OF MY ENEMY (121 mins., 1976). Returning to the home town where he once romanced a textile baron's daughter (Marie-France Pisier), Belmondo looks for revenge in a nicely shot slice of suave Parisian character-driven tension capped by a fine Francis Lai score. Kino Lorber's Blu-Ray (1.66, DTS MA mono) includes another commentary from Berger, Mitchell and Thompson, and like "Armageddon," is now available.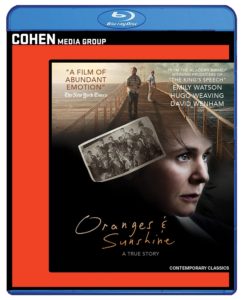 Also on Blu-Ray: In director Jim Loach's ORANGES & SUNSHINE (106 mins., 2010), Emily Watson gives a marvelous performance as a UK social worker who uncovers how thousands of UK children were sent abroad to Australia, many for lives lived in misery, before Watson's Margaret Humphreys worked tirelessly to reunite them. Loach's sensitive, moving and well-acted film debuts on Blu-Ray from Cohen Film Collection featuring a 1080p AVC encoded transfer (2.39, 5.1/2.0 DTS MA) with a Making Of and trailers included. Also new this month from Cohen are Val Guest's thriller JIGSAW (108 mins., 1962), an adaptation of Hillary Waugh's "Sleep Long, My Love," shot in attractive scope B&W (2.39, mono); and MY AFTERNOONS WITH MARGUERITTE (83 mins., 2010), a nicely acted French drama pairing Gerald Depardieu and Gisele Casadesus (2.35, 5.1/2.0, French with English subtitles).
Dominik Graf's acclaimed German import FABIAN: GOING TO THE DOGS (185 mins., 2021) debuts on Blu-Ray this April from Kino Lorber. This adaptation of Erich Kastner's book showcases the debauchery of pre-Nazi Germany as it follows an advertising worker and his relationship with an aspiring actress – all before layoffs sweep through Berlin in 1931 and plunge its lead character into despair. A commentary from critic Olaf Moller is included in Kino Lorber's Blu-Ray (1.33, 5.1/2.0 German with English subs)…New Kino Classics Blu-Ray releases this month include Joe May's silent adventure epic THE INDIAN TOMB (242 mins.), a serialized fantasy co-scripted by Fritz Lang, and restored here in a HD master (1.33, color tinted, German intertitles with English subs) with a visual essay on the picture from David Cairns and Fiona Watson; two works by Hungarian director Miklos Jancso, THE ROUND-UP & THE RED AND THE WHITE (1966-67), pay tribute to the "master of the tracking shot," with each feature presented in 2.35 widescreen with ample special features (commentaries, assorted shorts from Jancso shot between 1953-86); and James Blue's THE OLIVE TREES OF JUSTICE (81 mins., 1962), the only narrative feature from the acclaimed documentarian, shot in Algiers and presenting a dramatic depiction of the country's war for independence (1.66, with Blue's "Amal" [1960] presented as a bonus feature).
The Italian television production ROCCO SHIAVONE: ICE COLD MURDERS (615 mins., 2017) debuts on Blu-Ray in a Season 1 box-set from Kino Lorber. The series offers Marco Giallini in the lead role — an irascible detective (aren't they always?) exiled from Rome and assigned to Aosta, an Alpine tourist town with a bevy of offbeat cases for him to decipher. Kino Lorber's four-disc Blu-Ray includes 1080p (1.78) AVC encoded transfers with 5.1/2.0 Italian audio and English subtitles…the offbeat MOON MANOR (103 mins., 2018) is Erin Granat and Machete Bang Bang's life-affirming film about death, following an elderly man, suffering from Alzheimer's, and his "FUNeral", which celebrates life in the face of darkness. A 1080p (1.78) transfer, 5.1/2.0 sound, and assorted bonus features make this a recommended view for art-house fans.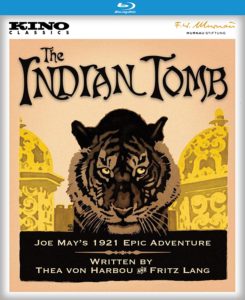 New on DVD: BRIGHTON 4th (85 mins., 2021) features actual Olympic champ wrestler Levan Tediashvili playing a similar role: an ex-wrestler who leaves the Republic of Georgia to visit his son in a Russian neighborhood of Brighton Beach, Brooklyn, where he's accumulated a gambling debt to a local crime boss. Phedon Papamichael lensed Levan Moguashvili's film, now on DVD (2.39, 5.1/2.0)…ROCK HUDSON'S HOME MOVIES (63 mins., 1992) was an early '90s "visual essay" offering archival clips from the Hollywood star's great career, interspersing appearances by Eric Farr whose various winks and asides highlight the gay subtext beneath said scenes. Mark Rappaport's film (1.33) is joined here on DVD by Kino with four additional segments from the director, ranging in length from 10 to 60 minutes, culled from 1971-2019.
Another worthwhile "inside Hollywood" effort by Rappaport debuts on DVD from Kino Classics: FROM THE JOURNALS OF JEAN SEBERG (97 mins, 1995) stars Mary Beth Hurt as the actress in a compelling filmization of her life, rise to stardom and sad demise. Three other biographical segments by Rappaport are also included here on DVD (16:9, 2.0 stereo) including "Debra Paget, For Example," "Becoming Anita Ekberg," and "Anna/Nana/Nana/Anna."
---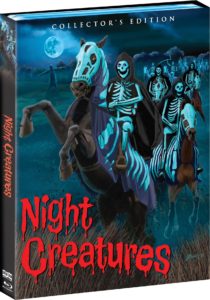 New From Shout! Factory
Known internationally as "Captain Clegg" but as NIGHT CREATURES (83 mins., 1962) in the U.S., this merely serviceable Hammer production sounds a lot more exciting than it actually is. Patrick Allen plays a British naval captain sent to the small coastal village of Dymchurch where reports of smuggling and "Marsh Phantoms" have sent locals into a tizzy. There, he investigates tales of old pirate Captain Clegg and meets a village parson (Peter Cushing) who knows more than he's letting on.
John Elder's script "remixes" parts of the "Dr. Syn" character for this Hammer-ized production that, under Peter Graham Scott's direction, doesn't quite live up to the level of entertainment that its premise promises – nor is it as entertaining as Disney's "Dr. Syn" adaptation, "The Scarecrow of Romney Marsh," which followed in 1963. Still, the appearances of Cushing and a young Oliver Reed will provide appeal for Hammer fans nostalgic for the picture, which was previously released on Blu-Ray as part of Universal's "Hammer Film Collection" box-set.
Shout's Blu-Ray debuts an improved 2K scan from the interpositive (2:1, DTS MA mono) with am exclusive commentary from historian Bruce Hallenbeck and all-new interviews. These include a talk with critic Kim Newman and another conversation with historian Jonathan Rigby – both frequent commentators on Hammer home video releases – along with FX artist Brian Johnson. There are also vintage extras including a Hammer Making Of, the trailer, stills gallery, and "The Mossman Legacy" featurette.
---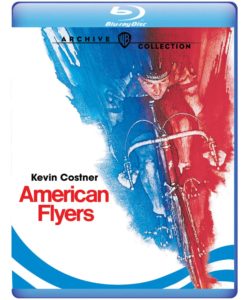 Warner Archive New Releases: Vintage Costner
Kevin Costner's appearance on the mega-hit series "Yellowstone" has led to something of a renaissance for older movies featuring the star – and in the case of Warner Archive's newest April releases, two vehicles featuring Costner that, along with "Silverado," helped cement 1985 as the actor's breakout year, not that either film is anything to write home about.
That especially applies to AMERICAN FLYERS (112 mins., 1985, PG-13), a late August '85 Warner Bros. release that didn't make much noise at the box-office, despite hailing from the prolific – and usually pretty dependable – director John Badham, along with "Breaking Away"'s Oscar-winning writer Steve Tesich, who here returns to the same sport of competitive cycling – with decidedly less successful results.
The relentlessly contrived script throws much at the viewer in the opening minutes: no sooner does close-to-school dropout David Grant reconcile with his estranged doctor brother Costner than he announces he's suffering from a cerebral aneurysm, one that also claimed the life of their father. Meanwhile Costner harbors much angst against their mother (Janice Rule) for her behavior over the last few weeks of Dad's life, while Costner and Grant decide to take on a hellish bike race, the "Hell of the West," at any cost to the latter's failing medical condition.
With its pulsating, song-heavy soundtrack, slick cinematography, and a serious case of the cutes in terms of humor, "American Flyers" comes off like a pre-packaged slice of mid '80s escapism in every way. Still, the telling late Summer "dumping grounds" release date speaks volumes about the finished product: despite the settings and Don Peterman's scope cinematography, the movie is unbelievable and strained, minus any of the charm Tesich brought to "Breaking Away." Badham's direction seems to overplay its hand also, coming off as too calculating and commercial – maybe a lower-keyed, character-driven approach may have slightly helped to sell the material, which is far too melodramatic for its own good.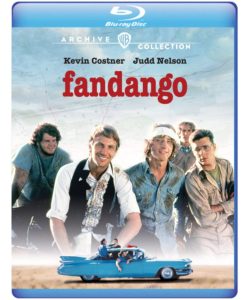 Warner Archive's Blu-Ray does boast an attractive 1080p (2.4:1) transfer that does help to sell its most attractive asset, with DTS MA stereo audio and the trailer also on-hand.
Although it didn't cruise out to a nationwide release, FANDANGO (91 mins., 1985, PG), which Warner opened early in 1985, is a far superior film: writer-director Kevin Reynolds' debut picture that's a long, long way from his subsequent cinematic sojourns with star Costner, including the hugely expensive "Robin Hood: Prince of Thieves" and "Waterworld."
This is a funny and at times moving "little" movie – about a handful of college roommates striking out for one last hurrah across Texas in the spring of 1971 – that mixes humor and sentiment mostly successfully. Costner, Judd Nelson and Sam Robards lead the cast in this Amblin production which also offers an Alan Silvestri score and plenty of laughs – it's uneven but very entertaining and "personal" in a way that completely eludes "American Flyers."
Also debuting on Blu-Ray this month from Warner Archive, "Fandango" receives a perfectly serviceable 1080p (1.85) transfer here with 5.1 DTS MA sound and the trailer.
---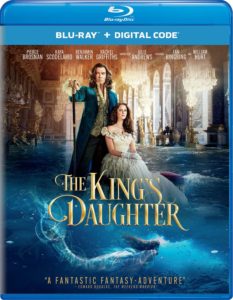 Also New & Noteworthy
THE KING'S DAUGHTER Blu-Ray (98 mins., 2021 [2014], PG; Universal): Fairy-tale fantasy was shot in 2014 and has been on the shelf ever since. The end result, which finally ended up being unveiled last January, is a wan adaptation of Vonda N. McIntyre's book "The Moon and the Sun" about King Louis XIV's (Pierce Brosnan) attempts to find immortality by way of a captured mermaid (Fan Bingbing) and his own orphaned daughter's (Kaya Scodelario) rebellious antics. Originally slated to have been a Jim Henson Company production, "The King's Daughter" bounced around until it landed as a Chinese co-production with Paramount scheduled to distribute – all the way back in 2015. That release never happened, and the film lay dormant for literally years – the end result, predictably, isn't as compelling as its backstory, being an awfully benign film, co-scripted by James Schamus (who reportedly wrote a draft when the movie was once envisioned as a Natalie Portman vehicle at Disney) and featuring a capable cast that also includes William Hurt, Benjamin Walker, and narration from Julie Andrews. Nevertheless, young kids might enjoy the film, and the ensemble-composed score (Joseph Metcalfe, John Coda and Grant Kirkhope are credited) is actually quite pleasant as well. Universal's Blu-Ray (2.39, 5.1 DTS MA) is out April 19th sporting a deleted scene, featurette, and Digital HD copy.
CYRANO Blu-Ray (123 mins., 2021, PG-13; Universal): Joe Wright reworks another classic in the form of "Cyrano," utilizing Erica Schmidt's stage musical for a slightly offbeat adaptation of the oft-told Edmond Rostand "Cyrano De Bergerac." Peter Dinklage gives a valiant effort as the starstuck romantic in love with the woman (Haley Bennett) he can never have, but there's something disconnected about the whole enterprise — including a rather mundane score — that keeps one at arm's length despite its pleasingly lush visual trappings. Universal's Blu-Ray (2.39, 7.1 DTS MA) includes a Making Of and a digital copy.
CSI VEGAS: Season 1 DVD (7 hours, 2021; CBS): The fifth entry in CBS' hugely-successful "CSI" series is set on the streets of Las Vegas, where a new team is assembled under the guidance of old pros William Petersen and Jorja Fox, whose characters head out of retirement to give their blessing to another year of the franchise's well-established formula. Likely cut short due to COVID I'd imagine, this abbreviated Season 1 of "CSI Vegas" debuts on DVD this month from CBS featuring 16:9 transfers, 5.1 soundtracks, deleted scenes, and a trio of behind-the-scenes featurettes.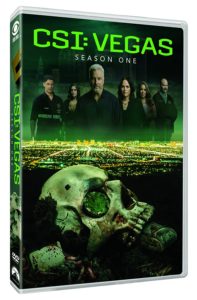 GIRL ON A CHAIN GANG Blu-Ray (95 mins., 1966; The Film Detective): The Film Detective and Something Weird Video team up to resurrect this 1966 exploitation film with a premise – after taking a "wrong turn," a trio of young civil rights workers are ceremoniously arrested and jailed by slimy Southern cops – that would be reprieved in many a B-tier movie throughout the rest of the decade and into the 1970s. "Girl on a Chain Gang" was a product of prolific exploitation writer Jerry Gross, who also helmed the film on a thrifty budget – on-location in Long Island! – but this is not "Mississippi Burning" but a sleazy slice of low-budget drive-in fare from its time. For those interested, The Film Detective's disc (1.37) includes a commentary with author Jennifer Churchill; an essay on the movie from Lisa Petrucci; and a segment from historian Chris Poggiali on Gross' career.
V/H/S/94 Blu-Ray (104 nins., 2021, Not Rated; RLJE): The latest anthology in the "VHS" series turns the clock back to 1994 to give off a "Stranger Things" type vibe – kinda – as directors Jennifer Reeder, Chloe Okino, Simon Barrett, Timo Tjahjanto, Ryan Prows and Steven Kostanski each contribute their own short movie – each connected to the central premise of a British SWAT team uncovering a dusty VHS tape with footage of a cult compound. Fans of the previous V/H/S entries should take to this Shudder original movie, on Blu-Ray (1.78, 5.1 DTS MA) this week from RLJE sporting plenty of special features: a behind-the-scenes featurette, commentary, deleted scenes, Visual FX featurettes, a Comic Con panel and plenty more.
NEXT TIME: New Releases from Arrow and more! Until then, don't forget to drop in on the official Aisle Seat Message Boards and direct any emails to our email address. Cheers everyone!