Message Board (open 24 hours!)
Twitter - @andredursin (for everything else!)
Regrettably, the big-screen antics of Remo Williams began and promptly ended with REMO WILLIAMS: THE ADVENTURE BEGINS… (121 mins., 1985, PG-13; Kino Lorber), the big-budget Orion adaptation of the popular "Destroyer" novels by Richard Sapir and Warren Murphy, here adapted by veteran James Bond series writer Christopher Wood ("The Spy Who Loved Me") and director Guy Hamilton ("Goldfinger").
Fred Ward plays the title character, a NYC cop – left for dead – who undergoes plastic surgery and becomes a super-hero tutored in the ways of the martial arts by Korean master Joel Grey (under lots of make-up in a terrific performance). Remo's job is to stop a ruthless billionaire bent on taking over the world — in other words, your typical '80s bad guy – but the real sparks are provided by Grey's sage, all-knowing combat instructor, who spars with our hero in a handful of memorable training sequences.
Powered by Craig Safan's thunderous, rousing score, "Remo Williams" is a standard '80s action movie that remains memorable because of the performances of – and interplay between – Ward and Grey. They fit so perfectly together as a crime-fighting tandem that it's a shame future installments weren't made (a failed TV pilot did surface in 1987 with Roddy McDowall in the Grey role), even if its pedigree suggested more of a sensational ride. Moments here and there spark some excitement – such as a chase sequence in and around a Statue of Liberty clone, reproduced in Mexico – but too much of the film feels flabby and undernourished.
Still an entertaining enough piece of mid '80s escapism and an enduring cult favorite, Kino Lorber brings "Remo" back to Blu-Ray in the U.S. following Twilight Time's out of print 2016 release. This is a virtual reprise of that disc in terms of its transfer (same 1.85/2.0 MGM master) and much of its supplements, themselves different than Arrow's overseas Blu-Ray edition. These include 2016-conducted interviews with producers Larry Spiegel and Judy Goldstein ("Unarmed and Dangerous: Producing 'Remo Williams'"); production designer Jackson DeGovia ("Balance of Power: Designing 'Remo Williams'"); composer Craig Safan ("Assassin's Tune: Composing 'Remo Williams'"); a brief interview with Joel Grey ("Secrets of Sinanju: Training 'Remo Williams'"); and Devin Murphy, son of the late novelist Warren Murphy, who talks about his father's books and the resulting film version. Coming over from the Arrow release is a commentary featuring Spiegel and Goldstein (replacing the Twilight Time group commentary) while a trailer, radio spot and collectible slipcover round out the disc – recommended especially for fans who missed the earlier BD release(s).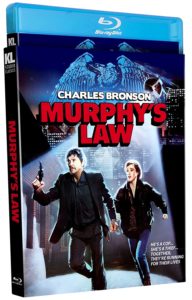 Another Kino Lorber release that follows a sold-out Twilight Time release, MURPHY'S LAW (100 mins., 1986, R) was one in an endless stream of cop-thrillers Charles Bronson produced for Golan-Globus' Cannon Group and director J. Lee Thompson in the '80s. This one, thankfully, stands out a bit from the crowd, thanks to Kathleen Wilhoite's debut performance as a streetwise thief who becomes (literally) attached to cop Bronson while he's forced on the run after a psycho (Carrie Snodgress) starts exacting revenge for his role in her being put behind bars.
The mob and crooked cops are also hot on his trail in an effective outing that really works through the chemistry of Bronson and Wilhoite, suggesting that many of Chuck's sleepy later vehicles (especially those made after "Murphy's Law") may have been enlivened by pairing him with a younger lead. As it is, "Murphy's Law" is at least superior action fodder for Bronson fans, and Kino Lorber's Blu-Ray again repurposes the same, existing MGM master (1.85, 1.0 DTS MA mono) sporting a commentary with the bubbly Wilhoite and the late Nick Redman, detailing her work on not just this picture but her entire career. New to this release is an interview with co-star Robert F. Lyons on his Cannon work, plus two radio spots and the trailer.
12 ANGRY MEN Blu-Ray (117 mins., 1997, PG-13): William Friedkin directed this 1997 cable-TV remake of Reginald Rose's story, previously brought to the screen as a Sidney Lumet-helmed 1957 classic as well as an hour-long TV adaptation that preceded it. Rose himself updated the material for this unnecessary and yet still effective '90s version which features a powerhouse cast: Jack Lemmon, George C. Scott, a pre-"Sopranos" James Gandolfini, Dorian Harewood and Mykelti Williamson, who's excellent here as the angriest of the title ensemble.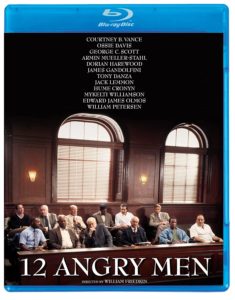 Friedkin's direction stays out of the way for the most part, and concludes with a gorgeously lush rendition of Kenyon Hopkins' original Lumet version theme by Charlie Haden. Kino Lorber's Blu-Ray features both 1.78 and 1.33-framed transfers of the film – surprisingly, even though this was produced for TV, the 1.78 version isn't cropped at all, and opens up the left and right-hand edges without losing any pictorial information on the top and bottom. The DTS MA stereo audio is also fine.
THE FINAL OPTION [WHO DARES WINS] Blu-Ray (125 mins., 1982, R): Exciting British production of another Reginald Rose screenplay features "Professionals" UK TV star Lewis Collins as an uncompromising SAS captain tasked with tracking down an environmental terrorist, effectively played by Judy Davis, whose group eventually raids the U.S. Embassy in London, taking hostages and demanding anti-nuclear action.
Dismissed by lefty critics for its decidedly righty politics, "The Final Option" – more commonly known overseas under its original title, "Who Dares Wins" – is an interesting fusion of old-fashioned formula entertainment with R-rated action, and is graced by a terrific cast: Davis is striking in an early turn, while veteran support is chipped in by Edward Woodward, Robert Webber, Ingrid Pitt and Richard Widmark. Roy Budd's score is also an asset to an early '80s action movie that's comic-book in its own way yet predates more heavy-handed genre exercises like "Rambo" with a developed story and use of UK location filming.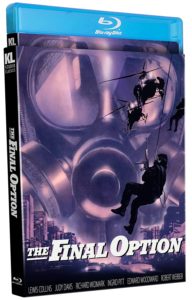 Released by UA in the United States, "The Final Option" was previously issued in a Shout double-feature, and receives its first solo format sojourn here. Kino Lorber's transfer (1.85) hails from the same MGM master but boasts a higher bit-rate, with extras carried over from the Arrow UK release, which featured a different master from inferior source material: a commentary from director Ian Sharp and producer Euan Lloyd; a documentary on Lloyd's career; radio spots and a pair of theatrical trailers.
Now available in a standard Blu-Ray edition – based off the same 4K restoration as its stellar UHD from last fall – is Philip Kaufman's acclaimed remake of the '50s Don Siegel sci-fi classic INVASION OF THE BODY SNATCHERS (115 mins., 1978, PG). This picture hasn't aged quite as well as its predecessor, in part because of its bleak '70s ending – a "gotcha" moment that works best the first time around as opposed to repeat viewing. Still, while I feel there's a tendency to over-rate Kaufman's film, it's nevertheless a compelling, intelligently presented version of the Jack Finney tale, with Donald Sutherland starring as a Bay Area health inspector who begins to wonder what's going on with the body-switching paranoia overcoming the region.
In fact, the entire lead-up to the invasion is more interesting than what comes afterwards – the casual way the pods invade, with Kaufman and Richter conveying the shift in civilization through changes in peripheral characters and general human reactions (and eventually, the lack of them), makes the first hour of the film more compelling than the pursuit-oriented section that follows, one that culminates in an unsatisfying, nihilistic stinger than has less in common with Finney's original story than it does the "downer" climaxes of many '70s horror films.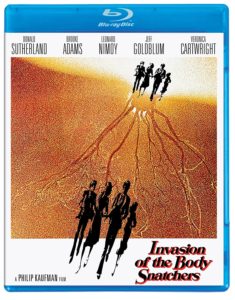 Still one of the more popular sci-fi/horror films in the MGM library, this 1978 UA release has been issued by a number of different labels over the years, but never as satisfyingly as Kino Lorber's 4K UHD from last November. This standalone Blu-Ray edition is based off the same 4K scan of the Interpositive as its UHD and boasts multiple audio options: specifically 5.1 and original theatrical 2.0 DTS MA mixes, the latter pleasingly "airy" and directional throughout. While not featuring the benefit of the UHD's Dolby Vision HDR, this is still a superior presentation for Blu-Ray owners than previous format transfers for the movie, and since Philip Kaufman himself was involved here in approving and color grading the image, it carries a great deal of legitimacy over some of these more "revisionist"/"contemporary" 4K transfers we've seen of certain catalog films.
The disc boasts Kaufman's archival commentary and Steve Haberman's Shout commentary, while supplements are carried forth from the Shout and Arrow UK releases. These include the 2016 Shout featurettes and interviews with Brooke Adams and co-star Art Hindle, plus W.D. Richter, Denny Zeitlin, and sound designer Ben Burtt. Richter's conversation is arguably the most notable, with the writer discussing how the film was initially set in a small town (like Finney's story and the Siegel film) before Kaufman opted to change it to San Francisco very late in the game. Richter also talks of Nimoy's reclusiveness, collaboration with Sutherland and how the film's ending – a surprise to the cast and crew – came about. These interviews are included along with an array of trailers, TV and radio spots.
F/X (109 mins., 1986, R) – F/X 2 (108 mins., 1991, PG-13) Blu-Ray Double Feature: Kino Lorber brings back their Blu-Ray of "F/X" (1986) along with its less successful 1991 sequel for a slipcover-adorned Double Feature – well worthwhile even if the first part of the cinematic equation is stronger than its follow-up.
In particular, the belated follow-up to "F/X" – which was one of Orion's more notable hits – was mostly received as being too little, too late. Five years after the original "F/X," Orion brought back stars Bryan Brown and Brian Dennehy as special effects designer Rollie Tyler and detective Leo McCarthy, respectively, for a breezy if contrived follow-up. The sequel's script, penned by Bill Condon, finds Rollie working as a gadget designer who's lured back into helping the police capture a serial killer – when it all goes wrong, he has to call on old pal Leo to help him out in a film directed by Aussie filmmaker Richard Franklin, whose erratic American output previously included "Psycho II" and "Cloak and Dagger." Brown and Dennehy's chemistry remains the vital ingredient in "F/X 2," which failed to generate the same commercial or critical success as director Robert Mandel's far more satisfying 1986 predecessor, but it's not an unappealing film with a pleasant Lalo Schifrin score and a game supporting cast, including a fresh off "Total Recall" Rachel Ticotin.
Kino Lorber's Blu-Ray houses the same, competent MGM masters (1.85, 2.0 DTS MA stereo) as their previous format releases plus trailers, archival featurettes, and an interview with "F/X" 1 director Mandel. Strongly recommended if you missed the previous, out-of-print disc of the first (and best) "F/X."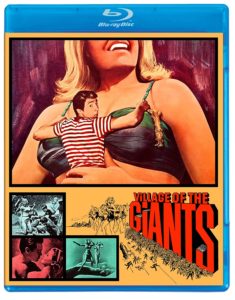 VILLAGE OF THE GIANTS Blu-Ray (81 mins., 1965): Saturday Matinee '60s nostalgia from prolific B-director Bert I. Gordon finds a group of teens (including Beau Bridges) growing to giant-size after downing some of mini-genius Ronny Howard's special serum. This silly slice of sci-fi mayhem is an obvious favorite of '60s cinema devotees, though anyone who grew up in the '70s and '80s likely remembers the movie as well from frequent showings on "Creature Double Feature" broadcasts; it's entirely ridiculous, but far superior to Gordon's subsequent remake of H.G. Wells' "Food of the Gods" which followed a decade later. Kino Lorber's Blu-Ray is enhanced by both an attractive Studio Canal 4K remaster (1.85) of the movie plus an engrossing commentary from the always astute Tim Lucas.
GOD'S GUN Blu-Ray (94 mins., 1976, R): It's Lee Van Cleef X2 in this entertainingly shoddy, late-era spaghetti western featuring the unholy union of "Sabata" director Gianfranco Parolini with Israeli producers Menahem Golan and Yoram Globus. In fact, it could be that this film is the reason the Cannon Group seldom dove into westerns during their heyday, as "God's Gun" serves up a wacky, if occasionally unpleasant, pallet of sex and violence with Van Cleef's outlaw heading to seek vengeance on Jack Palance and his band of bandits after they murder Van Cleef's more virtuous minister brother. Sybil Danning and Leif Garrett – playing her mute moppet son – add a little interest in the supporting cast, but the fact that Richard Boone walked off the set before shooting concluded probably says it all. Western fans might enjoy it just the same, and Kino Lorber's Blu-Ray does present viewers with a solid 2K remaster (1.85) with an enlightening commentary by Alex Cox.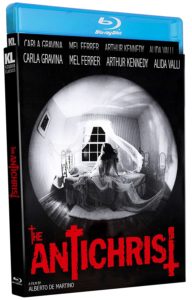 THE ANTI-CHRIST Blu-Ray (112 mins., 1974, Not Rated): Italian rip-off of "The Exorcist" pits Carla Gravina into the Linda Blair role – this time as an adult with hazy memories of a childhood accident that, under hypnosis, resurrects past-life memories of a profane seductress who now wants to birth the Anti-Christ into existence. Alberto De Martino directed this spaghetti-splatter horror, which is mostly light on the gore until its climax; fans of Italian genre exercises might get a kick out of it but it all seems fairly tame by today's standards. Released in 1978 by Avco Embassy as "The Tempter," Kino Lorber's Blu-Ray is enhanced by a fresh Studio Canal 4K remaster (1.85, DTS MA mono) with extras including a featurette sporting DeMartino and Ennio Morricone, who scored the film alongside Bruno Nicolai; a commentary with Lee Gambin and fellow critic Sally Christie; both English and Italian audio; a TV spot; and opening credits for the U.S. version.
Scorpion Releasing New Releases: A highly-regarded but nearly impossible-to-find British drama from the late '60s, PRIVILEGE (103 mins., 1967) is Peter Watkins' wild tale of a hugely successful pop singer (Paul Jones of the group Manfred Mann) whose career and overall handling is guided by corporate/government interests. His eventual unhappiness and lack of artistic freedom leads to him eventually rebelling – at a great cost – in a film that's prescient for its look at corporately-controlled "entertainment" and messaging, superbly shot by Peter Suschitzky and dizzying in its visual panache. Scorpion's Blu-Ray includes a Universal-licensed transfer (1.85, DTS MA mono), a trailer/teaser, and commentary from Daniel Kremer.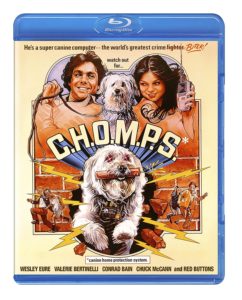 Also debuting on Blu-Ray, C.H.O.M.P.S. (89 mins., 1979, PG) was a movie I remember watching as a kid – in fact, right before starting up Scorpion's Blu-Ray, Hoyt Curtin's insanely repetitive theme magically popped back into my head, like a buried relic of the past that still remained in my subconscious. There's a reason you'll never forget Curtin's music – it's like mixing his Hanna-Barbera work with Alan Silvestri's "CHIPS" episode underscores – and one of several reasons why you may regret ever watching this, a collaboration between the long-time Saturday morning animators and Samuel Z. Arkoff's American-International that was supposed to be the start of a long and fruitful contract between the two companies.
The end result would be the only picture they'd produce together – and Hanna-Barbera's sole big-screen, live-action movie, starring Wesley "Land of the Lost" Eure and a fetching, prime Valerie Bertinelli in the story of a robotic dog that offers the ultimate in home-security technology. Eure's creation, in fact, has super-canine strength and agility – elements that are vital to convincing Bertinelli's father (Conrad Bain from "Diff'rent Strokes") that C.H.O.M.P.S. is worth taking a gamble on, all the while a pair of bumbling thieves (Chuck McCann and Red Buttons), working for Bain's competitors, try to stop the Benji-looking pup from really strutting his stuff.
Add in Jim Backus and you have all the ingredients for a late '70s kid movie, which "C.H.O.M.P.S" barely passes the bar for in terms of entertainment. The capable comic performances are lively enough, but the sound effects and slapstick shenanigans are heavy-handed – this is a charmless, veritable live-action cartoon, punctuated by Curtin's repetitive scoring with a theme used so frequently you might be tempted to hit "mute" before it ends (or, worse, have it seared into your psyche for decades to come – like me!).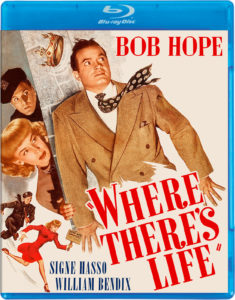 Another issue is a cranky neighborhood dog whose voice-over contains a pair of "s—t" expletives that are so mind-bogglingly unnecessary for this kind of film that they pushed the movie into PG territory. AIP re-edited the film to remove these needless profanities – making it more suited to the G-rated set the film was meant for – but this MGM-licensed Blu-Ray from Scorpion only includes the original PG-rated dialogue track. If you've got a little one around as I do, you might want to think twice about throwing this otherwise wan family comedy on for them.
Scorpion's disc also houses a 2K master (1.85) from an aged but relatively healthy source. Extras include an interview with Eure and commentary with Eure and co-writer Duane Poole, moderated by Nathaniel Thompson.
Bob Hope Blu-Ray Premieres: A pair of comedies from Bob Hope's Paramount heyday debut on Blu-Ray this month from Kino Lorber, which has already collected scores of the comedian's vintage features over the last few years.
MONSIEUR BEAUCAIRE (93 mins., 1946) is one of Hope's most agreeable films: sent to Spain to be disposed of after fumbling his way as a barber in King Louis XV's court, Hope dons period attire but keeps the laughs coming at a steady flow while romancing a maid (Joan Caulfield). George Marshall, who helmed another of Hope's best pictures ("The Ghost Breakers"), directed from Melvin Frank and Norman Panama's script – itself an adaptation of a Booth Tarkington book. A healthy 2K restoration (1.37 B&W) is included here in Kino's no-frills Blu-Ray along with trailers…Hope followed "Monsieur Beaucaire" with an even wackier contemporary comedy, WHERE THERE'S LIFE (75 mins., 1947), playing a NYC DJ who finds out he's inherited a far-off European kingdom named Barovia, complete with a tough-talking military leader who's also a woman (Signe Hasso). William Bendix is amusing as the brother of Hope's would-be fiancee while director Sidney Lanfield mines laughs from Melville Shavelson and Allen Boretz's lightweight script. A competent 1080p (1.37 B&W) Universal catalog master is on-tap here plus trailers.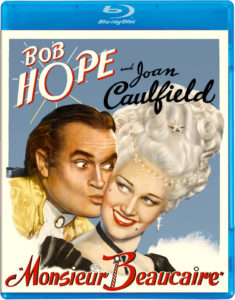 THE GREAT MOMENT Blu-Ray (81 mins., 1944): One of Preston Sturges' only commercial disappointments during his '40s tenure at Paramount, "The Great Moment" was a change of pace vehicle for the writer-director. Turning his attention to the dentist (Joel McCrea) who discovered and perfected the use of anesthesia, Sturges crafted a picture that was shunned by its studio and shelved for nearly two years. When it was eventually released, Paramount had recut and restructured the film against the director's wishes, but devotees of the director might find it compelling just the same. Kino Lorber's Blu-Ray includes an introduction from historian Constantine Nasr, a featurette with Nasr, the late Peter Bogdanovich and Sturges' son, Tom, a 1080p (1.37) Universal-licensed transfer and the trailer.
MAN ON THE MOON Blu-Ray (118 mins., 1999, R): Expensive look at the life and times of comic Andy Kaufman and his brief but turbulent career from comedy clubs to stardom on "Taxi" and flame-out after a number of oddball TV appearances didn't quite connect at the box-office – despite starring Jim Carrey at the height of his popularity as Kaufman and Oscar-winning director Milos Forman at the helm. Certainly the film is well-produced on every level with Forman reuniting with many of his frequent collaborators behind the scenes, yet the Scott Alexander-Larry Karaszewski screenplay is hampered by having to cram too many details into its sub-two hour running time, leaving the final result undernourished dramatically. Kino Lorber's Blu-Ray (2.35) includes a new commentary with the screenwriters; featurettes with the duo and Forman; an archival Making Of; deleted scenes; the trailer; and a pair of music videos from R.E.M., which composed the film's soundtrack.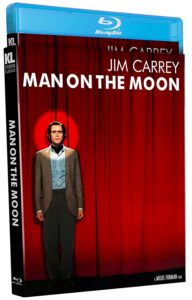 Kino Classics New Releases: Unable to headline her own Hollywood feature in the mid 1930s, Josephine Baker flew to France to star in a pair of features newly available in a single-disc Kino Classics Blu-Ray. These include the comedic PRINCESS TAM TAM (77 mins., 1935) and ZOU ZOU (92 mins., 1934), which chronicles a musical performer's unlikely rise in a French take on Golden Age Hollywood. Both movies are presented in 1.33 B&W with English subtitles and include a variety of extras: a trio of 2005 documentary shorts on Baker with critics and family members; a video tour of Baker's adopted son Jean-Claude's "culinary exhibition" of rare paintings and posters featuring his mother; a 1927 short featuring Baker and more…THE DOUGLAS SIRK COLLECTION will provide fans of the director – who later perfected the formula for the glossy 1950s Hollywood melodrama – a fascinating examination of his work in the German studio system, before immigrating to the U.S. This single-disc presentation from Kino Classics offers THE GIRL FROM THE MARSH CROFT (81 mins., 1935), a romantic drama set in rural Germany, as well as THE FINAL CHORD (100 mins., 1936), the story of a woman who becomes the maid to the child she once gave up for adoption. Commentaries by historians Olaf Moller and Anthony Slide are included along with 1080p (1.20) B&W transfers with German audio and English subtitles in Kino's now-available Blu-Ray.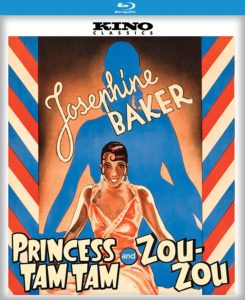 GOMORRAH: Fourth Season Blu-Ray (557 mins., 2019): Roberto Saviano's book and subsequent movie version of "Gomorrah" were both popular, as is the Italian television version. which here settles into its fourth season. This time, Salvatore Esposito's Genny tries to leverage his world-weariness with an attempt to go straight, becoming a businessman while handing over his criminal enterprise to Patrizia (Cristiana Dell'Anna) and hoping a mob crew with a Donna Imma connection can keep him safe. Kino Lorber's four-disc Blu-Ray includes trailers, 1080p (1.85) transfers and 5.1/2.0 audio in either Italian with English subs or an English dub.
Also on Blu-Ray: Bruno Dumont's film FRANCE (133 mins.) is an ambitious look at a TV newscaster (Lea Seydoux) whose life is turned upside down after she carelessly hits a delivery man while driving on the busy streets of Paris. This well-reviewed drama debuts on Blu-Ray from Kino Lorber featuring a 1080p (1.85) transfer with 5.1/2.0 French audio and English subtitles…Camille Rowe plays a young woman who, as a child, witnessed her mother being abducted seemingly by aliens. Years later, she experiences supernatural occurrences at a UFO cult named COSMIC DAWN (98 mins., 2021, Not Rated), where its leader (Antonia Zegers) seems to know more than she's letting on. Rowe's attempts to find out the truth about the cult inform Jefferson Moneo's film (2:1, 5.1/2.0), now available from Kino Lorber.
On DVD: New from Greenwich Entertainment and Kino Lorber comes Camilla Nielsson's PRESIDENT (120 mins..), a documentary account of Zimbabwe's precarious democracy. Greenwich's DVD (2.39, 5.1/2.0) is in Shona and English with English subtitles…CHARLI XCX: ALONE TOGETHER (87 mins., 2021) paints a COVID-era portrait of artist Charli XCX and her relationships during the pandemic (16:9, 2.0).
---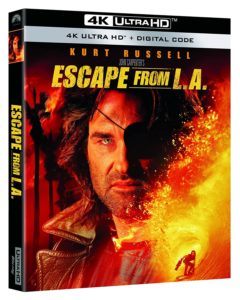 New on 4K UHD
A belated sequel that instantly became a box-office disappointment, ESCAPE FROM L.A. (100 mins., 1996, R; Paramount) was the long-gestating follow-up to the director's 1981 futuristic thriller "Escape From New York," reuniting Carpenter with star Kurt Russell. Here taking a writing and producer credit as well, Russell fits comfortably back into his role of the eye-patch adorned Snake Plissken, this time sent to retrieve an apocalyptic device stolen by the brainwashed daughter (A.J. Langer) of the President (Cliff Robertson) in a Los Angeles ravaged by "The Big One." That enables Carpenter to craft a series of would-be visual set-pieces that are nearly totally sunk by lousy CGI – so bad that the film was jeered even upon its original theatrical run. If you can get past the FX (and that's a big "if"), "Escape From L.A." proves to be a middling rehash with just enough amusement to garner interest from the director's devotees, with Russell amiably reprising his original role.
"Escape From L.A." debuts on 4K UHD from Paramount on February 22nd in a Dolby Vision HDR presentation that makes the whole film seem a little more stylish and glossy than it has any right to, though there's only so much that can be done to enhance the visual FX. A 5.1 DTS MA presentation (that includes some dialogue audio bleed at times -- stay tuned to see what kind of a fix occurs) comprises the audio side of things with a Digital HD code rounding out the disc, which should appeal to Carpenter completists in spite of the source material's shortcomings.
After the acclaim of "The Shawshank Redemption," Director Frank Darabont returned to Stephen King country with 1999's THE GREEN MILE (188 mins., R; Warner), adapting yet another King prison story, though what was a far more layered and developed literary source than "Shawshank" turns into far less of an involving cinematic experience by comparison.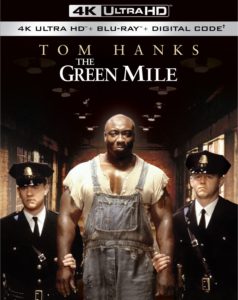 This death row tale with supernatural elements, chronicling the gentle giant John Coffey's tenure on death row in Louisiana during the Great Depression, is depressingly bland and dramatically static, plodding through its bloated running time with an air of self-importance while disregarding the pulpy, serialized nature of King's source material. Part of the problem is that Darabont's obvious faithfulness to the novel's plot is contrasted with his rather bland filmmaking approach. There's no substance to the drama, none of King's biting commentary. While Darabont captures the "Point A to Point B" narrative events, he misses the grit and heart that King's book provided in spades. What results is a film that moves so slowly and on such an even dramatic keel that it never conveys the life and energy that the story held on the page, in effect turning a low-key emotional tale into a bloated "Hollywood movie" that doesn't appear to be worth all the fuss after three-plus hours of celluloid.
Tom Hanks (as prison guard Paul Edgecombe), Michael Clarke Duncan (as John Coffey), and David Morse (as another guard on the "Mile") are all terrific, but "The Green Mile" is so downright maudlin at times — as opposed to the novel's more balanced, bittersweet examination of life and death — that it never captures the atmosphere and various layers that made King's serial so moving and captivating. While the movie may be worth a look for patient viewers, despite its high-profile cast and filmmakers, I'm not too certain that "The Green Mile" wouldn't have been better off being adapted as a made-for-television project, where the multi-night form and lower budget might have been more ideally suited for one of King's finest works.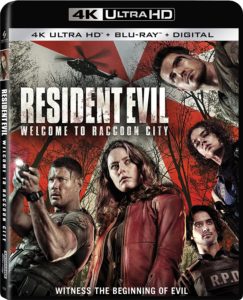 Warner debuts "The Green Mile" on 4K UHD this week sporting an HDR10 transfer (1.85) with a new Dolby Atmos track. The Blu-Ray houses the same presentation as its previous format go-around (1.85, 5.1 Dolby TrueHD) with extras including Darabont's commentary, additional scenes, a slew of featurettes and a Digital HD copy.
RESIDENT EVIL: WELCOME TO RACCOON CITY 4K UHD/Blu-Ray Combo Pack (107 mins., 2021, R; Sony): Not-awful attempt to resurrect the Capcom video game franchise wipes the cinematic slate clean so writer-director Johannes Roberts can essentially hit the reset button. Kaya Scodelario leads an ensemble cast that embodies game heroes Jill Valentine, Claire Redfield, Albert Wesker and others, and while the movie offers the usual undead shenanigans, it does sputter with a third act that loses the modest momentum Roberts is able to generate for most of the way. That said, it's still a minor miracle that "Raccoon City" is still as as watchable as it is – it's arguably superior to most of the later sequels of the previous series – with Sony's 4K UHD offering a HDR10 (2.40) transfer, Dolby Atmos sound, featurettes, a Blu-Ray and Digital HD copy.
LOOPER 4K UHD (119 mins., 2012, R; Sony): In Rian Johnson's 2012 film, Joseph Gordon-Levitt plays a "looper," a hitman named Joe in 2044 Kansas City where time travel has been invented – and outlawed – and nearly 10% of the world's population has developed a telekenetic mutation. That hasn't stopped crime bosses from sending their targets back from the future, where Gordon-Levitt and other loopers dispose of their bodies so they can't be tracked. The loopers themselves become their own targets after their contract runs out 30 years after the fact – something that becomes a problem when Gordon-Levitt's future self (Bruce Willis) manages to escape from his assassination, and tries to convince his younger incarnation that the world is going to be destroyed if a crime boss dubbed "The Rainmaker" is able to have his way.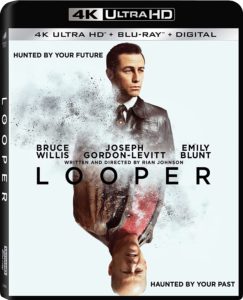 Johnson's picture is most effective during its first half. Working with a modest budget, "Looper" mixes the familiar with the futuristic in a dirty, dank environment, and the movie's use of time travel eschews standard genre devices – at one point, Willis' character even tells Gordon-Levitt to stop thinking about past/present "space-time continuum" rifts, as if to urge the audience not to get hung up on technical details (in this movie, unlike "Back to the Future," changing the past doesn't erase one's future existence, but rather clouds over one's memories). The story, though, shifts gears completely in its second hour, with Gordon-Levitt's younger protagonist venturing onto a farm, encountering a young mother (Emily Blunt) and her son while Willis' older half searches for the child that will eventually become "The Rainmaker."
It's during the movie's later section when "Looper" loses its momentum and asks the audience to shift gears into something resembling a remake of "Firestarter" – something that comes off as unexpected and not entirely satisfying. The movie never regains the forward narrative thrust of its first half, and is also hampered by characters who are almost completely unlikeable – Gordon-Levitt's distracting make-up also doesn't seem to have been entirely necessary, as the actor would've been capable enough to mimic Willis' persona with less prosthetic involved. Willis himself is fine, and Emily Blunt does believable work as the child's mother, but none of them are particularly engaging or sympathetic. Johnson's script also, frustratingly, dangles questions in front of viewers without making a strong enough connection to whether or not they make sense dramatically (as it's impossible to go into these aspects without spoiling the plot, I won't comment any further, but they partially involve the picture's ending). It's one thing to be ambiguous, but it's another when the dots are so weakly connected that the suggestion of certain concepts seems to come out of thin air due to a lack of development.
"Looper," then, is a cold and unusual film – less a "groundbreaking" genre picture than it is an interesting B-movie with intriguing elements but something fundamentally lacking in its center. Sony's new 4K UHD (2.39) boasts both dynamic Dolby Vision HDR and Dolby Atmos audio, as well as its original 5.1 DTS MA soundtrack. Extras on the included Blu-Ray offer 22 deleted scenes, commentary, featurettes, and a Digital HD copy.
---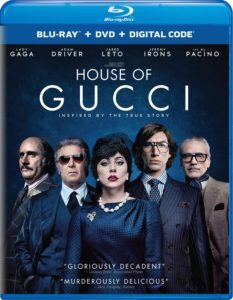 Also New & Noteworthy
HOUSE OF GUCCI Blu-Ray/DVD (158 mins., 2021, R; MGM/Universal): Director Ridley Scott continues to crank out one movie after another that's amazing to see from a filmmaker in his 80s – though the quality has become a little less consistent in recent times, as evidenced by "House of Gucci." This bloated soap opera account of the Italian fashion family – which spirals out of control once Patrizia Reggiani (Lady Gaga) marries into the clan – works best as a campy, star-packed adult drama – the type seldom seen on the big-screen anymore. Gaga's performance is fun, with Adam Driver, Jeremy Irons, and Al Pacino jumping into the fray for good measure; only Jared Leto seems totally out of control in a turn that veers on the completely absurd. Universal's Blu-Ray (2.39, 7.1 DTS MA) is out this week featuring three featurettes, a Digital HD copy, and the DVD.
Also new from Universal is Simon Kinberg's female-espionage thriller THE 355 (123 mins., 2022, PG-13) which offers Jessica Chastain leading an ensemble of international spies (Diane Kruger, Penelope Cruz, and Lupita Nyong'o) who come together to prevent a top-secret weapon from being used for nefarious purposes. Bingbing Fan, Edgar Ramirez and Sebastian Stan co-star in a movie that was shot several years ago but only released last month to tepid reviews — it's certainly watchable yet Theresa Rebeck and Kinberg's script is bereft of imagination and never rises to the level of the superb cast he was able to assemble here. Universal's Blu-Ray (2.39, 5.1 DTS MA) includes deleted scenes and featurettes, a DVD and Digital HD copy.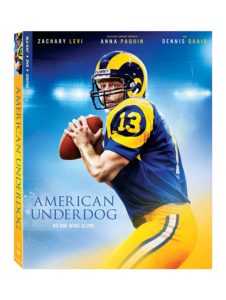 New From Lionsgate: AMERICAN UNDERDOG (112 mins., 2021, PG-13) tells, in very broad cinematic strokes, the struggles of aspiring pro football QB Kurt Warner (Zachary Levi), who with great determination and the support of his wife (Anna Paquin), was able to reach the NFL and ultimately won a Super Bowl with the then-St. Louis Rams. There are obviously appealing components to Warner's story and this independently produced film boasts fine performances from Levi and Paquin but the final result from directors The Erwin Brothers still comes off as pat and simplified — perfectly suitable for family audiences but missing a needed edge. Lionsgate's Blu-Ray (2.39, Dolby Atmos) boasts commentary, featurettes, deleted scenes, a DVD and Digital copy…the supernatural horror outing FALLEN (84 mins., 2022, R) pits a defrocked priest (Andrea Zirio), still recovering from a botched exorcism, who has to take on devilish creatures on the remote farm he's living on with his wheel-chair bound daughter. Nicolo Fumero's cliche-ridden Italian import offers little you haven't seen before, with Lionsgate's DVD (16:9) offering 5.1 audio and streeting this week.
SHATTERED Blu-Ray (92 mins., 2022, R; Lionsgate): Luis Prieto's thriller harkens back to the "Mad __ From Hell" days of the '80s, with millionaire Cameron Monaghan falling for the alluring Lilly Krug — but soon wishing he'd never met her after she steps in as his nurse after an accident. Frank Grillo co-stars with a John Malkovich cameo for good measure, and while this certainly isn't "Fatal Attraction," "Shattered" is a decent time-killer that's superior by direct-to-video standards. Lionsgate's Blu-Ray (2.39, 5.1 DTS MA) includes a Making Of featuring Prieto, the trailer, and a Digital copy.
LIAR'S MOON Blu-Ray (105 mins., 1981, PG; MVD): Independently produced little drama set in the late '40s stars Matt Dillon as a farm boy who develops the hots for wealthy blonde Cindy Fisher – unknowing there's a family bond perhaps lurking between them. David Fisher's movie was picked up by Crown International Pictures for release and never made much noise, but this is a strange, unsatisfying picture that's mostly fluffy in its depiction of its characters' romance until abortion and incest issues crop up – not quite the stuff of the PG-rated teen genre popular at the time. MVD has produced a lovely Special Edition here for "Liar's Moon," including a 1080p (1.78, 2.0 mono/stereo) transfer with a feature-length Making Of, featurette on composer Ray Benson, and an alternate ending that would've been even worse than the one in the finished film.
WRITTEN ON THE WIND Blu-Ray (99 mins., 1956; Criterion): Douglas Sirk '50s melodrama offers an abundance of "taboo" themes from nymphomania to impotence as Lauren Bacall's marriage to Texas oil heir Robert Stack becomes compromised by her blossoming relationship with his best friend (Rock Hudson) – meanwhile Stack is nothing compared to his even more unstable sister (Dorothy Malone). A film that broke records for Universal at the time of its debut, "Written on the Wind" is a wild gothic piece with a Frank Skinner score and outrageous dramatic plot points, even for its genre – though for Sirk fans, the fact it's overheated doesn't dull its entertainment value. Criterion's Blu-Ray (1.85, mono) debuts a new 2K digital restoration along with a 2008 documentary, "Acting for Douglas Sirk"; a new interview with scholar Patricia White about the picture; and the trailer.
Arrow New Releases: LIES & DECEIT: FIVE FILMS BY CLAUDE CHABROL kicks off this month's new releases from Arrow, offering a Blu-Ray retrospective of the French New Wave critic turned filmmaker who turned out decades of pictures probing the depths of human relationships. Included here in Arrow's lavishly produced Limited Edition box are "Cop Au Vin" (Polet au Vinaigre), "Inspector Lavardin," and three films that have been culled from fresh 4K restorations: "Madame Bovary," "Betty," and "Torment" (L'Enfer). A wealth of supplements, many newly produced, include commentaries from critics like Ben Sachs, Kat Ellinger, Alexandra Heller-Nicholas and Josh Nelson; interviews with Ian Christie, Sam Wigley and others; interviews with Chabrol circa 1994 with select-scene commentaries from the director; archival video introductions; trailers; visual essays; a hardbound case housing the five discs (all 1080p, mono except for "Torment") with new essays and archival material. Highly recommended for all Francophiles and New Wave buffs.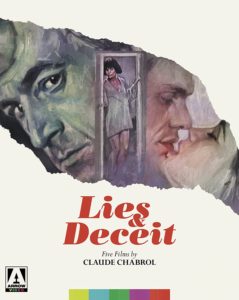 Shifting gears from Arrow is DEADLY GAMES (92 mins., 1982, R), a weird slasher entry that mostly plays like a pedestrian TV-movie mystery with some adult situations and raunchiness thrown in. It's also slow-going but at least the cast is appealing: Steve Railsback, Dick Butkus, cute Jo Ann Harris and Denise "V" Galik pop up in one more formula exercise about a serial killer on the loose. It's watchable, at least until it falls apart at the finish line. Arrow's Blu-Ray (1.85, mono) is housed from a 2K restoration from the OCN with extras including a new commentary by The Hysteria Continues ensemble, interviews and an extensive image gallery.
88 Films New Releases: Folks who enjoyed Arrow's recent, outstanding "ShawScope" Blu-Ray box should be delighted with a pair of new 88 Films restorations from the HK studio's heyday. THE FLAG OF IRON (113 mins., 1980) is an exciting pastiche of other Shaw outings from director Chang Cheh ("Five Deadly Venoms," "The One-Armed Swordsman"), while Shaw star Alexander Fu Sheng drives Liu Chia-Liang's LEGENDARY WEAPONS OF CHINA (105 mins., 1982). Both movies have been remastered from their respective 35mm negatives (2.35) with extras including: commentary from Mike Leeder and Arne Venema, English and Mandarin audio ("Flag of Iron"); and commentary by Leeder and Venema plus another commentary featuring Frank Djeng and Michael Worth, and a third commentary with Djeng solo; interviews with co-star Gordon Liu and producer Titus Ho, and English and Cantonese audio ("Legendary Weapons"). Both discs also boast slipcovers, reversible sleeves and booklet notes by Andrew Graves.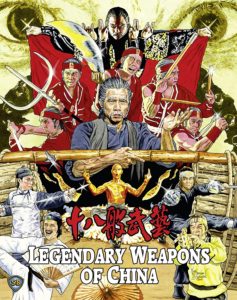 New From Troma is their tedious if admittedly nutty (even for their standards) SURF NAZIS MUST DIE (83 mins., 1987, Not Rated), the tender story of neo-Nazi punks who take over Cali beaches after a devastating earthquake. Some of the performances are appropriately unhinged but like a lot of Troma efforts, this one from director Peter George promises more than it can deliver, though fans may still warm to the studio's Blu-Ray (1.85) featuring a number of extras: interviews with the director and Troma guru Lloyd Kaufman; deleted scenes; and additional goodies.
Finally, MVD has lined up a Special Remastered Blu-Ray of GHOSTRIDERS (85 mins., 1987), a low-budget independent horror-western about an outlaw who swears vengeance on the town preacher after he's hung in 1888. A hundred years later he's back to terrorize his nemesis' descendants in Alan Stewart's film which adorned many a video store shelf when Prism Entertainment released it back in the late '80s. Despite the cool artwork and promising premise, "Ghostriders" isn't a very good movie but genre fans nostalgic for this kind of picture should still appreciate MVD's remastered 1080p (1.85, mono) transfer with extras including a brand-new Making Of and cast/crew commentary, photo gallery, trailers, and a vintage doc on the production...Finally, coming March 8th from MVD is 23rd CENTURY GIANTS: THE STORY OF RENALDO & THE LOAF (83 mins., 2021), a documentary about an architect and scientist, Brian Poole and David Janssen, who created a unique electronic sound out of all kinds of disparate elements, including household objects. Over 50 minutes of bonus materials are included in MVD's Blu-Ray along with a 1080p (1.78) transfer and 2.0 PCM stereo sound.
Quick Takes
Quick Takes
HARD HIT Blu-Ray (95 mins., 2021, Not Rated; Capelight/MPI): Korean thriller follows a mild-mannered bank manager who tries to protect his family while doing the bidding of a villain who selects him to carry out a ransom payment while threatening him with a bomb placed under his car seat. "Hard Hit" (2.35, 5.1) was a big hit in its native land and is being remade as a Liam Neeson picture which is due out in the U.S. shortly; Capelight's Blu-Ray offers a Making Of, the trailer, and audio in Korean or an English dub.
LEGACIES Season 3 DVD (679 mins., 2021; Warner): Dr. Saltzman and the "Super Squad" struck a deal with the Necromancer to resurrect the students – but at a price which the third season of the CW series "Legacies" delves into. This time around, the supernaturally powered students have to made personal decisions which impact both their futures and the Salvatore School's well-being, with Mystic Falls awaiting the outcome. Warner's DVD (16:9, 5.1) is now available featuring a "Thank You, Georgia: Legacies" featurette and all 16 episodes in its multi-disc set.
GOLDEN VOICES DVD (88 mins., 2021; Music Box Films): A Jewish-Russian couple, who had become voice dubbers in their native USSR, try to keep working in their chosen field after they immigrate to Israel in the early '90s – and struggle to do so – in Evgeny Ruman's delightful, engaging film. Music Box's DVD is now available sporting a commentary with Ruman, deleted scenes, a poster gallery, a 16:9 transfer (2.40) and Russian/Hebrew 5.1 audio with English subtitles.
NEXT TIME: More of the latest reviews! Until then, don't forget to drop in on the official Aisle Seat Message Boards and direct any emails to our email address. Cheers everyone!