Message Board (open 24 hours!)
Twitter - @andredursin (for everything else!)
A long-awaited title that's taken so long to receive a proper high-definition master that it's been spectacularly scanned in 4K as well, the 1980 creature feature ALLIGATOR (90 mins., R; Shout! Factory) has at last been brought back to life in a marvelous Scream Factory 4K UHD/Blu-Ray release that instantly marks it as one of the top catalog releases of 2022.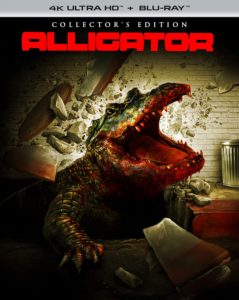 "Alligator" might sound like any number of "Jaws" wannabes from the late '70s but this is a superior piece of entertainment thanks to John Sayles' capable script and Robert Forster's engaging lead performance. Forster plays a grizzled Chicago detective puzzled by human (as well as animal) remains that appear floating in the river; after witnessing a giant alligator running around the sewer system – a monster artificially enhanced by downing an experimental growth formula – Forster partners up with this movie's Richard Dreyfuss, a reptile expert played by Robin Riker (Chris Elliott's frenemy on his cult-favorite TV series "Get a Life"), to track down the beast…but not before it generates a fair amount of movie mayhem along the way.
Directed by Lewis Teague ("Cat's Eye," "Cujo"), "Alligator" offers a fair degree of natural humor throughout but this is not, unlike "Piranha," a campy picture but an effective reworking of the "Jaws" formula. Sayles' screenplay pivots on the "alligators in the sewers" urban legend by having the young version of Riker's character own a baby alligator which her father flushes down the toilet – from there, the movie follows a standard formula but still becomes one of those guilty pleasures that's difficult to turn off, even after repeat viewing. There's just something competent across every level of the movie – from its fast pace and FX work to terrific character actor appearances, with Henry Silva, Sidney Lassick, Jack Carter and Michael Gazzo counted among them.
Though it's not a classic, "Alligator" is a highly resourceful B-movie that has held up well – despite the fact that its right owners allegedly have kept the film out of circulation since the DVD era. Thanks to our friends at Shout! Factory, though, the long wait for a quality home video presentation of the movie is over: Scream's 4K UHD/Blu-Ray combo pack, out February 22nd, houses a marvelous Dolby Vision HDR grading of the movie, fresh off a 4K scan of the original negative. The 1.85 image is saturated with warm color and high detail that makes even the movie's dingy sewer pursuits carry more picture information than comparatively dark and muddy DVD/VHS releases. The original mono sound, featuring a score by Craig Huxley with his "blaster beam" in tow, has been untouched, which is fine since it's crisply recorded and carries a decent punch for a mono soundstage.
A pair of Blu-Rays are also included, both based off the 4K scan, one being the movie's 98-minute TV version which sports a number of deleted scenes. The set also includes a fine array of extras: a lengthy talk with future star Bryan Cranston, who labored on the movie as an assistant; new interviews with Robin Riker, John Sayles, Robert Short and Lewis Teague, plus archival extras like a longer interview with Sayles (from Lionsgate's previous DVD) and a commentary featuring Teague and Robert Forster. Trailers and TV spots round out a must-have for genre fans and one of Scream's finest releases of late.
---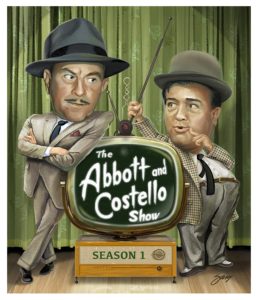 Also Highly Recommended
After "Meet"-ing with the Universal Monsters and Boris Karloff during the mid to late '40s, Bud Abbott and Lou Costello decided to branch out a little on their own. The legendary comic duo independently produced several movies in addition to dabbling in the new medium of television during the early '50s. Their initial appearances on "The Colgate Comedy Hour" – where the boys performed many of their classic vaudeville routines – lead to a regular syndicated series, THE ABBOTT & COSTELLO SHOW (676 mins., 1952-53; Classic Flix), which launched in major markets during the Fall of 1952. The program's structure was simple – A&C would open with Colgate-like introductory segments reprising their "greatest hits" before moving into light plots where the duo were established as struggling actors living in a boarding house. Plots involved everything from sick chimps to neighborhood shenanigans with low-level hoodlums, reprising A&C's on-screen chemistry in a concise, 30-minute episodic form.
These shows were hugely popular, though by the time I was growing up in the '80s – with many Abbott & Costello films a staple of Saturday afternoon programming along with Godzilla and friends – "The Abbott & Costello Show" was much harder to find. What's more, the source elements for the series had seemingly gone missing, leading to inferior home video releases and broadcasts with edits and poor picture quality.
Now available on Blu-Ray, the 3-D Film Archive's painstaking restoration of the series – presented here by Classic Flix in a three-disc release – involved the discovery of actual, archival master elements. Some 175 reels were scanned by Bob Furmanek and his team – over 120,000 feet! – leaving only a handful of segments that could not be recovered. Nearly all of the 26 episodes included here are presented intact from original 35mm negatives, making for 1080p (1.37) B&W transfers outclassing (needless to say) any version of the series fans may have seen before.
The restoration also led to several episodes being able to offer either partial laugh tracks or no laugh tracks at all – and, after sampling a good amount of the show, it's too bad this discovery by the 3-D Film Archive team didn't pertain to all the episodes. Having seen most of A&C's big-screen comedies, it was a little jarring to hear audience laughter plastered on top of their shenanigans – for me, Abbott & Costello's inherent silliness is enhanced by the "straight" supporting players and everyday circumstances surrounding their characters. Having a laugh track punctuate their material is more a handicap than an asset to their overall comedy, though for the most part, the series is still fun and the pacing is always on-target.
In addition to numerous commentary tracks – involving the likes of everyone from comic Gilbert Gottfried to A&C authority Ron Palumbo – Bob Furmanek provides a fascinating glimpse here at the restoration process and the great lengths undertaken to bring the series, and restore it properly, in high definition. Suffice to say this release was a real labor of love that any fan of the duo and classic, Golden Age TV comedy should relish.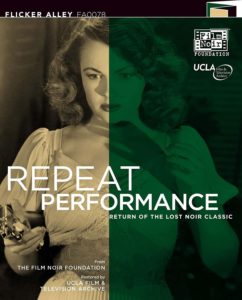 New From Flicker Alley this month is a fascinating B-movie from Eagle-Lion that's long carried a healthy reputation amongst film noir devotees. Not that REPEAT PERFORMANCE (93 mins., 1947) is your standard noir from the era: Alfred L. Werker's film utilizes a script by Walter Bullock (from a novel by William O'Farrell) that mixes romantic drama, mystery and a dash of fantasy for good measure, as a young woman (Joan Leslie) improbably is able to turn back the clock on New Years Eve 1946, after she's found having murdered her no-good husband. Trying to straighten out her predicament turns out to be both easier and harder than Leslie expected, as she attempts to avoid the same outcome – while questioning whether it's impossible to avoid fate.
"Repeat Performance" is filled with plot twists and capable performances, especially Richard Basehart's early turn as a gay poet who also proves to be the story's unlikely hero. Despite the movie's solid reviews at the time of its release, the picture virtually disappeared from circulation for many years, but Flicker Alley's new Blu-Ray/DVD combo release should endear it to a new generation of fans. The Film Noir Foundation and the UCLA Film & Television Archive collaborated to restore the film and the results are a crisp, healthy 1080p (1.37 B&W) image that looks and sounds excellent. Extras include an introduction by historian Eddie Muller; Farran Smith Nehme's profile of star Joan Leslie; a documentary by Steven C. Smith on the history of the Eagle-Lion studio; a commentary by Nora Fiore; promotional pressbook reproduction, and a souvenir booklet with a look at the differences between the book and movie, photos, lobby cards and more. Recommended!
---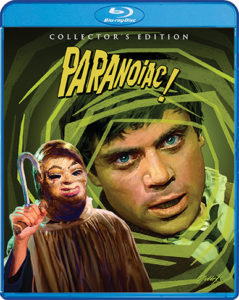 Also New From Shout! Factory
Scream Factory continues to remaster Hammer's assorted collaborations with Universal Pictures produced during the 1960s. This month brings us a satisfying new 2K scan of PARANOIAC (80 mins., 1962), a fitfully amusing "Psycho" variation from house writer Jimmy Sangster.
Janette Scott plays an heiress saved by a man (Alexander Davion) claiming to be her long lost brother. But is he? And is any of it connected to Scott's conniving brother (Oliver Reed), who's attempting to have her committed to an asylum in order to gain access to her vast inheritance? Starkly shot in widescreen by director Freddie Francis, "Paranoiac" doesn't overstay its welcome and works as a tidy 80-minute programmer. It's not a classic, even of the Hammer variety, but it's a solid film from the studio's Golden Age and certainly makes for a welcome new Blu-Ray remaster.
Scream's transfer from the interpositive (2.35) bests Universal's comparatively grainier and misframed earlier format release (via their generally excellent Hammer Collection box-set). The DTS MA mono sound is crisp and cear, with a new commentary by historian Bruce Hallenbeck providing insight into the movie's production and reception amongst fans. Other goodies include new interviews with historian Kim Newman and Hammer expert Jonathan Rigby; an archival Making Of hosted by author Wayne Kinsey; the trailer and a stills gallery. Hammer buffs take note: the non-horror "Captain Clegg" is next on Scream's remaster list.
Quick Takes
I AM MORTAL Blu-Ray (83 mins., 2021, Not Rated; RLJE): 200 years from now, human kind has achieved immortality through vaccines created by the Pilot (Sean Gunn), yet all isn't fun and games in this supposedly utopian civilization. Abraham Lewis plays a young man who questions whether or not he should get this "gift" in a movie by Tony Aloupis that has, unintentional or not, some interesting parallels to our current vaccination mandate controversy. RLJE's Blu-Ray is available March 1st sporting a 16:9 (2.35) transfer and 5.1 DTS MA sound.
DALGLIESH Series 1 DVD (283 mins., 2021; Acorn): Bertie Carvel stars as the lead from PD James' bestselling mystery novels – a recently widowed inspector who reaches deep into the human psyche in order to understand the motivations of criminals whose cases he pursues in '70s England. Jeremy Irvine and Carlyss Peer co-star in these three initial cycles adapted from James' books: Shroud for a Nightingale, The Black Tower and A Taste For Death. Roughly 30 minutes of featurettes are included in Acorn's two-disc DVD, available March 8th, along with 16:9 transfers and stereo sound.
APEX Blu-Ray (93 mins., 2021, Not Rated; RLJE): Yet another "Most Dangerous Game" reworking, here with Bruce Willis (who else) playing a cop sentenced to life for a crime he didn't commit; he receives a chance at redemption by playing a game of "Apex," wherein the prey has to survive six hunters trying to take him out on a remote island. "The Running Man" this isn't, and it's still sad watching Willis here run around in the woods, looking for his latest paycheck. RLJE's Bu-Ray (2.39, 5.1) is now available.
NEXT TIME: Kino Lorber's February wrap! Until then, don't forget to drop in on the official Aisle Seat Message Boards and direct any emails to our email address. Cheers everyone!