Message Board (open 24 hours!)
Twitter - @andredursin (for everything else!)
We're just a few weeks into the new year and already numerous catalog titles have been announced for 4K UHD. The lack of compelling new theatrical content has clearly opened the door for classics to debut in the UHD format, which is great news for movie buffs hungering for fresh remasters of some of their favorites. Kino Lorber starts off 2022 with one such title: a 4K UHD presentation of the John Sturges smash THE GREAT ESCAPE (172 mins., 1963), which may have preferred fiction over fact but nevertheless rode its success all the way to becoming an all-time WWII movie staple.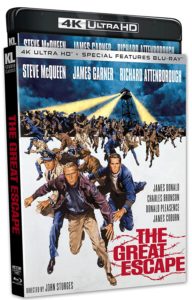 James Clavell and W.R. Burnett's adaptation of Paul Brickhill's real-life account of an Allied escape from the Nazi Stalag Luft III prison camp resembled the historical record only in its basic configuration: over 70 POW's (British in reality but with a more American flavor in the film) eventually escape from the camp, most are recaptured, many of those executed, and just a select few eventually get out of Germany alive. The central story was heavily dramatized in John Sturges' all-star film, which added American leads in Steve McQueen, James Garner, Charles Bronson and James Coburn (playing the most unconvincing Australian you've ever heard), a wild motorcycle chase in its second hour, and before that, a seemingly sanitized portrait of a Nazi prison camp that – between the light humor and Elmer Bernstein's jaunty score – seems barely a step removed from an episode of "Hogan's Heroes."
While I've found the film a little overrated personally, the star-powered performances of the American leads plus Richard Attenborough, David McCallum and Donald Pleasence made the film an instant success and an action movie that viewers have long accepted as a piece of escapist entertainment as opposed to a less-than-realistic depiction of war-time horror (there's at least some reality to go around at the end, as Sturges sticks to the basic outcome of history).
Kino Lorber debuts MGM's 4K restored master of "The Great Escape" (2.35) here on UHD and it's a marvelous package. The colors and overall texture seems a little richer, a little crisper, than Criterion's previous Blu-Ray, even minus an HDR grading of the image (the Dolby Vision logo is an error on the back cover). Both 5.1 and the original mono soundtracks are on-hand along with two commentaries: a Kino exclusive featuring Steven Jay Rubin and Steve Mitchell, plus an older MGM commentary that offfers archival comments from Sturges, Garner, Coburn, Pleasence and many others. The UHD is housed alongside a Blu-Ray sporting a slew of documentaries and featurettes culled from previous releases along with the theatrical trailer.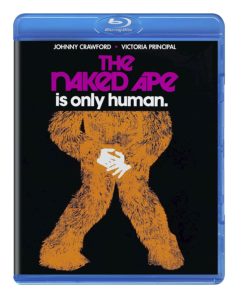 The kind of buried cult movie that's been difficult to find over the years, THE NAKED APE (84 mins., 1973, PG) is precisely the kind of oddball item you'd expect from Code Red. This co-production between Playboy's Hugh Hefner and Universal is a strange adaptation of zoologist Desmond Morris' massively popular anthropological study, here reconfigured by writer-director Donald Driver as an awkward college comedy wherein Johnny Crawford ("The Rifleman") plays a student who finds his animal side piqued after he meets a pretty classmate (an early turn from Victoria Principal). Their courtship is contrasted with animated montages involving cave people and other designs by Jimmy Murakami's studio, yet the laugh quotient is low with most of the material coming off as simply dull. What's more, the PG rating ensues there's little raunchiness on-hand, while Jimmy Webb's unusual songs and score are more energetic and engaging than the film itself.
A movie that received scant TV broadcasts and even fewer home video releases, "The Naked Ape" premieres on home video this month courtesy of Code Red and Kino Lorber. Despite the occasional speckle, the HD transfer (1.85) looks good and should satisfy anyone looking to check out this rare and certainly unusual early '70s studio release.
The '70s, in fact, produced a long line of movies that could only be made within the free-wheeling, offbeat sensibilities of that decade – hence THE MAFU CAGE (101 mins., 1977, R), a weird, downbeat tale of two sisters: button-downed astronomer Lee Grant and her off-kilter sibling Carol Kane. The duo were raised in Africa by their now-deceased primatologist father, with Kane's daffy behavior none too subtly disguising a permanently deranged mind – one that becomes gradually unhinged once her older sister becomes infatuated with one of her co-workers (James Olson).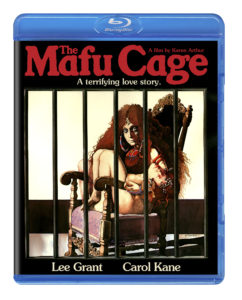 Director Karen Arthur's movie works because much of it relies on the central performances of Grant and especially Kane, who's dynamic and convincing in a chilling role – it's a shame Kane would end up mostly relegated to comedic turns in the years thereafter, as she's terrific as a dramatic lead in this film. Don Chastain's script does not offer any surprises – and the ending leads exactly where you'd expect it to (after all, it's the '70s) – but between the performances, Carol Littleton's editorial work and John Bailey's cinematography, "The Mafu Cage" scores as a unique, if sordid, tale of sexual repression, mental illness and sibling dysfunction – when it's over, you can safely say you've never seen anything quite like it.
Scorpion's Blu-Ray transfer of "The Mafu Cage" is superb, featuring a new 2K scan of the original, recently-discovered original interpositive (1.78) with clear mono sound. Commentary from Karen Arthur, and a "bonus" commentary with Bailey and Littleton, highlight the supplemental package, with on-camera interviews featuring Arthur, Grant, Kane, Bailey and Littleton, plus composer Roger Kellaway. The trailer rounds out a picture worth tracking down for the curious movie buff.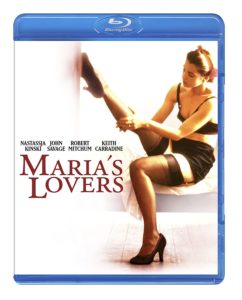 MARIA'S LOVERS Blu-Ray (109 mins., 1984, R): Producers Menahem Golan and Yoram Globus attempted to give their Cannon Group a little artistic shine by recruiting directors like Andrei Konchalovsky to helm pictures that were more "prestigious" in tone and appearance than Cannon's usual assortment of ninjas and breakdancers. The Russian director's American feature debut, "Maria's Lovers," may be a cut above the usual Golan-Globus exploitation offerings from the mid '80s, yet this is still a messy and ultimately unsatisfying drama, despite the best efforts of its cast.
John Savage gives a sensitive performance as a haunted WWII vet who returns to his blue-collar Pennsylvania hometown and immediately falls for one of his old sweethearts (a miscast Natassja Kinski). Unfortunately, their blissful marriage is compounded by his inability to physically perform in the bedroom, leading to the PSTD-afflicted Savage skipping town and Kinski hooking up with a vagabond troubadour (Keith Carradine).
The authentic feel of post-war small-town America is effectively captured here by cinematographer Juan Ruiz-Anchia and Konchalovsky, but the script – tellingly credited to four different writers, including the director, Gerard Brach, Paul Zindel and Marjorie David – is all over the place. Certain dramatic elements, from Savage's father (a wasted Robert Mitchum) to a handful of friends he later meets (Bud Cort, John Goodman), are poorly integrated into the movie's narrative fabric and the central relationship between Savage and Kinski, who seems completely out of her element as the all-American, albeit sexually unsatisfied, "girl next door." Only Carradine livens things up as the musician who wedges his way into their troubled existence, while the lack of a prominent original score proves to be an additional detriment.
Code Red and Kino Lorber's Blu-Ray debuts a fine MGM catalog master (1.85, 2.0 DTS MA mono) with the trailer and new interviews with Savage and co-star Vincent Spano, who fathered a child with Kinski during production and, as you might expect, has memories to share about the shoot.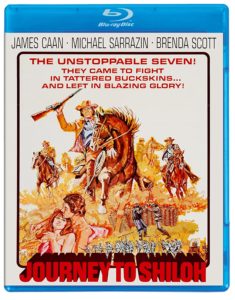 JOURNEY TO SHILOH Blu-Ray (101 mins., 1968): Hum-drum western which uneasily tries to bridge the gap between old-fashioned genre sensibilities and a Vietnam War allegory is best viewed as an early vehicle for a number of stars. In fact, among the seven young Texans who attempt to ride out and join the Confederate fight during the Civil War are none other than James Caan (check out his hair), Harrison Ford (check out his hair!), Jan Michael-Vincent (before the "Jan"), Don Stroud and Michael Sarrazin.
These youngsters provide a good amount of energy in director William Hale's otherwise paint-by-numbers Universal product, sporting a script by "Star Trek"'s Gene Coon and a score from "Bread"'s lead singer David Gates. The most entertaining element ends up being Gates' choral ballad which opens the movie, introducing us to the lead characters in a manner so earnest you can't be sure it isn't camp (doesn't seem to be); the rest of the film doesn't have much drive or punch, but if watching Caan and Ford in a '60s sagebrush saga sounds entertaining to you, "Journey to Shiloh" has enough fleeting entertainment to make it worth a look.
"Journey to Shiloh" has been a relatively hard film to track down over the years considering its cast, and Kino Lorber's Blu-Ray debuts a decent 2K master (2.35) from source elements that look a little hazy and blurry for a film shot in anamorphic widescreen. A brief interview with Stroud is on-hand plus the trailer and a commentary from critic Simon Abrams.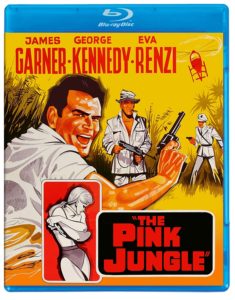 Between a slew of breezy romantic comedies and his '70s prime-time triumph "The Rockford Files," James Garner starred in the oft-forgotten jungle comedy THE PINK JUNGLE (104 mins., 1968). This Delbert Mann-helmed Universal outing stars Garner as a fashion photographer – albeit one with a seeming special set of skills – who runs into an explorer (George Kennedy at his most unhinged) who tries to convince him that there's a diamond mine in the South American jungles where Garner is to stage a photo shoot with his model (Eva Renzi). There's action, romance, and a light comedic element recurring throughout Charles Williams's script, which co-stars Michael Ansara and George Rose – it's all pretty frivolous but undemanding fun, especially for fans of Garner (who apparently wasn't a fan of the movie) and Kennedy, with Nevada standing in for South America. Kino Lorber's premiere Blu-Ray of "The Pink Jungle" hails from a new 2K master (2.35) and includes the trailer.
Burt Reynolds Blu-Ray Debuts: An early turn from soon-to-be '70s superstar Burt Reynolds, IMPASSE (100 mins., 1969, R) is an interesting, Philippines-lensed action-adventure starring Burt as an American scoundrel who tracks down a motley crew to retrieve a cache of lost WWII gold. This Aubrey Schenck production was meant to pair Reynolds with Ann-Margret, but she was replaced with Anne Francis for a modestly entertaining late '60s UA release co-starring the lovely Miko Mayama (Reynolds' off-screen squeeze for apparently some time thereafter) and future exploitation favorite Vic Diaz. This is a good-looking 2K remaster (1.85) from the MGM vaults featuring an acceptable if unremarkable mono soundtrack (Philip Springer's score seems to be aiming for Burt Bacharach-esque heights at times) with the trailer as its sole extra.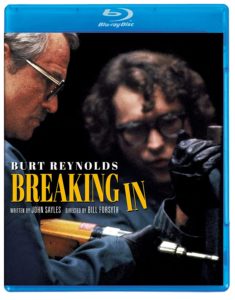 While losing much of his box-office appeal in the late '80s with duds like "Rent-A-Cop" and the Michael Crichton-helmed disappointment "Physical Evidence," Reynolds did try to re-establish himself, at times, as something of a character actor. Such was the case with his turn in BREAKING IN (94 mins., 1989, R), one of Scottish director Bill "Local Hero" Forsyth's few forays into American moviemaking, which boasts a character-driven story of a master thief (Reynolds) and his young protege (Casey Siemaszko). The result is an offbeat affair written by John Sayles, with the writer and director's separate sensibilities making for a well-performed but curious film that's neither very funny nor particularly urgent in terms of dramatic momentum. The picture (understandably) failed to generate any box-office revenue despite generally good reviews, with most praising Reynolds' understated performance. A Samuel Goldwyn Company product, "Breaking In" debuts a new 2K master (1.85) on Blu-Ray this month with Kino Lorber's commentary sporting Forsyth and Sayles' participation along with moderator Daniel Kremer.
THE 7th DAWN Blu-Ray (123 mins., 1964): Personal and romantic entanglements boil over in post-WWII Malaya in Lewis Gilbert's 1964 film "The 7th Dawn." William Holden plays an American fighter who stays on after the war to become a wealthy plantation owner, working alongside a fellow military fighter (Capucine). Susannah York is the British woman who comes between them, while Tetsuro Tamba is the former friend who finds himself at odds with Holden as he embraces a Communist uprising in the country, intended to hasten England's exit. Production values in this Charles K. Feldman production are high, the performances are strong and Riz Ortolani's romantic score is appropriately lush and dramatic – the result is an absorbing picture with a Karl Tunberg script, backed by compelling historical components. Kino Lorber's Blu-Ray features a 2K master (1.85) with warm colors and passable mono audio; Maurice Binder designed the title sequence.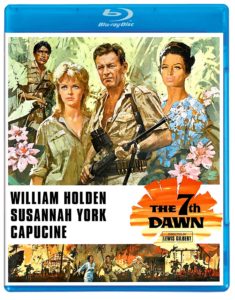 Also debuting on Blu-Ray for the first time this January is the powerful SHAKE HANDS WITH THE DEVIL (111 mins, 1959), director Michael Anderson's impressively rendered tale of the Irish War of Independence. Jimmy Cagney stars as a surgeon who's also an IRA leader in the early 1920s. Don Murray co-stars – and provides an American frame of reference – as a medical student who inadvertently gets involved in the struggle between the Irish rebels and the British "Black and Tans," in a taut drama co-starring Dana Wynter, Glynis Johns, Michael Redgrave and a young Richard Harris. Superbly shot in B&W, this Anderson production has at last been restored with a new 2K master (1.66 B&W) featuring the trailer and an insightful interview with Murray recalling the production, itself an adaptation of Rearden Conner's 1933 book of the same name.
INHERIT THE WIND Blu-Ray (113 mins., 1999, PG): Strongly-performed Showtime cable-TV adaptation of the Jerome Lawrence-Robert E. Lee play – previously brought to the screen in Stanley Kramer's classic 1960 film – offers Jack Lemmon and George C. Scott as the lawyers who argue the merits of Darwin's theory of evolution in a small, Bible belt town. Under the direction of Daniel Petrie, Jr., this dramatization of the "Scopes Monkey" trial is not as tightly rendered as Kramer's film but is still worthwhile because of Lemmon and Scott's performances. Kino Lorber's Blu-Ray includes a 1080p (1.78) transfer, 2.0 sound (featuring a Laurence Rosenthal score), and a commentary from Bryan Reesman and Max Evry that lends some historical insight and comparisons to the Kramer production along the way.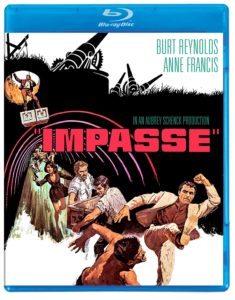 Not just one of Alfred Hitchcock's weirdest early films but one of the oddest pictures of his entire career, RICH AND STRANGE (83 mins., 1931) presents us with Henry Kendall and Joan Barry as a well-to-do British couple who are so bored that they seek to cure their tedium by heading out on a whirlwind, worldwide tour once they come into an inheritance. Of course, things aren't all they're cracked up to be on the other side in this offbeat Hitchcock picture which has long been a curiosity for Hitch fans. Kino Lorber's Blu-Ray (1:2) debuts the 4K Studio Canal restoration of the picture in the U.S. for the first time, and boasts extras including a commentary from Troy Howarth; a Noel Simsolo introduction; trailers; and audio extracts from the Hitchcock/Truffaut interview sessions.
More '30s Thrills: Jean Hersholt stars in the Pre-Code favorite THE CRIME OF THE CENTURY (73 mins., 1933), an early Paramount mystery based on Walter Maria Espe's "The Grootman Case" play, about a hypnotist who confesses to a murder – which has yet to happen! Fast-paced mystery whodunit co-starring Wynne Gibson, Stuart Erwin and Frances Dee, this Kino Lorber Blu-Ray marks one of the first home video appearances of this well-reviewed yet seldom-circulated Golden Age release. The 1080p (1.37 B&W) Universal master is acceptable with a new commentary from Lee Gambin and costume historian Elissa Rose on-hand…director Charles Vidor spins a gothic tinged tale of intrigue with DOUBLE DOOR (75 mins., 1934). This Paramount production stars Mary Morris as Victoria Van Brett – a spinster ruining her New York family's chances of happiness in an old NYC mansion that's seen better days. Evelyn Venable and Kent Taylor co-star in a Pre-Code release that's long carried a fan attraction due to its atmosphere and performances, with Morris repeating her Broadway role to delicious effect. Commentaries from Universal genre authority Tom Weaver plus David Del Valle and Stan Shaffer grace Kino Lorber's Blu-Ray (1.37 B&W).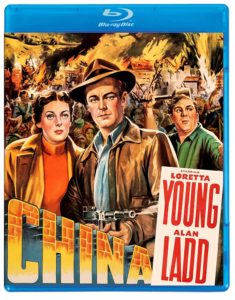 '40s Favorites: Loretta Young and Alan Ladd teamed up in CHINA (79 mins., 1943), a WWII era melodrama starring Ladd as an American gasoline salesman who supplies the highest-bidder – the Japanese – in war-ravaged China. Young is the American teacher whose Chinese students – with their tales of Japanese atrocity – force Ladd to change his tune in a short but pungent Paramount release helmed by John Farrow. Eddy Von Mueller provides a commentary with the Universal HD master (1.37 B&W) looking appropriately crisp…Another memorable pairing – this one between Ray Milland and Marlene Dietrich – fuels GOLDEN EARRINGS (95 mins., 1947), a ridiculous yet entertaining Paramount production starring Milland as a British colonel who, while trying to nab Hitler's poison gas formula, gets involved with a gypsy (Dietrich) that helps him with his covert espionage – and more. As you can tell from the premise, this is a fanciful yet entertaining late '40s picture debuting here on Blu-Ray from Kino. The disc includes a good-looking Universal catalog master (1.37 B&W) with an interesting commentary by David Del Valle that discusses the movie's censorship issues at the time.
Edward G. Robinson and Burt Lancaster starred in the 1948 Universal adaptation of Arthur Miller's ALL MY SONS (94 mins.), adapted and produced by Chester Erskine. Lancaster plays a recently-returned vet whose engagement to the fiancee (Louisa Horton) of his presumed-dead brother ultimately causes more pain than healing; Robinson is the father with a secret of his own in a well-acted drama premiering here on Blu-Ray (1.37 B&W) with a new commentary featuring historians Kat Ellinger and Lee Gambin…from Kino Classics comes LAUGHING HEIRS (75 mins., 1933), a German romantic comedy from the early 1930s. Heinz Ruhmann stars as a bachelor who stands to inherit a champagne vineyard – provided he doesn't consume any wine for an entire month. Max Orphuls' film scored points with American audiences during the Prohibition era and works as a fascinating relic of pre-WWII Germany. This Kino Lorber restoration includes a commentary from historian Anthony Slide.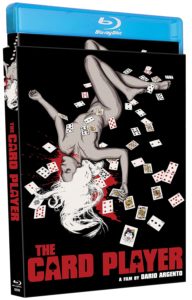 Also new from Scorpion Releasing this month is Dario Argento's 2004 film THE CARD PLAYER (103 mins., Not Rated), which finds an Italian detective (Strefania Rocca) and an Irish forensics expert (Liam Cunningham) teaming up to find a serial killer stalking online video poker players. This effort by Argento to return to his giallo roots was met with only mixed reaction from most critics and fans, yet the Rome-lensed production is likely still worth a viewing for the faithful, especially here in Scorpion's Blu-Ray (1.85, 2.0 DTS MA). Extras include a solid commentary from Troy Howarth and Nathaniel Thompson, plus all-new interviews with Argento, his co-writer Franco Ferrini, set designer Antonello Geleng, and co-star Fiore Argento.
Cohen New Releases: Kicking off Cohen's January releases is a Film Noir Double Feature, a must-have for British cinephiles as it boasts brand new 2K restorations of two early film noirs that have been perennially hard to find on this side of the pond. The set boasts Richard Attenborough and then-wife Sheila Sim in DANCING WITH CRIME (82 mins., 1947), the duo playing a couple attempting to find out what happened to their slain friend who was involved with racketeers. This Paramount release offers a Benjamin Frankel score and early appearances by Dirk Bogarde and Diana Dors. An even rarer picture is the second half of the double-bill, THE GREEN COCKATOO (64 mins., 1940), a Fox release from noted production designer William Cameron Menzies, who directed this Graham Greene adaptation about a young woman (Rene Ray) who's pursued by both the police and the mob responsible for a racketeer's murder that she witnessed. John Mills and Robert Newton co-star with a Miklos Rozsa score deftly backing the action. Cohen's Blu-Ray includes crisp 1080p (1.37 B&W) transfers on both pictures and PCM mono sound.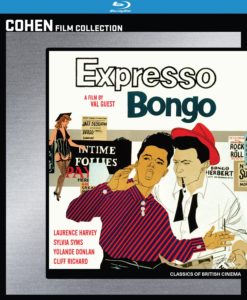 Shifting gears and a few years, EXPRESSO BONGO (111 mins., 1959) is a different type of genre trend-setter, as it offers a late '50s explosion of rock 'n roll that influenced countless films thereafter. Laurence Harvey plays a Soho talent agent who stumbles upon a singer/bongo player (Cliff Richard) and turns him into a star in an adaptation of a London musical that includes songs by Monty Norman (future "Dr. No" composer, of course) among others. This Val Guest-directed widescreen picture has seldom been screened in its original 111-minute version from 1959; a 1962 reissue reportedly disposed of many songs in an effort to keep the picture focused on the Cliff Richard mania that was hitting England at that time. Cohen's Blu-Ray restoration (2.35, stereo) looks and sounds just splendid here with its 2K mastered transfer and lossless audio.
Finally, Dominik Moll's ONLY THE ANIMALS (117 mins., 2019) is the French director's latest thriller that follows a group of disparate characters in a mystery involving Valeria Bruni Tedeschi's Evelyne Ducat. Denis Menochet and Laure Calamy lead the ensemble cast in this black comic piece that favorably compares with the filmmaker's earlier "With a Friend Like Harry," and is presented here by Cohen in a 1080p (2.39) AVC encoded transfer with 5.1/2.0 French audio and English subtitles.
Also on Blu-Ray: Available January 25th, Season 3 of GOMORRAH (aprx 580 mins., 2017) continues to chronicle the Naples underworld skirmish between warring criminal gangs. Weary and potentially ready to make peace, the different factions find themselves fragmented once again after Genny (Salvatore Esposito) conquers North Naples and Rome – leading Ciro (Marco D'Amore) to team up with upstart Enzo (Arturo Museli) once he returns from Bulgaria. Kino Lorber's Season 3 Blu-Ray of the series based on Roberto Saviano's book includes 1080p transfers (1.85) plus Italian audio and English subtitles, as well as an alternate, dubbed English language track.
Adam Sherman's film THE GAME'S CALLED MURDER (106 mins., 2021) is a black comedy following a hugely dysfunctional family led by women's footwear designer Ron Perlman, whose wife (Natasha Henstridge) and daughter (Vanessa Marano) aren't far from his own level of insanity. Interviews with the stars are on-hand in Kino Lorber's Blu-Ray (2:1, 5.1.2/0), available January 18th…Colin West's DOUBLE WALKER (71 mins.) stars Sylvie Mix as a ghost who uses her supernatural powers to track down and kill the men responsible for her death, only to run into a movie theater usher (Jacob Rice) who interrupts her vengeance streak. Mix also produced and co-wrote this unusual indie, new on Blu-Ray from Kino Lorber (2.39, 5.1/2.0).
On DVD: The Sundance winner HIVE (83 mins., 2020) is an Albanian import debuting this month on DVD from Kino Lorber. This look at a woman whose husband has gone missing since the Kosovo war – and her efforts to corral fellow war-ravaged widows into a food-production business – won numerous awards at Sundance, and here premieres on disc (16:9) with both 5.1/2.0 Albanian audio options and English subtitles…new from Artspolitation Films is THE MAN WITH ANSWERS (80 mins., 2020), a contemporary Greek drama about a former diving champion who bonds with a fellow German on a ferry to Italy. Despite their differences, they find companionship in a film from Stelios Kammitsis, new on DVD (16:9, 5.1/2.0)…A COP AND ROBBERS STORY (84 mins., 2020) is a documentary about a former '80s NYC gang member whose past comes back to haunt him once he becomes a member of the NYPD and attempts police reform (2.39, 2.0). The Greenwich/Kino Lorber DVD is now available.
---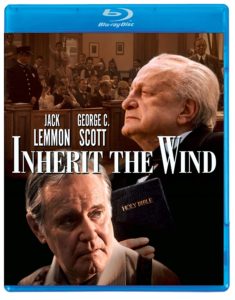 Quick Takes
SUPERHOST Blu-Ray (83 mins., 2021, Not Rated; RLJE): Shudder original is an off-the-wall tale of internet vloggers Teddy and Claire who tap into an outwardly Type A host named Rebecca (Gracie Gilliam) to up their subscriber count, unaware that murder is part of her creative process. Brandon Christensen's film offers a good performance from Gilliam but seems hamstrung by its budget, not to mention a tepid ending. Streeting February 1st, RLJE's Blu-Ray (2.39, 5.1 DTS MA) includes commentary from the director, bloopers and featurettes.
OFF THE RAILS DVD (93 mins., 2021, Not Rated; Screen Media): A trio of college friends (Kelly Preston, Jenny Seagrove and Sally Phillips) reunite on a European trip along with the college-age daughter (Elizabeth Dormer-Philips) of their late friend and classmate in Jules Williamson's film. Prominently featuring "the music of Blondie," "Off the Rails" looks like it was attempting to, some degree, to tap into the audience of "Mamma Mia!," but it's a conventional dramaedy notable for being Preston's final film; Judi Dench, meanwhile, cameos as Dormer-Philips' grandmother. Screen Media debuts the film on DVD (16:9, 5.1/2.0) on February 1st.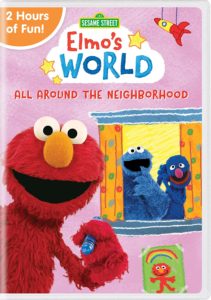 Acorn New Release: Keeley Hawes plays a woman whose partner dies, leaving her a dream home he designed himself – along with debts, secrets and other suspicious items in FINDING ALICE (288 mins., 2020). This British series is stylishly presented in widescreen (2:1) and operates nearly single-handedly on Hawes' performance – she also co-created and produced the program, incorporating warm human emotion, black comedy and a dash of intrigue into its mix. Acorn's DVD includes its first six episodes with 5.1 soundtracks on two discs.
ELMO'S WORLD: ALL AROUND THE NEIGHBORHOOD DVD (121 mins., 2022 compilation; Shout! Factory): Elmo and his Sesame Street pals are back in this latest compilation of "Elmo's World" segments from the long-running series. Youngsters can learn about everything from doctors and maps to ramps and machines in over two hours of content, while a bonus segment looks at (nearly) everyone's favorite furry monster, Grover, and his numerous jobs over the years.
NEXT TIME: Jean-Jacques Annaud's controversial drama THE LOVER sizzles in 4K UHD. Until then, don't forget to drop in on the official Aisle Seat Message Boards and direct any emails to our email address. Cheers everyone!