Message Board (open 24 hours!)
Twitter - @andredursin (for everything else!)
Droning on for a 2½-hour plus run time that's never justified, the 25th Eon James Bond film NO TIME TO DIE (163 mins., 2021, PG-13; Universal) – the long-delayed conclusion in the Daniel Craig 007 "cycle" – is marked by routine, forgettable action, a lack of wit, and finally, an ending that's intentionally "controversial" and seems to confirm what director Danny Boyle hinted years ago when he walked off the picture: that this was less a James Bond movie than a Craig therapy session.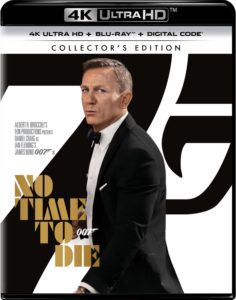 That, without divulging all the details, sums up director Cary Joji Fukunaga's bloated affair. The story line — credited to Fukunaga, Phoebe Waller-Bridge and the veteran Eon duo of Neil Purvis and Robert Wade — is so convoluted that portions of it still make no sense at the end (if anyone can explain why the "bad CIA guy" wants to kill Bond and his girlfriend, have at it) — but it's the entire tone of this movie that's just odd. It's still a "Bond movie" to a degree but mostly plays like a wholly different type of dreary spy thriller that's in-step with what Craig likely wanted – one featuring a softer, more domesticated 007 than the tough-as-nails creation of Ian Fleming that Craig embodied at the start of his tenure. That evolution ends up being an entirely unconvincing one, especially within the context of the four films that preceded it, and also as far away from its original source as one can possibly imagine. Even worse, this shift isn't a positive for Craig himself, who's far less convincing in scenes when he's supposed to display emotion as opposed to serving as a brooding 007 of few words.
The screenplay is also hampered by having to exist as a direct "Spectre" sequel that carries on its (equally unimpressive) predecessor's formula of tedious action shot in dingy confines, with much of the set-pieces involving Bond running up and down stairs and claustrophobic corridors, marked by bland sets and desaturated cinematography. Remi Malek may be billed here as the movie's official "bad guy," yet he's mostly wasted and relegated to the movie's finale, wherein Fukunaga tries to evoke classic Bond endings where villains take an eternity to spell out their plans and set up shop on a secluded island. Unfortunately, while you might feel like he's paying homage to classic Bond formula, someone forgot to include "fun" in this picture's equation as the movie laughably concludes with a teary-eyed finale that sends Bond to the same big-screen hero graveyard that Han Solo and Luke Skywalker have recently been buried in (look out Indiana Jones, I'm guessing you're next!).
Despite the overall disappointment level, "No Time To Die" isn't unwatchable and stays afloat with minor pleasures — Lea Seydoux manages to be even more attractive and fetching here than she was in "Spectre," and Ana De Armas is fun for a few, very fleeting minutes while Bond heads to Cuba (sadly, she exits the film as quickly as she enters it). 007 fan-service can be felt in Daniel Kleinman's opening titles, which offer a few "Dr. No dots," and Hans Zimmer's surprisingly deft score, which boasts brassy Barry flourishes and smart callbacks to Bond movies past.
Those ghosts, though, eventually haunt a film that can't seem to make up its mind as to what it wants to be — a Bond movie that doesn't seem like it actually wants to be one, right down to the blaze of glory finale that's likely to irritate portions of its fanbase, which may have been its star's point in the first place.
Universal's 4K UHD of "No Time To Die" is spectacularly graded with Dolby Vision and backed with a pulse-pounding Dolby Atmos soundtrack. This is a flawless transfer of its source and the soundtrack is always active and engagingly mixed. The Blu-Ray, a Digital HD code, and a number of standard featurettes are included on the supplemental side – but here's hoping MGM gets the entire Eon series out on 4K UHD before the Bezos marriage is consummated sometime next year.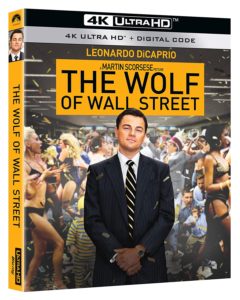 THE WOLF OF WALL STREET 4K UHD (179 mins., 2013, R; Paramount): Martin Scorsese's bombastic film about the life of Wall Street trader Jordan Belfort plays like a virtual rough draft – a surprisingly repetitive and soulless rehash of "Goodfellas," substituting the mob and violence with Wall Street and drugs, but otherwise adhering to the same basic structure of the director's far superior 1990 classic.
Belfort (a showy, glib performance from Leonardo DiCaprio) is a brash young hot shot who takes advantage of the "Greed is Good" '80s with its associated decadence and Wall Street's boom and bust cycles, working the system over and taking advantage of many a gullible buyer. He's rough with his women, loose with his morals, and high on both life and drugs – indulging in the era's excesses from private yachts to fast cars and showing an allegiance only to his friends, including his business partner (played by Jonah Hill in an amusing turn that nevertheless, much like the film's lead performance, didn't seem to be worthy of an Oscar nomination).
"The Wolf of Wall Street" is sporadically invigorating but ultimately detached and exhausting – making you wonder what, if any, film editing actually took place on this picture. There's one party sequence, one snort of cocaine, one sexual liaison after another – but lost in the debauchery is any sort of human interest or narrative development. Belfort is a louse, no doubt, but any level of sympathy you might've had for him goes out the window with Scorsese spending so much time on the sordid behavior of the investors that I couldn't wait for the cocky protagonist to get his comeuppance. Rob Reiner as Belfort's father generates a few laughs, and the stunning Margot Robbie makes a big splash (clothes on and off) as the investor's second wife, but there's not nearly enough dramatic stakes to make you care. In fact, one of the story's most pivotal elements – with Kyle Chandler playing the FBI agent who eventually takes Belfort down – is given surprisingly short-shrift, here treated less as the dramatic development it should've than one more episode in Belfort's fall from the 1%.
Scorsese apparently rushed the film through post-production to meet a Christmas release and the signs of the movie having not been satisfactorily completed are obvious – there's incredibly poor ADR looping, digital effects backdrops that often look as believable as rear projection on a '40s backlot, and continuity errors that are noticeable throughout. More significant, however, than the technical problems is that there's no reason at all why a good 30-45 minutes couldn't have been trimmed – as superficial as the picture is (guess what folks – money doesn't buy happiness!), at least the movie would've been more entertaining in a leaner, more focused format. In the end, this "Wolf" is a self-indulgent work-in-progress in dire need of pruning.
Paramount's 4K UHD of the film does include a glitzy Dolby Vision HDR grading (with the same 5.1 DTS MA soundtrack as its predecessor). While the widescreen lensing of Rodrigo Prieto is superb, 4K accentuates to the movie's sloppy technical issues (there's even a jarring digital transition when DiCaprio's car drives up to a mini-mall; clearly he wasn't driving, as the frame "shifts" once he steps out). A Digital HD code is included with two featurettes and a round table on the UHD's supplemental side.
First available on Blu-Ray years back in a Criterion release that's since gone out-of-print, Hal Ashby's HAROLD AND MAUDE (91 mins., 1971, PG; Paramount) is one of the more memorable films of its era: a straightforward yet superbly performed story of the unlikely relationship between a troubled teen (Bud Cort) and a 79-year-old eccentric (Ruth Gordon) with an infectious zest for living. Colin Higgins' unpretentious script was matched with director Ashby's character-driven sensibilities and the result is an offbeat, endearing movie that's been effectively remastered here in a brand-new Paramount Blu-Ray (1.85, 5.1 Dolby TrueHD). In addition to a slipcover, a Digital HD code and trailers, "Harold and Maude"'s Paramount Presents package also includes Yusuf (Cat Stevens) discussing his soundtrack for the film and a commentary with admirers Cameron Crowe and Larry Karaszewski on the picture and its legacy.
Not a "Paramount Presents" remaster but still the first release of a Paramount catalog title in HD is BEAVIS AND BUTT-HEAD DO AMERICA (80 mins., 1996, PG-13). This Mike Judge-helmed spinoff of his hit '90s MTV cartoon brought the young rocker pals into a feature film format wherein they trek across the country trying to find their stolen TV set. Typical juvenile humor for its time that hasn't aged all that well (though truthfully I never really found the series that amusing to begin with), "Beavis" lands on Blu-Ray this week from Paramount sporting a 1080p transfer, 5.1 DTS MA sound, commentary from Judge and animation director Yvette Kaplan, featurettes on the music and production, trailers, TV spots, and a Digital HD copy…New on DVD, MOSELEY (97 mins., 2019, PG) is an animated New Zealand/Chinese children's film about a young bipedal animal who sets off to prove the legends that his species was once upright, and only became "bent" after becoming beasts of burden to mankind. Paramount's DVD (16:9, 5.1) of the Saban distributed film is out this week, also sporting a Making Of featurette.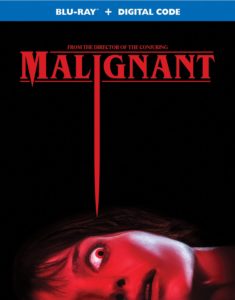 MALIGNANT Blu-Ray (111 mins., 2021, R; Warner): "Conjuring" auteur James Wan ventured back into the horror genre for an exercise so over the top you aren't sure whether to send him kudos for its nuttiness or scold him for wasting his time on such a ridiculous enterprise. Annabelle Wallis stars and gives a not entirely sound performance as a young woman who witnesses ghastly deaths and eventually uncovers that her premonitions are real glimpses into actual killings. What's causing them results in the creation of a new horror character so crazy that it's best left for the viewer to see for themselves, as the element of surprise is the most positive component "Malignant" has going for it. A box-office bust quickly sent to home video, "Malignant" debuts on Blu-Ray with an attractive 1080p AVC encoded transfer, 5.1 DTS MA sound, a Digital HD code, and a behind-the-scenes featurette.
COVID and its associated public health measures have derailed the commercial prospects for many other "adult" movies, whose box-office marketplace has basically vanished since Spring 2020.
Clint Eastwood's latest, CRY MACHO (104 mins., 2021, PG-13; Warner) was one of those casualties. An adaptation of N. Richard Nash's '70s book with a screenplay by the author and Nick Schenk, this is a (really) old-school throwback with Clint playing a horse breeder who's ultimately tasked with reuniting a young Mexican boy with his father (Dwight Yoakam). Though reasonably crafted in producer-director Eastwood's typical manner, "Cry Macho" would've been more effective had its lead not been pushing 90 at the time of its production — and sure, while it's remarkable to see Clint juggling multiple duties at his age, the movie is harder to digest than even Eastwood's previous outing, "The Mule." Still nicely shot by Ben Davis, "Cry Macho" debuts on Blu-Ray (2.39, 5.1 DTS MA) this month from Warner sporting two featurettes and a Digital HD code.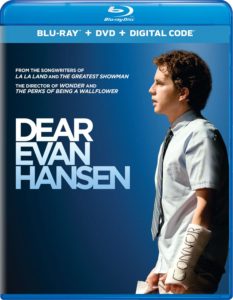 Another adult-oriented project that would've performed better in a healthier climate is DEAR EVAN HANSEN (137 mins., 2021, PG-13; Universal), the adaptation of the Broadway smash about a young man struggling after inadvertently writing a letter which leads to a classmate's death. Despite director Stephen Chobsky's attempts to bring an "open," cinematic sensibility to the material, critics took issue with this faithful rendering of the Benj Pasek-Justin Paul musical, right down to original star Ben Platt reprising his role, which some found distracting due to his advancing age. Despite all of that, I still found this film reasonably effective with some moving moments; Universal's Blu-Ray (2.40, Dolby Atmos) offers behind-the-scenes featurettes, a DVD, and a Digital HD copy.
COPSHOP Blu-Ray/DVD (108 mins., 2021, R; Universal): Gerard Butler and Frank Grillo have each had their share of moderately-budgeted action hits over the last few years, and here working with director Joe Carnahan, one would've hoped "Copshop" could've surpassed its relatively low-level origins. Regrettably, this one doesn't work, with con man Grillo trying to hide out from a hitman (Butler) by getting himself arrested and locked up in a Nevada jail out in the middle of the desert. Of course, not even this remote location is safe from Butler in a movie the actor claimed was sabotaged in post-production – either way, "Copshop" is like a poor man's "Assault on Precinct 13," and Universal's Blu-Ray/DVD combo pack offers a robust technical presentation (2.39, 5.1 DTS MA) and Digital HD copy but no extras at all.
THE MITCHELLS VS. THE MACHINES Blu-Ray/DVD (113 mins., 2021, PG; Sony): Delightful animated feature, intended for theaters but gobbled up by Netflix during "The Great COVID Sell-Off," finds Katie — the college-bound, eldest daughter of the Mitchell family — setting off with her parents and younger brother for school. Unfortunately, the family picks the wrong time for a cross-country road trip after an AI uprising threatens all of humanity, leading them to patch up their relationships with one another in order to combat a veritable "robot apocalypse." A warm-hearted, very satisfying animated feature from director Mike Rianda and co-writer Jeff Rowe that debuts on Blu-Ray (2.39, 5.1 DTS MA) this week from Sony. This Special Edition set offers filmmaker commentary, the short "Dog Cop 7: The Final Chapter," and the similarly exclusive "Katie's Extended Cinematic Bonanza Cut!" containing 40 minutes of deleted scenes. Some 20 additional minutes of scenes are on-hand here plus featurettes, a DVD and Digital HD copy.
THE CARD COUNTER (101 mins., 2021, R; Universal): Paul Schrader and Martin Scorsese are together again — but this time it's in a piffle of a character drama that must've looked more appealing on paper, with Oscar Isaac playing a former military interrogator-turned-gambler whose life and chances at redemption come to a breaking point. Tye Sheridan, Willem Dafoe, and comedienne Tiffany Hadish (in a change of pace performance) support Isaac in a drab and ultimately ineffective piece that Schrader directed from his own screenplay. A behind-the-scenes featurette is included in Universal's Blu-Ray (1.66, 5.1 DTS MA) along with a Digital HD code.
---
Quick Takes
THE WALTONS' HOMECOMING DVD (80 mins., 2021; Warner): Remake of the original "Waltons" TV movie – a veritable small-screen classic – earned decent reviews and solid viewership for the CW a few weeks ago, and it's an earnest if unnecessary re-do with John Boy heading into the Blue Ridge Mountains to search for his missing father. The cast is fine and Richard Thomas appears and narrates this reworking of a TV staple that's probably going to suit younger viewers more than fans of the original, who will be better off sticking to the first version. Warner's DVD is available December 14th (16:9, 5.1).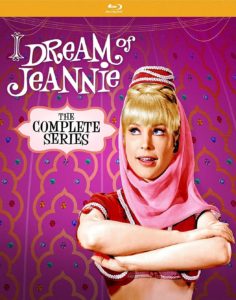 I DREAM OF JEANNIE: THE COMPLETE SERIES Blu-Ray (Mill Creek): One of the seminal sitcoms of the 1960s, "I Dream of Jeannie" starred Barbara Eden as the mischievous genie in a bottle who becomes attached to a NASA astronaut (Larry Hagman) and thus begins a series of comedic shenanigans that would last from 1965-70 but for decades afterwards in highly-rated syndicated reruns.
Chances are if you grew up in the 70s or 80s you saw those "Jeannie" reruns, though perhaps not so much the series' initial season, which was filmed in B&W for its first 30 episodes (these episodes were "colorized" in the '80s).
Formulaic but fun – a companion to Elizabeth Montgomery's antics on another fantasy-oriented comedy, "Bewitched" – "Jeannie" has been brought to Blu-Ray for the first time in the form of a 12-disc Mill Creek set. The good news is the set is affordable and most episodes, from what I sampled, seemed to be uncut; the bad news is these Sony-supplied HD masters (1.33) look ancient and comparably inferior to streaming versions you can find online. These latter transfers were remastered in a way these haven't been, so fans will have to weigh the set's low price and content (at least it's better than DVD) with that overall disappointment.
Also new from Mill Creek this month: Jean-Claude Van Damme fans might want to check out Mill Creek's Steelbook edition of STREET FIGHTER (102 mins., 2021, PG-13), especially since it ports over numerous extras from both its earlier Universal format release and the overseas 88 Films Blu-Ray. Included here (2.35, 5.1 DTS MA) are outtakes, deleted scenes, an archival commentary and Making Of, recent featurettes with Graeme Revell plus "Van Damme at Universal"/"Game Vs. Film," and new interviews with director Steve E. De Souza, stars Ming-Na Wen, Damian Chapa, and producer Edward R. Pressman…Mill Creek's ULTRAMAN GAIA (aprx. 23 hours) DVD collection includes the complete "Ultraman Gaia" series plus "The Battle in Hyper Space" and "Gaia Once Again" specials (1.33, 2.0 Japanese audio with English subtitles).
GOD'S NOT DEAD 4-Movie Collection DVD (Universal): Special four-disc DVD collection includes "God's Not Dead," "God's Not Dead 2," "God's Not Dead: A Light in Darkness," and "God's Not Dead: We The People." Behind the scenes segments, deleted scenes, music videos, interviews and more comprise the anthology, which Universal debuts on disc this week in time for holiday gift-giving (16:9, 5.1)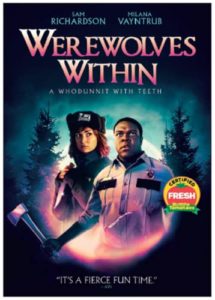 Well Go USA New Releases: An animated Chinese import, THE MONEY KING REBORN (96 mins., 2021, Not Rated) finds the title character attempting to rescue his master and make things right after he destroys a magical tree and releases the villainous King of Demons in the process. This recent theatrical release from overseas includes Mandarin audio with English subtitles or an English dubbed track, both in DTS MA. The trailer is Well Go USA's sole extra in this new release...Available December 21st is HELL HATH NO FURY (109 mins., 2021, R). This independent production from director Jesse Johnson stars Nina Bergman as a French national who's rescued by American soldiers during WWII so long as she leads them to a cache in gold that the Nazis are also after. Her efforts to stay alive against forces conspiring against her on all sides forms "Hell Hath No Fury," which Well Go's Blu-Ray (1080p, 5.1 DTS MA) presents with a fine a/v transfer and soundtrack.
SOUTH OF HEAVEN Blu-Ray (120 mins., 2021, Not Rated; RLJE): Former Saturday Night Live cast member Jason Sudeikis shifts gears in filmmaker Aharon Keshales' drama about a newly released felon who strives to give his cancer-stricken girlfriend (Evangeline Lilly, ditching her long brown mane) a final year to remember. Alas, a local crime boss (Mike Colter) stands in his way after he takes a side gig from his parole officer (Shea Whigham) in this gritty effort debuting on Blu-Ray December 14th from RLJE (2.35, 5.1 DTS MA).
WEREWOLVES WITHIN Blu-Ray (96 mins., 2021, R; IFC/RLJE): Entertaining adaptation of a VR video game (that frankly I had never heard of) stars Sam Richardson as a newly installed forest ranger who uncovers a werewolf terrorizing the small town of Beaverfield, just as a proposed gas pipeline project threatens to divide its residents. Josh Ruben directed this comic horror-mystery with a capable cast, especially the fetching Milana Vayntrub, most recognizable as Lily from the AT&T commercials, who plays the local mail carrier. RLJE's Blu-Ray (2.39, 5.1 DTS MA) doesn't offer any special features but at least looks and sounds good.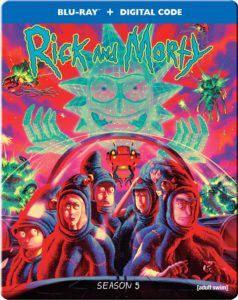 RICK AND MORTY: Season 5 Steelbook Blu-Ray (223 mins., 2021; Warner): It's the fifth season of the still popular Cartoon Network/Adult Swim series that continuously ranks among the highest-rated comedies on TV. All 10 episodes from R&M's fifth season have been included here in a colorfully designed Steelbook Blu-Ray along with the never-before-seen featurette "Fighting Gravity." Co-creator Dan Harmon and his crew also provide a look behind the scenes here at the creation of the show's fifth season – completed after the beginning of COVID – plus "Inside the Episode" segments and plenty of additional production segments. Warner's now-available Blu-Ray includes 5.1 DTS MA soundtracks and a Digital HD copy.
Anime New Releases: Newly available from Warner, Volume 8 of RWBY (231 mins.; Warner) finds the Kingdom of Atlas in a crisis after Salem arrives, threatening to splinter the remaining allies of humanity. Not only that, Salem teams up with Ironwood to put Remnant's future at stake, all the while RWBY has to come up with a plan to stop them. A number of special features, including an RTX panel, are included plus commentary in the Warner multi-disc Blu-Ray (1080p, 5.1 DTS MA).
New from Shout! is SHIROBAKO: THE MOVIE (119 mins., 2020). Set four years after the events of the series, "Shirobako" follows Aoi Miyamori after she's offered a new theatrical animation project, while Musani is tasked with finishing their production in its current state. A promotional featurette, trailers and TV spots are included in Shout's 1080p (1.78) presentation with Japanese 5.1 DTS MA sound and English subtitles. A DVD is bundled in the slipcovered package along with an exclusive booklet with character art.
New From Film Movement: The Malaysian horror import ROH (83 mins., 2019, Not Rated) serves up a spooky tale of two young siblings who find a girl covered in clay out in the middle of the jungle. As the youngster offers up the warning that they're all going to die prior to the next full moon, writer-director Emir Ezwan provides a disturbing film whose horrors cross cultures; Film Movement's DVD (1.78, 5.1/2.0) is out December 21st featuring a Making Of featurette…from Brazil comes MEMORY HOUSE (94 mins., 2021), Joao Paulo Miranda Maria's debut feature chronicling an Indigenous person of color from northern Brazil who moves to a southern town populated with the descendants of Austrian immigrants. Their cultural clash makes for a fascinating, at-times surreal film brought to DVD by Film Movement sporting a 16:9 (1.85, 5.1/2.0) transfer with a director commentary and Maria's short "The Girl Who Danced With the Devil" provided on the supplemental side…Bruce LaBruce's SAINT-NARCISSE (101 mins., 2021, Not Rated) stars Felix-Antoine Duval as a young man with a fetish for himself who uncovers long-buried secrets about his family's sordid path in the director's tribute to psychosexual thrillers of the '70s. A ride recommended only for adventurous viewers with Film Movement's DVD (1.85, 5.1/2.0) offering LaBruce's commentary and deleted scenes.
WORLD SERIES 2021 Blu-Ray (22 hours, MLB/Shout! Factory): Collector's Set brings Atlanta Braves fans all six games of the 2021 World Series wherein the Braves surged to their first title since 1995. Also on-hand here is the complete Game 6 of the NLCS, the feature-length World Series documentary, sleevestats insert, and as is usually the case with these superb MLB sets, multiple audio streams for home/away radio, TV and Spanish language broadcast.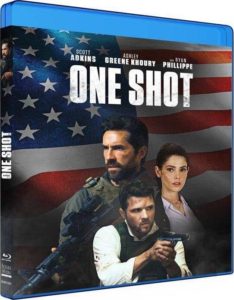 BROADCAST SIGNAL INTRUSION Blu-Ray (104 mins., 2021, Not Rated; Dark Sky/MPI): Harry Shum Jr. begins to witness strange occurrences in old TV news footage in this creepy thriller from director Jacob Gentry, with Shum's character trying to understand his wife's disappearance and what's causing the disturbing video phenomena he's witnessing. Dark Sky brings this 2021 SXSW selection to Blu-Ray (2.39, 5.1/2.0) this month with a commentary from Gentry and Shum Jr. included on the supplemental side.
ONE SHOT Blu-Ray (96 mins., 2021, Not Rated; Screen Media): Scott Adkins direct-to-demand programmer treads over familiar ground reasonably effectively. Adkins plays a Navy SEAL who teams up with a young CIA analyst (Ashley Greene Khoury) to help prevent a terrorist attack on Washington D.C.; Ryan Philippe is also on-hand as a CIA op leading a black site on a remote island where a terrorist resides, only to have them all besieged by insurgents in James Nunn's action thriller. Two featurettes, a 1080p (2:1) transfer and 5.1/2.0 comprise Screen Media's newly available Blu-Ray.
THE JESUS MUSIC Blu-Ray (109 mins., 2021, PG-13; Lionsgate): If contemporary Christian music is your "jam," then The Erwin Brothers' new documentary is a must-view. This broad overview of the evolving "Christian pop" genre — which the brothers believe originated as part of the '60s counter-culture movement — provides fans with a glimpse inside its history and artists, especially those who were a part of its explosion in the 1980s. Amy Grant and Michael W. Smith are among them, and tellingly, both are also producers on this very watchable, feature-length doc. Lionsgate's Blu-Ray (2.39, 5.1 DTS MA) is now available featuring a "lyrical video," DVD and Digital copy.
MANIFEST – Complete Third Season DVD (594 mins., 2021-21; Warner): A year after the surprising reappearance of Flight 828, the survivors continue to deal with the fallout from their return: the Stones try to keep their allies safe while being doubted by their enemies, while the group collectively struggles to turn their increasing death rate around. All 13 episodes from the NBC series' third season have been collected here on DVD by Warner (16:9, 5.1), though fans will have to wait a little longer for Season 4 after Netflix came to the canceled show's rescue and have given it a presumably final season (in 2022 or later) to finish out its run.
NEXT TIME: Kino Lorber's December rundown just in time for Christmas! Until then, don't forget to drop in on the official Aisle Seat Message Boards and direct any emails to our email address. Cheers everyone!