Message Board (open 24 hours!)
Twitter - @andredursin (for everything else!)
Three directors, two cinematographers, several writers and all kinds of production trouble made THE PURSUIT OF D.B. COOPER (104 mins., 1981, PG) a problematic movie that somehow made its way into theaters to meet Universal's promised November 1981 release date. One of those films that's more interesting for what happened off the screen than on it, this Polygram Pictures product kicks off Kino Lorber's October release slate, one that's filled with a varied array of titles from the pre-Code era through the late stages of Michael J. Fox's box-office appeal.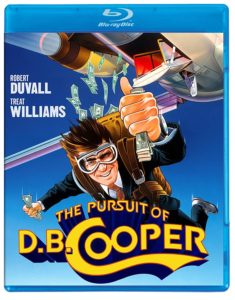 The case of D.B. Cooper was well documented throughout the '70s and '80s: a mysterious man who skyjacked some $200,000 out of a Boeing jet and jumped out, presumably to freedom – or his demise, seeing as only a young passerby ever recovered some of the bills. The case baffled authorities, served the basis for an "In Search Of…" episode, and was eventually closed in 2016 without Cooper's whereabouts – or the money's – ever being located.
Treat Williams stars in the title role in "The Pursuit of D.B. Cooper," with Cooper envisioned as Jim Meade: a Vietnam vet guilty of the robbery, who ends up being pursued by his ex-sergeant (Robert Duvall) now working as an insurance investigator plus a former buddy (Paul Gleason) who pieces together that Meade perpetrated the Cooper heist. Ultimately, Meade gains an assist from his estranged wife (Kathryn Harrold) as the duo make a series of fast escapes via cars, inflatable rafts, horses and everything inbetween.
"Cooper" started off as a John Frankenheimer film before the director, then suffering from alcoholism, was canned days into shooting. Buzz Kulik replaced him and, indeed, the first trailer for this film is billed as "A Buzz Kulik Film." Yet, according to Michael Sragow in a Film Comment article back in 1983, Kulik's completed movie was slow-going, talky and not very entertaining – hence director Roger Spottiswoode was brought in to punch the movie up. What was supposed to be a principal stunt sequence executed by Spottiswoode ended up being a massive reshoot of more than half the movie, with Ron Shelton rewriting much of the screenplay along the way.
Only Spottiswoode was credited with direction on the final film, which also listed two cinematographers (Harry Stradling Jr., who shot the Kulik version, and Charles F. Wheeler) and a single screenwriter in Jeffrey Alan Fiskin, though reportedly W.D. Richer in addition to Shelton (who ended up with an Associate Producer credit for his trouble) also worked on the movie.
The end result shows clear signs of tinkering, most especially in how the frizzly mop on Harrold, a highly underrated '80s leading lady, varies in its length from scene to scene. In general, though, Spottiswoode's punchy action made the movie a lot more watchable than Kulik's cut according to Sragow's reporting, even if it mostly comes off like a pricey big-screen episode of "The Dukes of Hazzard," down to James Horner's twangy, "down home" country score (it certainly doesn't sound like anything Horner would've written).
Ultimately all the turmoil may not have been worth the trouble, as "The Pursuit of D.B. Cooper" bombed at the box-office before becoming a staple on HBO. Kino Lorber resurrects the film here in a strong 1080p (1.85) AVC encoded transfer that looks so good you can spot the differences in the cinematography, with Kulik footage seeming like it's a generation removed from other scenes. The mono sound is fine and filled with songs, while two trailers (one listing Kulik as director, another with Spottiswoode) and a commentary with Fiskin and Daniel Kremer touching upon the movie's difficult shoot round out the release.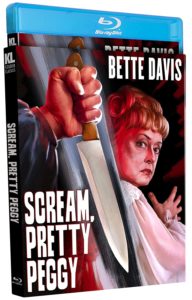 Among this Halloween's horror catalog releases on Blu-Ray are a trio of network television films that each scare up an assortment of tricks and treats: all products of an era in which the "Movie of the Week" on the small-screen meant dependable stars, decent production values and stories based on authors like Ray Bradbury, whose THE SCREAMING WOMAN (73 mins., 1972) inspired a TV-movie shocker directed by Jack Smight, who helmed – to lesser success – an adaptation of the author's "The Illustrated Man" for the big-screen several years prior.
"The Screaming Woman" stars Olivia De Havilland as a recovering mental patient who heads home to heal, only to hear the cries of a woman who's actually the victim of her next door neighbor (Ed Nelson). Merwin Gerard's adaptation of Bradbury's short story plays along the lines of something like "Hush…Hush Sweet Charlotte," though there's a stodginess to Smight's direction that keeps this one firmly anchored to the ground as a product of its time. Joseph Cotten and Walter Pidgeon provide fleeting appearances and John Williams is credited with the "Theme" – don't get too excited, though, since the score is mostly comprised of library cues, with Williams' participation relegated to the very end.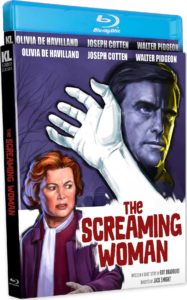 Gerard also wrote the teleplay for THE VICTIM (73 mins., 1972), a superior slice of small-screen suspense that works because of Elizabeth Montgomery's committed performance as a Bay Area woman who heads to her sister's remote home, only to find her missing, a storm ravaging outside – and a killer on the loose (apparently). Herschel Daugherty does an effective job with a neat little mystery, punctuated by a Gil Melle score, but it's all Montgomery's show, and she's very effective here in a performance that was a change of pace from her role on the hit TV sitcom "Bewitched."
Hammer alumnus Jimmy Sangster was one of the writers on SCREAM, PRETTY PEGGY (74 mins., 1973), here working with another British genre vet, director Gordon Hessler, who was coming off the likes of "The Oblong Box" and "Scream and Scream Again." Alas, the duo shamelessly assembled a "Psycho" rip-off with this silly recycling starring Sian Barbara Allen as a college student who ultimately wishes she never took a housekeeping gig for elderly Bette Davis and her kooky son (a change of pace role for "That Girl"'s Ted Bessell). Few surprises ensue in this one, though Davis fans might enjoy seeing the "Special Guest Star" doing her usual shtick as the movie rolls to a totally unsurprising ending.
All three films have been brought to Blu-Ray for the first time with new HD masters (1.33) and commentaries. These include Troy Howarth and Nathaniel Thompson on "Peggy," Amanda Reyes on "The Victim" and Gary Gerani on "The Screaming Woman." The Universal-licensed productions all look crisp and feature newly commissioned artwork from Vince Evans, presented in lovely slipcovers for each title. For those looking for a proper blast of small-screen terror from the early '70s, each comes recommended.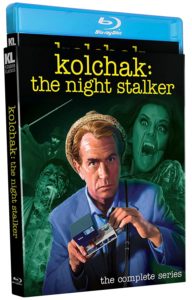 Fresh off a pair of top-rated TV movies, Darren McGavin's irascible reporter Carl KOLCHAK: THE NIGHT STALKER (1020 episodes, 1974-75) soon settled into his own weekly series. Though not as well-received as Dan Curtis' original tele-films ("Night Stalker" and "Night Strangler"), there's plenty of entertainment to be found in Kolchak's 20 one-hours, including run-ins with Jack the Ripper, a voodoo priestess, extraterrestrials, vampires, werewolves, The Devil himself, a Native American medicine man, a headless motorcyclist, a Bayou "bogeyman," and a crocodile-like creature…the latter guest starring Tom Bosley!
As has been written many times over, "Kolchak" set the standard for numerous genre series that followed, including Chris Carter's "The X-Files." In fact, the "old school" Kolchak is as hip as they come, with McGavin's engaging persona making for the perfect counterpoint to the weekly supernatural goings-on. On the downside, the series quickly settled into a formula and never lives up to the precedent established by its two, Richard Matheson-penned predecessors. Though I enjoyed catching up with the episodes I hadn't viewed before, it's fairly evident why "Kolchak" wasn't renewed for subsequent seasons.
Settling comfortably into Kino Lorber's other TV genre forays (I'm still hoping "Amazing Stories" joins their ranks one day!), "Kolchak" here debuts on Blu-Ray (1.37) with all 20 episodes from its first and only season. The remastered transfers are all terrific and an array of wonderful supplements have been created including interviews with "Sopranos" creator David Chase, who co-wrote nearly half the episodes, plus a talk with Dana Gould. There are no less than 21 commentaries for the episodes with astute historians like Kim Newman, David J. Schow and Tim Lucas on-hand. 14 original TV spots, a booklet and newly commissioned art by Mark Maddox add the further icing on the cake. Highly recommended for Kolchak fans!
The Elvis Presley big-screen machine was on the wane by the time CHANGE OF HABIT (93 mins., G) hit theaters in '69. This Universal/NBC co-production offers a pair of narrative components requiring a suspension of disbelief: Elvis as a singin' inner-city doctor named John Carpenter, and Mary Tyler Moore as a nun sent into New York City to spread the good word. Of course, she falls for Elvis in a Joe Connelly-helmed movie that's heavy on social messaging and light on music – yet despite the negative reviews that accompanied the film when it was originally released, "Change of Habit" is still breezy, sitcom-level entertainment from its time and at least boasts decent chemistry between Moore and Presley in what turned out to be his final dramatic part. The sort of thing I'd routinely encounter on a Saturday afternoon after Godzilla movies concluded the Creature Double Feature, "Change of Habit" debuts here in a superb Universal master (1.85) with a lot of fine detail, a healthy mono soundtrack (with a score by William [Billy] Goldenberg) and commentary from Howard S. Berger and Nathaniel Thompson.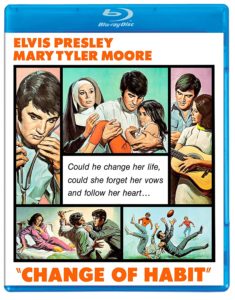 A slicker Universal comedy from several years prior, COME SEPTEMBER (112 mins., 1961) pairs up Rock Hudson with Gina Lollabrigida in the farcical tale of an American businessman who heads to Italy every September to hang out with his mistress – yet after their posh villa becomes a hotel, Hudson is in for a shock in more ways than one. Their secluded hideaway now accompanies a number of visiting American girls – all the better to bring in the youth audience with Bobby Darin, in his feature debut, pining after Sandra Dee. This is a silly but attractively shot, star-driven, nostalgic farce that marked an early work from prolific director Robert Mulligan, with Stanley Shapiro and Maurice Richlin's script taking its time and the movie benefitting from location shooting. Kino Lorber's Blu-Ray (2.35) offers a very nice widescreen transfer with a commentary from David Del Valle and David DeCoteau, taking a break from horror chats to discuss this very different Universal studio comedy from the early '60s.
Michael J. Fox's big-screen appeal was slowing down by the time he starred in FOR LOVE OR MONEY (96 mins., 1993, PG), a slight, forgettable comedy that marked an odd directorial choice for Barry Sonnenfeld, then a hot commodity after the release of "The Addams Family." Fox plays a New York City concierge (the movie's original title) juggling his manic day job with hopes of packaging a deal to build his own luxury high rise. Standard comedic shenanigans ensue in the script by Mark Rosenthal and Lawrence Konner ("Superman IV," "Jewel of the Nile") while the cast, at least, tries hard: Fox is fine, Gabrielle Anwar is lovely, and there's strong support from Bob Balaban, Michael Tucker and Den Hedaya, but the final result gives little indication why Sonnenfeld would tackle such a ho-hum project that needed to be punched up with a few rewrites in the comedy and romance department. Kino Lorber's Blu-Ray (1.85) does look nice with Oliver Wood's sparkling location shooting capturing an NYC very different than what we see today; extras include the trailer and a new commentary by journalist Bryan Reesman.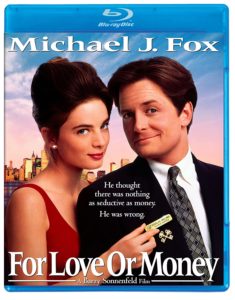 Westerns on Blu-Ray: New on the western front from Kino Lorber is a fresh Blu-Ray edition of Robert Aldrich's 1954 production VERA CRUZ (94 mins.), a rock-solid sagebrush saga with Gary Cooper and Burt Lancaster as mercenaries who run into revolution, skirmishes, and a beautiful countess (Denise Darcel) while down south in Mexico. MGM's previous, out-of-print Blu-Ray looked aged and washed-out, but at least retained the original 2:1 Superscope aspect ratio with a minimum of DNR. Kino Lorber's disc does the same, and adds a new commentary from Alex Cox that opens up about the Hecht-Lancaster production's history and shooting. A "Trailers From Hell" segment features John Landis and the trailer itself caps the release, which also includes a new slipcover.
A moodier, more psychological western affair, THE LAST SUNSET (112 mins., 1961) was a production of Kirk Douglas' Bryna Company, which recruited blacklisted screenwriter Dalton Trumbo to pen this adaptation of Howard Rigsby's novel "Showdown at Crazy Horse." Trumbo brought his offbeat, character-driven sensibilities to this duel between "the law" (Rock Hudson) and his prey (Kirk Douglas), who happened to have killed his brother-in-law. Hudson trails Douglas south of the border, taking a job as a trail boss and getting to know him before fate eventually comes calling. Both Hudson and Douglas are superb in this taut if leisurely-paced western-drama from director Robert Aldrich, who also receives support from a fine supporting cast (Dorothy Malone, Carol Lynley, Joseph Cotten, Neville Brand). Kino Lorber's Blu-Ray includes a new 2K master (1.85) with Ernest Gold's score coming off just fine and a new commentary included from critic Nick Pinkerton.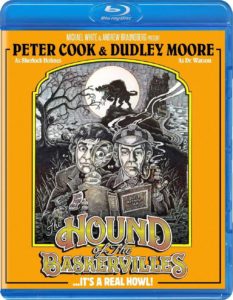 Code Red New Releases: Dudley Moore and Peter Cook tried to take advantage of the spike in ribald cinematic humor during the '70s by teaming up with Paul Morrissey (director of Andy Warhol's "Frankenstein" and "Dracula") for THE HOUND OF THE BASKERVILLES (85 mins., 1978, Not Rated). Cook plays Sherlock Holmes with Moore as Watson (among others) in what was clearly intended to be a wild comedic take on Conan Doyle, but mostly sputters with a minimum of laughs – all despite the best efforts of Cook and Moore (who also scored the film) and a terrific supporting cast (Denholm Elliott, Hugh Griffith, Terry-Thomas, Roy Kinnear, Spike Milligan). This curio went unreleased in the U.S. until the early '80s, when it appeared in a hacked-up cut that put scenes out of order; this Code Red/Kino Lorber Blu-Ray features the original 85-minute UK version in a fine 1080p (2.35) MGM licensed transfer with the trailer as its sole extra…Also new from Code Red, just in time for Halloween, is TRICK OR TREATS (90 mins., 1982, R). Gary Graver wrote, photographed and directed this low-budget independent slasher starring Peter Jason as a jilted husband committed to a mental institution by his philandering wife (Carrie Snodgress). After escaping from prison, he comes home to murder her, only to run into his now 10-year-old son who's as nuts as he is. Steve Railsback and David Carradine provide cameos in this minor effort which made it into theaters during the height of the late '70s/'80s slasher craze; Code Red's Blu-Ray includes a transfer (1.78) from the original camera negative; cast/crew commentary; an audio interview with Steve Railsback; and the option to watch the film in "Katarina's Bucketlist" mode.
New From Scorpion Releasing: The raunchy works of animator Ralph Bakshi range from the controversial "Coonskin" to FRITZ THE CAT (78 mins., 1972, Unrated), one of his most successful efforts that was theatrically released with an X rating. This wild and dated ride reflects the socio-political attitudes of its era and comes recommended for adventurous viewers and animation fans alike, even if some (much?) of the material was mostly appreciated by audiences under the influence of something at the time of its original release. Producer Steve Krantz opted to make a follow-up without Bakshi and R. Crumb, the artist who created the character, leading to THE NINE LIVES OF FRITZ THE CAT (77 mins., 1974, R) being not nearly as well-received by critics or embraced by audiences. The sequel is still filled with political commentary and plenty of sex, drugs and controversial depictions of everyone from Henry Kissinger to Hitler, all wrapped up in scattershot humor that's entirely of its time. Again, curious viewers desiring to check out the sequel can do so in high-def for the first time thanks to Kino Lorber and Scorpion Releasing's Blu-Ray (1.85), which includes a respectable transfer of this American-International release. As for the original "Fritz," it too premieres on Blu-Ray October 26th from Scorpion and Kino Lorber featuring a solid 1080p (1.85) MGM master with the trailer and a commentary from Stephen Bissette and G. Michael Dobbs.
Pre-Code Dramas: Pre-Code fans and Golden Agers alike might want to check out the early Paramount melodrama DEVIL AND THE DEEP (78 mins., 1932), which sports early appearances of Gary Cooper and Cary Grant in the story of a submarine officer (Chares Laughton) who suspects his lieutenant (Grant) is having an affair with his wife (Tallulah Bankhead). Cooper is the real culprit in this over-the-top, quite watchable early talkie from Paramount, helmed by Charles Lang and presented here by Kino Lorber in a 1080p (1.37) B&W transfer with an informative, chatty commentary from David Del Valle…Grant also appears in HOT SATURDAY (73 mins., 1932) as a cosmopolitan guy who tries to knock down rumors that Nancy Carroll's innocent small-town girl spent the night at his summer house. Randolph Scott co-stars in this particularly entertaining early Paramount film, presented here with a commentary by Lee Gambin and a Universal-licensed 1080p (1.37) B&W transfer.
Both titles are due out October 26th alongside a pair of additional Pre-Code Paramount releases. THE CHEAT (68 mins., 1931) stars Tallulah Bankhead as a sexy gambler who's luck has run out, Orving Pichel as the playboy who wants to help her (at a price, of course), and Harvey Stephens as the devoted, frustrated husband inbetween them. George Abbott helmed this Paramount programmer (1.37 B&W), on Blu-Ray in a crisp Universal catalog master with a new commentary from critic Simon Arbams…Finally, Claudette Colbert is the TORCH SINGER (71 mins., 1933) in this musical/drama as a woman who puts her young daughter up for adoption in order to pursue her career; once she becomes famous, she tries to find her in a melodramatic yarn co-starring Ricardo Cortez and David Manners, fresh off cavorting with Bela Lugosi in "Dracula." Kat Ellinger provides a commentary with Kino Lorber's Universal-licensed transfer (1.37) boasting a solid image considering the movie's age.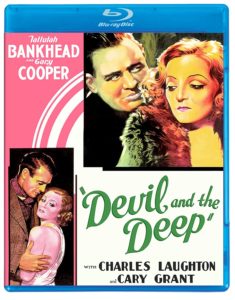 THE AWAKENING Blu-Ray (108 mins., 2011, R; Cohen): Ho-hum British chiller, set in the 1920s, finds noted ghost skeptic Rebecca Hall called to a boarding school haunted by the ghost of a deceased young boy. Dominated by blah, desaturated colors, "The Awakening" – which never received a theatrical release in North America that I'm aware of – is well-acted but is so slow-going and predictable that even the most seasoned genre viewer may find their patience tested (at least the odd ending is ambiguous, but it's a long slog in getting there). Cohen's Blu-Ray supersedes an earlier Universal release offering deleted scenes introduced by director Nick Murphy, extended interviews with the director, featurettes, a 1080p transfer and 5.1/2.0 DTS MA audio options…Also new from Cohen is CASANOVA LAST LOVE (98 mins., 2019), director Benoit Jacquot's romantic period drama starring Vincent Lindon as Casanova, here forced into exile in London, who lusts after a prostitute (Stacy Martin) who dodges his advances and captivates his senses. Cohen's Blu-Ray (2.39) boasts 5.1/2.0 DTS MA sound, in French with English subtitles…British director Terence Young later became synonymous with the early James Bond films and an assortment of international productions, all after getting his start on smaller-scale British films like CORRIDOR OF MIRRORS (96 mins., 1948). This is an effective, eerie picture that's part gothic horror, part romantic fantasy, and part Hitchcockian suspense, with Eric Portman playing an artist who comes to believe he and his lover (Edana Romney) are the reincarnations of Renaissance lovers in a painting he acquired. Fascinatingly drawn and filled with atmosphere, "Corridor of Mirrors" has been remastered in a new Cohen transfer (1.37 B&W) on Blu-Ray October 19th.
Season 1 of GOMORRAH: THE SERIES (612 mins., 2014) debuts on Blu-Ray this month from Kino Lorber. This is Stefano Sollima's adaptation of Roberto Saviano's best-selling book, previously brought to the screen as an award-winning film, here reconfigured as a more developed, 12-episode series looking at the Neapolitan crime organization The Camorra. This Italian import is new on disc featuring 1080p (1.85t) transfers and 2.0 stereo audio, in Italian with English subtitles. There's also an English dub track on-hand as well.
New on DVD from Kino Lorber: Oren Jacoby's ON BROADWAY (84 mins., 2021) is a timely documentary examining one of Broadway's darkest periods and how it was revitalized – particularly compelling given the absence of shows over the last 18 months. An all-star cast including Hugh Jackman, Christine Baranski, August Wilson, Viola Davis and others are profiled in this must for Broadway devotees, on DVD from Kino Lorber sporting a 16:9 transfer and 5.1/2.0 sound.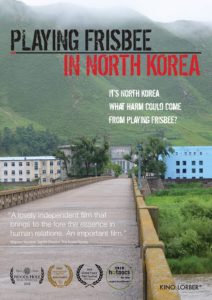 On DVD from Kino Lorber are a pair of documentaries from Greenwich Films: THE BIG SCARY "S' SWORD (82 mins.), which attempts to extol the virtues of modern socialism, as well as NOT GOING QUIETLY (96 mins.), following the efforts of ALS-afflicted activist Ady Barkan. Greenwich's new DVD releases also include THE CAPOTE TAPES (95 mins., 2019), a look at Capote's disastrous "Answered Prayers," and Antoine Vitkine's SAVOIR FOR SALE (95 mins., 2021), a documentary about a painting that may or may not have been the work of Da Vinci.
Also new on DVD is Angus Benfied's faith-based HEAVEN (106 mins., 2020, PG-13), a movie about a middle-aged paramedic who wakes up in Heaven and bounces back and forth to more Earthly locales, and the fascinating documentary PLAYING FRISBEE IN NORTH KOREA (86 mins, 2020), produced and directed by Savanna Washington, an African-American who was a graduate fellow at a Korean Re-unifcation project spearheaded by Gen. Colin Powell. A fascinating look at life inside the country, new on DVD this month from Kino Lorber.
Finally, on October 19th Kino Lorber brings viewers a Blu-Ray of SUMMERTIME (95 mins., 2020), "Raya and the Last Dragon" co-director Carlos Lopez Estrada's examination of 27 young spoken word poets, as captured in a single day in Los Angeles. Kino Lorber's Blu-Ray includes a 1080p (1.78) transfer, 5.1/2.0 sound, an hour long Making Of featurette, commentary and additional interviews.
---
HALLOWEEN KILLS (**, 105 mins., R): Less a movie than a 105-minute trailer for the third (and presumably final) entry in this contemporary trilogy, director-writer David Gordon Green gives us a real "pffft" of a feature here that spends 2/3 of its running time introducing us to a variety of characters — only to kill them off — while leads Jamie Lee Curtis, Judy Greer and Andi Matichak sit in a hospital room. Eventually the stars of this movie do show up to do something — well, at least 2 of them — while Curtis literally spends the entire film in that hospital bed, opposite a recovering Will Patton, who I assume will recover enough to get out of bed and play a role in "Halloween Ends."
That leaves the rest of this wholly unnecessary film to be comprised of Myers murder sequences, mostly played so broadly (with comics like Lenny Clarke and MadTV alumnus Michael McDonald on the death list) that the scenes start comically before becoming gory — yet at no point are they ever scary or suspenseful.
There are numerous cameos and reasonably fun digital recreations of Donald Pleasence to go around, but the story is non-existent, with the entire movie one big set-up for the third sequel. And one can easily stay home (as I did), watch this on Peacock and still feel the groans from viewers when the movie's title flashes on-screen at the end — a veritable middle finger to people who paid to see a functioning film with a beginning, middle and end.
---
Also New & Noteworthy
SEX AND THE CITY: The Complete Series (Warner): For the first time ever, Darren Star's long-running HBO comedy "Sex and the City" has been fully remastered for 1080p and debuts this week in a lavish box-set containing the entire run of the popular series and its two theatrical movie spin-offs.
All 96 episodes have been included here in AVC encoded, high-definition remasters (1.78) with 5.1 DTS MA soundtracks. This includes the complete misadventures of NYC writer Carrie Bradshaw (Sarah Jessica Parker) and friends Samantha Jones (Kim Cattrall), Charlotte York (Kristin Davis) and Miranda Hobbes (Cynthia Nixon), which captivated audiences for a half-dozen seasons before a pair of big-screen movies continued the series.
This 18-disc set includes every episode in gorgeous new transfers plus over three hours of special features: from Making Of featurettes to farewell tributes, deleted scenes, alternate series finale endings, a USCAF Writer's Panel discussion, Museum of TV & Radio seminar, and much more. The two movie discs are identical to their previous Blu-Ray format releases (Dolby TrueHD on the first movie, DTS MA for the second) and the entire package comes to home video November 2nd. Highly recommended for fans of the show.
THE COLONY Blu-Ray (104 mins., 2021, R; Lionsgate): Roland Emmerich was one of the producers on this apocalyptic sci-fi thriller, wherein Nora Arnezeder commandeers a mission to a dilapidated Earth where most of its wealthy residents have long left, leaving behind a "Mad Max" touring company that leads our heroine to make a choice about its future. Lots of thinly-veiled commentary on our current predicament and familiar genre tropes permeate this German/Swiss co-production which Lionsgate has released on Blu-Ray (2.39, 5.1 DTS MA) with extras including two featurettes, a commentary by director Tim Fehlbaum, and a Digital HD code.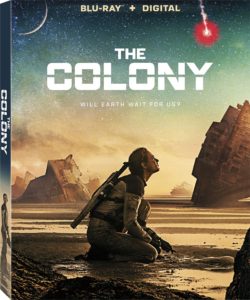 DON'T BREATHE 2 Blu-Ray (98 mins., 2021, R; Sony): Sequel to the unappealing "Don't Breathe" brings back Stephen Lang as the blind man you don't want to mess with — here holed up in a remote cabin, acting as a surrogate father to a young girl who ends up being kidnapped by a group of scuzzy ingrates with a personal agenda. Standard-issue unpleasantness ensues in this follow-up, now on Blu-Ray from Sony (2.39, 5.1 DTS MA). The disc includes three featurettes, a Digital HD copy, and a crew commentary.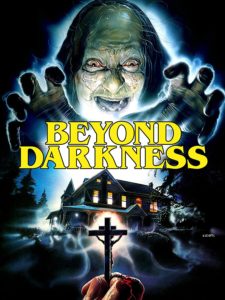 Severin New Releases: After churning out the cinematic trash heap that was "Troll 2," Italian auteur Claudio Fragasso decided to return to American shores to produce the off-the-wall BEYOND DARKNESS (93 mins., 1990, Not Rated). If nothing else, this is a likewise silly, mild upgrade on "Troll 2" (faint praise as that may be) as Fragasso recycles numerous '80s haunted house movie cliches in its chronicle of a minister and his family moving into their dream home — unknowing that it's now possessed by a female Satanist and convicted child killer who's just been sentenced to death. Fragasso clearly watched "Poltergeist" 1 & 2 and a number of other "Amityville"/"Exorcist"-type affairs for a movie some horror buffs seem to think is a "masterwork" — you, of course, can now be the judge thanks to Severin's Blu-Ray which offers interviews with Fragasso, co-writer Rossella Drudi, actor David Brandon, and the soundtrack CD, plus a 1080p (1.85) transfer and stereo English or Italian audio.
Also new from Severin this month is the much more entertaining RETRIBUTION (109 mins., 1987), the strange tale of a downtrodden L.A. painter (Dennis Lipscomb) who unwittingly becomes possessed by the spirit of a local crook after he unsuccessfully tries to kill himself. From there, director Guy Magar spins a series of murders as the spirit goes after the criminals who offed him, but also spends time developing the characters so that the material, for what it is, works. Severin's full-fledged special edition includes the U.S. theatrical version scanned in 2K (1.85) from pre-print elements along with the extended Dutch video version and hours of special features, including commentary by Magar, his short "Bingo," ample cast/crew interviews, and an interview with — and full remastered CD soundtrack of Alan Howarth's fine underscore.
Camillo Mastrocinque's Italian production AN ANGEL FOR SATAN (90 mins., 1966) also joins the Severin library this month. This mid '60s feature is a vehicle for the great Barbara Steele, here essaying an heiress who becomes influenced by a mysterious statue, leading to subsequent murder and mayhem. Scanned in 2K from the original negative, "An Angel For Satan" debuts on Blu-Ray (1.85) sporting both English and Italian audio; a new commentary from Kat Ellinger, with another talk featuring Steele and David Del Valle; a 1967 short "Barbara and Her Furs"; an interview with co-star Vassilli Karis; and a pair of trailers.
Finally, FRANCO NOIR will appeal to Jess Franco devotees, as this single-disc Severin Blu-Ray couples Franco's 1962 adaptation of DEATH WHISTLES THE BLUES (81 mins.), based on a book by the authors of "Vertigo," with RIFIFI IN THE CITY (85 mins., 1963), starring Jean Servais in a gritty underworld thriller. Both pictures have been restored in HD (1.85) from their original negatives for the first time and a generous, hour-plus interview with historian Stephen Thrower will be of major interest for fans.
NEON GENESIS EVANGELION The Complete Series Blu-Ray (779 mins., GKids/Shout! Factory): One of the cornerstone anime productions of the '90s, this Japanese series — set in a futuristic 2015 — finds Tokyo-3 besieged by super-powered beings named "Angels" which leads Shinji Ikari to be tapped as the pilot for the weapon Evangelion, the only thing standing between them — and us.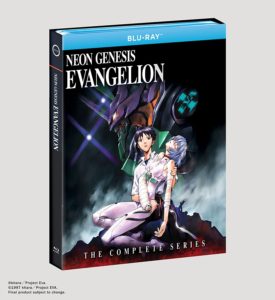 Shout's Blu-Ray includes the complete "Neon Genesis Evangelion" TV series — all 26 episodes — in 1080p (1.33) transfers with English and Japanese mixes: 5.1 (the "2003 renewal") and 2.0 ("original mix remaster"). The feature "Evangelion: Death (True)2" is also included along with "The End of Evangelion," a textless opening, Japanese cast auditions, trailers, TV spots, and a collectible slipcover. Note the movies are framed in their 1.78 theatrical aspect ratios, and English subtitles are available for Japanese language options.
KUNG FU: Complete First Season Blu-Ray (549 mins., 2021; Warner): CW network revival of the old David Carradine series adds a contemporary female spin (where have we seen that before) in the form of heroine Nicky Shen: an American college dropout who finds herself tutored in the way of Shaolin kung fu while on a three-year journey in China. This comes in handy once she returns to San Francisco and finds her hometown overrun with criminals and corruption. Slickly produced, this modern "Kung Fu" did alright for the CW, which renewed it for a second season after its initial 13 episodes were broadcast earlier this year. Warner's Blu-Ray includes attractive 1080p (1.78) transfers of those episodes, 5.1 DTS MA soundtracks, a single featurette ("Bond of Honor") and unaired scenes.
Film Movement New Releases: New on DVD from Film Movement this month are a trio of films from director Lee Isaac Chung, who recently found success helming the acclaimed "Minari." Available in separate DVD releases are Chung's highly acclaimed debut film MUNYURANGABO (98 mins., 2007), which started out its existence as a class project for Rwandan film students; his 2009 follow-up LUCKY LIFE (97 mins., 2009), a moving character drama; and ABIGAIL HARM (80 mins., 2012), described as a modern fairy tale starring Amanda Plummer, Will Patton and Burt Young. All three discs include 16:9 transfers and 5.1/2.0 soundtracks. "Munyurangabo" also includes behind-the-scenes footage and Chung's commentary.
Also new from Film Movement on DVD are Lou Jeunet's CURIOSA (107 mins., 2021), an erotic drama set in 1895 Paris, featuring 5.1/2.0 French audio with English subtitles and a 16:9 transfer; and WILDLAND (88 mins., 2021), a Danish import about a 17-year-old who moves in with her estranged aunt and (very troubled) male cousins (16:9, 5.1/2.0 Danish with English subtitles).
NEXT TIME: More of the latest reviews! Until then, don't forget to drop in on the official Aisle Seat Message Boards and direct any emails to our email address. Cheers everyone!