Message Board (open 24 hours!)
Twitter - @andredursin (for everything else!)
A buried gem – still unreleased – in John Williams' early filmography is STORY OF A WOMAN (90 mins., 1971, R; Kino Lorber/Code Red), a quaint Universal adult drama from the early '70s: rated R for topless footage of star Bibi Andersson yet otherwise so tasteful and placid it'd be the sort of thing your grandmother might be watching on a rainy Sunday afternoon, this Leonardo Bercovici-directed film sits somewhere between a stodgy 1960s studio product and the more "daring" sexuality of the 1970s. Yet "Last Tango in Paris" this isn't, even as Bercovici serves up a storyline involving a Swedish woman (Andersson) who has a fling with a married medical student (James Farentino) before settling into a proper marriage with an American diplomat (Robert Stack).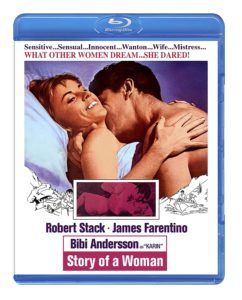 Andersson and Farentino's passion is, of course, later rekindled even after the birth of her and Stack's daughter, leading her husband to question her loyalties. Thankfully, most of the drama between the trio is resolved not through banal dialogue but montages set to Williams' striking score: this is a forceful, effective orchestral work that eschews the "mod sound" of its era, with the composer even writing an original song – in Italian – for singer Ornella Vanoni. And not only that, but there's a lot of music in this film, especially for a 90-minute, three-character drama: backing scenes of Andersson cavorting around Stockholm and Rome, attending sporting events and absorbing local color – so much that it's surprising nobody has gotten around to releasing it.
The movie's obscurity has to be the main reason why the score has never attracted much discussion, but Code Red and Kino Lorber's Blu-Ray release later this month ought to give Williams fans a prime opportunity to hear what they've been missing. The movie itself is a straightforward, pokey soaper, almost coming off like a TV movie from its time, but Williams' music elevates it into something watchable just the same. It's also, stylistically, a score that has much more thematically in common with Williams' later, post-"Star Wars" writing than many of the pictures he was scoring earlier in the '70s – making it all the more relevant to his wider body of work.
"Story of a Woman" has made scant appearances on television over the years and, as far as I can see, zero home video releases – at least none in any kind of recent, post-laserdisc history. Kino Lorber's Blu-Ray (1.78, DTS MA mono) looks well composed with some dirt and speckling inherent in the source material cropping up here and there – this isn't an especially "cinematic" looking work despite its location shooting, with Williams' score being its most distinguished component, especially for those who have never heard it.
Masquerades!: Not one but two movies both named "Masquerade" are part of Kino Lorber's September roster, though outside of their shared title, there's little in common between these two pictures.
The 1965 MASQUERADE (102 mins.) is a dated but watchable espionage effort from its era, back when Bond and assorted spies were commonplace on-screen. This Basil Dearden-directed film, which William Goldman co-wrote with Michael Relph, is something more of playful Hitchcokian affair than a Bond-esque adventure, as American Cliff Robertson hooks up with his British secret-service pal (Jack Hawkins) for a convert operation involving Middle Eastern oil and the kidnapping of a Prince. Marisa Mell co-stars in this talky UA release which doesn't appear to have had the budget of its genre counterparts, and as such sits grounded for much of its duration. The trailer, new 2K master (1.66) and a Howard S. Berger/Chris Poggiali commentary comprise Kino Lorber's disc.
Much more entertaining is Bob Swaim's 1988 film MASQUERADE (91 mins., R), an attractive romantic thriller written and produced by Dick Wolf, who was just about to make a killing of his own as the creator/producer of the mega-successful NBC series "Law & Order" and its endless spin-offs.
This "Masquerade" is a story-driven tale of a young Hamptons heiress (Meg Tilly) saddled with a drunken stepfather (John Glover) and courted by both a competitive sailboat skipper (Rob Lowe) and an old friend (Doug Savant) who's become a local cop. While Lowe carries on with the wife (Kim Cattrall) of his boat's owner, he also falls for Tilly – but is his relationship driven by love, or the millions he could potentially inherit by marrying her?
"Masquerade" was the only picture generated out of a contract between Swaim, whose work in French cinema outclassed his few forays into the U.S. studio system, and MGM, which was in dire need of a hit during the late '80s. The movie opened in March '88 to respectable grosses and decent reviews, and certainly plays well as an effective mystery: with its tidy running time, there's not a lot of room for the performances to stick (Lowe in particular seems vacant), but Tilly's natural warmth lends sufficient humanity to her heroine while John Barry's superb score adds the perfect atmosphere for what Swaim and Wolf are trying to do. "Masquerade" isn't a twisty thriller per se but, thanks to cinematographer David Watkin, it's a good-looking '80s updating of a '40s noir with a lot of old-fashioned sensibilities, closer – despite its R rating and mostly needless (if brief) sex scenes – to its genre predecessors than a more comparatively lurid '90s release like "Basic Instinct."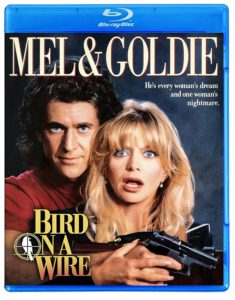 "Masquerade" makes its Blu-Ray debut from Kino Lorber this month featuring a perfectly serviceable MGM catalog transfer (1.85) with 2.0 DTS MA stereo sound. Barry's fine score may initially come off as a "minor" work in comparison with the output from his subsequent, prolific "Dances With Wolves" era, but it's certainly enhanced by a viewing of the film, where one can appreciate how much it supports the movie's pacing and mood. Kino Lorber has included a trailer and a new commentary by Swaim, which is unfortunately sporadic in nature, with the director saying the picture was one of the most satisfying, collaborative shoots of his career.
The artwork for BIRD ON A WIRE (110 mins., 1990, PG-13) suggests a wacky comedy pairing of Mel Gibson and Goldie Hawn, but the ensuing movie – not one of director John Badham's better outings – is more an action-oriented tale wherein Mel – enrolled in the FBI's witness protection program – hastily scrambles to find a new place to call home before the corrupt DEA agent (David Carradine) he helped put behind bars comes calling. Out to assist him is his ex-flame (Goldie Hawn), a former hippie turned lawyer he just coincidentally meets up with before they quickly run from the clutches of Carradine, his associate (Bill Duke) and a slimy FBI handler (an early turn from Stephen Tobolowsky).
Badham mined comedy and suspense successfully with the 1987 Touchstone hit "Stakeout" and then tried – mostly to diminishing returns – to replicate the balance in movies like "The Hard Way" and this film, which is completely watchable yet, given the stars, disposable at the same time. The silly script by Louis Venosta and Eric Lerner, rewritten by David Seltzer, is full of coincidences and near-misses, along with an assortment of increasingly ridiculous set-pieces (the climax involves wild animals!) that get in the way of the stars' chemistry. Mel and Goldie are actually fun together here, but the underlying material isn't nearly as much, making this one of those Summer 1990 hits that time has almost completely forgotten.
Making its Blu-Ray debut "Bird on a Wire" has been remastered by Kino Lorber in a new 2K scan of the interpositive (2.35) that looks much more colorful and fresh than Universal's older HD broadcast/streaming master. The DTS MA stereo sound houses a typical soundtrack of the era comprised of pop tunes and Hans Zimmer's score, while the trailer and a new commentary features Badham with producer Rob Cohen and historian Daniel Kremer.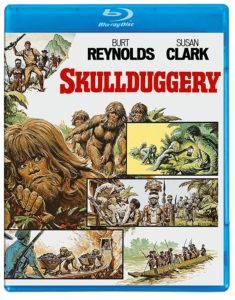 SKULLDUGGERY Blu-Ray (105 mins., 1970, PG): Seriously confused genre mash-up – a reportedly troubled picture from producer Saul David – pairs Burt Reynolds and Roger C. Carmel as opportunists who hook up with scientist Susan Clark's efforts to uncover the missing link. They all find a prehistoric tribe living in the wilds of Papua New Guinea, but this momentous discovery ultimately leads less to a scientific celebration than a legal battle over whether the creatures are human or animals, culminating in a bizarre courtroom finale – complete with a Black Panther ultimately testifying that the creatures aren't from his ancestry!
"Skullduggery" might sound fun but this is a total trainwreck of a film that found Gordon Douglas replacing Richard Wilson and David shooting the movie partially in Jamaica. Nelson Gidding's script may well have been rewritten because the tone is all over the map, the movie starting off like a lightweight comedy before briefly becoming an adventure, and, later, a courtroom drama (oh and did I mention Carmel gets one of these ape-creatures pregnant? Let's not dwell on that plot element!). Adding insult to injury is the melodramatic finale, with Reynolds mournfully tossing a Raggedy Ann doll into the water – a downbeat conclusion to a mixed-up movie that tries to do a whole bunch of things, and none of them well.
Kino Lorber's Blu-Ray of this seldom-screened Universal release debuts in HD with a very strong 2K master (2.35) with mono sound, the trailer, and a commentary by Howard S. Berger and C. Courtney Joyner.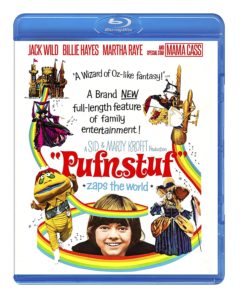 1970 housed a more successful venture from Universal: a film version of PUFNSTUF (95 mins., G), the Sid and Marty Krofft series which only produced 17 episodes yet ran for years on network TV. This feature encapsulation is actually a perfect way for fans to remember the series while newcomers can appreciate the zany, "mod" mood of the show since the movie has a larger budget than the series, all the while functioning to reprise the basic premise and storylines of its source material.
In fact, Jack Wild is back to reprise his role of Jimmy, the ordinary kid who's whisked away to a fantasyland (one that resembled the subsequent McDonald-Land characters, which the Kroffts successfully took to court) where the villainous Witchie Poo (Billie Hayes, who recently passed away at age 96) takes him prisoner and steals his magic talking flute. Thankfully oversized dragon H.R. Pufnstuf is there to save the day, while Charles Fox and Norman Gimbel's songs and "Special Star" Mama Cass lend a little more cinematic heft to the kid-centered fun than the TV series that preceded it.
"Pufnstuf" was a little before my time but I did watch reruns of "Sigmund & The Sea Monsters" and "The Great Space Coaster" growing up, not to mention "Land of the Lost" – popular franchises that kept the Kroffts near or at the top of the children's entertainment field for much of the 1970s. This is a dated yet still accessible slice of their work presented in a nifty 1080p (1.85) transfer from Code Red and Kino Lorber, backed by punchy mono sound. Extras are limited to a trailer with previews of upcoming Code Red kids titles – including the live-action Hanna-Barbera robot-dog comedy "CHOMPS" with Valerie Bertinelli!
After the success of "Enter the Dragon," director Robert Clouse switched from one iconic big-screen action hero – Bruce Lee – to another. No, it's not Bronson or Eastwood but rather Joe
Don Baker, who plays an American poking around Hong Kong who gets wrapped up in Elizabeth Ashley's attempts to retrieve the coveted GOLDEN NEEDLES (92 mins., 1974, PG) that can allegedly restore the youth of those who are pierced by its mystical acupuncture tips. Baker and Ashley contend with a number of other parties – including guest stars Burgess Meredith and Jim "Black Samurai" Kelly – in an American-International release that has a couple of entertaining moments but is often listless. There seem to be an endless array of scenes featuring characters jumping in and out of cars and then talking in tedious drawing room scenes, with only the occasional splash of fun via Baker and Ashley making love, or a climax with Baker running around what feels like every staircase in Hong Kong. Lalo Schifrin's score is decent too, but "Golden Needles" is more satisfying in the form of a two-minute trailer than its 92-minute running time, with the movie feeling longer than it actually is. Kino Lorber's attractive 2K master (2.35) and mono sound are both superb, with extras including radio spots, an image gallery, and a commentary from Howard S. Berger and Chris Poggiali.
Producer-director Stanley Donen opted to make a follow-up to his hit spy caper "Charade" with ARABESQUE (105 mins., 1966), pairing Gregory Peck with Sophia Loren in the globe-trotting tale of an American professor hired by an Arabian oil mogul to decipher a secret message. Eventually both Peck's protagonist and Loren – as the oil magnate's companion – are wrapped up in an assassination plot that's mildly diverting but lacks the crispness of its superior, Donen-directed predecessor, along with Peter Stone's writing (though Stone did work on this film along with several other writers, credited here as "Pierre Marton"). Henry Mancini contributes a typically smooth '60s sound to "Arabesque," which makes its Blu-Ray debut in the U.S. from Kino Lorber via an agreeable Universal (2.35) catalog master that enhances the superb work of DP Christopher Challis. Extras include an archival "Music by Mancini" featurette sporting the composer and "nationally syndicated columnist" Leonard Feather, a full run of trailers, poster gallery, and a new commentary by Howard S. Berger, Steve Mitchell and Nathaniel Thompson.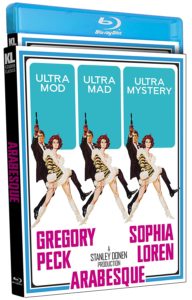 MACHO CALLAHAN (99 mins., 1970, R): Downbeat, slow-moving western from TV veteran Bernard Kowalski that offers one of its era's small-screen heroes – David Jansen, aka TV's "The Fugitive" – as a Confederate army prisoner who – once he escapes from jail – sets out to exact revenge on the men who tricked him into enlisting in the first place. He also manages to kill the husband (David Carradine) of a woman (Seberg) who later hires bounty hunters to track Jansen's anti-hero down – while she eventually falls for him (!) for reasons only writer Clifford Newton Gould can explain, since none of them are convincingly conveyed on-screen.
The first 15 minutes of "Macho Callahan" might trick you into thinking you're watching a buried gem: Gerry Fisher's widescreen lensing and tons of extras back a surprisingly well-executed (if ultimately disconnected) prison break sequence that must have commanded the lion's share of the entire production budget. Once it's over, though, Kowalski mires the audience in a strenuously unappealing "revisionist western" with a plodding pace, zero "romantic sparks" between the two leads, and a fashionably bleak downer ending that's so predictable that it comes off as unintentionally funny.
Western fans may want to give this one a chance on the basis of its obscurity and cast – but be prepared to be bored after a promising start. Kino Lorber's Blu-Ray includes a 4K restoration (2.35) from the original camera negative with the trailer and a commentary by Alex Cox that's superior to the film itself. The mono sound houses an okay score by Pat(rick) Williams.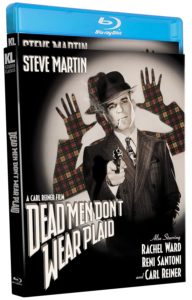 Steve Martin fans have had to wait quite a while for one of the comedian's early features produced with director Carl Reiner, DEAD MEN DON'T WEAR PLAID (88 mins., 1982, PG), to garner a Blu-Ray release stateside.
Kino Lorber finally rectifies that key omission in Martin's Blu-Ray filmography with a straightforward 1080p (1.85) transfer, licensed from Universal, that offers Martin as private eye Rigby Reardon, who tackles a case involving the daughter (Rachel Ward) of a scientist/cheesemaker who died under mysterious circumstances. Carl Reiner himself co-stars but it's the use of classic film noir film clips – featuring appearances from Bogart, Cagney, Milland, Ingrid Bergman and countless others – that's the real star as Reiner, Martin and their co-writer George Gipe (author of the "Gremlins" novelization) use them as a springboard for Martin's often amusing (if not occasionally hilarious) interplay. Reiner nails the mood and tone of the great '40s noirs as well, with the movie serving as a fitting cinematic swan song for two titans: costume designer Edith Head and composer Miklos Rozsa, who provides a wonderful score in his last film. Kino Lorber's Blu-Ray (1.85, DTS MA mono) doesn't include the bonus scenes from the movie's TV edit but does offer a new commentary from Allan Arkush and Daniel Kremer along with the trailer and radio spots.
Also New From Code Red: "Norris…McQueen…Swayze" boasts the hilarious artwork for the 1992 B-actioner DEATH RING (90 mins., R), hoping to lure in action fans with an all-star cast that turns out to be Mike Norris, Chad McQueen, and Don Swayze, who cavort around one of the many "Most Dangerous Game"-themed movies that were floating around the early '90s ("Hard Target," "Surviving the Game"). This one, which New Line distributed on home video back in the day, was not one of the more memorable ones, but it boasts just enough low-grade action to get by for exploitation fans. A new 2K (1.85) master, licensed through Lakeshore, graces Code Red's Blu-Ray along with stereo DTS MA sound and the trailer.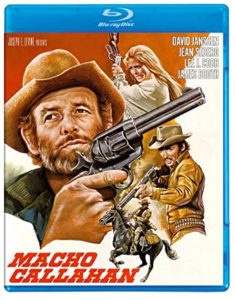 The French Connection: A handful of French imports from the '60s and '70s, all remastered by Studio Canal, make their Blu-Ray debuts in North America this month from Kino Lorber.
Legendary French stars Jeanne Moreau and Jean-Paul Belmondo teamed up as witnesses to murder – and whom eventually fall for one another – in SEVEN DAYS…SEVEN NIGHTS (91 mins., 1960), an adaptation of Marguerite Duras' book which the author co-scripted, and which earned Moreau a Cannes Best Actress nod. A commentary from Kino Lorber regular Daniel Kremer is included here along with trailers, French audio/English subtitles, and a 1080p (2.35) AVC encoded B&W transfer.
Noted French auteur Claude Chabrol's BLUEBEARD [LANDRU] (119 mins., 1963) retells the story of the famed Parisian serial killer, Henri Desire Landru, who preyed upon wealthy women during WWI. Francoise Sagan scripted this black comic piece with Charles Denner as Bluebeard and a robust female supporting cast including Michele Morgan, Danielle Darrieux and Hildegarde Knef among them. This Studio Canal transfer (1.66) is a 4K restoration from the original camera negative and includes French audio with English subtitles and a commentary from critic Kat Ellinger and the trailer.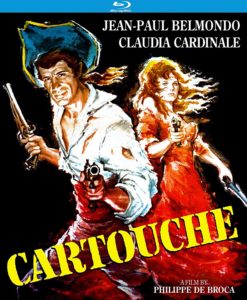 Chabrol's even more playful BLUE PANTHER [MARIE-CHANTAL VS. DR. KHA] (110 mins., 1965) stars Marie Laforet as a woman who's handed a jewel from a secret agent (Roger Hanin) that holds within it a virus that could wipe out the world – and which is coveted by the vile Doctor Kha (Akim Tamiroff). Francisco Rabal and "Bluebeard"'s Charles Denner co-star in this Bondian-era comedy debuting here on Blu-Ray (1.66) in a new 4K restoration from the OCN with trailers, French audio and English subtitles, and a commentary from Howard S. Berger, Steve Mitchell and Nathaniel Thompson.
Despite using the character name, RIFIFI IN PARIS (98 mins., 1966) is not a sequel to Jules Dassin's 1955 caper classic, but rather an adaptation of Auguste Le Breton's novel. Jean Gabin stars as a gold smuggler vying for a piece of Paris' underworld with both mobsters and the U.S. Treasury on his tail. Fresh off "Goldfigner," Gert Frobe, Claude Brasseur and Claudio Brook support Gabin with a Georges Garvarentz score and crisp direction from Denys De La Patelliere making this one worth a look. Kino Lorber's Blu-Ray (2.35) offers trailers, French sound (English subtitled), and a new commentary from Daniel Kremer and cinematographer Aaron Hollander.
The recently departed Jean-Paul Belmondo headlines two new Blu-Rays from Kino Lorber: the swashbuckler CARTOUCHE (116 mins., 1962) wherein Belmondo's thief plays Robin Hood with fellow bandit Claudia Cardinale (at her most luminous here) before the walls come crashing down. Kino Lorber's Blu-Ray (2.35) is a Studio Canal 4K restoration and offers commentary from critic Simon Abrams, a featurette and the trailer…Belmondo also stars in THE HUNTER WILL GET YOU (105 mins., 1976), a Philippe Labro film about a tough mercenary who breaks up a drug-ring and is soon hired out to find "The Hawk" – a conniving thief who murders the small-time crooks he recruits to rob local banks. "L"Alpagueur" heads to prison to find a confidante of The Hawk in order to track him down in this potent crime thriller co-starring Bruno Cremer and offering a supportive score by Michel Colombier. An interview with Labro is included in Kino Lorber's Blu-Ray (1.66, French audio, English subs) along with the trailer and a commentary from Howard S. Berger, Steve Mitchell and Nathaniel Thompson.
From Code Red and Kino Lorber comes a Special Edition of Yves Boisset's THE FRENCH CONSPIRACY [THE ASSASSINATION] (123 mins., 1972), a political thriller starring Jean-Louis Trintignant as a journalist coerced into helping move an Algerian terrorist into Paris in order for the French Secret Service to carry out a hit. Things don't go as planned with various international players – including an American journalist played by Roy Scheider – in on the action in this Boisset-directed adaptation of the actual "Mehdi Ben Barka" affair. Ennio Morricone scored with Jean Seberg, Michel Piccoli and Philippe Noiret also appearing. This 4K restoration (1:66) from the OCN debuts on Blu-Ray with French audio and English subtitles as well as the shorter, English language dubbed version.
Trintignant stepped behind the camera to direct A FULL DAY'S WORK (88 mins., 1973) the following a year – a pitch-black comic thriller starring Jacques Dufilho as a father who decides to go "Death Wish" on the nine jurors who sent his son to his execution. He sets out on a motorcycle with his mother (Luce Marquand) in a sidecar and carries out the killings in a single day in this devilish confection here restored in a 4K transfer (1.66) from the OCN. Trailers, French audio with English subtitles, and a new commentary by critic Simon Abrams comprise the disc.
On the Italian side, ILLUSTRIOUS CORPSES Blu-Ray (121 mins., 1976, PG) is Francesco Rosi's 1976 thriller featuring international star Lino Ventura as a dogged inspector – tasked with finding the culprit behind the slayings of several Supreme Court judges – who ultimately uncovers corruption involving the Italian Communist Party. "Illustrious Corpses" was one of many politically-charged dramas from Rosi, and this picture boasts a strong supporting cast including Max Von Sydow, Charles Vanel and Fernando Rey. The MGM-licensed 4K restored transfer (1.85) hails from the original camera negative while Alex Cox is on-hand to provide another of his astute commentary tracks…An earlier Rossi effort, LUCKY LUCIANO (105 mins., 1973, R), follows the infamous mafia boss (Gian Maria Volonte) who returns to Sicily and rekindles his involvement in the mob while being constantly pursued by an American FBI agent (Charles Siragusa). Rod Steiger is also on-hand in a movie that was not well-received upon its initial release but is worth a look especially for the director's devotees – less so for "Godfather"/mob genre fans. Kino Lorber's Blu-Ray (1.85) is a Studio Canal 4K restoration with a new commentary from critic Simon Abrams.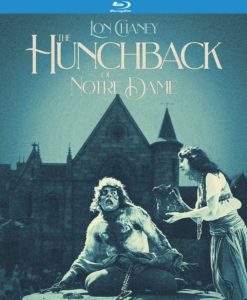 4K Restored Silents: While Universal preps a 4K UHD box-set of their Classic Monsters for release next month, the granddaddy of their genre – THE HUNCHBACK OF NOTRE DAME (110 mins., 1923) – debuts also in a 4K restoration from Kino Lorber. This silent classic starring Lon Chaney in the title role of Victor Hugo's masterpiece has been restored with great care (B&W with color tinting, 1.33) and graced with a score by Nora Kroll-Rosenbaum and Laura Karpman as well as some superlative new extras. Among them is a commentary from critic Farran Smith Nehme, an essay from historian Michael F. Blake, a "Life in Hollywood" newsreel, 16mm home movie footage of Chaney, a still slideshow, publicity materials/correspondence gallery, and reproduction of the original program book in still form.
That's not the only Universal silent offered this month on Blu-Ray. 13 WASHINGTON STREET (66 mins., 1928) stars Alice Joyce as an uppity mother who tries to prevent her son from marrying a grocer's daughter by pretending to be "working class" along with her maid (Zazu Pitts). During their futile attempts to stop the union they meet a thief (Jean Hersholt) who wants to rob their home in an adaptation of Leroy Scott's play that laid the foundation for many a romantic comedy to follow. Nora Fiore provides a commentary while the 4K restored transfer (1.33), licensed from Universal, is backed by a music score by Tom Howe.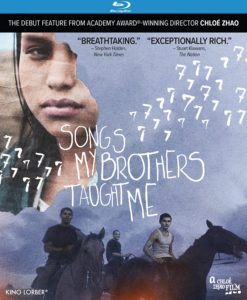 Also on Blu-Ray: "Nomadland"'s Best Director winner, Chloe Zhao, broke into features with the 2015 drama SONGS MY BROTHER TAUGHT ME (93 mins.), which debuts on Blu-Ray this month from Kino Lorber. Zhao also wrote this contemporary drama about life on the Pine Ridge Indian Reservation and the specific relationship between a brother (John Reddy) and younger sister (Jashaun St. John). Bloopers, deleted scenes, the trailer, and an interview with Zhao are available in Kino Lorber's Blu-Ray (1080p, 5.1/2.0 DTS MA)…Poland's Best Picture submission to the Academy Awards last year, NEVER GONNA SNOW AGAIN (113 mins., 2020) looks at a young mausse who starts working in the homes behind a gated community, bringing with him an almost magical longing to the well-to-do but quietly unhappy residents. Malgorzata Szumowska's film will be released on Blu-Ray on September 28th featuring Polish/Russian/French audio with optional English subtitles and 5.1/2.0 DTS MA sound… Director Erik Nelson restored archival footage and interviewed 24 men who recount the end of World War II in the Discovery production APOCAYLPSE '45 (104 mins., 2020), which premieres here on Blu-Ray in an extended Director's Cut release. A superb, compelling documentary, the disc also includes "Ford at Pearl," a brand-new featurette featuring John Ford's Pearl Harbor-shot footage; the 1945 Oscar-nominated documentary "To the Shores of Iowa Jima," in a restored 6.5K color film with 5.1/2.0 stereo sound; the likewise nominated 1945 doc "The Last Bomb," also similarly restored and presented in stereo and 5.1 sound; and a restoration comparison.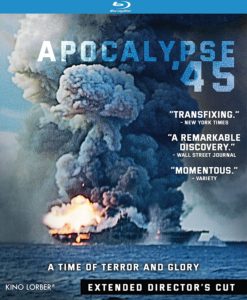 More Documentary on DVD: Available this month from Kino Lorber, ALL THE STREETS ARE SILENT (89 mins., 2021) looks at the convergence of skateboarding and hip hop, and how their intermingling during the late '80s and early '90s defined the New York City "street style" for years to come. Jeremy Elkin's documentary debuts on DVD this month from Kino Lorber featuring a 16:9 (2.39) transfer and 5.1/2.0 stereo sound…from Greenwich and Kino Lorber comes the interesting WHIRLYBIRD (103 mins., 2019), a profile of then-married journalists Marika Gerrard and Bob Tur and their capture of numerous stories – including the L.A. riots and O.J. Simpson's infamous drive in the white Bronco – from the air. Matt Yoka's film includes a 16:9 transfer and 5.1/2.0 stereo sound on DVD. Greenwich also has a documentary on Rep. BARBARA LEE: SPEAKING TRUTH TO POWER (83 mins., 2020) with Abby Ginzberg's piece covering the Bay Area Congresswoman…CAN YOU BRING IT: BILL T. JONES AND D-MAN IN THE WATERS (94 mins., 2020) is Rosalynde Leblanc and Tom Hurwitz's look at the work of choreographer-dancer Bill T. Jones on his acclaimed 1989 ballet "D-Man in the Waters," regarded as one of the seminal stage works of the AIDS era. Kino Lorber's DVD includes deleted scenes, the trailer, a 16:9 transfer and 5.1/2.0 sound.
The fascinating backstage documentary LIVE AT MISTER KELLY'S (83 mins., 2021) profiles the legendary Chicago night club that helped propel the careers of Richard Pryor, Steve Martin, Bette Midler, Barbra Streisand and others. Streisand, Lily Tomlin, Bob Newhart and Herbie Hancock are among those interviewed in Theodore Bogosian's new documentary, on disc from Virgil and Kino Lorber with a 16:9 transfer and 2.0 stereo sound. Another Virgil release, FISH & MEN (85 mins., 2021), examines how consumer demand has forced the seafood industry to import 90% of its fish as opposed to local catches (16:9, 2.0)…Cohen Media Group has released a Special Edition of the 2010 documentary CHASING MADOFF (91 mins.) which illustrates how a Boston securities analyst named Harry Markopolos discovered that Bernie Madoff was running a Ponzi scheme. Commentary, deleted scenes and an alternate ending are included in Cohen's DVD (16:9. 5.1/2.0)…Finally, DOWN A DARK STAIRWELL (87 mins., 2020) chronicles the death of an unarmed African-American man when he was shot by a Chinese-American NYPD officer. This hot-button documentary is new on DVD with deleted scenes, behind the scenes footage, a 16:9 (1.78) transfer and 5.1/2.0 audio options.
---
Also New & Noteworthy
F9 [THE FAST AND THE FURIOUS 9] 4K UHD/Blu-Ray (142 mins./149 mins., 2020, PG-13; Universal): Delayed for over a year because of COVID, this ninth entry in the long-running Universal franchise gets a slight shot of energy with the return of Justin Lin behind the camera. Having helmed several of the series' best entries, F9 attempts to put a (little) focus back on "family" as Vin Diesel's Dom Toretto is forced to take on his wayward brother (John Cena), now an assassin wrapped up in a plot that involves the villainous Cipher (a returning Charlize Theron). Yet writer Chris Morgan – who worked on most of this sequel's predecessors – didn't repeat his duties on F9, leaving the screenwriting chores to Daniel Casey and Lin, and the film's efforts to try and hone in on a humanistic drama are undone by a convoluted series of globe-trotting set-pieces that are mostly excuses to reintroduce endless supporting players (including some carried over from "Tokyo Drift" for the first time) and, of course, generate lots of on-screen destruction.
By now, less would be more for the series, but there's too much international box-office revenue at stake for the franchise to embrace its pure, street racing origins, leaving us with bloated films like this which are fun for a few minutes but ultimately wear out their welcome beyond the two-hour mark. In fact, Universal's 4K UHD not only includes the theatrical cut of the film but also an extended Director's Cut that lingers on to some 2½ hours (I recommend the shorter version). Both look spiffy in Dolby Vision HDR here with throbbing Dolby Atmos sound. Extras include a handful of featurettes, the Blu-Ray, a Digital HD copy, and Lin's commentary.
Blu-Ray Quick Takes: The latest "Purge" is the particularly lame THE FOREVER PURGE (104 mins., 2021, R; Universal), which here finds more psychos carrying on their hate past the latest Purge with Texas ranchers harboring illegal immigrants as their victims. Yes, it's basically all the fault of Qanon theorists in this blatantly political installment that's heavy on the left-wing sermonizing and light on entertainment value. Universal's Blu-Ray (1.85, Dolby Atmos) includes a deleted scene, alternate storyboard open, featurettes and a Digital HD copy…a full-length movie featuring long-time Marvel supporting player BLACK WIDOW (134 mins., 2021, PG-13; Disney) might've been primed for success several years ago. Alas, after the character was dispatched in "Endgame" and COVID restrictions ravaged theaters, the Scarlet Johansson heroine's prequel movie turned out to be a fiscal disappointment and, what's worse, a creative one as well, with Black Widow herself a glorified supporting player in a film that introduces her "family" of sidekick heroes, some of whom will presumably be "taking over" in future Avengers installments. It's pretty tepid, push-button super-hero stuff, though Disney's Blu-Ray (2.39, Dolby Atmos) disc looks and sounds fine with assorted extras and a Digital HD copy.
---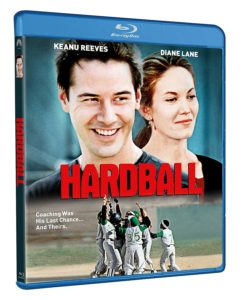 New From Paramount
HARDBALL (106 mins., 2001, PG-13; Paramount): A modest box-office hit released just days after 9/11, "Hardball" finds struggling gambler Keanu Reeves trying to make payments while attempting to place one last bet on his hometown Chicago Bulls. Enter his investment broker pal Mike McGlone, who promises Keanu that he'll pay him $500 per-week if he'll coach an inner-city kids baseball team in the process.
Deciding to take his pal up on the offer, Keanu reluctantly opts to coach the youngsters, though this isn't quite the "The Bad News Ghetto Bears" that the ads promised. Ultimately, the underdog collection of young African-American children show Keanu that it's not whether you win or lose but the ability to play — and get off inner-city streets ravaged with drugs and guns — that's most worthwhile.
Brian Robbins ("Varsity Blues") directed this uneven adaptation of Daniel Coyle's novel, which seems like it can't make up its mind whether to be a gritty, realistic story of a gambler seeking redemption, an inner-city kids' sports film, or a combination of both. Reeves puts in some good work here, but while his character ultimately does form the focus of the film, the shift to the kids' troubles and the games themselves feels strictly formula and at times from another movie.
What's worse, the tragic elements of the story seem completely at odds with the film's advertising, which was geared strongly towards younger viewers (even though the movie originally had an R rating until some profanity was edited out of the final cut), while the obligatory love story between Reeves and teacher Diane Lane doesn't come off at all.
Paramount's Blu-Ray debuts "Hardball" in 1080p (1.85) for the first time with 5.1 DTS MA audio. Extra features here include a Making Of, three deleted scenes culled off a workprint, "interstitials," several music videos, and commentary with Robbins and screenwriter John Gatins.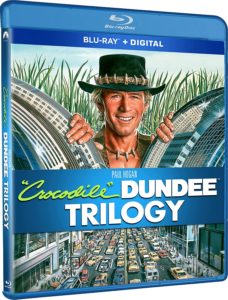 One of the big hits of '86, CROCODILE DUNDEE (97 mins., 1986, PG-13) also makes its way to Blu-Ray for the first time in a full "Trilogy" set, coupled with its inferior (but hugely successful) 1988 sequel CROCODILE DUNDEE II (111 mins., PG) and limp afterthought CROCODILE DUNDEE IN LOS ANGELES (94 mins, 2001, PG). Hogan's laid back charm carries the original "Croc," with the fetching Linda Kozlowski as the American reporter who tracks down the legendary Aussie who can handle any beast living in the Outback. The 1988 sequel reverses the surroundings – opening in NYC and then moving Down Under for a satisfying climax – and is still entertaining, yet comes off as a manufactured product to a film that didn't demand a follow-up. As for the third film – here making its Blu-Ray debut – the less said, the better, even with Hogan having recruited fellow Aussie Simon Wincer to helm the picture.
Each film is included on its own Blu-Ray disc with matching 1080p AVC encoded transfers and DTS MA soundtracks. The transfers are a bit grainy but generally look untouched with processing; extras include Digital HD copies, trailers and a behind-the-scenes featurette for the second and third movies. Surprisingly, no Special Edition has ever been released for the original – one of the big hits of the mid '80s that time, to some degree, seems to have sadly left behind.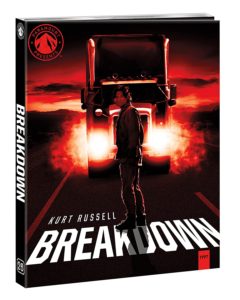 New from Paramount in their Paramount Presents Blu-Ray series is BREAKDOWN (93 mins., 1997, R), director Jonathan Mostow's crackling good "Bad Day at Black Rock" for the '90s which has been long overdue for a Blu-Ray release. This superlative 4K restoration (2.35) preserves the foreboding desert vistas of this Kurt Russell thriller while new extras include an alternate opening, commentary with Mostow and Russell, interviews with co-star Kathleen Quinlan and producer Martha DeLaurentiis, a fresh interview with Mostow, and a Digital HD copy.
Lionsgate New Releases: The latest Vestron Video Collector's Series Blu-Ray, DEMENTIA 13 (69 mins., 1963), preserves the Director's Cut of Francis Ford Coppola's early foray into cinema: a thrifty tale of gothic terror with William "Squire of Gothos" Campbell, Patrick Magee and Luana Anders running around an Irish castle. Coppola details his work on this early Roger Corman production, which includes a new 1080p (1.78) AVC encode with DTS MA mono sound, an introduction from Coppola, his commentary, and a prologue…Taylour Page, Riley Keough and Nicholas Braun star in Janicza Bravo's ZOLA (86 mins., 2021, R), a movie that retells, in dramatic form, a Twitter chain of tweets chronicling the adventures of a Detroit waitress and her adventures in and around the Tampa area during a wild weekend. Lionsgate's Blu-Ray (1.85, 5.1 DTS MA) includes a making of, deleted scenes, a Digital HD copy, and commentary with Bravo and editor Joi McMillon.
Justin Long and his brother, Christian, wrote and directed the amiable LADY OF THE MANOR (96 mins., 2021, R), an intermittently funny comedy about a slacker (Melanie Lynskey) who gets more than she signed up for after she agrees to appear in a historical tour as "Lady Wadsworth," a Southern belle (Judy Greer) who still haunts the grounds where she lived. What ensues is an amusing comedy with Long co-starring along with Ryan Philippe and Luis Guzman -- an obvious labor of love that's worth a spin. Lionsgate's Blu-Ray (1.85) boasts a 1080p transfer, 5.1 DTS MA sound, a Making Of, deleted scenes/outtakes, commentary, and a Digital HD copy...Kids might enjoy C.I.APE (82 mins., 2021, PG), a wan kids comedy about a talking chimp trained in espionage who teams up with his teen partner to stop "Alpha Dog" and his nefarious plan for world domination. Lionsgate's DVD (2.39, 5.1) of the ACE Entertainment production is out September 28th.
BLUE BLOODS: Season 11 DVD (11 hours, 2020-21; CBS): The Reagan family finds themselves at a crossroads in this eleventh season of the long-running, hit CBS series. After discovering Joe Reagan's son in the form of officer Joe Hill (Will Hochman), the group bands together to confront new challenges, including Erin's disappointment at being passed over for District Attorney; Jamie and Eddie balancing their personal lives while working in the same precinct; and Frank's battles with a city council speaker over a police brutality protest. CBS' four disc DVD set includes the complete Season 11 of "Blue Bloods" with deleted scenes, a featurette, 16:9 transfers and 5.1/2.0 Dolby Digital soundtracks...…also new from CBS is Season 1 of THE EQUALIZER (7 hours, 2021), the remake of the hit '80s thriller that starred Edward Woodward as a ex-government op who decided to use his special set of skills to help New Yorkers in peril. This unfortunate CBS resurrection puts Queen Latifah through Woodward's paces but loses all the grit and energy of its predecessor, which remains an exciting, invigorating view with expert location filming. CBS' Season 1 DVD of the new "Equalizer" includes a gag reel, deleted scenes, three behind-the-scenes featurettes, 16:9 transfers and 5.1 sound.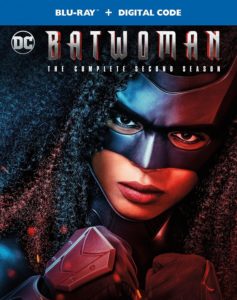 BATWOMAN: Season 2 Blu-Ray (765 mins., 2020-21; Warner): Kate Kane is gone, so plugging the void is Ryan Wilder, a homeless twentysomething who acts as Gotham's latest heroine, donning Kane's batsuit and heading out on a variety of missions. Some involve taking vengeance for her foster mother's death, all the while others believe Kate is still alive out there – somewhere. This CW series ran into a great deal of difficulty during its first season with its lead star, and tries to settle into a new configuration here in its second season – albeit again to mixed results narratively. Warner's Season 2 Blu-Ray includes 5.1 DTS MA sound and good looking 1080p (1.78) transfers, along with a gag reel, deleted scenes, two featurettes and a Digital HD copy.
FRIED BARRY Blu-Ray (90 mins., 2020, Not Rated; RLJE): Shudder brings sci-fi/horror fans one of the weirdest imports to originate from South Africa: the story of a downtrodden drunken bum who becomes possessed by an alien that comes to Cape Town to experience sex, drugs, rock 'n roll and gore as part of understanding the human experience. Ryan Kruger wrote and directed this over the top slice of horror that might appeal to hardcore genre enthusiasts; RLJE's Blu-Ray (2.39, 5.1 DTS MA) boasts a feature commentary, Making Of, deleted/extended scenes, outtakes, the original short film, featurettes and other goodies for fans.
New From Music Box: Hugh Schulze's DREAMING GRAND AVENUE (98 mins., 2020, Not Rated) stars Andrea Londo and Jackson Rathbone as two people who continuously meet up in dreams but have yet to meet in the waking world. Weaving metaphysics and poetry together, Schulze has made a fascinating visual piece that puts it a cut above the usual romantic fluff you'd expect with this material. Music Box's DVD contains commentary, deleted scenes, cast/crew interviews, the trailer, a 16:9 transfer and 5.1 Dolby Digital sound…Also new from Music Box is SYBIL (101 mins., 2019), a French drama starring Virginie Efira as a therapist who shuns her patients in the hopes of resuming her writing career — only to have one of them, an actress (Adele Exarchopoulos) with lots of drama in her off-screen life, serve as the basis of her prospective book. Justine Triet helmed this well-reviewed import, on DVD with a 16:9 transfer, 5.1 Dolby Digital sound (French with English subtitles), cast/crew interviews and a photo gallery.
NEXT TIME: More of the latest reviews! Until then, don't forget to drop in on the official Aisle Seat Message Boards and direct any emails to our email address. Cheers everyone!