This week Criterion debuts on disc ORIGINAL CAST ALBUM: COMPANY (53 mins., 1970; Criterion), the legendary Broadway documentary from D.A. Pennebaker, who captures the late night Columbia recording of Stephen Sondheim's 1970 hit "Company." Intended to be utilized as a (failed) pilot for a prospective series circling around how Broadway albums were made, this is a sensational, fly-on-the-wall work that takes you behind the scenes of Sondheim's groundbreaking musical: Pennebaker's camera showcases the indelible work of the cast (including Elaine Stritch and Dean Jones, who would leave the show shortly after it opened) while Columbia producer Thomas Z. Shepard interjects quite a few suggestions related to how the songs are miked and, occasionally, performed.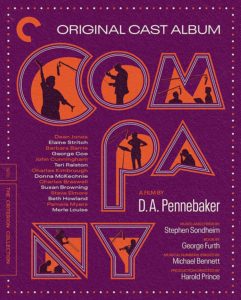 Even more input can be seen coming from Sondheim himself, whose demanding lyrics and melodic shifts take a toll on the performers during the lengthy session – no more so than Stritch's performance of "The Ladies Who Lunch," where a tired voice and Sondheim's frustration leads to Stritch having to come back days later and belt out her classic Broadway number to a pre-recorded orchestra track.
There aren't a lot of candid interviews or great insights into the human condition here – this is a straight-ahead, you-are-there look at artistic talents working under time constraints late into the New York City morning, at a time when Broadway was filled with emerging new voices. Let's hope this marvelous reminder of what was leads to a revitalization of the performing arts during what's been unquestionably one of the darkest, most devastating periods in its history.
Unseen for many years and highly coveted by Broadway buffs, "Original Cast Album: Company" debuted on Criterion's streaming service at its inception and now makes its Blu-Ray debut from the label. The disc includes a 4K-restored 1080p transfer (1.33) that's appropriately grainy and gritty, with a brand-new Sondheim commentary, as well as a 2001 commentary featuring Pennebaker, Stritch and the show's director Harold Prince. Criterion has also produced a wonderful new 18-minute interview with the great, veteran orchestrator Jonathan Tunick, discussing not just "Company" but his craft itself; an interview featuring Sondheim, Tunick and former NY Times critic Frank Rich; never-before-heard audio excerpts from Stritch and Prince's interviews with Pennebaker, recorded in 2001; the "Documentary Now" parody episode of the series mimicking the documentary, with a 2020 cast reunion segment; and an essay from author Mark Harris. Highly recommended!
NEXT TIME: Kino Lorber's big August roster of Blu-Rays and DVDs! Until then, don't forget to drop in on the official Aisle Seat Message Boards and direct any emails to our email address. Cheers everyone!