Message Board (open 24 hours!)
Twitter - @andredursin (for everything else!)
On paper, THE JANUARY MAN (97 mins., 1989, R) seems to have it all: a serial killer preying upon New York City. A renegade ex-cop (Kevin Kline) summoned off his new career as a firefighter to help capture him before he strikes again, at the behest of his estranged brother (Harvey Keitel), who works for the hot-tempered Mayor (Rod Steiger). Suspense, comedy, romance, domestic drama – each are a part of the follow-up screenplay to John Patrick Shanley's Oscar winning "Moonstruck," yet this superbly cast genre mash-up ended up misfiring across nearly all of its elements. It is, at least, a noble and curious flop from its time, with an attractive cast that still makes it worth a watch.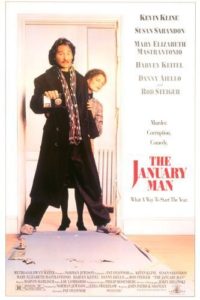 Fresh off the triumph of "Moonstruck," MGM reunited writer Shanley with director Norman Jewison, albeit working here in a producing capacity for "The January Man." Irish director Pat O'Connor (whose unremarkable career includes the later Minnie Driver-Chris O'Donnell romance "Circle of Friends") was tapped to helm the movie, with the picture going into production early in 1988, with Shanley still celebrating his fresh Oscar win for Original Screenplay.
The premise is, at least, sound – Kline's detective seems to be a character cut from of any number of '80s cop movies, and Shanley tries to place a comedic spin on his exploits by having him bring his eccentric artist friend (Alan Rickman, who must've shot this right after, but prior to the release of, "Die Hard") along, not just to paint his office, but play an active role in his investigations!
This component of the movie is much stronger than its "domestic drama" elements, wherein an ensemble of characters bounce off one another a la "Moonstruck" – sometimes to hysterical degrees of overacting. Guilty of charged in that category are Steiger as the city's Mayor and Danny Aiello as his beleaguered police chief – the two seem to be engaged in a shouting, eye-rolling competition only they're aware of, since their acting styles clash with other, more "grounded" performances like Keitel, who looks to just be staying out of their way.
Kline himself struggles in some sequences with his accent – which seems more affected in the opening half – as well as with the movie's two female leads. Susan Sarandon nabs second billing as Kline's ex and Keitel's current wife – a role that's arguably the weakest element in the entire picture since she's supposed to serve a dual function as not just a romantic interest for Kline but also the figure who exposes political corruption in the city. That element falls completely flat in Shanley's script, which decides to toss in the Mayor's daughter (Mary Elizabeth Mastrantonio) as a romantic rival as well as the bait which Kline and Rickman ultimately decide to use in order to nab the killer.
It's easy to see how many elements "The January Man" has to juggle and likewise as transparent, once you see the film, how the movie is unable to make them work at all effectively. The opening comes off like a thriller, the next half of the picture carries a vaguely more "Moonstruck" type of ensemble vibe, before it finally settles in and becomes slightly more watchable as a lighthearted suspense-thriller – the climactic end wherein Kline lumbers down the stairs, hanging by the literal threads of the killer's coat, is sort of funny, and hints at a broader direction where this material may have clicked better. However, at no stage is the completed "January Man" consistent in its messaging or tone, making it as unsatisfying for rom-com fanatics as it may be anyone who mistakenly thought the film would be as likely to keep them on the edges of their seat.
There are still pleasures to be mined from the cast – overqualified for this mess – as well as Marvin Hamlisch's score, which boasts a pleasant love theme with lyrics penned by Alan and Marilyn Bergman (unsurprisingly, the score was never released). Despite its pedigree, MGM/UA clearly knew what was happening, since "The January Man" ended up being booted off its intended release date and into the post-Christmas dregs of January and February – the "Winter Dumping Grounds" during the 80s and 90s where failed, would-be holiday fare was routinely banished.
For movie buffs who often wonder how projects like this could become so derailed, "The January Man" is, as Roger Ebert pointed out in his review, worthy of a look as a case study of how so many intelligent people could produce something so very clearly "off-key."
NEXT TIME: Kino Lorber's big March wrap of new Blu-Ray releases! Until then, don't forget to drop in on the official Aisle Seat Message Boards and direct any emails to our email address. Cheers everyone!