Message Board (open 24 hours!)
Twitter - @andredursin (for everything else!)
Sylvester Stallone's career has endured through a number of down periods, most especially during the late '90s. After starring in the well-reviewed James Mangold drama "Cop Land," Stallone sputtered with his next project: the thriller D-TOX — ultimately known as EYE SEE YOU in the U.S. — in what was supposed to be part of a multi-film deal with Universal.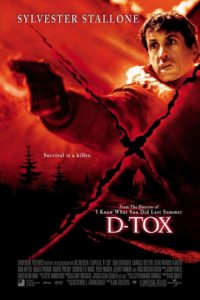 Hugely troubled from the get-go, "D-Tox" saw Ron Howard's Imagine Entertainment first remove their involvement from the picture during horrific test screenings (some of which Howard himself tried to rectify), then Universal itself shelved the movie. They sold off North American rights to Blockbuster Video's theatrical arm, DEJ Productions, and released it themselves, mostly straight to video, elsewhere — a surprising fate for a movie that's slickly-made and watchable, even in its compromised released version.
"D-Tox" has never made much of a connection with viewers but hardcore Stallone fans may want to check out MVD's bargain-priced Blu-Ray from a year ago, which unceremoniously premiered director Jim Gillespie's original cut of the movie. Sure, the picture is choppy standard-def and the movie still has some substantial gaps, but this is a notably superior presentation of the film that, even in its inferior "released version", is a slickly-made and watchable thriller that suffers mainly from jumpy editing and a lack of strong characterizations.
Also known as "The Outpost" at one point during (post) production, D-TOX finds Stallone as a FBI agent investigating a serial killer who preys on cops. After his friends are wiped out — along with sexy fiancee Dina Meyer (she's gone after 15 minutes, sad to say) — Sly takes in a daily dose of the drink to the point where ex-boss Charles S. Dutton decides to send him to a remote, wintry rehab center to clean up his act.
There, Stallone finds a motley assortment of alcoholic law enforcement officers, including Robert Patrick, Robert Prosky, Sean Patrick Flannery, and Geoffrey Wright, not to mention facility employees Kris Kristofferson and the ever-underrated Polly Walker. They bicker and quibble to no end, and soon begin to be picked off by — you guessed it — the same killer Stallone has been pursuing for years.
D-TOX is more or less routine most of the way, from its "Thing"/"Alien 3"-like claustrophobic confines, down to paper-thin characterizations and dramatic developments. Most of the fine cast is wasted (like Tom Berenger as a facility handyman), and the pacing is much too frantic, with large gaps in the plot presumably explained by an overabundance of post-production work.
Still, D-TOX is the kind of B-movie that makes for guilty pleasure cinema all the way. Director Gillespie (fresh off "I Know What You Did Last Summer" at the time of filming) basically made "I Know What You Did Before I Started Drinking And You Killed My Hot Fiancee." It's essentially a slasher movie with a terrific cast, but somehow the movie remains oddly watchable in spite of its glaring flaws.
Part of it is due to the splendid visual presentation: Dean Semler's scope cinematography is excellent and John Powell's terrific score (especially enhanced by Gillespie's original version) lend an able assist to Stallone and company, who look a bit bewildered as to what kind of film was being made here. There are times when the movie is aiming for horrific shocks, other moments when it takes an Agatha Christie mystery-like spin, and caps it all off with a climax sporting a rousing one-on-one showdown between Stallone and the killer that delivers the goods (a little late, but better than never).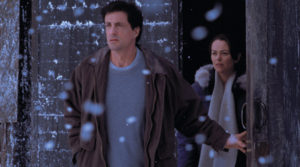 Gillespie's version isn't so much different in terms of content as how it presents the story. There are a few scenes unique to each version, but more significantly, the re-cut version straightens the story's flow so it unfolds in a linear fashion, whereas Gillespie's "D-Tox" utilizes a flashback structure to dominate the movie's first half. The effect is a more involving thriller that steadily builds momentum in Gillespie's initial cut, and while many of the central flaws remain (the killer's motivation, and the development of the supporting characters, are sketchy at best), the story plays out in a more satisfying manner.
One of the biggest beneficiaries of Gillespie's version is John Powell's music. The Director's Cut may be derived from an antiquated video source, but the sound, at least, is superb, boasting full stereo support for what's undoubtedly one of Powell's best scores. His energetic soundtrack plays out in a grand scale — if arguably a bit too overpowered at times — with surprisingly melodic passages marking much of the action. Powell's score was hacked up, reworked and occasionally replaced (apparently by Nick Glennie-Smith and whoever else) in the final version, but here, the viewer can enjoy his score as it was intended to be heard, making this "Special Features" supplement invaluable for fans of the composer.
D-TOX isn't some undiscovered gem in any version but it's a compelling misfire with admirable components, strengthened here in an alternate version that shines through its ragged old standard-definition source.
NEXT TIME: Kino Lorber's big February wrap of new Blu-Ray releases! Until then, don't forget to drop in on the official Aisle Seat Message Boards and direct any emails to our email address. Cheers everyone!