One of the quintessential "paranoid thrillers" of the 1970s, Alan J. Pakula's THE PARALLAX VIEW (102 mins., 1974, R; Criterion) is a slick case of atmosphere triumphing over characterization and coherence. Warren Beatty stars as a grizzled reporter who witnessed the assassination of a senator on the top of the Space Needle in Seattle. Years later, his ex (Paula Prentiss) reappears on the scene, claiming there's a conspiracy and that witnesses who were there are being murdered. Beatty springs into action, telling only his publisher (Hume Cronyn) of a possible cover-up and ultimately going down a rabbit hole that involves the mysterious "Parallax Corporation."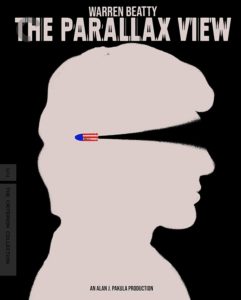 While Sydney Pollack's subsequent "Three Days of the Condor" is often deemed a comparatively lighter piece of escapist entertainment, the decidedly more downbeat and disturbing "Parallax View" actually provides a far less involved story. With a writer's strike looming and star Beatty on a pay-or-play deal, Pakula decided to go into production regardless of not having a completed screenplay (the script is credited to David Giler and Lorenzo Semple, Jr., who oddly enough also wrote "Condor," with reports that "Chinatown"'s Robert Towne also played a hand in crafting material for the picture).
The result was a turbulent production that was something of a nightmare for all involved – something that does carry over to the movie's weakly drawn characters (we end up knowing nearly as little about Beatty as we do the shadowy government organization responsible for it all). This is a movie that taps into the mindset of a country emotionally damaged by the Kennedy/MLK killings and crafts an overall mood of tension and conspiracy that's hard to shake, but beyond the surface elements, there's really not a lot here. The formula – Beatty learns some piece of information, narrowly escapes death, moves onto the next group of characters, rinse, repeat – is straightforward and there's little development of any of its players.
That said, sometimes being backed into a corner brings out the best in artists, and that's true of both Pakula and cinematographer Gordon Willis' work here. The sense of time and place is expertly conveyed, the use of location shooting is memorable (the opening set-piece alone is worth the price of admission), and the movie's shock bursts of violence and action are superbly edited and choreographed by the duo, reuniting for the first time since "Klute." This is a movie that looks dynamic, bathed in warm primary colors and widescreen – what the filmmakers apparently felt was a "comic book movie" by the standards of '70s cinema results in a film that mostly overcomes its narrative shortcomings through sheer technical style alone.
Criterion's Blu-Ray (2.39, PCM mono) of "The Parallax View" is based off a new 4K digital transfer and looks naturally "filmic" throughout. I wasn't crazy about Alex Cox's 15 minute interview on the film (he seems to be a "go to" source for commentaries and such at the moment for a variety of labels), but there's a 2004 Willis interview that's well worth watching, as well as an insightful remembrance of the production with Jon Boorstin, who was an intern/assistant on the film for Pakula. Especially interesting are his memories of assembling the movie's most effective sequence, the "Parallax indoctrination montage," which takes up nearly five minutes of screen time. A 1975 audio conversation with Pakula and an all-too-brief 1995 talk with the director – just a few years prior to his final movie (the forgettable Harrison Ford-Brad Pitt vehicle "The Devil's Own") and subsequent tragic death in a car accident – rounds out the release.
Also new from Criterion this month is SMOOTH TALK (92 mins., 1985, PG-13). Laura Dern gives a bravura performance as a small-town teenager in this well-reviewed independent production, hoping to break free from the confines of her family life, and who meets a slick, conniving con artist (Treat Williams) who's the wrong guy for her to explore her blossoming sexual urges with. Joyce Chopra directed this 1985 Goldcrest/American Playhouse adaptation of a Joyce Carol Oates story with a star-making turn from Dern and support from Mary Kay Place and Elizabeth Berridge.
Criterion's Blu-Ray easily trumps a 2015 release from Olive Films, here boasting a new, restored 4K digital transfer (1.85) from a pristine source. The disc was licensed through Euro London Films and carries the director's supervision, resulting in a definite step up technically from the MGM licensed master Olive was supplied with back in 2015. The uncompressed mono sound sports musical direction from James Taylor, while a long line of new and insightful supplements include a 2020 NY Film Festival panel sporting Chopra, Joyce Carol Oates, and Laura Dern; new interviews with Chopra, both alone, and as part of a panel between her, Treat Williams and Mary Kay Place; a new interview with production designer David Wasco; a 1985 radio interview with the director; three of Chopra's '70s shorts; an audio reading of a 1966 Life magazine article that inspired Oates' own story; trailers; and essays. Highly recommended.
---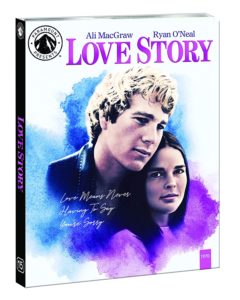 New From Paramount
Just in time for Valentine's Day, Paramount has dusted off LOVE STORY (100 mins., 1970, PG), the box-office smash that gave audiences of the early '70s Ryan O'Neal and Ali McGraw in a film whose musical score and main tag line ("love means never having to say you're sorry") have endured the years far better than the film itself, which feels dated and cliched, complete with one of those "downer endings" so prevalent in the decade.
Even if "Love Story" feels like a movie of the moment as opposed to a classic film, romantics still ought to enjoy director Arthur Hiller's film of Erich Segal's screenplay (based on his book) – one that inspired a wealth of rip-offs for years to come (not to mention a disastrous 1978 sequel, "Oliver's Story," that nobody outside of O'Neal's family went to see). Will O'Neal's preppy Harvard law student find true love with music student McGraw? Will she ever be accepted by O'Neal's snobby billionaire father Ray Milland? Will love conquer all, or will death stand in the way? "Love Story" might feel like one bad cliche after another, but at least it was the film that established most of those cliches.
"Love Story" does boast strong chemistry between the two leads and a sweeping score by Francis Lai, along with an early performance from Tommy Lee Jones and on-location filming that adds to the film's authenticity. Paramount's earlier Blu-Ray was solid, but this new 4K remaster is even better, offering new extras including Leonard Maltin discussing the film and an introduction from TCM's Ben Mankiewicz. Older extras include a retrospective featurette and commentary from Hiller, plus the trailer. The DTS MA 5.1 audio rechannels Lai's score for a stereophonic effect but otherwise plays out in mono – viewers can select either that or the original mono track itself in this recommended new "Paramount Presents" release.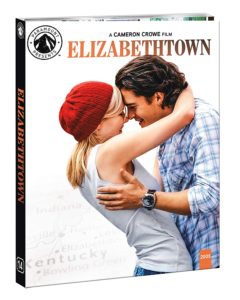 Cameron Crowe's ELIZABETHTOWN (123 mins., 2005, PG-13; Paramount) was not regarded nor received as one of the filmmaker's best efforts, though even second-rate Crowe makes for more intriguing viewing than most of the junk we've seen lately.
Orlando Bloom seems a bit ill-at-ease as the centerpiece of Crowe's 2005 drama-edy, as a young athletic shoe designer who gets fired and returns home — to find out his father has unexpectedly passed away as well. Bloom flies out to the back roads of Kentucky to handle his dad's funeral arrangements, and falls in love with a perky flight attendant (Kirsten Dunst) along the way. Naturally, complications arise in their newfound romance, but somehow Bloom pulls through, as well as finds common ground with his "country" cousins, who had a history of clashing with Bloom and his eccentric mother (Susan Sarandon).
"Elizabethtown" was originally shown at the Toronto Film Festival in a version that critics report was 20 minutes longer and even more of a rambling wreck than Crowe's subsequently trimmed theatrical release. I didn't see the "work in progress" version, but Paramount's new remastered Blu-Ray offers a number of discarded scenes and an alternate ending with Crowe's introduction. Regardless of the edits, the issues that many critics had with Crowe's first screened cut of "Elizabethtown" are understandable — if only because they exist in the slimmed-down, released version as well.
Essentially, the central romance between Bloom and Dunst works; though I found Bloom to be over-eager and trying too hard to sell his part, he clicks with Dunst and the movie provides the kind of cute, appealing romance so many of Crowe's previous films have contained. That element of "Elizabethtown" works well enough, but everything else feels forced — especially the scenes with Bloom and his cliched "backwoods" family, as well as Sarandon and Judy Greer (as Bloom's sister), with the former performing a supposedly heartfelt "dance" at her late husband's funeral that, to put it mildly, does not work. Apparently there was even more of this in Crowe's previous, longer cut, and one can sense why these sequences were trimmed for the theatrical release (needless to say Crowe could have cut the movie down even further than he did).
As it stands, "Elizabethtown" has some likeable moments and a nice performance by Dunst, with an appealing romance at its core. Everything surrounding it feels extraneous, however, and one could possibly fast-forward through the film, only watch the Bloom-Dunst sequences, and come away more satisfied than sitting through the entire picture.
Paramount's new Blu includes a fresh interview with Crowe along with him introducing the assorted deleted scenes plus featurettes, trailers, Neal Preston's photo gallery, TV spots and a digital copy. The 1080p AVC encode is superb (sporting cinematography by Oscar-winner John Toll), while the 5.1 DTS MA soundtrack unsurprisingly boasts an endless array of classic rock tracks, in keeping with Crowe's traditional sound design.
Also new from Paramount is Mark Osborne's animated rendition of THE LITTLE PRINCE (106 mins., 2015, PG), an adaptation of Saint-Exupéry's children's classic that became a big box-office hit in France. Featuring the voices of Paul Rudd, Jeff Bridges, Rachel McAdams, Marion Cottillard, Benicio Del Toro and Albert Brooks among others, this 2015 film makes its Blu-Ray debut from Paramount sporting a featurette, Camille music video, 1080p transfer, 7.1 Dolby TrueHD English audio and a digital copy.
Twilight Time Returns
Screen Archives debuts their first Blu-Ray releases this month, utilizing the Twilight Time label that Brian Jamieson and the late Nick Redman established as a branding for titles that kick off with two '70s independent offerings from around the globe.
THE MAN FROM HONG KONG (106 mins., 1975, R) is a special type of genre mash-up: an Australian/Hong Kong co-production that sees martial arts star Jimmy Wang Yu playing a tough cop who heads Down Under to chop out a drug ring. Future "Mad Max" star Hugh Keays-Byrne is a moppy-haired undercover officer who culturally clashes with the take-charge Yu, with their sights eventually set on bad-guy gangster George Lazenby, sporting a post-Bondian mustache. There's action aplenty, with dynamic stunts executed by Aussie exploitation helmer Brian Trenchard-Smith, along with Sammo Hung-choreographed fights, a freewheeling sense of humor, and a fantastic theme song in "Sky High," a popular mid '70s track performed by British band "Jigsaw."
20th Century-Fox released "Man From Hong Kong" theatrically in the U.S. though the film was notoriously difficult to find in North America for many years, seeing as the rights for this Golden Harvest/Movie Company co-production long since reverted back to its producers. Available several years ago in an Umbrella Blu-Ray from Down Under, Screen Archives' BD includes the same transfer (2.35) with LPCM mono sound and a slightly spread-out 5.1 Dolby Digital track. It's roughly the same a/v package as that release, with selected extras also carried over. These include a commentary with Trenchard-Smith, Keays-Byrne and stunt director Grant Page; the trailer; and numerous uncut, expanded interviews from the documentary "Not Quite Hollywood," featuring Lazenby, co-star Rebecca Gilling, Trenchard-Smith and 2nd unit cameraman John Seale (who went onto have a lengthy career in both Australia and the U.S.) among others recalling the shoot.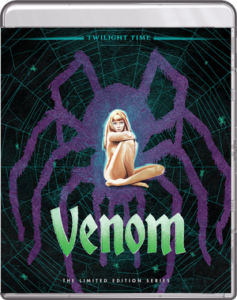 The other new Twilight Time release is another interesting curio: a fairly obscure early '70s British chiller named VENOM (88 mins., 1971, PG). This is an independent picture, shot in Bavaria, wherein Simon Brent's artist uncovers a mysterious girl (Neda Arneric) who lives in a nearby home and seduces men – leading to their deaths. A larger conspiracy involving Nazis still lurking about is – of course – part of Donald and Derek Ford's script – a thinly-drawn plot that also credits Stephen Collins with the story and Christopher Wicking with "Additional Dialogue."
Director Peter Sykes – who managed to land several Hammer movies off this – doesn't really pull it together nor does the ending make much sense, but it's a watchable enough piece for die-hard genre fans, even if it's not really horror or supernatural in nature. The reason for that is due to Peter Jessop's widescreen lensing, here preserved in a Pinewood restoration (2.35) that is nicely served by Screen Archives' AVC encoded technical transfer, hampered only by source elements that are not entirely pristine. The LPCM audio houses an often coarse mono soundtrack with an overwrought score by John Simco Harrison.
Both discs are now shipping, exclusively through Screenarchives.com
---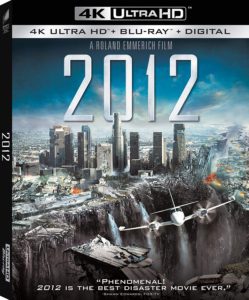 New on 4K UHD
2012 4K UHD/Blu-Ray (158 mins., 2009, PG-13; Sony): That fun-loving optimist, Roland Emmerich, returned in 2009 with yet another "Trash the Planet" disaster movie. Thankfully "2012″ is a lot more entertaining than Emmerich's comparatively more pretentious 2004 exercise in global warming hysteria, "The Day After Tomorrow," with scientist John Cusack and others finding out, the hard way, that the Mayans' prediction of 2012 global apocalypse is more than just fodder for lame Discovery Channel specials.
"2012″ wastes little time in getting to "the goods": namely, loads of elaborate special effects showing worldwide catastrophes as waves devour mountains, assorted landmarks, and a less-than-first-rate cast. Rest assured this isn't one of Irwin Allen's all-star disaster spectacles, so don't expect to have fun watching superstars like Richard Chamberlain and Gene Hackman throwing themselves into a fiery pit of lava. Instead, outside of a check-cashing Cusack, we have Chiwetel Ejiofor and a host of B-listers including Amanda Peet, Thandie Newton, Oliver Platt and Danny Glover, who's less than convincing as the President of the United States (the money clearly went into the technical production and not the actors).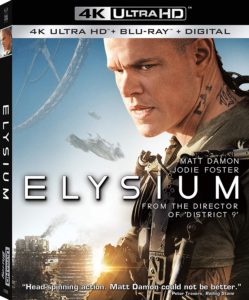 The film's plot, written by Emmerich and composer/co-producer Harald Kloser, is utterly ridiculous and the film's characters likewise disposable, but this is just a "special effects movie" through and through. And, on that level, and in 4K UHD, "2012″ gets the job done, especially if you're an undemanding fan of the genre. Personally, though, I'll be sticking to "The Swarm" — Michael Caine's hysterical line readings beat CGI'd global destruction for me any day.
Sony's 4K UHD offers a superb HDR10/Dolby Atmos presentation of the film with one extra exclusive to the platter ("Discovery Channel's 2012 Apocalypse"), a commentary from Emmerich, an alternate ending, picture-in-picture content, deleted scenes, many featurettes, a Digital HD copy and Blu-Ray for good measure.
Also debuting on 4K UHD from Sony in February is Neil Blomkamp's ELSYIUM (109 mins., 2019, R), the director's eagerly awaited follow-up to "District 9" that was mostly greeted with disappointment on behalf of critics and viewers alike. It's a strong visual piece, at least, though Blomkamp's commentary on the "haves" and "have nots" is so obvious that his original script is just a crushing bore, even with Matt Damon and Jodie Foster sitting on opposite ends of his futuristic class system. Dolby Atmos and HDR10 capability make Sony's 4K UHD highly recommended for curious sci-fi fans just the same, the package sporting a slew of featurettes, an extended scene, trailers, the Blu-Ray and a Digital HD copy.
---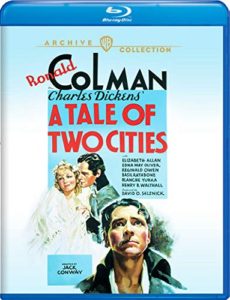 Warner Archive New Releases
The lavish David O. Selznick production of A TALE OF TWO CITIES (126 mins., 1938) is rightfully regarded by Golden Age buffs as one of the most enduring MGM blockbusters of its time – a sumptuously mounted adaptation of Charles Dickens' novel with Ronald Colman as lawyer Sydney Carlton opposite Basil Rathbone, Elizabeth Allan, Blanche Yurka (as Madame LaFarge) and Edna May Oliver. The cast is peerless, the drama still invigorating as helmed by Jack Conway, with Herbert Stothart's score adding the proper amount of support. Warner's Blu-Ray includes a fairly crisp B&W 1080p transfer with mono sound and the Oscar nominated short "Audioscopiks," two classic cartoons, a radio adaptation featuring Colman and the trailer.
Another '30s classic receives the Blu-Ray treatment this month when another MGM spectacle, SAN FRANCISCO (115 mins., 1936), debuts in high definition for the first time. The all-star cast includes Clark Gable as a Barbary Coast kingpin in love with singer Jeanette MacDonald while Spencer Tracy shows tough religious love as a priest in a movie that climaxes with a memorable flurry of special effects that were way ahead of their time. An alternate ending sequence, Liam Neeson-hosted documentary "Clark Gable: Tall, Dark & Handsome," two vintage FitzPatrick "Traveltalks" shorts, reissue trailer, and classic cartoon "Bottles" comprise the robust supplemental packager in another sterling AVC encoded B&W Warner Archive transfer with mono sound.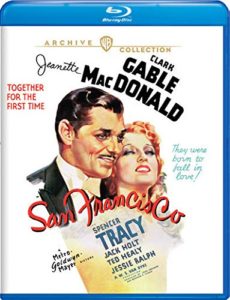 A more curious choice for Blu-Ray treatment this month from Warner Archive is BABY DOLL (114 mins., 1956), Elia Kazan's 1956 drama starring Carroll Baker as a child bride to cotton miller Karl Malden. Eli Wallach is the rival who seduces her in a film that piled controversy upon controversy when it was initially released, including a full-fledged rebuke from the Legion of Decency. The movie has been restored here in a B&W AVC encoded transfer (1.85) with an archival featurette and the trailer.
Finally, Christian Slater's performance as a shy new kid who moves to Arizona and becomes a pirate radio DJ is the main draw in PUMP UP THE VOLUME (102 mins.., 1990, R), a well-reviewed New Line sleeper that carries a newfound relevance at the moment due to the current assault on free speech via the GoogleFacebookTwitter tech conglomerate. Slater is terrific and though he never matched his work on this film (indeed, his follow-up was the dreadful Disney comedy "The Gun in Betty Lou's Handbag"), writer-director Allan Moyle's film offers believably rendered teen characters in a film long overdue for Blu-Ray release. This is a no-frills Warner Archive disc with a colorful 1080p (1.85) transfer and 5.1 DTS MA soundtrack.
---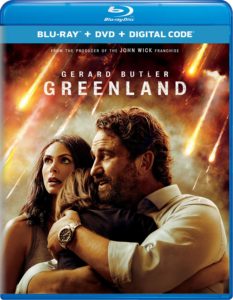 New From Universal
GREENLAND Blu-Ray (120 mins., 2020, PG-13; Universal): It's the end of the world — again — when a comet breaks into fragments, sending society into a mass panic and family man Gerard Butler into Action Hero Mode (TM) in order to save his son and estranged wife (Morena Baccarin).
This is a fairly modest and, accordingly, moderately effective apocalyptic tale from director Ric Roman Waugh, with the accent less on spectacle than characters. The problem is the lack of surprises in a predictable screenplay that offers little we haven't seen before. I also confess, after the last year we've lived through and having a 1st grader, I also didn't particularly "enjoy" watching this movie. Somehow watching this wasn't so much of an escape as a disturbing reinforcement that at least leaves us with the thought, well, maybe we could've been okay if Butler had been fighting COVID instead of comets.
Universal debuts "Greenland" on Blu-Ray this week with a 1080p (2.39) transfer, 7.1 DTS MA sound, deleted scenes, a featurette, Waugh's commentary, a DVD a nd Digital HD code.
AMMONITE Blu-Ray (117 mins., 2020, R; Universal): Convincingly acted but dull period tale of forbidden love between a hardened fossil hunter (Kate Winslet) and the grieving wife (Saoirse Ronan) of a local visitor she's been entrusted to take care of. Francis Lee wrote and directed this story of a relationship that develops between two women of different backgrounds in 19th century England – it's atmospheric and both Winslet and Ronan are believable, but the movie is sluggishly paced and the ending unsatisfying. Universal's attractive 1080p (1.85) AVC encode and 5.1 DTS MA sound are both superlative.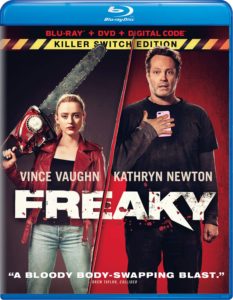 FREAKY Blu-Ray/DVD (102 mins., 2020, R; Universal): Blumhouse tries to bring horror fans something different with this body-swap serial killer tale wherein Vince Vaughn's psycho switches form with a 17-year-old high school girl (Kathryn Newton). "Freaky" might sound like it's tongue in cheek but director Christopher Landon and his co-writer Michael Kennedy have their minds firmly in line with most of its intended demographic's teen fare, meaning there's ample gore and juvenile humor to offset game performances from the two leads. Deleted scenes, featurettes, commentary, a 1080p (2.39) transfer, 5.1 DTS MA sound, a Digital HD code and DVD are also housed in Universal's combo package.
LET HIM GO Blu-Ray/DVD (114 mins., 2020, R; Universal): Kevin Costner plays a retired sheriff who, along with wife Diane Lane, leaves a Montana ranch after their son's death in order to retrieve their grandson from a family that has no intention of giving him up. Thomas Bezucha wrote and directed this adaptation of Larry Watson's novel, and both Costner and Lane are strong in a bit of a heavy-handed film that's watchable though pretty much predictable all the way. Universal debuts "Let Him Go" on Blu-Ray (2.39, 7.1 DTS MA) this week with the disc including two featurettes, a DVD, and Digital HD copy.
WILD MOUNTAIN THYME DVD (103 mins., 2020, PG-13; Universal): "Moonstruck"/"Joe Versus the Volcano" scribe John Patrick Shanley wrote and directed this adaptation of his own play – a romantic comedy set in Ireland wherein farmer Emily Blount runs into a "family curse" that prevents her neighbor (Jamie Dornan) from accepting her love. Even worse for Dornan, his father (Christopher Walken) has plans to sell their ancestral farm to an American (Jon Hamm) in a film that isn't totally unpleasant but seems like it could've used an injection of extra whimsy or energy, despite its location shooting. Universal's DVD (1.85, 5.1) is now available.
---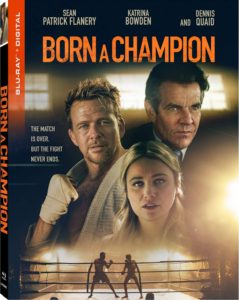 Quick Takes
LOVECRAFT COUNTRY – Complete First Season Blu-Ray (590 mins., 2020; HBO/Warner): Superbly mounted in terms of production value, this is an uneven HBO series set in the Jim Crow 50s, where a Korean war vet goes hunting for his father and comes across terrors both real – in terms of racism – and fantastical with creatures parading out of the pages of H.P. Lovecraft. The politics on this series lean in one direction (clearly) and the portrayal of bigoted white people as the "true" monsters may smack some as heavy-handed, also making "Lovecraft Country" more of an obvious, contemporary story about our current political climate than a true period tale. Warner's Blu-Ray of the series' first season is out this month sporting 1080p transfers, 5.1 DTS MA sound, a number of featurettes and a Digital HD copy.
BORN A CHAMPION Blu-Ray (111 mins., 2021, R; Lionsgate): Not bad recycling of familiar tropes in a mixed-martial arts form stars Sean Patrick Flanery – who also wrote and produced, along with director Alex Hanarvelo – as a family man who loses a jujitsu match in Dubai. Years later, evidence surfaces that his rival cheated, leading Flanery to tackle training for one last match. Katrina Bowden and Dennis Quaid co-star in a formulaic but surprisingly effective little independent drama, now on Blu-Ray from Lionsgate. The disc (2.39, 5.1 DTS MA) also includes a commentary from the director and a Digital HD copy.