A disarming and unpredictable "coming of age" story set against the backdrop of a monster apocalypse that's more Ray Harryhausen than "Walking Dead," LOVE AND MONSTERS (108 mins., 2020, PG-13; Paramount) had all the ingredients to become a serious sleeper hit in any other year. Regrettably, the pandemic put an end to any hopes of this picture finding a theatrical audience, but the fact we've been mostly stuck inside for months on end only makes this warm and winning movie from writers Brian Duffield and Matthew Robinson and second-time feature director Michael Matthews resonate more strongly than it may have otherwise.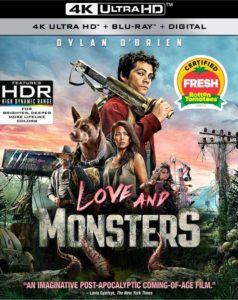 Dylan O'Brien plays the film's lead – an everyday young guy named Joel who's holed up in an underground colony after giant mutated monsters appear worldwide, claiming most of the Earth's human population. Joel's place is cemented amongst this group of hard-nosed survivors – he's better at cooking soup than slaying creatures, and spends most of time writing to the girlfriend (Jessica Henwick) he left behind years before. As it turns out, "Amy" is still very much alive and in charge of another colony some 85 miles away, with Joel reaching out via shortwave radio to his lost love.
Eventually, this means of communication just isn't enough for Joel, who – against the advice of the surrogate family he's become part of – sets off on an adventure of his own across an America overridden with massive insects, mammoth-sized slugs and even flying jellyfish. Yet it's not just creatures Joel meets – he's supported in his quest by a survivalist dad (Michael Rooker) and his young daughter, not to mention a dog named Boy who seems to save Joel constantly in the nick of time.
It's rare to find a movie where you're never quite sure what direction it's going, and "Love and Monsters" refreshingly throws you curveballs throughout while sticking to its own range of emotions and overall tone. This obviously isn't a hardcore film about the apocalypse, yet the movie also has no interest in the sort of cheap jokes and gore gags that you usually associate with "horror comedies." It treats Joel and his quest seriously enough that you really do care about him and his adventure, and the movie also manages to strike a series of effective emotional chords as it quickly flashes back to the world when it came crashing down.
The creatures and FX are likewise effective yet it's pretty clear "Love and Monsters" isn't so much a story about them – this is a picture that defies easy categorization, much to its benefit. If you like movies with giant monsters, romantic comedies and films about breaking out of your rut, this picture turns out to be fun and moving in equal measure as it speaks to our inherent need to communicate with, reach out and be connected to one another. After the last 10 months or so, it's a message that rings loud and clear, making this a surprisingly timely, sweet and wholly entertaining film that's also one of the best of the truly bizarre last year we've lived through.
Paramount debuts "Love and Monsters" in a great-looking 4K UHD with Dolby Vision capability. This was an independently financed film from eOne that Paramount smartly picked up for distribution, and the film offers a spectacular transfer plus a constantly active 7.1 DTS MA soundtrack that employs all channels of the sound field. Extras include deleted scenes and a couple of featurettes on the included Blu-Ray platter plus a digital copy.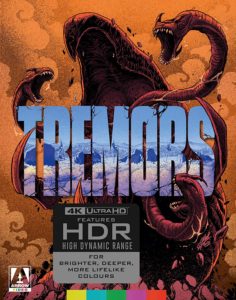 One of the best "modern" monster movies, TREMORS (95 mins., 1990, PG-13; Arrow) has at last been completely remastered by Arrow Video in a release worthy of the franchise's cult following. With a gorgeous new 4K presentation, this is another marvelous package for UHD owners from Arrow, whose output this month in the fledgling format also includes an essential edition of Guiseppe Tornatore's 1990 international hit "Cinema Paradiso" – making for an unusual double-feature of two movies, as different as can be, that viewers each fell in love with around the same time.
Ron Underwood's "Tremors," which Universal released to lukewarm box-office but solid reviews in the winter of 1990, follows a couple of good o'l boys (Kevin Bacon, Fred Ward) in the Nevada desert who try and save their small town from gigantic worms burrowing underneath the surface. S.S. Wilson and Brent Maddock's script and Ron Underwood's direction hit on all cylinders, as do the performances of Bacon and Ward, not to mention Michael Gross and Reba McEntire, hilarious as a pair of gun-toting survivalists. Seldom have old-fashioned creature thrills and humor mixed so well as they do in this 1990 Universal release, which later lead to one solid direct-to-video sequel, a myriad of other follow-ups (one as recent as last fall), a Sci-Fi Channel weekly series and a busted second series that Kevin Bacon was to have starred in.
Though a popular catalog title, "Tremors" has never been treated right in high-definition. Two catalog releases from Universal themselves offered aged HD masters – something that's been rectified here with Arrow's new 4K UHD transfer, approved by the director and DP, captured in Dolby Vision/HDR10, that at last preserves the movie's original cinematography better than any previous home video edition. A full array of audio options includes both 2.0 and 4.0 theatrical mixes and a 5.1 option, each capably handling the sound effects and Ernest Troost/uncredited Robert Folk score.
Speaking of the music, there's a lengthy discussion on the scoring process (and controversy) here, with Troost and Folk both contributing separate interviews – Troost is candid about Folk's larger-scale orchestral replacement of his music in many sections of the film, though makes it clear it was Folk and his agent who refused on-screen credit since they didn't want to share a line with Troost. It's just one of an abundance of extras, many – including "Making Perfection," Universal's own half-hour documentary with brand-new interviews – making their debuts in this set.
Among those, Arrow brings fans a new commentary with Underwood, Maddock and Wilson; another talk with Jonathan Melville, author of a book on the film; a recent interview with Wilson revisiting the original locations; additional new interviews with co-producer Nancy Roberts, cinematographer Alexander Gruszynski, associate producer Ellen Collett and others. There are also segments on the TV version's language overdubs, Laurent Bouzereau's 1995 laserdisc documentary, archival on-set footage, EPK materials, deleted scenes, trailers, image galleries TV and radio spots.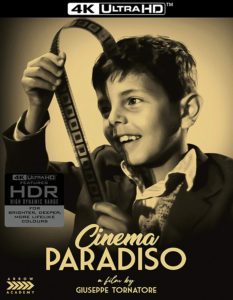 Besides the UHD, Arrow has here included a bonus limited-edition Blu-Ray that houses exclusive, longer interviews from "Making Perfection," outtakes, and a trio of early short films from the makers of "Tremors," including Wilson's inventive stop-motion short "Recorded Live" (1975). The set is capped by a 60-page book sporting writing from Kim Newman and Jonathan Melville, a large fold-out double-sided poster, a small fold-out poster, and six double-sided postcards – a spectacular limited-edition package that comes highly recommended.
So, too, does Arrow's 4K UHD of CINEMA PARADISO (124/174 mins [Both U.S. Theatrical and Director's Cut Versions], 1989, PG/R; Arrow), Giuseppe Tornatore's celebrated 1989 smash offers both the U.S. theatrical version of "Cinema Paradiso" as well as the director's longer, though somewhat more problematic, cut – though only the theatrical cut (the better way to go anyway) includes the new 4K restoration from the original camera negative. This UHD, offering Dolby Vision HDR, boasts a truly spectacular image filled with natural film grain and clarity, not to mention a warm, satisfying array of colors. The Director's Cut is contained on Blu-Ray in a 2K restoration that's perfectly fine, and in-line with Arrow's previous release.
Extras, also reprieved from the prior Arrow release, include commentary with Tornatore and critic Millicent Marcus; "A Dream of Sicily," a 52-minute doc on the director; a 27-minute look at "Cinema Paradiso" itself; "The Kissing Sequence" featurette with comments from Tornatore; original trailers; and a reversible sleeve.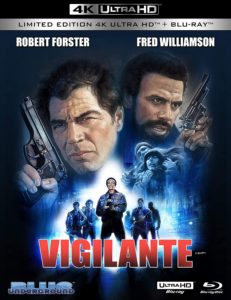 VIGILIANTE 4K UHD/Blu-Ray Limited Edition (89 mins., 1983, R; Blue Underground): Nasty, unpleasant and surprisingly dull exploitation affair from director William Lustig reworks the "Death Wish" formula so prevalent in the '70s and '80s, as factory worker/family man Robert Forster watches the justice system fail him after thugs brutally attack his family and murder his young son.
Forster opts to take on the gangs himself with the help of Fred Williamson in "Vigilante," one of those movies that sounds a lot more entertaining (and looks it with its "Warriors"-influenced poster art) than it really is. Shockingly tedious for a film that clocks in just under 90 minutes, Lustig, working from Richard Vetere's screenplay, gets good performances out of the always-dependable Forster and Williamson, yet there's not enough action and too much violence, most of it directed towards women, that's dwelt upon in a movie that ultimately will leave many – sans hardcore exploitation fans – with a sour taste.
Blue Underground previously brought "Vigilante" to Blu-Ray in 2010 in a dynamic release – one of their best at the time – and that's now been surpassed in another outstanding limited edition 4K UHD edition from the label. This 4K remastered transfer (2.40) includes both Dolby Vision and Dolby Atmos audio – the DV end allowing scene-to-scene brightness adjustments that, as usual, raises it a bit above watching it in HDR10 which the transfer is (as always) also compatible with. It's a superb package scanned in 4K 16-bit from the original 35mm camera negative, and as usual, the UHD/BD combo set is packed with extras: new goodies include a fresh commentary with Troy Howarth and Nathaniel Thompson (earlier commentaries are also included, featuring William Lustig and Andrew Garrni on one track, and Lustig with Forster, Williamson and co-star Frank Pesce on the other); a brand new retrospective, "Blue Collar Death Wish" featuring recent interviews; a fresh talk with composer Jay Chattaway; and a collectible booklet with Michael Gingold notes. Other bonuses include trailers, promo reels and a 3D lenticular slipcover. For fans (only), this comes recommended.
Also New & Noteworthy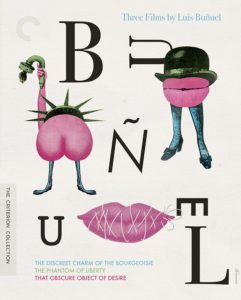 THREE FILMS BY LUIS BUNUEL Blu-Ray (Criterion Collection): The French new wave director closed out his career with three eclectic offerings: "The Discreet Charm of the Bourgeoisie" (101 mins., 1972); "The Phantom of Liberty" (103 mins., 1974) and the especially acclaimed "That Obscure Object of Desire" (104 mins., 1977). This trio of career-cappers has been newly remastered in a three-disc Blu-Ray box-set from Criterion, each offering new high-def digital restorations and ample special features that will enrich the respective works for Bunuel devotees.
Included here, in addition to the new HD (1.66) 1080p transfers, are a 1971 Bunuel homage, "The Castaway of Providence Street"; "Speaking of Bunuel," a 2000 documentary on Bunuel's career; the 2011 program "One Upon a Time: The Discreet Charm of the Bourgeoisie"; 2000 interviews with screenwriter Jean-Claude Carriere; archival interviews with Carriere, stars and other key collaborators of all three films; a 1985 documentary on producer Serge Silberman; a 2017 analysis of Peter William Evans on "The Phantom of Liberty"; a 2017 doc, "Lady Doubles"; a 2012 doc, "Portrait of an Impatient Filmmaker"; excerpts from Jacques de Baroncelli's 1929 silent, "La Femme et le pantin," an adaptation of the same book that served as the basis for "That Obscure Object…"; an alternate English dub track for "That Obscure Object"; and extensive booklet notes and supporting texts.
Also new from Criterion and very worthwhile is the Soviet drama THE ASCENT (109 mins., 1977), an impressive visual piece about a pair of Russian soldiers in WWII who become separated from their company after going out into a blinding snowstorm for supplies. They end up trying to elude capture at the hands of neighboring German forces in a small village in one of only a handful of films directed by Larisa Shepitko — one I came across on TCM a couple of years ago and couldn't turn off. This is a gorgeous Criterion presentation of the picture, restored in 4K and preserving its crisp, stark B&W (1.37) cinematography. Extra features on the disc include a commentary by Daniel Bird; new introduction by Shepitko's son, Anton; a new interview with actor Lyudmilla Polyakova; a 1967 short by the director; a 1980 tribute to the director, shot by her husband; two documentaries from 2012; a 1999 program featuring an archival interview with Shepitko, who died in a car crash at age 41; and notes from poet Fanny Howe.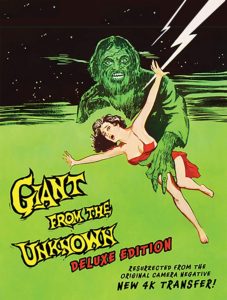 GIANT FROM THE UNKNOWN Deluxe Edition Blu-Ray (77 mins., 1958; The Film Detective): Another sterling restoration from The Film Detective, though here the source movie comes up a little bit short. "Giant…" is an early Arthur P. Jacobs production – the same Jacobs who would go on to produce the "Planet of the Apes" series – that finds "Vargas," a 500-year-old conquistador, coming back to life after a lightning storm reignites his centuries-old body just in time to plague a sleepy town, a scientist and his daughter. "Giant From The Unknown" might provide some nostalgic B-movie throwback amusement for buffs invested in its era, but this is mostly a tedious affair, even with make-up master Jack Pierce having provided "Vargas"' not-that-intimidating look (Richard Kiel could've probably eaten him for breakfast).
The Film Detective's Blu-Ray is a certainly worthy affair, however, with a 4K restored transfer (1.85) and lots of enjoyable special features that are more entertaining than the film itself. They include a commentary with Tom Weaver and friends; all-new interviews with screenwriter/actor Gary Crutcher and historian C. Courtney Joyner; the trailer; and a collector's booklet with Weaver's always astute liner notes.
THE CRAFT: LEGACY Blu-Ray (94 mins., 2020, R; Sony): Watchable if mostly watered-down sequel (or "requel" as I like to call it) to the mid '90s Fairuza Balk hit offers writer-director Zoe Lister-Jones recruiting a new gaggle of teenage witches to do battle with sexism and the evils of privilege. OK, well, maybe not so much that, but "The Craft: Legacy" is less about being a horror-fantasy than a story about feminist wish-fulfillment, with its central heroines being more predictable and less interesting than their predecessors. Sony's Blu-Ray is now available sporting two featurettes, four alternate scenes, and a Digital HD copy.
Mill Creek New Releases: New to Blu-Ray in Mill Creek's popular Retro VHS slipcover series are a number of Sony licensed Columbia/Tri-Star titles from the '80s.
CROSSROADS (99 mins., 1986, R): Easy-going but forgettable Walter Hill offering stars Joe Seneca as a former blues guitarist — now relegated to an NYC nursing home — and Ralph Macchio as a Juillard student who springs him out and onto a road trip to his Mississippi home.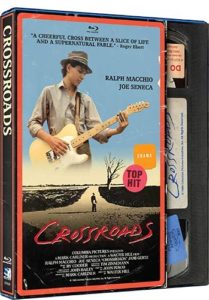 John Fusco's script starts off just fine, and Ry Cooder's score offers a bouncy, vibrant fusion of blues and rock 'n roll that sounds great in Dolby Surround. Seneca is excellent as bluesman Willie Brown, and Macchio — obviously seeking a "grown up" role following the success of two "Karate Kid" movies at the time — isn't half-bad as the street-smart kid who has a lot to learn. Alas, somewhere along the line, "Crossroads" turns into just one more routine road movie, with a tepid interlude involving Jami Gertz (a subplot presumably included just to incorporate a girl into the story) and assorted undeveloped themes (like Seneca having "sold his soul" to the devil) diminishing the film's impact. It's still a stylish journey — atmospherically shot by John Bailey — but ultimately a bit of an underwhelming one. Mill Creek's Blu-Ray (1.85, 2.0 DTS MA) includes a Sony licensed master that's decent but is hampered here by blotchy compression artifacts.
Another title long overdue for Blu-Ray treatment, THE FRESHMAN (102 mins., 1990, PG) is a genial Andrew Bergman comedy that offers Matthew Broderick as a film student who takes a job working for an NYC mobster who resembles "The Godfather" himself – and comes in the familiar guise of Marlon Brando, giving an engaging performance that buffs and critics each acclaimed back at the time of the movie's summer '90 release. A quality production with William A. Fraker cinematography, Ken Adam sets and a supporting cast including Bruno Kirby, Penelope Ann Miller and Frank Whaley, "The Freshman" was a critical darling and finally makes its Blu-Ray debut here in Mill Creek's release (1080p 1.85, 2.0 DTS MA). Sadly this also isn't one of the label's better HD releases of late, looking as if it's suffering from problematic compression and inferior encoding.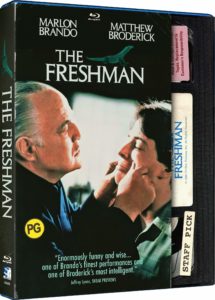 After Tom Hanks' "Big" hit it big, a myriad of clones popped up in its wake, including the enjoyable Judge Reinhold/Fred Savage affair "Vice Versa" and the less enjoyable LIKE FATHER, LIKE SON (96 mins., 1987, PG-13), where Dudley Moore and "Growing Pains"' Kirk Cameron are put through the body swapping paces in a more teen-oriented affair. Margaret Colin, Catherine Hicks and Sean Astin co-star in a watchable Imagine Entertainment production that again suffers on Blu-Ray here (1.85) from compression issues and an overall mediocre transfer with limp colors.
Faring much better from Mill Creek is their collectible Steelbook edition of ULTRAMAN TARO (22 hours, 1973-74), a TV series which premiered in Japan in 1973 and put the accent on colorful, kids-centric action. Familiar faces like Ultraman, Ultraseven and Zoffy return to help Taro, aka Kotaro Highasi, the alter-ego for the sixth "Ultra Brother." This series never made it to the United States, making this Blu-Ray presentation a worthwhile pick-up – the label's Steelbook Limited Edition offers all 53 half-hour episodes from "Ultraman Taro" in 1.33 HD transfers and mono DTS MA Japanese audio with English subtitles and Moviespree-app digital copies.
Japanese pop-culture enthusiasts and anime fans in particular might want to check out BARTENDER (275 mins., 2005; Shout! Factory), an anime series set in Japan's Ginza district. There, a small watering hole exists named Eden Bar, where its enterprising and multi-talented bartender, Ryu Sasakura, not just serves up tasty beverages but also advice to people with assorted problems who need help. This 15th Anniversary edition of "Bartender" is new to Blu-Ray this month from Shout Factory offering 1080p (1.78) AVC encoded transfers and PCM 2.0 Japanese soundtracks with English subtitles. Extras in the double-disc Blu-Ray box include "clean" opening and closing credits and bumpers, plus 9 cocktail cards and and four drink coasters…Shout is also releasing, in a Blu-Ray/DVD combo pack, LUPIN III: THE FIRST (93 mins., 2019), a standalone adventure starring the titular "gentleman thief" who here tries to uncover the secrets of the Bresson Diary before it falls into the possession of a group trying to revive the Third Reich. CGI animation and comic book action punctuate this attractive feature which works for both long-time franchise fans and newcomers to the material. Shout's vivid 1080p (2.39) Blu-Ray includes interviews with the director and Japanese cast; animation breakdown and CG model segments, an "English Cast Reunited" segment, and 5.1 DTS MA sound in either an English dub or the original Japanese audio.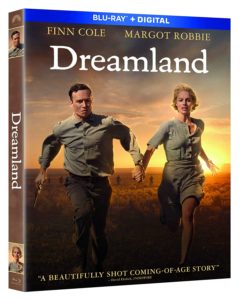 Also New from Paramount: Finn Cole plays a farm boy who naively decides to help out fugitive bank robber Margot Robbie (okay, who wouldn't) in the independent drama DREAMLAND (100 mins., 2019, R), a period film set in Texas during the Great Depression. With its foreboding music and reliance on "arty" imagery, Miles Joris-Peyrafitte's picture at times feels like a Malick-wannabe as opposed to "Bonnie & Clyde," with only the end succumbing to a shoot out that feels prolonged in its arrival. Predictable material elevated only somewhat by Robbie, with Paramount's Blu-Ray out January 12 with a 1080p transfer, 5.1 Dolby TrueHD audio and a Digital HD copy…a good cast can't save the tepid thriller WANDER (92 mins., 2020, R) starring Aaron Eckhart as a PI hired to investigate a death in a small town. Heather Graham, Katheryn Winnick and Tommy Lee Jones co-star and deserve better than this routine outing. Paramount's DVD includes a 16:9 transfer, 5.1 sound and a Digital copy…Charlie Hunnam and Jack O'Connell play boxers trying to get ahead in the world of bare-knuckled boxing in Max Winkler's JUNGLELAND (89 mins., 2019, R), a production of Ridley Scott's company. Paramount's DVD is out this week featuring a 16:9 transfer, 5.1 sound and a Digital copy.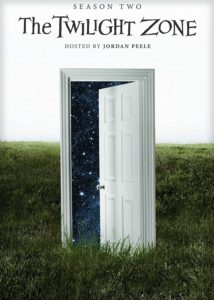 Quick Takes
THE TWILIGHT ZONE Season 2 DVD (6 hours, 2020; CBS): Producers Jordan Peele and Simon Kinberg are back with another slate of episodes from their CBS All-Access revival of the Rod Serling classic. Tony Hale, Ethan Embry, Joel McHale, Christopher Meloni, Jenna Elfman, Damon Wayans Jr., Topher Grace and Gretchen Mol are on-hand in the second season of "The Twilight Zone," arriving this time only on DVD with deleted scenes, a gag reel, 16:9 transfers and 5.1 soundtracks comprising the three-disc set.
SPACEWALKER Blu-Ray (137 mins., 2020, Not Rated; MPI): Russian drama is set at the height of the Cold War where the USSR pairs Pavel Belyayev, a seasoned war veteran, with test-pilot Alexei Leonov, as the duo become the first to launch into orbit and head out in a small spaceship for the first walk in space. This is a fascinating picture well worth checking out for history buffs with MPI's Blu-Ray including a 1080p transfer and both Russian and English dubs in 5.1 DTS MA.
TOYS OF TERROR DVD (99 mins., 2021, R; Warner): Okay direct-to-video thriller about a group of kids who run afoul of deadly toys that come alive after they discover a chest of them in their new mansion home. Nicholas Verso helms capably but this offers only modest entertainment for genre buffs. Warner's DVD is out January 19th featuring two featurettes, a 16:9 transfer and 5.1 audio.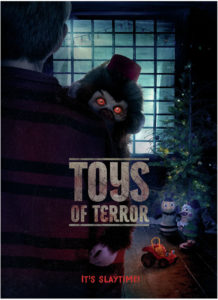 NELSON ALGREN LIVE Blu-Ray (72 mins., 2016; Olive Films): Novelist Nelson Algren was best known for his novel "The Man With The Golden Arm," earning acclaim for his unflinching, and then at-times unfashionable, look at the seedy side of Chicago life, from drunks and drug addicts to mob figures and everyone inbetween. For his 100th birthday, actors and writers – including producer Willem Dafoe – came together at the Steppenwolf Theater to premiere this on-stage look at Algren's life, in his own words. Olive Films' Blu-Ray debuts this 2016 presentation with a 1080p (1.78) transfer, trailers, essays from writer/producers Barry Gifford and San Simon, and a photo essay from Art Shay.
Screen Media New Releases: LENNOX LEWIS: THE UNTOLD STORY (96 mins., 2020) is narrated by Dr. Dre and offers never-before-seen footage of the three-time heavyweight champ's personal archives, plus exclusive interviews with Lewis and competitors like Mike Tyson, George Foreman and Evander Holyfield. This well-rounded doc is new on DVD from Screen Media featuring a 16:9 transfer and either 2.0/5.1 Dolby Digital sound…Bella Thorne stars in GIRL (92 mins., 2020), the unsettling story of a troubled young woman who returns to her hometown to get revenge on her abusive father – only to realize someone else already did the job. Mickey Rourke and Chad Faust co-star in this Canadian-lensed thriller which Screen Media has released on DVD with a 16:9 (2.40) transfer and 5.1/2.0 audio options.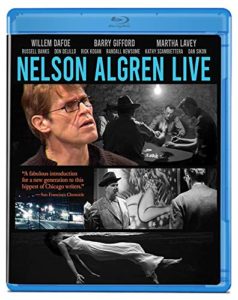 JONATHAN SCOTT'S POWER TRIP Blu-Ray (84 mins., 2021; MPI): The co-host of the hit HGTV series "Property Brothers" hosts, produced and directed this feature-length documentary on solar energy, and particularly how "fossil fuel monopolies" are handcuffing its growth and potential. This is an informative piece on a hot button topic, with MPI's Blu-Ray (1.78, 5.1/2.0) now available for purchase.
MAX CLOUD Blu-Ray (89 mins., 2020; Well Go USA): A teenage video gamer finds herself improbably trapped inside one of her favorite titles, needing rescue from her friend back in the real world as well as the titular hero (Scott Adkins) himself in Martin Owen's well-intentioned fantasy that never really gets into gear. Well Go USA's Blu-Ray is out January 19th featuring a 1080p transfer and 5.1 DTS MA stereo audio.
NEXT TIME: Kino Lorber's New Years slate. Until then, don't forget to drop in on the official Aisle Seat Message Boards and direct any emails to our email address. Cheers everyone and Merry Christmas!