Message Board (open 24 hours!)
Twitter - @andredursin (for everything else!)
The controversy over Warner Bros.' decision to premiere their entire slate of 2021 theatrical features on the new HBO Max streaming service day-and-date with whatever theaters are actually open in the U.S. missed one central possibility – that even without a pandemic, duds like Christopher Nolan's "Tenet" and WONDER WOMAN 1984 could've helped to ignite a "multiplex mass-extinction" event entirely on their own.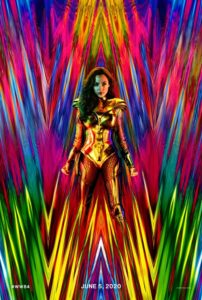 Director Patty Jenkins' long-delayed sequel is a wretched misfire – a self-indulgent comic book affair that strives to be "lightweight" without an ounce of wit. It also ranks as, unquestionably, one of the dullest, needlessly overlong films of its kind ever produced, somehow extending itself out to 2½ hours despite only offering a small roster of new characters that quickly wear out their welcome.
It doesn't start off badly, with a quick trip back to the island of Themyscira featuring young Diana competing in a tournament (one of only two Imax shot sequences in the entire picture), followed by Wonder Woman stopping a mall heist circa 1984 ("look, it's Waldenbooks!"). Regrettably, the fun – as well as any real integration of the movie's era – stops pretty much there, as soon as Gal Godot's heroine meets the movie's two supporting character/villains: one's a slick would-be business tycoon (Pedro Pascal) trying to get his hands on a wish-fulfillment relic, the other's one of Diana's nerdy cohorts, an archaeologist (Kristen Wiig) who wants to be just like Wonder Woman herself. Ultimately, these two cross the line from being powerless and pathetic to dangerous and deadly, improbably threatening mankind's extinction and requiring Diana to utilize a returning (kind of) Steve Trevor, who's embodied in another man's form but is still seen in the familiar guise of Chris Pine.
Many things go so wrong in "Wonder Woman 1984" that the comedown between this sequel and the far superior film that preceded it is shocking. Jenkins' movie spends so much time with the Wiig and Pascal characters that you wonder when Wonder Woman is going to reappear, which she only fleetingly does in the scope of a film that somehow – given its modest amount of characters – lumbers on for 151 minutes. The real issue is that neither character feels like an actual foe for Diana, both being sad, corruptible antagonists whose audience sympathy extends only so far – making us having to spend extended time with them a chore. Neither Pascal nor Wiig (who's not even remotely funny in the spots she's supposed to be) are appealing nor are they menacing, much less make viewers feel as if they're going to put up a challenge to Wonder Woman's vast array of increasing super powers. And the less said about Wiig's ending transformation into classic DC villainess "The Cheetah," the better (you may well have flashbacks to last year's "Cats" nightmare).
What's more, WW1984 is often boring – talky and dull, sluggishly paced and in need of some comedic material or additional supporting characters to spice things up. Pine seems uncomfortably restrained in the film, rekindling a little of his chemistry with Godot, but seeming like he's just a peripheral passenger to the action – what little there is here. That extends, regrettably, to Godot herself, who's still likeable as Diana, but whose journey isn't the focal point of a sequel that seems to have been misguided right from the conceptual stage.
The one bright spot – and the only one that's an improvement over the original – is Hans Zimmer's new score. Far more melodic, orchestral and upbeat than the score Rupert Gregson-Williams contributed to the first film, Zimmer rechannels the melodic thematic material he brought to various projects 30 years ago while offering only brief quotes of the "battle cry" motif (thankfully sans guitar) he previously wrote for the character. His new theme for Diana is rousing and energetic, and wouldn't sound out of place underscoring an Olympic competition – the kind that would be far more exciting than the plodding wreck of "Wonder Woman 1984."