Message Board (open 24 hours!)
Twitter - @andredursin (for everything else!)
Few movies that I was so excited about in high school disappointed me as much as TOTAL RECALL (113 mins., 1990, R; Lionsgate). This expensive, long-gestating adaptation of Philip K. Dick's novel – which bounced around for years in pre-production hell – finally found a home at Mario Kassar and Andrew Vajna's Carolco Pictures in the late '80s, who tailored the film as a vehicle for Arnold Schwarzenegger. The combination of Arnold, the author of "Blade Runner," a Jerry Goldsmith score and director Paul Verhoeven coming off "Robocop" had action fans of all ages (at least those with parents willing to bring their teens to the R-rated film) feverishly anticipating the picture – yet the finished product, while entertaining, has never been a heavy favorite of mine.
"Recall," which was scripted originally by the "Alien" tandem of Ronald Shusett and Dan O'Bannon – and rewritten by Gary Goldman – finds Arnold as Quaid, an "everyman" construction worker in 2084 who, haunted by visions of Mars, decides to have artificial memories implanted in his brain courtesy of the "Rekall" company. Of course, something goes horribly wrong (or does it?), with Quaid subsequently attacked by his own wife (Sharon Stone), who believes that he's a secret agent involved with warring factions on a colonized red planet. Soon Quaid heads to Mars with the villainous Cohaagen (Ronny Cox) and his henchman Richter (Michael Ironside) in hot pursuit of the man they know as "Hauser."
Arnold was in full control of "Total Recall," basically brokering the deal for Carolco and choosing Verhoeven to direct the film. Unfortunately, despite its compelling premise and "can't miss" talent, the movie has numerous elements that I've never cared for, starting with the unappealing appearance of the claustrophobic, Mexican-lensed production. The movie looks like a product of 1990, no question, dominated by loud colors and garish visuals, and the set-bound confines of the picture have always been a turnoff. There's no sense of scope or grandeur in the visuals – amazingly, one of the few exterior shots of Mars was added at the insistence of a VFX supervisor, who had to convince Carolco to put up the budget for it! Though Rob Bottin's make-up effects are mostly effective (the laughable "Arnold puppet" notwithstanding), the visual effects are more hit-or-miss, utilizing old-fashioned miniature models and opticals that haven't entirely held up well (they weren't entirely cutting edge at the time of the production either, being inferior to the type of work ILM was producing around the period).
What's more, the screenplay of the film is distressingly basic. "Total Recall" is essentially one long chase picture with amplified violence and repetitive visual gags that grow tiresome – particularly when Verhoeven brings the "triple breasted woman" back for an encore appearance. Arnold gets to deliver several patented one-liners, Stone and Rachel Ticotin fare well as the movie's dueling female protagonists, and Ironside is at his conniving best – but the picture is never as captivating or enthralling as it should've been, particularly when compared to the era's superior sci-fi/fantasy hits.
Now, all of that being said, I've warmed to the film a little bit in recent years – mainly thanks to the music. Jerry's score is a magnificent effort, complimenting every element of the action, with furious action cues and evocative melodies for the red planet and its mysterious underworld. It's a symphonic feast that keeps you invested in the film, despite its shortcomings.
"Total Recall" makes its 30th Anniversary debut this month from Lionsgate in a 4K UHD/remastered Blu-Ray combo with a number of new extras and a Dolby Vision enhanced transfer. The Mars sequences in particular mark the biggest enhancement of this transfer, being fully saturated without bleeding, really for the first time in a home video format. The transfer also shines in terms of handling the assorted optical effects, being "cleaned up" while retaining a good amount of grain throughout – making for, overall, a nice upgrade from the earlier Blu-Ray release, though it's not a "pristine" looking movie still by any means. The 4K UHD also contains a bravura Dolby Atmos track that seems to adhere to the original Dolby Surround mix faithfully – it hasn't been "rethought" nor is the LFE overpowering…it's just a slightly more "forward"-placed track than the original Dolby Stereo mix, which is presented here on UHD in a 2.0 DTS container.
The 4K UHD even contains an array of new documentaries – also featured on the remastered Blu-Ray platter. These include a breezy if superficial hour-long doc on the history of Carolco (it assembles individuals like Verhoeven and Michael Douglas but doesn't include much information buffs won't already know), as well as a 20-minute segment paying tribute to Jerry Goldsmith's score. This featurette touches upon anecdotes film music fans have long been aware of (Goldsmith's movement of the score's recording from Germany to London after the Graunke Symphony couldn't keep up with the music) by way of new interviews with a few film music experts you may have heard of: Lukas Kendall, Jeff Bond, Robert Townsend and Daniel Schweiger. Finally, an audio-only interview looks at the movie's conceptual storyboard outings.
Additional supplements (only on the Blu-Ray aside from the commentary) have been carried over from previous Lionsgate/Artisan releases. These include a chatty Verhoeven-Schwarzenegger commentary, which is wide-ranging and most interesting when it divulges the rocky development of the film, particularly the Bruce Beresford-directed version that was days away from shooting with star Patrick Swayze before DeLaurentiis Entertainment Group went under. There's also talk about the proposed "Total Recall 2″ sequel that was supposed to adapt "Minority Report," while an archival EPK Making Of, 2001 "Imaging 'Total Recall'" and special effects documentaries, and the trailer round out a must have for Ah-nold and sci-fi fans.
Also New on 4K UHD
TENET 4K UHD (151 mins., 2020, PG-13; Warner): In the disastrous, mixed-up year of 2020, it probably makes sense that someone truly thought the movie that would potentially bring audiences back to theaters and leave their homes in the midst of a "global pandemic" was this turkey from writer-director Christopher Nolan – an absolute mess populated with unappealing characters and somnambulant performances to match.
Nolan's movies are, as we know, always pretentious and typically "complicated," but there's a special divide between this film and the rest of his filmography, as his "Tenet" screenplay often sounds like actors reading a technical manual for a household appliance out loud. In terms of a story, what there is ends up being less than one might expect: a big opening action set-piece quickly lays down the gauntlet for Nolan's time-spanning premise involving a secretive organization trying to save the world from a Russian tycoon who's stolen "time-inverting" technology. Bullets fly backwards, fights are staged in reverse, and mankind's future rests in the hands of "The Protagonist" (John David Washington), whose grasp of the movie's premise is about as sound as you're likely to feel after a quarter of this dismal 2½-hour test of viewers' patience.
Sure, some of the visuals – mostly shot in Imax – are snazzy as you'd anticipate, but "Tenet"'s "reverse action blasts" mostly come off as goofy and strange. Someone's shooting in the present here, someone's throwing a punch in the past there – okay, and…well, what else is there? Turns out there's not much. The sound design is bass heavy and muddled, the dialogue often buried under an abysmal, Zimmer-wannabe score from Ludwig Goransson, yet perhaps it wouldn't have mattered with these performances.
Washington is a blank in the lead role, displaying none of dad Denzel's charisma, and he's opposite an abused trophy-wife character in Elizabeth Debicki, giving a thankless turn in a role Rosamund Pike specialized in a decade ago. While Robert Pattinson livens things up as one of "The Protagonist"'s cohorts – displaying some charm that seems out of place with the rest of the cast – the solitary worst performance belongs to Kenneth Branagh. With his faux Russian accent, Branagh looks like he's auditioning for Boris Badenov in a "Rocky & Bullwinkle" remake as he explains (or tries to explain) his motives to "The Protagonist" like an old Bond villain – minus the entertainment value found in any of the actual Bond movies.
Incredibly, an hour or possibly more was removed from "Tenet" before the picture was cut down to its still unmanageable 150-minute running time – whether some of that might have better explained the film's story, who knows. Yet, who cares, because none of these characters are worth making an emotional investment in, and Nolan does little to engage you on that level – the world of "Tenet" exists solely on a technical plain, not a human one. Never mind being a disappointment – "Tenet" is a dreadful movie that likely would've been savaged by critics had it originated from any other filmmaker, at any other point in history.
Warner brings "Tenet" to 4K UHD this week – it's an expectedly attractive HDR10 transfer with shifting aspect ratios (1.78 for the Imax sequences, 2.2 for everything else) and a 5.1 DTS MA soundtrack that at least affords home audiences the opportunity to raise the dialogue to a level above the movie's score and effects. A Making Of is included on the Blu-Ray platter, with a Digital HD copy also included.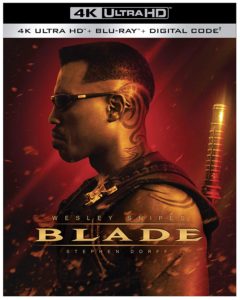 BLADE 4K UHD (120 mins., 1998, R; Warner): The best way to frame the cinematic significance of this 1998 Wesley Snipes hit – which seemingly, if unknowingly, ignited a cycle of decades of comic book features to follow – is to flash back to my review of "Blade" from 1998, which I'm going to extract below.
"I don't think any of us who grew up reading Marvel Comics thought that we'd live long enough to finally see a successful movie adaptation of a Marvel Super Hero. After all, between the unreleased "'Fantastic Four' fiasco to Menahem Golan's 'Captain America' debacle, Marvel heroes have found more success on the small-screen than they ever have in theaters. With James Cameron's favorite webslinger, Spider-Man, having been held up in legal entanglements for years now, it didn't look like Marvel's batting average was going to change…at least until now.
While New Line's big-screen movie version of 'Blade' isn't exactly a strict, faithful rendering of its Marvel origins, it does look and feel like a slick comic-book come to life, filled with thundering action sequences and polished direction that make for perfect entertainment for horror and comic aficionados alike.
Wesley Snipes co-produced this solid genre effort, which stars Snipes as the half-human, half-vampire hunter of the undead, who patrols the streets on his motor cycle at night with sword and shotgun in tow, the latter always filled with silver bullets to pierce the fanged monsters. Turned into a half-vamp by his mother, who was bitten while pregnant, Blade says more with weapons than he does in words, at least until head vampire Deacon Frost (Steven Dorff) shows up in L.A. with his gang of bloodsuckers and a dastardly plan to resurrect some sort of "Blood God" that will spawn an apocalypse of nosferatus around the world. Outfitted by weapons master Kris Kristofferson and aided by hematologist N'Bushe Wright, Blade takes on evil with swashbuckling swordplay and a handful of moves he must have picked up from watching a Hong Kong kung fu movie.
Director Steven Norrington and writer David Goyer ('Dark City') have fashioned a movie that will appeal to comic-book buffs, horror fans, and anyone who has ever enjoyed a Schwarzenegger-styled action romp. Most impressively, though, 'Blade' actually attempts to tell a story and develop its leading characters, at least until the elaborate fight sequences take center-stage at the climax. The story is given time to unravel and the motives of Blade are logically presented, which is certainly commendable in a movie like this. While Norrington and Goyer eventually are unable to properly build up an emotional release for its protagonist or a final confrontation that truly feels apocalyptic, they still receive points for trying.
All told, 'Blade' is good fun if you're into this sort of thing, and the ending sets us up for a sequel that I wouldn't mind seeing. It's not high art, it's vampire action, and pretty good stuff at that. With Snipes and Dorff creating solid adversarial sparks against each other, Stan Lee has finally seen the day when his name graces a theatrical movie that truly lives up to its Marvel Comics billing. 'Nuff said!"
22 years later, "Blade" remains one of the earliest – and really one of the better – Marvel movies. Norrington proved to be allegedly too difficult to work with, and his career mostly nose-dived after helming Sean Connery's swan song, "League of Extraordinary Gentlemen" (a disappointing movie that's still not-as-bad as its rep would lead one to believe). Snipes returned for a pair of disappointing sequels, making this first "Blade" the best of the batch – and the start of a long run (too long of a run!) of genre efforts that would take over the multiplex for years to come.
Warner's 4K UHD of "Blade" looks great here in an HDR10 transfer with Dolby Atmos audio – upping the movie's visual appearance in a worthwhile UHD catalog package. Only the CGI looks a little dodgy, though that's a product of the movie's time. One of the earliest DVD releases that took advantage of the format's potential to house extra features and commentary tracks, Warner has reprised those supplements here (commentary, behind-the-scenes docs, even Mark Isham's isolated score track) along with the trailer and a Digital HD copy.