Kicking off this year's multi-part Aisle Seat Holiday Gift Guide is one of the more fondly-remembered comedies of the 1980s, presented now in a brand-new Criterion Collection Blu-Ray: MOONSTRUCK (102 mins., 1987, PG), director Norman Jewison's charming and endlessly repeatable romantic comedy that won Cher a deserved Oscar for her role as an Italian Brooklyn widow who falls for the brother (Nicolas Cage) of her new fiancee (Danny Aiello) while he heads off to tend to his ailing mother in Italy. Vincent Gardenia and Olympia Dukakis are equally superb in this rich, hilarious and winning film that also copped Oscars for Dukakis (Supporting Actress) and John Patrick Shanley (Original Script), with nominations extended to Gardenia, Jewison, and the film itself for Best Picture.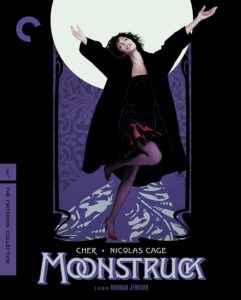 Shanley's rich character piece is at times "eclectic" but is firmly grounded in a family dynamic that's relatable and real – unlike other scripts of his that had difficulty mixing at-times disparate narrative elements (say, "Joe Versus the Volcano" or "The January Man"), "Moonstruck" walks the fine line between zany comedy and character drama splendidly. It's also a reminder how effective Cage could be in the right vehicle – unlike his criticized performance in Francis Ford Coppola's "Peggy Sue Got Married" the previous year, he's just right opposite Cher, who was never better than here. Sage supporting turns from Gardenia, Dukakis, Aiello and John Mahoney add the icing to the cake in a delightful movie that's lost none of its charm over the years.
Criterion's Blu-Ray debuts a new, rich 4K restored transfer (1.85) with 5.1 DTS MA audio, approved by director Jewison. Extras include a new interview with Shanley about his career, plus a conversation with Stefano Albertini about the use of Puccini and other opera in the picture. Other extras include a 1998 commentary featuring Jewison, Shanley and Cher; 1987 interviews with the cast; a 2002 interview with Aiello; a 1989 talk with Shanley; and a pair of retrospectives from the 2006 DVD. These include "At the Heart of an Italian Family" – a fun, 25-minute retrospective on the picture's release offering then-new interviews with Jewison, Shanley, Aiello, and Dukakis (Cher and Cage appear in old EPK footage) – while "Music of Moonstruck" profiles the film's memorable use of "ethnic" Italian tunes, Puccini, and the work of composer/arranger Dick Hyman. A sumptuous disc in more ways than one, and ideal for gift-giving this holiday season.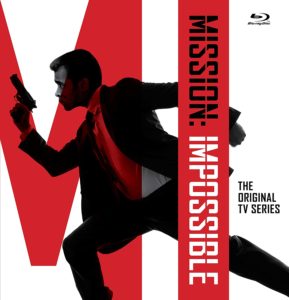 Bountiful Box Sets
MISSION: IMPOSSIBLE The Complete Series Blu-Ray (1966-73; CBS): All seven seasons from the hugely influential Bruce Geller-created '60s spy series are out on Blu-Ray in a massive box-set with gorgeous remastered (1.33) transfers and 5.1-encoded soundtracks. Fans can get their fix of Steven Hill's one season in the series before he departed – and was wisely replaced by the more charismatic Peter Graves. The later years sporting Leonard Nimoy are fun too, though there's definitely a formulaic component to the episodes that may force new viewers to feel as if they've sampled most of what the series has to offer after just a few episodes. Nevertheless, the a/v content is superb and the 46-disc set is likely to keep MI fans glued for months to come – especially if the endless pandemic never ends. The downside: the '80s revival isn't included, and the fold-out paper packaging isn't likely to endure through repeated handling.
Another CBS box, HAWAII FIVE-O: THE COMPLETE SERIES (2010-2020) compiles the entire, recently concluded revival of the original Jack Lord classic. As I wrote in my review of the newer series' first season, "CBS' much-touted remake of the classic Leonard Freeman series is a bit of a mixed bag. On the plus side you have Scott Caan's affable Danno, the gorgeous Grace Park as Kono Kalakaua and Daniel-Dae Kim as Chin Ho Kelly. On the downside is Alex O'Loughlin's overly brooding Steve McGarrett, who's not about to give Jack Lord a run for his money. The Hawaii locales, though, remain a constant in the new "Five-0," and while some of the story lines – especially in the early going – feel too much like "CSI: Hawaii" for its own good, this is still a slickly produced modern version of a TV classic." Fans agreed, and as the series grew over time, the program became a fan-favorite all its own. CBS' Complete Series set includes the previously released DVDs of the series' Seasons 1-10, sporting selected commentaries, "Magnum PI" crossover episodes, and even better, an all-new bonus disc featuring the cast and crew reflecting on the series. Warmly recommended for fans.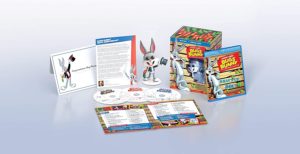 BUGS BUNNY 80th Anniversary Blu-Ray Collection (Warner): Lavishly-packaged three-disc Blu-Ray box from Warner celebrates the original "Looney Tune" in some 60 restored, remastered theatrical shorts. While roughly a third of these were previously released in Warner's outstanding Platinum Collection Blu-Ray editions, this box contains a good array of never-before-released on home video Bugs classics, including "What's Cookin Doc?" and a slew of other '40s and '50s favorites. The AVC encoded transfers and Dolby Digital soundtracks are all fine, with extras including commentaries and/or isolated score tracks; bonus, newer Looney Tunes shorts produced in 2020 that have debuted on HBO Max; an introductory letter from historian Jerry Beck; a new documentary; and a full-sized, glitter diamond collection Bugs Bunny Funko Pop! Figure. It's all housed in a numbered limited edition from Warner, capped by a Digital HD code. Highly recommended for all Looney Tunes fans!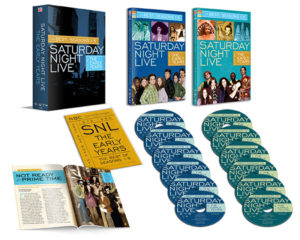 Also new from Warner is STEVEN UNIVERSE: THE COMPLETE COLLECTION, a sprawling compilation that incorporates all seasons of "Steven Universe," the hit Cartoon Network animated series, along with "Steven Universe Future" and "Steven Universe: The Movie." Every episode from the series is included alongside copious bonus content from each picture's previous DVD, from commentaries to behind-the-scenes interviews, animatic mock-ups, Steven Universe mini-sodes, and Sing-a-Long content. Packaged in a deluxe sized box-set, this is a superb package for casual viewers and also fans who might want the entire run of the series in one convenient box. For specifics on the individual seasons, check out my original reviews via the Aisle Seat Archives page.
New this month from Time Life is SATURDAY NIGHT LIVE: THE BEST OF SEASONS 1-5, THE EARLY YEARS. Universal years back had previously released, in full, the first five seasons of SNL to DVD, and while those releases are out of print, Time Life has packaged a slimmer 12-disc anthology that preserves 30 episodes from the original "Not Ready For Prime Time Players" plus a bonus disc that includes Chevy Chase's return to SNL and the series' 100th episode. A 28-page booklet is also on-hand, making this a nice gift option for the holidays, without the bulk of the previous complete season sets.
---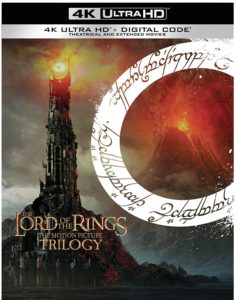 Peter Jackson 4K UHD Trilogies from Warner
Enhanced by bold Dolby Vision transfers, Peter Jackson's two J.R.R. Tolkien trilogies make for dazzling 4K UHD packages from Warner, with both THE LORD OF THE RINGS and THE HOBBIT containing movie-only presentations of Jackson's box-office blockbusters spread across six discs per-trilogy. There are no special features here, no Blu-Ray copies involved – just high bit-rate, and exceedingly impressive, 4K transfers of the following:
THE FELLOWSHIP OF THE RING (178/228 mins., 2001, PG-13) launched the "Lord of the Rings" series in 2001, meeting with positive acclaim and solid commercial box-office. After watching the first three hours of Jackson's series, I initially wrote at the time that I had some mixed feelings – though overall, I felt that I had seen one of the few films that had succeeded in establishing its own visually realized universe and an epic quest that lures you in the way that great fantasy can.
As a standalone film, "Fellowship" is the kind of film that most genre fans loved, though it's curious how repetitive the action is: the characters run into a monster or new supporting character, walk to another location, run into a monster or new supporting character, run to another venue, all the while staying ahead of the bad guys.
That's not to say that I wasn't entertained by the movie or enthralled by parts of it, because what I found most satisfying about "Fellowship" – and the series as a whole, ultimately – was the look of Jackson's film and the fact that he captured the essence of an epic adventure on-screen without getting sidetracked by the many supporting characters and subplots. When the characters travel through the mine of the dwarves, are pursued by a fire-spewing demon, and jump across a crumbling bridge, you truly feel as if you're in the middle of a great fantasy adventure, where each turn could lead down a different path to doom or discovery.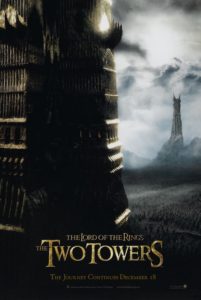 I also concluded my original review of "Fellowship" by writing: "Is this the next 'Star Wars'? I think the jury is still out, but Jackson at least laid the foundation here to craft one of the fantasy genre's few epic cinematic works. Whether the remaining installments hit the dramatic heights that this one doesn't quite reach, or if it's all just a great-looking tease made unique only through its connection with the classic text, at least it seems apparent that it's going to be a journey worth taking." A journey, indeed, that would be followed by superior sequels, released in 2002 and 2003.
THE TWO TOWERS (179/235 mins., 2002, PG-13) continues Tolkien's story and, overall, comes across as a superior fantasy adventure than its predecessor.
This sequel picks up right from the end of "Fellowship" and is comprised of big action scenes, sprawling battles, and fascinating new creatures. Gollum is a tremendously articulated CGI character, and Andy Serkis' "performance" gives this second part of Peter Jackson's trilogy a boost of energy in all the scenes he appears. There are some amazing moments here, marked by the climactic tussle at Helm's Deep that will surely draw repeat viewing from action and FX enthusiasts for years to come. While I've never understood how Liv Tyler nabbed herself third billing on the credits (generating about a half-hour of total screen time between Parts 1 and 2 combined), the movie manages to deliver the goods most of the way.
Jackson concluded the series with his massive, overlong and Oscar-winning finale, RETURN OF THE KING (201/263 mins., 2003).
This particular installment, arguably the most satisfying of the three films, features some brilliant moments — a marvelous climactic battle that surpasses anything in "The Two Towers," a chillingly effective confrontation with a giant spider, and a moving ending that sweetly concludes the adventure — along with some of the same issues that have plagued each of Jackson's films. Like its predecessors, the first hour of "Return of the King" takes forever to get going, and along the way there are a few too many "operatic" slow-motion shots that build to an endless series of false crescendos. Jackson easily could have trimmed the movie by a good half-hour, and despite one unintentionally hilarious moment (when one character ends up on fire and runs off the edge of a castle), there's no denying the overall artistry involved in the production and its compelling central story. I also felt that Howard Shore's score was more balanced and introspective here than his work on "The Two Towers," with new themes nicely complimenting an adventure that didn't quite enthrall me as much as it did for other fans, yet remains a memorable stab at epic fantasy filmmaking few have attempted before.
All three films are contained here in both their theatrical cuts as well as their extended versions, capped with impressive Dolby Vision enhancement that gives new life to the transfers – cinematography that at times came off as drab and flat in previous Blu-Ray releases gains an added texture here, while the Dolby Atmos audio offers ample overhead effects taking advantage of the latest home theater audio format.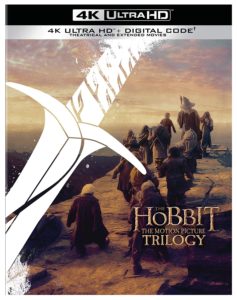 A decade later (and following the departure of original helmer Guillermo Del Toro), Jackson couldn't resist coming back to Middle Earth for a prequel trilogy – playing to diminished returns both critically and commercially.
THE HOBBIT: AN UNEXPECTED JOURNEY (169/182 mins., 2012, PG-13): Thanks to a dinner sequence that feels longer than a typical Julia Child lesson in culinary cuisine, it takes a good 40 minutes for the journey to even begin in "The Hobbit: An Unexpected Journey," the first of three installments that bloat Tolkien's genteel children's book into a transparent cinematic cash grab.
This time out, Jackson has not only adapted Tolkien's enchanting "The Hobbit" – the earlier adventures of Bilbo Baggins, Gandalf and company – but expanded what was written more as a children's tome as opposed to the large-scale epic fantasy of "Lord of the Rings." Thus, Jackson's take on Tolkien's book bloats the source material – with a reluctant Bilbo joining a journey to recover the lost treasure of the dwarves stolen by the villainous dragon Smaug – into the same category as Jackson's "Rings" pictures, with some lightweight gags and cartoony action being augmented by a narrative that feels pushed beyond its breaking point. The assorted trips over mountains, fields and streams seem even longer than the dullest of its predecessors' comparable sequences, while the appearance of numerous "Rings" veterans in cameos (Ian Holm, Hugo Weaving, Christopher Lee, Elijah Wood, Cate Blanchett among them) feel more like an unnecessary bone thrown to fans than a needed component to the story being told.
Ultimately, this movie has all the weaknesses of Jackson's "Lord of the Rings" trilogy amplified by two. There's no sense of dramatic momentum, with even some of the movie's major set-pieces coming off as repetitive and pointless. One understands why Jackson decided to return to Middle Earth (especially after the disappointment of "The Lovely Bones" and Del Toro handing him back the directorial reigns), but it's ultimately just a safety blanket for the director. With the same digitized backdrops and art direction as its predecessors, "The Hobbit" really just offers less of the same, especially when dealing with a story here that doesn't require the same treatment as the Rings pictures (heck, I'm old enough to remember when Rankin-Bass did a respectable, animated-TV movie adaptation of "The Hobbit" – and it only ran 75 minutes!).
Jackson's second film derived from "The Hobbit," THE HOBBIT: THE DESOLATION OF SMAUG (161/186 mins., 2013, PG-13), left no doubt that the filmmaker extended the author's original work into the bloated category — adding characters (including Evangeline Lilly's female elf, Tauriel), secondary subplots, and action sequences that never existed in the original text. That being said, "Smaug" is at least a more watchable picture than the first part of Jackson's prequel trilogy, once again picking up the action with Bilbo (Martin Freeman), Gandalf (Ian McKellen) and the dwarves attempting to unite the latter's lost kingdom and hike to the Lonely Mountain — where a giant, deadly dragon named Smaug resides, presiding over a fortune in untold riches.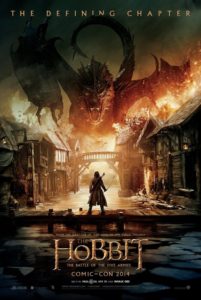 "Smaug" dispenses with some of the talky, dull stretches that marred its predecessor and heavily favors action throughout its 2½ hour running time. From hand-to-hand combat to fanciful creatures, Jackson has stuffed the picture with so many "things" — for lack of a better word — that it's easy to look at any number of individual set-pieces and marvel at the visual effects packed into each and every frame. The problem, as it has been with Jackson's body of work as a whole, is that it never knows when to quit, running on beyond the point of merely fulfilling its requirement as the middle part in what's become an "event franchise" designed to gobble up mass quantities of box-office dollars.
Jackson finished off his Middle Earth adventures with THE HOBBIT: THE BATTLE OF THE FIVE ARMIES (144 mins., PG-13 and 164 mins., R, 2014), wherein Bilbo and his merry men partake in a sprawling final confrontation. This installment – while the shortest at 144 minutes – in some ways feels like the longest, seeing as Jackson spends most of the running time on lengthy special effects sequences involving the climactic confrontation between Middle Earth's various factions, Sauron and the Dragon Smaug – material that apparently comprised a total of a half-dozen pages (!) in the actual "Hobbit" book. Character interplay is dialed back from the prior entries as well, though fans will still enjoy seeing how the story plays into the opening of Jackson's first trip to Tolkien land as, once again, several "LOTR" veterans show up in cameos. Overall, it's mostly a film for fans, with lots of FX wizardry, bombast and excessiveness (the Extended cut is even R-rated!) that's become synonymous with Jackson's filmmaking.
As with Warner's 4K UHD of "Lord of the Rings," each entry of "The Hobbit" is presented in both its theatrical cut as well as its longer extended edition. The Dolby Vision transfers and Dolby Atmos soundtracks offer sizable upgrades on the Blu-Ray platters, though fans hoping for extras may want to wait until deluxe versions with all the trimmings come in another release, allegedly next year or thereafter.
---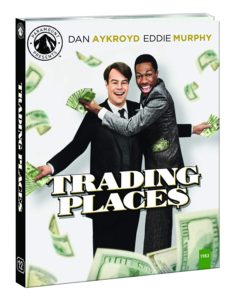 Eddie Murphy Remasters from Paramount
With "Coming 2 America" heading off to Amazon this month (one of many theatrically-intended features bought out by streaming services due to COVID), Paramount has packaged four remasters of Eddie Murphy comedies on home video: the 4K UHD premieres of the original "Beverly Hills Cop" and "Coming to America," plus Blu-Ray remasters (from 4K sources) of other '80s hits he made for Paramount, "Trading Places" and "The Golden Child."
BEVERLY HILLS COP 4K UHD (105 mins., 1984, R; Paramount): What most people don't remember about the original "Cop," Eddie Murphy's Christmas '84 blockbuster, is that it wasn't just originally conceived as a Sylvester Stallone project, it was also cast with the "Italian Stallion" in mind.
The straightforward story of a Detroit police officer who travels to Beverly Hills to seek out the men responsible for the death of a friend still feels like it could have been a Stallone vehicle, with its blaring shoot-outs and action sequences, though fortunately enough, Murphy's presence meant the comedic elements were accentuated just enough to find the right balance between gags and guns.
The slick cinematography, interplay between Beverly Hills cops Judge Reinhold and John Ashton (both terrific), and chart-topping soundtrack – featuring the well-known Harold Faltermeyer score and hit songs by Glenn Frey, Patti Labelle, and the Pointer Sisters – all combined to make "Beverly Hills Cop" a smash hit, sending Murphy on his way into super-stardom as a leading man and spawning a pair of sequels that failed to reach the heights of the original, either comedically or financially.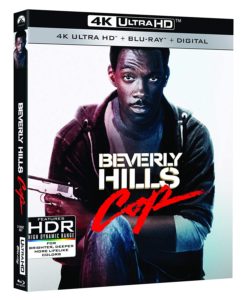 Paramount's 4K UHD trumps its earlier BD appearance, which ranked as a solid catalog transfer in its day but has been surpassed here with a Dolby Vision-enhanced presentation with a wider color gamut. The 5.1 DTS Master Audio sound is potently remixed from the original Dolby Stereo soundtrack as well though it has not been remixed for Atmos.
A good array of supplements have been carried over from the 2002 DVD, including a revealing 30-minute documentary backed up with tasty anecdotes, featuring then-new interviews with Judge Reinhold, Lisa Eilbacher (whose character was originally the love interest for Stallone), John Ashton, producer Jerry Bruckheimer, director Martin Brest, and writers Danilo Branch and Daniel Petrie, Jr. This is a surprisingly frank and fun featurette that looks at the oft-discussed production of the film, from its original conception as a Pacino/Eastwood cop thriller, to a more comedic vehicle for Mickey Rourke and — later — Stallone, through to its final resting place as Murphy's biggest big-screen success. Separate featurettes look at the casting and music (though Faltermeyer is nowhere to be seen), with Brest also contributing an informative audio commentary track, though at times he seems to be pausing to watch the film. The original trailer is also on-hand in HD.
What's new to the 4K UHD and corresponding Blu-Ray (the same release from last year) are additional 1984 EPK interviews, two unearthed deleted scenes and a "BHC '84" Mixtape. There's also an isolated score track, debuting here for the first time, plus a Digital copy.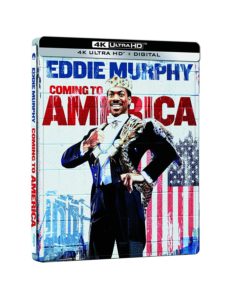 TRADING PLACES "Paramount Presents" Blu-Ray (116 mins., 1983, R; Paramount)/THE GOLDEN CHILD "Paramount Presents" Blu-Ray (93 mins., 1986, PG-13; Paramount)/COMING TO AMERICA 4K UHD (116 mins., 1988, R; Paramount): Director John Landis was in the midst of one of his hottest streaks when TRADING PLACES was released in June of 1983. This tale of two conniving tycoons (Don Ameche, Ralph Bellamy) who conspire to replace obnoxious but hard-working trader Dan Aykroyd's identity with down-on-his-luck street con artist Murphy, all for the purposes of a $1 bet, remains one of the '80s' most satisfying comedies. The Timothy Harris-Herschel Weingrod script is filled with belly laughs and the chemistry between Aykroyd and Murphy is terrific, with sterling support turned in by Ameche, Bellamy, Paul Gleason, Denholm Elliott, and Jamie Lee Curtis, breaking her out of "scream queen" mold as a kind-hearted hooker. Landis was working at the top of his game with this picture, and it shows, while Elmer Bernstein's fine score adds the requisite touch of class.
Paramount's "Paramount Presents" Blu-Ray remaster of "Trading Places" is a robust new edition sporting an improved 1080p (1.85) AVC encoded transfer, 5.1 Dolby TrueHD audio and a fresh retrospective conversation with John Landis. Other extras have been ported over for this release – not a common occurrence with the "Presents" line and a welcome change here – include a 20-minute Making Of segment, offering interviews with Landis, Aykroyd and Curtis, along with vintage clips, one deleted scene with Gleason (which was incorporated into expanded TV broadcasts), an isolated score track and other goodies.
Landis reunited with Murphy for the genial 1988 comedy COMING TO AMERICA, a film that wasn't screened for critics on release day — a move made not because the studio was hiding something (it ultimately received positive reviews), but rather because the filmmakers had to rush in order to meet the movie's late June release date.
This tale of an African prince who arrives in New York to court a prospective queen is nice enough but hasn't aged all that well. Some of the laughs are directly related to topical humor of the day (sweaty music videos, slobbering televangelists), while Murphy's multiple roles often strain to be funny. However, a strong supporting cast keeps the material afloat (James Earl Jones, John Amos, Arsenio Hall, an amusing supporting performance from future "E.R." star Eriq LaSalle, and an early role for Samuel L. Jackson as well). It may be a bit dated in its appearance, but Murphy's good-natured performance and Landis' comic timing deliver the goods, while Nile Rodgers' score is pleasant as well (and be on the lookout for Ameche and Bellamy reprising their "Trading Places" roles!).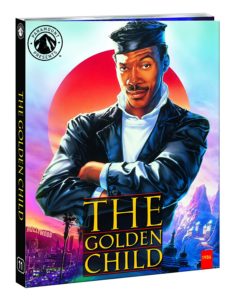 Paramount's 4K UHD edition of "Coming To America" includes Dolby Vision support plus a 5.1 DTS MA soundtrack and extras from its previous BD release – those include a Making Of segment stringing together recollections by Landis, featurettes on costume design, make-up and music (offering an interview with Rodgers, reflecting on his career and the score), plus vintage interview segments with Murphy and Hall. A Digital HD copy is also included (note this release does not include a Blu-Ray)
Making its first appearance on Blu-Ray is Murphy's THE GOLDEN CHILD, a troubled comic fantasy shot inbetween "Beverly Hills Cop" sequels for Paramount. Michael Ritchie helmed this PG-13-rated affair with Murphy playing a social worker trying to find a young boy with mystical powers. At 90 minutes this is a compact and slight Murphy effort made around the time that the star was trying to branch out from his standard genre (the role that Catherine Hicks eventually played in "Star Trek IV" was allegedly written for him) – though a box-office hit at the time, the movie wasn't particularly beloved and shows heavy signs of post-production tinkering, including the removal of John Barry's score (though some Barry cues still remain in the final cut). Paramount's Blu-Ray includes the trailer, a 1080p (1.85) transfer, 5.1 Dolby TrueHD audio, a Digital HD copy, and a brand-new "Making Of" segment on the picture.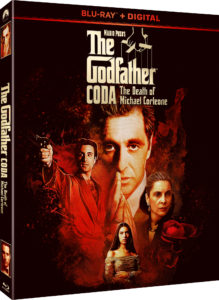 THE GODFATHER CODA: THE DEATH OF MICHAEL CORLEONE Blu-Ray (157 mins., 1990, R; Paramount): Francis Ford Coppola clearly likes revisiting his past work, as evidenced by this latest cut — the third of "The Godfather Part III." This time around, the director has made a host of alterations — notably reconfiguring the beginning and end — of this final "Godfather" entry in an attempt to tighten it up and narratively give the picture more of a thematic connection with its predecessors. Fans will have to decide for themselves whether or not Coppola has been successful, since the oft-maligned "Part III" has already been released in two different edits on home video. Paramount's BD includes a brief introduction from Coppola, a 16:9 transfer, 5.1 sound and a digital copy — note 4K UHD versions of the series have been long rumored for a release in the 2021-22 time frame.
POPEYE Blu-Ray (113 mins., 1980, PG; Paramount): Robert Altman's big-budget filming of the legendary comic strip hero/animated star is often thrown into the mix with notorious late '70s flops, though this expensive Robert Evans/Paramount-Disney co-production still made out fairly well at the box-office. It's at least a visually appealing spectacle, with elaborate Malta sets and a tuneful Harry Nilsson score — it's just a weird movie that mixes comic book-styled antics with Altman's offbeat filmic sensibilities, plus a muttering Robin Williams performance at its core. Nevertheless, it's interesting our 1st grader warmed to the movie much in the same way I enjoyed it on home video back in the '80s as a kid — and Paramount's Blu-Ray finally brings "Popeye" to the high-def arena in a crisp and satisfying 1080p (2.35) AVC encoded transfer with 5.1 Dolby TrueHD audio that's delightful in its multi-channeled, full bodied sound (a 2.0 track is also included). Several featurettes look back on the production with new and recent interviews (Williams appears in a 2014 conversation), a still gallery, the trailer, and a Digital HD copy round out the affordable disc.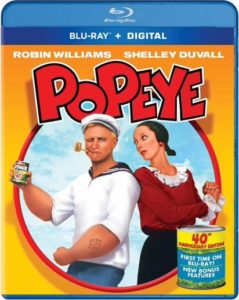 Also New From Paramount: Available in an attractive 4K UHD Steelbook is TOP GUN (109 mins., 1986, PG), the 1986 blockbuster Tom Cruise smash that contains some of the most memorable imagery of any '80s studio film, with Cruise's Maverick trying to fly his way to the top of the Navy's elite fighter pilot program, backed to a rockin' Harold Faltermeyer/Kenny Loggins/Berlin soundtrack and performances from the likes of Kelly McGillis, Val Kilmer and Anthony Edwards. The Steelbook contains the same 4K UHD presentation with accompanying Blu-Ray and Digital HD presentation as the standard UHD which I reviewed back in June — check out my review here...Debuting for the first time in 4K UHD is another Cruise picture, COLLATERAL (119 mins., 2004, R), the slick Michael Mann suspense-thriller with the star playing opposite Jamie Foxx. This absorbing Dreamworks release premieres on UHD sporting a HDR10 enhanced transfer with DTS MA audio and extras on the Blu-Ray including commentary from Mann, a deleted scene, featurettes and a Digital HD copy…New on DVD from Paramount is the Saban Films production BUDDY GAMES (96 mins., 2020, R), a comedy about a group of estranged friends who reunite in order to compete in a friendly competition amongst one another. Josh Duhamel, Kevin Dillon, Nick Swardson and Dax Shepard star with Paramount's DVD (16:9, 5.1) including a Digital copy and several featurettes. Another Saban production, ECHO BOOMERS (93 mins., 2020, R), features Patrick Schwarzenegger as a recent college grad pulled into the underworld after he's straddled in debt. Michael Shannon, Lesley Ann Warren and Alex Pettyer co-star in Seth Savoy's film, now on DVD with a 16:9 transfer and 5.1 sound along with a Digital copy.
New From Mill Creek
Mill Creek Entertainment has produced a trio of new Blu-Ray box-sets rich with content and extremely fetching price tags to boot – each one debuting a slew of vintage films in high-definition for the first time.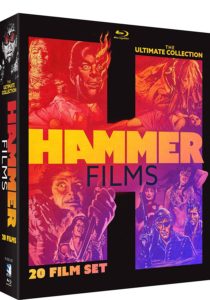 At the top of the list is clearly Mill Creek's HAMMER FILMS: THE ULTIMATE COLLECTION, a 10-disc, 20-film compilation comprised of the British company's association with Columbia Pictures. As historian C. Courtney Joyner points out, during the late '50s, Hammer – then riding the high of "Curse of Frankenstein"'s success – entered into numerous agreements with American studios, but in the case of their partnership with Columbia, were able to branch out from the usual horror vehicles and make a wider range of features than they did for anyone else.
This box-set, then, houses the fruits of their collaboration, the box-set running the gamut from horror sequels to Saturday matinee adventures, Hitchcock-esque thrills, WWII films, and adult dramas. Presented here are horror outings common to Hammer's output, including The Revenge of Frankenstein (90 mins., 1958, 1.66), The Curse of the Mummy's Tomb (81 mins., 1964, 2.35), The Two Faces of Dr. Jekyll (89 mins., 1960, 2.35), The Gorgon (84 mins., 1964, 1.78), Maniac (87 mins., 1963, 2.35), and Die! Die! My Darling! (97 mins., 1965, 1.85). The weird These Are The Damned (95 mins., 1961, 2.35) with MacDonald Carey and Oliver Reed is also on-hand, plus the ill-fated Tom Poston remake of The Old Dark House (87 mins., 1962, 1.85), Cash on Demand (84 mins., 1964, 1.78), The Snorkel (91 mins., 1958, 1.66), Stop Me Before I Kill! (108 mins., 1960, 2.35), Never Take Candy From a Stranger (82 mins., 1960, 2.35), and Scream of Fear (82 mins., 1961, 1.66). "Ethnic" thrills are present in The Stranglers of Bombay (80 mins., 1959, 2.35) and The Terror of the Tongs (77 mins., 1961, 1.66) starring Christopher Lee, who also appears in one of two titles previously released by Twilight Time: The Pirates of Blood River (87 mins, 1961, 2.35) and the colorful Robin Hood adventure Sword of Sherwood Forest (80 mins., 1960, 2.35). Finally, three other Hammer films premiere here on Blu-Ray: the stark WWII dramas The Camp on Blood Island (81 mins., 1957, 2.35) and Yesterday's Enemy (95 mins, 1959, 2.35), an especially unflinching look at war directed by Val Guest. Finally, the set is capped by the cult favorite Creatures the World Forgot (96 mins., 1970, 1.85, PG), a caveman adventure with Julie Ege that closed the book on Hammer's "Prehistoric Trilogy" also comprised of "One Million Years B.C." and "When Dinosaurs Ruled the Earth."
All the films have been presented in AVC encoded transfers that are, on balance, perfectly decent and mastered at a relatively high bit-rate. There are times the compression is spotty and, sadly, the transfer on "Revenge of Frankenstein" is the same, poor Sony presentation as the older Mill Creek release, but generally, most fans should be happy with the transfers otherwise. There are new commentaries on "Revenge of Frankenstein," "Never Take Candy From a Stranger" and "Scream of Fear" by Constantine Nasr and/or Steve Haberman; The Monster Party Podcast on "The Old Dark House"; Joshua Kennedy on "The Gorgon"; and Phoef Sutton, C. Courtney Joyner and Mark Jordan Legan on "The Snorkel." Two brief featurettes include Joyner discussing Hammer's work with Columbia and retrospectives on "Curse of the Mummy's Tomb" and "Two Faces of Dr. Jekyll." It's all topped with a 12-page color booklet – a must for Hammer enthusiasts, needless to say, and a perfect Christmas present for the horror crowd on your list!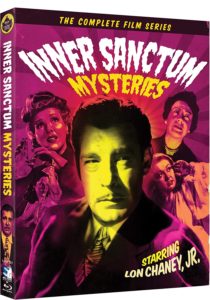 Though not classified as "horror" per se, Universal's INNER SANCTUM MYSTERIES are fondly remembered by older viewers since they often appeared in early TV packages alongside the studio's classic monsters decades ago. The movies aren't anything spectacular, to be sure – hour-long adaptations of a popular radio program, the six pictures that comprised Universal's film series all starred Lon Chaney, Jr. in formulaic murder-mysteries that aren't all that suspenseful or witty, yet are still atmospheric and moderately fun on a B-level.
Retaining a good amount of nostalgia for B-movie aficionados of the '40s and long coveted for Blu-Ray release, the "Inner Sanctum" has made its HD debut at long last via Mill Creek's slightly delayed box-set. The wait was worth it, as the set sports attractive HD masters (1.37 B&W) of the entire series: "Calling Dr. Death" (63 mins., 1943), "Weird Woman" (63 mins., 1944), "Dead Man's Eyes" (64 mins., 1944), "The Frozen Ghost" (62 mins., 1945), "Strange Confession" (62 mins., 1945) and "Pillow of Death" (68 mins., 1945). New special features have been produced as well, including selected commentary tracks with the likes of C. Courtney Joyner and other genre authorities; two retrospective documentaries on the series; an archival interview with actor Martin Kosleck; a poster gallery, trailers and a glossy booklet.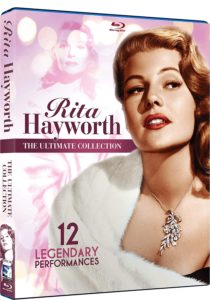 Finally, RITA HAYWORTH: THE ULTIMATE COLLECTION boasts 12 films "The Love Goddess" made for Columbia Pictures, a number of which were previously brought to the Blu-Ray format in now out-of-print Twilight Time releases. Across this six-disc box-set, viewers will find Hayworth in a wide array of titles (dramas, comedies, musicals) including Music in My Heart (1939), opposite Fred Astaire in You'll Never Get Rich (1941), Tonight and Every Night (1945), Down to Earth (1947), the classic noir The Lady From Shanghai (1948), the rarely-screened The Loves of Carmen (1948) opposite Glenn Ford, whom she also stars with in Affair in Trinidad (1952); Salome (1953), Miss Sadie Thompson (1953), Pal Joey (1957) and They Came to Codura (1959). One of the films making its debut here is Fire Down Below (1957), a strange drama that finds Hayworth in the middle of a triangle involving American smugglers Robert Mitchum and Jack Lemmon in the Caribbean. This widescreen affair was an early effort from future James Bond producer Albert R. Broccoli and also sports Anthony Newley as a bartender named Miguel (you've been warned!).
As with Mill Creek's Hammer package, the transfers are mostly sound with some compression issues popping up here and there but nothing that wouldn't deter me from heartily recommending this as another superb gift candidate for movie buffs.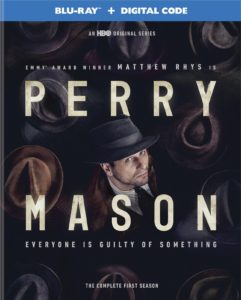 HBO Gift Titles: Two of HBO's more acclaimed recent series are new to disc this month, just in time for the holidays.
Matthew Rhys makes for an ideal PERRY MASON (476 mins.) in a '30s-set take on the crusading criminal defense attorney legendarily essayed by Raymond Burr on network TV for many decades. Ths Robert Downey, Jr.-produced series finds Mason at the beginning of his involvement with the law, in a great looking series that's nevertheless bogged down in a slow pace and muddled storyline (often needlessly so). Rhys leads a superb cast (John Lithgow, Tatiana Maslany) in this first season of the series, which nevertheless met with strong ratings earlier this year on HBO. Warner's Blu-Ray includes interviews between Downey and Rhys, a featurette, 1080p transfers, 5.1 DTS MA sound and a Digital HD code.
The tense, horrifying CHERNOBYL (321 mins., 2019) recounts the 1986 explosion at the Chernobyl Nuclear Power Plant in the USSR, an event that sent radioactive waste across Russia as well as parts of Belarus, Ukraine and other parts of western Europe. A look at the human and political fallout, this taut and superbly performed ensemble piece has been brought to 4K UHD by HBO featuring a superior Dolby Vision presentation and DTS MA 5.1 sound; the image is far superior to HBO's own broadcasts here in 4K, with ample bonus features and a Digital code making for a highly recommended view – as disturbing as portions of it, unsurprisingly, are.
---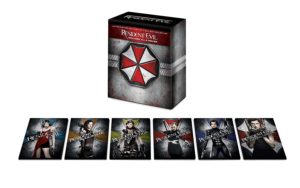 4K UHD Gifts
RESIDENT EVIL: The Complete Collection Limited Edition 4K UHD/Blu-Ray (Sony): Capcom's video game series became a lucrative, six-film franchise from director/producer Paul W.S. Anderson and his wife, star Milla Jovovich. Sony's deluxe 12-disc set includes both sparkling 4K UHD transfers (with HDR10 and Dolby Atmos capability) and Blu-Rays (with extras on-hand) for all six films plus Digital Copies. Here's a breakdown from my original reviews of the series:
RESIDENT EVIL (101 mins., 2002, R): A scantily clad Milla Jovovich and zombies running amok proved to be a decent cinematic combination in this first adaptation of the Capcom videogame series, which garnered nearly $40 million in domestic box-office. Here, an evil corporation working on a top-secret and deadly virus sends a team of military types — including amnesiac agent Jovovich — to clean up the mess after the plague breaks out of containment, turning an entire building into foul, blood-sucking zombies.
Paul W.S. Anderson (of "Alien Vs. Predator" fame) directed this U.S.-German co-production, which boasts generic characters and situations, along with a cliché-ridden script. If you've seen "Night of the Living Dead," "Aliens" or Anderson's "Event Horizon," you have some idea how nearly every scene in this predictable horror flick plays out. Still, despite the thinness of the material and a mind-numbing, overbearing rock score by Marco Beltrami and Marilyn Manson (which was so loud in theaters that I had my hands over my ears for nearly the entire duration of the film), "Resident Evil" works on a mindless, trashy level. Jovovich packing heat and shooting the heads off zombie workers, zombie dogs, and a — well — whatever the heck that monstrosity is at the end, is all kind of entertaining, especially with excellent use of HDR plus Dolby Atmos support on 4K UHD.
RESIDENT EVIL: APOCALYPSE (94 mins., 2004, R): Second entry in the franchise is a mindless, non-stop assault on the senses that somehow or other is more entertaining than its predecessor. Perhaps that's because original writer-director Anderson only wrote and produced the sequel, leaving the directorial reigns to Alexander Witt, who deftly utilizes the widescreen scope frame and expands "Apocalypse" beyond the claustrophobic, "Night of the Living Dead"-influenced zombie action of its predecessor.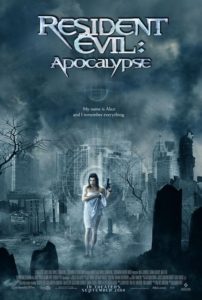 Equal parts "Resident Evil," "Escape From New York" and "Mortal Kombat" (don't say I didn't warn you!), "Apocalypse" confusingly picks up (sorta) from the tail end of the original film, where heroine Alice (Jovovich) has escaped from the Umbrella Corporation's vile clutches. Unfortunately for her, Raccoon City has become over-run with the undead and other assorted creatures, leaving the metropolis predictably in a state of panic. Renegade cop Jill Valentine (Seinna Guillory) and government agent Carlos (Oded Fehr) team up with Alice in an attempt at rescuing a scientist's daughter lost in the city, and have only a limited time to do so before the area is "cleansed." Oh, and did I mention the big, hulking monster Nemesis, who has some kind of emotional connection with Alice?
Less pretentious than its predecessor, "Resident Evil: Apocalypse" looks good and has all the hallmarks of a guilty pleasure for this critic. The movie's international production team results in an eclectic cast of American and European actors (all with their own accents) of varying ethnic backgrounds – something that gives the whole movie an endearingly off-kilter atmosphere. The action is non-stop, growing more preposterous by the minute, and Jeff Danna's pounding score works effectively in the film, whenever a litany of hard-rock tracks aren't throbbing on the soundtrack (at least it's better than the best-forgotten teaming of Beltrami and Manson from the original). Jovovich and Guillory both look fetching as action heroines, and there's even some humor interspersed at various points.
Needless to say, "Resident Evil: Apocalypse" isn't a movie for everyone. However, for those seeking some visually polished, B-movie fun – the kind you enjoy with a pizza and a few beers, with your brain switched firmly in the "off" "position – it's an entertaining ride for all of its 94 minutes.
RESIDENT EVIL: EXTINCTION (97 mins., 2007, R): The nutty adaptation of the Capcom zombie video game franchise continues with "Resident Evil: Extinction," a dumb but moderately enjoyable lark with sufficient action and special effects to spare.
Jovovich is back once again as Alice, the one-woman-army now battling zombies in a desert setting where the last remnants of humanity are holed up. The dastardly Umbrella Corporation, meanwhile, is looking for her blood while our heroes gather at a compound trying to stay alive. Joining Milla in her battles this time out are Ali Larter's Claire Redfield, Oded Fehr and Mike Epps from the last installment, and Ashanti, all of whom take down scores of zombies under the stylish enough visual flair of veteran director Russell Mulcahy ("Highlander"). "Resident Evil: Extinction" certainly isn't anything groundbreaking but it's fun for what it is: a no-brain, good-looking action flick with a couple of attractive female leads and enough F/X to satisfy its intended audience.
RESIDENT EVIL: AFTERLIFE (97 mins., 2010, R; Sony): Fourth film in the franchise also finds Paul W.S. Anderson returning in the director's chair for the first time since the original. Here, Alice's superpowers have been knocked out, forcing her to reunite with old pals Claire Redfield (Ali Larter) and her brother Chris (Wentworth Miller) in order to combat a horde of zombies as well as Albert Wesker and the Umbrella Corporation. Not one of the best.
RESIDENT EVIL: RETRIBUTION (96 mins., 2012, R; Sony): Fifth entry once again sees heroine Alice battling her way through an Umbrella research facility, and running into a series of deceased characters from prior films (including Michelle Rodriguez) who've come back from the dead. It's a brainless, if stylishly packaged, product chock full of special effects – but, of course, it's all just a set-up for one more, final installment, which the end of the picture basically serves as a trailer for (one wondered at the time, considering the film's declining commercial performance, if they'd be able to scrounge up enough funds to finish the series off).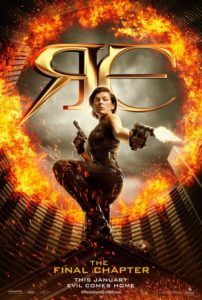 RESIDENT EVIL – THE FINAL CHAPTER (107 mins., 2017, R; Sony): Is it really over? The end of this supposedly final installment has Alice heading back to Raccoon City after the zombie outbreak has claimed most of the world's residents. This time out, she's tasked with a supposedly ultimate challenge from the "Red Queen" to help facilitate the release of an anti-virus that would destroy the undead and give humankind once last chance at survival.
Ali Larter is back as Claire Redfield in "The Final Chapter," which also returns series director Paul W.S. Anderson behind the lens for what was billed as the end of the line for the saga. True enough, this one – filled with the series' typical frenetic action and CGI creatures – does come to something of an end point, but leaves the door just ajar enough for another sequel if demand warrants (and indeed, a reboot is on the way). The movie didn't end up making much coin in the U.S. but turned a profit thanks to overseas numbers, and comes recommended for, obviously, series fans – even though it's one of the weakest entries in the franchise.
---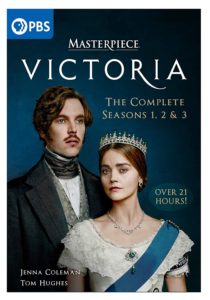 Quick Takes
PBS New Releases: Worth considering for purchase this holiday season is PBS' DVD box-set of VICTORIA: The Complete Seasons 1, 2 and 3 (21 hours). Daisy Goodwin co-wrote and created this dramatization of the early years of Queen Victoria, from her teenage years to her relationship with Lord Melbourne (Rufus Sewell), marriage with Prince Albert (Tom Hughes), and eventual reign in the United Kingdom. Though saddled with a soapy set of subplots that were apparently intended to evoke the feel of "Downton Abbey," "Doctor Who"'s Jenna Coleman is terrific as Victoria in this ITV series, which was brought to the US by PBS and run under the Masterpiece banner. PBS' DVD box offers the first three seasons in a 9-disc set with 16:9 transfers, 5.1 Dolby Digital soundtracks and a number of extras including interviews with Coleman, Hughes and Sewell; a "Tour of the Buckingham Palace Set" with co-stars Nell Hudson and Tommy Knight; and "Creating the CGI Magic" featurette; and plenty more.
New from PBS this month is THE TROUBLE WITH MAGGIE COLE (270 mins., 2020), a vehicle for "Vicar of Dibley"'s Drawn French, playing a woman in a small coastal town who tells a radio personality a little too much about their community – causing all kinds of trouble, comedic and otherwise, for her neighbors. PBS' DVD of this ITV production, which French produced and is credited with the concept for, is a two-disc set with a 16:9 transfer, 2.0 stereo sound and a number of featurettes…Also new on DVD from PBS are THE QUEEN AND THE COUP (60 mins., 2020), a fascinating documentary examining Queen Elizabeth II's unknowing role in a coup d'etat hatched by MI6 and the CIA to topple Iran's last democratic leader in 1953; ROADKILL (225 mins., 2020), a drama starring Hugh Laurie as a popular UK political outsider who finds out he has an illegitimate daughter serving a prison sentence. Helen McCrory, Pippa Bennett-Warner and Millie Brady co-star with PBS' DVD offering the series on two discs with 16:9 transfers and 5.1 sound; and Season 3 of the enlightening NOW HEAR THIS WITH SCOTT YOO (168 mins., 2020), featuring conductor/violinist Yoo taking viewers behind the scenes to lend a historical appreciation for the music and lives of the great composers. Here, Haydn, Schubert and Mozart are the focal points, new on DVD from PBS this month sporting 16:9 transfers and 5.1 sound.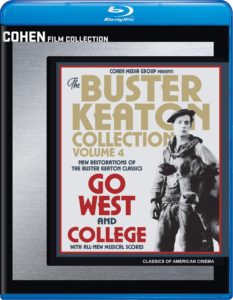 MPI New Releases: From Russia comes the children's fantasy ROBO (84 mins., 2020), a live-action adventure involving a young boy's relationship with a Universal Rescue Robot who, just sprung out of the factory, turns out to have a mind of his own. MPI's DVD (16:9) includes both the original Russian dialogue with optional English subtitles or an English dubbed track and streets on December 15th…Now available from MPI is DREAM FACTORY (127 mins, 2020), a drama about a young man who falls for a French dancing double while working at a German movie studio. Their would-be romance is complicated when the Berlin Wall is erected in this romantic affair, on DVD from MPI sporting German and dubbed English audio and a 16:9 (2.39) transfer…Finally, new on DVD is the action fantasy ARTHUR & MERLIN: KNIGHTS OF CAMELOT (91 mins., 2020, Not Rated), a Giles Anderson-helmed low-budget picture set in 463 A.D. where warring factions battle for a divided England. King Arthur returns to Camelot trying to unite those disparate elements, including his own illegitimate son, in a film new to DVD this month from MPI, the disc including a 16:9 transfer (2.39) and 5.1/2.0 audio options.
THE BUSTER KEATON COLLECTION Volume 4 (Cohen Film Collection): Two of Buster Keaton's most famous features have been restored in 4K transfers and accompanied by all-new musical scores. "Go West" (83 mins., 1925) and "College" (66 mins., 1927) are often ranked with the finest output from the legendary Silent era comedian, and both have been presented here in superb new restorations with music by the Mont Alto Motion Picture Orchestra ("Go West") and Rodney Sauer ("College"). The 1923 Hal Roach short version of "Go West" and "Buster Keaton: Screenwriter" featurettes are also included in this latest, recommended single-disc Blu-Ray release from Cohen.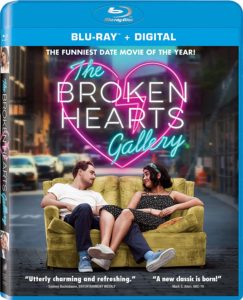 GREEN EGGS AND HAM: The Complete First Season DVD (348 mins., 2019; Warner): Delightful animated series adapts the world of Dr. Seuss for a funny and quite enjoyable kids cartoon that was approved by our six-year-old when it initially aired on Netflix. Warner's DVD includes all 13 episodes in 16:9 transfers and 5.1 soundtracks.
THE BROKEN HEARTS GALLERY Blu-Ray (109 mins., 2020, PG-13; Sony): Surprisingly solid rom-com offers a star-making turn from Australian actress Geraldin Viswanathan, playing a NYC art gallery assistant who decides to create her own art: a gallery of remnants from failed relationships. "Stranger Things"' Dacre Montgomery co-stars in this enjoyable little film from writer-director Krale Krinsky, featuring an appearance from Bernadette Peters. Sony's Blu-Ray (2:1, 5.1 DTS MA) is now available sporting a gag reel, short behind-the-scenes segments and a Digital HD code.
Lionsgate Gift Titles: Eugene Levy and son Daniel created, produced and starred in SCHITT'S CREEK (28 hours), a CBC comedy series about a wealthy family – with father and son playing father and son to Catherine O'Hara's matriarch and Annie Murphy as the youngest, arguably most pampered member of the clan – who falls upon hard times. Learning that their only source of prosperity left is a cast-off small town they bought as a gag, the Rose family relocates to Schitt's Creek and promptly finds themselves embroiled in a number of conflicts and relationships with the locals. These include the creepy mayor (Chris Elliott), his more well-intentioned wife (Jennifer Robertson), and the sassy clerk (Emily Hampshire) at the rundown, roadside motel the Roses now call home.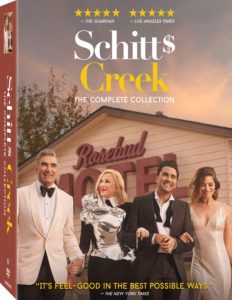 "Schitt's Creek" deservedly earned a handful of prime-time Emmys and wrapped up its run on CBC with a superb final season. While the show has recently found a new audience on Netflix, Lionsgate has packaged the entire run of the program on DVD with fine 16:9 (1.78) transfers and 5.1 audio. This is a very funny and warmhearted series that gets better and better as it moves along, with much of the comedy becoming more character-driven by its second season and less abrasive in general. The ensemble performances are splendid all across the board and provided the recipient on your list is fine with some occasional R-rated profanity, it's hard to think of a better show to give as a gift this holiday than "Schitt's Creek."
Maggie Q stars in DEATH OF ME (94 mins., 2020, R; Lionsgate), the story of a couple (Q and Luke Hemsworth), on vacation in Thailand, who awake one morning with no recollection of the previous night — save a recording of Hemsworth murdering her! They have hours to put it together before a tsunami hits in a film from frequent "Saw" series director Darren Lynn Bousman, new to BD from Lionsgate (1.85, 5.1 DTS MA) sporting a featurette and Digital HD copy…Author Bret Eston Ellis and director Tim Hunter have produced all kinds of quality fare in their respective bodies of work, which makes the curious SMILEY FACE KILLERS (96 mins., 2020, R) such a disappointment. This supposedly fact-based thriller about a group of drownings amongst California male college students brings out a number of oddball performances, including Hunter's "River's Edge" alumnus Crispin Glover, but the finished product seems distressingly pedestrian with little suspense generated. Lionsgate's BD includes a 16:9 (2.40) transfer, 5.1 DTS MA sound, interviews, the trailer and a Digital copy.
New on DVD from Lionsgate, THE LITTLE PENGUIN PORORO'S DINOSAUR ISLAND ADVENTURE (79 mins., 2020, G) offers kids an enjoyable feature-length adventure with Pororo and friends discovering Alo, a baby dinosaur, only to have them abducted by an alien looking to sell the little critter and Pororo's friend Crong on the black market! Pauly Shore provides one of the voices in this G-rated affair, new on DVD sporting a 16:9 (1.85) transfer and 5.1 sound…Hank Braxtan's resourceful low-budget fantasy DRAGON SOLDIERS (91 mins., 2020, R) is an agreeable B-programmer that sends a group of elite mercenaries off to combat trouble-causing survivalists — only to run into a live dragon that causes even more trouble for all involved. Competently made and new on DVD this week from Lionsgate sporting a 16:9 transfer and 5.1 sound.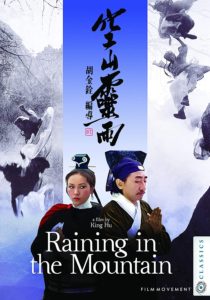 Also new for kids this Christmas, BOBBLEHEADS: THE MOVIE ( 82 mins., 2020, PG; Universal) sees the title collectibles coming to life and taking on all kinds of foes, including slobbering owners. It's a weird concept with a familiar message as the outcast "misfit" Bobbleheads find a purpose in life. Voices include Cher, Luke Wilson, Jennifer Coolidge and Julian Sands, with Universal's DVD offering a 16:9 (1.78) transfer with 5.1 Dolby Digital sound. No actual bobbleheads are included!
Film Movement New Releases: King Hu's RAINING IN THE MOUNTAIN (122 mins., 1979) has long been marked as one of the finest films to hail from the "Golden" era of Kung Fu cinema. Coming in at the tail end of the 1970s, this Taiwanese import is certainly an interesting mix of dramatic period drama, set against the backdrop of the Ming Dynasty, with robust action scenes. A must watch for genre fans, Film Movement brings "Raining in the Mountain" to Blu-Ray this month featuring a new 2K (2.35) restored transfer, mono sound, commentary from genre expert Tony Rayns, a video essay from Stephen Teo, and an enlightening 16-page booklet…Also new from Film Movement is a DVD of Melina Leon's thriller SONG WITHOUT A NAME (CANCION SIN NOMBRE) (97 mins., 2020), a Peruvian film about an indigenous Andean woman who tries to find her abducted baby. Film Movement's DVD includes a 1.33 full-screen transfer with 5.1/2.0 sound and the short "Sin Cielo," plus an introduction from Leon…New DVD documentaries from Film Movement include WHITE RIOT (84 mins.), a British documentary about how the punk rock movement, including The Clash, Steel Pulse and others, rose up against racism during the 1970s; and FRAU STERN (82 mins.), a moving, funny German film about a 90-year old Holocaust survivor.
CRASH Blu-Ray (100 MINS., 1996, NC-17; Criterion): Something very different from Criterion this month, David Cronenberg's acclaimed if — apropos for the filmmaker — disturbing adaptation of J.G. Ballard's ("Empire of the Sun") book looks at car crash fetishists, turned on by the very wrecks they're involved in. James Spader, Holly Hunter, Elias Koteas, Rosanna Arquette and a memorable turn by Deborah Kara Unger inform this NC-17 rated piece, adapted by Cronenberg and strikingly shot by Peter Suschitzky. Criterion's Blu-Ray (1.66) includes a new 4K transfer supervised by the cinematographer and director, along with 5.1 DTS MA sound; a 1997 Cronenberg commentary; 1996 Cannes press conferences; various archival interviews, behind-the-scenes footage and more.
YELLOWSTONE: Season 3 Blu-Ray (431 mins., 2020; Paramount): The latest season of the hit Paramount Network drama finds the Dutton family again trying to protect their land against enemies both new and old, including Josh Holloway's Wall Street tycoon. The Duttons form allegiances both expected and unconventional to make it happen, with the same level of intrigue and domestic drama informing this third season of one of cable's top dramas. Paramount's Blu-Ray includes over four hours of special features (featurettes, Making Of content) with Dolby TrueHD 5.1 audio and superb 5.1 transfers.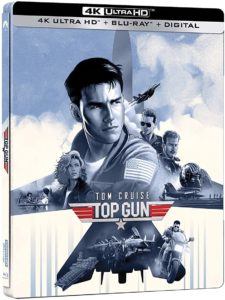 POSSESSOR Uncut Blu-Ray (104 mins., 2019, Not Rated; Well Go USA): Brain implant technology figures prominently in this unsettling sci-fi horror effort starring Andrea Riseborough as a new kind of assassin who takes over her targets – only to fall too deep into her latest assignment. Brandon Cronenberg, son of David, makes a film about tech run amok that his father would be proud of, though like most of his dad's work, is only going to appeal to a certain subset of viewers. Well Go's Blu-Ray includes a 1080p transfer, 5.1 DTS MA audio, deleted scenes and behind-the-scenes segments.
CAGEFIGHTER Blu-Ray (98 mins., 2020; Screen Media): A championship MMA fighter is tasked with taking down a wrestling star in this Canadian-lensed drama starring Alex Montagnani, Chuck Liddell and AEW champ Jon Moxley. Gina Gershon also stars in this independent production, now on Blu-Ray from Screen Media featuring a 1080p transfer and 5.1/2.0 stereo sound.
NEXT TIME: Holiday Gift Guide Part 2, with TOTAL RECALL on 4K UHD and more! Until then, don't forget to drop in on the official Aisle Seat Message Boards and direct any emails to our email address.