Fun City Editions mined an '80s gem with the Vincent Spano vehicle "Alphabet City" in September, and now they're back with a Blu-Ray premiere of an even more offbeat – and also much more satisfying – film in David Greene's I START COUNTING! (105 mins., 1970). This British production served as a springboard for young actress Jenny Agutter, here playing a teenager in a fractured family who's infatuated with her older adopted brother (Bryan Marshall) while hanging out with her friends, going to church, and trying to make amends with the dissolution of her childhood, as embodied by her frequent visits to her family's dilapidated village home, which is on the docket for razing. If that weren't enough, there's a serial killer preying upon young women in their town – leading Agutter's heroine to wonder if her "impure thoughts" are being directed at the killer himself.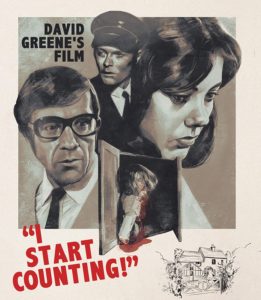 Agutter, a couple of years prior to her star-making turn in Nicolas Roeg's "Walkabout," confidently anchors this unusual tale of a teen's sexual and emotional awakening played against a suspenseful thriller backdrop that only here and there impacts the main plot line. In fact, you may be wondering when the latter element will come into play, since Greene's adaptation of Audrey Erskine Lindop's book is more interested in being an easy-going coming-of-age drama – complete with moody, wistful songs from composer Basil Kirchin that certainly feel like they're a part of the "Sunny '70s" in a good way. That tactic, though, seems to be have been an intentional one on Greene's behalf – by not overly tipping his narrative hand, the film's climax comes off as especially intense since it shifts gears so powerfully from what comes before.
It's an unusual, thoughtful and hard-to-classify movie, which is likely what made the picture so obscure, especially to American audiences. I have no idea if "I Start Counting!" ever played theatrically in North America but even its UK advertising – as Agutter herself mentions in a new interview here – doesn't do an effective job detailing what the movie is about. Yet Greene's interest in its characters and tone – as opposed to the more generic "thriller" angle that most directors would've approached it from – is also what makes the movie so memorable and hard to sell.
Fun City Editions' Blu-Ray is one of those wonderful discoveries we're seeing more of nowadays in the format. The 2K restoration from the 35mm interpositive (1.85) is naturally crisp and unaltered with noise reduction, with a spectacularly high bit-rate making the image appear like projected film at times. Agutter's interview is insightful and revealing, with other extras including a video appreciation from filmmaker Chris O'Neill, a commentary from historian Samm Deighan, the trailer, image gallery, and booklet notes that focus on Greene's career as well as that of composer Kirchin, whose multi-film collaboration ended with the director following this picture. Highly recommended!
Also New & Noteworthy
WESTWORLD Season Three: The New World 4K Ultra HD/Blu-Ray (492 mins., 2020; Warner): The androids have left the park in Season 3 of Jonathan Nolan and Lisa Joy's reworking of Michael Crichton's decades-old MGM feature. This HBO series started off reasonably well, became bogged down in a convoluted plot and kind of muttered through a second season that met with mixed reaction from many. Season 3, dubbed "The New World," goes "off the reservation" even further, ditching the western setting at the core of the series in favor of a futuristic, tech-heavy narrative that offers the same core of actors – Evan Rachel Wood, Thandie Newton, Geoffrey Wright, Ed Harris – in either the same roles or entirely new personalities within their on-screen personas. It's all too complicated and difficult to get into – much less care about – despite terrific actors and top production values. Warner's 4K Ultra HD package is superb, boasting both Dolby Vision and Dolby Atmos capability, six featurettes (three of them exclusive to the UHD), a quartet of "Welcome to Westworld" featurettes, the Blu-Ray discs and a Digital HD code.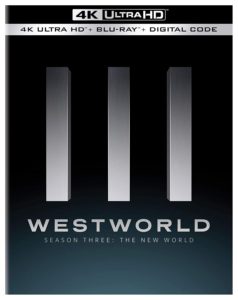 BLINDSPOT: The Fifth and Final Season DVD (472 mins., 2020; Warner): Jane Doe (Jaimie Alexander) and company say goodbye in this fifth, and final, season of the NBC action series. Here, the team is tasked with carrying out a mission and clear their names after their safe house was targeted in the previous season finale. The group then reunites to take on Madeline Burke's (Mary Elizabeth Mastrantonio) ascendancy up the FBI chain in the final group of episodes from "Blindspot," on DVD from Warner featuring 16:9 transfers and 5.1 sound.
Film Movement New Releases: Bill Duke's THE KILLING FLOOR (118 mins., 1984) has been restored in 4K for Blu-Ray by Film Movement this month. This was actor/director Duke's first directorial outing, and looks at a true story involving an African-American migrant (Damien Lake) who tries to create an interracial union in Chicago and bring his wife (Alfre Woodard) and family along with him. This period piece, set in the time leading up to the Chicago Race Riot of 1919, was a PBS American Playhouse broadcast that was greeted with widespread acclaim at the time of its premiere. Film Movement's Blu-Ray includes a 1.33 4K restored transfer, mono sound, an introduction with Duke, Q&A with star Damien Leake and producer Elsa Rassbach, a Making Of, interview with Rassbach and booklet notes…What Fukada'sA GIRL MISSING (111 mins.) also premieres on DVD this month from Film Movement. This domestic drama stars Mariko Tsutsui as a nurse for a family whose nephew kidnaps one of the clan's teen daughters – powerfully performed, "A Girl Missing" hits DVD from Film Movement featuring a 16:9 transfer, 5.1/2.0 Japanese audio, English subtitles and Sonejuhi Sinha's short "Love Comes Later". Also on DVD is the Portuguese import HERO ON THE FRONT (89 mins., 2019), the story of a Portuguese soldier who, along with some 75,000 others, was sent to Flanders to ward off the Germans and save countless Allied lives during the Battle of the Lys. Film Movement's DVD includes a 16:9 transfer and either the Portuguese audio (in 5.1) or an English dub (2.0).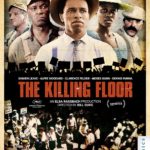 MPI New Releases: Gemma Arterton stars as a reclusive author, living in Southern England during WWII, who takes in a young London evacuee (Lucas Bono) in SUMMERLAND (99 mins., 2019, PG), Jessica Swale's picture anchored in a forbidden love affair between Arterton's protagonist and another woman years before. Interviews, behind-the-scenes segments, a 1080p transfer and 5.1/2.0 sound are present in MPI's Blu-Ray, available November 17th.
NEXT TIME: Kino Lorber Thanksgiving Edition Until then, don't forget to drop in on the official Aisle Seat Message Boards and direct any emails to our email address.