Kino Lorber's October Blu-Rays kick off with a pair of post-"Back to the Future" vehicles tailored for star Michael J. Fox at Universal – movies which met with contrasting levels of box-office appeal. Leading things off is John Badham's NYC cop-buddy movie THE HARD WAY (111 mins., 1991, R), a good-looking Spring '91 release that pairs Fox with James Woods and is just, for lack of a better term, "missing something." Woods plays the quintessential "James Woods role" of a fast-talking, intense, nervous Big Apple cop saddled with a glib movie star (Fox) who's shadowing him for his latest role. While the duo track a real psychotic killer (Stephen Lang), they spar over the nature of police work as well as Woods' relationship with a single mom (Annabella Sciorra).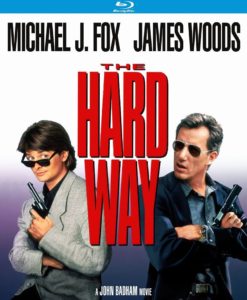 "The Hard Way" was attractively shot in scope, nearly all of it on-location in NYC, but revisiting the film here in Kino Lorber's Blu-Ray confirmed my initial, high school viewing of the picture that left me underwhelmed nearly 30 years ago. Daniel Pyne and Lem Dobbs' script seems like it needed another rewrite or two, as the finished product isn't nearly funny enough to work as a comedy, nor is it exciting enough to score as an action-thriller. In the disc's new commentary, Badham says early drafts were more serious, but what's on-screen in the picture needed a lot more work to make it punchier and funnier. Another major problem is that Woods and Fox are both Type A on-screen personalities and while they "clash," they don't mesh well in this particular story set-up – what you see from both characters initially is all you get. Neither character convincingly "evolves" and the film does little but repeat the same, grating banter between them from start to finish.
Badham also reveals that the film was set to star Gene Hackman as the cop and Kevin Kline as the Hollywood star – that's a big 180 from what's here and also might've been more interesting, seeing as both stars bring more nuance typically than Fox and Woods do in their performances. In the end, Kline bailed late to headline a new Broadway show and Hackman subsequently didn't want to appear opposite Fox – resulting in an odd and ineffective vehicle for its mismatched leads, with Fox coming off as particularly miscast as a diva star.
A box-office disappointment at the time of its release, the R-rated "Hard Way" did little to expand Fox's commercial appeal post-"Back to the Future," and here makes a belated U.S. debut on Blu-Ray thanks to Kino Lorber (Universal itself had released the film in most overseas markets several years back). This is a serviceable but older Universal master (2.35) that varies a little from scene to scene in terms of its graininess, though colors are strongly rendered and the original Dolby Stereo sound is nicely conveyed via a two-channel DTS MA track (Arthur B. Rubinstein's energetic score is one of the film's strongest elements). The before-mentioned commentary with Badham and his producer/second unit director Rob Cohen is especially engaging here, even with the participants joined over phone/computer, as they outline the practical production of the film, shooting in Times Square (which would never be allowed to the same degree now), and the original Hackman/Kline conception of the project.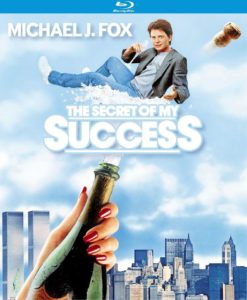 Previously, Fox had scored his most commercially successful starring vehicle outside the BTTF pictures for Universal: THE SECRET OF MY SUCCESS (111 mins., 1987, PG-13), a free-wheeling variation on "The Apartment", updated to the corporate boardrooms of NYC during the heyday of the 1980s. Fox plays a small-town kid who gets a fast education when he takes a mail room job for his distaff uncle (Richard Jordan), who's fooling around on his wife (Margaret Whitton) with an attractive young exec (Helen Slater), whom Fox of course also has an immediate infatuation with.
Director Herbert Ross does a workmanlike job juggling all the various strands in this comedy sporting a script by then-red hot scribes Jim Cash and Jack Epps, Jr. ("Top Gun") and all the trappings of an A-grade studio product from its time, right down to David Foster's slick, song-driven score. Yet it's all Fox's world here and it's a good place to be in for nearly two hours: with his charisma at his peak and filming during a hiatus between "Family Ties" seasons (and "Back to the Future" sequels), Fox glides through the occasionally clunky story with ease, and he's as likeable as ever in a big hit from the spring of '87.
Like "The Hard Way," "The Secret of My Success" has been available outside the U.S. on Blu-Ray for many years but only now makes its debut here domestically from Kino Lorber. This is a superior Universal catalog master (1.85) that holds up well, marked by a nice range of colors and fine detail, with a solid and nicely engineered Dolby Stereo soundtrack (2.0 DTS MA) to match. Extras include a 10-minute new interview, conducted over the net, with Helen Slater, the trailer, and a commentary from writer Bryan Reesman.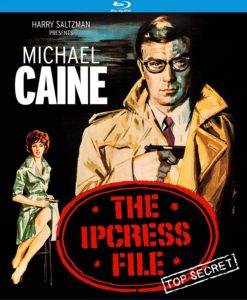 Also making its long-overdue U.S. Blu-Ray debut is THE IPCRESS FILE (109 mins., 1965), the first of three theatrical adaptations of Len Deighton's bestsellers featuring hard-working "blue collar" spy Harry Palmer. As essayed by Michael Caine, Palmer here finds himself in a tough spot – with his new bosses threatening to send him back to prison, the former thief is tasked with having to retrieve a kidnapped scientist – part of a group that have disappeared, only to reappear as brainwashed and incapacitated.
Harry Saltzman teamed with Albert R. "Cubby" Broccoli to bring James Bond to the screen and solo produced "The Ipcress File," which goes to great lengths – occasionally too great – to show audiences the less glamorous side of espionage. There are ample scenes of Palmer making coffee, reading the paper, meeting one of his bosses in a supermarket – this is '60s espionage in the form of a 9-to-5 job, and the grittiness of its settings, and "everydayness" of how Deigton's plot is carried out, makes for a fascinating comparison with the Bond films. This is especially true because of the amount of Bond series personnel Saltzman brought over to work on it, including production designer Ken Adam, art director Peter Murton, editor Peter Hunt and composer John Barry, whose memorable score is one of the film's chief assets.
Caine is terrific and there are some choice lines in the script by Bill Canaway and James Doran, though the screenplay – reportedly rewritten on a daily basis during shooting – tends to unravel in the film's second hour. Certain characters have no pay off (Sue Lloyd's female lead for one) and the last half-hour is dominated by a series of torture sequences; meanwhile, Sidney J. Furie's direction stresses odd camera angles and chooses to stage one of the movie's few fights at a distance, which isn't a problem – more an issue is how the movie's climax just comes off as odd instead of suspenseful. The end result kind of fizzles out instead of proving fully captivating, but clearly there are enough worthwhile elements – Caine, Barry's score, the overall atmosphere – in play in "The Ipcress File" that have made it an enduring favorite amongst genre aficionados.
Kino Lorber's Blu-Ray is sourced from the same ITV source as a myriad of overseas releases – it's a serviceable transfer (2.35) with a high bit-rate that could still, certainly, use a thorough remastering. Colors are a little bland and there's a little bit of noise here and there, but it's still watchable. The mono sound is fine and there's a 5.1 track, also carried over from those releases, that seems like it's doing nothing other than housing the mono source in a multi-channel container.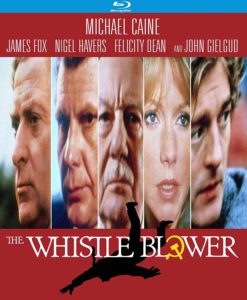 Extras include an archival commentary with Furie and Hunt that's thoroughly enlightening in terms of the movie's somewhat tumultuous shooting; a new commentary with frequent Kino historians Troy Howarth and Daniel Kremer; fairly recent-ish interviews with Caine and Ken Adam; two trailers, four radio spots and a "Trailers From Hell" vignette with Howard Rodman…Caine is also on-hand in the leisurely, yet well performed, 1987 spy drama THE WHISTLE BLOWER (103 mins., PG), which makes its Blu-Ray premiere here from Kino Lorber. This is a character-driven piece with Caine not as a spy but rather an army veteran who wants answers after the death of his secret-service agent son. James Fox, Nigel Havers, Felicity Dean and John Gielgud co-star in Simon Langton's low-key but worthwhile film, scripted by Julian Bond from John Hale's book. The MGM licensed (1.85) 1080p transfer is fine and the DTS MA audio houses a capable John Scott score.
Actor George Peppard's interesting career spanned from headlining '60s dramas "The Carpetbaggers" and "The Blue Max" to a crossover of films and TV in the '70s, leading to his starring in the popular Stephen J. Cannell series "The A-Team" for NBC in the early/mid '80s. Three of Peppard's vehicles for Universal are new to Blu-Ray from Kino Lorber this month, each offering something unique for genre enthusiasts.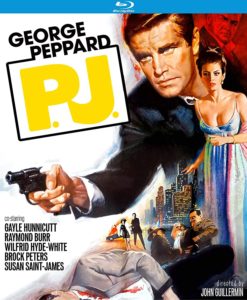 P.J. (109 mins., 1968) is a lively quasi-noir about a New York City detective (Peppard) who gets crossed up with a millionaire (Raymond Burr) and his mistress (Gayle Hunnicutt). Location filming and a melodic, seriously raucous Neal Hefti score – what a shame nobody got around to releasing this – are the strongest assets in this John Guillermin-directed piece that offers late '60s period atmosphere and a conventional noir plot, enlivened by supporting appearances from Susan Saint James, Wilfrid Hyde-White and Brock Peters. Kino Lorber's Blu-Ray hails from a superb 2K master (2.35) with the trailer, an image gallery, and a commentary by Howard S. Berger and Steve Mitchell on-hand.
The '70s were filled with "conspiracy thrillers" like "Three Days of the Condor" and "The Parallax View." Preceding them was Peppard's 1972 effort THE GROUNDSTAR CONSPIRACY (95 mins., PG), a mostly satisfying widescreen affair starring Michael Sazzarin as an amnesia-ridden assassin who just destroyed a top-secret government research facility. While he attempts to figure out his own identity, he's pursued by a secret agent (Peppard) and romanced by a young woman (Christine Belford) who may, or may not, know more than she's letting on. Paul Hoffert's score and Lamont Johnson's direction occasionally employ blasts of dated bombast to throw the viewer off-kilter (this was '72 after all), but the underlying film is tidy and efficient, and certainly looks good to boot. Kino Lorber's Blu-Ray (2.35) includes a new 2K master with the trailer and a commentary by Daniel Kremer and critic Scout Tafoya.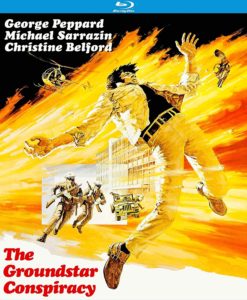 With his hit series "Banacek" behind him, Peppard starred in another Universal feature, NEWMAN'S LAW (98 mins., 1974, PG), as an L.A. cop who refuses to be coerced and fights to clear his reputation after being set up by drug dealers for embezzlement and murder. This is the least engaging of the three pictures, perhaps no surprise since it was configured as a TV movie that Universal opted to release to theaters instead. It does have Abe Vigoda as a mob boss and a wocka-wocka Robert Prince score, but the plot plays by the book and Richard T. Heffron's helming is strictly standard-issue. Still a rarely-screened film with scant home video appearances, some cult fans may warm to "Newman's Law" just the same. Kino Lorber's 2K master (1.85) looks good with four radio spots, the trailer, and commentary from critic Peter Tonguette offering insight into the production.
S.O.S. TITANIC Blu-Ray (102/144 mins., 1979; Kino Lorber): Admirable if somewhat lackluster attempt at producing a more history-conscious account of the Titanic's sinking was first broadcast as a three-hour network TV movie – yet only a shortened (by some 42 minutes) European theatrical version ever appeared on home video in the years since its original premiere.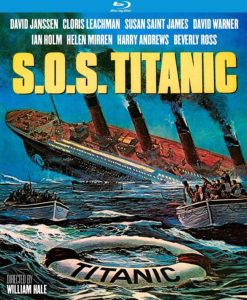 The good news here is Kino Lorber has resuscitated both cuts of "S.O.S. Titanic" for their two-disc Blu-Ray, capturing the 102-minute theatrical/home video version in an attractive 4K restoration, and minting a new HD master of the 144-minute original cut – albeit in source materials nowhere near as healthy as the abbreviated version (some colors are "off," others faded, scratches are more evident, etc.). Viewers can pick and choose whicheever version they desire, though the bad news is while there's more story in the longer cut, the pacing is even flabbier, and the lack of overall energy offsets an academic script by James Costigan (Emmy-winning scribe of celebrated '70s TV-movies "Eleanor and Franklin" and "Love Among the Ruins") that does try and balance a convincing portrayal of the different classes housed aboard the White Star liner with its eventual disaster. It's a game attempt, but between director Billy Hale's languid staging and the poor technical effects, the end result has difficulty staying afloat even with a capable cast (Ian Holm, David Warner, Cloris Leachman, Harry Andrews, a young Helen Mirren, and a laughably bearded David Janssen as John Jacob Astor).
Kino Lorber's BD frames both transfers at 1.66 with mono audio and extras including a new commentary by film historian Evgueni Mlodik, a 1912 newsreel and "A Tour of the Olympic," Titanic's sister ship.
THE SECRET WAYS Blu-Ray (112 mins., 1961; Kino Lorber): Interestingly shot if a bit talky, early adaptation of Alistair MacLean's novel stars – and was produced by – Richard Widmark. Here, Widmark plays a renegade ex-soldier hired to help a Hungarian scientist escape from the Russians after the local uprising there is squashed; he works with the scientist's daughter (Sonja Ziemann) to save him in this post-war B&W thriller offering an early score by John Williams and smoky noir cinematography by Mutz Greenbaum. The very first of many films to be adapted from MacLean's books, Kino Lorber's Universal-licensed transfer is a brand new 2K master (1.85) that features full detail, mono sound, the trailer, and a commentary by historians Howard S. Berger and Steve Mitchell, who discuss the reports that Widmark ended up directing much of this himself after disagreements arose between him and credited first director Phil Karlson over the picture's tone.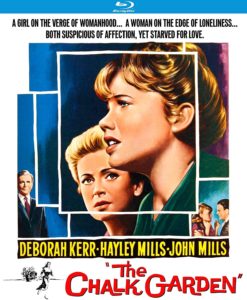 THE CHALK GARDEN Blu-Ray (106 mins., 1964; Kino Lorber): Well-performed adaptation of the stage play by Enid Bagnold, scripted by Hitchcock vet John Michael Hayes, stars Hayley Mills as a troubled youth who's assigned to the care of a new governess (Deborah Kerr). Their interplay is at the heart of this Ronald Neame-helmed Universal production, nicely shot by Arthur Ibbetson, with superb supporting turns from John Mills and Edith Evans. Kino Lorber's Blu-Ray is highlighted by a perfectly acceptable Universal catalog master (1.85, 2.0 DTS MA mono) with a noteworthy new commentary by Tim Lucas.
Chillers For Halloween: 1989 was the year of the "Underwater Thriller," with James Cameron's expensive fantasy "The Abyss" (still, somehow, inexplicably missing from the Blu-Ray arena) and the dingy "Alien" rip-off "Leviathan" vying for audience share along with DEEPSTAR SIX (99 mins., 1989, R), which had the benefit of getting out of the gate first.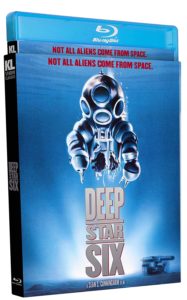 A Carolco production from director Sean S. Cunningham ("Friday the 13th"), "Deepstar" was released by Tri-Star in January '89 and received a few decent reviews at the time of its release. The movie didn't perform that well at the box-office, yet for a film that had a lower budget than either of its genre counterparts, Cunningham does okay under the circumstances here as a cast of TV vets (Greg Evigan. Nancy Everhard, Tauren Blacque, Matt McCoy, Miguel Ferrer, Nia Peeples, Thom Bray, Cindy Pickett), constructing a missile base on the bottom of the ocean floor, run into all kinds of trouble – most notably a large crustacean who's none too happy about their presence.
I saw this film in theaters during my freshman year of high school and recall mildly enjoying it, even if the film's clunky pacing doesn't generate a whole lot of thrills. The monster doesn't even make an appearance until the final third, by which point most viewers may have been sufficiently waterlogged by the picture's story and one-dimensional (save for Ferrer's turn) characters. Yet, even on its comparatively minor scale, "Deepstar Six" is ultimately more appealing than the trashy "Leviathan," and does manage to score an entertaining enough final act with the big crab running amok.
Making its Blu-Ray debut, "Deepstar Six" has been given a full-on Special Edition package from Kino Lorber, complete with collectible slipcover. Older extras (a commentary with Cunningham and FX supervisor James Isaac; vintage interview segments and Making Of promos) have been included here along with a generous assortment of exclusive interviews. These include Greg Evigan and Nancy Everhard, stunt coordinator (and "Jason" performer) Kane Hodder, interviews with FX artists Greg Nicotero and Robert Kurtzman (among others), plus a wide-ranging talk with composer Harry Manfredini (who wrote one of his finest, and most orchestral, scores for the film), and a new commentary with writers Lewis Abernathy and Geof Miller. Recently recorded, the duo make for an engaging listen as they recall shooting the film in an abandoned IGA supermarket, even if Abernathy seems a little out of control at times. The AVC encoded (2.35) Studiocanal-licensed transfer is a bit grainy but generally excellent and a marvelously mixed, active 2.0 DTS MA stereo surround track is one of the most enjoyable components of the presentation.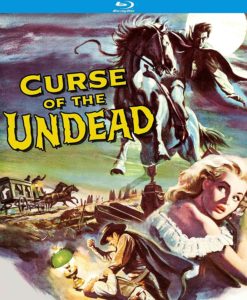 A number of other thrillers perfect for Halloween consumption are new from Kino Lorber this month, highlighted by CURSE OF THE UNDEAD (79 mins., 1959), a seldom-screened, obscure late '50s Universal B-movie that mixes vampires and cowboys! Edward Dein's effort stars "Rawhide"'s Eric Fleming as a preacher trying to save a rancher (Kathleen Crowley) from the clutches of a vampire gunslinger (Michael Pate). I hadn't heard of "Curse of the Undead" before but this is a fun, frothy film, shot in B&W by Ellis Carter, and brought here to Blu-Ray in a high quality Universal 2K master (1.85) with a highly informative commentary from Universal horror expert Tom Weaver to match. Recommended!
Something quite different awaits horror fans with THE FACE AT THE WINDOW (65 mins., 1939), a British chiller starring Tod Slaughter in the story of a murderer who utilizes his half-brother to carry out his nefarious crimes in 1880's Paris. Atmospheric black-and-white cinematography and a lurid plot make for an interesting UK contrast to what Universal was producing here at home during the '30s; Kino Lorber's Blu-Ray includes a new 4K master (1.37) with a commentary from writer Jean-Claude Michel…Bert I. Gordon tried to "upscale" his resume with the 1966 Embassy release PICTURE MOMMY DEAD (82 mins.), a psycho-drama about a plot to drive a young woman (Susan Gordon, Bert's daughter) insane in order for her family to collect an inheritance. Don Ameche and Martha Hyer are the ones responsible in a film influenced by (though not nearly as satisfying as) the "Baby Jane"/"Hush Hush Sweet Charlotte" genre of '60s potboilers, co-starring Zsa Zsa Gabor. Kino Lorber's Blu-Ray hails from a Studio Canal-licensed 4K master (1.85) with the trailer and commentary from the engaging historian duo of Howard S. Berger and Nathaniel Thompson.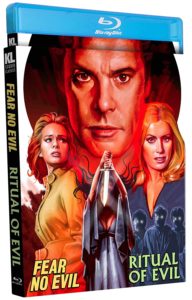 One of the most neglected of all genres on Blu-Ray is the TV Movie of the Week, especially those from the '70s when networks produced some intriguing and varied fare. Three Universal-produced TV efforts are new to Blu-Ray this month, including a pair of telefilms starring Louis Jourdan as a psychologist with an interest in the paranormal.
In both FEAR NO EVIL (98 mins., 1969) and RITUAL OF EVIL (98 mins., 1970), Jourdan's Dr. David Sorell and his sidekick, Harry Snowden (Wilfird Hyde-White), pursue a pair of cases involving, respectively, a haunted mirror plaguing the likes of Lynda Day George and Carroll O'Connor, as well as an heiress wrapped up with a cult of witches. The latter stars Anne Baxter, Diana Hyland and Belinda Montgomery as the young woman who needs the help of Dr. Sorrell – a role apparently intended for a series (or at least a series of other adventures) that sadly never materialized. Laid back and entertaining with solid Billy Goldenberg scores, these are an ideal vehicle for Jourdan, with both Universal-licensed 1080p (1.37) transfers looking healthy and detailed. Commentaries from historian/writer Gary Gerani and an image gallery are included in this two-disc set along with attractive new commissioned art by Vince Evans.
The other TV movie of the month is KILLDOZER (74 mins., 1974), a fairly anemic "Duel" rip-off involving an invisible force that targets a bulldozer as a method of dispatching unsuspecting victims. Clint Walker stars with a robust Gil Melle score, but TV vet Jerry London's film is pretty slight and offers no surprises. Kino Lorber's Blu-Ray includes an audio interview with London, an image gallery,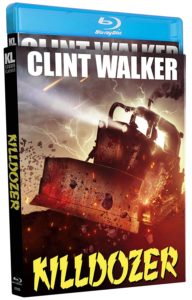 nd a new commentary from historians Lee Gamblin and Jarret Gahan; the 1080p (1.37) Universal-licensed transfer is perfectly fine.
Kino Classics and Something Weird Video bring exploitation fans a double-bill of TEST TUBE BABIES (69 mins., 1948) and GUILTY PARENTS (66 mins., 1934), two hysterical B&W programmers that have long been cult favorites. Extras in Kino Lorber's Blu-Ray release include a commentary from author Eric Schaefer on "Test Tube Babies," a trailer gallery, and a 1951 marital education short, "Sex and Romance"…Lon Chaney starred for director Tod Browning in the 1920 Universal drama OUTSIDE THE LAW (76 mins., 1920), which is headlined by Priscilla Dean's performance as a jewel thief who stages a double-cross after her father is framed for murder by a fellow thief (Chaney). This fascinating early collaboration between Browning (future "Dracula" helmer) and Chaney has been fully restored here in a 4K (1.33) B&W transfer with extras including a commentary by historian Anthony Slide, a musical score by Anton Sanko, alternate ending and comparison of different versions…Dean also appears in a double-feature of Browning-directed Universal efforts DRIFTING (84 mins., 1923), a crime drama set in a remote Chinese village with Dean starring as an opium dealer in a movie that blasted Anna May Wong onto the national stage with her performance; and WHITE TIGER (77 mins., 1923), which mixes another "crime doesn't pay" tale with fatalistic supernatural overtones. New commentaries on the two films (by Anthony Slide on "Drifting," and Bret Wood on "White Tiger"), musical scores by Philip Carli and Andrew Earle Simpson, and a fragment of a "lost" Dean/Browning collaboration, "The Exquisite Thief," round out another must-have Blu-Ray (1.33 transfers, 4K restorations by the George Eastman Museum) for silent movie buffs.
Kino Classics also debuts Bette Gordon's 1983 independent film VARIETY (100 mins.), an acclaimed drama about a young woman (Sandy McLeod) who's drawn to the pornos she sells tickets for, and eventually follows a man (Richard Davidson) through Times Square as she becomes part of the world she's peripherally a part of. Will Patton co-stars in this indie, newly restored in a 2K transfer by Gordon for this release (1.85). Extras include a commentary by Gordon and her 1981 short "Anybody's Woman" plus a number of still galleries.
Sonke Wortmann's German comedy HOW ABOUT ADOLF? (92 mins., 2019) debuts on Blu-Ray this month from Menemsha Films and Kino Lorber. A big hit at the box-office in its native country, Wortmann's comedy about a dinner party gone very wrong includes a 1080p (2.39) transfer with 5.1 German audio and English subtitles…Azazel Jacobs' 2008 indie hit MOMMA'S MAN (98 mins., Not Rated) also drops this month from Kino Lorber; Jacobs' film is about a man (Matt Boren) who ends up falling back in with his Bohemian parents after he's forced to stay in Manhattan for an extra night. An acclaimed, perceptively funny film now on Blu from Kino Lorber featuring 2.0 stereo and a 1080p transfer (1.85); extras include a new commentary from the director, a behind-the-scenes doc, deleted scenes, the trailer, Jacobs' 1991 first film "Rain Building Music," and an audio conversation between Jacobs and his parents. Another Jacobs film, THE GOODTIMESKID (72 mins., 2005) also debuts on Blu-Ray this month, this one featuring a 2K restoration from the 35mm negative (1.78), 2.0 stereo audio, extended takes, and a new commentary from the director.
Also new this month from Kino Lorber are Graham Swon's minimalist thriller THE WORLD IS FULL OF SECRETS (98 mins.), presented with Swon's commentary, a deleted scene, booklet essay from critic Boris Nelepo, a 1080p (1.2:1) transfer and mono sound; and Dror Zahavi's CRESCENDO (106 mins., 2018), a German drama making its debut here on Blu-Ray from Menemsha Films and Kino Lorber. The disc boasts a 1080p (2.39) transfer and 5.1/2.0 stereo options, in German with English subtitles.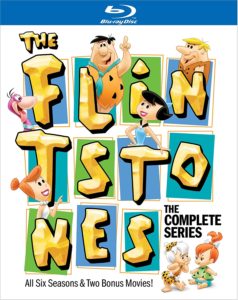 Aisle Seat Pick of the Week
Arguably the most enduring of all of Hanna-Barbera's cartoon franchises, THE FLINTSTONES (4217 mins., 1960-66; Warner) brought "The Honeymooners" to the Stone Age by way of a fitfully amusing domestic comedy. Instead of Ralph Cramden and Ed Norton, we have Fred Flintstone and Barney Rubble, hard-working prehistoric wage-earners mixing predicaments at work with their respective spouses, Wilma and Betty. Prehistoric hyjinks, dinosaurs, laugh tracks and family zaniness ensue, with some of the shenanigans occasionally aiming for a broader prime-time audience than the series' eventual Saturday morning residence would lead one to believe – even though the show did become increasingly kid-centric after the likes of offspring Pebbles and Bam-Bam were introduced late in the series' original ABC network run.
Warner Home Video brings the entire series, all six original seasons, of "The Flintstones" to Blu-Ray this month in the form of a marvelous Blu-Ray box-set. AVC encoded transfers and dual mono Dolby Digital soundtracks are appropriately compressed for the material, and these colorful remasters are satisfyingly presented with detail a tick above prior DVD editions. The limited scope of the animation means these '60s Hanna-Barbera cartoons "are what they are," but those with big-screen TVs should be pleased with the overall high-def enhancement Blu-Ray affords.
Warner's set also includes the 1966 Flintstone feature "A Man Called Flintstone," which Columbia theatrically released, as well as the home-video production "WWE: Stone Age Smackdown!" and a smattering of featurettes culled from Warner's previous DVD editions. Highly recommended!