Message Board (open 24 hours!)
Twitter - @andredursin (for everything else!)
Mill Creek has been opening up the Morgan Creek vaults with the premiere release of several '90s properties from the studio on Blu-Ray, all previously distributed by Warner Bros. One of them, SILENT FALL (101 mins., 1994, R), was a particularly expensive failure – one of several flops from director Bruce Beresford, who struggled in the Hollywood system after his 1989 Oscar triumph "Driving Miss Daisy."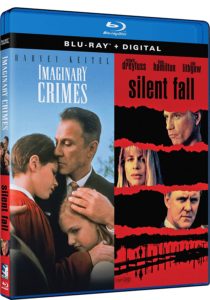 This thriller, an original script by Akiva Goldsman, is downright weird – severely impacted by heavy editorial meddling which rendered its second and third-billed leads (Linda Hamilton and John Lithgow) utterly useless and disjointed pacing which only intensifies the picture's glaring post-production woes.
Richard Dreyfuss stars as a psychologist, haunted by tragedy, whose latest case involves the autistic son of a slain wealthy couple. While Dreyfuss and local cop J.T. Walsh try to piece together those responsible for the crime, Dreyfuss is drawn to the boy and his older sister (Liv Tyler, excellent in her feature debut) who may or may not have something to do with their parents' murders.
"Silent Fall" was not a low-budget film – reportedly shot with a budget of $30 million, the production shows its price tag by way of attractive Maryland locations captured by cinematographer Peter James and a superb cast. Yet Goldsman's script, which seems like it was trying to mix "Rain Man" with a murder-mystery, is so fractured as presented on-screen that it's hard to make sense of it. The picture's opening is especially ragged, as is an ending that comes off as if it was reshot – the only portion that really works is its mid-section which establishes Dreyfuss' relationship with Tyler and her brother (Ben Faulkner, effective in his only credited screen performance). Making no sense are performances by Hamilton – clearly left on the cutting room floor for the most part – and Lithgow, whose brief contribution seems to be a character tagged as a suspect in Goldman's script and little more.
The cumulative result is an oddity, a pricey flop that occasionally shows flashes of inspiration and technical quality, but clearly was patched together in post-production. Needless to say, the end result did not work – the movie tanked after grossing just north of $3 million during the fall of '94, and "Silent Fall" has been almost entirely forgotten since.
Mill Creek's Blu-Ray debut of the feature offers a detailed and attractive 1080p (1.85) AVC encoded transfer with a bass-heavy 2.0 DTS MA stereo soundtrack. For a movie that hasn't been released on video since Warner's DVD, this is a surprisingly good catalog transfer, and the sound captures the original Dolby Stereo Spectral Recording nicely, especially when played back in proper four-channel matrixed surround. Stewart Copeland's score is one of his better efforts, and "Healing," a pleasant soft-rock duet between Wyonna and Michael English, caps the end credits.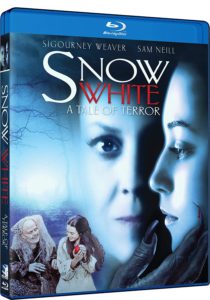 "Silent Fall" is paired here on Blu-Ray with the far superior period drama IMAGINARY CRIMES (105 mins., 1994, PG), an adaptation of Sheila Ballantine's autobiographical novel about growing up with a widowed con man father (Harvey Keitel) during the early '60s. Fairuza Balk provides one of her numerous strong performances from the mid '90s here as the eldest daughter with a young Elisabeth Moss as her sister; director Anthony Drazan captures their characters' difficult childhood well in an underrated film that never received a wide theatrical release but is certainly worth a look. Mill Creek's transfer (1.85) is excellent with 5.1 DTS MA audio featuring a decent, if repetitive, score by Stephen Endelman.
Mill Creek's other budget Morgan Creek Double Feature Blu-Ray strikes a comedic note, matching BIG BULLY (91 mins., 1996, PG), a Steve Miner-directed January '96 box-office dud starring Rick Moranis and Tom Arnold, with WRONGFULLY ACCUSED (86 mins., 1998, PG-13), one of numerous post-"Naked Gun" spoofs starring Leslie Nielsen, this one written and directed by "Police Squad" co-creator Pat Proft (also of the "Hot Shots!" films). Though definitely not on the Zucker/Abrahams/Zucker level, "Wrongfully Accused" offers a few laughs (especially by the declining standards of Nielsen's late career fare), and the highly forgettable "Big Bully" at least boasts the novelty of Moranis in what would be his (so far) last film role. The two movies have been paired in a Double Feature Mill Creek release with DTS MA stereo sound and perfectly respectable 1080p (1.85) transfers, along with a digital copy redeemable on Mill Creek's Moviespree app.
SNOW WHITE: A TALE OF TERROR Blu-Ray (101 mins., 1998, R; Mill Creek): It looked intriguing on paper, alright – Sigourney Weaver as the Wicked Witch, Sam Neill as Snow White's father, and an unsettling tone right out of the Brothers Grimm. Alas, the filmmakers of this (deservedly) never-theatrically-released dud substituted kiddie corn for an equally formulaic "adult" tone that never once is adventurous or menacing enough to scare anyone over the age of 12. Sigourney tries her hardest, but the frustrating script can't make up its mind whether to paint a "realistic" psychological study of the classic story, or settle on Charles Band-style grade-B horror. It all ends up stuck in a no man's land that's a total waste of time for everyone involved; even John Ottman's primarily electronic score offers few surprises. A PolyGram property that took several years to surface after being banished to the shelf, Mill Creek debuts this R-rated curiosity on Blu-Ray in an okay 1080p (1.85) transfer and 2.0 DTS MA sound.
ULTRAMAN: ULTRAMAN GINGA THE SERIES & THE MOVIE Blu-Ray (Mill Creek): Box-set sports both "Ultraman Ginga: The Series" and "Ultraman Ginga S" (a prequel to the former), more contemporary advenutres featuring the 50-meter plus tall hero and his assorted friends. Mill Creek's Blu-Ray box includes both series along with their respective follow-ups "Ultraman Ginga S: The Movie" and "Ultra Fight Victory", all in 1080p transfers with DTS MA Japanese 2.0 stereo audio, English subtitles ("Ultraman Ginga S: The Movie" and "Ultra Fight Victory" also include English dubs), and Moviespree digital copies.
---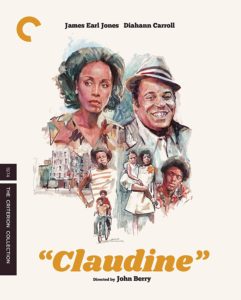 New From Criterion
While Blaxploitation films were hitting theaters throughout the early/mid '70s, Third World Cinema and director John Berry brought audiences something more realistic and sincere: CLAUDINE (92 mins., 1974, PG), a moving look at a black single mother (Diahann Carroll) struggling to raise six kids in Harlem while collecting welfare and working as a maid. During her domestic chores, she meets a garbage man (James Earl Jones) whom she shares an immediate chemistry with – their relationship forms the centerpiece of Tina and Lester Pine's original screenplay, which also paints a portrait of an African-American family celebrating triumphs and enduring through hardships, including the lack of a father figure, especially seen through the lens of their eldest son (Lawrence Hilton-Jacobs, later of "The Warriors" and "Welcome Back, Kotter").
"Claudine" captures urban life in Harlem in a communal way that isn't patronizing – nor does the film feel like a sitcom, as some of the reviews from the time of its release claimed. The movie isn't as episodic as it sounds and, despite the title, is as much a portrait of Jones' hard-working trash collector as it is a film seen through the perspective of its female protagonist. In fact, while Carroll is certainly believable in an Oscar-nominated turn, the movie really belongs to Jones, who gives a truly moving, superb performance that ranks with his best – it's a three-dimensional role and Jones breathes constant life, and a great deal of understatement, into it throughout.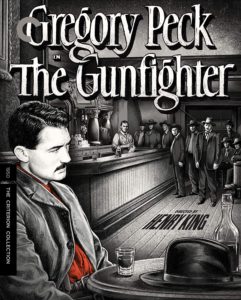 Criterion has brought "Claudine," which 20th Century Fox theatrically released, to Blu-Ray in a lovely new disc. The natural and detailed 4K restored transfer (1.85) is exceptional and the mono soundtrack, featuring a Curtis Mayfield score performed by Gladys Knight & The Pips, is nearly stereophonic in its fidelity. A 2003 DVD commentary featuring the cast and crew is on-hand along with new extras including a recently recorded online interview between filmmaker/admirer Robert Townsend and Ashley Clark; a new interview with critic Imogen Sara Smith discussing John Berry's work; and "illustrated audio excerpts" from a 1974 AFI seminar featuring Carroll. Warmly recommended.
Also new from Criterion this month is a 4K digital restoration of THE GUNFIGHTER (84 mins., 1950), a 20th Century-Fox western that was seen as a precursor to a litany of moody, gloomy "introspective" westerns. Gregory Peck plays the title character – a gunslinger trying to run away from his past and start a new life, but ultimately cannot outrun his history – in Henry King's acclaimed film, presented here with a new interview with archivist Gina Telaroli about King's career; a video essay on editor Barbara McLean by historian J.E. Smyth; archival 1970-71 audio interviews with King and McLean; a clear PCM mono soundtrack and dynamite 1080p (1.33) B&W transfer.
---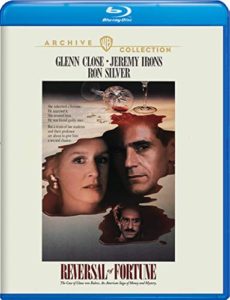 Warner Archive New Releases
The second trial of Newport, R.I. millionaire Claus von Bulow – accused of trying to murder his wife, Sunny, and initially found guilty of the alleged crime – is chronicled in Barbet Schroeder's 1990 drama REVERSAL OF FORTUNE (112 mins., R), an adaptation of a book by von Bulow's attorney, Alan Dershowitz.
Not every storytelling choice on the part of Schroeder and screenwriter Nicholas Kazan pays off – the choice to have von Bulow's coma-ridden wife, Sunny, narrate the movie seems to be a decision to get top-billed Glenn Close contribute more than what's in reality a secondary role. Meanwhile, the movie's recounting of the trial's background is somewhat choppily told, especially if the viewer isn't already familiar with the material.
Despite this, the picture is brilliantly acted by Jeremy Irons, whose cool and steely turn as von Bulow earned him a Best Actor Oscar, and Ron Silver, who gives one of his best performances as Dershowitz, whose stable of supporting law students includes early appearances from Annabelle Sciorra and Felicity Huffman.
Previously available only in a full-screen DVD, "Reversal of Fortune" finally receives a widescreen transfer by way of Warner Archive's splendid new high-def master (1.85) with 2.0 DTS MA stereo surround sound. Luciano Tovoli's cinematography looks much more accomplished and less "flat" here than prior home video releases, with the trailer and an archival commentary from Schroeder and Kazan also included.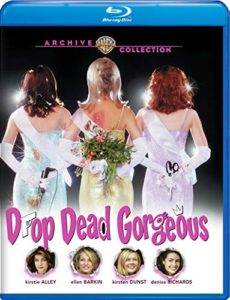 DROP DEAD GORGEOUS (98 mins., 1999, PG-13; Warner Archive): A good cast makes this slim 1999 New Line comedy worth a look. Set in rural Minnesota (no doubt influenced by the Coen Brothers' then-recent "Fargo" triumph), Michael Patrick Jann's pseudo-doc follows a circle of participants and hangers-on in a local beauty pageant including its contestants (Kirsten Dunst, Denise Richards and Amy Adams among them) and crazy parents (Kirstie Alley, Ellen Barkin). Lona Williams' script is very broadly played but there are a couple of laughs with the cast contributing a solid amount of energy, with Adams (making her feature debut, and billed only at the tail end of the credits) and Brittany Murphy on-hand in early turns. Warner's Blu-Ray (1.85, 5.1 DTS MA) is now available sporting an attractive transfer.
Golden Age fans will want to celebrate the beautiful restoration of SERGEANT YORK (134 mins.) on Blu-Ray this month from Warner Archive. Howard Hawks' 1941 classic needs little introduction as this stirring slice of patriotic big-screen Hollywood – based on the life of Tennessee farmer Alvin York, who became a WWI hero – earned Gary Cooper his first Best Actor Oscar and served as a motivator for legions of Americans who enlisted in WWII thereafter. Warner Archive's detailed, vividly rendered 1080p (1.37) transfer is superlative with extras including a Making Of, "Porky's Preview" classic WB cartoon, the short "Lions For Sale," and Jeanine Basinger's academic commentary. The DTS MA mono sound does justice to Max Steiner's score.
Finally, Hanna-Barbera fans ought to rejoice with the Complete Series release of SPACE GHOST & DINO BOY (420 mins., 1967-68). Though only produced for two seasons, this is one of the most fondly remembered of HB's shows from its era, with stories split between the bookending adventures of crusading intergalactic super-hero Space Ghost – saving the day in his Phantom Cruiser while battling the likes of Brak and Zorak – and the prehistoric escapades of Dino Boy, who teams up with Ugh and Bronty during the show's middle section. Remastered 1080p (1.33) transfers and mono DTS MA soundtracks comprise Warner Archive's Blu-Ray, available October 13th with an additional six-part Space Ghost episode "The Council of Doom" and featurette "Simplicity: The Life and Art of Alex Toth."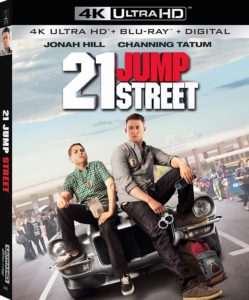 New on 4K UHD
21 JUMP STREET 4K UHD Combo Pack (109 mins., 2012, R; Sony)/22 JUMP STREET 4K UHD Combo Pack (112 mins., 2014, R; Sony): 21 JUMP STREET is an unusual 2012 hybrid of straight ahead buddy-action pic and outright spoof that riffs on the premise of Stephen J. Cannell's popular '80s Fox TV series with an undeniably appealing pair of protagonists in Jonah Hill and Channing Tatum.
Hill (who also produced and co-wrote the film) and Tatum play a pair of reckless young cops who find themselves assigned to a special undercover unit overseen by Ice Cube – one that sends them back as students to a southern California high school where a popular new drug is making its way around the student body. Typical shenanigans ensue, but directors Phil Lord and Christopher Miller (of the "Cloudy with a Chance of Meatballs" animated feature) have fashioned something inspired here – a movie with its share of laugh-out loud moments, but one that seems to function in its own universe, referencing the original series (with cameos from a number of familiar faces), but still playing seriously enough so you care about the characters – at least to a degree. Though the film is ultimately more successful as a comedy than an action film, "21 Jump Street" deserves credit for not being strictly a put-down of its source material.
One of the rare sequels that surpasses its predecessor, the fitfully funny 22 JUMP STREET sends young cops Schmidt and Jenko back undercover – this time at a local college where they attempt to track down the source of a deadly narcotic circulating around campus. As with the prior installment, the plot is merely an excuse for Hill and Tatum to engage in some hilarious "bromance" hyjinks, and returning directors Phil Lord and Christopher Miller here wisely dial back some of the bombast in order to concentrate on the comedy. The result is a funnier and more entertaining picture than the original "21 Jump Street," with some big laughs and a surprising reduction in raunchy gags to go along with them.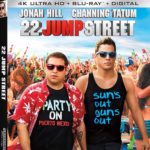 Sony brings both "Jump Street"s to 4K UHD this month with HDR enhanced transfers and Dolby Atmos audio tracks – both marginal enhancements over already good-looking 1080p Blu-Rays (also included). The latter also offer format-exclusive deleted scenes, a handful of featurettes, commentaries with the cast and Lord and Miller, Digital HD copies and plenty more.
Also new from Sony on 4K UHD is an HDR enhanced edition of Damien Chazelle's WHIPLASH (107 mins., 2014, R), his acclaimed indie hit starring Miles Teller and J.K. Simmons. Sony's 4K offers Dolby Atmos and an HDR enhanced transfer, along with a slew of extras (commentary with Chazelle and Simmons; the director's original "Whiplash" short; deleted scene), the Blu-Ray and a Digital HD copy.
---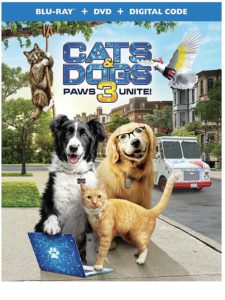 Also New & Noteworthy
CATS & DOGS 3: PAWS UNITE Blu-Ray/DVD Combo Pack (84 mins., 2020, PG; Warner): Likeable enough continuation of the franchise that finds dogs and cats using high-tech surveillance to keep the peace between one another. This time, the species are hacked by a villain who sends them back into conflict, forcing them to rely less on tech than their own instincts. Silly, short fun for kids. Warner's Blu-Ray (1080p, 5.1 DTS MA) is out October 13th featuring a gag reel, two featurettes, a DVD and Digital HD copy.
BATMAN: DEATH IN THE FAMILY Blu-Ray (18-31 mins., 2020; Warner): The famous (or is it infamous) Batman story "Death in the Family," wherein Jason Todd, the second (tier) Robin, meets a grizzly end has made it to the DC animated universe by way of an interactive movie. This compilation of 2019-20 "DC Showcase" animated shorts includes a new adaptation of that story line, which invited comic book readers to vote on Robin's fate – this interactive version does the same by way of the viewer's remote control. Four additional DC shorts featuring Sgt. Rock, Adam Strange, The Phantom Stranger and Death are included in Warner's Blu-Ray combo pack, also sporting commentary on all five shorts, 5.1 DTS MA sound and 1080p transfers.
THE CAPTAINS COLLECTION Blu-Ray (Shout! Factory):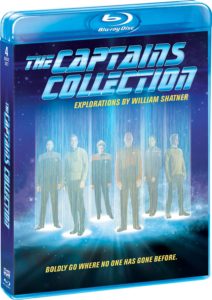 William Shatner wrote, directed, and hosted the 2011 "The Captains," an engaging, if somewhat frustratingly edited, film with "The Shat" meeting up with all the prior "Star Trek" captains – Patrick Stewart, Avery Brooks, Kate Mulgrew and Chris Pine – in order to discuss their passion for life, the creative process and what drove them to become a part of the Star Trek franchise. There are plenty of revealing moments here (especially when Stewart talks about trying to crack down on the TNG cast's off-camera joking during season 1), but Shatner the director tends to break up the momentum of the interviews by jumping in and out of each of them; an incessant music score by Andy Milne likewise doesn't help.
"The Captains" here debuts on Blu-Ray from Shout! alongside "The Captains Close-Up" (additional interviews not included in Shatner's first foray), plus "Chaos on the Bridge" (the story of bringing "Generations" to the screen), and "Get a Life!". Additional stories, a Making Of, trailers, 1080p (1.78) transfers and 5.1 sound grace Shout's four-disc set (a five-disc limited-edition release is exclusive to the company's web store).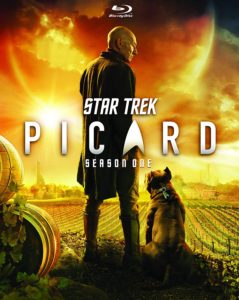 New from CBS this month is the First Season of their much-hyped streaming series PICARD (8 hours, 2020), a well-mounted but rather gloomy continuation of the adventures of Captain Jean-Luc Picard (Patrick Stewart), here piecing a mystery together through his past while running into a series of familiar faces. While critical reaction for "Picard" was mostly healthy, the series met with a high amount of derision and outright dislike from Star Trek fans, despite Stewart's good will, due to its downbeat elements. CBS' Blu-Ray (1.85, 5.1 DTS MA) looks great, at least, with deleted scenes, a gag reel and multiple featurettes included in their now-available Season 1 package.
PENNY DREADFUL: CITY OF ANGELS Season 1 DVD (9 hours, 2020; CBS): Generally well-received spin-off from John Logan's Victorian London-set first season moves the action to a 1938 Los Angeles, wherein another disparate cross-section of characters finds themselves running afoul of the supernatural – specifically Mexican folklore – this time with WWII looming in the backdrop. Natalie Dormer, Daniel Zovatto and Nathan Lane star in this well-mounted first season of "City of Angels," now on DVD in a four-disc set from CBS featuring a 16:9 transfer, 5.1 sound and several featurettes.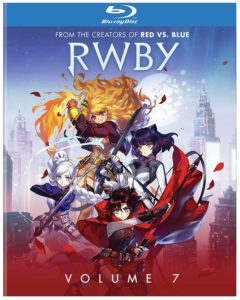 RWBY Volume 7 Blu-Ray (208 mins., 2020; Warner): Monty Oum, the late brother of one of my high school classmates, created this fan-favorite animated series, returning here to Blu-Ray now from Warner Home Video, inheriting the Rooster Teeth property's distribution. This single-disc includes the seventh "volume" of episodes from the series in 1080p transfers with 5.1 DTS MA sound and a number of extras: a concept art gallery, RWBY photos, five production breakdowns, five "Anime Jam" episodes, commentary, and the RWBY panel from RTX 2019.
THE VIKINGS Season 6 Volume 1 Blu-Ray (456 mins., 2019-20; Warner): Picking up after the sibling battle that concluded the end of Season 5, "The Vikings"' sixth season finds Bjorn trying to fill his father's place while leading Kattegat. Meanwhile, Ivar travels to Russia and butts heads with Prince Oleg. Ten episodes comprise this first-half of episodes from "The Vikings"' most recent run, picked up by Warner Home Video (now distributing MGM) with 1080p transfers, 5.1 DTS MA sound, deleted scenes, commentary on the episode "The Best Laid Plans," a featurette, and every episode presented in its "extended international version."
New From Lionsgate: The "Al Jazeera Children's Channel" is one of the producers of SEA LEVEL (92 mins., PG, 2011), a "Finding Nemo"-like clone that's anything but Disney – with inferior animation and even some shockingly adult themes with PG-level profanity! Parents are warned. Lionsgate's Double Feature DVD couples both the original "Sea Level" (1.78, 5.1) with its sequel SEA LEVEL 2: MAGIC ARCH (82 mins., 2020, PG), a new follow-up that's a little less raunchy. The single-disc DVD is now available…Prolific action star Scott Adkins toplines SEIZED (85 mins., 2020, R), a Saban Films production about an sex-Special Forces op trying to get away from it all with his son on the Mexican coast, only to have a crime lord (Marion Van Peebles) abduct the boy and order Adkins to slaughter Van Peebles' competition. Fairly routine stuff, with Lionsgate's DVD (1.85, 5.1) arriving on October 13th…On October 20th, the latest installment in the very long-running (and mostly disconnected) "Amityville" franchise surfaces from Lionsgate on DVD: THE AMITYVILLE HARVEST (94 mins., 2020, R), which spins a new story revolving around young people who shoot a documentary in a dilapidated manor, only to find out their interviewed host's image doesn't appear on tape or video. Thomas J. Churchill directed, with Lionsgate's disc including a 16:9 (1.78) transfer and 5.1 Dolby Digital sound.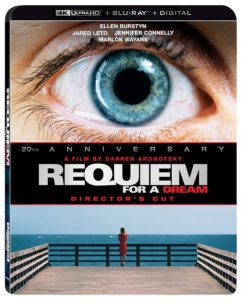 On the 4K UHD end, REQUIEM FOR A DREAM (102 mins., 2000, Unrated; Lionsgate) was the film that truly launched director Darren Aronofsky's so-far erratic career – an auteurist vision the director adapted from Hubert Selby, Jr.'s novel with Jared Leto, Jennifer Connelly, Marlon Wayans and Ellen Burstyn headlining the ensemble cast in a visually potent, yet thoroughly downbeat, picture about addiction that's difficult to watch at times (intentionally so). As with most of the director's work, one's mileage may vary, though there's no doubt Lionsgate's UHD catalog disc with Dolby Atmos and Dolby Vision capability is visually stunning – and the disc includes some new special features to boot ("On Set: 1999," segments on Clint Mansell's score plus Ellen Burstyn interviews and a retrospective featurette). The Blu-Ray and a Digital HD copy round out the release.
BEFORE THE FIRE Blu-Ray (91 mins., 2020, Not Rated; Dark Sky/MPI): Jenna Lyng Adams plays a TV star who has to leave her L.A. residence – due to a pandemic – and heads back to her rural hometown where she has to contend with a figure that threatens her and her family. Charlie Buhler's unexpectedly prescient piece is now on Blu-Ray from MPI featuring a 1080p (2.39) transfer, 5.1/2.0 stereo sound, a deleted scene and the trailer.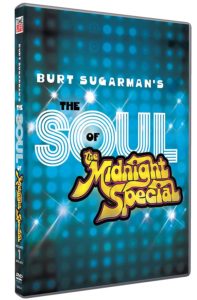 THE SOUL OF THE MIDNIGHT SPECIAL Volume 1 DVD (572 mins., Time Life): Producer Burt Sugarman's iconic '70s TV soul series is back on DVD in a new compilation from Time Life. This five-disc set offer live, uncut performances of legendary R&B performers like James Brown, Earth Wind & Fire, Al Green, Gladys Knight & The Pips, Curtis Mayfield, Ohio Players, Harold Melvin & The Blue Notes, Rufus featuring Chaka Khan, Sly & The Family Stone, The Stylistics, Barry White and the great Bill Withers among others. Bonus interviews are included, making for a splendid release for music fans.
Film Movement New Releases: Bartosz Konopka's SWORD OF GOD (104 mins., 2018) is a Polish medieval epic wherein a holy order of knights run into trouble after they try and spread Christianity to a pagan village. Film Movement's DVD (2.39, 5.1 Polish audio) includes English subtitles and streets October 20th…Emily Harris' CARMILLA (94 mins., 2018) is inspired by Le Fanu's gothic classic about a teen girl who falls under the spell of a strange, enigmatic visitor. This well-reviewed new take on the oft-adapted story debuts on DVD October 13th from Film Movement sporting a 16:9 (2.35) transfer, 5.1/2.0 stereo sound and Harris' short "Three Towers."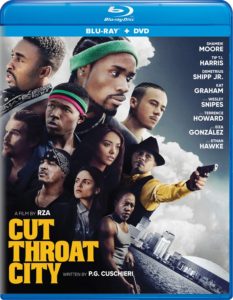 New From Well Go USA: New on Blu-Ray from Well Go is a film from RZA: CUT THROAT CITY (123 mins., 2019, R), a story about four friends in New Orleans' Lower Ninth Ward who turn to a local gangster after Hurricane Katrina has washed out their homes and hopes for the future. Desperate to turn things around, they have to pull off a heist that sends all parties (the law, another warlord) after them. Shameik Moore stars with Wesley Snipes, Terrence Howard and Ethan Hawke also appearing in "Cut Throat City," which bows in a Blu-Ray/DVD combo pack from Well Go on October 20th. The 1080p transfer and 5.1 sound are fine, and extras include a featurette, deleted scenes and trailers… In time for Halloween, Well Go debuts the indie horror film BROIL (90 mins., 2020), the story about a teenager who's sent to her grandfather's mysterious estate – where only a hired gun can possibly save her. Edward Drake's new picture is on Blu-Ray October 13th featuring a 1080p transfer and 5.1 DTS MA audio.
---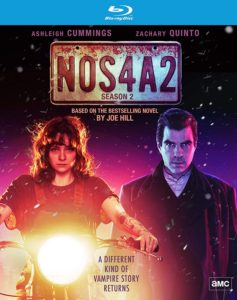 RLJE New Releases
ELI ROTH'S HISTORY OF HORROR Blu-Ray (5 hours, 2018; AMC/RLJE): Director Eli Roth takes a tour through the annals of horror for this enjoyable enough overview of the genre, chatting with the likes of Stephen King, Quentin Tarantino, Linda Blair, Rob Zombie, Greg Nicotero and many others throughout the course of this AMC series. Even hardcore fans should find something to enjoy here, with RLJE's Blu-Ray (1.78, 2.0 DTS MA) including two hours of special features. The latter include extended talks with King, Tarantino, John Landis, Joe Dante, Roger Corman and others; bonus featurettes and a look at how "Abbott & Costello Meet Frankenstein" influenced Tarantino.
Also new on the horror front is THE PALE DOOR (96 mins., 2020; RLJE), a horror western that finds the Dalton gang running afoul of a coven of witches in a ghost town after a robbery goes bust. Aaron Koontz directed this genre exercise with Stan Shaw and Melora Walters appearing; RLJE debuts the film on Blu-Ray October 6th (1.85, 5.1 DTS MA) with a commentary and two featurettes included…RLJE also has lined up Season 2 of NOS4A2 (aprx. 8 hours, 2020), the AMC horror series based on Joe Hill's novel. Zachary Quinto and Ashleigh Cummings return for more vampiric shenanigans; RLJE's Blu-Ray (1.85, 5.1 DTS MA) is available October 20th and includes three featurettes plus this year's "Comic Con @ Home" panel discussion.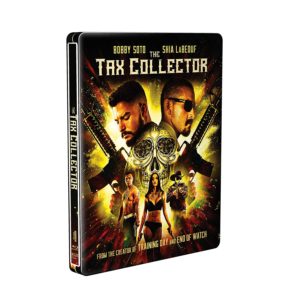 THE TAX COLLECTOR 4K UHD Steelbook (95 mins., 2020, Not Rated; RLJE): Director David Ayer heads back to the streets for another "hard R" drama about a pair of "tax collectors" who seek out, and track down (by any means necessary) their crime boss' cuts from local gangs and their variously illegal activities. A tattoo-laden Shia LaBeouf (he's so edgy) and Bobby Soto star in a grimy, rather unpleasant but visually attractive (in terms of cinematography) picture that received mixed reviews when it debuted on-demand earlier this year; its main issue is a running time that packs in too much plot, and not enough character beats, to be fully successful. RLJE's 4K UHD presentation is superb and also includes a Blu-Ray presentation (both 1.85 with DTS MA 5.1) in a deluxe packaged Steelbook release (currently exclusive to Best Buy).
SPREE Blu-Ray (92 mins., 2020, Not Rated; RLJE): Indie serial killer insanity from director/co-writer Eugene Kotlyarenko stars "Stranger Things"' Joe Keery as a "rideshare" driver who decides to go viral by streaming, yes, actual murders. This black comedy co-stars Saturday Night Live cast members Sasheer Zamata and Kyle Mooney, and comes to Blu-Ray (1.78, 5.1 DTS MA) this month from RLJE sporting a commentary from the director and the movie's social media content…Maisie Williams stars as a girl who, along with her friends, think they've found an easy target in a safe of an elderly couple who they think have vacated the home — that's not the case, of course, in THE OWNERS (92 mins., 2020), a British adaptation of a French comic book from director Julius Burg, co-starring Rita Tushingham and Sylvester McCoy. RLJE's Blu-Ray (1.78, 5.1 DTS MA) includes a Making Of featurette and is available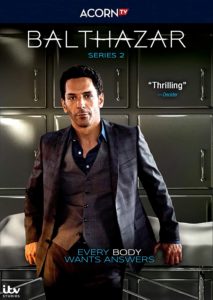 New on DVD From RLJE: Series 2 of BALTHAZAR (517 mins., 2019) follows the continued cases of forensic pathologist Raphael Balthazar (Tomer Sisley). This French "Quincy" teams up with Chief Inspector Helene Bach (Helene de Fougerolles) to take on a bevy of mysteries including a corpse found amongst bodies from the Middle Ages, a man who perished from a new strain of the bubonic plague, and a triple homicide from a camping trip. This three-disc RLJE DVD set includes French audio with English subtitles and 16:9 transfers…Season 1 of DOUBLE CROSS (3 hours, 2020) stars Ashley A. Williams and Jeff Logan as twins living on different sides of the societal coin when they come together to tackle a sex trafficking ring targeting girls in their neighborhood. This UMC production comes to DVD this month from RLJE in a single-disc DVD with a 16:9 transfer and 2.0 sound… BAD MOTHERS (345 mins., 2019; RLJE) is the acclaimed Australian series that looks at five modern women whose seemingly ordinary lives collide when murder is introduced into their domestic mix. All eight episodes of "Bad Mothers" are new to DVD this month from Sundance Now's imprint at RLJE, the two-disc set sporting 16:9 transfers and stereo soundtracks.
NEXT TIME: Kino Lorber October Reviews, from THE IPCRESS FILE to Michael J. Fox favorites. Until then, don't forget to drop in on the official Aisle Seat Message Boards and direct any emails to our email address.