The early-mid 80s yielded a number of terrific "art house" hits produced outside the U.S., and in the case of THE GREY FOX (92 mins., 1982, PG; Kino Lorber), the picture was one of several interesting films made by Canadian director Philip Borsos, whose life prematurely ended at age 41, taking with him a great deal of untapped cinematic potential. "The Grey Fox" would be his biggest success – a film about an American stagecoach robber (Richard Farnsworth) who, just released after three decades in prison, finds out he can only do what he knows, and sets out to stage another heist in the Pacific Northwest woods of Canada. Along the way he meets and woos a photographer (Jackie Borroughs) and contemplates settling down in a rural mining town, but the call of the wild – and the freedom of a life without attachment – proves too great a temptation.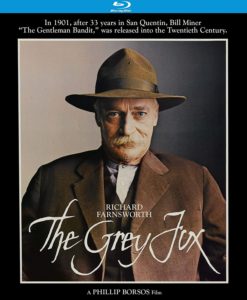 Beautifully shot on-location by Frank Tidy, who had filmed "The Duellists" for Ridley Scott, "The Grey Fox" is low-key, doesn't overstay its welcome, and tells its true story with remarkable economy. The understated nature of the storytelling proves to be one of its strongest assets, with Borsos – who directed from John Hunter's original screenplay – coaxing a sympathetic turn from Farnsworth, who stepped in when original lead Harry Dean Stanton became unavailable (Stanton would later work with Borsos on his remarkably depressing Disney drama "One Magic Christmas"). The picaresque Pacific Northwest locations are beautiful to behold, and Michael Conway Baker's score effectively incorporates The Cheiftains and Paddy Maloney's central theme – it's a romantic western with a more reserved Canadian feel, as producer Peter O'Brian puts it, and all the better for it.
Borsos would go on to an interesting but unfortunately sporadic career, helming a couple of American studio films (the underrated Kurt Russell thriller "The Mean Season" and slim outdoor family adventure "Far From Home," which was released after his death) and, in the interim, directing an expensive Canadian biopic, "Bethune," starring Donald Sutherland. His sensitivity and eye for interesting detail make "The Grey Fox" a pleasure to watch, especially now in a lovely 4K restoration (1.85) presented on Blu-Ray by Kino Lorber.
This is a superb disc with warm colors and a number of extras, including interviews with O'Brian, composer Baker, a featurette on the restoration, DTS MA mono sound and a commentary from filmmaker/admirer Alex Cox. Highly recommended!
Producers John Brabourne and Richard Goodwin shot a number of Agatha Christie adaptations for EMI Films – starting with the 1974 "Murder on the Orient Express," which boasted Albert Finney as master detective Hercule Poirot, an all-star supporting cast, lush production values and a director in Sidney Lumet whose effective staging resulted in a bona-fide box-office hit at the time.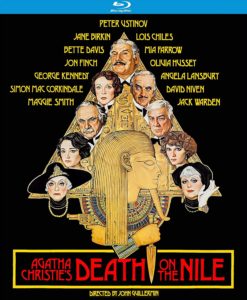 EMI ended up producing a number of follow-ups, starting with another opulent Brabourne-Goodwin effort, DEATH ON THE NILE (140 mins., PG), in 1978. Anthony Sheffer ("Sleuth") scripted this Christie adaptation, which puts Peter Ustinov through the paces as Poirot as he investigates the death of an heiress (Lois Chiles) while on a cruise down the Nile. The suspect list runs the gamut from Bette Davis and Mia Farrow to Angela Lansbury, David Niven and Maggie Smith in this highly entertaining film with a strong period atmosphere that's buoyed by both Nino Rota's score and Jack Cardiff's cinematography, even if the direction of John Guillermin (coming off the Dino DeLaurentiis remake of "King Kong") isn't exactly energetic.
Ustinov would return for EVIL UNDER THE SUN (117 mins., 1982, PG), featuring another Shaffer script with a vacationing Poirot investigating the murder of a stage star at an Adriatic resort. The supporting cast includes James Mason, Roddy McDowall, Sylvia Miles, Diana Rigg and Maggie Smith (again) and the result is a perfectly serviceable mystery under the direction of Guy Hamilton with a Cole Porter soundtrack arranged by John Lanchberry.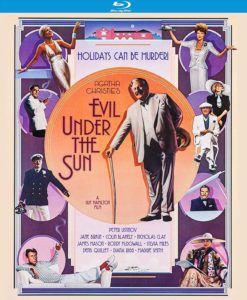 Once EMI's film division was consumed by The Cannon Group, a number of inferior Christie film projects followed, including a 1988 rendition of "Appointment With Death" with Ustinov working off a Michael Winner script, rewriting an earlier draft by series veteran Anthony Shaffer. Fortunately for Ustinov, his Poirot would fare better in a number of Christie TV-movies that aired on CBS during the late '80s.
Inbetween the two EMI Poirot films, the producers tried their hand at a single Miss Marple movie – marking the first on-screen appearance of Christie's female sleuth since Margaret Rutherford's tenure at MGM two decades before. The resulting film, THE MIRROR CRACK'D (105 mins., 1980, PG), wasn't nearly as well-received as the Poirot pictures, however, even with its engaging storyline involving Marple (Angela Lansbury) trying to piece together murders on the set of a Hollywood movie shooting in her picaresque English village. Elizabeth Taylor, Kim Novak, Tony Curtis and Rock Hudson pop up in Guy Hamilton's film, but the script by Jonathan Hales and Barry Sandler lacks the wit of Anthony Sheffer's work and the film has a plodding pace and claustrophobic staging to boot.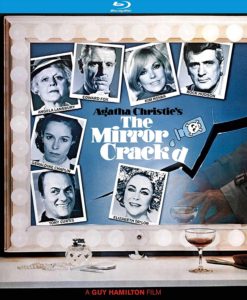 All three films were restored by Studio Canal a couple of years ago, and those restorations have now been brought to Blu-Ray by Kino Lorber ("Murder on the Orient Express" was likewise remastered but remains a Paramount property in North America). The 1.85 transfers are warmly saturated here with DTS MA mono sound and extras including new commentaries from historians Howard Berger, Steve Mitchell and Nathaniel Thompson across each picture. Additional extras include trailers and Making Of featurettes on "Evil Under the Sun" and "Death on the Nile," the latter also including archival interviews with Peter Ustinov and co-star Jane Birkin.
Going in chronological order, the remainder of Kino Lorber's September slate offers something for every movie buff, including several well-received classics debuting on BD for the first time.
Maurice Chevalier and Jeanette MacDonald croon Rogers and Hart songs in Rouben Mamoulian's highly acclaimed 1932 adaptation of the stage play LOVE ME TONIGHT (89 mins., 1932), a film Leslie Halliwell termed "the most fluently cinematic comedy musical ever made," debuting this month on Blu-Ray from Kino Lorber. This early Paramount musical co-stars Charlie Ruggles, Charles Butterworth and Myrna Loy, with Kino's BD sporting a 1.37 B&W transfer, mono sound, and some wonderful extras: a commentary from historian Miles Kreuger, additional song performances from Chevalier and MacDonald, excerpts of deleted scenes and production documents, plus the trailer.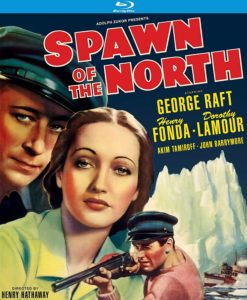 New from Kino Lorber in their three-disc "Collection" Blu-Ray anthologies is the CARY GRANT COLLECTION, sporting the HD debuts of three features Grant shot for Paramount in the '30s: "Ladies Should Listen" (63 mins., 1934) offers Grant and Frances Drake in the story of a switchboard operator who falls for Grant's bachelor; the superior "Wedding Present" (81 mins., 1936) pairs Grant with Joan Bennett as Chicago newspaper reporters who take over the local paper once their editor (George Bancroft) quits; and "Big Brown Eyes" (76 mins., 1936) is an engaging romantic comedy starring Grant as a detective whose girlfriend (Joan Bennett)'s new job as a crime reporter causes difficulties between them. Kino Lorber's Universal-licensed transfers (1.37 B&W) look mostly solid and two new commentaries are included (Kat Ellinger on "Wedding Present," Nick Pinkerton on "Big Brown Eyes").
A superb slice of Golden Age studio filmmaking, SPAWN OF THE NORTH (110 mins., 1938) is a superior effort from director Henry Hathaway, set around the turn of the (20th) century, with Alaskan fishermen trying to protect their frontier against Russian poachers. Dimitri Tiomkin scored this robust B&W adventure with Charles Lang cinematography, exciting set-pieces, musical interludes and a cast including George Raft, Henry Fonda and Dorothy Lamour; Kino Lorber's Blu-Ray (1.37, DTS MA mono) offers a competent Universal catalog transfer of this Paramount release with a commentary from Lee Gambin and actress/film historian Rutanya Alda…Lamour also surfaces in DISPUTED PASSAGE (87 mins., 1939), an adaptation of a '30s bestseller from author Lloyd C. Douglas. John Howard plays a a doctor who falls in love with a Chinese-American woman (Lamour) raised in Shanghai, much to the chagrin of his by-the-book doctor mentor (Akim Tamiroff). Critic Nick Pinkerton contributes a commentary to director Frank Borzage's 1939 Paramount picture, with Kino Lorber's BD (1.37 B&W, DTS MA mono) also sporting trailers.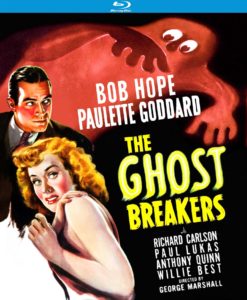 Two of the funniest Bob Hope comedies join Kino Lorber's growing library of films featuring the comedian. THE CAT AND THE CANARY (75 mins., 1939) is one of the most satisfying – and earliest – meldings of "horror" and comedy, an adaptation of John Willard's play with the niece (Paulette Goddard) of a recently departed millionaire heading to Louisiana to hear the details of his will. Turns out she's inherited it all, but someone wants her bumped off in an entertaining, and at times still very funny, picture with Hope nailing several choice one-liners. So successful was the film that Hope and Goddard were reunited a year later in THE GHOST BREAKERS (85 mins., 1940), another top-flight spooky comedy with Walter De Leon returning to script and Hope at the top of his game. Both movies are new on Blu-Ray in separate single-disc releases with Lee Gambin commentaries, trailers, 1080p (1.37) AVC encoded transfers and DTS MA mono sound; both movies look healthy considering their age with "The Ghost Breakers" debuting a new 2K master with enhanced detail over the still attractive "The Cat and the Canary." Both are graced by superb cinematography from Charles Lang, most especially during the beautifully shot climax of "Canary," wherein Goddard confronts her pursuer in a dilapidated cabin with light pouring through its exposed roof.
Though not regarded as a staple in Billy Wilder's filmography, there are still numerous admirers for his early WWII drama FIVE GRAVES TO CAIRO (96 mins., 1943), wherein the one survivor of a British tank crew (Franchot Tone) enters a desert hotel where its owner (Akim Tamiroff) and French maid (Anne Baxter) are getting ready to host Rommel (Erich Von Stroheim) – leading Tone to attempt to gather intel for the Allies. This was Wilder's second U.S. film and author Joseph McBride provides an enlightening commentary, discussing this seldom-screened Wilder project, with the trailer and a 1080p (1.37) Universal-licensed B&W transfer also on-hand.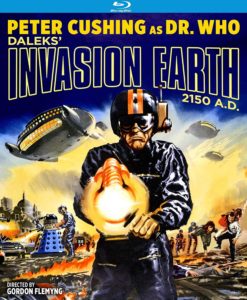 A movie that marked Jimmy Cagney's final performance in the musical genre, NEVER STEAL ANYTHING SMALL (94 mins., 1959) was regarded as something of a missed opportunity at the time of its original release. Maxwell Anderson and Rouben Mamoulian's play "Devil's Hornpipe" was adapted by Charles Lederer for this Universal production, in which Cagney – as a determined union boss who tries to mend his sometimes corrupt ways – is paired with Shirley Jones, playing his lawyer's alluring wife. Universal's Cinemascope (2.35) presentation looks nifty in Kino Lorber's Blu-Ray though the film is awfully slight; the disc also includes a new commentary with Lee Gambin and historian Daniel Kremer.
Though not beloved necessarily by Dr. Who purists, there's still an inherent nostalgia built into Peter Cushing's two feature outings as the Timelord, DR. WHO AND THE DALEKS (83 mins., 1965) as well as its sequel DALEKS' INVASION EARTH 2050 A.D. (84 mins., 1966). These are low-budget but breezy, "condensed" versions of story cycles from the Terry Nation-authored BBC series from Amicus' Milton Subotsky and Max J. Rosenberg, both directed by Gordon Flemyng with clearly economical budgets – even with the wide Techniscope (2.35) frame employed in both movies. Yet the "Saturday Matinee" feel gives these colorful fantasies a lasting, mid '60s appeal, perfectly captured here in Studiocanal-licensed widescreen transfers (2.35) with all-new Kim Newman commentaries (he's accompanied by actor Mark Gatiss and screenwriter/historian Robert Shearman). Kino has also nicely ported over extras from Studiocanal's European Blu-Rays, including additional interviews with the likes of actor Bernard Cribbins ("Daleks") and author Gareth Owen (both movies), restoration featurettes, trailers, and the hour-long doc "Dalekmania" on both platters.
Fans of mid '60s star comedies should find enough to enjoy in THE ART OF LOVE (99 mins., 1965), a Norman Jewison-directed farce wherein struggling artist Dick Van Dyke, with the help of roommate James Garner, decides to fake his own suicide so his work becomes more popular – naturally, the plan backfires once he becomes ridiculously famous "in death." Carl Reiner wrote this frothy Ross Hunter production with Elke Sommer, Angie Dickinson, Ethel Merman and Reiner himself chipping in appearances; it's silly and a little uneven but generally likeable. Kino Lorber's BD (1.85, DTS MA mono) offers a Universal-licensed transfer, the trailer and a commentary from historian Peter Tonguette…A far different kind of '60s comedy is on-hand in LORD LOVE A DUCK (105 mins., 1966), another acid-black satire from director George Alexrod, adapting an earlier '60s tome by Al Hine with Roddy McDowall starring as a high schooler who tries – to great lengths – to help his school's gorgeous new arrival (Tuesday Weld). There are laughs on-hand in this cult item which – much like Alexrod's "The Loved One" – failed to find a big audience at the time of its release. These days, some of the satiric targets come off as anchored permanently to their era, making this a curiosity item that's often otherwise head-scratchingly weird. Kino Lorber's Blu-Ray (1.85) transfer hails from a decent MGM master and includes mono sound and the trailer.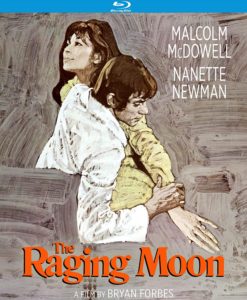 One of many interesting films from British director Bryan Forbes, THE RAGING MOON (110 mins., 1971) is a superbly-performed drama focusing on a bitter and depressed young man (Malcolm McDowell) who falls for a troubled fellow inmate (Nanette Newman) at the convalescence home he ends up at. Forbes adapted Peter Marshall's book and receives sympathetic, on-point performances from both leads (Newman was also Forbes' wife) in a setting unusual for its time (one reason why the film apparently received scant distribution in the U.S.). Kino Lorber's Blu-Ray includes a capable transfer (1.85) licensed from Studio Canal plus a commentary by Daniel Kremer…McDowell reprised his "If…" and "O Lucky Man!" role of Mick Travis in director Lindsay Anderson's trenchant 1982 satire BRITANNIA HOSPITAL (116 mins., R). Leonard Rossiter and Graham Crowden star in this off-the-wall grilling of the British health care system which did not meet with the same critical acclaim as Anderson's previous works. Interested viewers will still want to check out Kino Lorber's Studio Canal-licensed BD, which includes a 1080p (1.85) transfer, DTS MA mono sound, commentary with historian Samm Deighan and an interview with McDowell on his collaborations with Anderson.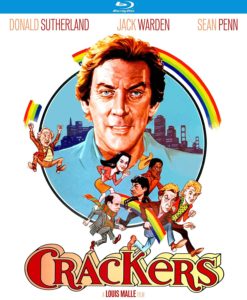 Sometimes films just don't entirely click for one reason or another – witness CRACKERS (91 mins., 1984, PG), a wan Universal remake of the '60s Italian comedy "Big Deal on Madonna Street" that drew the involvement of director Louis Malle, who had just scored American art house hits with "Atlantic City" and "My Dinner With Andre." Malle recruited a game cast to essay a group of struggling eccentrics (including Donald Sutherland and a then-very hot Sean Penn) who team up to knock over the safe of their friend, a local San Francisco pawn shop owner (Jack Warden). Wallace Shawn and Christine Baranski also appear in "Crackers," but this slender effort – dumped into limited release during the February doldrums of 1984 – never generates a comedic head of steam, all of it plastered with an aggressive '80s song-soundtrack featuring Michael McDonald belting out the film's theme song, "We Got More Than We Need." Kino Lorber's BD offers a decent 1080p (1.85) transfer with mono sound, the trailer, and a new commentary with Daniel Kremer and Scott Tafoya.
A quite enjoyable Universal teen comedy/spy flick, GOTCHA! (101 mins., 1985, PG-13) stars Anthony Edwards – fresh off "Revenge of the Nerds" – as a UCLA college paintball champ who heads to West Germany for a vacation with his roommate. There, his attempts to chat up the locals results in him meeting a sexy, real spy (Linda Fiorentino) who gets him wrapped up in an actual espionage game that eventually leads back to campus. Edwards reunited with "Nerds" helmer Jeff Kanew for "Gotcha!," one of those mid '80s teen films that – thanks to the then-new PG-13 rating – leans a little too heavily on the occasional sex joke, but otherwise manages to entertain throughout. Bill Conti's underscore is a definite plus, as is the European location shooting that captures the era well. This is also a superior BD (1.85) transfer of "Gotcha!," boasting clearer details than all prior overseas releases, along with mono sound, the trailer, and two commentaries: one from Kanew, another with writer Bryan Reesman.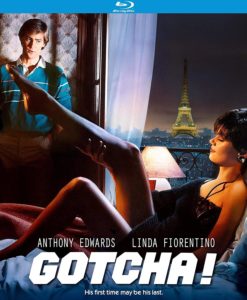 CLOCKWISE (96 mins., 1986, PG) is one of those British comedies whose sense of humor is going to wildly vary from viewer to viewer. In this EMI production, John Cleese plays an obnoxious headmaster trying to deliver a speech at a conference when things go wrong – very wrong – en route. Michael Frayn's script and Christopher Morahan's direction are pretty much unrelenting when it comes to their portrayal of Cleese's irredeemable protagonist, so what might be hilarious to some may prove to be strident and agonizing to endure for others (undoubtedly the reason why the picture received scant distribution outside the UK, where it performed well commercially). Even George Fenton's score comes off as caustic – but like they say, your mileage may vary, especially if you're in-tune with the film's particular sense of humor. Kino Lorber's Blu-Ray (1.66, DTS MA mono) is built off Studio Canal's attractive 4K remaster and includes an interview with Cleese, a conversation with Fenton, the trailer, and a new, exclusive commentary from critic Bryan Reesman.
One of Robert Redford's least-seen directorial outings, THE MILAGRO BEANFIELD WAR (117 mins., 1988, R), generated a fair amount of surprise when it won Best Original Score for Dave Grusin's unreleased soundtrack, besting the likes of John Williams' "The Accidental Tourist" and higher-profile efforts by Hans Zimmer ("Rain Man"), Maurice Jarre ("Gorillas in the Mist") and George Fenton ("Dangerous Liaisions").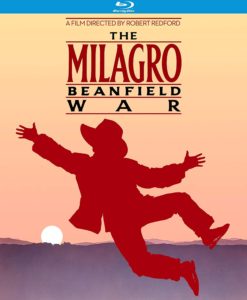 Beyond that unlikely (and seemingly political) Oscar win, this Redford adaptation of John Nichols' novel plays like a stripped-down "movie adaptation" that's filled with too many characters that aren't given enough screen time, and the ones that are happen to be superficially, and broadly, drawn. That applies to both "the good guys" – a Chicano community rallying to save their New Mexico valley – and "the bad guys," the greedy, white real estate developers who seek to ravage it to construct a new golf course. Wandering in and out of the film are the likes of Chick Vennera, Sonia Braga, Julie Carmen and Ruben Blades on one side of the equation; and James Gammon, Christopher Walken, and sympathetic Caucasians like Daniel Stern and John Heard on the other (Melanie Griffith also pops up for good measure in a pre-"Working Girl" turn).
Though watchable, Redford's unnecessarily R-rated film plays everything in such black-and-white terms that it needed a lighter touch to really score – perhaps a key reason why the surprisingly bland film struggled to net interest either commercially or with most critics, who by and large found it mediocre.
Still an interesting film to revisit on Blu-Ray, Kino Lorber's disc is hampered by a tepid, seemingly ancient Universal master (1.85) that's plagued by an overly dark contrast level as well as a mono soundtrack (the film was released in Dolby Stereo). Extras include the trailer – which illustrates the difficulty Universal had in selling the film – as well as a commentary with Chick Vennera and moderator Daniel Kremer.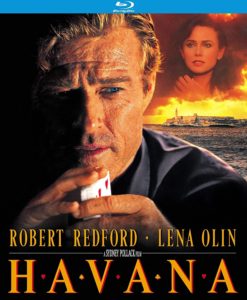 Redford later reteamed with director Sydney Pollack for an unofficial reworking of "Casablanca," HAVANA (144 mins., 1990, R), which bombed at the box-office back at Christmas 1990. It's still a respectable and well-mounted film from Pollack, with Redford playing a gambler trying to score in Cuba before Castro took over – falling for the wife (the underwhelming Lena Olin) of a local revolutionary (a curiously unbilled Raul Julia). Alan Arkin co-stars with Dave Grusin contributing a superb score – it's not exactly a searing love story but "Havana" is still compelling in the manner even Pollack's less satisfying films typically are, leisurely paced yet spiced with interesting detail. Kino Lorber's BD includes a very attractive, detailed Universal licensed 1080p (1.85) transfer with DTS MA stereo sound, a commentary with critic Sergio Mims and the trailer.
New From Scorpion Releasing: The poster is awesome but there's little else to recommend in the 1985 New World release DEF-CON 4 (88 mins., 1985, R), wherein a space crew returns to a post-apocalyptic Earth after nuclear war has devastated the planet. Therein they find mutated humans and a threadbare "Mad Max"-type of future that's quickly set in – in Nova Scotia, of all places – in a movie that quickly turns into one of the dopier and slow-moving films of its type. Even "so bad it's good" thrills are minimal in this '80s video store staple, which looked awfully cool sitting on the shelf but wasn't nearly as exciting as its artwork promised. Scorpion's new Blu-Ray includes a fine 1080p (1.85) transfer, DTS MA sound, trailers, and a worthwhile interview with composer Chris(topher) Young, covering quite a bit of ground…On the Code Red side comes TOY SOLDIERS (85 mins., 1985, R), a slight New World action-adventure about a group of students aboard Jason Miller's yacht who improbably get themselves kidnapped during a Central American revolution. Cleavon Little co-stars with appearances from Terri Garber and Tim Robbins adding some novelty to director David Fisher's otherwise lifeless feature. The Lakeshore-licensed transfer (1.78, mono) is fine and the disc is now available.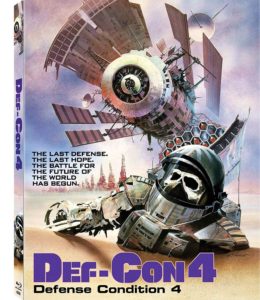 Quick Takes: Ben Kingsley plays a reclusive magician who befriends a teen (Matt Weinberg) being chased on Halloween in William Sachs' enjoyable, kid-friendly fantasy SPOOKY HOUSE (106 mins., 2001), which debuts on BD from Unobstructed View along with a 1080p transfer, Dolby Digital sound, music videos, the trailer, and archival interviews with Kingsley and co-stars Mercedes Ruehl and Katharine Isabelle ("Ginger Snaps")…for adults, director Jeremy Kasten spins a horrific outing in THE DEAD ONES (73 mins., 2019, Not Rated), the store of four teens who find out a mask-wearing gang is pursuing them through the ravaged hallways of their high school during summer detention. Artspolitation Films' Blu-Ray includes a special effects featurette and set tour, plus two commentaries, a 1080p transfer and 2.0 Dolby Stereo sound.
From Kino Classics comes German director Helmut Kautner's BLACK GRAVEL (113/114 mins., 1961), a Cold War tale involving mostly fractured relationships between German villagers and soldiers on an American military base nearby. Kautner's starkly-shot B&W thriller is presented here with two different cuts: its original release version as well as a slightly re-edited cut that was produced to eliminate depictions of anti-semitisim that were still part of the community depicted in the film at that time. An insightful commentary from historian Olaf Moller is included here along with a 1080p (1.66) transfer of both the "premiere" and "distribution" cuts and mono sound. In German with English subtitles…Abel Ferrara's new film TOMMASO (117 mins., 2020) marks the director's first dramatic feature in six years. Here, Ferrara is working again with star Willem Dafoe, who plays an American filmmaker living in Rome with his young daughter, prepping his next picture while trying to stay sane. An interview with Dafoe, trailers, an essay from critic Brad Stevens and an interview between Ferrara and filmmaker Sean Baker comprise the supplements in Kino's BD, presented with a 1080p (2.39) transfer and 5.1/2.0 DTS MA sound.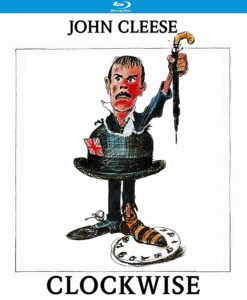 New DVDs this month from Kino Lorber include HELMUT NEWTON: THE BAD AND THE BEAUTIFUL (92 mins, 2020), a documentary on the controversial artist featuring stars of his portraits and "fashion editorials" discussing his life and work. Grace Jones, Isabella Rosselini and Claudia Schiffer are among them in Gero Von Boehm's doc, on DVD from Kino Lorber featuring a 16:9 transfer and 5.1/2.0 sound…Award-winning documentarian Barbara Koppole's DESERT ONE (107 mins., 2019) is an excellent History-produced look at the freeing of the hostages during the 1979 Iranian Revolution. Interviews with historians and animation recreating the event make for a compelling piece, new on DVD from Kino sporting a 16:9 transfer and both 5.1/2.0 audio…Music fans old enough to remember Canadian folk crooner Gordon Lightfoot should enjoy Martha Kehoe and Joan Tosoni's documentary GORDON LIGHTFOOT: IF YOU COULD READ MY MIND (90 mins., 2019), a worthwhile look at the singer-song-writer in his element. DENISE HO: BECOMING THE SONG (83 mins., 2020), meanwhile, profiles the Hong Kong singer and human rights activist. Both DVDs include 16:9 transfers and 5.1/2.0 soundtracks and are now available.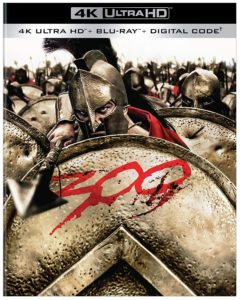 Warner New Releases
300 4K UHD (116 mins., 2007, R; Warner): Frank Miller's graphic novel — depicting the final stand of King Leonidas and his 300 Spartans — makes for a rousing, straightforward action piece, vividly realized by director Zack Snyder (his best film) in a striking, CGI-rendered visual realm that does full justice to Miller's original design. Sure, it's mostly all flash and style, but it's hard to deny the effectiveness of the storytelling, which apes other genre narratives but manages to entertain in its own unique visceral manner at every turn (think "Braveheart" and "Gladiator" mixed with more fantastic, outlandish visuals).
At the heart of "300″ is Gerald Butler's powerhouse performance as Leonidas, who opts to make a valiant, if suicidal, stand against an invading Persian army in Thermopylae as they come ashore in ancient Greece. The enemy is lead by Persian king Xerxes, whose black-clad warriors and beasts of burden far outnumber the hard-fighting Spartans, but Leonidas and his clan battle until the bitter end, becoming the stuff of legend in the process.
With its evocative visual design, "300″ is clearly similar to what Miller and director Robert Rodriguez attempted in "Sin City" — create a living, breathing cinematic adaptation of the author's work. While the visual design of "Sin City" was spellbinding, the outlandishness of the material and questionable lapses in taste made its cinematic rendering less than satisfying (if not outright offensive) — a problem "300″ doesn't have since this film is basic blood 'n guts, thundering action sequences and stylish choreography that doesn't beg to be taken overly seriously as drama. We know we're watching a fantasy rendering of the Battle of Thermopylae, but the heightened visuals and design make for a thrilling action spectacle. It may have all the substance of a comic book but it's great fun to watch, especially now that Warner has brought the picture to 4K UHD with Dolby Atmos audio to match.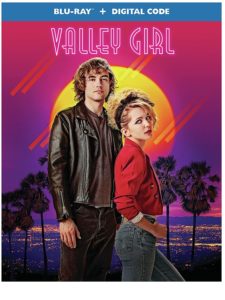 This is a superior 4K presentation with HDR10 (no Dolby Vision) and an active Atmos mix that enhances the movie's raucous sound design (even if Tyler Bates' asterisk-attached score isn't nearly as memorable as the film itself). Ample extras carried over from previous releases include three brief deleted scenes, a "Fact or Fiction" featurette and additional Making Of segments, Snyder's commentary, webisodes, the Blu-Ray and a Digital HD copy.
VALLEY GIRL Blu-Ray Combo Pack (102 mins., 2020, PG-13; Warner): Glossy but superficial musical remake of Martha Coolidge's early '80s teen hit, albeit not a genre picture I've ever been particularly fond of. Writer Amy Talkington and director Rachel Lee Goldenberg take the film's original premise and play up the bouncy songs and color of the era, but lost in the shuffle is any grit or realism which its predecessor contained. Warner brings the 2020 "Valley Girl" to home video this week, the Blu-Ray offering 5.1 DTS MA sound and a 1080p transfer plus a Digital HD code.
HAPPY HALLOWEEN SCOOBY-DOO! DVD (80 mins., 2020; Warner): New original movie finds Scooby, Shaggy and the Mystery Machine gang teaming up to find out what's causing toxic ooze to flow through a pumpkin patch, resulting in flying Jack O' Lanterns and a giant "Pumpkin Leader" running amok. Elvira and Bill Nye the Science Guy cameo in this enjoyable enough feature, presented here with a 16:9 transfer and 5.1 sound along with a trio of bonus cartoons.
---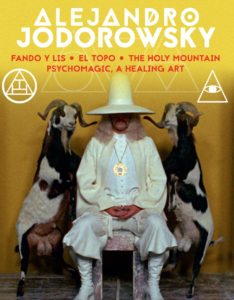 New From Abkco Films
Alejandro Jodorowsky fans have cause for celebration this month with the four-film anthology ALEJANDRO JODOROWSKY: 4K RESTORATION COLLECTION, a definitive package of three Jodorowsky classics with his most recent effort included for good measure. On-hand here are "Fando Y Lis," "El Topo," "The Holy Mountain" and "Psychomagc: A Healing Art," along with a full array of extras – yet the big plus are the 4K restorations adorning each Blu-Ray disc, supervised by the director himself.
"El Topo" (124 mins.) also premieres Jodorowsky's 1.85 widescreen version for the first time (the usually screened 1.37 transfer is also on-hand), along with a copy of the soundtrack CD, a new interview with star Brontis Jodorowsky, and a 2007 archival interview with the director. "Fando Y Lis" (96 mins.) includes a 1.33 presentation of the film along with "La Cravate" (1957), Jodorowsky's 1957 first feature, and Louis Mouchet's feature length doc "La Constellation Jodorowsky." "The Holy Mountain" (115 mins.) boasts a vivid new 1080p (2.35) transfer with an interview with the director's personal assistant, Pablo Leder; a video essay from writer Ben Cobb; deleted scenes with Jodorowsky's commentary; the original soundtrack on CD plus the short film "The Tarot." It's all capped by trailers, image galleries, fold out posters, an eight-page hardcover book, reversible sleeves, and a presentation of Jodorowsky's "Psychomagic: A Healing Art" (101 mins., 1.78).
Despite the absence of "Santa Sangre," this is a superb Blu-Ray box that could've used 4K UHD presentations to take full advantage of these restorations, yet still ranks as worthwhile for fans.
---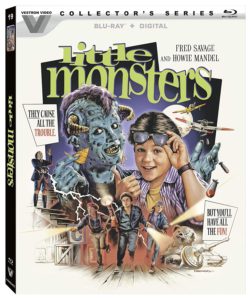 Vestron Video Collector's Series from Lionsgate
Lionsgate has dusted off their "Vestron Video Collector's Series" for a pair of new, low-priced Blu-Ray releases.
LITTLE MONSTERS (101 mins., 1989, PG) was a barely-released kids fantasy starring Fred Savage, Daniel Stern, Fred's brother Ben and Howie Mandel as a monster named Maurice who lives under our young protagonist's bed. Future "Pirates of the Caribbean" scribes Terry Rossio and Ted Elliott scripted this tepid Vestron Pictures production, which – despite having been produced during the heyday of Savage's series "The Wonder Years" – was buried under its company's bankruptcy and subsequent pick-up by MGM/UA, which gave it a token theatrical run before dumping it out on home video. Lionsgate's BD includes a new 1080p (1.78) transfer, 2.0 DTS MA stereo sound, a digital copy, and ample extras including an isolated score track and interview with composer David Newman; new interviews with Howie Mandel, producer Andrew Licht; and makeup great Robert Short; vintage interviews, behind-the-scenes footage, promos, a trailer, and a new commentary with webmaster Jarret Gahan.
David Cronenberg's feature debut SHIVERS (88 mins., 1975) is the other new Vestron release this month. This early Cronenberg effort is set in a Montreal-area luxury apartment where sex-crazed maniacs are lurking about, and it's up to Dr. Roger St. Luc (Paul Hampton) to save the day. Lionsgate's BD includes commentaries by Cronenberg and a separate track with co-producer Don Carmody; interviews with Cronenberg and other cast and crew members; trailers, TV spots, a 1080p (1.78) transfer, 2.0 DTS MA mono sound and a Digital HD copy.
Also new from Lionsgate this week is THE SILENCING (94 mins., 2020, R), a Saban Films production starring Nikolaj Coster-Waldau as a hunter who joins with a sheriff (Annabelle Wallis) to track down a killer who may have kidnapped his daughter years before. "The Silencing" debuts on disc this week (2.39, 5.1 DTS MA) from Lionsgate with two featurettes and a Digital HD copy on-hand…Rhonda Byrne's bestselling book THE SECRET: DARE TO DREAM (101 mins., 2020, PG) is adapted here into a competent, decent film from veteran director Andy Tennant ("Ever After"). This feel-good family drama stars Katie Holmes as a widowed mom whose life is changed when a storm washes ashore a mysterious man (Josh Lucas) with a (you guessed it) secret. Jerry O'Connell co-stars with Tennant reuniting with several collaborators from his best films, including composer George Fenton. Lionsgate's Blu-Ray combo pack includes a DVD and Digital HD copy, a 1080p (2.39) transfer and 5.1 DTS MA sound.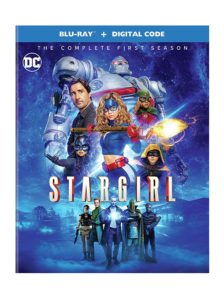 STARGIRL: The Complete First Season Blu-Ray (567 mins., 2020; Warner): After having to move to Nebraska, teenager Courtney Whitmore finds out her stepfather (Luke Wilson) was once a Justice Society of America super-hero! As if this wasn't improbable enough, simply holding the Cosmic Staff turns Courtney into Stargirl, who promptly revives a dormant super-hero team in this enjoyable enough DC series, one which started out apparently on the (now-defunct) DC streaming service before migrating to the CW. Season 1 of the series is new on Blu-Ray (1.78, 5.1 DTS MA) this week in a no-frills Warner package featuring Digital HD copies.
CBS New Release: Season Four of THE GOOD FIGHT (6 hours, 2020) again brings fans more of the goings-on at Reddick, Boseman and Lockhart, which has been recently absorbed as part of one of the nation's largest law firms. While trying to navigate their corporate ownership, the group pursues new cases of domestic and political interests in this fourth season of the CBS All Access web series. CBS' two-disc DVD set includes 16:9 transfers, 5.1/2.0 audio and is now available.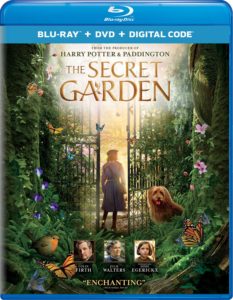 Universal New Releases: AMERICAN PIE PRESENTS: GIRLS' RULES (96 mins., 2020, R) is the latest direct-to-video entry in the brand. This one takes a decided feminist bent wherein four high school seniors attempt to take control of their relationships and run into all kinds of trouble (of course) as a result. Danny Trejo makes a brief contribution here but the funniest part is the credit "Introducing Barry Bostwick" in the cast listing. Universal's DVD (16:9, 5.1) is out this week…Debuting on Blu-Ray is the sadly disappointing new adaptation of Frances Hodgson Burnett's THE SECRET GARDEN (100 mins., 2020, PG), one that heavily reconfigures its tried-and-true plot of an orphaned girl who uncovers a secret, magical place in the estate of her uncle (Colin Firth). In addition to the setting having been moved to post-WWII London, there are some weird story alterations on the part of writer Jack Thorne — viewers are advised to stick to the numerous other, superior film adaptations instead. Universal's Blu-Ray combo pack of this STX release, which avoided theaters because of the pandemic, includes three featurettes, the trailer, a DVD, Digital HD code, 1080p (1.85) transfer and 5.1 DTS MA audio.
HIP HOP: THE SONGS THAT SHOOK AMERICA Blu-Ray (aprx. 4 hours, 2019; AMC/RLJE): Documentary series from AMC Studios sets out to chronicle the origins, rise and continued popularity of hip-hop music. The six episodes focus on "Jesus Walks" (Kanye West), "Alright" (Kendrick Lamar), "Rock Box" (Run-DMC), "Elevators" (OutKast), "The Bridge (Marley Marl and MC Shan), and "Ladies First" (Queen Latifah). Copious interviews with music superstars, candid conversations and archival footage make for a must for hip-hop listeners. RLJE's Blu-Ray (1.78, 2.0 DTS MA) boasts four bonus segments and is now available.
New from Acorn and RLJE is the 2003 tele-film adaptation of Agatha Christie's DEATH ON THE NILE (102 mins.), which sports David Suchet as Poirot in a superb, more lively paced affair than the 1976 Peter Ustinov box-office hit (while lacking its visual opulence). Emily Blunt co-stars with RLJE's Blu-Ray containing a fine 1080p (1.85) transfer with 2.0 DTS MA stereo sound.
NEXT TIME: More of the latest releases! Until then, don't forget to drop in on the official Aisle Seat Message Boards and direct any emails to our email address.