We're long enough into the Blu-Ray format's lifespan that an influx of fascinating curiosities are coming our way every month, and independent label Fun City Editions leads the way this week with a compelling, remastered release from the short-lived Atlantic Releasing Corporation. ALPHABET CITY (85 mins., 1984, R) stars Vincent Spano, fresh off "Baby It's You" and "The Black Stallion Returns," as a drug dealer in the rough-and-tumble NYC neighborhood of its title. After too many deals and run-ins with lowlifes, Spano's Johnny decides it's time to get his mother (Zora Lamphert) and sister (Jami Gertz) out from the muck before his mob overlords come for them – along with his girlfriend (Kate Vernon, daughter of "Animal House"'s Dean Wormer), an artist also taking care of their infant daughter.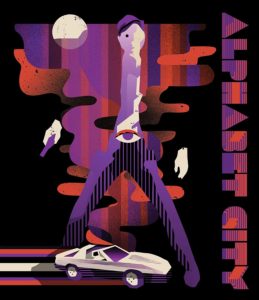 This exercise in mid '80s "neon noir" is all style and attitude – director Amos Poe and ace cinematographer Oliver Wood (who would go on to a long career in studio features) bathe "Alphabet City" in rich, saturated hues that create a dreamy, almost surreal visual design. The plot is minimalist, but Spano is committed and the movie moves quickly through its dilapidated Lower East Side settings, our hero desperately trying to save himself – and his loved ones – before any number of seedy ganglords rub him out. "Police Academy"'s Michael Winslow also pops up (and saves the day just in time), while it's all anchored by a tuneful, appropriately slick Nile Rodgers score.
"Alphabet City" certainly isn't realistic per se but one can see why the film has generated something of a cult following over the years – between Spano, Gertz, the stylized look and '80s atmosphere, this is an entertaining little movie that's well worth checking out in Fun City Editions' Blu-Ray. The impressive 1080p transfer (1.85) is sourced from Fun City's own 2K restoration of the 35mm interpositive and is crisply rendered and satisfyingly rich in terms of Poe and Wood's color scheme. Extras include an enjoyable 21-minute interview with Vincent Spano, plus a video essay from filmmaker Chris O'Neill, an image gallery, the trailer, and a new commentary from director Amos Poe, accompanied by Luc Sante.
---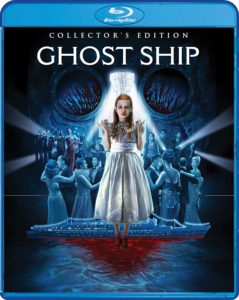 Coming From Shout! Factory
GHOST SHIP Blu-Ray (91 mins., 2002, R; Shout! Factory): This Halloween '02 release from Robert Zemeckis and Joel Silver's Dark Castle Entertainment is a by-the-numbers affair that strands a good cast in a sea of horror movie cliches.
Julianna Marguiles and Gabriel Byrne play members of a salvage vessel that discovers a long-lost ocean liner stranded deep at sea. As we learn from an especially bloody prologue (presented with colorful, '60s-like credits – oh, the irony!), the crew and passengers of the Antonia Graza were killed instantly when an accident claimed their lives – or did it? Marguiles, Byrne, and their crew soon find a stash of gold onboard the ship, along with a collection of ghosts trying to be set free.
Steve Beck directed the far superior Dark Castle effort "13 Ghosts," but with "Ghost Ship" he's saddled with a tepid script credited to Mark Hanlon and John Pogue. The movie's premise is promising, but the screenplay never settles on a consistent tone, with few scares or impressive effects outside of the unpleasant opening sequence. Where the movie really goes wrong is in its final third, which introduces an antagonist with motives so poorly developed that you're lost trying to figure out what's going on. Throw in a groaner of a "twist" ending and "Ghost Ship" manages to botch what little positive elements it had going for it in the first place.
Scream Factory's BD includes a new commentary with Steve Beck, fresh interviews with producer Gil Adler, co-star Isaiah Washington and makeup artist Jason Baird plus extras ported over from the previous Warner release (extensive Making Of featurettes among those). The 1080p (1.85) transfer and 5.1 DTS MA soundtrack are both top-notch.
Shout! Factory New Releases: B: THE BEGINNING – Season One (5 hours) is new on Blu-Ray October 6th from Shout! Factory. In the city-state of Cremona, a handful of murders have gripped the populace – but the victims are all killers, with the hunt out for their vigilante executioner, dubbed "Killer B." "B: The Beginning" looks good in this combo pack sporting both Blu-Ray (1080p, 1.78, 5.1 DTS MA sound) and DVD (16:9, 5.1 Dolby Digital) discs; both disc sets include Japanese subtitled audio or English dubs, along with an interview with director Kazuto Nakazawa, artcards, the poster, and a pilot that inspired the series…Also coming October 6th is DIGIMON ADVENTURE: LAST EVOLUTION KIZUNA (94 mins., 2020), a feature-length adventure from the franchise that serves as a finale to the long-running series. Fans will enjoy seeing Tai, Agumon and company in their final go-around, with Shout's Blu-Ray (1.78) boasting "The Final Evolution: Remembering 20 Years of Digimon Adventure" featurette with Joshua Seth and Tom Fahn, Japanese and English 5.1 audio and a DVD copy.
---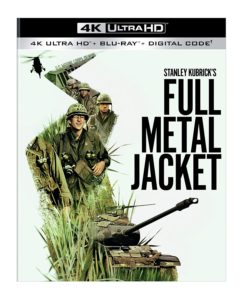 New on 4K UHD
FULL METAL JACKET 4K UHD Combo Pack (117 mins., 1987, R; Warner): Stanley Kubrick's somewhat underwhelming, though still compelling, Vietnam film met with some surprisingly mixed reviews upon its release in the post-"Platoon" era. These days, the film carries a high rep among Kubrick aficionados, despite its familiar story and obvious visual drawbacks having been shot in the UK. Warner's 4K UHD of "Fill Metal Jacket" is the latest among numerous releases of the film across a myriad of home video formats – the difference here is a good looking HVEC encoded transfer (1.85) with some vivid HDR highlights that enhance the overall package compared to even its prior BD, which is also reprised here with its assorted extras (satisfying 1080p transfer, uncompressed PCM soundtrack; commentary with cast members Adam Baldwin, Vincent D'Onofrio, R. Lee Ermey and critic/author Jay Cocks; featurette; and the trailer). A Digital HD copy is also included.
New TV on Disc
I somehow missed that the CBS comedy MOM (411 mins., 2019-20; Warner) made it to its seventh season – but here it is, with Christy (Anna Faris) continuing to put her life back on track while often being tested by her contentious Mom (Allison Janney). Warner brings "Mom"'s most recent season to DVD in a multi-disc set leading into its eighth year – one that will not feature Faris, who has signed off, departing for other projects. Warner's 16:9 transfers and 5.1 soundtracks are all fine. Also new from Warner is the Complete Fourth Season of RIVERDALE (805 mins., 2019-20; Warner), which opens by saying goodbye to the late Luke Perry before seguing into the senior year of Archie Andrews, Veronica, Betty, Jughead and their assorted pals at Riverdale High. The show's formula has been well established by now but fans are not likely to mind the series' repetition, with Warner's Season 4 DVD offering a 2019 Comic Con panel and two featurettes, 16:9 transfers and 5.1 soundtracks.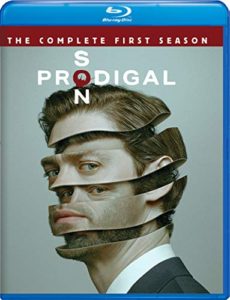 Also new from Warner this month is the Complete First Season of PRODIGAL SON (880 mins., 2019-20), a new Fox series starring Tom Payne as a brilliant criminal psychologist who knows all about serial killers thanks to his father – imprisoned psycho Dr. Martin Whitly, aka "The Surgeon" (Michael Sheen). Lou Diamond Phillips, Aurora Perrineau, Keiko Agena, Frank Harts and Bellamy Young co-star in this slick crime procedural which should work well for genre enthusiasts but seems a little bit in bad taste at times. Warner's no-frills Blu-Ray (2:1, 5.1 DTS MA) is now available...Season 5 of LEGENDS OF TOMORROW (636 mins., 2019-20) blasts off with the DC heroes trying to embrace their newfound celebrity after saving the world. Alas, a new timelime blip and the release of numerous super-villains loom large as the "Encores" (re-animated souls) attempt to cause havoc throughout history. All 15 fifth season episodes of "Legends of Tomorrow" are on Blu-Ray this week from Warner sporting unaired scenes, a gag reel, two featurettes, 1080p transfers, 5.1 DTS MA soundtracks and Digital HD copies.
Season 4 of the hit Adult Swim series RICK AND MORTY (220 mins.; Warner) includes 10 episodes from the zany animated program with special features "A Day at Rick and Morty: Inside Season 4," "Inside the Episode" segments on every show, "Creating Snake Jazz" and "Directing Rick and Morty" featurettes, character creation profiles, "Samurai & Shogun" and prop process extras, plus animation challenges. The 1080p (1.85) transfers and 5.1 DTS MA soundtracks in Warner's Blu-Ray are all robust and digital HD copies are also included.
---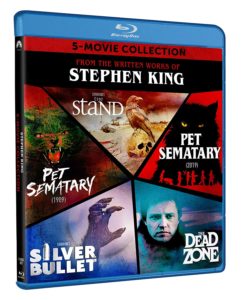 Also New & Noteworthy
New From Well Go USA: Based on the real-life historical figure Queen Tomiris of Massagetae, THE LEGEND OF TOMIRIS (155 mins., 2019, Not Rated) offers a large-scale, epic-length account of the 6th century BCE Amazonian who overcame tragedy to defeat the Persians and unite the Great Steppe. Well Go USA brings this Russian production from director Denis Konoplev to home video later this month, the Blu-Ray offering a 1080p transfer and 5.1 DTS MA sound in Turkish/Russian with English subtitles. A DVD is also included…Coming October 6th from Well Go is INVICIBLE DRAGON (99 mins., 2019), a Hong Kong martial arts thriller starring Max Zhang as a detective pursuing a serial killer. Well Go's BD includes a 1080p transfer and Cantonese DTS MA audio, and streets early next month.
STEPHEN KING: 5-Movie Collection Blu-Ray (Paramount): Specially-priced five-disc Blu-Ray anthology includes the previously released BD's of "Pet Sematary" (both 1989 and 2019 versions) along with CBS' BD of "The Stand"'s earlier mini-series and two exclusive new releases: the U.S. format debut of "The Dead Zone" along with Paramount's own Blu-Ray of "Silver Bullet," which Shout Factory released in their own special edition last year. The transfers on the latter are comparable to other BD appearances of the respective films either here or abroad, meaning "The Dead Zone" is passable but could've benefited from a fresh remastering, while "Silver Bullet" is just fine.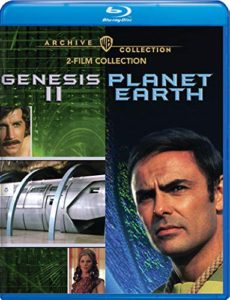 MOST WANTED Blu-Ray (124 mins., 2020, R; Paramount): When an innocent man (Antoine Olivier Pilon) is sentenced to life in a Thai prison after dirty cops frame him in a heroin bust, a reporter (Josh Hartnett) tries to bring his injustice to light in Daniel Roby's better-than-average Saban Films production. Jim Gaffigan, Stephen McHattie and Amanda Crew co-star, with Paramount bringing "Most Wanted" to Blu-Ray next week sporting a 1080p transfer, 5.1 DTS MA audio and a Digital HD copy.
GENESIS II/PLANET EARTH Blu-Ray Double Feature (Warner Archive): Gene Roddenberry tried his hand post-"Trek" with a trio of busted sci-fi pilots featuring the character of Dylan Hunt, a NASA scientist who – shades of "Buck Rogers" – wakes up after being in suspended animation to a decimated, bizarre Earth of the 22nd century. The first, superior, stab at this premise was GENESIS II (73 mins., 1973), which stars Alex Cord as Hunt, who joins the descendants of his fellow scientists in trying to calm (copious) tensions amongst the rest of the populace, still fragmented after WWIII. Mariette Hartley, Ted Cassidy and another familiar "Star Trek" face, Percy Rodrigues, "Guest Star" in an entertaining and reasonably well-mounted production that regrettably didn't lead to a series. Roddenberry's second attempt at this concept, PLANET EARTH (74 mins., 1974), didn't either – with John Saxon now playing Hunt – though it's at least more watchable than the third and final effort Warner Bros. produced, 1975's "Strange New World" (not included here). Roddenberry fans and '70s sci-fi nuts should enjoy Warner Archive's single-disc high-def edition of the first two Dylan Hunt adventures, both presented here in colorful, healthy 1080p (1.33) transfers and DTS MA mono sound (available September 29th).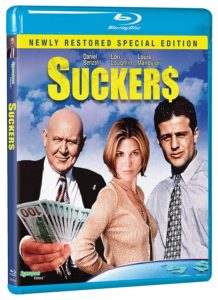 SUCKERS Blu-Ray (87 mins., 2001; Synapse): "Trekkies" director Roger Nygard helmed this well-received 2001 indie film about a husband (Louis Mandylor) who, at the behest of his wife (Lori Loughlin), takes a job at a car dealership run by Daniel Benzali. A 4K remaster (1.78) is on-hand in Synapse's Blu-Ray along with a new 5.1 remix (as well as its original 2-channel stereo track), commentary from Nygard and crew, deleted scenes, raw takes and the trailer. The disc also includes a new 4K restoration, on the same platter, of Nygard's doc "Six Days in Roswell."
LET IT SNOW DVD (86 mins., 2020, R; Lionsgate): Low-budget horror outing finds a pair heading to the European slopes to cut it loose, only to be stalked by a masked snowmobile rider. Russian-produced genre exercise new on DVD from Lionsgate September 22nd with a 16:9 (2.39) transfer, 5.1 English audio and a featurette...New on Blu-Ray from Lionsgate is the South Korean-animated product RED SHOES AND THE SEVEN DWARFS (92 mins., 2020, PG), a comical animated mix of "Snow White" and other fairy tale tropes, with the voices of Sam Claflin and Chloe Grace Moretz added into the mix. "The Math Club" wrote original songs and Geoff Zanelli scored, with Lionsgate's BD (1.85) boasting 5.1 DTS MA sound, a Digital HD copy, and featurettes all included.
BECKMAN DVD (97 mins., 2020, Not Rated; Universal): David A.R. White stars as the title character in Pure Flix's production about an assassin, looking for redemption, who finds it in a church overseen by a pastor played by Jeff Fahey. When his adopted daughter is kidnapped by a cult leader (William Baldwin), "Beckman" has to balance his newfound faith with revenge in a different type of "faith based" picture. Universal's DVD (2.35, 5.1) offers commentary from director Gabriel Sabloff and White, a Making Of, and bloopers.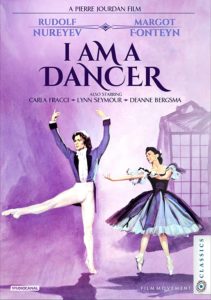 Film Movement New Releases: A new HD restoration graces Pierre Jourdan's I AM A DANCER (92 mins.), a 1972 look at the life and amazing dancing ability of Rudolf Nureyev. Ballet aficionados will find much to savor in this Golden Globe-nominated documentary, presented on BD (1.37, mono) sporting interviews with Julliard's Terese Capucilli and American Ballet Theatre's Skylar Brandt on the film, Nureyev and his partner Margot Fonteyn, who's also prominently featured here…New on DVD is THE DANCING DOGS OF DOMBROVA (102 mins., 2020), a film about estranged siblings (Katherine Fogler, Douglas Nyback) who hunt for the remains of their childhood dog, at the urging of their dying grandmother, in a rural Polish town. Film Movement's DVD of this Canadian feature includes a 16:9 transfer and 5.1/2.0 stereo sound.
PBS New Releases: Emily Grasile hosts the family-friendly PREHISTORIC ROAD TRIP (180 mins., 2020), a three-part documentary with the "Chief Curiosity Correspondent at the Field Museum in Chicago" heading to Montana, Wyoming, Nebraska and the Dakotas, pursuing fossils and other remnants of dinosaurs from billions of years ago. PBS' single-disc DVD includes 16:9 transfers and stereo soundtracks…It's never too early to get ready for Christmas, as evidenced by the entertaining LUCY WORSLEY'S 12 DAYS OF TUDOR CHRISTMAS (55 mins., 2019), an engaging look at how Christmas was celebrated during the era of Henry VIII. Utilizing location shooting and consultation from food historian Annie Gray, Worsley looks back at how the 12 Days of Christmas were celebrated 500 years before. PBS' DVD is now available featuring a 16:9 transfer and stereo sound…the complete Third Season of FRANKIE DRAKE MYSTERIES (7 hours, 2019) is out on DVD this month from PBS. This time out, Frankie and Trudy meet up with a new mystery novelist friend named Agatha Christie while taking on mysteries set in sizzling '20s jazz clubs and Toronto private schools among other locales. Fans of this well-received Canadian series should enjoy this multi-disc DVD package sporting 16:9 transfers, 2.0 stereo sound and two featurettes.
NEXT TIME: The official Kino Lorber September Edition! Until then, don't forget to drop in on the official Aisle Seat Message Boards and direct any emails to our email address.